The 6 Best Accountants in Galway
Running a business and handling finances at the same time is no joke. If numbers and invoices aren't your thing, consider hiring an accountant to lessen your burden.
Whether you're looking to hire a new one or planning to replace the one you already have, stay with us as we're rounding up the best accountants in Galway.
We understand that cost is a primary concern, especially for small businesses. So, let's talk about prices first.
How Much Do Accountants Charge In Galway?
In Ireland, some accounting firms charge a flat fee or hourly fee for their services. Meanwhile, other firms look at the complexity of your business and turnover before giving you a quote.
Check out the table below to get an estimate of how much our featured entries charge. We recommend clarifying with your chosen firm first to know the terms of service and corresponding fees.
Note that you'll have to contact some of our entries to know their rates. You can find their contact information in the section that follows.
| | |
| --- | --- |
| ACCOUNTING FIRM | ESTIMATED FEES |
| Bradán Accountants | €129 + VAT Per Month (Basic Plan) |
| | €249 + VAT Per Month (Online Plan) |
| | €399 + VAT Per Month (Professional Plan) |
| Do My Books | €99 + VAT Per Month (Starter Plan) |
| | €149 + VAT Per Month (Contractor Plan) |
| | €169 + VAT Per Month (Growing Business Plan) |
| | €500 + VAT Per Month (Outsourced Financial Control Plan) |
| Oliver Niland Chartered Accountant | Contact for More Information |
| Matthew Hanlon | Contact for More Information |
| Keogh Accountancy Group | Contact for More Information |
| GBS & Co Galway Accountants & Business Consultants | Contact for More Information |
| Peter Coyne | Contact for More Information |
The Best Accountants in Galway
Before moving on, allow us to take you through our selection criteria:
Industry experience, to make sure that they're fully qualified to do the job
Client experience, which is a testament to the quality of their work
Accessibility, which allows you to see or contact them conveniently
Flexibility, to make sure that they can meet your unique requirements
Alright, let's dive right into our picks of the top accountants in Galway!
1. Bradán Accountants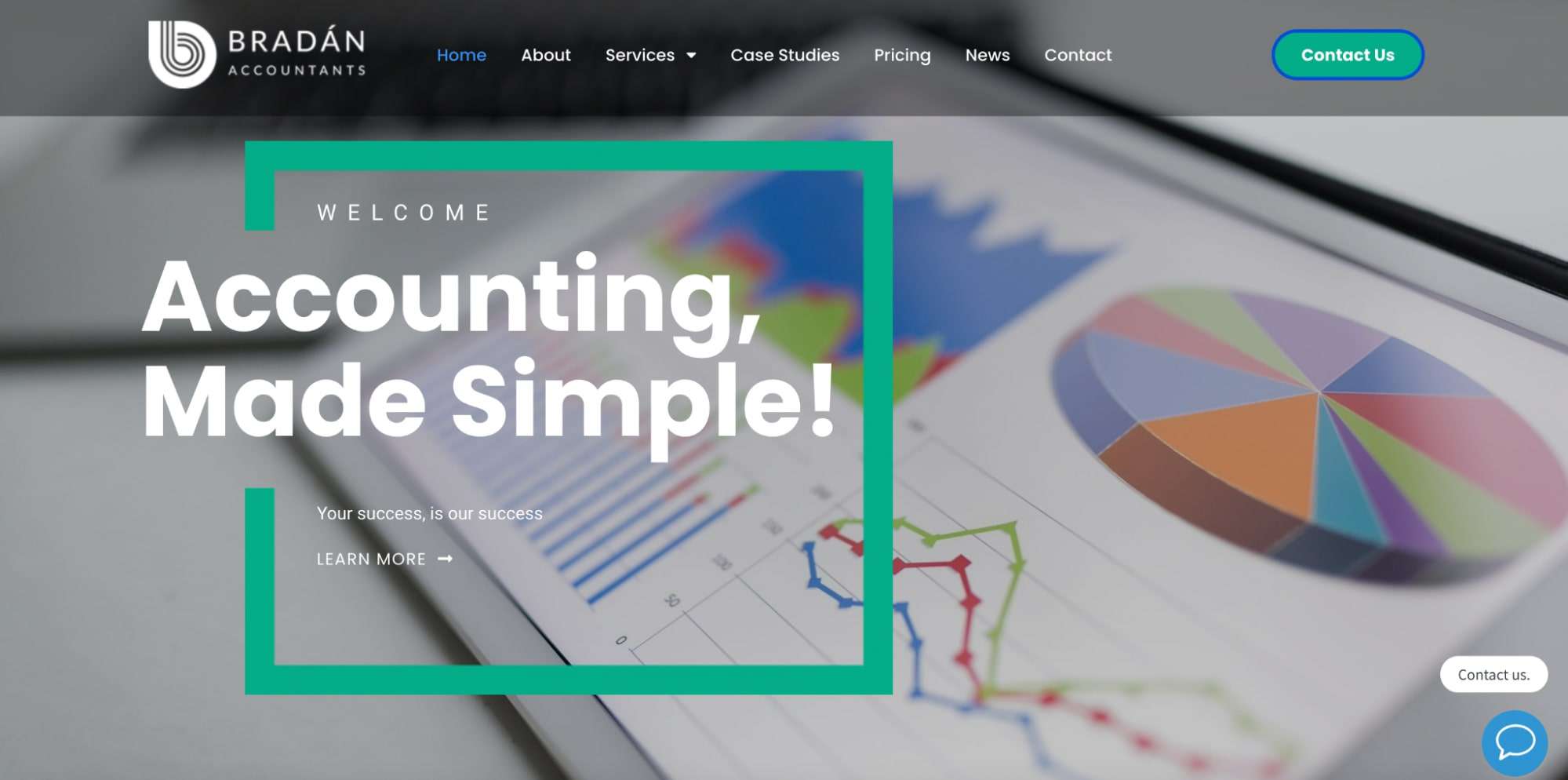 SERVICES
Bookkeeping and Payroll, Annual Accounts and Tax, Starting a Business, Getting Online, Business Performance, etc.
WEBSITE
https://bradanaccountants.ie/
ADDRESS
21 Eyre Square, Galway
CONTACT DETAILS
091 450 705 or 086 8122 882 |

[email protected]

OPERATING HOURS
Mon to Fri: 8:30 am – 6:30 pm
Bradán Accountants is a team of certified professional accountants who are well-versed in the intricacies of taxation and filing legal requirements in Ireland.
Here, you can get your company's laundry list of annual filings and accounting checked in one place, thanks to their packages.
While these packages come with standard rates, they can be adjusted to match your unique needs. For instance, you can opt out of bookkeeping services if you prefer to do it on your own.
They also use a cloud accounting software called Xero, which you can use to send invoices and create expense claims on the go. There's also Hubdoc, which stores and organises your records electronically—no need to worry about misplacing documents!
The only drawback we're seeing is that Xero subscriptions aren't included in the basic plan. On the bright side, they do offer discounts for that, though.
Of particular note is that they're also centrally located at the heart of the city, so getting to their office shouldn't be a problem.
No hidden fees
Central location
Uses cloud-based systems
Prices can be adjusted
Xero subscription not included in basic plan
Closed on weekends
Customer Reviews
Very friendly team
"Bradan Accountants have been looking after our affairs as a Ltd Company and Self employed from day one. They have a very friendly team which provides exceptional service. We are very thankful for the work they have done for us and Highly recommend their firm." —Jason Williams, Google Reviews
Timeliness to respond is excellent
"Our company has used Bradán consulting for over 5 years and find their depth of experience and timeliness to respond excellent. We'd have no hesitation recommending Bradán consulting to other Information Technology companies." —Michael Thornhill, Google Reviews
2. Do My Books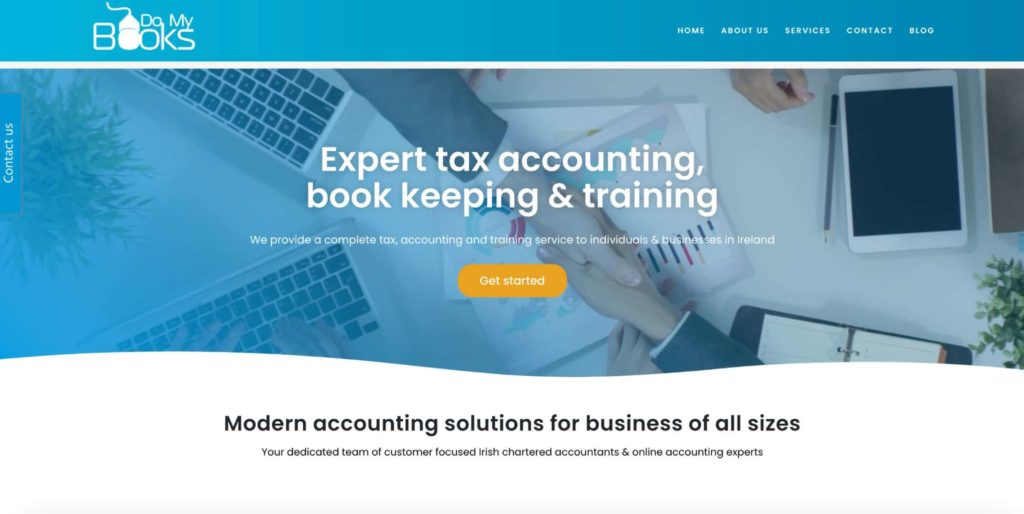 | | |
| --- | --- |
| SERVICES | Online Accounting Solutions, Income TaxReturns, Xero Training, Sole Trader Accounts, Partnership Accounts, Rental Income Tax Returns, Limited Company Annual Accounts, Corporation Tax Returns, Monthly Management Accounts, Accountancy Software Training, Anti Money Laundering Consultancy |
| WEBSITE | https://domybooks.ie/ |
| ADDRESS | Do My Books Galway Accountants, Portershed, Eyre Square, Galway |
| CONTACT DETAILS | 01 480 0531 |
| OPERATING HOURS | Mon to Fri: 9:00 am – 5:00 pm |
If you want to use fully online systems for your accounting, then Do My Books is a fantastic option. Their team of accountants are certified Xero advisors, which means that they're fully equipped to provide you with software training and support.
Their packages come in different tiers and inclusions to cater to businesses of different sizes. For instance, you can get the most basic plan if you only need help with compliance and wish to do your own bookkeeping.
On the other hand, we think that their "growing business" plan makes a great choice for companies who need an extra hand with payroll.
Apart from the most basic plan, each package already includes a Xero subscription. What we really like about these packages is that they also come with free software support, phone calls, stamps, or basic tax planning.
Otherwise, you can also hire them to provide bespoke Xero onsite training in your company premises or remotely using a screen sharing service. We think that this is beneficial for companies who already have their own accountants but would like to switch to online platforms.
There's really not much to like about Do My Books. Perhaps others may see the lack of options for cloud-based software as a drawback, but we think that Xero is sufficient and incredibly easy to use for everyone.
Uses cloud-based systems
Free software support for existing clients
No hidden fees
Central location
Different packages available
Lack of cloud-based software options
Closed on weekends
Customer Reviews
Quick reply to emails
"Nothing but good things to say about the guys at Do My Books. No question is left unanswered anytime I have one, and a quick reply to emails anytime I send one. Great accountant." —Lee O'Donnell, Google Reviews
Easy to work with
"Ralph is very knowledgeable and easy to work with. He has untangled my messy business accounts and saved me untold headaches. I would highly recommend his services." —Robin Winkels, Google Reviews
3. Oliver Niland Chartered Accountant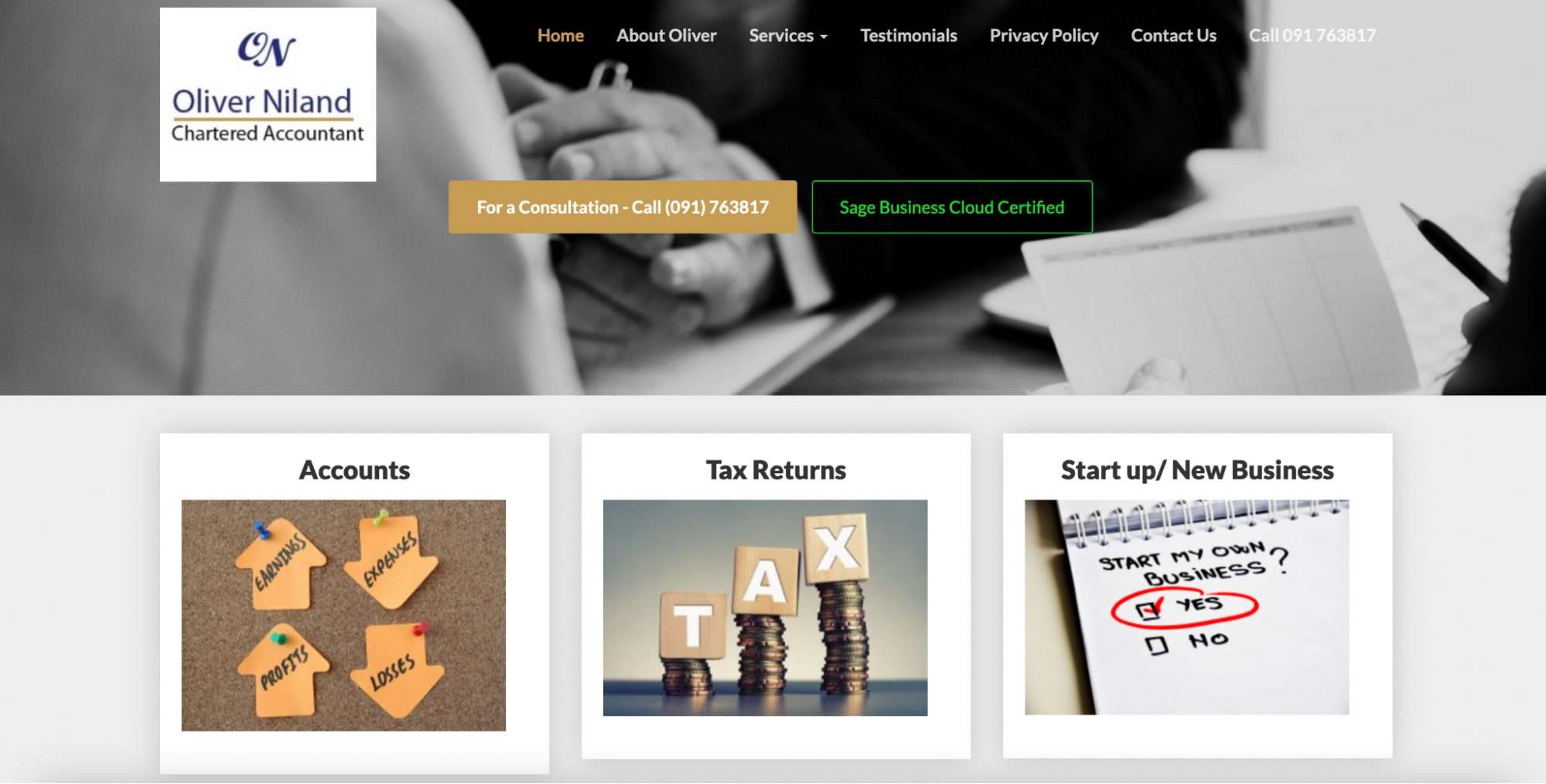 SERVICES
Accounts, Tax Returns, Starting a New Business, Bookkeeping, Revenue Audits & Disclosures, Company Secretarial Services
WEBSITE
https://www.taxreturnhelp.ie/
ADDRESS
Ballybane Industrial Estate, Unit 8, Royal Rock Park, Galway
CONTACT DETAILS
091 763 817 |

[email protected]

OPERATING HOURS
Mon to Fri: 9:00 am – 5:00 pm
Compared to our other entries, Oliver Niland Chartered Accountant is a one-man team. As a member of Chartered Accountants Ireland, Oliver Niland offers the necessities that you would expect in an accountant—bookkeeping, tax return filings, account management, and more.
As a sole practitioner, this may mean limited availability though, considering that he mostly caters to small businesses. So if you're a relatively large company that needs an accountant, this firm may not give you what you're looking for.
Despite this, we're seeing some strengths with this arrangement though. For instance, being a sole practitioner may mean getting a more personalised service since you won't be dealing with multiple people in a firm.
We've also heard that he's quite responsive either by phone or email. So even if his office is located a bit far from the centre, reaching him shouldn't be a concern.
We also like the fact that he uses Sage's cloud-based accounting system to streamline his work. We're just a bit bummed to see the lack of fees though, so you'll have to contact him to get an exact quote for your business.
Uses cloud-based systems
Ideal for small businesses
Comments about responsiveness
Member of Chartered Accountants Ireland
Fees unavailable online
Not suitable for big businesses
Customer Reviews
Professional service
"Thank you Oliver for your professional service over the last 10 years allowing us time to concentrate on building the business knowing all our accountancy needs are looked after……..Thanks Oliver" —Gerry Keaveney Jimmy, Google Reviews
Easy and efficient
"Thank you Oliver for giving me a great service over the last few years. As a sole trader, I don't get much time to keep an eye on the accounts like I should, but Oliver always makes it look easy, and efficient." —James Tonery Equestrian, Google Reviews
4. Matthew Hanlon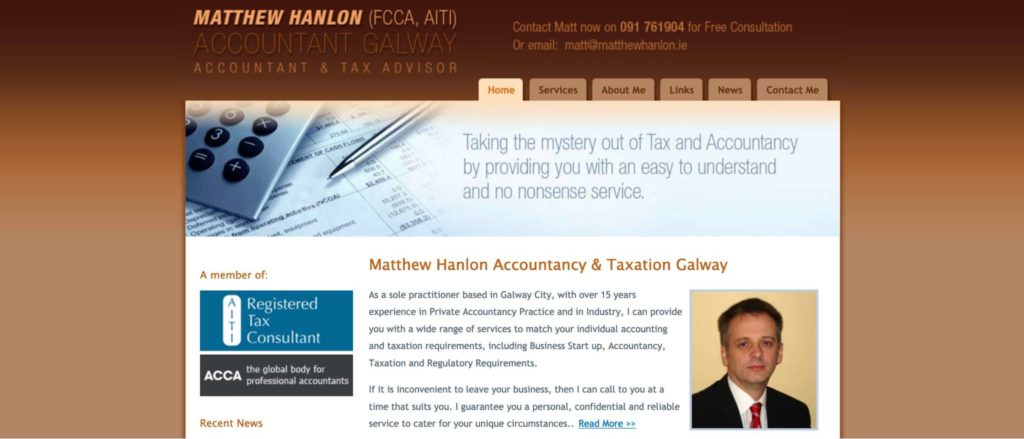 SERVICES
Business Startup, Accounts & Audit, Taxation, Regulatory Issues, Contract Work
WEBSITE
http://www.matthewhanlon.ie/
ADDRESS
120 Renmore Park, Galway
CONTACT DETAILS
091 761 904 |

[email protected]

OPERATING HOURS
Contact for More Information
Matthew Hanlon is another one-man band you should definitely consider. He has over 15 years of experience in the industry under his belt, enabling him to set up his own private practice.
Similar to our previous entry, this accountant is well-versed in helping start-up businesses do all the necessary accounting. From tax registration to implementing a bookkeeping system, clients have the flexibility of customising a package best suited to their needs.
Speaking of flexibility, you can also hire him for contract work if you need a second pair of eyes to check if your accounts are maintained correctly. You decide on the duration of the contract, whether it's weekly or every few months.
This flexibility is exactly what we like about him, but it comes with its share of minor drawbacks.
For instance, you won't find standard rates nor set packages from the get-go. There's no easy way of telling whether his rates offer the best value for money or not.
Hence, you'll have to contact him directly to get an exact quote for the services you require. The good news is that he offers free initial consultations, which gives you ample time to decide whether he makes the right fit for you or not.
Contract work available
Packages can be adjusted
Free consultation
Ideal for small businesses
Fees unavailable online
No mention of cloud-based systems 
Customer Reviews
Straightforward in his assessment
"Excellent advisor, very easy to talk to. Give us great advice on our situation! Thanks!" —Andreis Garbuzs, Google Reviews
5. Keogh Accountancy Group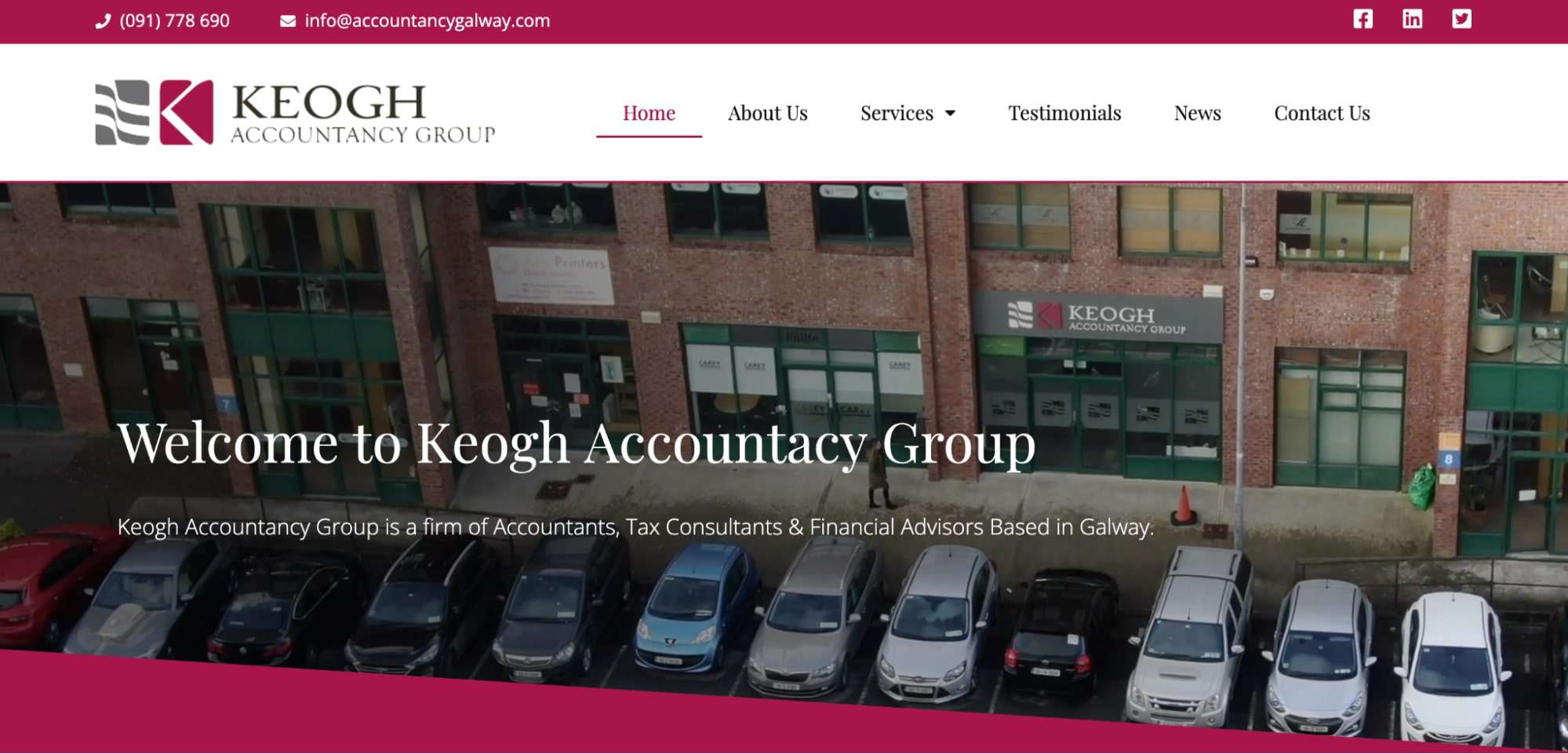 SERVICES
Accounting, Startups, Tax Consultancy, Strategy, & Planning, Corporate Finance & Recovery, Business Advisory, Employment Law, Company Secretarial/Company Law
WEBSITE
https://accountancygalway.com/
ADDRESS
Keogh Accountancy Group, Unit 6C, Liosban Business Park, Tuam Road, Galway
CONTACT DETAILS
091 778 690 |

[email protected]

OPERATING HOURS
Mon to Fri: 9:00 am – 5:30 pm
Now, if you want an all-around firm that goes beyond your typical accounting services, then you might want to consider Keogh Accountancy Group.
They're a full-fledged accounting firm that offers a wide range of services including accounting, secretarial tasks, and employment law consultancy. Suffice to say that their team can accommodate different financial-related requests, not just accounting or bookkeeping.
Compared to most accounting firms, they have a large team of accountants and auditors, making them a great choice for businesses of all sizes.
What we really like about them is that they offer free consultations for all clients, regardless if you decide to go with their services or not. Despite having fixed hours, they're quite flexible with their time just to accommodate clients—perfect for busy executives.
We would've liked to see more information about their rates or the accounting software they use, if applicable. However, those are minor concerns compared to all that they offer.
Large team of accountants
Wide range of services
Free initial consultation
Flexible hours
Fees unavailable online
No mention of cloud-based systems 
Customer Reviews
Professional, knowledgeable, timely
"They say a good accountant saves you more money than they cost – I have found this to be true with Keogh Accountancy Group! They are professional, knowledgeable, and timely. Highly recommend them to other small business owners & freelancers." —Ruairi McNicholas, Google Reviews
Invaluable financial advice
"I highly recommend Keogh's accountancy. Emilie Keogh who I deal with is always on hand to assist and support with any issues. Her financial advice has been invaluable over the years." —Rachel Davoren, Google Reviews
6. Peter Coyne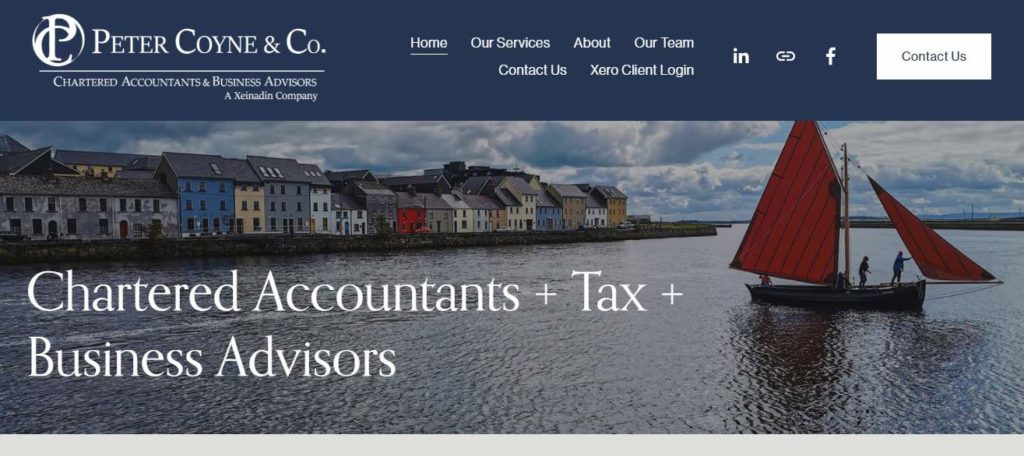 SERVICES
Accountancy Services
Auditing & Compliance Reporting
Personal & Corporate Taxation
Personal Insolvency
Corporate Recovery and Restructuring
Liquidations
Business Advisory
Owners Management Companies
Cloud Accounting
WEBSITE
https://www.petercoyne.ie/
ADDRESS
The Halls, Quay Street, Galway H91 CFW6
CONTACT DETAILS
Tel: (091) 568 580
Fax: (091) 563 442
Email: [email protected]
OPERATING HOURS
Mon to Fri: 9:00 AM – 5:30 PM
Peter Coyne is a accounting and business advisory firm that specializes in handling liquidations, insolvency matters, taxation, and financial planning among many other interrelated services ever since 1982. Comprised of chartered accountants and auditors, they have since gained a reputation to be among one the trusted firms in Galway.
We like that they continually invest to update their resources and education to better accommodate today's growing technologies and know how to efficiently handle different financial situations clients may bring to them.
May it be for personal to corporate purposes, their services are highly personalized and tailored to satisfy the specific needs of the client to better ensure time and cost efficiency.
Clients may need to book an appointment with them though since they do not have any packages and rates readily available on their website.
Overall, with certified local professionals who are equipped with efficient communication and effective financing approaches, we highly recommend them to clients in the area looking for reliable accounting services for both corporate and personal purposes.
Personalized services
Reliable resources
Efficient communication approach
Closed on weekends
Rates unavailable
FAQs about Accountants in Ireland
More Resources about Financial Services in Ireland