The 10 Best Mortgage Brokers in Dublin
Buying a home for the first time can be an intimidating process, especially when you factor the financing aspect into the equation.
In that case, getting a mortgage broker will help you streamline the process. They provide you with various lending options based on your budget and situation while handling most of the paperwork for you.
Look no further, we've listed down the best mortgage brokers in Dublin to give you a headstart on your home buying journey! But before that, here's what you need to know about how much mortgage brokering services in Dublin cost.
How Much Do Mortgage Brokers Charge in Dublin?
As a general rule, mortgage brokers earn a certain percentage from the total cost of the loan. This is a prearranged agreement between the broker and the lender, and this normally ranges between 0.5% to 1%.
Under Irish law, brokers are also required to give their commission back to the lender within a certain period should the client withdraw their mortgage.
Some brokers also charge their clients for mortgage processing or when simply asked for advice. This may come in the form of a flat fee or a percentage of the mortgage amount.
As this isn't always the case, it's best to ask your broker about their rates beforehand to avoid hidden charges.
The Best Mortgage Brokers in Dublin
Now that we've given you an estimate of how much brokers earn, we won't hold you back further. Here's our own curated list of the best mortgage brokers in Dublin!
1. moneysherpa

PRODUCTS
Guides on Best mortgage providers, mortgage rates, financial advisors, investments, pensions, and smart saving
WEBSITE
https://moneysherpa.ie
ADDRESS
Ireland
CONTACT DETAILS

[email protected]


(042) 932 9300
OPERATING HOURS
Monday to Friday 8.30am to 6.30pm
Matters related to finance, be it investments or mortgage, typically take time to fully comprehend considering the number of variables to consider that change depending on context. Fortunately, there are guides we can refer to if we find ourselves out of depth when it comes to financial topics.
Moneysherpa is one company that has made a name for itself by constructing some of these financial guides.
One of the best things about using Moneysherpa's content as a guide is the assurance that it would not lead you astray. See, Moneysherpa guarantees that all of their content has been written or overseen by qualified financial advisors in the relevant field.
Moreover, Moneysherpa's content isn't affected by advertising or under the table agreements, so readers can rest easy knowing that each and every financial content on the site is genuine and has been thoroughly researched beforehand.
Some of the topics that Moneysherpa addresses in their content relate to mortgage rates, mortgage providers, financial advisors, investments, pensions, and even smart saving. Their mortgage broker offering is also available throughout the country.
On the topic of mortgage, Moneysherpa works to alleviate the stress of applying for mortgages by helping clients navigate their mortgage journey. The Moneysherpa team consists of experienced and fully qualified mortgage advisors, all of whom have worked for all the major lenders so they know the landscape inside out.
Aside from their expertise on the subject matter, Moneysherpa's team also comes highly recommend given the fact that their services come for free. Clients can easily book a free, no obligation call with them through Moneysherpa's website, expect the numbers to be discussed during the call, and then wait for Moneysherpa to handle the application process.
Free financial and mortgage consultation
Ideal for First Time Buyers, Movers and Switchers
Offers guides on various financial matters

Quick and easy application process
Customer Reviews
Here is feedback left by a previous client of Moneysherpa's
"Angie was amazing! Looked after us so well. Would definitely recommend for anyone looking a mortgage." -David O'Hanlon
2. BRM Mortgage Brokers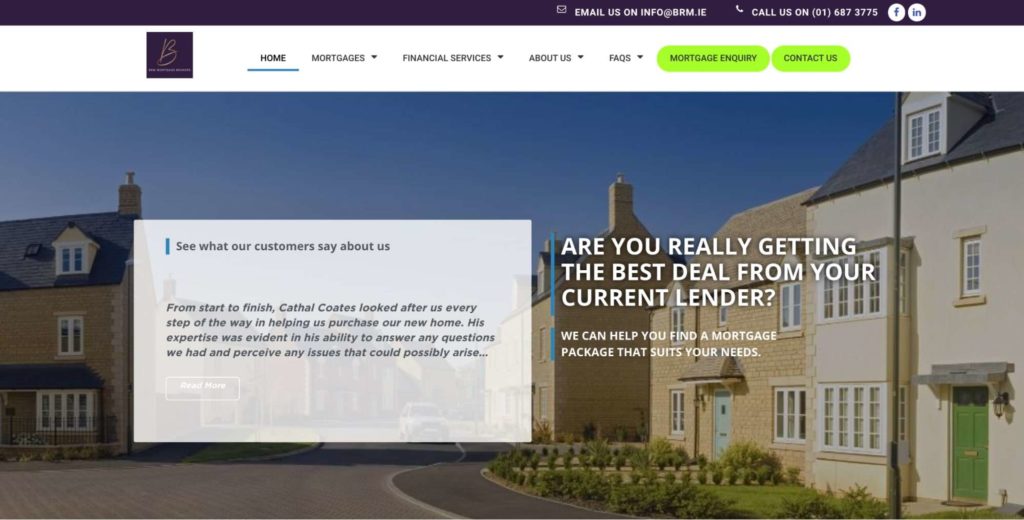 PRODUCTS
Mortgage brokering for first-time buyers and home movers
Mortgage refinancing
Life insurance including mortgage protection
Investment consultation
Pension planning
WEBSITE
https://brm.ie/
ADDRESS
Chase House, City Junction Business Park, Northern Cross, Malahide Road, Dublin 17
CONTACT DETAILS
01 6873775


[email protected]

OPERATING HOURS
9:00 am to 6:00 pm (Monday to Friday)
Established in 2008, BRM Mortgage Brokers is a one-stop shop for mortgages and other financial services. They offer a variety of services including mortgage brokering, mortgage refinancing, life insurance, and investment consultation, to name a few.
They operate with a single goal in mind: to guide you throughout the entire process while giving you the best and lowest possible deal.
Despite being only a team of two, Cathal Coates and Tom Kennedy have over 30 years of experience in mortgages and wealth management, offering a more personalised approach to clients. In fact, Cathal, who is also a co-founder of BRM, held senior roles in a number of leading mortgage intermediaries in Ireland.
Being in the industry for many years, this duo understands that clients often become overwhelmed with the number of financial products available. You can either pop in for a call or set up a meeting anytime and anywhere at no additional cost.
Free financial consultation
Ideal for first-time buyers
Knowledgeable in mortgages and other financial services
Flexibility in setting meetings
Online application portal can be found here
Location is relatively far from city centre
Service rates not indicated online
Customer Reviews
Most reviews found the BRM team to be highly helpful, professional and accommodating. Check out some of them here:
"Cannot recommend Cathal & the BRM team highly enough. We'd a somewhat complex situation but once Cathal assessed our details & felt he had a chance of getting us what we needed, he took ownership of everything and worked with the banks to get us the mortgage approval. We had spoken to other brokers before but they just didn't invest the time & effort that Cathal did to look after us. We would definitely use BRM again for any future mortgage or financial advice…" —Conor Kilduff, Google Reviews
"From start to finish, Cathal Coates looked after us every step of the way in helping us purchase our new home. His expertise was evident in his ability to answer any questions we had and perceive any issues that could possibly arise. He consistently kept us updated and made himself available to us any time we needed him. His knowledge and likeable character made the whole process that much easier. Though he has many other clients, there was never a feeling of being "just another customer" and he always ensured we had his full attention whenever we required it. We would highly recommend Cathal and the rest of his team at BRM and look forward to doing more business with him in the future." —Jenny Arnold, Google Reviews
3. MortgageLine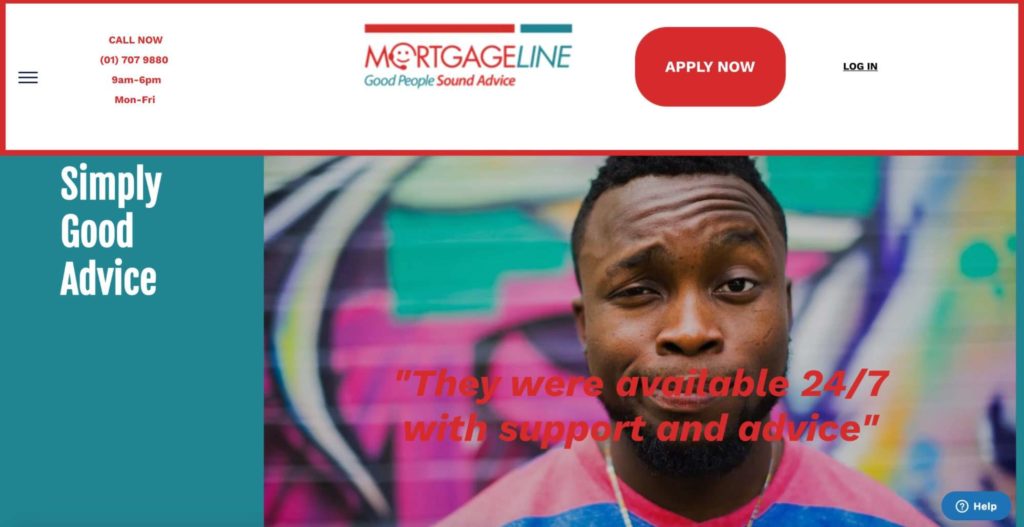 PRODUCTS
Mortgage brokering for first-time buyers and home movers
Mortgage switching
Buy-to-let mortgage
Self-build mortgage
Debt consolidation
Insurance consultation
WEBSITE
https://www.mortgageline.ie/
ADDRESS
120 Drumcondra Rd Upper, Drumcondra, Dublin 9
CONTACT DETAILS
+353-1 707 9880


[email protected]

OPERATING HOURS
9:00 am to 5:00 pm (Monday to Friday)
MortgageLine's team of experts specialises both in mortgages and insurance consultation. Whether you're planning to buy your own home or to set up a home insurance policy, MortgageLine's wide range of services can help with your needs.
Moreover, they aren't tied to a particular lender, which is reassuring if you're looking for a range of options to find the best rate possible.
Keep in mind that while brokers normally work on commission, MortgageLine charges clients an initial application fee of €295 for first-time buyers, home movers, and debt consolidation services.
Don't be disheartened though; your first meeting with them will be free of charge. An online application portal is also available should you decide to continue with their services.
Apart from consultation services, they also provide online mortgage calculators at your disposal.
Wide range of mortgage services
Availability of online tools like calculators
Additional services like life and home insurance
Firm's relatively small team may lead to longer callback times
Relatively hefty application fees
Customer Reviews
Clients generally recommend MortgageLine's services. Some examples include:
"My experience with Mortgage Line was excellent. Almost everything was handled online and digitally by Michael Ivory. I was a first time buyer and Michael made the process so easy for me. His responses were so fast. I would highly recommend this service and it is a brilliant value for money. Thanks again." —Dave O'Reilly, Google Reviews
"I would advise anyone who has some difficulty in getting a mortgage to try Mortgageline. We were assigned a guy called Declan Walsh who stood with us right the way through the torturous process which lasted over two years, can't speak highly enough of the lad, a top man who helped us reach our goal. Thanks Declan." —John Dolan, Google Reviews
4. Frank Lenny Financial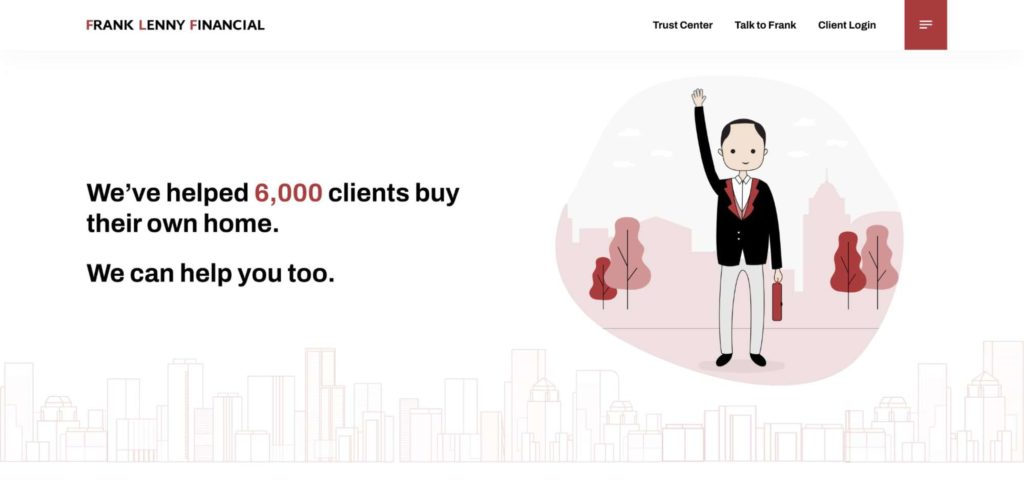 PRODUCTS
Mortgage brokering
Mortgage switching
Life insurance
Pension consultation
Investment planning
WEBSITE
https://franklenny.com/
ADDRESS
Frank Lenny Financial Mortgage House, 66 South William Street, Dublin 2
CONTACT DETAILS
+3531 670 3655


[email protected]

OPERATING HOURS
9:00 am to 5:00 pm (office hours; Monday to Friday)
8:00 am to 7:00 pm (online service hours; Monday to Friday)
Frank Lenny Financial prides itself to have helped over 6,000 clients get their own homes in a span of 22 years. And that's not all—Frank and his team are highly experienced financial advisors with over 35 years of experience, making them a trusted name among banks and lenders.
While mortgages are their primary area of expertise, they also offer a wide range of other financial services such as investment and insurance planning.
What makes Frank Lenny distinct in our book lies in their ability to cater to appointments outside of office hours. You may either pay their office at the city centre a visit or schedule a call via Zoom—for free, of course—which can be as early as 8 am or as late as 7 pm.
Clients can conveniently upload required documents to their online application platform. A total fee of €500 will be charged per application.
While this may be a bit steep for some clients, the fee may be payable in two separate payments of €250. Moreover, no service fee will be charged if you plan on switching from an existing mortgage facility to a new mortgage lender.
Availability of online tools
Flexible consultation schedule
Convenient office location
Broad range of mortgage and insurance services
Relatively higher service fees
No weekend operations
Customer Reviews
Check out what clients had to say about Frank Lenny Financials:
"We were extremely happy with the service provided by Frank Lenny. Frank, Helen and Rachel made the full process from our mortgage application through to closing our purchase so smooth and easy to follow. In particular, the team made themselves available to us at critical points in the journey which was invaluable to us as first time buyers. Would highly recommend." —Christine Grier, Google Reviews
"My partner and I just got the keys to our new house in Wicklow which wouldn't have been possible without the amazing Frank Lenny team! Our case was unconventional in the sense we are both immigrants here and they were able to navigate us through the extra hurdles we had to go through in the process. Frank and Rachel were extremely knowledgeable and supportive throughout the process and made it as smooth as possible for us. They really are the gold standard in terms of client servicing and couldn't agree more with all the 5 star ratings given here. Thank you Frank Lenny team!" —Ittira Joseph, Google Reviews
5. Park Financial Planning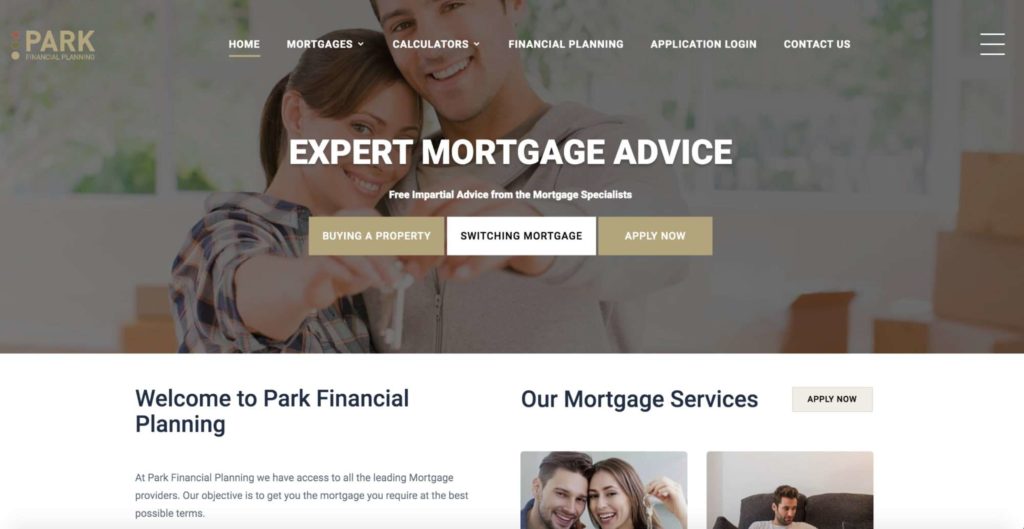 PRODUCTS
Mortgage brokering for first-time buyers and home movers
Mortgage switching
Buy-to-let mortgage
Financial planning
WEBSITE
https://www.parkfinancial.ie/
ADDRESS
Cashel Business Centre, Cashel Road, Kimmage, Dublin 12
CONTACT DETAILS
01 499 3000


[email protected]

OPERATING HOURS
8:00 am to 5:00 pm (Monday to Friday)
Park Financial Planning has built a loyal client base since it opened its doors in 1999. Their no-frills approach to getting clients a seamless approval process has earned them a good reputation throughout the years.
As members of Brokers Ireland and the Association of Irish Mortgage Advisors, their advisors are certified to be one of the best in the industry. Whatever your needs may be, Park Financial Planning will make sure to only give tailored financial advice based on your circumstances.
Like most established mortgage firms, they also have a wide range of partners that offer insurance and pension services. Online tools such as a mortgage calculator and an application portal are also available for use.
Unique to Park Financial Planning is their own standalone website meant for clients who wish to switch their mortgage provider for cheaper rates—a service that is totally free of charge.
Extensive network of lenders and agencies
Convenient mortgage switching online service
Availability of online tools
Additional services like life insurance
Service rates not indicated online
Less flexibility in setting meetings
Customer Reviews
As mentioned, Park Financial Planning has built a strong clientele throughout the years as evidenced by these reviews:
"We have been using Park Financial for the past 5 years and we have always been very impressed with their services and support. Park does everything they can to make the process of getting a mortgage and life cover as smooth as possible and definitely makes it less stressful for us. They provide a brilliant service and we will definitely be continuing to use their services in the future. I highly recommend them." —Aideen Leppla, Google Reviews
"They have been so great to work with. They essentially did all the heavy lifting for us – collecting all the relevant paperwork for us and just asking us to sign in a specific clearly marked place, calling banks for us to get the best mortgage, following up with relevant people to ensure we get over the line before Christmas… and all done with a smile, a kind supportive email or phone call." —Michelle Curtis, Google Reviews
6. GMC Mortgages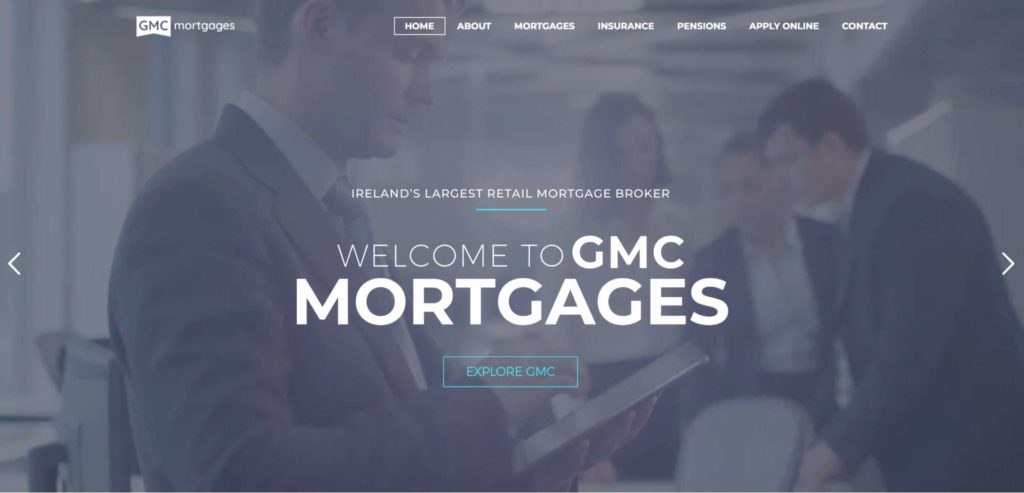 PRODUCTS
Mortgage brokering for first-time buyers and home movers
Mortgage switching
Buy-to-let mortgage
Insurance planning
Pension consultation
WEBSITE
https://www.gmcmortgages.ie/
ADDRESS
Distillery Lofts, No.1 The Stables, Distillery Rd, Drumcondra, Dublin 3, D03 Y512
CONTACT DETAILS
01 643 0900


[email protected]

OPERATING HOURS
9:00 am to 5:30 pm (Monday to Thursday)
9:00 am to 5:00 pm (Friday)
To conclude our picks of the best mortgage brokers in Dublin, let's talk about GMC Mortgages. Established in 1996, GMC has one of the most extensive varieties of mortgage and insurance products in the industry today.
Being in the industry for so long has allowed GMC to establish a rapport with Ireland's leading banks and lenders. Among our entries, they also provide the most comprehensive set of mortgage information for potential clients.
Property trends in recent years show that rental prices in Dublin are quite high. So if you're planning to get a loan to finance an investment property, they also specialise in buy-to-let mortgages.
However, if you're still on the fence about which property to get, you may also check out Douglas Newman Good's website. GMC has partnered with them to give you access to a wide range of residential properties in the Greater Dublin Area.
Strong network of lenders and agencies
Availability of online calculators and application portal
Access to residential properties for sale
Additional services like life insurance and pension
Service rates not indicated online
Less flexibility in setting meetings
Customer Reviews
Along with other long-established firms, GMC has also built an excellent reputation throughout the years:
"GMC is the best mortgage broker in Ireland I have experienced. Have gone with them on multiple occasions due to their professionalism and solutions-oriented approach. Andrew Keegan and the team have a client-first approach and are always very responsive. Have recommended them to several friends who have also been very happy with them. They have relationships with all the main banks so it ensures you get the best deal possible. Thanks for everything!" —Prashant Søegaard, Google Reviews
"My wife and I cannot recommend GMC enough to any prospective first time buyers. The team looked after every aspect of the process, making recommendations to their partners for Insurance/Assurance, and ensured that the same contacts were communicating with us regularly. Everyone at the team was super personable, yet highly professional. Getting a mortgage can be an extremely stressful time, but GMC makes the process as easy and straightforward as it can be. We've officially bought our first home, and couldn't be happier!" —Gary Davlin, Google Reviews
7. AM Financial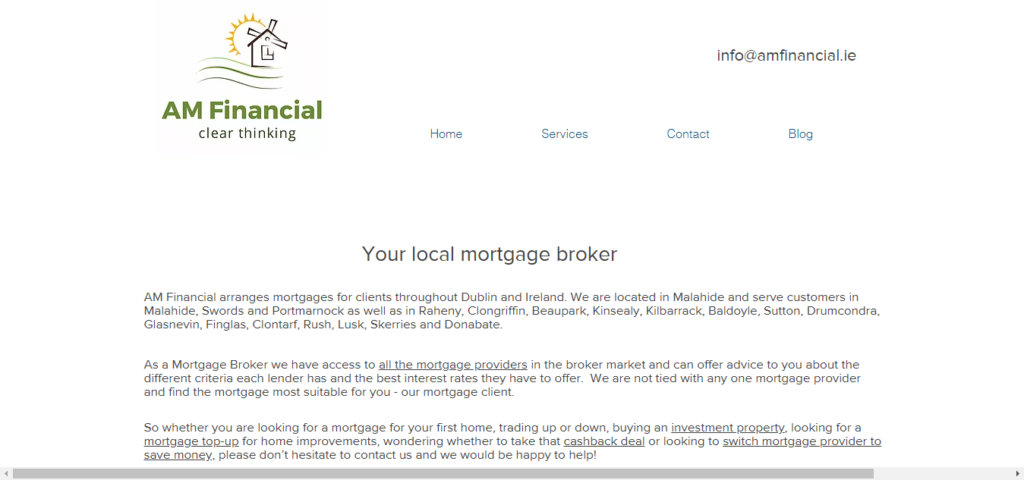 AM Financial is a mortgage broker that has access to all mortgage providers in the market. What people like about them is how they give advice about the different criteria each lender has and the best interest rates they are offering.
Another factor why people prefer them is their amazing customer service. Whether you are looking for a mortgage for your first home, trading up or down, or looking to switch mortgage providers to save money, you may contact them and they will happily assist you.
Over the years, they have built a reputation for themselves due to the quality of their services. They have provided some huge companies like KBC Bank, Avant Money, Finance Ireland, and so much more.
They offer their services in Malahide, Swords, and Portmarnock as well as in Raheny, Clongriffin, Beaupark, Kinsealy, Kilbarrack, Baldoyle, Sutton, Drumcondra, Glasnevin, Finglas, Clontarf, Rush, Lusk, Skerries, and Donabate.
Regulated by the Central Bank of Ireland
Answers any questions the client has
Also offers excellent pension and protection advice
Fantastic customer service
Operating hours are not on their website
Rates are unavailable
8. Finance for Homes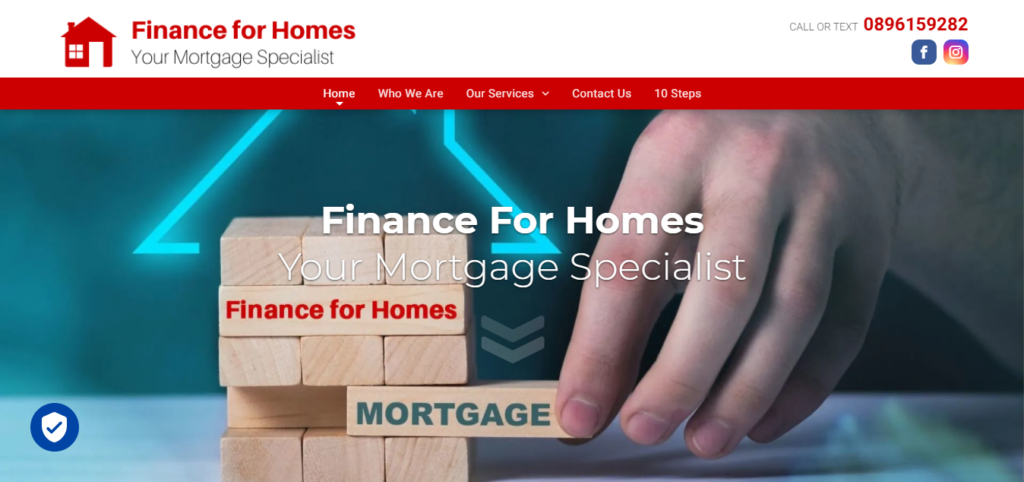 Looking for the right professional partner that can guide you through the process of a mortgage application that's right for you and meets your needs? Finance for Homes is perfect for you. They are one of the most trusted companies that give the most honest mortgage advice and support.
They are not your usual mortgage specialists. According to the reviews of their previous clients, they mentioned that the team of Finance for Homes helped them through the process from the very beginning up until the end. They also complimented how strong and supportive their team was on their issue.
In comparison to other companies, they research extensively and communicate with clients clearly and honestly. One of their clients said that they did not use any jargons, which was amazing because they were able to understand what they were doing to help them with their situation.
People prefer to contact them rather than others because they always guide their clients to achieve their goals in a stress-free way. In case you do not know what service you need, feel free to call them, ask for a consultation, and they will be more than happy to serve you.
Regulated by the Central Bank of Ireland
Takes their time to listen to their clients
You only need 10 steps in working with them
No online application portal. (All documents can be emailed or collected from clients

.)
9. Finance One Limited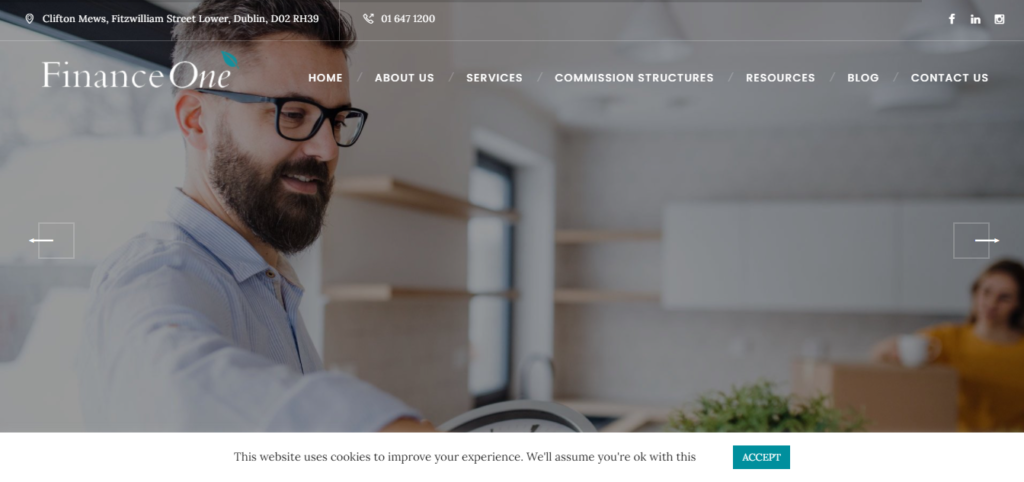 PRODUCTS
Financial Planning, Mortgages, Commercial & Bridging Finance
WEBSITE
https://www.financeone.ie/
ADDRESS
8 Windsor Place, Lower Pembroke Street, Dublin 2 D02XE04
CONTACT DETAILS
01-6471200


[email protected]

OPERATING HOURS
Contact for details
Finance One Limited is a longstanding financial services advisor providing advice in relation to clients' personal and business financial needs.
We recommend them because their pieces of advice cover a lot of areas that can help in effective financial planning. They cover pensions, retirement planning, savings, investments, family protection cover, home loan mortgages, buy to let mortgages, commercial property mortgages, debt restructuring, business & shareholder protection, and employer & employee group schemes.
We think they are great because they help clients plan ahead of themselves in order to achieve their financial goals, maximize their income resources, and enjoy stress-free financial management. With their team of experts who have over 200 years of combined experience, they have the skills and knowledge to be able to help you better prepare your finances.
No matter what help you are looking for, whether it is for pensions, investments, or protection, Finance One Limited can help you.
A huge team of experts
Updates clients throughout the process
Simplifies everything in order for their clients to understand better
Operating hours are not stated
Customer Reviews
Here are what their clients say about them:
"Cian and all the team at Finance One were exceptional from start to finish. Somebody was always on hand to answer any questions we had no matter how small. The online portal makes the process so simple by just uploading documents. I would 100% recommend using finance one for your mortgage journey, the service they offer is second to none. Thanks so much to everyone involved who got us into our new home! ☺️" – Michelle Flanagan
"I dealt with Daniel from the start and with the current situation with the housing market, and trying to get a mortgage in the middle of a pandemic can be burdensome. Also, the whole Finance One team is just fantastic and ready to help and answer any questions or would recommend someone else. Thank you as well to Cian, Amanda and Greg who were fantastic to deal with. I couldn't be more grateful to the whole team. Thank you for everything! 🙂" – Jill Tolosa
10.   Greenway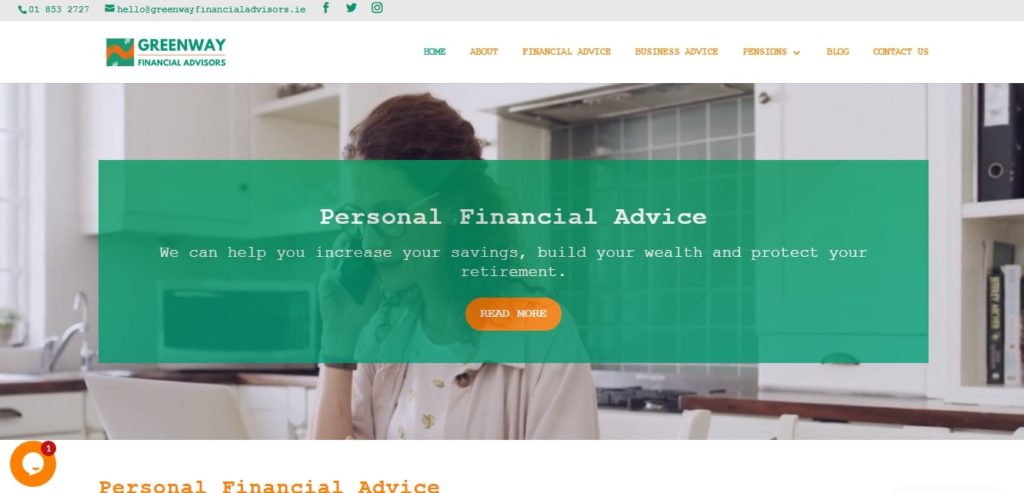 PRODUCTS
Financial Advice, Business Advice, Pensions
WEBSITE
https://greenwayfinancialadvisors.ie/
ADDRESS
277 Clontarf Road Dublin, Ireland D03 E9A0
CONTACT DETAILS
01 853 2727


[email protected]

OPERATING HOURS
Monday – Thursday: 9:00 AM – 9:00 PM
Friday: 9:00AM – 6:00PM
Saturday: 09:00AM – 1:00PM
Greenway is a firm that provides consumers with completely certified and trustworthy financial advisers that specialize in areas such as pensions, insurance, and mortgages, among others. They are a tiny organization, but they have sufficient expertise in dealing with and managing both personal and commercial funds.
What we find remarkable is their diversified and wide industry expertise, which ensures that customers can anticipate evidence-based and dependable tactics tailored to their specific situations.
All other methods are also complimentary and sufficiently supportive of the client's specific demands and conditions in order to construct personalized solutions to their financial problems.
Another thing we like about them is their website, which is jam-packed with important information for clients looking for credible materials and resources on financial systems and the services they provide.
Overall, their previous clients have formed long-term relationships with them and have praised them for their broad expertise in the industry and similarly efficient approach to implementation.
Informative resources
Professional and well-informed staff
Complementary packages available
Closed on Sundays
company is fairly small
Customer Reviews
Here are some reviews from their clients:
"I recently changed my mortgage protection insurance with Greenway Financial Advisors. This was the easiest process of getting quoted and putting a policy in place that I have ever experienced. Debbie was available at any time to answer my queries and she has great knowledge and expertise with the insurance products they offer and she didn't blind me with jargon. I'm delighted to have found a financial advisor I can trust." – Enid M
"I had the very good fortune of receiving some advice from Greenway Financial Advisor's, their in-depth and knowledgeable advice was above and beyond what I had hoped for. They were incredibly friendly, professional, efficient, and most importantly helpful. I would highly recommend them to anyone who needs a financial advisor." -Brendan L
FAQs about Mortgage Brokers
---
And there you have it! We hope that our guide will allow you to select the best and most suitable mortgage broker in Dublin for you and your family.
Think we missed other mortgage brokers in our list? Send us a message and we'll look right into it,
If you're also putting a property for rent, getting an accountant can help you manage your assets. We've listed down the best accounting firms in Dublin to help with that.