The 8 Best Accounting Firms in Dublin
Whether or not you're a first-time businessperson, an owner of an SME, or even the CEO of a larger corporation, one key employee you would need is an accountant.
In Dublin alone, there are over 100 accounting firms to choose from to suit your business needs. Good thing you're reading this guide, as we've put together a list of the best accounting firms in Dublin.
Why Businesses Need Accounting
Many factors contribute to the success (or downfall) of a business. And one key part of any company is your accountant.
You might be thinking it's a waste of funds to hire one when you can probably do the basic tasks of accountants, but actually, accountants and accounting firms can do so much more in expanding business growth and giving you necessary advice to make those hard financial decisions.
Just how important is an accountant to a business?
1. Organized business records
Accounting ensures you stay on track of the health of your business. Without keeping detailed records of your profits, liabilities, funds, etc., you would have no idea on how your business has grown from the time you set it up.
2. Easy filing of taxes
Paying taxes is a legal obligation. But without accurate financial records, this can result in paying the wrong amount of tax. Hence, hiring an accountant ensures that you pay the needed amount on time, thereby avoiding any penalties or legal consequences in the future, especially should you become audited.
3. Directs decision making
Accounting is integral in making the right decisions for your company. For instance, how can you be sure launching a new product would boost your profits and not drag them down? This is where an accountant's analysis of financial data comes to play.
The Best Accounting Firms in Dublin
Now that you have a better understanding of the role of accounting in business, let's head on to the list of the best accounting firms in Dublin.
[Note: This list is in no particular order.]
1. Greavy and Co.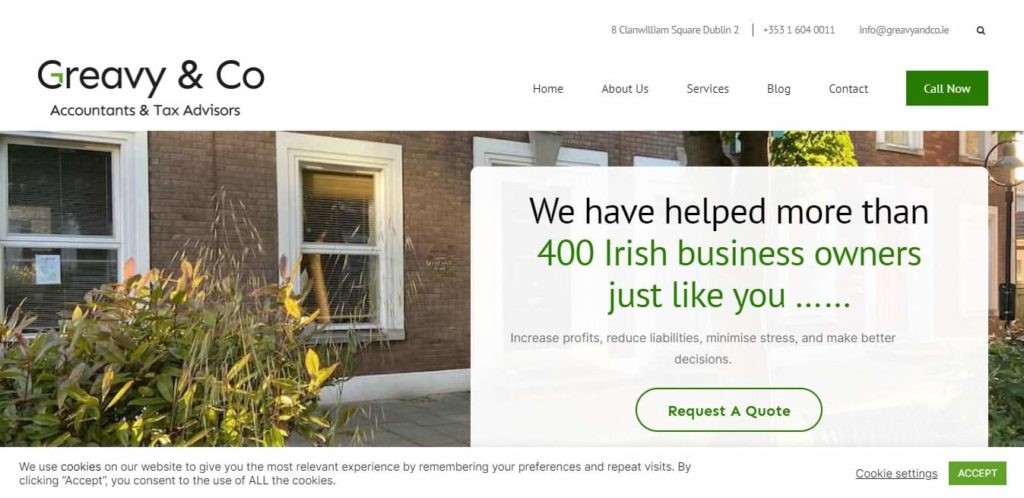 BEST FOR
Small and growing businesses
SERVICES
Year end accounts, bookkeeping services, management accounts, payroll, income tax, VAT returns, inheritance tax, capital gains tax, and outsourced financial controller
WEBSITE
https://greavyandco.ie/
RATES
Need to request a quote
ADDRESS
8 Clanwilliam Square, Grand Canal Quay, Dublin 2, DO2 PF75
CONTACT DETAILS
+353 1 604 0011


[email protected]

OPERATING HOURS
9:00 am to 5:00 pm (Monday – Friday)
Established in 2011, Greavy and Co is a full-service accounting firm that has served over 400 business owners in Ireland.
With a team of 13 experienced accountants and practice areas in accountancy, tax services, and payroll, business owners are certain to get the financial advice and assistance they need leading to more profits and lesser tax.
You can also request a free consultation from them via telephone.
If you'd like to know how much you need to pay to avail of their broad range of services, you can also easily request a quote and get an answer within 24 hours.
Free telephone consultation
Avail of requested quote within the day
Closed on weekends
More suited for small businesses
Customer Reviews
Below are some of the comments from their clients:
"If you are looking for an accountant in Dublin we highly recommend Greavy and Co Accounting. They prepare accounts for us on a monthly basis and take care of our tax returns. They are always reliable and professional." –Phillip Scott
"Since working with Greavy and Co. over the past few years, our business accounting processes have greatly improved. Their team is client-focused and proactive, and the advice given by Thomas and Roy is always timely, clear, and helpful. I would highly recommend Greavy and Co." -Peter Penn
2. Moran and Partners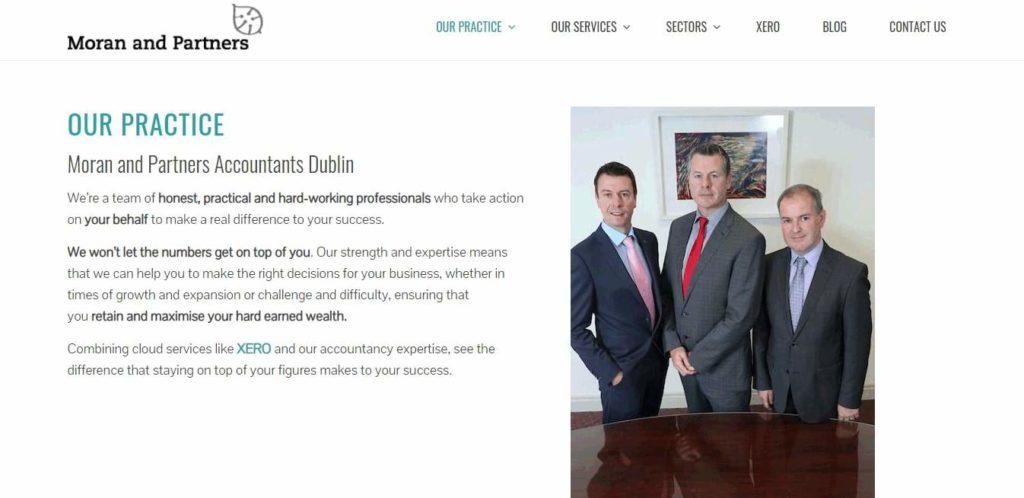 | | |
| --- | --- |
| BEST FOR | Small to large businesses |
| SERVICES | Accountancy and audit, bookkeeping and payroll bureau, tax consultancy and advice, company secretarial services, start-up business, consultancy, and investment/wealth management |
| WEBSITE | http://moranandpartners.ie/ |
| RATES | Need to contact for service prices |
| ADDRESS | 30 Upper Drumcondra Road D09 FT7K Dublin |
| CONTACT DETAILS | +353 1 8379 106 |
| OPERATING HOURS | 9:00 am to 5:30 pm (Monday-Friday) |
Moran and Partners offers services for a variety of sectors—be it retail, manufacturing, property-related, professional services, and even travel and tourism.
They also fuse cloud services such as Xero Accounting Software with their accounting expertise, helping their clients run their business through more convenient and accurate means.
Having authorization from the Association of Chartered Certified Accountants, Moran and Partners is permitted to perform investment business services and provide investment advice. This service allows a businessperson to know whether or not he or she is ready for retirement by letting Moran and Partners examine his or her assets and liabilities.
Xero Silver Champion
Has a wide range of services from small to larger businesses
Authorized by the Association of Chartered Certified Accountants as a Statutory Auditor
Closed on weekends
Need to contact them first to know much you would need to spend in order avail of their services  
Customer Reviews
Take a look at what clients have to say about Moran and Partners' services:
"Moran and Partners are one of the top accountancy firms in Ireland but they still maintain a first class personal service. Moran's have produced accounts for my small business for many years now, and I can highly recommend them for any small or large business." -Sean Drumm
"They provide a professional, up-to-date accountancy service, taking the time to understand our business and the specific needs of our company. We have found them always to be extremely professional and reliable, with an excellent knowledge base." -Wallace Travel Group Limited
3. Accountant Online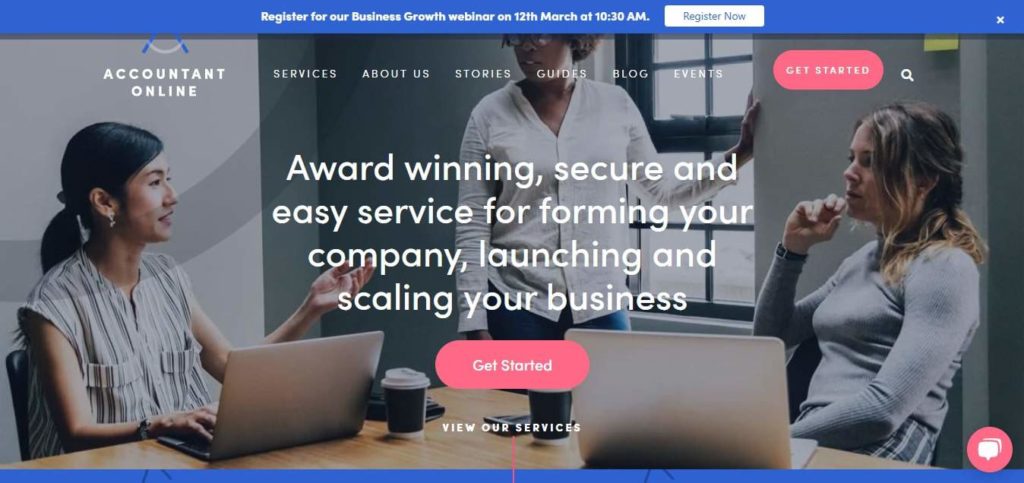 BEST FOR
Startups
SERVICES
Payroll services special offer, company secretarial maintenance, tax registration, company seal, company formation and 6-month compliance, capital gains tax, startup offer for limited companies, registered office address, VAT registration, preparation, and filling, and annual accounts and corporation tax return
WEBSITE
https://accountantonline.ie/
RATES
The essential company registration package – €829 (special offer)
Payroll services – (request quote)
Startup offer for limited companies – (request quote)
Company formation – €249
Company seal – €59
Virtual office – €249/year (special offer)
Company secretarial maintenance – €399/year
Bond for non-EEA resident directors – €2,249/every 2 years
Named company secretary – €249/year
Post-Brexit company formation package – €2,950 (special offer)
Small company accounts package – (request quote)
Scale-up online offer – (request quote)
Sole trader starter offer – (request quote)
VAT registration, preparation and filing – (request quote)
Director returns – (request quote)
Voluntary strike-off – €399
Registration of beneficial ownership – €249
Irish branch formation – €499
PPSN number application – (request quote)
Registered office address – €199/year
Business correspondence address – €199/year
ADDRESS
71 Baggot Street Lower, Dublin, D02 P593
CONTACT DETAILS
+353 1 905 9364


[email protected]

OPERATING HOURS
8:00 am to 6:00 pm (Monday-Friday)
Accounting Online is an online financial technology accounting firm geared towards micro and small companies.
Although relatively a newer company compared to other accounting firms, Accounting Online has established a respectable reputation by garnering a number of awards, notably in the Irish Accountancy Awards from 2017 to 2020. In 2021, they were also awarded "Partner of the Year-Ireland" by Xero Awards.
Aside from offering a vast array of services not only in accountancy and company secretarial, what makes Accounting Online noteworthy is its ability to provide its services virtually. Hence, discussing business needs won't be a hassle even when you're at home (especially while the COVID-19 pandemic is still ongoing).
They're also clear on how much their services are worth. Although you may have to request a quote for a number of their other services, such as payroll.
Has offices outside of Dublin
Knowledgeable in both UK and Irish accounting regulations
Offers virtual services
Xero Platinum Partner
Customer Reviews
Check out these glowing client reviews:
"An absolute pleasure to work with. Some might think because the service is all done online that it might be impersonal, but I can assure you that it is quite the opposite. James McHugh in particular I almost felt as a close friend the way he was helping me in every way he could. The whole team taking care of my account was more than professional and knowledgeable than I could have ever hoped for. Highly recommended accounting service." -Tsvetan Kanev
"We needed a correspondence address setup fast and that is exactly the service we received from Accountant Online. Nicola was very efficient and responded to our emails promptly. Based on our experience, we will use this company again for other business services. Five Star Service!!!!" -David Ryan
4. Beyond Accounting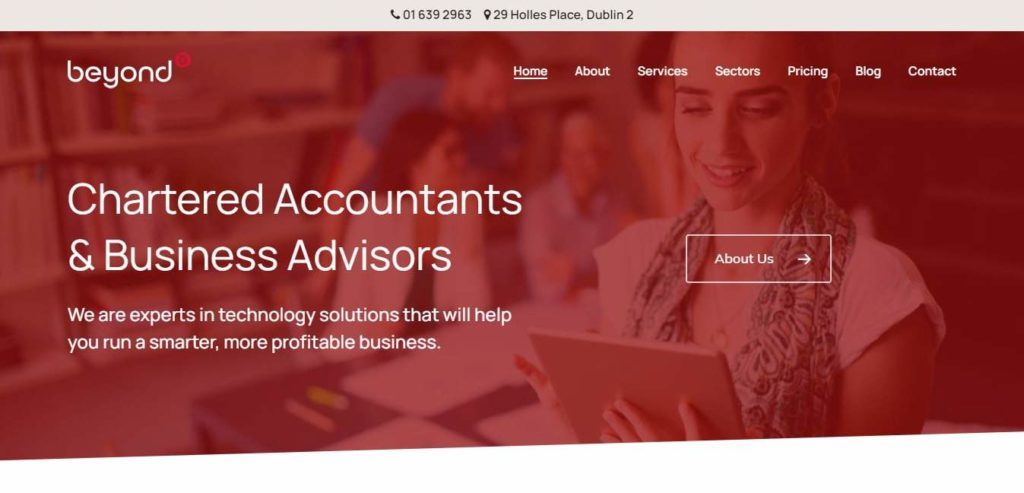 BEST FOR
Cloud accounting
SERVICES
Accounting compliance and year-end, bookkeeping, Xero migration, implementation, and training, outsourced management accounting, outsourced CFO and advisory, financial business coaching, and investments, pensions and protections
WEBSITE
https://beyond.ie/
RATES
Starter package – €75/month
Essentials package – €160.50/month
Expansion package – €267.50/month
Set of company accounts – €750
Annual return for CRO (Form B1) – €120
Preparation and submission of an income tax return (Form F11) – €250
Payroll – up to 10 payslips and filing obligations – €100/month
Additional payslips – €5/each 3-year finance plan and projections – €750
Additional accounting services – €100/hour
Bookkeeping – €40 Implementation and configuration of Xero – €750
Xero training from – €100/hour
Annual Xero support – €62.50/month
Xero subscription from – €27/month
Xero add-on subscriptions – (available for certain add-ons only)
Company formation (including CRO fees) – €250
Company secretary service – €240/year
Registered office service – €240/year
ADDRESS
29 Holles Place, Dublin 2, D02 YY46
CONTACT DETAILS
+353 1 639 2963


[email protected]

OPERATING HOURS
9:00 am to 5:00 pm (Monday-Friday)
Founded in 2012, Beyond Accounting services in sectors such as design, media and creative; IT managed services; retail, e-commerce, and hospitality; and software, SaaS and technology.
Being very technology driven, Beyond Accounting specializes in cloud accounting and boasts of being the largest Xero partner in Ireland. An award-winning Xero Platinum partner, they also provide implementation and training in Xero.
True to its name, Beyond Accounting helps their clients in more ways than accounting by providing services such as financial business coaching and training to aid business owners boost their growth.
For smaller enterprises who need professional accountants but lack the funds to hire one, Beyond Accounting can help you find affordable outsourced accounting services.
Has a price list on the majority of offered services, with packages for small to larger businesses
Largest Xero partner in Ireland
Offers implementation and training in Xero
Closed on weekends
May not be suitable for business owners who prefer more traditional means of   accounting
Customer Reviews
Here are some reviews from happy Beyond Accounting clients:
"Stop right now. Pick up the phone, and talk to these folks—you won't be sorry! They are really beyond accounting. I have learned more and received more value from Rory and his team, especially Eben, than any other accounting firm I have ever dealt with. These folks are not just end-of-year tax fillers; they are truly a partner in your business. Looking forward to working with them for many years to come!" -Allen O'Neill
"Beyond Accounting helped us integrate our new Xero system and also our new payroll system. Fiona was amazing. I was very nervous starting two new systems, but she made the whole process so easy, and she was very friendly and patient with me. I would definitely recommend this service to anyone looking to reduce the stress of a change over in systems!" -Jessica Hughes
5. Payroll Matters Ltd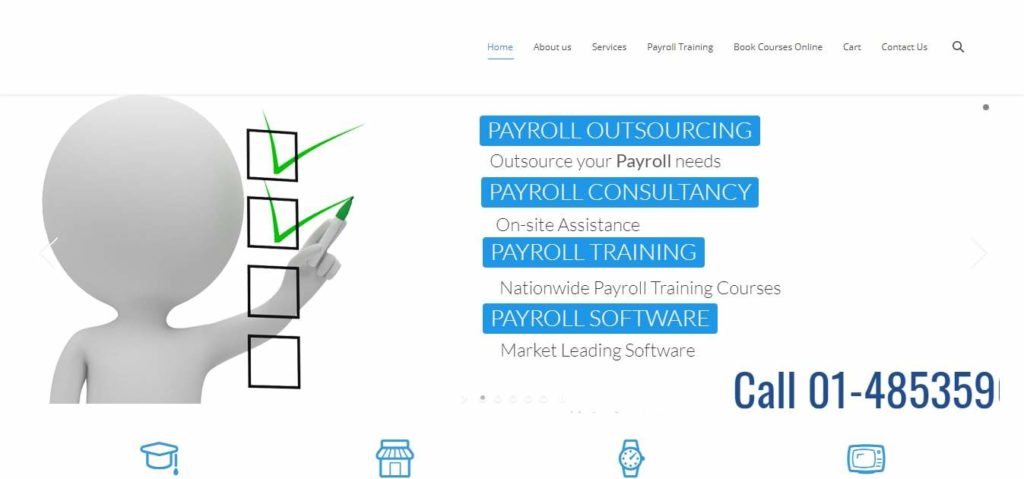 | | |
| --- | --- |
| BEST FOR | Payroll services |
| SERVICES | Payroll outsourcing service, payroll outsourcing process, payroll backup and support, payroll outsourcing cost savings, multinational payroll, wholesale processing, onsite/remote processing, start-up company payroll, temporary and casual cover, payroll consultancy, and payroll software, |
| WEBSITE | http://payroll.ie/ |
| RATES | Need to contact for service and training prices |
| ADDRESS | 27/29 Carysfort Avenue, Blackrock, Co. Dublin |
| CONTACT DETAILS | +353 1 485 3596 |
| OPERATING HOURS | 9:00 am to 5:30 pm (Monday-Friday) |
Payroll Matters Ltd is a company that focuses on giving payroll bureau services, payroll training courses, and payroll consultancy.
Their standard payroll outsourcing service—which clients can ask to be modified according to their needs—features services such as periodic timesheet processing, employee setup and maintenance, company setup and maintenance, and payslips (posted and/or emailed) among others.
The additional features of their standard payroll outsourcing service includes employee assistance and helpline, staff hand books, employee workshops to explain the workings of payroll, and assistance in the provision of tax allowances and queries among others.
Payroll Matters Ltd also provide a specialised payroll (software) outsourcing service for issues such as data confidentiality, additional third party security, etc.
Businesses can also avail of Quantum Payroll, a payroll software that allows users to have a more convenient payroll system, since Payroll Matters Ltd is an authorised reseller.
Wide variety of payroll services
Provides specialised payroll software
Closed on weekends
Services are centered on payroll only
Customer Reviews
See what some of their clients have to say about their services:
"I found that the service that Payroll Matters offers is exceptional and the level of knowledge of complex payroll and revenue related issues greatly benefited us when implementing a less than standard payroll structure. The ongoing services are professional and more importantly delivered on time, every time." -US company (LLC)
"Payroll Matters Ltd provided a seamless transfer to the outsourced process and ensured that all angles were covered prior to going live… the service is top class, always punctual and David is always available to discuss any concerns or issues we may have had with individual circumstances. Payroll Matters are very much hands on in ensuring that the service provided is excellent and provides a service which is excellent value for money." -Motor Group
6. Kalc Accounting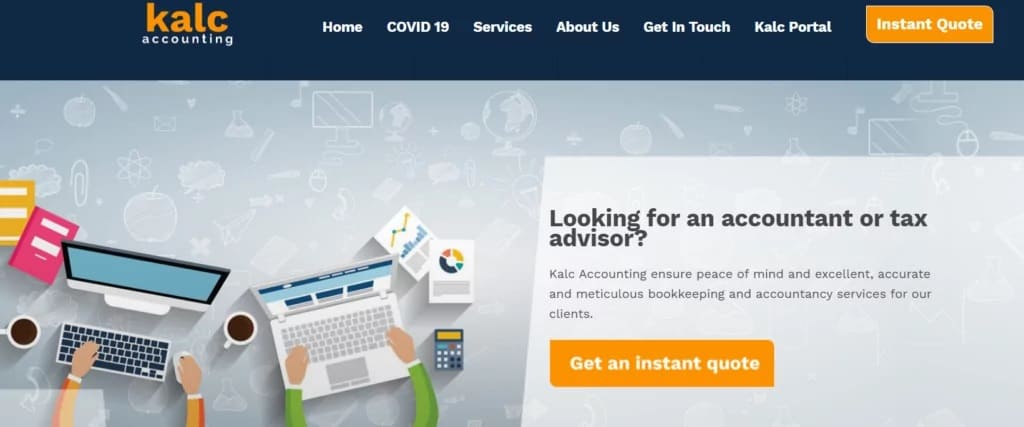 BEST FOR
Tax advisor
SERVICES
Accounting, bookkeeping, consultancy, taxation, payroll, UK compliance and taxation, and more
WEBSITE
https://www.kalcaccounting.ie/
RATES
Need to contact for service and training prices
ADDRESS
Columba House,
Airside, Swords,
Dublin, K67 R2Y9
CONTACT DETAILS
+35301 808 4191
OPERATING HOURS
9am – 5:30pm Mon – Fri
Kalc Accounting ensures peace of mind and excellent, accurate, and meticulous bookkeeping and accountancy services for their clients. With a wealth of experience and knowledge, their team provides streamline accounting with a dedicated account manager offering a competent, professional, and affordable service.
They aim to be approachable and proactive, and work closely with companies of all sizes to streamline their accounting process and achieve efficiency, timely returns, and a clear overall financial view to assist in forward planning and expansion.
Their system allows instant access to all your up to date financial information, allowing you to make business decisions based on real time balances and projections instead of out of date management reports. Furthermore, their cloud based accounting software ensures access from all devices and from anywhere with an internet connection, while ensuring complete confidentiality.
Combines their skill with the best software technology
Get instant quotes on their website
Closed on weekends
Base rates are unavailable online
7. APM Accountants

BEST FOR
Limited Companies
SERVICES
Audit and Accounts
Taxation
Company Secretarial
WEBSITE
https://apmaccountants.ie/
RATES
Request a Quote
ADDRESS
Tallaght Dublin, Ireland
CONTACT DETAILS
01 4418732


[email protected]

OPERATING HOURS
9.00 am to 5.30 pm Monday to Friday
APM Accountants is an accountancy firm that offers partner-led accounting services and procedures to ensure that its clients get the best service possible. Established back in 2019, their partners however have more than 20 years of experience in the field which says a lot when it comes to their expertise in the field.
We find their services to be highly ideal for new clients and individuals simply looking into the said services since all consultations are free to better accommodate more clients and educate them regarding the proper procedures for their situation.
They are highly knowledgeable about different accounting services that a business or enterprise due to their diverse experience dealing with clients and the market as well.
However, note that they only provide their services to companies to limited companies and to property and owner management companies among other companies that are limited by guarantee.
Nonetheless, their past clients have commended them for their professional disposition and decision-making that puts the company's interest as paramount and that is why we would recommend them to clients looking for an accounting firm in the area.
Free consultations
Professional and knowledgeable customer assistance
Personalized approach
Operating hours unavailable
Ideal only for limited companies
Customer Reviews
Here are some reviews from their clients:
"The firm are very professional and the quality of service is excellent. We are delighted that we made the moved our business and look forward to working with APM accountants into the future." – William O'Dowd
8. Osservi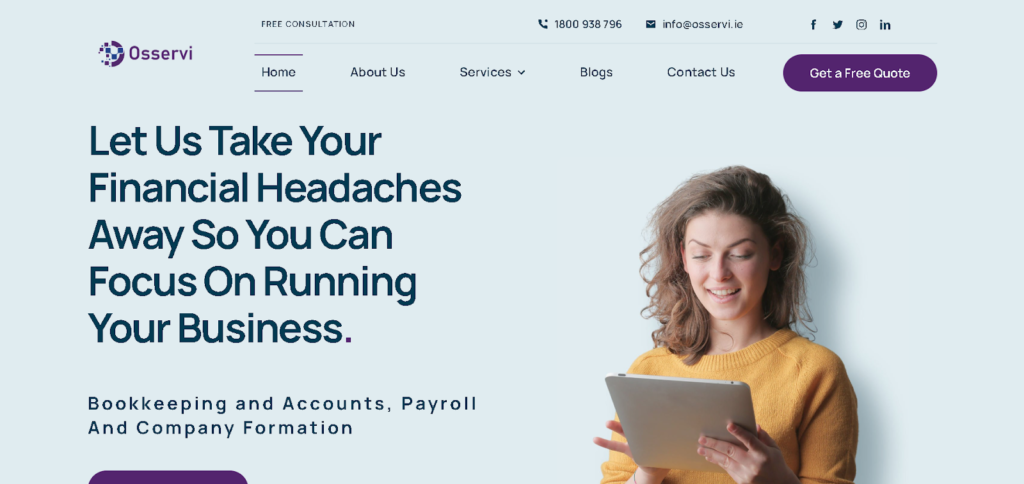 BEST FOR
Accounting
SERVICES
Bookkeeping
Payroll
Accounting
WEBSITE
osservi.ie
RATES
Request a Quote
ADDRESS
Unit 5, Jervis St, Dublin 1, D01 T2C2.
CONTACT DETAILS
1800 938 796
[email protected]
OPERATING HOURS
Monday – Friday, 9:00 AM – 5 PM
If you're looking for one of the best accounting services in Dublin, then look no further away from Osservi. They've been in the outsourcing market since 2018, and they've gone a long way toward helping businesses manage their financial paperwork more efficiently.
They offer expert guidance on small company accounting as well as outsourced accounting counsel to corporate companies that have expanded with the assistance of their accounting experts.
Many of their clients began using them for payroll or bookkeeping services and were so pleased with the advice and service they received that it was only natural for them to utilize them for all of their accounting services requirements. They like seeing their clients' businesses become stronger year after year. You make the sales, and they handle the accounting.
We strongly suggest Osservi for your accounting and financial requirements. They will have maintained your records up to date so there will be no concern because they believe in keeping company owners up to date all year.
Flexible services
Deliver results at high-speed without time consuming efforts
Reasonable rates
Customer Reviews
Osservi were great value and had the best experience
"When we were searching for payroll services in Ireland we got 3 quotes from companies. Osservi were great value and had the best experience in what we were looking being a start up. They have explained the Irish system so simply to us we now feel we understand everything so quickly. Great communicators." – Laura Myers
If you are looking for outsourced payroll services in Ireland, this is the company to go with
"I have been working with Osservi for a few months now and I am very satisfied. They are always available to chat about any question I have and they make it very easy to set up a payroll account, Generate Payslips and other reports, etc. If you are looking for outsourced payroll services in Ireland, this is the company to go with.." – Mike Longo
FAQs About the Best Accounting Firms in Dublin
---
And this concludes our list of the best accounting firms in Dublin. Hopefully, this guide has answered most of your questions regarding your accounting needs.
Did we miss other accounting firms in Dublin that should be on our list? If we did, please tell us and we'll check them out ASAP!
Looking for someone to enhance your business's website? You may want to take a look at our choices for the 5 best web design companies in Dublin!