5 of the Best Car Dealerships in Galway
In the fast paced environment of the world today, a car is a great asset to have. It carries us for rides to the office and long road trips with our families.

Since cars play such an important role in our lives, it can be difficult to choose one that is best for you. Having countless options doesn't help make things easier either.
Fret not because In this article, we take a look at the best car dealerships in Galway which can hopefully help in finding the right car and dealership for you.
How much do cars at car dealerships cost?
There are many car options out there nowadays that can accommodate different budgets. More costly options tend to have more additional features, but it is more important to balance this by considering how the car fits into your lifestyle.
Below are some of the common brands and average ranges of prices we found amongst Ireland's car dealerships. Take note that these price ranges may not be the full picture and includes prices for used cars as well.
| Car Brand | Price Range |
| --- | --- |
| Škoda | € 9,950 to € 54,495 |
| SEAT | € 17,247 to € 46,950 |
| CUPRA | € 37,950 to € 82,000 |
| Audi | € 17,895 to € 168,122 |
| Mercedes-Benz | € 17,995 to € 149,950 |
| Volkswagen | € 9,950 to € 98,320 |
| Hyundai | € 12,950 to € 44,750 |
Top Car Dealerships in Galway
We assessed the car dealership according to the following criteria:
1. Tony Burke Motors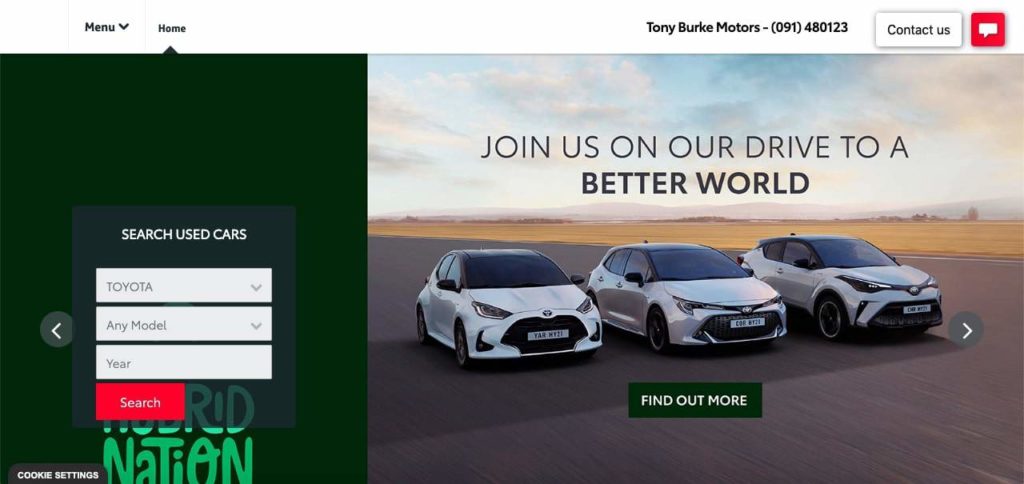 Test
Info
SERVICES
Toyota and Lexus Dealer, Aftersales Services and Accessories
WEBSITE
https://www.tonyburkemotors.ie/
ADDRESS
Ballybrit Galway
CONTACT DETAILS
091 480123,

[email protected]

OPERATING HOURS
SALES

Weekdays: 9:00 AM to 6:00 PM

Saturday: 10:00 AM to 4:00 PM




AFTERSALES

Weekdays: 8:30 AM to 5:30 PM
| | |
| --- | --- |
| Accessories and additional services | ★★★★★(5/5) |
| Variety of car options | ★★★★☆(4/5) |
| Purchasing process | ★★★★★(5/5) |
| Customer service | ★★★★☆(4/5) |
Tony Burke Motors is an authorized Toyota and Lexus dealer that offers excellent payment options and service features. This makes them a great one-stop shop!
Their range of new cars is more limited to Toyota models, but they still have quite a number of options available. You can choose either hybrids, vans and shuttles at a price range from € 18,000 to € 70, 000.
Their range of used cars however are much more extensive in terms of brands. In this criteria, you'll find models from Audi, Ford, Volkswagen and much more.

The price range for these cars would be around € 12,000 to € 80,000. Each vehicle is thoroughly checked and most come with additive features such as warranties and roadside assistance.
What we like as well about Tony Burke Motors is that they're very flexible with their payment plans. They accept trade ins, finance quotes, Flex PCP finance and can talk you through other finance options via video call.
Specifically, they have an in-house finance specialist who will work with you to get the best deals even if you have no credit history or bad credit. We really appreciate this more personal approach to payment and financing your car.
Tony Burke Motors also offers servicing, emission testing, warranty work and Toyota parts. So overall, if you're looking for a car dealership that focuses on the Toyota brand this might be the one for you.
Can request test drives
Various payment options
Offers servicing and Toyota parts
New car range is more limited to Toyota
Some customer feedback reporting slow customer service
Customer Reviews
Great Service and Very Cooperative Staff
I had a service recently to my Toyota Corolla Hybrid. The staff was very cooperative. The service done perfectly. The staff knows their job. Mr Robert guided us nicely. Highly recommend. All the staff deserve 5 star. Thanks Cathy for your wonderful after sales service. Quite satisfied – Asma Yaqoob Alam
Quick and Clear Communication
Bought a Toyota Rav4 here for myself. Dealt with Adrian who was an absolute gent to deal with. Quick and clear communication, fair offer for my trade-in and best price on model and spec around. Small hiccup with the entertainment system needing a software update but Adrian being the gent he is, dropped us off in Galway City Centre to have a stroll around town and picked us up once the software update was done, he couldn't have been more apologetic but really handled the situation perfectly which absolutely made up for the hiccup. Would absolutely recommend Tony Burke Motors. -Rene MG
2. Connolly Motor Group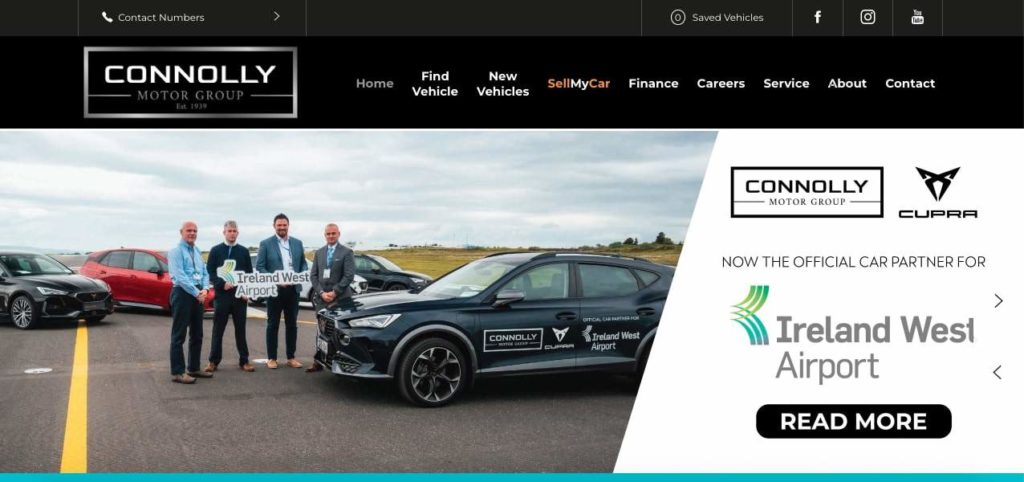 Test
Info
SERVICES
New and Used Cars, Service and Parts
WEBSITE
https://www.connollys.ie/
ADDRESS
Connollys Hyundai, Connollys Mercedes-Benz: Ballybrit Business Park; Connollys Audi: Briarhill Business Park
CONTACT DETAILS
Hyundai: 091 732 900, Mercedes-Benz: 091 337400, Audi: 091 336000,
OPERATING HOURS
SALES

Weekdays: 9:00 AM to 6:00 PM

Saturday: 9:00 AM to 4:00 PM




PARTS

Mercedes-Benz

Weekdays: 9:00 AM to 6:00 PM

Saturday: 10:00 AM to 4:00 PM




Audi

Weekdays: 9:00 AM to 6:00 PM
| | |
| --- | --- |
| Accessories and additional services | ★★★★★(5/5) |
| Variety of car options | ★★★★★(5/5) |
| Purchasing process | ★★★★★(5/5) |
| Customer service | ★★★★☆(4/5) |
The Connolly Motor Group has multiple branches and provides a unique approach to car dealerships. Each of their branches has a particular brand of focus namely Hyundai, Mercedes–Benz, and Audi.
Their range of new cars includes six brands, Audi, Hyundai, Volswagen, SEAT, Cupra, and Mercedes–Benz. This provides clients good options for various designs, features, and forms.
Connolly Motor Group runs a separate area for used cars called The Car Center which offers quick finance approval and nationwide delivery. They have a wide range of cars with offerings of different fuel types, transmissions, body styles and additional brands like Honda and Nissan.
This family-run business is known for their after sales assistance knowledgeable staff and technicians are providing helpful advice.
The business also has a "sell my car" service with a relatively quick and straightforward process. They provide a free valuation for any car of any make, which is a great service to have.
In terms of applying for finance, Connolly's does offer Personal Contract Purchase and Hire Purchase as well. These are perfect for those looking for payment options either in the forms of the car's depreciation or owning the car once the installments are fully paid.
It's also important to note that the different branches have different service and sales hours. We highly recommend checking these schedules ahead of time before you go to visit.
Offers personal contract purchase and hire purchase
Provides parts and various servicing for different car makes
Has a separate car center for used cars
Offers business leasing
Various service and sales times for different brand branches
Some customer service cases reporting difficulty in communication
Customer Reviews
Helpful and Extremely Professional
Just bought my new A6 from Connolly's Galway. I have to say my experience was terrific. Very friendly folks working there who were highly helpful and extremely professional – from the receptionist, to Inga in Finance and of course Darren in Sales. Great teamwork everyone but a special mention for Darren who is new to the job. Darren was fantastic and really was very supportive throughout the process. Well done everyone – Noel Clerkin
Couldn't Have Asked for a Better Experience
Just took delivery of a new Hyundai and really want to share how good the dealership is. They're friendly, helpful and I couldn't have asked for a better experience. The car is great too, with long warranties and AA membership. Thanks everyone ay Hyundai Galway! – Steve W
3. Monaghan and Sons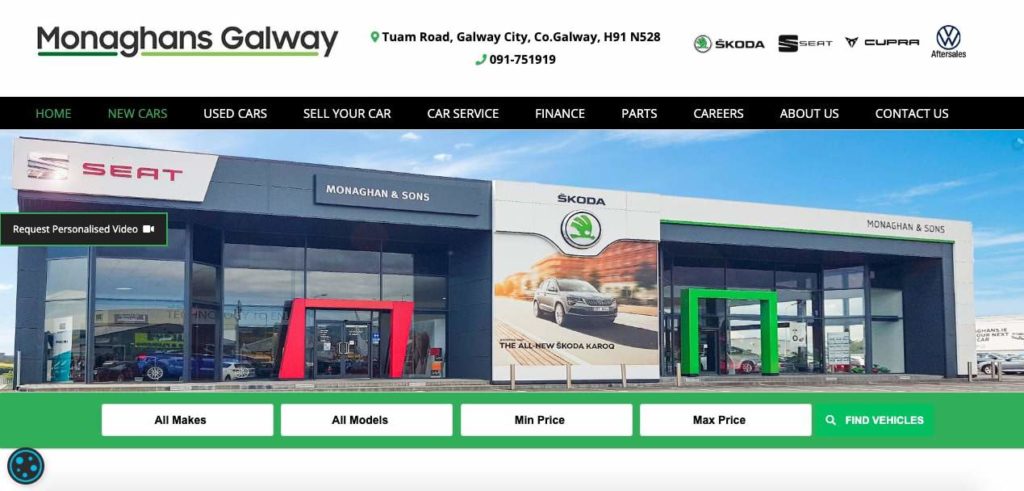 Test
Info
SERVICES
New Cars, Used Cars, Sell Your Car, Car Service and Parts
WEBSITE
https://galway.monaghans.ie/
ADDRESS
Tuam Road, Galway
CONTACT DETAILS
091 751919,

[email protected]

OPERATING HOURS
Weekdays: 9:00 AM to 9:00 PM

Saturdays: 9:00 AM to 5:00 PM
| | |
| --- | --- |
| Accessories and additional services | ★★★★★(5/5) |
| Variety of car options | ★★★★☆(4/5) |
| Purchasing process | ★★★★★(5/5) |
| Customer service | ★★★★☆(4/5) |
Monaghan and Sons is a family run business that offers new cars from Škoda, SEAT and Cupra as well as over 100 used cars.
You can book a test drive for their range of new cars and they also accommodate Škoda connect, which are Škoda's online services for remote features, calls and add ons. We like that they are up to date with the even explaining the more technical attributes of their new cars.
Their used cars have a great range too. They include different makes such as Volkswagen and Renult, and also have a great price range, with the cheapest one on their website being € 9,950.
Monaghan and Sons is a solid place to check out affordable car options with well maintained features.
They also offer a sell your car service that guarantees full payment via bank transfer in 24 hours. We were very impressed with how quick this turnover of payment is and the arrangement is simple, from filling a form online to booking a schedule.
In terms of financing, they work with leading financial institutions such as the Bank of Ireland and Lombard for finance applications. They do offer personal contract purchase and hire purchase as options.
Lastly, they are also an authorized workshop and parts stockist for Skoda, SEAT, CUPRA, VW & VW Commercial so if you would like to have any servicing, are looking for specific parts and body repairing this is a good place to check out.
For the sell your car service keep in mind that they consider cars newer than 2014 with a limit on the car's mileage.
Provides car servicing and body repairs
Has a sell your car service
Longer service hours
Collaborates with leading financial institutions for financing
Limitations on cars for sell your car service
Previous customer experiences on lacking important car information and description
Customer Reviews
Great Attention to Detail
I got my car in March and Adrian Quinn was so helpful. He had so much knowledge of the car and walked me through everything. He's attention to detail from the car to the financial side was so great. The transition was smooth. I gave my old car back and the new one was ready.
This is my 3rd year with them and I cannot say enough good things about Monaghan & Sons Galway. Thanks for all your help. -Lisa Ninyori
Quick and Efficient
I bought a new Kodiak from Monaghan and Sons last month and I cannot recommended them enough. Tony was our salesperson and he was a pleasure to deal with. Once the car arrived into the garage he made the handover so quick and efficient. The following week he called to follow up on how I was getting on with it, great aftercare. – Aishling Finnerty
4. Sheils Motor Group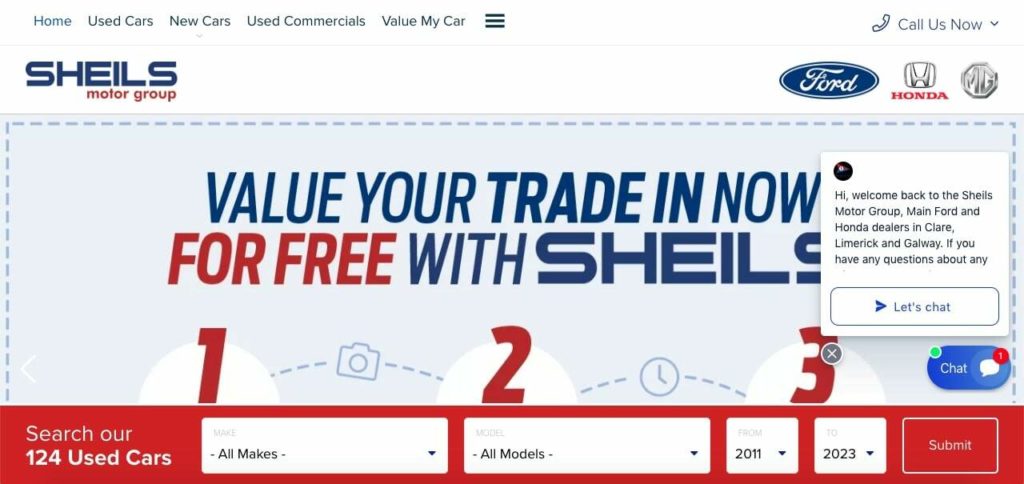 Test
Info
SERVICES
Used Cars, New Cars, Selling and Valuing Cars, Servicing
WEBSITE
https://www.sheils.ie/
ADDRESS
Sheils Motorpark, Headford Rd, Galway
CONTACT DETAILS
091 741 100,

[email protected]

OPERATING HOURS
SALES

Weekdays: 8:30 AM to 6:00 PM

Saturday: 10:00 AM to 4:00 PM




PARTS AND SERVICE

Weekdays: 8:30 AM to 6:00 PM
| | |
| --- | --- |
| Accessories and additional services | ★★★★☆(4/5) |
| Variety of car options | ★★★★☆(4/5) |
| Purchasing process | ★★★★★(5/5) |
| Customer service | ★★★★★(5/5) |
If you are looking for a more direct experience in terms of purchasing your next car you may want to check out Sheils Motor Group.
They are an authorized MG, Ford and Honda dealer that also conveniently provides in-store shopping, in-store pickup and delivery. Across their dealerships in Galway, Clare and Limerick they have over 250 stock in used cars.
On their website you can browse through their offerings of around 121 used cars. These range from cars from 2011 upwards, to different makes such as Peugeot, Opel and Renault, and more.
They also do offer used commercial vehicles at great prices with the lowest one on their website priced at € 14,250. It is important to keep in mind that most of these models are of Ford make.

For financing your purchase, Sheils Motor Group offers a safe, quick and secure online process. While this is convenient, we recommend visiting them in person so you can check out the vehicle yourself.
We like that a lot of their processes are condensed where you can easily access them on the website. They also have a helpful live chat feature for any questions you might have, although we can't say for certain if it's a real person or A.I. on the other end of the line.
As for their servicing area, there have been some complaints with its inefficiency but if you're still looking for a dealership that proves its straightforward process, Sheils Motor Group might be it.
Condensed online processes
Helpful live chat feature
Affordable options for commercial used vehicles
Accept all makes and models for their sell my car service
More limited options for used cars with hybrid and electric fuel types
Limited time for sales on Saturday
Customer Reviews
Very Smooth Process
I have just become the owner of a fabulous new Ford Puma. Shane my salesperson made the whole process very smooth from start to finish. He was professional, knowledgeable, and extremely genuine with a relaxed no pressure approach. After listening to my needs he helped me choose the best car for me. I would highly recommend Shane as the 'go to' salesperson if you're in the market for a new Ford. Thank you Shane, and thank you to all the sales team at Sheils Galway. – Edel Kelly
Helpful and Very Knowledgeable
Bought my Honda Civic from Paul two years ago, he's a pure gent. Been back every 6 months for a service, Loretta and Josephine look after everything. They are super helpful when booking in and dropping off. Very friendly ladies, and know their stuff. A credit to Sheils. – Regina King
5. Western Motors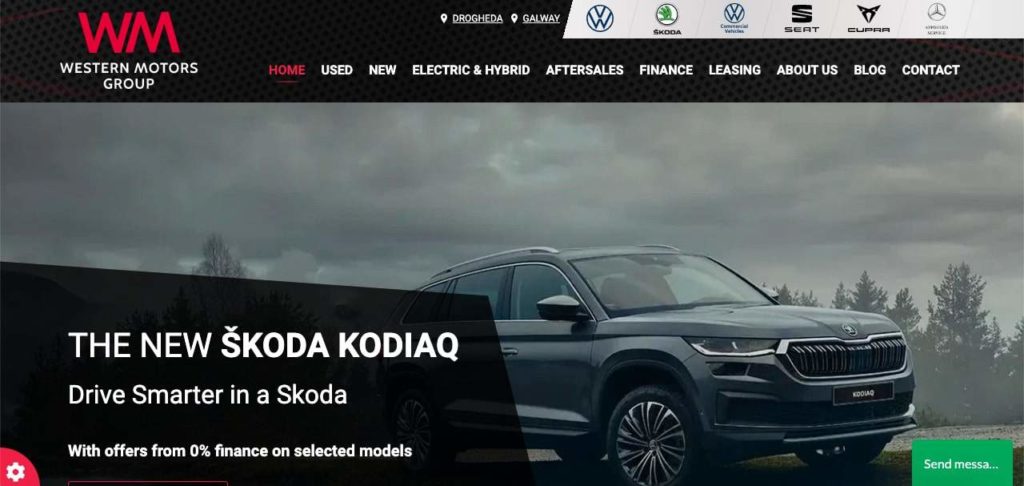 Test
Info
SERVICES
Used Cars, New Cars, Aftersales, Leasing
WEBSITE
https://www.westernmotors.ie/
ADDRESS
Briarhill Business Park, Ballybrit, Galway
CONTACT DETAILS
091 709970,

[email protected]

OPERATING HOURS
Weekdays: 9:00 AM to 6:00 PM

Saturdays: 9:00 AM to 2:00 PM
| | |
| --- | --- |
| Accessories and additional services | ★★★★★(5/5) |
| Variety of car options | ★★★★★(5/5) |
| Purchasing process | ★★★★★(5/5) |
| Customer service | ★★★★☆(4/5) |
Western Motors is a family run car dealership that has represented Massey Ferguson tractors, Austin, Jaguar, Mercedes-Benz, Audi and SEAT cars. They are continuously adding to this impressive list with brands like Volkswagen and Škoda.
They have great used car options with price ranges starting at € 12,000 which includes brands like Nissan and Cupra. On the other hand, their new cars also offer commercial Volkswagen vehicles which are ideal for small business owners and corporations.
In terms of their electric and hybrid car range, we found it to be very impressive as well. They primarily have models from the Volkswagen ID series and also assist customers in installing the corresponding home charger for the vehicle.
Numerous resources are available on their site about selecting the right hybrid car for you and we appreciate how thorough this section is.
For financing, Western Motors has great customer support. They offer hire purchase, personal contract planning, used car finance and, GAP insurance
GAP insurance was specifically made for Volkswagen vehicles, so for people with this make of vehicle it would be preferable to have this option checked out here.
Western Motors also offers personal and business leasing, and they do provide the option of a service and maintenance plan alongside this. We appreciate that the mileage limit of these vehicles are flexible and also covers road and tax fine management.
While overall customer review has positively highlighted their excellent advice and professionalism, there have been cases of complaints against their servicing and cost.

If however, you are looking for a car dealership especially for electric, hybrid and Volkswagen make cars, take a look at Western Motors.
Offers nationwide delivery
Has business and personal leasing
Promote and highlight their hybrid and electric options
Good range of car selection
Shorter operating hours on Saturday
Prior complaints on their servicing and servicing cost
Customer Reviews
Very Professional
I purchased a new VW Tiguan at Western Motors last week. The salesman Gabriel Geoghegan was very professional and friendly in his dealings with me. All of my questions were answered professionally. I would have no problem in recommending Gabriel and Western Motors to any of my friends or business acquaintance's. I would give Gabriel and Western Motors a 5 star rating! – Liam Keaveney
Provided Excellent Advice
Pat Keane provided an excellent service when I was looking to buy a family car. He provided great advice and spoke about the pros and cons of various options. So by the time I bought the particular car, I was confident I was making the right choice. -Michelle O'Hara Haugh
FAQs about purchasing cars
---
We hope this list gives you a glimpse of the best car dealerships in Galway. If you would like to read more of our articles we also have an article on the best car financing firms in Ireland.