The 5 Best Car Insurance Providers & Brokers in Waterford
If you've recently bought a new car, the next important step to take is to get car insurance. Irish and EU law require car owners to get third party insurance at least.
Not sure where to get those? Today, we've gathered the best car insurance companies in Waterford to help you on your search.
FAQs, contact information, and premium costs—these are just some of the things you can expect in this article. Without further ado, let's begin!
According to the Independent.ie, annual premiums for car insurance in Ireland cost about €653 on average. However, insurers will consider many factors before giving you a quote.
This includes the driver's experience, claims history, vehicle age, size, and value, profession and use, among others.
For instance, drivers with less driving experience who wish to have a second-hand SUV insured can expect higher premiums compared to drivers with clean driving records who would like to have a new saloon insured.
In essence, the cost of your car insurance will depend on the level of risk you pose as a driver. This is why you won't find standard costs of car insurance online.
When purchasing or renewing insurance, you must provide your chosen insurer with all essential information. Otherwise, the policy you purchased may be declared invalid later on.
Hence, we highly recommend contacting your chosen insurer to know more about their premiums. You can find our entries' contact information in the section below.
The Best Car Insurance Providers & Brokers in Waterford
In coming up with this list, we focused on these things:
Large network of insurers, as this will allow them to shop around to find the best rates for you
Scope of service, in case you plan on getting other insurance policies apart from your vehicle
Special services, or add-ons that make their services stand out from others
Client satisfaction, which shows that their products and services meet the expectations of consumers like you
Moving on, here are our top picks of car insurance companies that you can check out in Waterford.
1. Arachas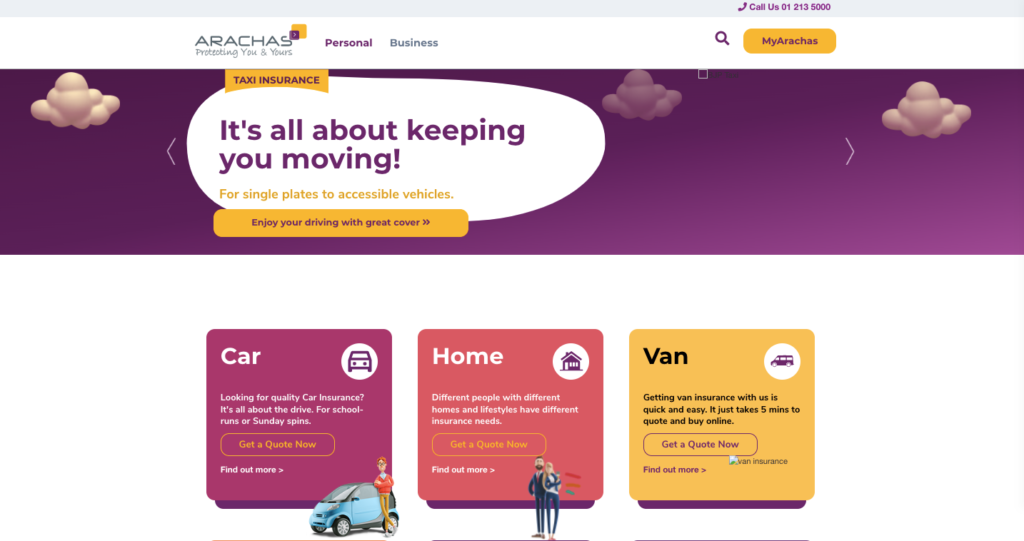 SERVICES
Car Insurance, Home Insurance, Van Insurance, Education Insurance, Contractors Insurance, Business & Retail, Professional Indemnity, Specialised Insurance
WEBSITE
https://www.arachas.ie/
ADDRESS
Arachas Corporate Brokers, The Courtyard, Carmanhall Rd, Sandyford Business Park, Sandyford, Dublin, D18 X377, Ireland
CONTACT DETAILS
01 213 5000 |

[email protected]

OPERATING HOURS
Monday to Friday: 9:00 AM – 5:00 PM
Saturday & Sunday: CLOSED
We're kicking things off with Arachas – Ireland's largest nationwide insurance broker. They are here and they exist to help you along your insurance journey by providing innovative products and outstanding service. Their main goal is to make your insurance experience as simple as possible – no muss, no fuss, just great coverage.
Through the years, they have built trusting relationships with their clients and insurance partners over the course of their 50-year history. They invest in and support their employees so they can provide the best possible service to their clients.
We also appreciate that they have excellent cover available to suit a wide range of risks. More importantly, they work with reputable, high-quality insurance providers to provide you with peace of mind so you can go about your day without worrying about your insurance.
Over the years, Arachas has grown on the shoulders of many great entrepreneurial businesses that share their core values and ethos. Our team has noted how these mergers and acquisitions, like them, share a fundamental belief in putting the customer at the center of everything they do.
Along the way, they combined their strength and experience to become Ireland's largest nationwide insurance broker. We also appreciate how they approach insurance differently, always looking for ways to innovate and improve how we serve our customers.
Arachas joined the Ardonagh Group in 2020, and they are excited to be part of a family of over 7,000 people who share their commitment to customer service, passion for innovation, and entrepreneurial spirit. Their network now includes over 100 offices in the United Kingdom, as well as a growing international footprint, ensuring that we can serve you locally, nationally, and internationally.
Wide range of products
Large network of insurers
Closed on weekends
Terrible communication when getting a quote
Customer Reviews
"I had a particularly difficult risk to place – an older property that had never been insured before. Louise Devlin in the Dublin branch was very knowledgeable, approached the market and got me great cover at a fair price. Turned it around very quickly and kept me informed at every step of the journey. 10/10!" – Mike G
"We have found Zeynep to be very helpful and quick to respond to queries in relation to our creche vehicle insurances. Highly recommend." – Gina Mc Garry
2. Oliver Murphy Insurance Brokers Limited

SERVICES
Car Insurance, Home Insurance, Van Insurance, Landlords Insurance, Travel Insurance, Health Insurance, Personal Insurance
WEBSITE
http://olivermurphy.ie/
ADDRESS
Gladstone House, 50 The Quay, Waterford
CONTACT DETAILS
051 841 766 |

[email protected]

OPERATING HOURS
Mon to Fri: 9:00 am – 5:00 pm
Oliver Murphy Insurance Brokers' services are for you if you're looking for a company that can help you on insurance and financial planning. What caught our eye with this firm is their large network of insurers.
They have access to over 35 insurers with some exclusive offers for car, van, and home insurance. This allows them more room to find the lowest rates for you, which is why we're convinced that they offer competitive rates.
As far as their motor insurances go, they provide covers for different types of drivers including young beginners, senior citizens, drivers with claims and convictions, and even claim-free drivers.
This makes them a good choice for those who have been turned down by various insurers due to strict policies. They also offer multi-car policies, perfect for families.
We would've liked to see more information about their insurance types though. But considering their large network of insurers, we're confident that they can find one that best suits your requirements.
Compared to our other entries, they offer one of the most extensive ranges of insurance products and services. They even provide insurance covers to niche industries including construction companies and pubs.
So if you're a business owner looking for specific insurance products, you're likely going to find what you're looking for here.
Large network of insurers
Wide range of products
Offers multi-car policies for families
Covers a wide range of drivers
Ideal for business owners
Lacks information about types of covers available
Closed on weekends
Customer Reviews
Very friendly and fast
"Called every insurer I could find for car insurance. They had the best price of all. Very friendly and fast. I'm staying with them for sure!" —Juraj Zagar, Google Reviews
Cheapest and affordably prices
"Sorted me out with my first insurance and subsequent renewals, been dealing with Karl and he's always gotten me the cheapest affordably priced fully comp insurance for my car, wouldn't go anywhere else 😊" —Francis Dwyer, Google Reviews
3. AXA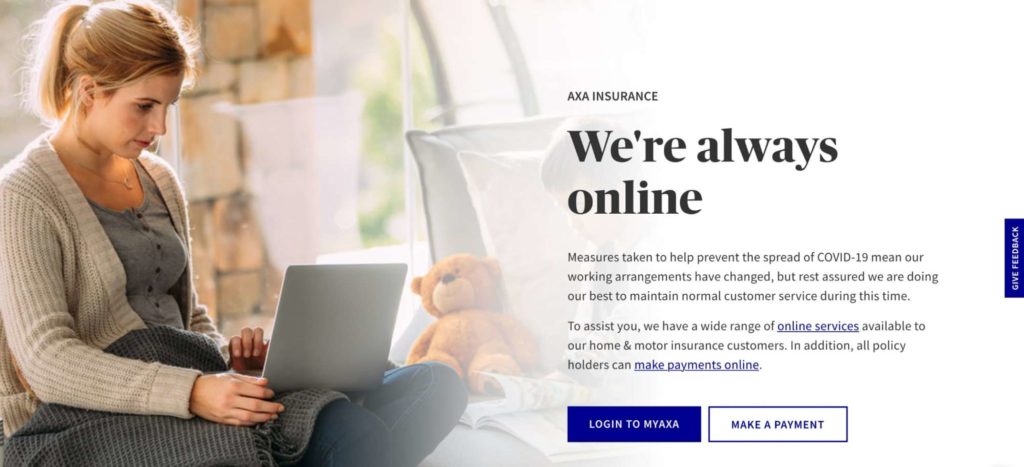 SERVICES
Carbon Neutral Car Insurance, Car Insurance, Van Insurance, Motorcycle Insurance, Taxi Insurance, Home Insurance, Farm Insurance, Small Business Insurance
WEBSITE
https://www.axa.ie/
ADDRESS
77/78 Meagher's Quay, Waterford
CONTACT DETAILS
051 872 084
OPERATING HOURS
Mon, Wed to Fri: 9:00 am – 1:00 pm; 2:00 pm – 5:00 pm
Tues: 9:00 am – 1:00 pm
If you've taken out an insurance policy before, then you know that AXA is a trusted name when it comes to insurance worldwide, not just in Ireland.
What's particularly unique about AXA is their Carbon Neutral Car Insurance product. This means that they're offsetting 100% of carbon emissions produced by your vehicle.
And how do they do this? They fund carbon offsetting projects around the world that are committed to reduce emissions—all in the name of climate action.
This is something that you don't normally see in insurance companies. So if you want your vehicle to be protected while making a positive impact on the environment at the same time, we highly recommend this insurance product.
All 3 insurance types are available here: third party, third party + fire and theft, and comprehensive insurance policies. We also like the fact that they offer huge discounts on renewals for every year you don't claim your policy.
There are so many benefits that come with AXA's car insurance policies—24/7 emergency and claims helpline, misfuelling cover, child seat damage, and more.
The only major downside is that you won't have many options regarding rates. Unlike brokers with a large network of insurers, you'll only get AXA's premiums, which can be relatively more expensive than some.
Wide variety of insurance products
Carbon offsetting insurance product available
Discounts for unclaimed policies
Phone line open 24/7
Short hours on Tuesdays
Relatively expensive
Customer Reviews
Great service over the phone
"Thank you very much Maura Kennedy @ AXA car insurance, Waterford for such a great service over the phone, very much appreciated. Dear Managers @ AXA, I hope that Maura's great customer service is being recognised. Thanks again." — Dalvinder Singh & Anita Singh, Google Reviews
So helpful
"I spoke to a guy called Conor and he was so helpful. I can't praise him enough. I'm returning to axa for my car insurance because of this." —Ann Davin Murphy, Google Reviews
4. McCarthy Insurance Group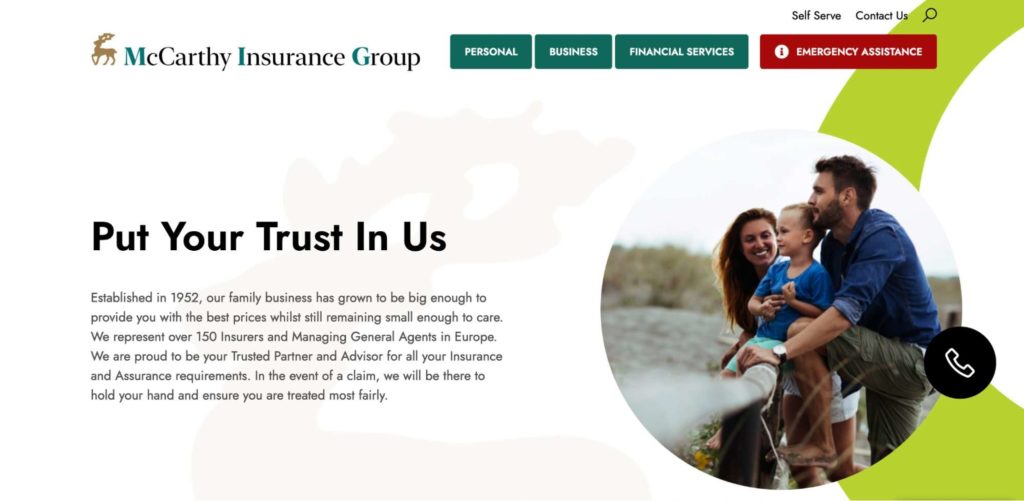 SERVICES
Car Insurance, Personal Insurance, Business Insurance, Financial Services
WEBSITE
https://www.mig.ie/
ADDRESS
35/36 Town Centre, Dungarvan, Co. Waterford
CONTACT DETAILS
058 45298 |

[email protected]

OPERATING HOURS
Mon to Fri: 9:00 am – 5:00 pm
Whether you're planning on getting motor or home insurance, McCarthy Insurance Group is an insurance broker you can consider either way. This company is one of Ireland's largest and oldest insurance brokers, with origins dating back to 1952.
Now, what this tells us is that they're also a trusted name in the industry. And when you have a network of over 150 insurers, you know for sure that they're quite reliable.
This also means that they can get you the best deal according to your budget and requirements. Whether you need to have multiple cars insured or just one comprehensive policy, rest assured that they'll find the most suitable option for you.
We really like the fact that their car insurance products come with added services such as 24/7 car breakdown assistance, which will come in handy in case of emergencies. On top of that, they'll also provide you with a courtesy car to help you get around.
Perhaps the biggest drawback we can see here is that their office is located in Dungarvan, much to the dismay of those living in the city centre. Still, they're pretty responsive through email or calls, so don't let this stop you from contacting them.
Wide range of products
Large network of insurers
24/7 car breakdown assistance
Courtesy car available (terms apply)
Branches available nationwide
Closed on weekends
Relatively far location
Customer Reviews
Efficient and friendly
"Fantastic, efficient and friendly service. Everyone I spoke to in the branch went above and beyond to help resolve our insurance queries." —Ciara O Connor, Google Reviews
Professional and efficient
"Very professional and efficient in dealing with our insurance requirements. Will be back again." —Emlyn Ó Troighthigh, Google Reviews
5. O'Leary Insurance Group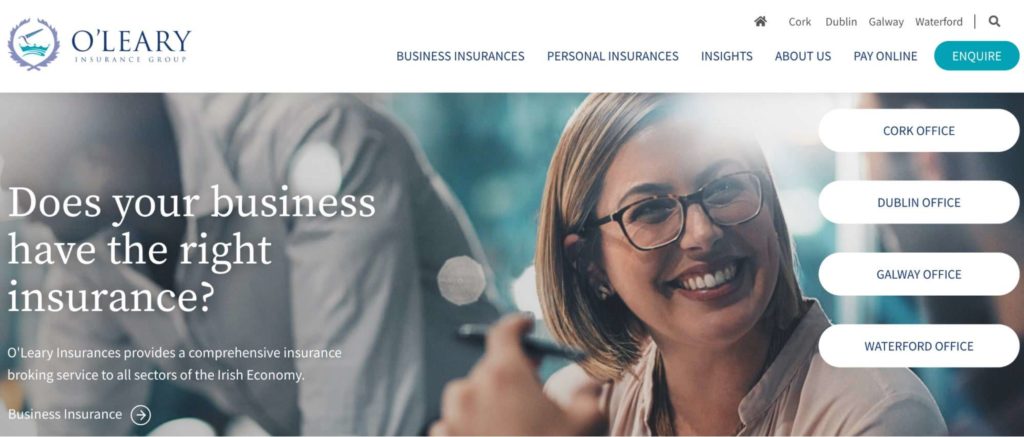 O'Leary Insurance Group has over 50 years of experience in the motor insurance market. They're an independent insurance broker that can get you competitive rates as well.
Drivers have the option to choose between third party insurance policies or comprehensive policies. They work with 14 different insurers offering different levels of cover and benefits such as breakdown assist, bonus protection, and windscreen cover.
While their network is more limited compared to others, we've heard from our friends and colleagues that their rates are decently low.
Our favourite thing about them is how easy it is to make a claim. They don't just process your application, but they also go the extra mile to deal with the insurer on your behalf.
What's also unique about them is that they offer comprehensive motor fleet insurance for large companies like oil and fuel distributors, among many others.
So if you're looking for this product for your business, make sure to think of this firm, seeing that not many insurance brokers offer this product.
Suitable for business owners
Easy claim service
Central location
Specialises in comprehensive motor fleet insurance
Relatively limited numbers of insurers
Closed on weekends
Customer Reviews
Always helpful
"Staff is always helpful and they always find the best available insurance for you. Never had any issues with them and they really seem to care about their customers." —NE 555, Google Reviews
Professional and very efficient
"O 'Leary insurance are a pleasure to deal with ! The past 6/7 years I have had numerous policies with them for my business. Everytime they're competitive, professional & very efficient! The staff are by far the right people for the job as well…great team in there." —Dale Mcevoy, Google Reviews
FAQs about Car Insurance in Ireland
More Resources about Insurance in Ireland