The 5 Best Camping Grounds in Ireland
Sometimes, feeling stuck inside your home means that you're itching to go out and have fun.
There is nothing more enjoyable than setting up camp and enjoying a starry night. Add in a perfect view and you're all set for a relaxing time!
Whether it is for recreation or just pure leisure, here's a list of the best camping grounds in Ireland that you should check out!
How much does camping cost?
It's a given that such unique experiences come with a price. Aside from the necessary equipment you'll need, you may also have to pay for the place you'll spend the night.

Here are the average prices to expect when planning to go out camping:
| Service | Average Estimated Price |
| --- | --- |
| Camper Van | €24.00 |
| Camping | €15.00 |
| Glamping | €200 for 4 people |
| Hotel | €170 for 2 people |
Best Camping Grounds in Ireland
Ireland is home to camping grounds showcasing great views with adventure at every corner – but what makes one the best for you? These selection criteria have helped us come up with the camping grounds on our list:
1. Loughcrew Caravan and Camping Park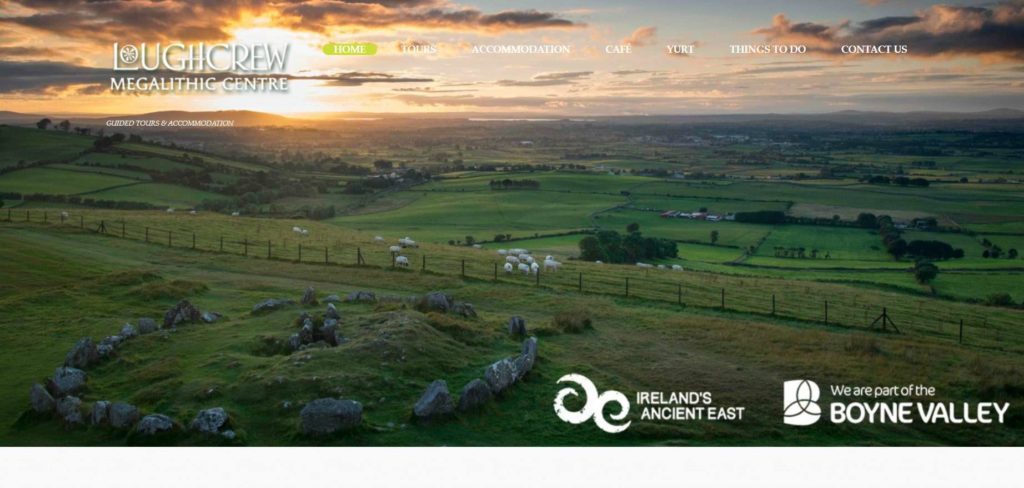 | | |
| --- | --- |
| Atmosphere | ★★★★★ |
| Amenities | ★★★★☆ |
| Scenery | ★★★★★ |
| Value for money | ★★★★☆ |
If you're looking for a traditional camping ground to spend a couple of days in Ireland, look no further because Loughcrew Caravan and Camping Park has that in store for you.
Loughcrew Caravan and Camping Park is a family-friendly site that offers both accommodations and guided tours for its clients. They prioritize a clean and modern experience for visitors to make sure that they have the most comfortable stay.
What we love the most about Loughcrew Caravan and Camping Park is how their camping ground is situated in the Boyne Valley. This means that in addition to a comfortable stay, you can take in a huge chunk of Irish History by just being there!
Loughcrew Caravan and Camping Park primarily have three accommodations to choose from – Camping, Camping Vans, and Glamping. All accommodations are given access to playgrounds, heritage cottages, tea rooms, and much more.
If we had to nitpick something about them, it would be that they're not actually open all year round. They have specific dates wherein they are open and require a certain number of days to stay in for booking.
In totality, Loughcrew Caravan and Camping Park is perfect for tourists looking to spend their time efficiently and locals who want to bask in Ireland's rich history!
Heritage spot
Affordable prices
Offers guided tours aside from camping
Has specific dates available for booking
Requires a 2-night minimum stay on weekends and a 3-night minimum stay on bank holiday weekends
Customer Reviews
Fabulous place with a beautiful view
"Fabulous place, very quiet with lovely walks about, beautiful view. The facilities were very clean and it's the loveliest campers' kitchen I've ever seen. Nice little playground, games room, and cafe on-site too. The game room charges for each arcade game, there are billiards tables, fuse balls, air hockey, and claw machine. They are each charged a certain amount of coins. The children enjoyed the billiards table very much, it costs a euro to play, I think we spent almost 20€ during our stay." – Tumie L.
Well-maintained and spotless
"Had a fabulous weekend, the yurts are gorgeous and so comfortable. The grounds are so well maintained and spotless. The campers kitchen is a great size with everything you need. The cafe on site has lovely coffee & cakes. The views are fantastic around the campsite. Blessed with great weather. I will definitely be back, thank you for a great weekend :)" – Mary F.
2. Clifden Eco Beach Camping & Caravanning Park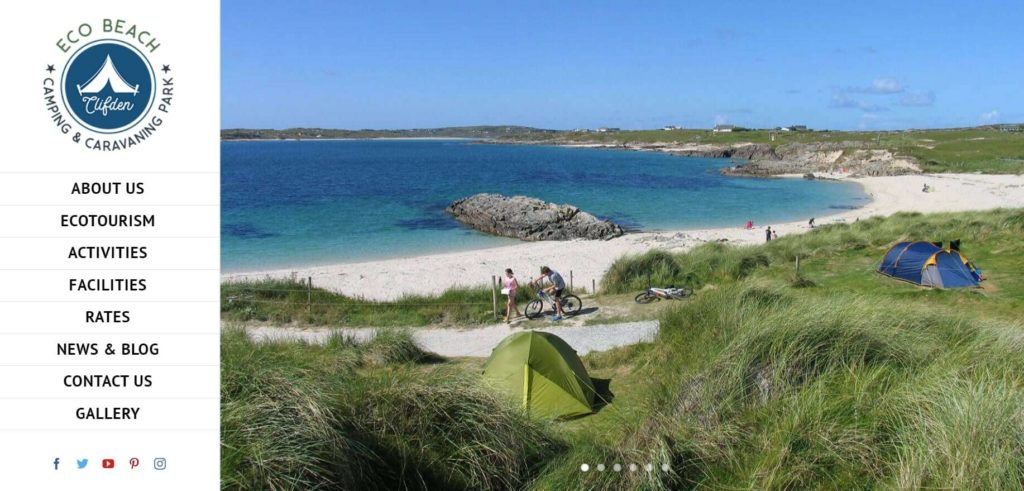 Test
Info
SERVICES
Camping, Camping Van, Fishing, Grilling, Water Activities
WEBSITE
https://clifdenecocamping.ie/
ADDRESS
Claddaghduff Road, Wild Atlantic Way, Grallagh, Clifden, Co. Galway, H71 W024, Ireland
CONTACT DETAILS
Tel: 00353 (0)95 44036

00353 (0)87 1267687

Email: [email protected]

OPERATING HOURS
Mondays to Sundays

9 AM–1 PM, 2 PM – 8 PM
| | |
| --- | --- |
| Atmosphere | ★★★★★ |
| Amenities | ★★★★★ |
| Scenery | ★★★★★ |
| Value for money | ★★★★☆ |
The idea of being one with nature is Clifden Eco Beach Camping & Caravanning Park's primarily selling point as a camping ground. If you wish to take a break from the hustlin' and bustlin' city life, then you should probably check them out!
Clifden Eco Beach Camping & Caravanning Park is a multi-awarded camping ground for its service to the nature and ecology of Ireland. To date, they have 11 awards given to them for being environmentally responsible which we absolutely love to see.
What sets Clifden Eco Beach Camping & Caravanning Park apart from the other grounds is that it's home to a priority ecosystem called "machair." Fun fact: machairs can only be found on the northwestern coasts of Ireland and Scotland!
If you were to stay with them, you're most likely to see a diverse population of bees, as well as Bottlenose Dolphins that would otherwise be a rare sight.
Unlike other grounds, however, they don't offer glamping accommodations. Their rates are also slightly more expensive than average and may be subject to change at any time.
If you're a nature and environment enthusiast looking to enjoy the ecosystem of Ireland while enjoying its sandy beaches, then Clifden Eco Beach Camping & Caravanning Park may be the camping ground for you!
Certified pro-environment by various global institutions
Offers beach activities like kayaking and fishing
No glamping accommodations
Fluctuating rates
Customer Reviews
Amazing experience
"It was our first time staying in a caravan and what a great experience it was at Clifden eco beach. The facilities were nice and clean. The campsite was lovely and quiet and very family-friendly. The private beach was a lovely bonus which the kids and dog loved (even on a cloudy day) Would definitely go back here again." – Maura Owen.
Amenities caters to all campers
"My second kayaking weekend here along with my modest tent, and as part of a bigger group. The surroundings are blissful and the amenities cater to all levels of campers. The campsite is peaceful and well equipped promoting simplicity and respect for the environment as well as for users. The team is friendly, helpful, and attentive to the needs of campers. I look forward to coming back." – Ruth Bracken
3. Connemara Caravan and Camping Park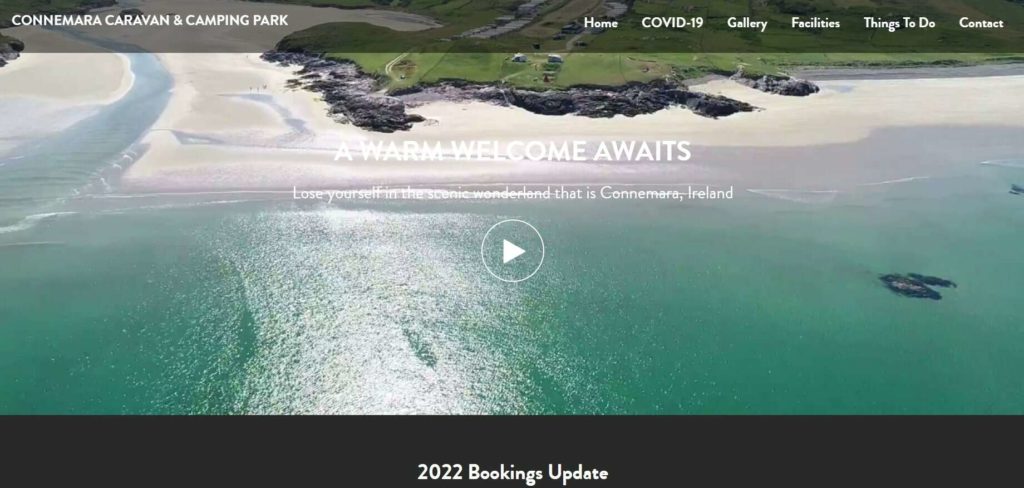 Test
Info
SERVICES
Solo Camping, Camping, Camping Vans, Play Areas
WEBSITE
http://connemaracamping.com/
ADDRESS
Lettergesh Beach, Renvyle, Gowlaun, Co. Galway, H91 NR13, Ireland
CONTACT DETAILS
Tel: +353 (0)87 1 253 254

Email: [email protected]

OPERATING HOURS
Mondays to Fridays

10 AM - 5 PM
| | |
| --- | --- |
| Atmosphere | ★★★★☆ |
| Amenities | ★★★★☆ |
| Scenery | ★★★★★ |
| Value for money | ★★★☆☆ |
If you're looking to chill out in a quiet, relaxing environment away from the hectic city life then what better place to go than Connemara Caravan and Camping Park.
Found west of the Connemara National Park, you are well situated by a breathtaking view of the Twelve Bens hills and the sea. This is your one-stop camping ground for all things serene and beautiful!
Connemara Caravan and Camping Park may seem simple and basic, but it's more enjoyable than one might think.
The facilities are pretty bare-bones but they have a well-equipped common area that has billiards and fusbol (table football) for some competitive fun as well as a small playground for the kidlets to let off some steam.
They have event space for renting out in order to accommodate large groups so you can feel confident about making reservations even if you're part of a family reunion, church, or school trip.
Currently, they are not accepting short-term bookings in response to the current COVID-19 Guidelines. In short, they only cater to long-term bookings which probably wouldn't apply to visiting tourists.
Overall, we think that the wonderful 360-degree views in Connemara Caravan and Camping Park are an absolute win and will do your soul good every time you look around. An absolute must-try for a relaxing time in Ireland!
Has a wide range of facilities, from hot showers to clean kitchens
Has access to the beautiful views of the Twelve Bens hills and the sea
By booking only
Doesn't cater to short-term stays
Customer Reviews
Magic-like location
"Love this campsite, so much so that we keep going back. The staff is very friendly and facilities are kept clean. The location is magic and as long as the weather is in your favour, it's a fantastic break away for kids and adults. It does get busy, which is the only reason I didn't give it a 5 star." – Amy King
Tranquil atmosphere
"Beautiful tranquil atmosphere and surroundings beautiful beaches and walks. A beautiful wake-up call of the beautiful ocean I highly recommend camping here. Lovely people and great facilities 👍👍 happy camping all." – Fionn O'Brien
4. Battlebridge Caravan & Camping Park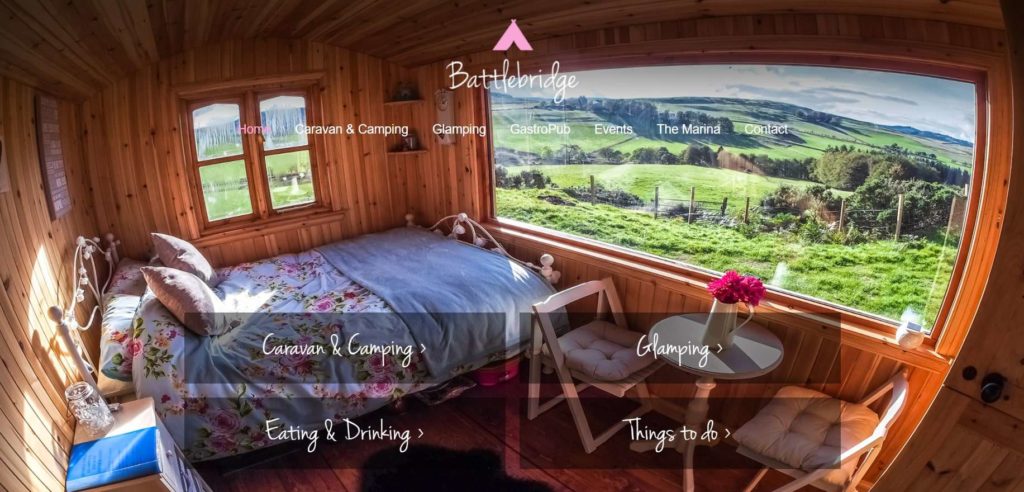 | | |
| --- | --- |
| Atmosphere | ★★★★☆ |
| Amenities | ★★★★☆ |
| Scenery | ★★★★★ |
| Value for money | ★★★★★ |
Is fishing one of your prioritized activities for camping? One of the best places in all of Ireland to experience a fishing holiday is at Battlebridge Caravan and Camping Park, conveniently located right along the banks of the River Shannon.
Sitting half a mile from Leitrim Village, this site is surrounded by forest, a marina and a traditional Irish pub.
We recommend that you take advantage of the many fishing opportunities available here – as well as taking long walks to enjoy the scenery – and visiting nearby Carrick-on-Shannon for more activities.
We absolutely love how charming the campsite is with loads of rustic charm created from the heart of its natural surroundings. This contemporary campsite is perfect for people who want to wake up in nature, and get some genuine countryside air into their lungs.
They offer campsites with luxurious accommodation, including stilted cabin tents, shepherd's huts and vintage caravans. However, note that these luxuries come at a price that may come across as expensive compared to their normal camping options.
All things considered, Battlebridge Caravan and Camping Park is the best choice if you're looking to enjoy marine activities while also enjoying the luxuries that glamping has to offer.
Serves as an acccess point to Shannon Blueway
Experts in glamping
Has an award winning Gastro Pub is onsite
More expensive than other grounds
Sanitation isn't their best suite
Customer Reviews
Friendly site
"Stayed twice Glamping with 2 young girls and had a great experience. The location is beautiful with lots to do nearby. The food was great, and the onsite bar was brilliant. The staff working there are outstanding. Every one of them was friendly, professional and a pleasure to deal with. Even when very busy dealing with all the C19 restrictions in place they were great. Friendly site with loads of kids and a great atmosphere. 100% will be back again." – Oisín McLaughlin
No hassle relaxation time
"Brilliant! We pulled in and got to pick our own pitch! Got all set up and went to the onsite bar, we had a nice drink and had our prebooked dinner. So relaxing, no hassle. It was quiet at night and we had the best two days away and came home feeling refreshed. The kids loved it there was a playground for them right beside the bar and outdoor seating." – Sinead Whyte
5. The Caravan & Camping Park at Westport House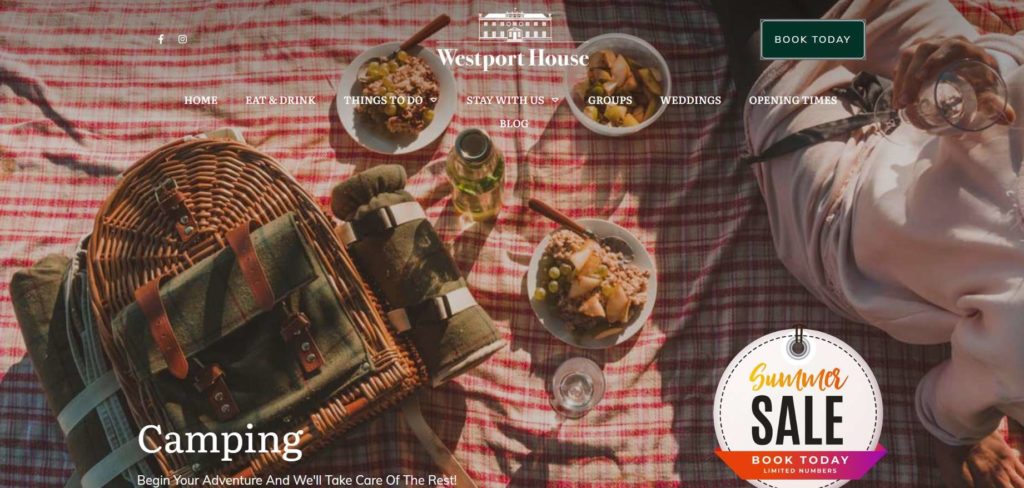 Test
Info
SERVICES
Hard Pitch, Tent Pitch, Ball Tent, Soft Pitch, Hiker Pitch, Hotel
WEBSITE
https://www.westporthouse.ie/
ADDRESS
Westport House Demense, Golf Course Road, Westport, Co. Mayo, Ireland
CONTACT DETAILS
Tel: +353 (0)98 27766

Email: [email protected]

OPERATING HOURS
By Appointment
| | |
| --- | --- |
| Atmosphere | ★★★★★ |
| Amenities | ★★★★★ |
| Scenery | ★★★★☆ |
| Value for money | ★★★★☆ |
Escape the madness of the city and gently relax in the welcoming countryside at Westport House Caravan & Camping Park.
Westport House Caravan & Camping Park is located right by Clew Bay where pirate queen Grace O'Malley once reigned supreme, and a serene location which is sure to leave your head clear and ready to face another day full of ideas!
This modern camping ground is set beside the picturesque heritage grounds of Westport House Estate where you will find unrivalled coastal scenery and breathtaking views of Clew Bay. Plus, you get an easy access to Killala Bay, Croaghaun Mountain and the beaches around Ballyconneely Village!
The bell tent rental is often the highlight of anyone's Westport House experience. Providing real beds and a kitchen box, it's cozy, warm and friendly. Lots of space for outdoor seating – all you have to bring is your own bedding!
Free onsite facilities include public WiFi, disabled showers and toilets, picnic tables, washing up areas and recycling. Also, we like that there is a fully equipped kitchen with hot showers and plenty of indoor seating for those in tents.
We love how Westport House Caravan & Camping Park offers campers 25% off on all tickets for Westport House and an adventure park found nearby on the estate. There are also special family rates for three days camping, along with an annual pass to the adventure park.
Though do note that they're only open during the high season and only accepts pre-booked guests.
Accessible from the city
Availing their accommodations comes with exclusive Westport House offers
Beginner-friendly camping pitches
Expensive
Open only in high seasons
Customer Reviews
Well-managed campsite
"Super and well managed camp and caravan site. Constantly cleaned by a wonderful team. It is within a 15 minute walk to the town through beautiful woodland. Good security via barrier gate. Highly recommend." – Adrianne Kennedy
Family-friendly
"Fantastic place for the whole family. We got a great weather at the time. Children were delighted to play over there. You've access to most of the attractions with your ticket / stamp. And also, there is a special offer as if you were in today, you're offered to enter for free on the next day." – Adam S.
FAQs about camping grounds
---