Top 5 Best Amusement Parks in Ireland
Fun is a personal thing, but we can all agree that a trip to an amusement park is a must. Theme parks are where "dreams come true" since there are so many exciting rides, activities, and attractions to enjoy.
We can recommend some of Ireland's top amusement parks for you to visit if you're searching for entertainment like no other.
How much do amusement parks cost?
Amusement parks can be enjoyable, but depending on their attractions and other circumstances, some will cost much more or considerably less. Here is an overview of what amusement parks typically cost to help you understand.
Do keep in mind that the prices in the table below are average estimated prices and are subject to change.
| Service | Average Cost |
| --- | --- |
| All-Access Ticket | € 50-100 |
| All-Access Ticket (Night) | € 50-80 |
| Kid's Price | € 40-80 |
| Senior Citizen Price | € 30-60 |
| Single Ride | €10.00 |
Best Amusement Parks in Ireland 
To start us off, here's our selection criteria in choosing the best amusement parks in Ireland included on our list.
1. Tayto Park

Test
Info
SERVICES
Amusement Park, Junior Zone, Petting Zoo
WEBSITE
https://taytopark.ie/
ADDRESS
Kilbrew, Ashbourne, Co. Meath, A84 EA02, Ireland
CONTACT DETAILS
Phone: +353 1 835 1999

Email: [email protected]

OPERATING HOURS
Mondays to Fridays: 10 AM to 6 PM
| | |
| --- | --- |
| Atmosphere | ★★★★★ |
| Design | ★★★★★ |
| Attractions | ★★★★☆ |
| Service | ★★★★☆ |
| Helpfulness | ★★★★☆ |
| Responsiveness | ★★★★☆ |
| Safety | ★★★★☆ |
| Value for Money | ★★★★★ |
Tayto Park is known for their largest wooden roller coaster, Cú Chulainn and Ireland's only water flume ride, The Viking Voyage. Their wide range of attractions offer different rides, where you can choose from over nine attractions.
What we love about Tayto is that they offer a special zone for kids. The Junior Zone offers 17 different rides and attractions such as the Steam Train Express, a train ride that offers a fun trip for the young ones to enjoy.
Some of their well-loved attractions in the Junior Zone are Honey Pot Bears and Pony Rail are a must to be visited when at Tayto!
Aside from their themed attractions, the park offers a petting zoo which is perfect for families and friends to see animals up close. They house over 23 mammals, 20 birds, and 4 farm animals, where visitors can visit and pet.
If we are going to nitpick Tayto, it would be their opening and closing time. They are only open for eight hours and do not provide night attractions, which is kind of a letdown.
Overall, if you are looking for a theme park that will satisfy your family and friends with its wide range of attractions, Tayto Park will surely be the best choice for your party!
Offers a petting zoo
Europe's longest wooden roller coaster and Ireland's only water flume ride
Short operating hours
No night time attractions
Customer Reviews
Amazing environment
"While it is certainly not the cheapest form of fun, definitely one of the best places in Ireland and since years consistent." – Markus Wahl, Google Review
Perfect for all ages
"Fantastic day out, so much to see and do! Rides for all the family. We were able to rider swap too which was handy as we had a baby with us. Plenty of places to eat and drink and all reasonably priced and no queues even though it was busy." – Rebecca Donnelly
2. Tramore Amusements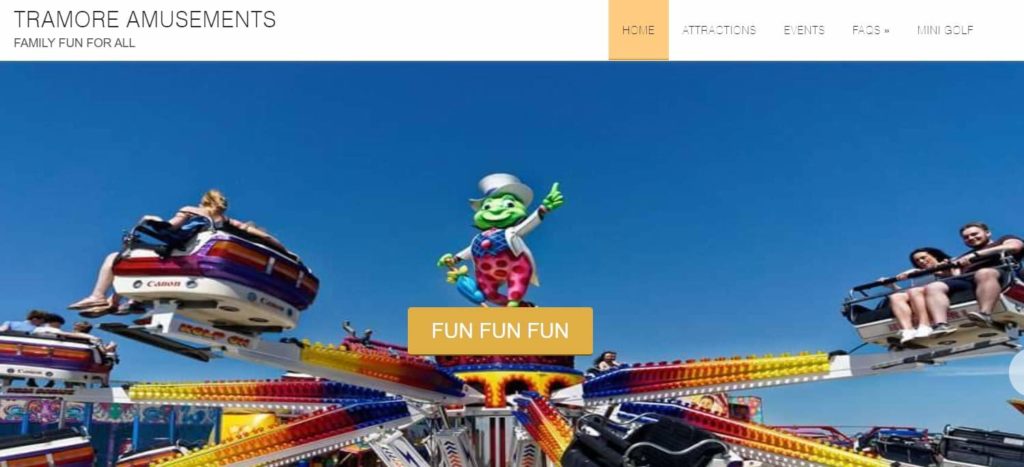 Test
Info
SERVICES
Rides for adults, children, games, and snack bars
WEBSITE
http://tramoreamusements.com/
ADDRESS
Tramore West, Tramore, Co. Waterford, Ireland
CONTACT DETAILS
Tel: +353 51 393 986

Email: [email protected]

OPERATING HOURS
Mondays to Fridays: 12:00 NN to 10:00 PM
| | |
| --- | --- |
| Atmosphere | ★★★★☆ |
| Design | ★★★★☆ |
| Attractions | ★★★★☆ |
| Service | ★★★★☆ |
| Helpfulness | ★★★★☆ |
| Responsiveness | ★★★★☆ |
| Safety | ★★★★☆ |
| Value for Money | ★★★★☆ |
We adore Tramore Attractions since they offer the most variety of rides, attractions, and activities among the amusement parks on our list! With over 29 activities and rides available, they can accommodate visitors of all ages and interests!
From more extreme rides for adults such as Roller Coasters, Super Bowl, Frisbee and many more, at Tramore, you will surely enjoy it like a child at heart! For younger ones, they can enjoy Hobby Horses, Ferris Wheel, Dumbo, and a whole lotta more that will surely fill their day with fun.
Aside from that, they also have a golf course where you and your company can do as a group activity and enjoy. They also provided special and seasonal events for customers to surely enjoy!
Although it must be noted that Tramore Attractions is a seasonal amusement park where they usually start by June. Its seasonal status makes it a little less inaccessible compared to others, so you'll have to plan your trip accordingly.
Overall, if you have a large company with different old and young people and you are looking for a lot of attractions to keep them satisfied, Tramore Amusements is the place for you!
Over 29 amusement attractions and rides
Has family rides, water rides, games, and other
Outdated service portal 
Opens seasonally
Customer Reviews
Something for everyone
"There is something here for everyone. 1 minute walk from the beach, multiple Rollercoaster, waterside, challenge games and horror rides. Surprised how big this theme park is" – Ryan Gregory, Google Review
Rides, Games, and Everything Nice
"Had a fantastic day out with the children. Great fun on the rides and playing the games. Plenty of ice cream and popcorn to keep everyone happy. Public toilets just outside the gates. Not too busy and not overly priced. Fish and chips right across the road. Great day everyone." – Van Man, Google Review
3. Funtasia Theme Park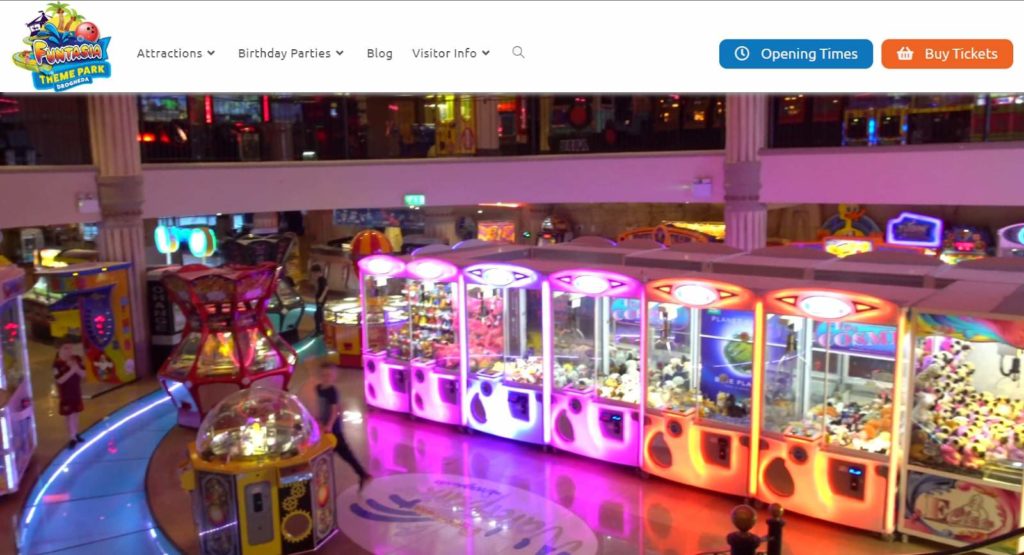 Test
Info
SERVICES
Indoor waterpark, games and rides, snack bar
WEBSITE
https://www.funtasia.ie/
ADDRESS
Donore Road Industrial Estate, Unit 1 & 2, Funtasia Theme Parks, Drogheda, Co. Louth, A92 EVH6, Ireland
CONTACT DETAILS
Phone: +353 41 989 8000

Email: [email protected]

OPERATING HOURS
Mondays to Thursday: 3:00 PM to 10:00 PM

Friday to Sunday: 10:00 AM to 10:00 PM
| | |
| --- | --- |
| Atmosphere | ★★★★☆ |
| Design | ★★★★☆ |
| Attractions | ★★★★☆ |
| Service | ★★★★☆ |
| Helpfulness | ★★★☆☆ |
| Responsiveness | ★★★★☆ |
| Safety | ★★★★★ |
| Value for Money | ★★★☆☆ |
If you are looking for a theme park specifically suited for indoor activities and games, then Funtasia Theme Park is our best recommendation for you!
Funtasia Theme Park offers an extensive range of attractions, activities, games and rides for an indoor theme park. Their Pirate's Cove Waterpark is fully-equipped with slides and other water attractions.
If you are not looking for a water adventure, then Funtasia offers its other attractions such as its indoor 18-hole golf course, rappelling under its Ultimate Skylimb, traversing the wires through its Twin Zip Lines, and others.
We adore Funtasia Theme Park because it reinvents indoor theme parks by adding a waterpark, indoor amusements, and rides. Funtasia offers a huge selection of rides under its Fairplay Rides brand, making sure you can still have fun even if the weather outside isn't cooperating.
You may take advantage of a variety of attractions, including the Ferris Wheel, the Eureka Flying Cars, and more!
If we must nitpick, Funtasia Theme Park is limited to indoor attractions which is a limitation to others, while their rides and attractions mainly focus on children.
In conclusion, if you want to enjoy activities but do not want to go outside, then you can count on Funtasia Theme Park to bring fun to you!
Wide range of attractions
Indoor attractions
Provides packages for events
Focuses on children's attractions
Indoors can be quite limiting for others 
No pricing available
Customer Reviews
Self-service and great experience
""Great place for kids to play. Cool Water Theme Park‌. All games are cool" – Johnpaul Matthew, Google Review
All-around nice
""Love this place! So much to do, reasonably priced, and very clean! The mini golf was great!" – Rebecca Holmes, Google Review
4. Clara Lara FunPark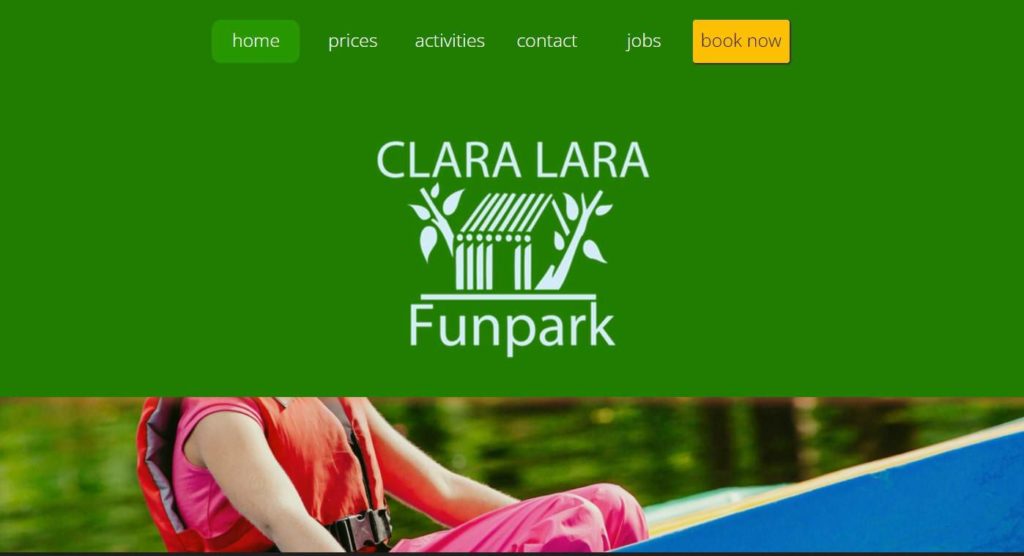 Test
Info
SERVICES
Outdoor rides, attractions, and activities
WEBSITE
https://www.claralara.ie/
ADDRESS
Glendalough, Knockrath, Co. Wicklow, A67 CY53, Ireland
CONTACT DETAILS
Phone: +353 4 044 6161

Email: [email protected]

OPERATING HOURS
Mondays to Fridays: 10:30 AM to 5:45 PM
| | |
| --- | --- |
| Atmosphere | ★★★★☆ |
| Design | ★★★★☆ |
| Attractions | ★★★★☆ |
| Service | ★★★☆☆ |
| Helpfulness | ★★★☆☆ |
| Responsiveness | ★★★☆☆ |
| Safety | ★★★★☆ |
| Value for Money | ★★★★☆ |
If you are looking for outdoor activities in an amusement park, Clara Lara FunPark has over 13 attractions to choose from.
What we love about Clara Lara FunPark is that they make amusement parks special through their outdoor attractions and activities. Some of their activities are rope climbing, ziplines, obstacle courses, and many more.
These outdoor activities are highly encouraged to do with others, so surely you will have interactions and leisure time with your friends or family. If you are tired, picnic and resting areas are also available for use.
Rides are also available in this park where you can enjoy riding a type of canoe called Amphicat in water where it is very stable and are highly recommended for children to learn how to ride a boat and paddling.
Other rides including rafts are also available alongside the river, or you can ride their well-reviewed and child-friendly Go-Carts instead.
Clara Lara FunPark would be much better if they install attractions and activities that are designed for older people to enjoy.
If you need a fun getaway where outdoor activities and enjoyment are made much better, then look no further as Clara Lara FunPark will be your next best choice!
Over 13 fun outdoor activities and rides to choose from
Safe and designed for children
Relatively affordable and provides season passes
Limited attraction
Short business hours
Activities are designed for teenagers and children
Customer Reviews
Kids loved it
"Went there on Tuesday, quite busy even on weekdays during the holidays. Had a great time, and the kids loved it. Staff very friendly and helpful, the only downside was waiting time for some of the attractions." – Rafal Pietrek, Google Review
Highly recommended
"Great place for kids and adults. Highly recommended!" – Justyna Kita
5. Castlecomer Discovery Park

Test
Info
SERVICES
Outdoor activities, rappelling, zipline and others
WEBSITE
https://www.discoverypark.ie/
ADDRESS
RQ4X+V4 Castlecomer Estate Yard, County Kilkenny, Ireland
CONTACT DETAILS
Phone: +353 56 444 0707

Email: [email protected]

OPERATING HOURS
Mondays to Friday: 9:30 PM to 5:00 PM

Saturday to Sunday: 10:00 AM to 5:00 PM
| | |
| --- | --- |
| Atmosphere | ★★★☆☆ |
| Design | ★★★☆☆ |
| Attractions | ★★★☆☆ |
| Service | ★★★★☆ |
| Helpfulness | ★★★☆☆ |
| Responsiveness | ★★★★☆ |
| Safety | ★★★★☆ |
| Value for Money | ★★★★☆ |
If you are craving for an outdoor experience and discovery through lush woods and a whole lot of adventure, then book a trip to Castlecomer Discovery Park where they offer a wide range of exhilarating outdoor activities!
Castlecomer Discovery Park offers outdoor adventures for its customers through its attractions. Their attractions include Tree-top Walk & Climbing Wall where customers can enjoy the view by walking around tree tops.
Wall scaling activities are also available where it is included in their extensive outdoor course called Zipline & Octagon High Ropes. This attraction is considered as Ireland's best and longest zip line.
Aside from fun outdoor activities, they also provide activities that cater to learning and discovering, specifically aimed at students and children.
They provide special themes for their parks such as a magical theme park called Elf and Fairy Village or a course through the woods through its Junior Woodland Adventure Course. School trips are also available for booking.
For interested groups, team buildings and wellness-related activities are also catered at Castlecomer.
If we are going to suggest improvements is that they could include some indoor activities in case the weather is not suitable for the outdoor activities that they currently hold.
Now if you want to move around and have tons of fun around the woods, then the discovery is made as Castlecomer Discovery Park is here to serve you satisfaction!
Ireland's longest zip line
Wide array of outdoor attractions and activities
Limited to only outdoor activities 
No pricing available
Customer Reviews
Lovely hours
"Spent a lovely few hours here. Kids really enjoyed the trampolines and kids obstacle course. Plenty of activities for teens and adults aswell. Or just come and relax. Pay 5e for all day parking and enjoy a long walk through the woods and around the lakes and bring a picnic. Fabulous day. We will be back." – Van Man, Google Review
Lovely place
"Lovely place to picnic and to walk around and explore. the fairy and elf village is cool. Plenty of other activities there for all ages. Check out the website." – Sandra Traynor, Google Review
FAQs about amusement parks