The Top 5 Theme Parks in Dublin
If you want to relive your inner adventurous child or are planning for a quick getaway, visiting theme parks in Dublin may just be for you.
To help you choose which location to explore, go through our review on the best theme parks in Dublin.
How much do theme parks cost in Dublin?
Having fun actually comes at a cost depending on the activities you will try to enjoy. Typically, a person spends €50-€100 for a complete-access ticket to experience all types of attractions.
Check out this range of theme park services that we've listed: *
| Services | Estimated Average Price |
| --- | --- |
| Rides and attractions | €3.00 - €26.00 |
| Water activities | €12.00 - €26.00 |
| Food and Beverage | €3.00 - €15.00 |
| Souvenirs | €7.00 - €12.00 |
The Best Theme Parks in Dublin
Just like us, you probably want your theme park visit to be worth your time, screams and pennies. That said, we used the following criteria to help you decide which theme park to go to:
1. Vintage Carousel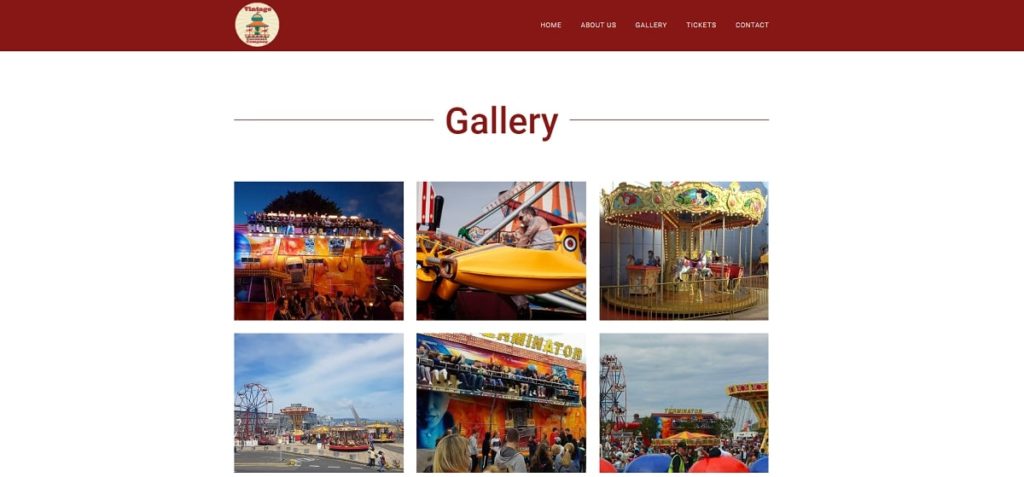 Test
Info
SERVICES

Funfair

Variety Shows

Vintage Rides

Kiddie Toy Rides

Circus

Food and Beverage

WEBSITE
https://www.vintagefunfair.ie
ADDRESS
5 Harbour Rd, Dún Laoghaire, Dublin, Ireland A96
CONTACT DETAILS
+353 872 546053,

[email protected]

OPERATING HOURS

Friday to Sunday, 11:00 a.m. - 7:00 p.m.
| | |
| --- | --- |
| ATTRACTIONS | ★★★★★ (5/5) |
| ENVIRONMENT | ★★★★☆ (4/5) |
| CAPACITY | ★★★★★ (5/5) |
| VALUE | ★★★★★ (5/5) |
Everything you need from an amusement or theme park is here! What we like best about the Vintage Carousel is that it offers a total of 12 ride attractions – an almost complete package for your family or group tour!
These include the Vintage chair-o-planes, the best deal here in our opinion, where you'll feel like paragliding at a very affordable price. If you love the thrill up in the air, you can opt for the swinging boats.
You can also enjoy the classic Ferris wheel, helter skelter, and the very popular roller coaster if you want a longer ride at a higher level. For those with fear of heights, this park also offers a cup and saucer, a carousel, and other rides perfect for kids!
There's no need to worry about the safety of the attractions here. After all, the rides are inspected everyday to ensure that you're protected while having fun.
If you're a fan of live shows and is also afraid of trying amusement park rides, Vintage Carousel's variety shows and circuses are for you. You just have to stand or sit at the tent and let your eyes work for your entertainment.
Another thing about this park is the very welcoming and lively environment. Aside from the various attractions that keep the fun going, the staff and vendors are very friendly.
Because it is an open area, the park is big enough to accommodate many groups and families, as well as other food vendors for your nostalgic childhood cravings. One park visitor shared that the Treat Tram crepe from a food stall is a must try despite a long queue.
If you want more, there's food options here if you're touring with your kids. Candy floss, dairy-free treats, and chocolates are available at the funfair.
In terms of services, there are staff stationed in each ride to make sure that safety rules are complied with.
One downside is they do not open on select weekdays and the online ticketing is not always updated. For peak seasons, there are longer queues in attractions and food stalls due to the volume of park goers.
Even so, you can be assured that everything you paid for is worth your energy and enough to add to your memories. You just have to wait for your turn!
Spacious
Complete rides package
Safe attractions
Sweets and food options
Close on select weekdays
Queues on rides
Customer Reviews
Lovely atmosphere
"What a lovely fair. Great to see so many people enjoying themselves, lovely atmosphere and really friendly staff. Rides started from £1, all really well priced. Brilliant day out, real good value for money. Will definitely be visiting again." – Francesca Stokes
Reasonably priced
"This is a lovely little fair, my kids absolutely love it, they'd go everyday if I let them. Very reasonably priced too, something to do whilst you're here and won't break the bank. Recommend it to anyone and everyone." – Kirsty Nadin
Well-maintained rides
"Had a fab hour or so there today. Beautiful well maintained rides and very Covid safe. Every ride wiped down after every passenger. My daughter loved every minute. Thank you vintage funfair." – Donna Dixon
2. AquaZone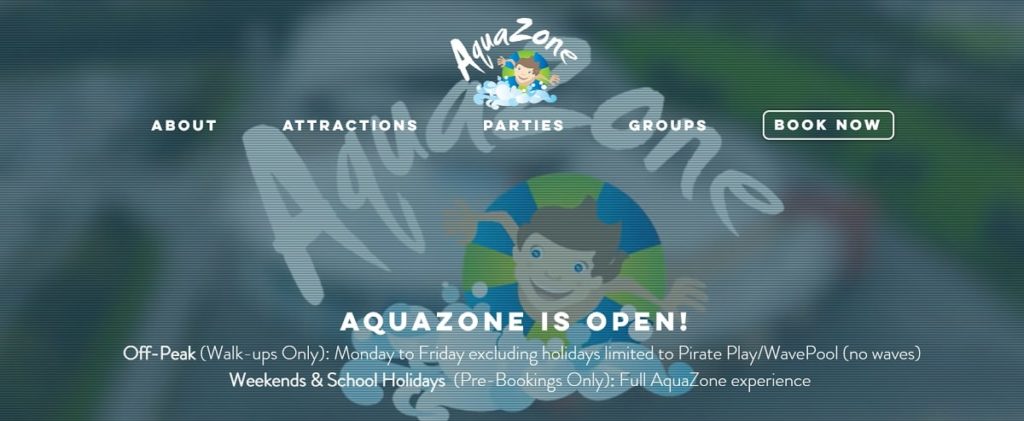 Test
Info
SERVICES

Water Park

Water Activities

Waterslides

Wave Pool

Jacuzzi

Food and Beverage

WEBSITE
https://www.aquazone.ie
ADDRESS
Sport Ireland Campus, Snugborough Road, Blanchardstown, Dublin, Ireland D15
CONTACT DETAILS
+353 164 64300,

[email protected]

OPERATING HOURS

Everyday, 10:00 a.m. - 6:00 p.m.
| | |
| --- | --- |
| ATTRACTIONS | ★★★★☆ (4/5) |
| ENVIRONMENT | ★★★★★ (5/5) |
| CAPACITY | ★★★★☆ (4/5) |
| VALUE | ★★★★☆ (4/5) |
Want to have fun indoors? AquaZone is best during hot and humid days for its all-water adventures.
The water activities make this theme park truly unique compared to other theme parks.
If you want the surfing excitement with your body front leaning, the Flow Rider attraction is recommended for you. In our opinion, everybody can enjoy this because no water experience is needed to go down the three-inch deep waterslide.
You may also consider a breathtaking ride with Master Blaster, a rollercoaster pool slide. For us, this is the main attraction here as you can slide for minutes even uphill, as if you're defying gravity.
However, it is not for all visitors due to the 1.2-meter height requirement. If you're out here and want the same or a better thrill, you can try the Dark Hole where you'll slide without being able to see anything but darkness.
We also commend AquaZone for not forgetting to include a large wave pool for groups and families who want a beach-like experience while staying safe indoors.
Whenever you're tired, you can still hang out in its calm Lazy River pool and the classic jacuzzi. During peak season though, you might have to wait for your turn here as there are plenty of others who want to try it, too.
Another good thing about AquaZone is its picture-perfect spacious design that has beach-like features for its clear and clean blue waters and bright lighting.
In terms of safety of adrenaline junkies and other guests, lifeguards are attentive to visitors' activities. Other staff are also in place to ensure that safety rules are observed to prevent accidents.
The concerns we noticed here is the need to reserve in advance and the long queues in main attractions during peak season due to the influx of visitors. Parking is also a challenge when there are live events hosted by the aquatic center.
Despite these, it's still a great avenue for a different theme park experience for the unique adventures and attractions it offers.
Indoor and cooler venue
Many attractions
Spacious
Attentive staff
Needs reservation on peak days
Queues during peak days
Customer Reviews
Amazing surfing setup
"A very lovely place to stay indoors and have fun in water. Highly recommended for families and kids. The surfing setup experience was amazing. Worth spending 2 to 4 hours!! The place was very clean and well maintained. Shower rooms and lockers were just near the fun area and easily accessible. There is also cafeteria and food available here." – Abinasree Sadagopan
No overcrowding
"We need more places like AquaZone in this country especially for Cork. My small kids absolutely loved it. Their new measures with sessions ensure that there are only specific amount of people with prebookings allowed to be there. So no over crowded periods.No issue with parking…" – Norbert Codrean
3. Fort Lucan
Test
Info
SERVICES

Tower Climbing

Waterslides

Adventure Playground

Cafe

WEBSITE
https://www.fortlucan.com
ADDRESS
Fort, Westmanstown, Lucan, Dublin, Ireland K78E678
CONTACT DETAILS
+353 162 80166,

[email protected]

OPERATING HOURS

Everyday, 12:00 p.m. - 3:30 p.m.
| | |
| --- | --- |
| ATTRACTIONS | ★★★★☆ (4/5) |
| ENVIRONMENT | ★★★★★ (5/5) |
| CAPACITY | ★★★★☆ (4/5) |
| VALUE | ★★★★★ (5/5) |

Fort Lucan Adventureland, or Dublin's biggest adventure playground, is the place for your children's recreational activities.
One memorable attraction here is The Raging River which allows children to go with the flow on its two huge waterslides. We like experiencing both the slightly bended open red slide and a more thrilling twisted blue tunnel.
In case your children are seeking a steep slide drop on water, The Waterfall is worth a try. Don't worry, the mini boats used by children have enough locks and belts to keep them safe.
Even if this place caters only to children, what makes visiting here a better experience is the variety of attractions offered which also includes a mini golf course for kids and a go kart pavement.
When you're worried about safety, you'll be assured by Lucan Adventureland's decades-long experience in maintaining the durability of its attractions. Also, it won't let your child play without supervision of an adult.
What we also love about this place is that it's pollution-free being located in a gated property in the wide grasslands and fields of Westmanstown.
The place is also not crowded and even allows you to celebrate your special event here. Although there's no public transportation direct to the place, there's a wide parking space for those bringing their own vehicles.
In terms of access, the activities are for children ages 3 to 13 years old and the tickets get sold out fast. There are also height limitations for select rides, thus making the experience in the playground very limited.
Meanwhile, though it's distant from other establishments, Fort Lucan Adventureland boasts its own café, ice cream shop, and vending machines. Good quality pizzas and cookies are also served, but bringing outside pizza and chips are prohibited.
All in all, seeing your children or younger siblings have fun with the variety of slides here is all worth it.
Many attractions
Child-friendly
Open and clean venue
Has own cafe
Tickets are easily sold out
More on children activities
Customer Reviews
Entertaining activities
"Kids had an amazing day. The place you could walk in possibly under 5 mins but for hours the kids were entertained on the slides and activities, food was reasonably priced also. Plenty of parking on site and lots of staff to make sure all the children were supervised and kept safe." – Robert Byrne
Reasonably priced
"Much bigger than it looks on website. Plenty for kids to do. Brought my four children, 9, 9, 10 and 12. They had a great 3.5 hours in it. It was very reasonably priced and adults don't have to pay big money to enter. Benches there for picnics. Will definitely return." – Claire O Meara
Unlimited entertainment
"Good for half day unlimited entertainment for kids, try to go on weekdays, normally weekends were busy." – Justin James
4. The Nightmare Realm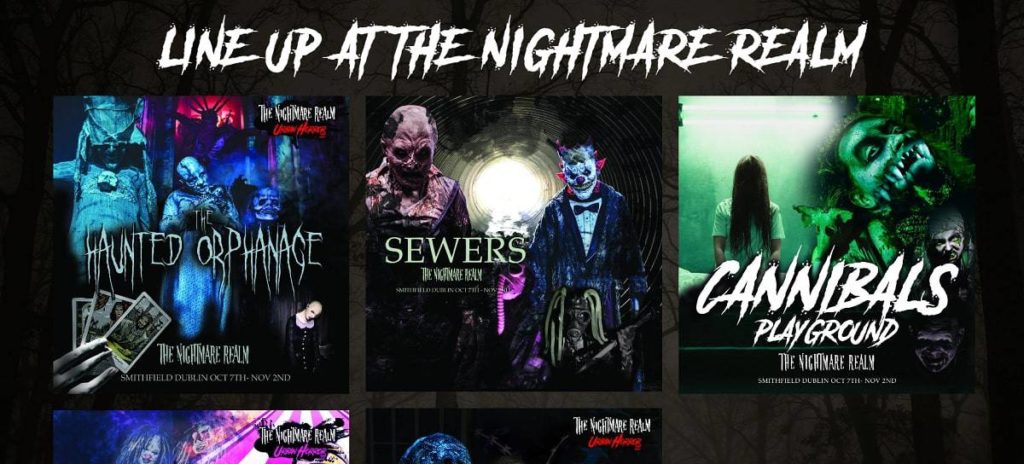 Test
Info
SERVICES

Haunted Attractions

Horror Entertainment

Museum

Food Hub

WEBSITE
https://thenightmarerealm.ie
ADDRESS
City Market, Marys Lane, Dublin, Ireland 8PXH+6G
CONTACT DETAILS
+353 157 19090,

[email protected]

OPERATING HOURS

Monday to Saturday, 10:00 a.m. - 4:00 p.m.
| | |
| --- | --- |
| ATTRACTIONS | ★★★★☆(4/5) |
| ENVIRONMENT | ★★★★☆ (5/5) |
| CAPACITY | ★★★★☆ (4/5) |
| VALUE | ★★★★★ (5/5) |
There's a different kind of excitement in Nightmare Realm and it's waiting for you! The catch? It's Ireland's biggest indoor scream park that will surely guarantee you an unforgettable memory.
What customers love about this place are the varying haunted events in its line-up. Amongst all these, Attack of the Clowns is the most unforgettable for its immersive scenes, it's as if you're in a horror movie being haunted by a group of clowns.
If you're brave enough to continue and want to scream more, we recommend the Haunted Orphanage.The set design and actors' performance are so brilliant you'd want to believe you're in a film trying to run away from demons.
Also, other commendable attractions are the dance acts, a horror museum, and a Halloween town. These are fit for individuals who just want to visit the place and don't want to get stuck in fear.
What we appreciate here also is the background stories of the attractions available on Nightmare Realm's website. Needless to mention, we like that its website and social media pages are always up to date.
We also admire how they observe health and safety protocols inside the venue through prohibiting smoking and alcoholic drinks. Despite being a scare park, the staff cares for its audience especially those with special conditions through providing assistance.
Moreover, there are lots of thrilling attractions that could definitely make you feel hungry or even exhausted. There's no need to worry about this, the hub has a food court with enough drinks and food for all guests.
Compared with other theme parks, this park is limited to horror attractions only and is closed on Sundays. It is also better visited in groups, but you need to secure tickets as they easily run out.
Location-wise, it will only take a two-minute walk from a bus stop. This means there's no stopping you from visiting this place.
Variety of attractions
Good for groups
Surreal performers
Well-designed venues
Limited to horror acts
Tickets are easily sold out
Customer Reviews
Brilliant experience and pieces
"A terrifyingly brilliant experience, I make the annual ritual trip up every year and I'm never disappointed. Full credit to all the staff involved in putting it together. Always a night full of laughs, screams and scares from the moment you start queuing right up to the end. Behind the scares and horrifically brilliant set pieces are very kind and professional staff to ensure safety of everyone who dares to experience hell on earth." – Leigh Cheevers
Very good actors
"Amazing experience would 100% recommend. Hundreds of very good actors made you honestly believe you were in a horror movie, bringing all your fears to life. The nightmare realm will definitely be an annual activity." – Kelly Marie
Feels surreal
"Safe, clean, great music and dance. It's all very well done and organized. And feels much real." – Jibraan Toorbuth
5. Flynn Park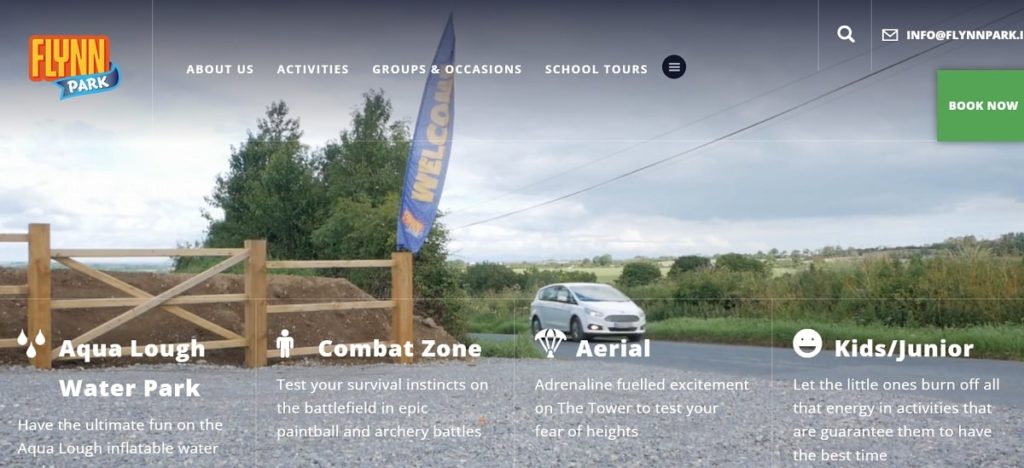 Test
Info
SERVICES

Adrenaline Package

Wall Climbing

Aerial Trekking

Archery

Combat Activities

Water Activities

WEBSITE
https://www.flynnpark.ie
ADDRESS
Courtlough, Balbriggan, Dublin, Ireland K32EY48
CONTACT DETAILS
+353 169 03294,

[email protected]

OPERATING HOURS

Saturday to Sunday, 10:00 a.m. - 5:00 p.m.
| | |
| --- | --- |
| ATTRACTIONS | ★★★★★ (5/5) |
| ENVIRONMENT | ★★★★★ (5/5) |
| CAPACITY | ★★★★☆ (4/5) |
| VALUE | ★★★★★ (5/5) |
Flynn Park is for those seeking out-of-the-ordinary adventure experience in Dublin! The way we see it, the winning feature of this place is that it allows you to boost your balancing skills through finishing its obstacle and adventure courses.
If there's one activity that we'd choose to do again, it's aerial trekking. What we love in this adventure is that it allows you to boost your balancing skills and confidence as you go high up the ropes to finish the course.
We are also amazed by their five climbing wall types that can be enjoyed by both children and adults. These are up to 40 feet high with a total of 10 varying routes to finish.
Another must-try in Flynn Park if you want to test your battle and strategies is its combat zone. What we love here is the variety of battle activities offered, such as the archery for years old and above, paintball, and the splatmaster,
You can also join Flynn Park's event camps and even set up your own party here. The highly trained staff are very helpful in assisting primary and secondary schools tours.
In terms of accessibility, there are hotels nearby that can house you before your daytime activities. Local attractions like the Balbriggan Beach and Ardgillan Castle are also nearby.
However, the con is you don't get to experience the fun everyday as it only opens on weekends and that activities have age restrictions. All in all, despite having limited operating hours, the place has safe towering structures and thrilling activities to feed your brave souls.
After all, what we love about this place is it's not just a usual park. It's a playground for both kids and adults who want to engage in combat, aerial, and water fun alike.
Has variety of attractions
Has aerial obstacle course
Trained staff
Accessible 
Only opens on weekends
Age-based restrictions
Customer Reviews
Worth your money
"I heard about the park from a friend on Facebook. So I decided to go and have fun. It was worth the 28 euros I paid for myself. I will be back." – Fearghal Moore
Well-recommended for events
"Just had our 11yrs birthday there for aqua park fun and it was "Best day EVER" according to the boys. It was FREEZING and windy out but that did not stop the craic.. . Staff were brilliant , well organised… so well recommended for family days, birthdays or just general fun for kids & adults." – Elaine Grange
Fantastic experience
"I was at the park this week and did the Aerial trek. It was fantastic…This has really helped me with my fear of heights…" – David Flynn
FAQs about the best theme parks in Dublin
---
Public parks are always open to accommodate weekend family events and other public gatherings.
Private theme parks can better cater to your desired activity through their thrilling rides, trained crew, and picture-perfect facilities.
If you're planning for a quick escapade to test your bravery, you may view our list of the best theme parks in Ireland.
---