The 6 Best Pubs in Ireland
So you're in Ireland and you've already seen the amazing sites. Now, what else can I do, you might ask yourself.

Well, this is your chance to go out and experience pubs up close!
The Irish pubs are infamous for their abundance of alcoholic beverages, live music, and great food. Whether it be for a brew, a pint, or some Irish whiskey, here is a list of the best pubs in Ireland that you should definitely check out.
How much do drinks at pubs cost?
Getting your drink on in Ireland can be a bit complicated, as there are quite a lot of options to choose from! To help you with that, we've narrowed down the common drinks served, their sizes, and how much they go for on average!
| Beverage | Estimated Average Cost |
| --- | --- |
| Vodka | €7.00 |
| Whiskey Blends | €6.50 |
| Guinness | €5.70 |
| Scotch | €9.50 |
Best Pubs in Ireland
There are so many great pubs in Ireland but what kind should you drink at? These selection criteria have helped us come up with the pubs on our list:
1. Kehoe's Heritage Pub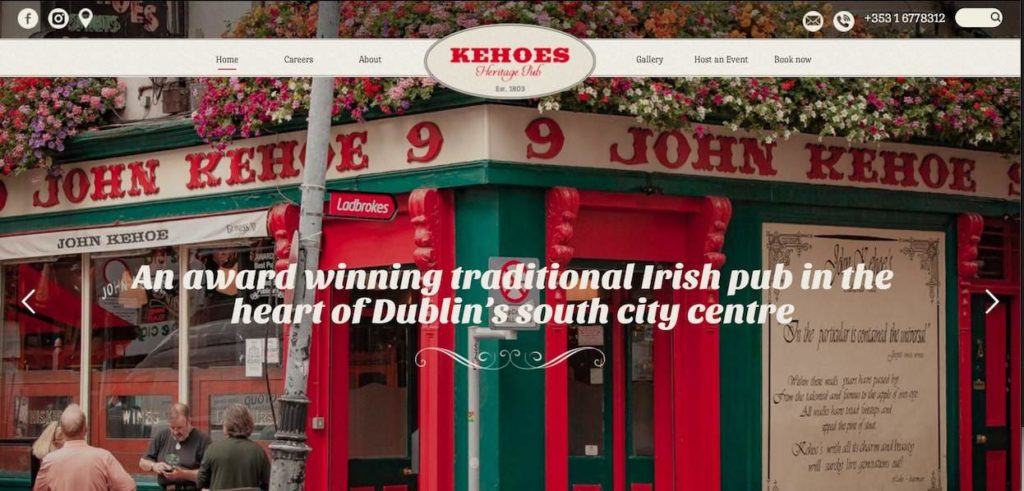 Test
Info
MENU
Guinness

Vodka

Scotch

Gin

Whiskey

Brandy

Wine

Single Malts

Pot Stills

WEBSITE
ADDRESS
9 Anne St S, Dublin, D02 NY88, Ireland
CONTACT DETAILS
Tel: +353 1 677 8312

Email: [email protected]

OPERATING HOURS
Mondays to Thursdays12:00 NN to 11:30 PM

Fridays to Saturdays:10:30 AM to 12:30 AM

Sundays12:30 AM to 11:00 PM
| | |
| --- | --- |
| Atmosphere | ★★★★★ |
| Service | ★★★★☆ |
| Beer choice and quality | ★★★★★ |
| Value for money | ★★★★☆ |
Kehoe's Heritage Pub is a beloved boozer at the center of South Anne Street, Dublin that dates back to two centuries ago.
At Kehoe's, you'll always find something to relate to; whether it be the drinks, food, or just the local atmosphere.
While the downstairs area has "grubby" pub vibes with barrels on the side, the upstairs section offers its own atmosphere. With aged armchairs and fireplaces, the atmosphere is more comfortable and granny-chic.
They serve their drinks at pretty affordable prices, but the crowning glory goes to their Guinness. We reckon it's one of the creamiest ones in the center, if not in Ireland as a whole!
Given that Kehoe's is one of the most well-known drinking establishments among both locals and tourists, finding a seat may be tough if you do not have reservations in place.
It is, nonetheless, a fantastic pub, whether it is early in the day or late in the evening when it is packed.
Plus if you're a fan of Victorian architecture, it would be worthwhile to note that Kehoe's is one of the venues to visit. They're one of the few that have managed to retain all of their original charms and character from days past.
Heritage spot for architecture and history lovers
Accessible location for tourists and locals alike
Serves one of the creamiest pints of Guinness in the area
Can get fully-seated easily
Toilets feel as old as the establishment
Customer Reviews
Great spot for a drink
"Every time we're in Dublin, we always make sure we stop by Kehoe's for a drink. It's a cracking place, whether that be early afternoon when it's not too busy or in the evening when it's heaving. The staff is always really friendly and we just love the vibe of going in and chatting to whoever is in there. Had a pint of Island's Edge for the first time and it was superb!" – Ruaraidh C.
Fabulous Traditional Irish Pub in Dublin
"Kehoe's Pub is a fabulous "traditional Irish pub" that is worth visiting before or after an evening of dining. The property is arranged where you can find a nook and cranny to be alone or with a certain someone or mingle with a large crowd in one of the common area rooms. The beer and other libations are competitively priced and there's always an interesting conversation to join or simply eavesdrop on while enjoying your pint or dram. Kehoe's Pub is worth a visit when in Dublin. Don't miss out on a real Irish pub experience." – T. Albert
2. The Lucky Duck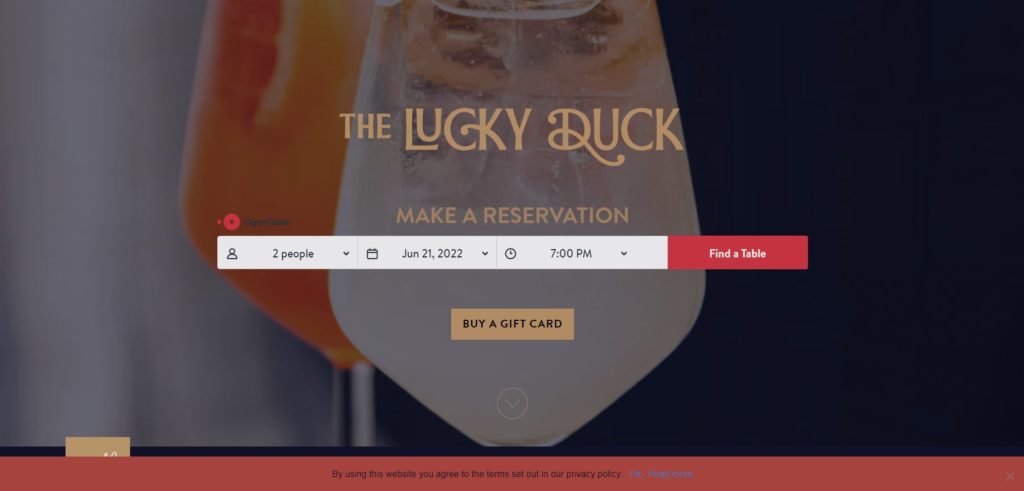 Test
Info
MENU
Cocktails

Wines

Beers

Irish Craft Bee

Irish Whiskey

Rum

Scotch Whisky

Vodka

Kebab

Shaat

Skewers

WEBSITE
ADDRESS
43 Aungier St, Dublin 2, D02 KP08, Ireland
CONTACT DETAILS
Tel: (01) 405 4824

Email: [email protected]

OPERATING HOURS
Mondays to Thursdays

2:00 PM to 11:30 PM

Fridays to Saturdays:

1:00 PM to 1:00 AM

Sundays

1:00 PM to 11:00 PM
| | |
| --- | --- |
| Atmosphere | ★★★★★ |
| Service | ★★★★☆ |
| Beer choice and quality | ★★★★☆ |
| Value for money | ★★★★☆ |
The Lucky Duck is a multi-leveled pub in a Victorian-era building, filled with art deco and restored to feel luxurious
The ground-level bar area has a comfortable pub-style atmosphere, and it's also where you can grab your afternoon pint of beer at the copper-topped antique bar.
On the next floor, there are more delicate cocktails handed to you from behind the original mahogany bar by waitresses who will offer service with a smile despite it being past midnight.
While the pub menu's clear star is their extensive cocktails choices, their food menu has certainly not been left behind. Their menu has some of the most curious taste and flavor profiles to be seen in Dublin.
It even includes The Lucky Duck starters such as seared scallops, curried crab, and several fine desserts. And if available, definitely try out their parmesan fries! They're the star pub grub in the sea of fine cuisine.
Do note that prior to going to the pub, you'll have to book your party seats to be entertained. You might also have a tiny bit of waiting time within the establishment, as experienced by other customers.
To sum it up, if you're looking for a private space to catch up with friends over a drink, The Lucky Duck is one of the best places to go to!
Amazing menu with a twist on Indian cuisine
Known for their cocktails
City view adds to the experience
Appointment booking is required
Long waiting times
Customer Reviews
Great Place for Team Dinner
"Had an absolute blast for my team event here. Jamie and his team took good care of us. We had vegan and vegetarians in the group, people who would just dig the sweets, and people who prefer taking shots. The food platters were gorgeous and just right for our group. The dessert esp the brownie was to die for. The private space was a beautiful view of Aungier street; we had a great time catching up after the pandemic, thanks to The Lucky Duck." – Lava Gyre
Amazing food – what a gem.
"The lucky duck is an underrated dinner place. From the outside, you'd think it's only a pub, but The food choices are incredible and delicious. We had six or so dishes, and they were all delicious. I never thought this pub would offer such a high-quality dinner – it has become my new favorite place to go to in Dublin. Highly recommended." – Nunib Nichar
3. The Brazen Head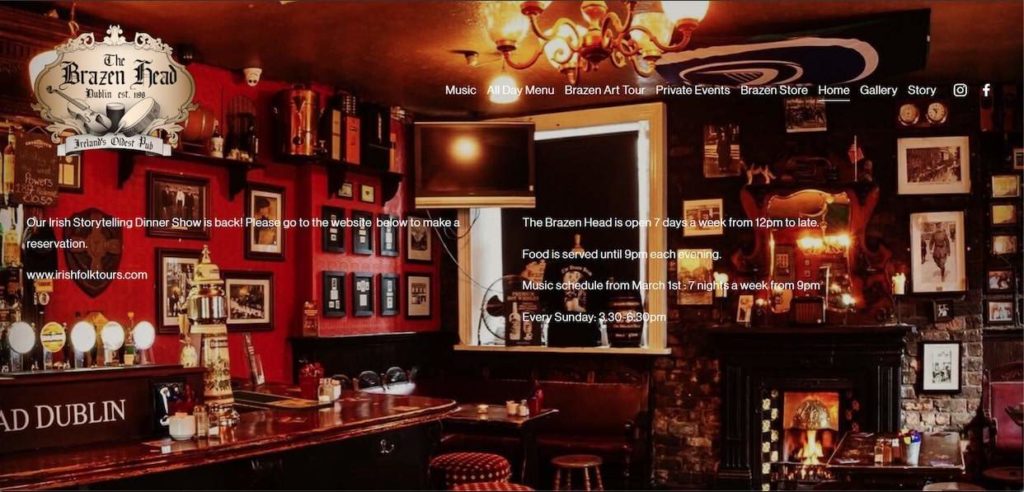 Test
Info
MENU
Guinness

Kilkenny

Red Ale

Lager

Cider

Wine

Cocktails

Chowder

Chicken Wings

Burger

Salad

WEBSITE
ADDRESS
20 Lower Bridge St, Usher's Quay, Dublin, D08 WC64, Ireland
CONTACT DETAILS
+60 12-517 6984
OPERATING HOURS
Mondays to Sundays

12:00 NN to 11:30 PM
| | |
| --- | --- |
| Atmosphere | ★★★★★ |
| Service | ★★★★☆ |
| Beer choice and quality | ★★★★☆ |
| Value for money | ★★★★★ |
Dating back to 1198, The Brazen Head (alternatively spelled Baile Atha Cliath) is a tavern that can be found in Dublin Ireland. Although it is unclear just how much of the original 11th-century coaching inn remains today, there is an undeniable sense of history within its walls.
Whether it's live music, food, and open space to enjoy a beer, they've got enough room in each of their three cozy rooms available for you to get your drink on. In the summertime, you can even soak up the atmosphere in the enclosed cobblestone courtyard.
On regular days, guests are also given the option to sit upstairs for a nice quiet pint. Or, if they'd fancy a more formal evening dining experience, the courtyard restaurant is also an option.
On another note, The Brazen Head is recognized as one of Dublin's best pubs for food. They are especially well-known for their traditional Irish menu, but some lighter meal options are also available.
What sets them apart from other pubs is how you can enjoy the storytelling of a jovial bard, who regales you with tales of the Faerie people while a band plays traditional Celtic ballads.
Before heading to The Brazen Head, however, you'll have to book a spot in order to enjoy all their amenities. Their storytelling session also asks for an admission charge before you can join in.
Has a broad menu that caters to different diets
Free admission to most areas of the pub
Historical site that you can tell your friends about
Feels like a tourist spot
Bustling, and busy place
Customer Reviews
Friendly and welcoming
"Thought we would stop in Dublin's oldest pub for a quick one before heading back to our hotel but got sidetracked by the warmest welcome we received by the staff and locals. We were lucky enough to arrive just in time for the pubs band to entertain us, and entertain us they did! The atmosphere was so warm and friendly that we didn't want to leave. It was our first time in Ireland, and the experience we had with the staff, locals, and amazing little band was unforgettable! We will be back and highly recommended." – Tracey, TripAdvisor
Top tier food
"Visited for food on a weeknight. Very busy but has lots of room. Cozy rooms with open fires and an outdoor area with heating. The food was excellent and reasonably priced. Beer is cheaper than TempleBar and arguably a better pint. Worth a visit." – Carl Longs
4. Toners Pub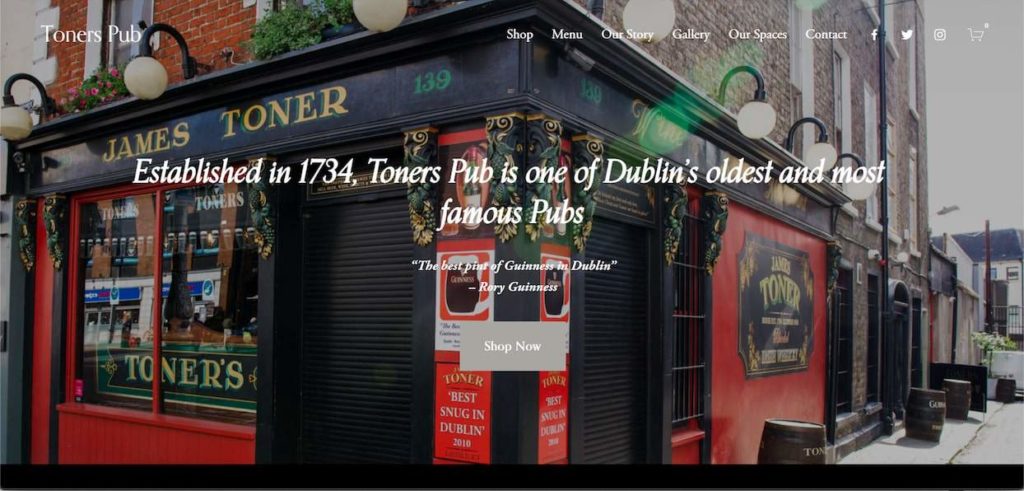 Test
Info
MENU
Draught

Bottled Beer

Scotch Whisky

Irish Whiskey

USA Whisky

Gin Vodka

Rum

Brandy

Coffee

Cocktails

Pizza

WEBSITE
ADDRESS
139 Baggot Street, Lower, Dublin 2, Ireland
CONTACT DETAILS
Tel: 01-676 3090

Email: [email protected]

OPERATING HOURS
Mondays to Thursdays

10:30 AM to 11:30 PM

Fridays to Saturdays:

10:30 PM to 12:30 AM

Sundays

11:30 AM to 11:30 PM
| | |
| --- | --- |
| Atmosphere | ★★★☆☆ |
| Service | ★★★★☆ |
| Beer choice and quality | ★★★★★ |
| Value for money | ★★★★☆ |
Toners on Baggot Street is one of the capital's best places to go for a quiet drink. Its gorgeous interior is a stark contrast to the busy exterior and it has a history that dates back to W.B. Yeats's prime.
Established in 1818, Toners Pub is one of Dublin's oldest and most popular pubs because it was frequented throughout time by several Irish literary greats. It is widely rumored that Kavanagh and Yeats were said to have made appearances at the pub during their hay days.
Toners is always buzzy and even more so when people have just gotten out from work. Primarily, this is because of their spacious beer garden that is an ideal place to hold after-work drinks or even a gathering or party.
What we love the most about them is their comprehensive selection of whiskey on offer as well as great cocktails. A Guinness family member even said that Toners serve "the best pint of Guinness in Dublin" making it well worth your time paying the pub a visit.
Many people come here today not only for the pub's outstanding ambiance, but we think it's also a must-visit for those who want to connect with Ireland's rich history!
Comprehensive alcoholic menu
Serves pizza fresh from Cirillo's
Guinness Family approved Guinness pints
Customer service isn't the best
Some of the areas are smelly
Customer Reviews
Had everything we needed
"Found the Toners on recommendation from a taxi driver… what a find. Sat in the 'beer garden' about an hour before kick-off, was dry and warm (even with storm Dennis looming), within seconds was served at our table by a friendly member of staff and that was that for the evening. Didn't bother moving on, had everything we needed. Guinness was a fair price 'n' all. I Will definitely go back next time I'm in Dublin." – Gareth D.
The real deal
"I love this place. Toners is one of the countless pubs in Dublin. Many are authentic and old. Some, not so much. This place is the real deal. It's bigger than it appears on the initial impression, but that's not really important. What is important is that they serve great pints by engaging bartenders and the place has character. This is the kind of pub that you fantasize about when you think about traditional Ireland." – Caneray, TripAdvisor
5. Against the Grain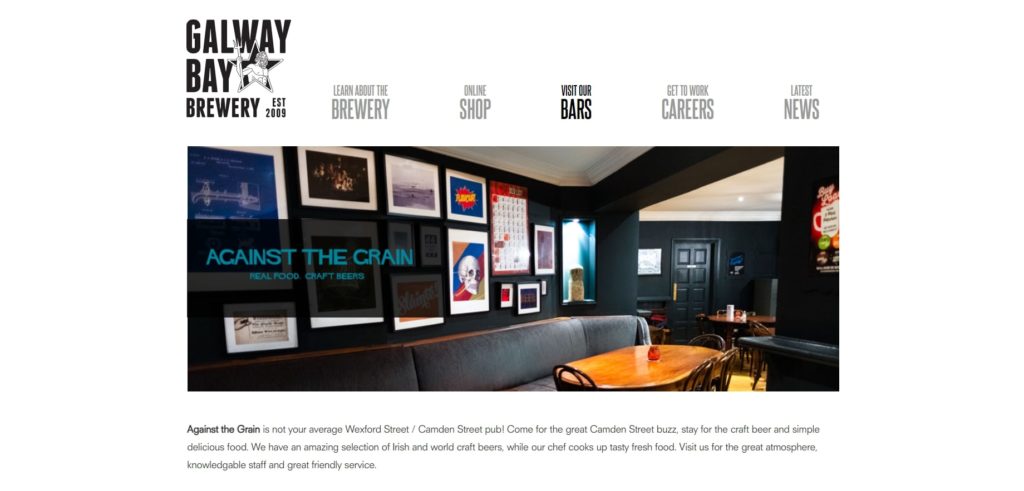 MENU
Craft Beer, Bottled Beer, Wheat Beer, Lager, Porter, Cider, Wine, Chicken Wings, Sliders, Salads, Fish and Chips
WEBSITE
https://galwaybaybrewery.com/againstthegrain/
ADDRESS
11 Wexford St, Dublin, D02 HY84, Ireland
CONTACT DETAILS
Tel: (01) 470 5100Email:

[email protected]

OPERATING HOURS
Sundays to Thursdays12:00 NN to 12:00 MN
Fridays to Saturdays:12:00 NN to 1:00 AM
Test
Info
MENU
Craft Beer

Bottled Beer

Wheat Beer

Lager

Porter

Cider

Wine

Chicken Wings

Sliders

Salads

Fish and Chips

WEBSITE
ADDRESS
11 Wexford St, Dublin, D02 HY84, Ireland
CONTACT DETAILS
Tel: (01) 470 5100

Email: [email protected]

OPERATING HOURS
Sundays to Thursdays

12:00 NN to 12:00 MN

Fridays to Saturdays:

12:00 NN to 1:00 AM
| | |
| --- | --- |
| Atmosphere | ★★★★☆ |
| Service | ★★★★☆ |
| Beer choice and quality | ★★★★★ |
| Value for money | ★★★☆ ☆ |
We know you're looking for a great craft beer and simply delicious food, but don't forget about the Camden Street buzz! Owned by the Galway Bay Brewery, Against the Grain offers an extensive selection of both Irish and international craft beers.
What we love the most about them is their huge selection of different kinds of beer on tap—you might even say that their taps are "against the grain". In fact, their menu is so broad that if faced with the proverbial Sophie's Choice, ordering a flight of ale instead can save you!
It's also got great food if you're looking for something more substantial than just a cold glass of beer or cider. They have a full menu, including vegetarian and vegan options, and some of the best fish and chips in Dublin!
This place is an oasis of tranquility and relaxation, a place where you can wind down and enjoy a pint of beer in a very warm atmosphere. The staff are incredibly friendly, too—they make sure you have everything you need while you're there.
Before going to Against the Grain, make sure to have enough money on you as their drinks and food can go pretty expensive.
Overall, if you're looking to taste unique flavors during your visit to Camden Street, we recommend trying out Against the Grain!
Ever-changing beer menu
A wide range of drinks on tap
Has a wide range of food choices
Expensive
Serving time can take long
No Guinness
Customer Reviews
A real ale pub with a Dublin pub atmosphere
"No Guinness or Heineken here! Instead a fantastic range of beers from all over the world, but still has the atmosphere of a Dublin pub, unlike many other real ale establishments. The food looked good as well, though didn't try it." – Trevor D.
Absolutely incredible
"This place had a huge selection of beers of all styles. Tasters were given before buying pints if you were unsure and the barmen were more than happy to make suggestions for you. Speaking about the barmen, they were extremely friendly and very chatty. I would recommend this place to anyone visiting Dublin and unfortunately, we only found this bar on our last night." – Ryan A., TripAdvisor
6. Kelly's Bar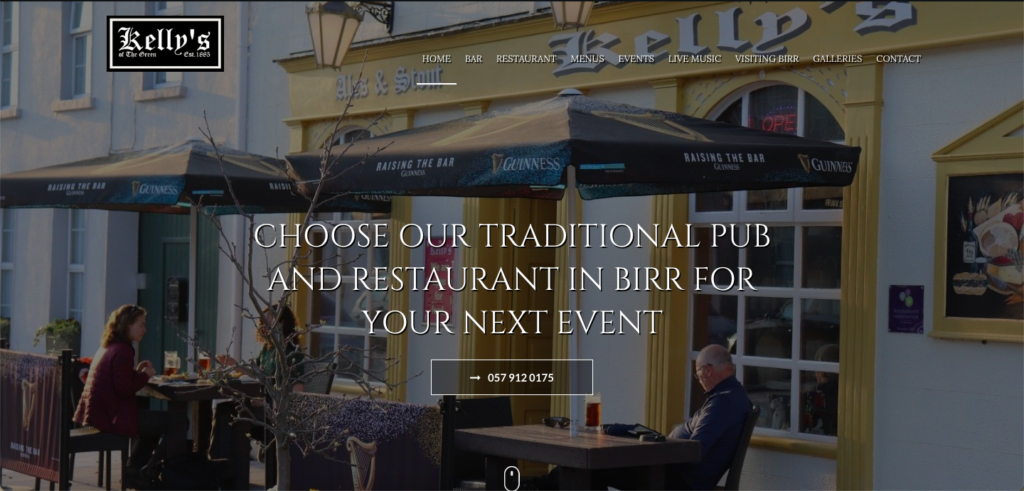 MENU
Restaurant menu
Contact for more information on Bar menu
WEBSITE
https://www.kellysbarbirr.ie/
ADDRESS
R42 A627, Birr, Offaly
Ireland
CONTACT DETAILS
057 912 0175


[email protected]

OPERATING HOURS
Pub opening hours
14:00-23:30 (Monday-Wednesday)
12:00 – 00:30 (Thursday-Sunday)

Restaurant opening hours
Monday- Friday 12 – 7.45
Saturday 12-8.30
Sunday 12.-6.30pm
| | |
| --- | --- |
| Atmosphere | ★★★★★ |
| Service | ★★★★★ |
| Beer choice and quality | ★★★★★ |
| Value for money | ★★★★☆ |
Kelly's Bar on the Green is a family-owned traditional style pub and restaurant that offers both locals and visitors with the best drink and food in the area.
What we find impressive is that they've been around for well over 140 years and has been passed down to four generations of the Kelly family! That's saying something.
Since its establishment, their family has been extending their warm and unique approach to hospitality. They make sure that each and every guest feels welcome once they step foot inside the pub.
We like how they serve both traditional and contemporary dishes using fresh local produce. All these we're able to enjoy while live music is playing in the background.
Another plus we find is the ambiance and accessibility of the place. It's an atmospheric and inviting pub with an easily accessible eatery and bar for a variety of events.
Moreover, we think that the food is fairly priced given the whole experience you get while in the pub. Of course, the food is delicious as well.
One of our favorites from the pub is their Guinness. We tried a pint of it and it was very good, and we'd even dare to say it's the best in the country.
To add to their many great points, they're also a dog friendly pub!
What we do hope to see on their website is their beer and drinks menu since they only have their restaurant menu up on their website. This is so that potential customers can see what they offer beforehand, especially if they're looking for drinks more than food.
Pub and restaurant
Been around for more than 140 years
Serves traditional and contemporary dishes
Great beer
Fair pricing
Dog friendly pub
No Bar menu on their website
Customer Reviews
"Fantastic pub. Everyone was so nice and welcoming. Family run and a great atmosphere. If it's a menu extra, get the Irish stew. You'll only need to eat once in the day if you do."
"Our favorite pints of Guinness came from this pub! Even better than the Storehouse in Dublin in our opinion. Very good food. The servers made great recommendations. Kid-friendly. Loved talking to the bartender too."
"If you looking for a nice home cooked irish food and generous portions these is the perfect place. They do half portion for kids. We ordered bacon and cabbage, lasagna and fried cod. It comes with mash or crispy fries which are delicious! In the bar Guinness super good."
FAQs about pubs