Top 5 Go Kart Places in Dublin
Ireland is home to some of the best-known sports figures in the world, like Formula One racers Eddie Irvine, Eddie Jordan, and Jim Clark. But where can racing aspirants come and practice their skills?
Look no further because we've listed the best places in Dublin to go kart if you want to start up your racer dreams or just to have fun!
How much does go karting cost on average?
While getting a go kart for yourself is expensive, trying out the experience isn't. Here are some of the prices to expect the next time you go karting:
| Service | Average Price |
| --- | --- |
| 30-minute Trial | €35 |
| Sprint | €40.00 |
| Enduro | €55 |
| Grand Prix | €60 |
| Team Racing | Starts at €50 |
Best Go Kart Places in Dublin
There are many things to subjectify when looking for the perfect place to try out karting. Here are the criteria that helped us choose the go-kart places on this list:
1. Kylemore Karting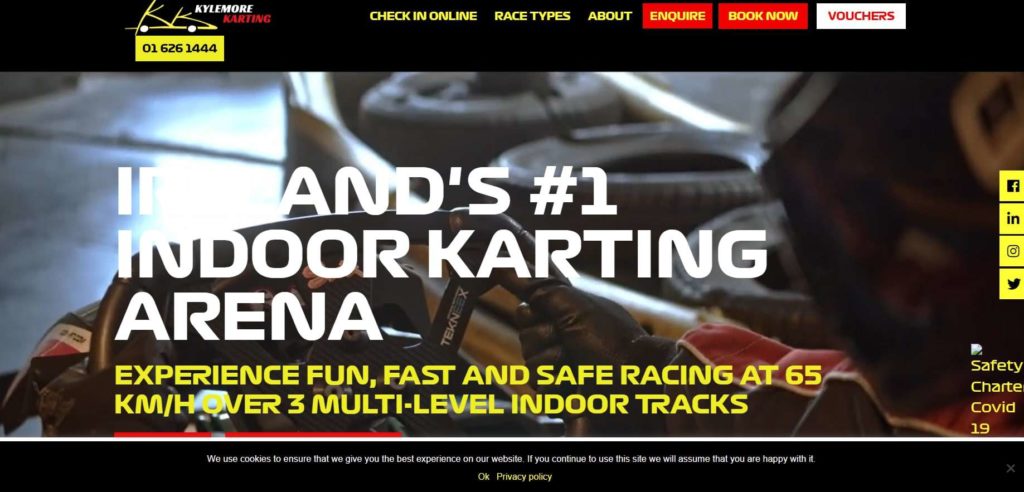 Test
Info
SERVICES
Time Trial Sessions, Racing Events, Team Building Events
WEBSITE
https://kylemorekarting.ie/
ADDRESS
Unit 1A, Kylemore Industrial Estate, Killeen Road, Kylemore, Dublin 10. D10TP04
CONTACT DETAILS
Tel: 01 626 1444

Email: [email protected]

OPERATING HOURS
Mondays to Sundays: 10:00 AM to 9:00 PM
| | |
| --- | --- |
| Tracks | ★★★★★ |
| Selection of Karts | ★★★★★ |
| Reputation | ★★★★☆ |
| Safety | ★★★★☆ |
Although karting is a relatively new sport in Dublin, the experienced and enthusiastic team at Kylemore Karting has been able to bring it to Ireland since 1992.
Kylemore Karting is a major indoor track where 24 people can race side by side. Located in the Kylemore Industrial Estate which is just outside the Irish capital, the track is 20 minutes away from the Dublin city center.
All of the tracks at Kylemore Karting are almost the same length and each is adapted to suit the needs of drivers of all skill levels. We love how they offer 4 different types of tracks, meaning that there is something for everyone.
While they have karts for kids and young adults, their highlighted kart is their 200 cc Sodi adult kart. This kart can reach 65 km/h and they have a 4-stroke Honda engine which comes with both a manual and clutch option.
We love how Kylemore Karting is accessible to both tourists and locals, seeing that they are open all days of the year! So if you're looking for some spontaneous fun in Dublin, you should definitely try Kylemore Karting out.
If we were to nitpick something about them, it would be that their prices are pretty expensive compared to other karting places. In our opinion, this would make their trial packages the best to avail.
Grand Prix-level equipment, track, and karts
Special packages for parties and club members
Located near Dublin city center
Open all days of the year
Expensive
Customer service isn't the best
Customer Reviews
Great tracks and cars
"This place is simply amazing. Brilliant, speedy carts. Great tracks. Definitely not a cheap night out but you get what you pay for and it's well worth it. Thrills and spills and miles of smiles. Guaranteed good time." – Kevin O'Donnell
Good value for the money
"Great fun, we only did time trial but it was good value for money. We were on track three where it is nigh on impossible to overtake so if you are faster than the other drivers you get held up but still good fun. The timing information afterward is very good and interesting" – Matthew Nelson
2. WhiteRiver Karting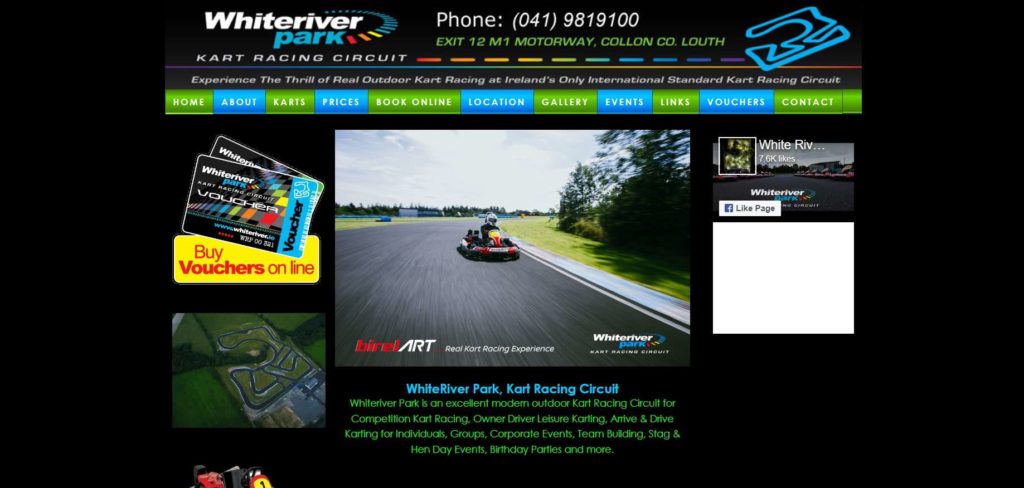 Test
Info
SERVICES
Competition Kart Racing, Owner Driver Leisure Karting, Arrive & Drive Karting for Individuals, Groups, Corporate Events, Team Building, Stag & Hen Day Events, Birthday Parties
WEBSITE
https://whiteriver.ie/
ADDRESS
Exit 12, M1, Road, Dunleer, Co. Louth, A92 FW29, Ireland
CONTACT DETAILS
Tel: 041 981 9100

Email: [email protected]

OPERATING HOURS
Mondays to Friday: 10:00 AM to 7:00 PM

Saturdays to Sundays: 9:00 AM to 7:00 PM
| | |
| --- | --- |
| Tracks | ★★★★★ |
| Selection of Karts | ★★★★★ |
| Reputation | ★★★★☆ |
| Safety | ★★★★★ |
The premier outdoor go karting venue, WhiteRiver Karting, is just off Exit 12 on the M1 motorway in Dunleer. Situated just about an hour away from the heart of Dublin, you'll get to enjoy their featured outdoor circuits!
There are two main outdoor raceways at WhiteRiver Karting. The international circuit is 1,200 meters long and 8 meters wide, while the club circuit is slightly smaller at a length of 900 meters and width of 8 meters.
WhiteRiver Karting uses champion heritage Birel N35 Go Karts on their tracks to provide the peak go karting experience to their patrons. These karts are designed for use on paved road surfaces, which is exactly what WhiteRiver Karting has.
Birel N35 Go Karts are almost 30% lighter than traditional rental karts, making them one of the most efficient and sought after for corporate entertainment on the market today. That said, if this is your first time go karting, you can't go wrong with a great vehicle.

We have to be upfront, however, that a day out at WhiteRiver Karting won't be cheap to those who just want to try the sport out. To access the club circuit, you will have to pay €25 for 15 minutes and €40 for 30 minutes.
For someone new to the field, this may seem steep, especially since larger events can sometimes be as high as €500 an hour to use the circuit. While we think the longer circuit options offer a better experience, they do cost considerably more than shorter sessions.
Outdoor circuit
Access to Birel N35 Go Karts for those who wants speedy races
Kids as old as 14 can go karting
Customer Reviews
Good karts, great track
"It is a great place the cart cars ar good the team is nice and the best, the Induction that u have before the race is perfect.Not so hard to find the best equipment that you need and past to you.Great work guys!" – Roman Mardari
Faster karts than anywhere else
"Karts are much faster then any other rental karts and all three tracks are fun to go on and on top of that if you want you can bring your on go kart which i think makes it a five star review (the only thing i would say do not go on a wet day ruins the experience)" – Oisin McGratrh
3. Need 4 Speed Karting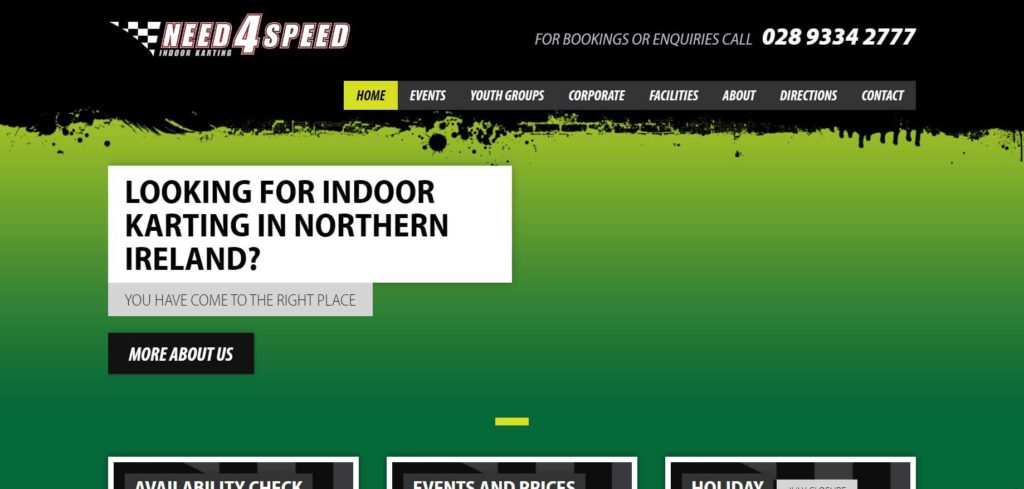 Test
Info
SERVICES
Time Blitz, Grand Prix, Kiddie Parties, Corporate Events
WEBSITE
https://need4speedkarting.com/
ADDRESS
11 Kilbride Road, Doagh, Antrim, BT39 0QA,N. Ireland
CONTACT DETAILS
Tel: 028 9334 2777

Text Inquiry: 075 2577 0054

Email: [email protected]

OPERATING HOURS
Mondays to Sundays 9:00 AM to 5:00 PM
| | |
| --- | --- |
| Tracks | ★★★☆☆ |
| Selection of Karts | ★★★☆☆ |
| Reputation | ★★★★☆ |
| Safety | ★★★★★ |
If you've ever played Need4Speed or even Burnout and are looking to experience something close to gameplay, this is the place you've been waiting for!
Need4Speed Karting has 270 cc karts that are fitted with Honda engines in both gas and diesel variants with a group I safety rating. They also have a fleet of child-friendly karts available for kids as young as 8 years old.
What we love most about them is that this raceway tries to provide the best possible experience for drivers who have limited leg strength – such as those in wheelchairs or paraplegic patients!
However, do take note that this raceway is a bit of a tighter track, with some customers mentioning that it's common to drift sideways and even clip the tire barrier. We think that they may have been going faster than the intended speed though.
This is because this track primarily caters to kids and kids parties and is not meant to be zipped around at full speed. This also means that Need4Speed provides even greater safety measures for the little ones while making sure that they have fun.
However, if you're a veteran racer, and ironically have a need for speed, then you probably won't find their tracks all that exciting. But they're still a good try if you're out with family and friends!
Kid-friendly
Offers great experience for those with limited leg strength
Not ideal for those that want a challenge
Quite far out from Dublin
Customer Reviews
Great value for money
"Had my stag do here and it was absolutely brilliant! The karts are in very good condition and the track was laid out very well. The customer service was also brilliant! Very friendly and were all up for up for having a laugh. They gave an opportunity for up to 70 laps which was well worth the money. Will be back again! It's already my 4th time!" – Ryan Purdy
Hassle-free fun time
"Absolutely brilliant, booked for children's birthday party and everyone had a brilliant time. Easy to book online, everything was ready for us arriving. Slightly different system following covid regulations but everything was straight forward and smooth. Highly recommended" – Pearse Mccurdy
4. The Zone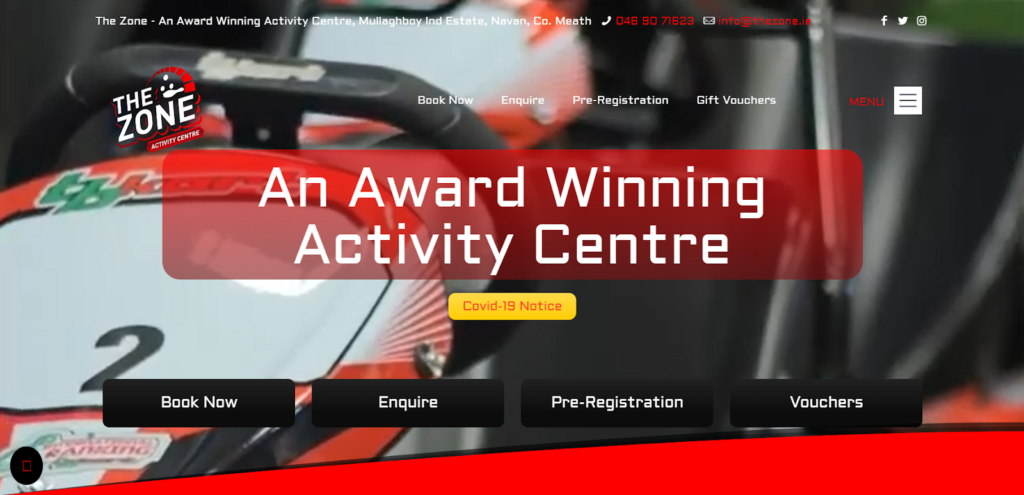 Test
Info
SERVICES
Family Karting, Solo Karting, Kid Karting, Bowling, VR, Laser Maze, Birthdays, Stag, Corporate Events
WEBSITE
https://www.thezone.ie/
ADDRESS
Unit 1& 2, Mullaghboy, Navan, Co. Meath, C15 Y034, Ireland
CONTACT DETAILS
Phone: 046 90 71623

Email: [email protected]

OPERATING HOURS
Wednesdays to Sundays: 10:30 AM to 6:00 PM
| | |
| --- | --- |
| Tracks | ★★★☆☆ |
| Selection of Karts | ★★★★☆ |
| Reputation | ★★★★☆ |
| Safety | ★★★★☆ |
The Zone Activity centre is an award-winning entertainment center and offers personalized activities.It can be found just outside Dublin, approximately a 50-minute drive from the city center.

Whether it's indoor karting, bowling, virtual reality or soft play, the Zone Activity centre will help keep patrons busy for hours when they visit!
They have a 400 meter indoor karting facility to accommodate 200cc fuel-driven go karts that can reach incredible speeds. If you want high energy, indoor kart racing action, we highly recommend going to The Zone!
Their indoor karting facility, in particularl, features the TBKART R15 and the SODI RX7 & RX8 karts for riders of all experience levels. What's fun about them is that both types of karts can reach a top speed of around 60 kilometers per hour.
Kids can also take part in the karting experience, but they must be at least four-feet tall. Moreover, kids will have their own designated area as only children 12 years and older are permitted to ride Adult Karts.
Do note that you'll have to book in advance before coming to The Zone as they don't accept walk-ins. This isn't too bad though, because it means you can guarantee a slot for your group without anybody being left out.
Offers a lot more activities other than go karting
Kids have a separate track to play in
Small track compared to others
Booking only
Customer Reviews
Great place
"We had a party here kids loved it. Go karting and vr and they got some bowling in. Very nice friendly staff. The Birthday boy got given a Zone hat at the end. Happy kids and happy parents.For a hassle stress free party book in 👍" – Spudpicker Spudz
Great for kids
"Had my son's 12th Birthday here yesterday. The boys did Karting and Bowling. They had a great time. The staff are brilliant, explaining everything and being very patient with a group of 11 very excitable and giddy boys. The facilities are excellent too." – Nathan Higgins
5. Kids Electric Cars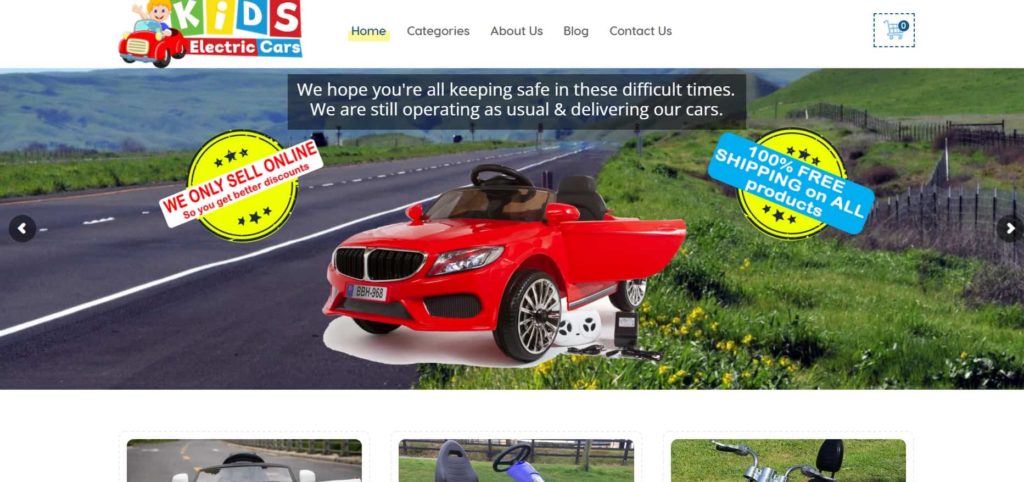 Test
Info
SERVICES
Cars, Go Karts, Jeeps & Pickups, Motorbikes & Quads, Tractors, Scooters, Gym & Fitness Equipment, Garden Furniture & Outdoor
WEBSITE
https://kidselectriccars.ie/
ADDRESS
9C Trinity Street, Dublin 2
CONTACT DETAILS
Email:

[email protected]

OPERATING HOURS
| | |
| --- | --- |
| Tracks | ★★★★★ |
| Selection of Karts | ★★★★★ |
| Reputation | ★★★★★ |
| Safety | ★★★★★ |
Kids Electric Cars is an online store that offers a wide range of battery-powered electric motor vehicles for children that are ideal for clients looking for an exciting gift for children that are both safe and highly interactive.
They also deliver anywhere in Ireland completely free with their product encased in a premium eCommerce box that will ensure that clients get the product in optimal quality and free of any damages that may occur during delivery.
From scooters to 4-seater cars, their products are safe, and durable and feature special controls for parents so that they can help their children operate the said toy with added care and caution anytime.
Though for clients who would like to see the product for themselves before buying, they might have to rely on their online store since they currently do not have a physical store available to house their products.
Nonetheless, with their responsive and trained customer services, secure transaction modes, and an excellent range of electric cars for kids, we highly recommend them to clients looking for a thrilling and one-of-a-kind gift for their children.
Excellent variety of electric vehicles for kids
Highly durable
Child-safe features employed
FAQs about go karting