The 6 Best Accounting Firms in Cork
Is your business at that stage where you can no longer handle bookkeeping, payroll duties, and the like? Perhaps, it's time now to hire an accountant.
Whether it's your first time to employ an accountant or you're looking to replace your current one, we've got you covered. In this article, we've rounded up the best accounting firms in Cork!
You'll get to see their services, special offers, and the pros and cons of their services, among others. As a bonus, we've got a couple of FAQs and tips for you as well.
Continue reading below to first know more about accounting service costs.
Accounting Fees in Ireland
From what we've seen, there are no fixed fees for accounting services in Ireland. Depending on the particular service, some may charge per hour, per week, or offer an accounting package.
You can refer to the table below to get a better idea of how much you'll need to pay to avail of accounting services.
| | |
| --- | --- |
| SERVICE | ESTIMATED COST |
| Bookkeeping | €40 per hour |
| Payroll | €45 – €50 (up to 5 employees) |
| Starter package | €125 – €450 |
The Best Accounting Firms in Cork
Without further ado, let's head straight to our picks for Cork's best accounting firms!
1. Crowleys DFK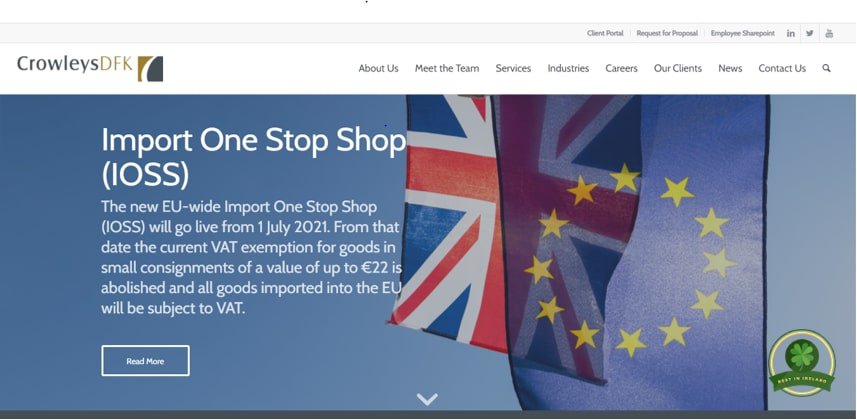 SERVICES
Accounting services and outsourcing, audit and assurance, tax, consulting, financial advisory, and public sector and government services
WEBSITE
https://www.crowleysdfk.ie/
ADDRESS
5 Lapps Quay, Cork City, T12 RW7D
CONTACT DETAILS
+353 21 4272900


[email protected]

OPERATING HOURS
9:00 am to 5:30 pm (Monday – Friday)
Crowleys DFK gets our approval for several factors such as international reach, cloud accounting, a wide array of clients, and more.
This firm is a member of DFK International, a global association of accounting firms and business advisers, enabling them to better serve clients through connections with other DFK members across the world.
To boot, Crowleys is a Platinum Partner—the highest partner program status level—of accounting software Xero, which entitles them to more Xero benefits. Out of the 27 partners, directors, and managers that make up their team, two are Xero certified advisors.
More than having 46 years experience as a firm, we like that they service an extensive list of sectors which range from foreign direct investment to property and construction. Meaning, their almost 5-decade experience is centred on a wide array of clients, both private and public.
Lastly, more than being a client-focused company, Crowleys is an employee-focused one as well. As proof, they've been awarded the Ibec KeepWell Mark, an award given to Irish employers for their investment in workplace welfare.
Services wide array of sectors
Xero Platinum Partner
Charity supporter
2 branches
Large team
DFK International member
Closed on weekends
No mention of special offers/discounts
2. Parfrey Murphy Chartered Accountants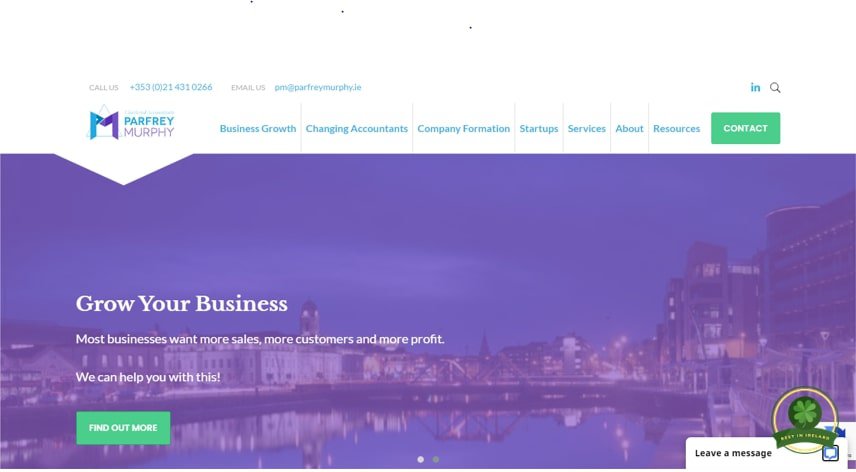 SERVICES
General services:

Accounting, annual audit, company secretarial, payroll outsourcing, and outsourced accounting services

Specialised services:

Corporate finance, corporate recovery, litigation and forensic accounting, international client services, and hospitality consulting

Taxation services:

Tax advisors, corporate and business taxes in Ireland, personal taxes, and mileage and subsistence rates

Business growth services:

Financial analysis, 80/20 analysis, cost reduction review, profit improvement, financial/bank restructuring, grant assistance, business development planning, bank interest review, margin analysis, break even analysis, what-if review, KPI review/reporting, cash flow management/reporting, financial projections, business plan, marketing plan, strategic planning, business health check, financial and management controls improvement, systems review and improvement, financial training, board assist, business valuation, succession planning, credit check, shareholders agreement, and independent contractors agreement
WEBSITE
https://parfreymurphy.ie/
ADDRESS
Lee View House, South Terrace, Cork
CONTACT DETAILS
+353 (0)21 431 0266


[email protected]

OPERATING HOURS
9:00 am to 5:30 pm (Monday – Friday)
Parfrey Murphy Chartered Accountants is on our list because it not only provides your usual accounting services but also has a focus on boosting your business growth. This makes them a good choice if you're just starting to look for an accounting firm or you feel the need to change your current accountant.
We like how their services are very much client-focused since they offer unlimited free support for any needs that can be addressed via telephone. Moreover, meetings with them are given free during your first year as their client.
Additionally, Parfrey Murphy employs a fixed fees policy whereby they first agree with the client their fees in writing before they start to work. With regard to their services, nothing is outsourced so you won't have to worry about third-party service providers.
Another reason to check them out is their specialised services. These cover litigation and forensic accounting services, hospitality consulting, corporate recovery, and more. They cater not only to individuals and businesses but also to international clients.
Unlimited telephone support
Free meetings for the first 12 months
Outsourced accounting package is customisable
Offers specialised services
Customer Reviews
See what clients have to say about Parfrey Murphy Chartered Accountants:
"Great, honest advice. Seamus is very knowledgeable and replies quickly. No pushy sales pitch or hard selling after initial consultation." -Ronak Karia
I contacted Seamus for legal advice in regards to my business. He was really knowledgeable, friendly and trustworthy. I would definitely recommend him to friends." -Lauren Oliver
"Been working with Seamus and his team for almost 8 years now. They are big enough to get the big jobs done, small enough to care about you. Recommended. Highly." -Pearse at Bigsurf
3. Voda-Forde LTD.
SERVICES
Private clients:

Secretarial services, bookkeeping and accounting, records management, virtual office, and tax compliance and tax planning

Corporate clients:

Corporate bookkeeping and accounting, corporate tax compliance advice and planning, and corporate secretarial services
WEBSITE
https://www.voda-forde.ie/
ADDRESS
Woodfield, Killanully, Cork City, T12 W6NN
CONTACT DETAILS
086 784 4566
021 4888 300


[email protected]

OPERATING HOURS
10:00 am to 3:00 pm (Monday, Tuesday, Thursday)
10:00 am to 4:00 pm (Wednesday, Friday)
11:00 am to 2:00 pm (Saturday)
Accessibility is definitely Voda-Forde LTD.'s main focal point as it renders its accounting services online via its virtual office in Cork. Hence, this makes them available not only to Irish clients but also to other European clients as well.
Voda-Forde accepts both private and corporate clients and provides services in tax compliance, bookkeeping, records management, and so on. On the other hand, there's no need to hire an in-house secretary to cover your admin work because they provide virtual receptionist services for various administrative tasks as well.
Meanwhile, another notable feature that adds to Voda-Forde's charm is its special offers and other monetary perks. They give free 4 hours worth of tax consultation services a month for all their new clients who avail of their special offer package (minimum of 1-year subscription).
They also provide a free 1-hour tax compliance consultation and planning session for all businesses. And concerning physical documents, they handle those for free as well.
What's more, their package prices are also negotiable, giving you best value for your money.
Handles physical documents for free
Offers free tax consultation services
Has special offers
Package prices are negotiable
Remote accountancy services
Closed on Sundays
Limited service offerings compared to others on list
Customer Reviews
Below are some positive comments about Voda-Forde's services:
"Initial impressions are very good. We haven't worked with the team yet but I am looking forward to start work together. Christina was very helpful explaining how the process works. I was also very impressed with the initial questionnaire. It seems like our company goals really matter to them." -Justina Gruzdyte
"Very helpful. Delighted to have gotten in contact." Lyndsay
4. Murray Cloney Associates Limited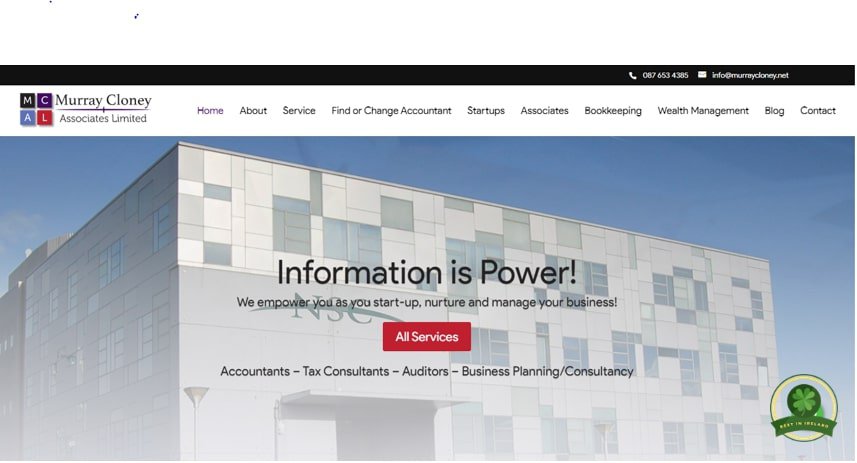 SERVICES
Taxation, bookkeeping, audits, audit exempt, subcontractors, starting a business, business planning, business proposition, farming, wealth management, banking support, management consultants, grants, and video marketing, branding, and video SEO
WEBSITE
https://www.murraycloney.net/
ADDRESS
National Software Centre, Mahon, Cork. T12 XY2N

Charleville Business Centre, Old Cork Road, Charleville Co.Cork. P56 AC92
CONTACT DETAILS
Mahon, Cork:

021 242 8795

Charleville Co.Cork:

063 89888
OPERATING HOURS
9:00 am to 5:30 pm (Monday – Friday)
Founded in 1992, Murray Cloney Associates Limited is one of the best accounting firms in Cork for a number of reasons.
First, they're a great option for businesses who require and like a tech-savvy means of accounting through the assistance they provide in multiple accounting software options such as Xero, Big Red Book, Sage Accounting, etc.
They also have a total of 3 offices—2 in Cork and 1 in Limerick, which speaks of the demand for their services. Moreover, the services they deliver go beyond the usual, rendering services even in wealth management and video marketing, branding, and video SEO.
Furthermore, from what we've seen, they're also one of the few accounting firms with accounting services that concerns farming.
As a long-time ally of Fergus Blake, an agricultural consultant, Murray Cloney offers services in farm taxation, farm accounts, farm inheritance tax management, among others.
Offers assistance in obtaining grants
Free initial consultation for new startup clients
Multiple accounting software options
Other branches
Customer Reviews
Check out a number of rave reviews from their clients:
"Have nothing but great things to say about Michael, Paul and his teams in Charleville Cork and Bandon. Have had occasion to work with them all now and they get back to me on time with the exact info I want. They have the inside track." -James Lennon
"I have had the pleasure of working with Michael Murray and Paul Clooney on a few projects over the past eighteen months and I am delighted to say that I would recommend them both for the professionalism that they bring and the in-depth knowledge that they have about doing business. I recommend that anyone in business takes the time to talk to them about the services that they offer." -Peter G. Mortell
5. Roberts Nathan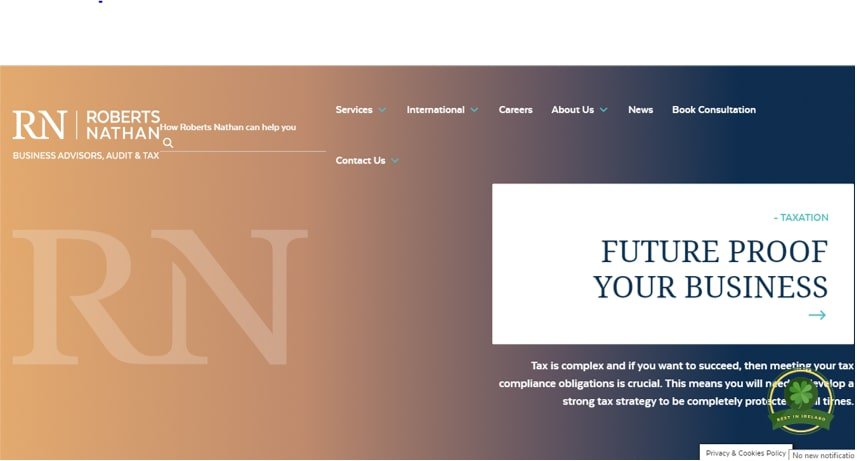 SERVICES
Business advisory, digital accounting services, audit and assurance, personal and corporate taxation, corporate finance, insolvency and debt advisory, and international business services
WEBSITE
https://www.robertsnathan.com/
ADDRESS
The Penthouse Floor, 5 Lapps Quay, Cork
CONTACT DETAILS
+353 (0) 21 421 7940


[email protected]

OPERATING HOURS
8:30 am to 5:00 pm (Monday – Friday)
Roberts Nathan is another company that's part of MGI Worldwide, a global organisation for independent audit, tax, and accountancy firms. MGI Worldwide is an international accounting network with a presence in more than 80 countries.
Consequently, this allows them to better assist their clients through the exchange of knowledge and resources they have access to with other members and the organisation itself. They're also an ideal choice if you're thinking of setting up a business in Ireland but are unsure of the requirements and compliances.
Roberts Nathan can provide advice on company setup, VAT, import duties, as well as solutions with regard to the difficulties business people face concerning the Brexit situation.
Other services of note they offer are advisory on debt and insolvency, corporate finance, and of course, accounting services which cover company secretarial, budgeting and cashflow, inheritance tax, to name a few.
What's disappointing about them though, is that they don't seem to mention any special offers and perks, free consultations, and the like. Hence, it's best to contact them for such matters.
MGI Worldwide member
2 offices
Ideal firm for international clients
Closed on weekends
No mention of special offers/discounts
Customer Reviews
See what clients say about Roberts Nathan's services:
"From the moment I contacted Roberts Nathan, I felt I was in good hands. Very prompt, responsive and efficient. I will be employing their services in the future without a doubt and I highly recommend." -Raz Islam
"I worked with Brendan and his team from Roberts Nathan. I had a case before the High Court and needed an accurate review of my business. They exceeded my expectations, I would highly recommend." -Neal Cyr
6.    Wentworth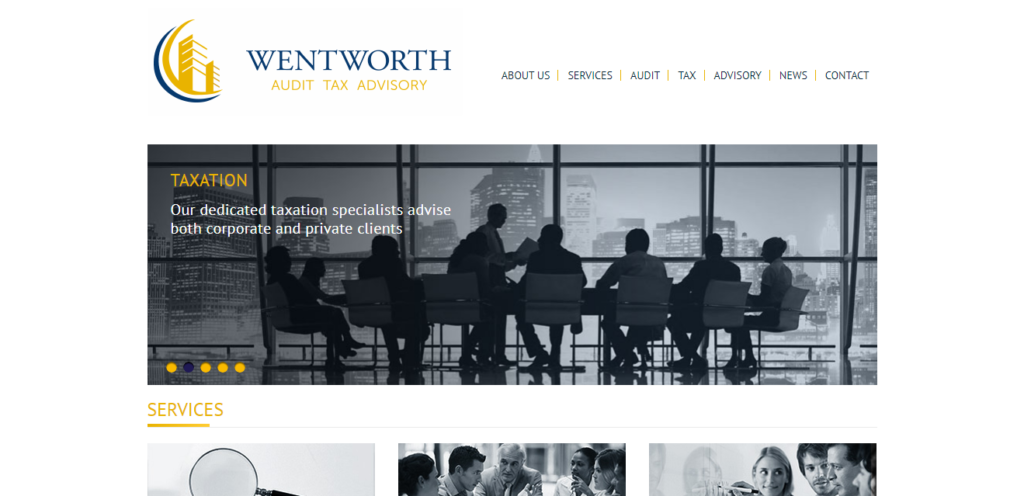 Wentworth is one of the leading figures when it comes to the accountancy practice industry since they can accommodate both local and international clients no matter the scale of their business. They specialize mainly in audit, tax, and advisory services and hold a large database of resources clients may use to get acquainted with them and the procedure.
Their website also features the latest trends and news in the field to help clients stay relevant and have better background information on the services they wish to avail of. Each service they offer is meticulously discussed in a form clients can easily understand but lacks concrete packages that clients considering their budget could find very useful.
They can give a face to each name of the Senior Management Team as well to better build client rapport with the primary team that they will be working with every step of the way. While they utilize an integrated team approach on all the cases they handle, there might be restrictions when it comes to the labor force.
The company is best for clients looking for all-rounder specialists who are able to have the right connections and expertise for every aspect in resolving the said financial solution wherein they guide clients toward the best results.
Multi-disciplinary services
Accommodates international clients
Informative website
Not available on weekends
Packages are not readily available
How to Choose the Right Accounting Firm
You can check out these tips to help you select the right accounting firm for your business:
1. Relevant experience
Pick an accounting firm that has experience in handling the kind of industry your business belongs to.
Moreover, be aware of the kind of service you need. Do you only need bookkeeping and payroll services or do you require other services such as advice on wealth management, business formation?
2. Accounting software
You should also look for an accounting firm that specialises or knows how to use your current software. A good accounting firm should also be up to date with the latest accounting software systems such as Xero, Sage Accounting, and QuickBooks Online.
They should be able to provide assistance with the said accounting software to help you fast track your business and lessen your work.
3. Recommendations
Especially, if you're a new entrepreneur, it's a good idea to inquire of other business owners their recommendations as well as their experience in dealing with accountants.
You can also take a look at an accounting firm's online reviews from past/current clients so that you can gauge whether you can trust your business's finances with the firm.
FAQs about the Best Accounting Firms in Cork
---
And that's a wrap for our review on the best accounting firms in Cork! We hope you visit any one of our choices and are satisfied with their service.
And if you believe there are other accounting firms we should have included in our list, just ring us up. We'll take a look ASAP!
Can't find your business on Google's page one? Your website may not be SEO-optimised—check out our picks for the best SEO companies in Cork!