4 Best Business Bank Account Services in Ireland
For us, finding the right financial partner can make all the difference in the dynamic landscape of Irish business.
If you're a budding entrepreneur or a business owner, we think the choice of a reliable bank account is crucial for managing your finances. You may also talk to some of the best financial advisors in Ireland to get expert guidance beforehand.
Ready to get started? Keep reading to explore the best business bank account services in the city.
How much do business bank account services in Ireland charge?
The fees for business bank account services in Ireland vary. This depends on the specific financial institution you chose, the type of business account you require, the range of services included, and the transaction volume your business typically handles.
Here are some estimates for easy reference:
| SERVICES | ESTIMATED COSTS |
| --- | --- |
| Monthly maintenance fees | €10 to €20 per month |
| Cash withdrawal fees | €0.25 to €0.35 per withdrawal |
| Stamp duty on ATM transactions | €0.12 per transaction |
| Direct debit and lodgement fees | €0.20 to €0.35 per direct debit or lodgement |
How We Picked the Best Business Bank Account Services in Ireland
We assessed the banks based on the following criteria:
1. Fire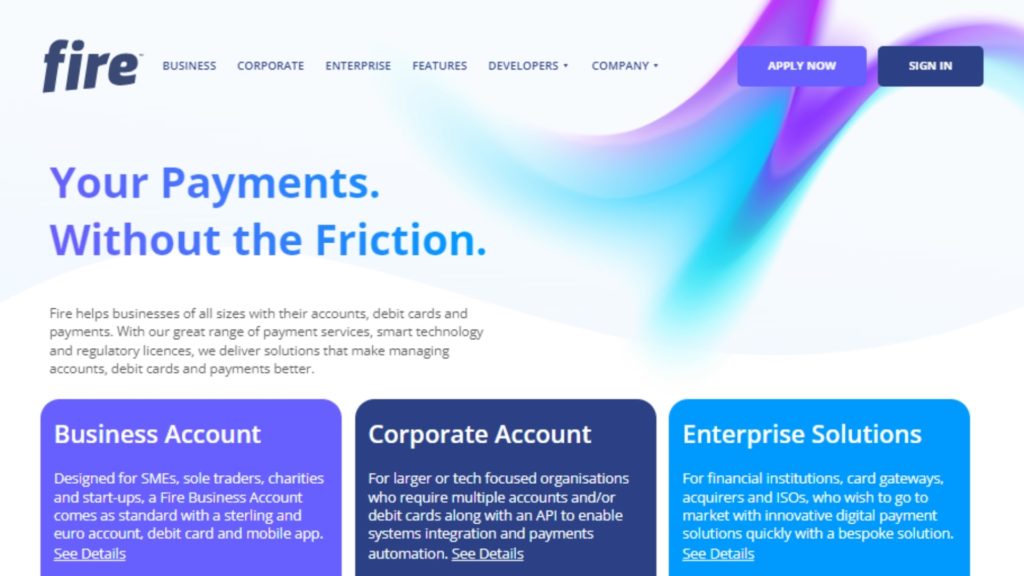 | | |
| --- | --- |
| COST | ★★★★☆ (4/5) |
| EXPERTISE | ★★★★★ (5/5) |
| SERVICES | ★★★★☆ (4/5) |
| SCOPE | ★★★★☆ (4/5) |
| QUALITY | ★★★★☆ (4/5) |
| COMMUNICATION | ★★★★☆ (4/5) |
| ACCESSIBILITY | ★★★★☆ (4/5) |
| RESPONSIVENESS | ★★★★☆ (4/5) |
Fire is another business bank account service in Ireland that we feel is worth considering. For one, this bank doesn't charge setup costs or monthly maintenance fees!
Secondly, we appreciate that they offer clients a user-friendly experience. They provide real-time features, which means they can clear and settle some transactions within seconds to give clients immediate notifications and peace of mind.
Additionally, we're glad that this bank makes sure that the major accounting packages are effectively integrated. For this reason, the management accounting functions your business needs would no longer require the use of separate books or records.
In our opinion, this may also lessen the likelihood of making mistakes with your business funds and give you better financial transparency.
Another feature we like about them is their Open Payments, which lets your clients pay you directly from their accounts. This also encourages speedy payments and fewer chances of fraud.
Just keep in mind that Fire can charge a 1.25% foreign exchange markup, so we reckon it's best to plan big transactions thoroughly in advance to avoid paying more than you have to.
No setup costs or maintenance fees
Easy-to-navigate tools
Seamless bank transfers
Integration with major accounting software
1.25% foreign exchange markup
Customer Reviews
Highly Recommended
"We've used Fire for 3 years now and they are such a useful bank backed up by a friendly and responsive team. They've helped us with many items and are easy to reach by email, so refreshing not to have to waste time on phone calls and waiting. Couldn't recommend more for busy entrepreneurs and really like the security feature like sms payment approval and dual currency accounts which make running an online business with a distributed team really secure and easy to manage." – Aalok
Excellent Multi-Currency Bank
"Fire is the best business bank account I have, in terms of ease of use, clarity of the online banking site and excellent customer service. I have emailed their support team a couple of times and had replies, literally within minutes. Monthly statements are presented clearly. National and international transfers are easy." – Wendy
2. N26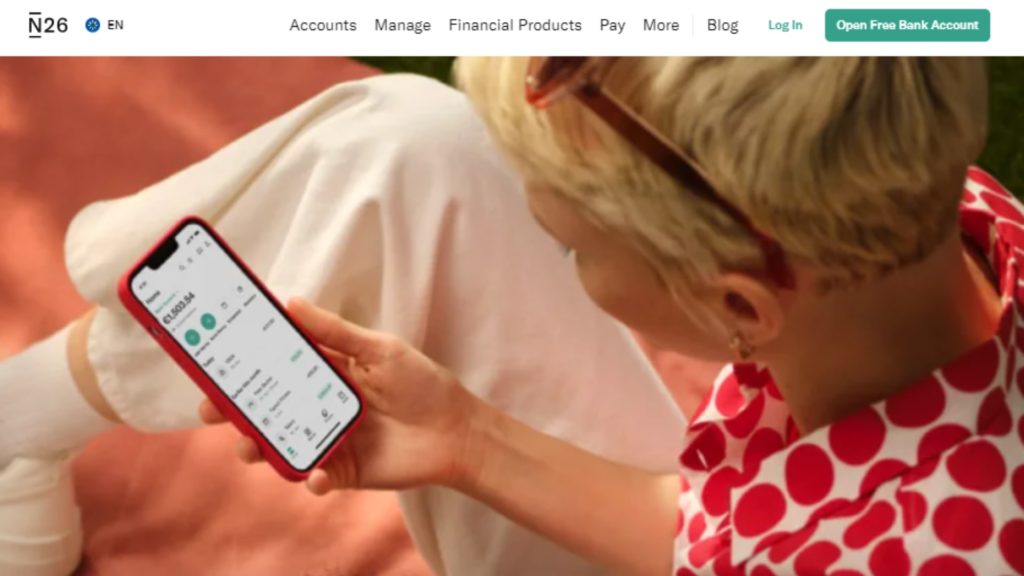 | Test | Info |
| --- | --- |
| SERVICES | Personal & Business Accounts, Crypto, Insurance |
| WEBSITE | https://n26.com/en-eu |
| CONTACT DETAILS | |
| | |
| --- | --- |
| COST | ★★★★☆ (4/5) |
| EXPERTISE | ★★★★☆ (4/5) |
| SERVICES | ★★★★☆ (4/5) |
| SCOPE | ★★★★☆ (4/5) |
| QUALITY | ★★★★☆ (4/5) |
| COMMUNICATION | ★★★★★ (5/5) |
| ACCESSIBILITY | ★★★★★ (5/5) |
| RESPONSIVENESS | ★★★★★ (5/5) |
If you're a sole trader or a freelancer in Ireland, we recommend looking into N26's business bank account services.
From the get-go, we appreciated that they offer a free debit Mastercard virtual card that clients can use to secure contactless payments globally. No paperwork is also required here, so we believe that using their service is hassle-free from the beginning.
Another benefit we feel shouldn't be overlooked is their 0.1% cashback every month.
Because of this, you can just let your earnings sit and accumulate small rewards later.
In our opinion, the extra money can be a lifesaver when it comes to unexpected expenses and convenience fees.
We feel you wouldn't worry too much about the extra fees here, though – this bank doesn't charge monthly maintenance fees or international transaction fees!
Plus, we love that users can enjoy up to 3 monthly cash withdrawals for free. This might not sound like a lot to some, but we think this is better than other banks without this perk.
Nonetheless, note that N26 still charges €10 to deliver their debit card. And since they cater to mainly sole proprietors and freelancers, this bank might not exactly specialise in servicing registered companies.
Ideal for freelancers and sole traders
No international or maintenance fees
Offers monthly cashbacks
3 complimentary monthly withdrawals
€10 debit card delivery fee
Doesn't cater to registered companies
Customer Reviews
Great Bank
"Great bank, I operate in France, Spain, Switzerland and Denmark with no worries. Fast chat communication with any doubts or problems happens. Having this account (free) for more than 4 years now. All positivity" – Mario Cuevas
Love it
"I love my N26 account. It was very easy to set up (compared to other banks). I have had no issues with customer service the app is very user-friendly and best of it all – the bank is very English-friendly. As someone who doesn't speak German navigating German banks has been quite a pain and N26 has made my life fairly easy. Not having to pay ATM fees for withdrawals abroad has been very pleasant." – Natalia Voronóva
3. Permanent TSB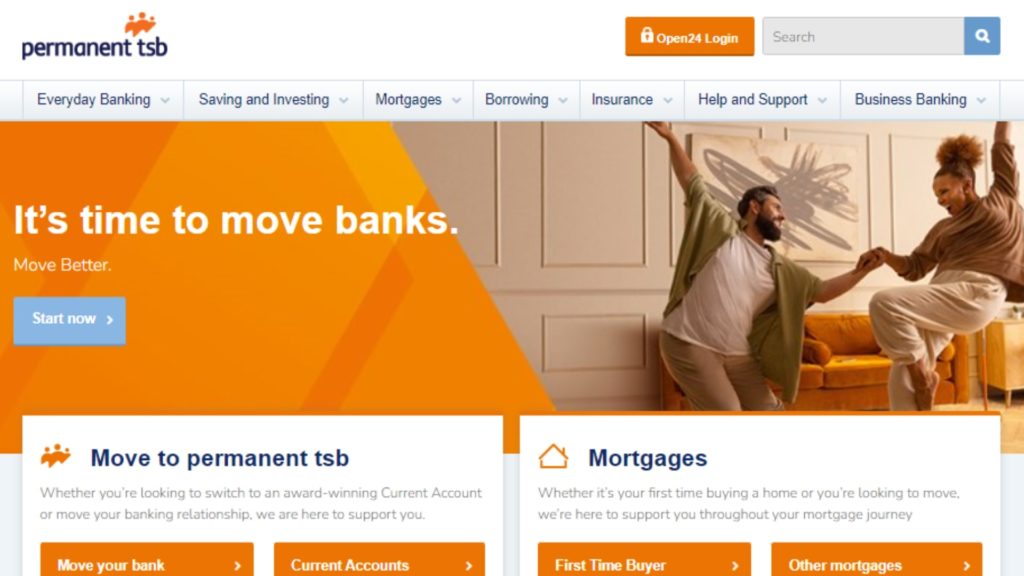 | Test | Info |
| --- | --- |
| SERVICES | Everyday Banking, Saving & Investing, Mortgages, Borrowing, Insurance |
| WEBSITE | https://www.permanenttsb.ie/ |
| CONTACT DETAILS | PHONE: 0818 50 24 24 or +353 1 212 4865 |
| | |
| --- | --- |
| COST | ★★★★☆ (4/5) |
| EXPERTISE | ★★★★☆ (4/5) |
| SERVICES | ★★★★☆ (4/5) |
| SCOPE | ★★★★☆ (4/5) |
| QUALITY | ★★★★☆ (4/5) |
| COMMUNICATION | ★★★☆☆ (3/5) |
| ACCESSIBILITY | ★★★☆☆ (3/5) |
| RESPONSIVENESS | ★★★☆☆ (3/5) |
For us, small business owners may enjoy Permanent TSB's business bank account services in Ireland – this company provides all-day access to debit cards from Visa and online banking for the clients' convenience!
In our opinion, their 24/7 access is quite reassuring. Because of this, businesses can manage their finances at any time and minimise any internal conflict regarding their finances.
Moreover, the fact that clients may log in from any device (eg. desktop, laptop, or tablet) makes us believe that the users can save time managing their operations.
Bulk payments seem efficient with this bank too. We like that they allow businesses to upload a payment file to pay wages or suppliers in one transaction, rather than having them set up each transaction individually every month.
Unlike a few other business banks, we're impressed that this company lets clients borrow a long or short-term loan. This starts at €5,000, with several repayment options customised to the client's needs.
We also think that the availability of their overdrafts helps many businesses fund their ventures. Just remember that the repayment costs may increase over time, so it's best to discuss the terms well with the bank and pay on time to avoid any issues.
Additionally, note that Permanent TSB charges €8 for its quarterly maintenance services.
24/7 access and client support
Efficient bulk payments
Offers loans and overdrafts
Can log in from most devices
Quarterly maintenance fee of €8
Future overdraft repayments can cost more
4. Allied Irish Banks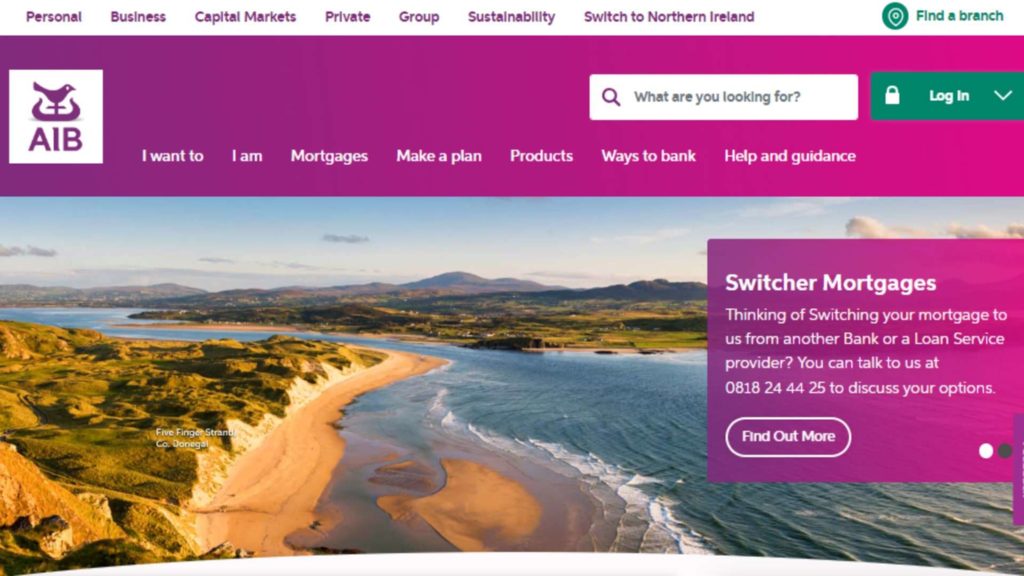 | Test | Info |
| --- | --- |
| SERVICES | Personal, Business, Capital Markets, Private, Treasury |
| WEBSITE | https://aib.ie/ |
| CONTACT DETAILS | PHONE: 00 353 1 771 2424 |
| | |
| --- | --- |
| COST | ★★★★☆ (4/5) |
| EXPERTISE | ★★★★☆ (4/5) |
| SERVICES | ★★★★☆ (4/5) |
| SCOPE | ★★★★☆ (4/5) |
| QUALITY | ★★★☆☆ (3/5) |
| COMMUNICATION | ★★★★★ (5/5) |
| ACCESSIBILITY | ★★★★★ (5/5) |
| RESPONSIVENESS | ★★★★★ (5/5) |
Those who want to save more may check out Allied Irish Banks in Ireland. We commend the fact that users can get 2 years of monthly fees waived here!
With this generous waiver, we believe that many small or startup businesses can save on essential banking fees. This way, they can allocate their resources and efforts to other important matters in the meantime.
In our opinion, this company is a good all-in-one bank with among the most services in the city. Notably, they offer business current accounts, savings products, business finance, and credit cards.
We love the accessibility of their services too. For one, this bank allows several payment options to various locations worldwide, both in-branch and online – they take payments over the phone too!
Other than that, we find it handy that a single payment file can be used for both the client's domestic and foreign payments. This is thanks to the bank's multi-currency transfer feature.
Plus, business finance, loans, and overdrafts are available to help start-up businesses stand on their feet.
However, keep in mind that Allied Irish Banks requires international transaction fees (1.75% of euro value). For us, this is a tad higher than those of other banks.
24 months of waived fees
Comprehensive banking services
Takes many payment methods
Provides business loans
Pricier international fees than others
Customer Reviews
Great Customer Service
"I had a wonderful experience in SuperValu AIB Lucan last Thursday the 25th of May. A great guy named Mark was extremely helpful and patient with me." – Eimear Kennedy
Excellent
"My debit card would not transfer funds to pay for Motor Tax on line. Contacted the call centre. The call centre personal handled my problem. She stayed on the line and went through the whole security procedure. Thankyou for excellent service." – Jeremy Thompson
FAQs About Business Bank Account in Ireland
---
There you go! We hope you liked our review of the best business bank account services in Ireland. May you find the most suitable option for your venture!
If you want to find more finance-related services, start with our reviews of these articles below to learn more!
More Resources for Business Bank Account in Ireland