Top 6 Advertising Services in Ireland
Advertising in Ireland is a delicate process that requires care with every step that you take. If you're not, you could end up making an expensive and time-wasting mistake.
In this article, we've listed out some of the best advertising companies in Ireland for you to choose from – from print ads, online, or even aired!


Best Advertisement Agencies in Ireland
To start us off, we have our selection criteria. This is what guided us when selecting the following entries for our list.
1. Core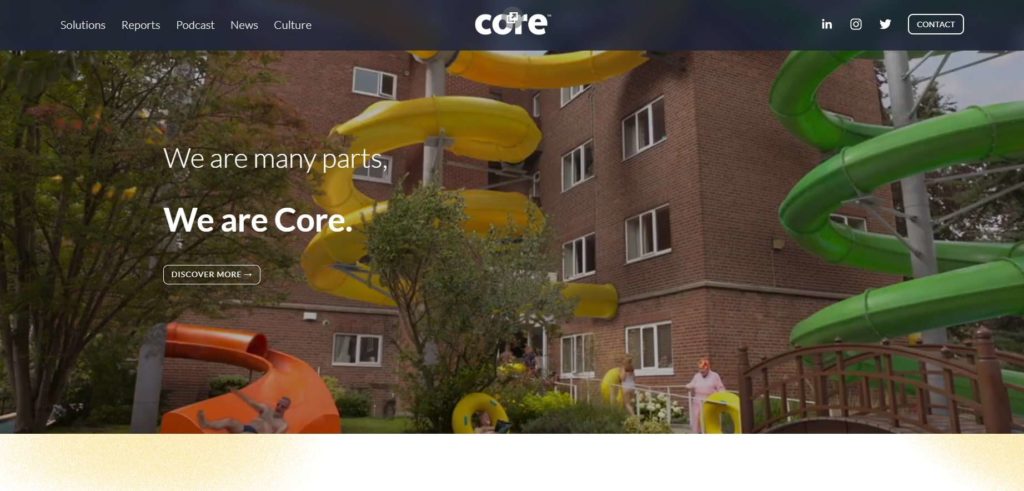 Test
Info
SERVICES
Strategy

Data

Research

Media

Creative

Sponsorship

Investment

Learning

and Recruitment

WEBSITE
https://www.onecore.ie/
ADDRESS
Core, 1WML, Dublin 2, Ireland, D02 F206
CONTACT DETAILS
Tel: +353 1 649 6316

Email: [email protected]

OPERATING HOURS
Mondays to Fridays

8:00 AM to 6:00 PM
| | |
| --- | --- |
| Experience | ★★★★☆ |
| Portfolio | ★★★★★ |
| Reputation | ★★★★☆ |
| Past Clientele | ★★★★★ |
Core is a leading media agency in Ireland with a strong background in all aspects of advertising, digital marketing, and public relations. They assist businesses in growing by providing unique web design and development, public relations, online marketing, and social media services.
They have worked with some of the biggest companies around the world as well as some of the most well-known brands operating in Ireland and across Europe. They've even partnered with international brands like KFC, Breast Cancer Ireland, and The National Lottery.
We think that their simple approach to advertising adds to the charm of their services. They work with you to understand what makes your business tick so they can help you share that story with the world.
If we had to nitpick something about them, there's no mention of consultations on their website nor fees. They're also closed on the weekends, so this might cause some scheduling issues with some people.
However, if you're interested in how their company and methods work, they have podcasts available for you to listen to before even booking an appointment with them.
To sum it all up, if your priority lies in getting help from a time-tested agency with a broad portfolio of multi-national brands, then definitely consider Core as your advertisement agency!
Heavily focused on data and research
Has partnered with multi-national brands in the past
No weekend operations
No clear quotation processes
Customer Reviews
Couldn't be happier
"After a lot of research and insightful thinking from the team at Core, in collaboration with our internal product development team, together we created the "KFC Chicken Fillet Roll". We couldn't be happier with its popularity among Irish consumers and are glad we trusted Core on this one." – Leo Sloley, KFC UK & Ireland
Well-developed campaigns
"We wanted to show how important it is for people to stay home when they are unwell. Working with Core, we developed a campaign that took a novel approach to encourage people to remain at home if feeling unwell. We feel the tone of this campaign makes people think about the common good they are contributing to." – Fidelma Browne, Health Service Executive
2. Oliver Ireland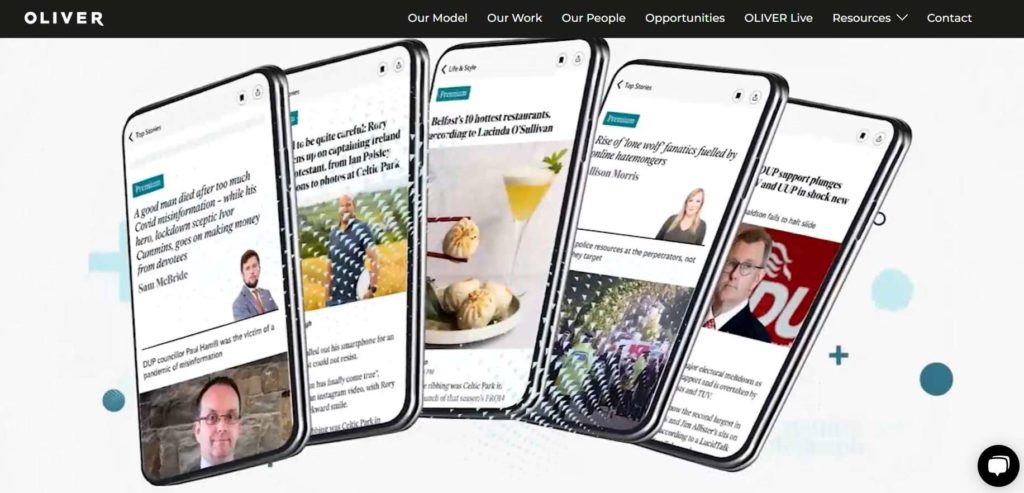 Test
Info
SERVICES
On-site Marketing Agencies

Photography

Brand Strategy and Planning

Graphic & Digital Design Solutions

E-mail Marketing

Marketing Strategy

Content & Social Media Strategy & Management

Copywriting

Video Production

Creative Design

Transcreation

and Print

WEBSITE
https://ie.oliver.agency/
ADDRESS
Unit 2 Lee Rd, Dublin Industrial Estate, Dublin 11, D11 HN92, Ireland
CONTACT DETAILS
Tel: +353 830 4447

Email: [email protected]

OPERATING HOURS
Mondays to Fridays

8:00 AM to 6:00 PM
| | |
| --- | --- |
| Experience | ★★★★★ |
| Portfolio | ★★★★★ |
| Reputation | ★★★★☆ |
| Past Clientele | ★★★★★ |
Oliver Ireland is a proven leader in the Irish advertising industry. They have been at the forefront of innovation for over 17 years and are guaranteed to deliver top-quality results for their clients.
Their team of experts covers all aspects of the market, from digital to print, outdoor to trade, and social media too. And when a project comes along that requires specialized expertise, they are able to bring in outside consultants.
What we love the most about their company is how they utilize a model tailored to every client's business based on their almost two decades worth of learning and experience.
In fact, Oliver Ireland has worked on high-profile campaigns for clients such as BMW, Unilever, McDonald's, and Adidas – a testament to the quality of their work! In case you're looking for the numbers on how they worked with these companies, they've published several articles on it on their website.
If you want to avail of their services, note that they offer consultations online but only for a brief 30-minute session. For face-to-face consultations, booking an appointment might be needed.
As a small and nimble agency, we believe that Oliver Ireland is definitely a well-respected advertising agency that you should look into.
Has a broad work portfolio
Has had AAA listers as clientele
Globally recognized with multi-national awards
Outsources team members for a "more flexible" approach
No weekend consultations
Customer Reviews
Impressive and timely
"Done in partnership with Oliver, U-Studio has more than 400 employees across 21 studios and 18 countries, spanning a multitude of disciplines and catering to the real-time marketing needs of three-quarters of Unilever's brands. Unilever's products, especially those which help with hygiene and health, had an important part to play in people's lives and homes throughout the pandemic. U-Studio was able to react quickly ensuring that Unilever's brands could connect with the consumers who needed them across video, e-commerce and community management, demonstrating their relevance to changing needs as the pandemic unfolded. – Agency of the Year Awards 2022
One of the world's challenger brands
"OLIVER met the challenge of creating a brand campaign around the bicentenary that didn't feel overly self-congratulatory, head-on. The result was a celebration of the history and the impact of 200 years of progressive journalism, which importantly talked to the challenges which lay ahead. The team created a campaign positioning The Guardian as one of the world's original challenger brands, born from a need for facts, challenging journalism and new ideas, and which remains as strong now as it did back in 1821." – Campaign
3. McCann Dublin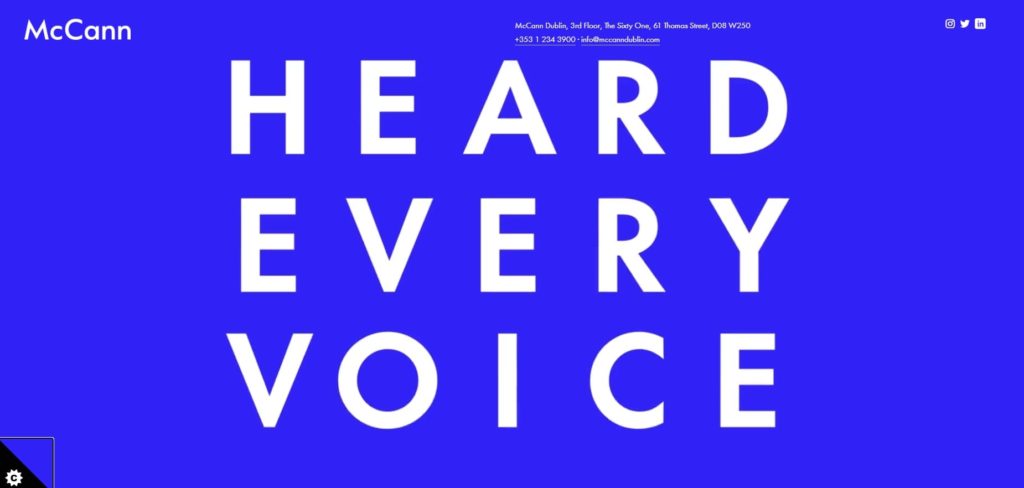 Test
Info
SERVICES
Advertising

Creative Design, Content Creation & Copywriting

Strategic Planning

Social Media Strategy

Web Design & Development

Search Engine Marketing

PPC & SEO

Digital Consultancy

Research & Insight

Facebook Applications

Mobile, Email Marketing, Branding

WEBSITE
https://mccanndublin.com/
ADDRESS
3rd Floor, The Sixty One, 61 Thomas St, The Liberties, Dublin 8, D08 W250, Ireland
CONTACT DETAILS
Tel: +353 1 234 3900

Email: [email protected]

OPERATING HOURS
Mondays to Fridays

9:00 AM to 5:30 PM
| | |
| --- | --- |
| Experience | ★★★★☆ |
| Portfolio | ★★★★☆ |
| Reputation | ★★★★☆ |
| Past Clientele | ★★★★★ |
If you're looking for a top-notch, international advertising agency in Ireland, look no further than McCann Dublin.
McCann Dublin brand is adept at using its resources and expertise in branding, marketing, and advertising to provide services to companies of all sizes. They have more than a decade of experience in the field and can help your company grow by creating marketing plans and executing them.
One of the reasons why we consider McCann to be a top-tier marketing and advertising agency is because of their emphasis on client-agency relationships. Their extensive clientele is a testament to the efforts they've put into understanding their clients' industry and products.
They're a one-stop shop for companies looking for an agency that can do it all. Their team is also competent in providing advice on social media marketing, search engine optimization, and online advertising.
For an advertising agency, we would have loved it if their website interface were more intuitive and beginner-friendly. That way, it could be more accessible with fewer chances of headaches to boot, but you can always give them a call as well.
To summarize our final thoughts on the matter, we believe that McCann's work with big companies certainly is impressive and is something you can trust to help grow your business.
Services are known worldwide
Has partnered with major brands like Microsoft, IKEA, and Verizon
Non-user-friendly website
No weekend consultation
Customer Reviews
Iconic, life-changing, award-winning
"Without a doubt, McCann Agency is one of the best, if not the best agency out there. The advertising campaigns they created made such a huge impact in the marketing of some of the best companies that are present today. Their campaigns revolve around their " Truth Well Told" philosophy which helped the creation of iconic, life-changing, and award-winning innovations that led to the building and growth of some of the big brands present today. Now that's what you call marketing strategy." – InCorporate
Knocks your socks off
"We started with McCann and Anderson & Lembke with the hope they would bring us a solution that would knock our socks off. As of yesterday, they did, so we didn't talk to anyone else." – Rob Schoenn
4. SPM Online Marketing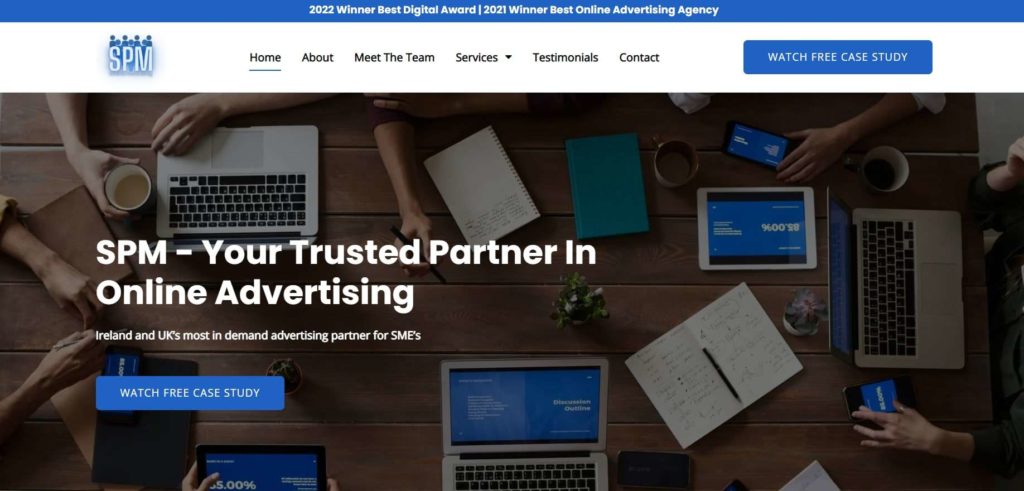 Test
Info
SERVICES
Facebook Marketing

Facebook Advertising

Marketing Consultation

and Marketing Strategy

WEBSITE
https://spmonlineadvertising.com/
ADDRESS
Ireland, Ireland
CONTACT DETAILS
Contact
OPERATING HOURS
Mondays to Fridays

9:00 AM to 5:00 PM
| | |
| --- | --- |
| Experience | ★★★★☆ |
| Portfolio | ★★★☆☆ |
| Reputation | ★★★★☆ |
| Past Clientele | ★★★★☆ |
SPM Online Advertising is an all-around advertising agency that has provided services for all your marketing needs since 2010. They've worked with hundreds of companies and helped them grow their sales, increase brand awareness, and attract new customers.
We love how their team is composed of experts and young professionals which guarantees a depth of knowledge about social media across the board. This is one of the reasons why they are succeeding in the digital age!
What sets them apart from other agencies is their unblemished 5-star rating because of the quality customer service they provide to everyone who hires them.
In fact, their team has received many awards for their work (like 'Best Online Advertising Agency' & 'Digital Award' by Irish Enterprise Awards), which is a testament to their dedication to excellence.
However, unlike other services, SPM Online Advertising's coverage is restricted to Facebook, Google, and Instagram. Media procurement and planning, activations and experiences, campaigns, and site design are all part of the said scope.
Whether you're looking for a full-service advertising agency or just want a couple of ads, their team can help you achieve the results you need. From production all the way to delivery, they've got it covered!
Offers social media expertise
Cost-efficient and performance-driven marketing services
Relatively new to the industry
Limited to Facebook, Instagram, and Google ads
Customer Reviews
Professional and efficient
"Shane and his team at SPM have had an incredible impact on my sales since I've started working with them. Good value is an understatement as Shane is hands-on and never more than a phone call or email away to handle any queries I have in a professional and efficient manner." – John Stephenson
Return of investment is far more than I expected
"I engaged Shane and his team in 2020 to handle my social media, after a brief outline of what I wanted, Shane put together a program for me and handled everything. The return on investment was far more than I expected, I was inundated with leads to a point where I couldn't handle any more work. I will be using Shane and his team in the near future again." – Ian Murphy
5. Grofuse Digital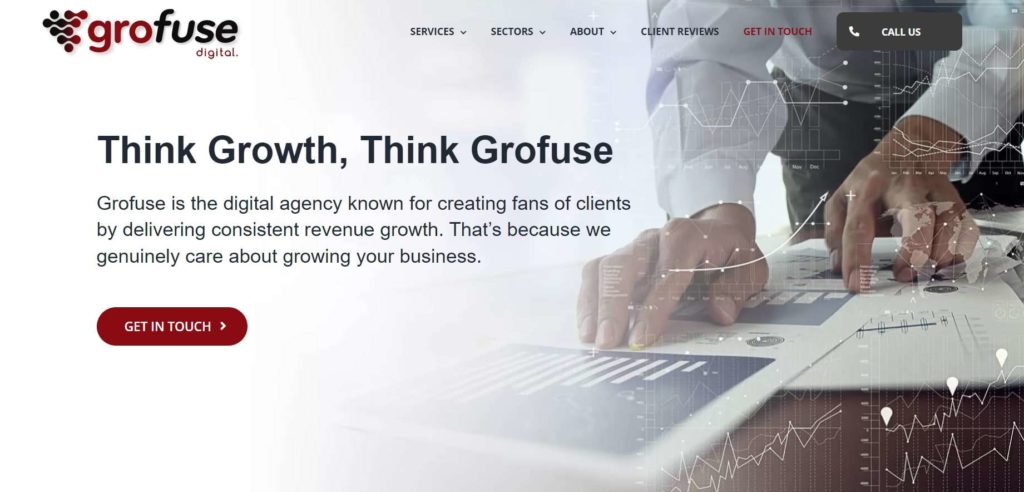 Test
Info
SERVICES
Social Media

SEO

Pay Per Click

Web Design

WEBSITE
https://brandigital.ie/
ADDRESS
Contact for more information
CONTACT DETAILS
Tel: 0852078494

Email:[email protected]

OPERATING HOURS
Contact for more information
| | |
| --- | --- |
| Experience | ★★★★☆ |
| Portfolio | ★★★☆☆ |
| Reputation | ★★★★★ |
| Past Clientele | ★★★★☆ |
Grofuse Digital is an advertising agency that provides its customers with a range of services related to visibility using the latest technology.
What we love the most about their marketing research and services is how they make an effort to be innovative. In fact, we think that their dedication to being up-to-date on all industry changes is a huge factor in why Grofuse Digital can stand up to its competitors.
With this, they are always coming up with new ways to serve their clients' needs.
They provide branding guidelines that go beyond just design and artwork and include business document templates, operational processes, and digital marketing material based on research and data.
Unlike other services on this list, they have only been in the business for five years. This means that they have a smaller portfolio than others to date.
But because of their short, localized run, they have been heavily in touch with the Irish populace, which can be a plus when you're looking to target the local audience.
Overall, if you're looking for an agency with a reputation for being able to deliver results quickly while never sacrificing the emphasis on creativity, then Grofuse Digital may just be the one for you!
Flexible on the specifications provided by clients
Member of the Northern Ireland Chamber
No weekend operations
Limited portfolio
Customer Reviews
Effortless efficiency
"Would highly recommend Grofuse. They offered a highly personalised service that met all our needs with the least amount of hassle. Our new website has increased our visibility and generated extra sales. The back office of the website is easy to work with so that changes can be made effortlessly and the team at Grofuse are always readily available with support if required. If you are looking for a website design that gives you functionality that can be changed easily and kept updated for the future, and one that has full integration with all the major payment gateways look no further than Grofuse." – Marble Hill
SEO Wizards
"Denis and the team have provided an excellent service for Lynch Food Consulting new website. Denis' knowledge, insights, and understanding of how Data Review and SEO services work, can be the difference in top page rankings or your business just another website flowing in the ether of well-intentioned digital strategies. After working with Denis I have had several queries via my website, but most importantly they have also translated into paid work and new business. Let the web know about your business and rank your business top of the listings – Denis and his team are the SEO wizards." – Lynch Food Consulting
6. Brandigital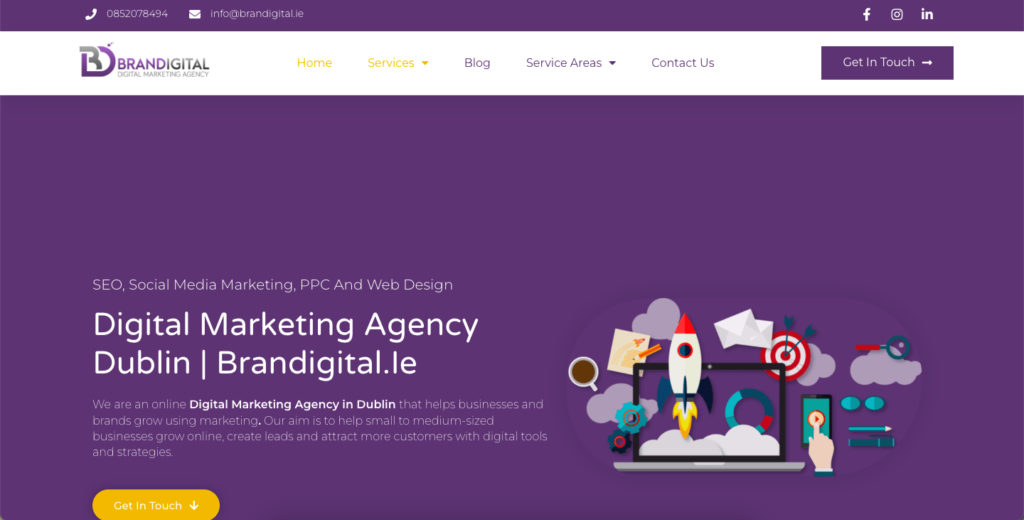 Test
Info
SERVICES
Social Media

SEO

Pay Per Click

Web Design

WEBSITE
https://brandigital.ie/
ADDRESS
Contact for more information
CONTACT DETAILS
Tel: 0852078494

Email:[email protected]

OPERATING HOURS
Contact for more information
| | |
| --- | --- |
| Experience | ★★★★☆ |
| Portfolio | ★★★☆☆ |
| Reputation | ★★★☆☆ |
| Past Clientele | ★★★★☆ |
Brandigital is digital marketing agency in Dublin that helps businesses and brands grow through marketing. They especially aim to help small to medium-sized businesses grow online.
They specialize in Social Media, Search Engine Optimization, PPC and Web Design.
We like that they've worked with clients from various industries, including insurance, accountancy, health and beauty, e-commerce, fitness, events and service industry. This way, we're confident that they can help you no matter what field you're in.
We've discovered that part of their strategy is that they partner with influencers in Ireland that compliment their client's brand to provide more visibility, and this is something that not all agencies do.
Another thing we like about them is that they offer a free consultation for their services, so you don't have to feel obligated right away.
However, what we do like to see more of their portfolio on their website.
All in all, we recommend them for your digital marketing needs.
Specializes in social media, SEO, PPC and web design
Has worked with brands in various industries
Partners with influencers as part of their strategy
Offers free consultation
Limited portfolio on website
FAQs about advertisement agencies