5 Best Animal Shelters in Dublin
Animal shelters are crucial to our communities because they constantly try to reconnect pets with their owners and provide shelter for animals that are homeless.
If you're looking for an animal shelter to help rehome strays, or you're interested in adopting animals from a shelter, we've got you covered.

We've listed out some of the best animal shelters to help our fur friends out!
How much do animal shelters cost?
Adoption is entirely free, but sometimes there are small fees that are related to paperwork and processing. Here is a list of common fees to expect when handling adoption papers from animal shelters in Dublin.
| Service | Average Estimated Price |
| --- | --- |
| Processing | €10 |
| Orientation and Guidance | Free |
| Pledge or Donation Fee | €70 |
| Miscellaneous Fee | €30 |
Best Animal Shelters in Dublin
Looking for the best animal shelter in Dublin can be quite challenging as there are a lot of factors to consider. But how does one classify a shelter as proficient?
Here are the criteria that we used to answer that question:
1. Dogs Aid Animal Sanctuary

Test
Info
SERVICES
Dog Adoption, Monthly Donation, Sponsorships, Volunteer Work
WEBSITE
https://dogsaid.ie/
ADDRESS
Meakstown, Dublin 11, D11 E674, Ireland
CONTACT DETAILS
Phone: +353 87 294 4310

Email: [email protected]

OPERATING HOURS
Monday to Sunday: 1:00 PM - 4:00 PM

Closed on Tuesdays
| | |
| --- | --- |
| Professionalism | ★★★★★ |
| Confidentiality | ★★★★★ |
| Processes | ★★★★☆ |
| Service | ★★★★★ |
| Care | ★★★★★ |
| Reputation | ★★★★☆ |
| Commitment | ★★★★★ |
| Credentials | ★★★★★ |
Dogs Aid Animal Sanctuary is an animal shelter that focuses on dogs, but also takes in cats. We like their advocacy – they believe that every animal is beautiful and deserves their forever home.
Dogs Aid Animal Sanctuary has been protecting animals and providing them another chance at life for over 25 years in the areas of Dublin. Since its establishment, the shelter has rehabilitated and rehomed over hundreds of cats and dogs.
What we love about Dogs Aid Animal Sanctuary is that they genuinely care for the animals that they take into their shelter. The shelter provides a "no destruction policy" where no cat or dog is put down due to age or behavior.
Their mission focuses on providing a normal life in the shelters until the animals find new parents and a new home.
Dogs Aid Animal Sanctuary's process is a thorough and complete one – they conduct background checks on those who want to adopt. Families are also checked as they only rehome puppies to families with younger children to take care of the dog.

They also have strict guidelines such as requiring the house to have an open area for the dogs to roam in to ensure that the rehomed animals are in the right hands.
If you pass their screening, then you are able to "reserve" the animal for a limited time. During this period, you'll need to complete the adoption process to allow your new friend to come home with you.
Although, it must be noted that if you are truly interested in adopting a dog from Dogs Aid, you must be ready to provide the necessary information and items such as house area for pet space, litter boxes and food items.
Shelters both dogs and cats
Provides adoption and compatibility process
Customer response is fast and reliable
No operation on Tuesdays
Short operation hours 
Expensive donation pledge when adopting
Customer Reviews
Amazing shelter
"Maggie gives her soul to those dogs. She is amazing and everyone who helps put there. We met Michelle today too." Leonie Keogan
Puts the welfare of the strays
"These people always put the welfare of these stray dogs (and dumped or discarded!!!) dogs ahead of 'turning a profit'. Highly recommended." – Matt Carroll
2. Dogs Trust Ireland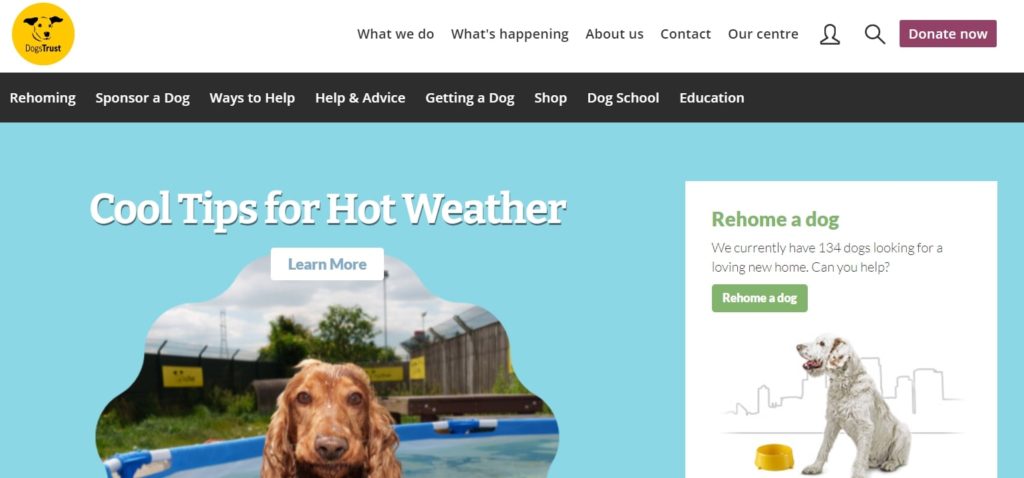 Test
Info
SERVICES
Dog Adoption, Monthly Donation, Sponsorships, Face-to-Face Fundraising, Volunteer Work, Educational Workshops
WEBSITE
http://www.dogstrust.ie/
ADDRESS
Ashbourne Road, Finglas, Dublin 11, Co. Dublin, Ireland
CONTACT DETAILS
Phone: +353 1 879 1000

Email: [email protected]

OPERATING HOURS
Friday: 2:00 PM - 4:00 PM

Open by appointment
| | |
| --- | --- |
| Professionalism | ★★★★★ |
| Confidentiality | ★★★★★ |
| Processes | ★★★★☆ |
| Service | ★★★★★ |
| Care | ★★★★★ |
| Reputation | ★★★★☆ |
| Commitment | ★★★★☆ |
| Credentials | ★★★★★ |
Established in Ireland in 2005, Dogs Trust Ireland has become one of Ireland's largest dog welfare charities and shelters. What we love about Dogs Trust is that they are reliable!

They have provided a lot of services in protecting animals such as establishing a nation-wide education program to deliver free workshops to schools in taking care of dogs and other important modules.
Dogs Trust Ireland has also initiated a nation-wide Subsidized Neutering scheme, where neutering and microchipping are done at a reduced cost. An approximated 125,000 dogs benefited from this initiative.
With a state-of-the-art rehoming center and a puppy wing, they have sufficient spaces in taking care of these dogs until their rehoming.
We also want to note that Dogs Trust has a disclosure statement where employees should supply honest and open answers. This helps for the adoptees to understand the process and undertaking of the adoption.

Dogs Trust also has an active customer care hotline in handling public feedback and complaints. This is to provide holistic customer service and assist them in the process of rehoming.
Overall, if you are looking forward to adopting a dog, Dogs Trust Ireland is an animal welfare shelter that you can truly trust as they operate with heart and comfort for the animals.
Has an active customer care contact
Extensive services to both the shelters and clients 
Provides subsidized schemes for neutering
Short business hours
Only open to appointment 
Only dogs are rehomed
Customer Reviews
Loving shelter
"I am waiting patiently to adopt a small adult dog preferably female.Hopefully not too much longer.Dogs Trust have kept in touch, which is difficult I'm sure as they would not have much free time.Stay Safe everyone as you are needed big time.Thank you all for your endless work and love that you give to these orphans. Health and Happiness." – Anna Moore, Google Review
Extremely friendly!
"Got a chance to visit them for the first time. I was really impressed by their efforts in looking after pets that have been abandoned/surrendered. People there are extremely friendly. I urge everyone to donate as much as they can to keep this place running." – Vijay Gill, Google Review
3. Dogs in Distress – Rescue Dogs for Adoption

| | |
| --- | --- |
| Professionalism | ★★★★☆ |
| Confidentiality | ★★★★☆ |
| Processes | ★★★★☆ |
| Service | ★★★★★ |
| Care | ★★★★★ |
| Reputation | ★★★★☆ |
| Commitment | ★★★★☆ |
| Credentials | ★★★★☆ |
Dogs in Distress rescues dogs and prioritizes their well-being until they find a home. From fostering to adoption, this company has your fur friend covered!
Primarily run by volunteers, Dogs in DIstress works even without a facility. Dogs are homed temporarily in foster homes where interested people can book an appointment to visit and check their potential fur buddy out.
In over 15 years of operations, Dogs in Distress has helped over 700 dogs yearly to find a family and be rehomed in their new forever home.

What we love about this initiative is that they provide for microchipping, neutering, deworming, and vaccination of the dogs before they are rehome.
Although we should let you know that the adoption donation is rated at €250 minimum as they provide complete care for the dog, even before you rehome your buddy out.
You should not worry as Dogs in Distress has a very good reputation. Their rehoming policy is strict and abides to high standards to ensure the dog's happiness.

They also offer their email for contact even after adoption to help with the family in settling the dog into their home. Their reputation is wide spread as they have even rehomed dogs in the USA, England, Sweden, and Germany, among others.
Specializes in taking care of dogs 
Provides complete care for dogs before rehoming
No operation hours
No physical facility
Customer Reviews
Consistently honest and reliable
"Dogs in Distress is a wonderful organization, and I can't thank them enough for our wonderful little border collie, Maisie (previously known as Ellie but we reluctantly had to change her name, as our other dog is also called Ellie). The match was excellent, and both Marie and Natasha have been so helpful since the adoption. I know I can contact them at any time for further advice, and it's obvious that they absolutely adore all the dogs that pass through their care. If you are in a position to adopt a dog from Dogs in Distress, please do so – or donate whatever you can, so that they can continue their amazing work. 🐶" – Marie Altzinger, Google Review
Top-notch organization
"I have just adopted my 2nd dog with Dogs in Distress. They are a fantastic group with great volunteers and everyone is very helpful and friendly, matching distressed dogs with good owners. They need to support a lot of dogs who need rehoming, all on a voluntary basis so all their donations go directly to the dogs. If you are looking for a great addition to your family, I would highly recommend Dogs in Distress. Wonderful organization!!" – Roy Walsh
4. Dublin SPCA Dogs & Cats Home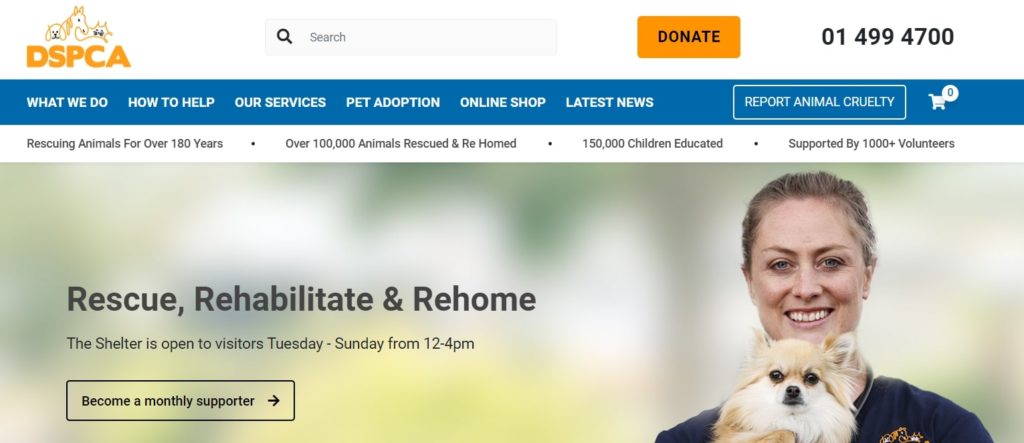 Test
Info
SERVICES
Dog Adoption, Cat Adoption, Fostering, Merchandise Shop, Food Shop, Animal Training, Educational Workshops
WEBSITE
https://www.dspca.ie/
ADDRESS
Mt Venus Rd, Newtown, Dublin, Ireland
CONTACT DETAILS
Phone: +353 1 499 4700

Tel: 01 499 4700

Email: [email protected]

OPERATING HOURS
Tuesday - Sunday: 12:00 NN - 4:00 PM
| | |
| --- | --- |
| Professionalism | ★★★★☆ |
| Confidentiality | ★★★★☆ |
| Processes | ★★★★☆ |
| Service | ★★★★☆ |
| Care | ★★★★☆ |
| Reputation | ★★★★☆ |
| Commitment | ★★★★☆ |
| Credentials | ★★★★☆ |
Dublin SPCA Dogs & Cats Home is one of Dublin's most active animal shelters as they provide education, rescues, and adoptions, all for protecting the welfare of animals around Dublin.
What we love about Dublin SPCA Dogs & Cats Home is that they provide a complete set of services in providing education to people in taking care of their pets.

They also provide rescue and adoption initiatives where they work closely with government agencies to help with rescuing and rehoming animals at their facilities.
This shelter also works with UCD Veterinary School where students help out at the shelter to gain experience and assist the shelter with neutering.
This shelter is a cut above others mainly because of their progressive programs such as mobile vet clinics to cater to areas that need veterinary access. They also provide neutering programs to limit unwanted animal populations in Dublin.
Their adoption process is strict and thorough to cater to the interests of the applicants. They also collect adopting fees to continue the operations of the shelter.

It should be known though, that these fees cover microchipping, neutering, flea treatment and deworming, as well as vaccinations. The fees ensure that operations will continue in the facility, while preparing for the animal to be rehomed.
Has a complete physical facility 
Affordable adoption fee that covers treatments and microchipping 
Thorough adoption process 
Short operation hours 
Adoption lines can be long due to their process
Customer Reviews
Professional and thorough
"Can't say enough about the phoenomal work that these folks do, I've rescued 3 dogs from them and they have been amazing to deal with" – Shane O'Brien
Hands-on
"Our pup Goose loves the daycare. Whines to get out of the car before we have even parked. Great place to have him playing and socializing with other dogs and he adores the staff. Plus side for us humans is that he is worn out" – Emma Claffey
5. North County Dublin SPCA

Test
Info
SERVICES
Dog Adoption, Cat Adoption, Fostering, Veterinary Health Checks, Vaccination, Microchipping, Neutering, Helpline for Advice
WEBSITE
https://ncdspca.org/
ADDRESS
Voluntary Veterinary Clinic, 124a Drumcondra Rd Upper, Drumcondra, Dublin, Ireland
CONTACT DETAILS
Phone: +353 1 837 5630

Tel: 01 837 5630

Email: [email protected]

OPERATING HOURS
Monday and Thursday: 6:00 PM - 9:00 PM
| | |
| --- | --- |
| Professionalism | ★★★★☆ |
| Confidentiality | ★★★★☆ |
| Processes | ★★★★☆ |
| Service | ★★★★☆ |
| Care | ★★★★☆ |
| Reputation | ★★★★☆ |
| Commitment | ★★★★☆ |
| Credentials | ★★★★☆ |
North County Dublin SPCA was established in Dublin in taking care of strays and unwanted pets for more than 50 years in their spot in Drumcondra Road.
What we love about North County Dublin SPCA is that they offer adoption, rehoming, and also veterinary services at a subsidized price. This means that check ups may cost lower due to their pricing scheme.
Information about their rehoming policies are available on their website. You can find a list of animals ready for rehoming where you can set a viewing schedule to meet them.
They also provide complete information on taking care of your newly adopted pet through their website. You can access different articles on taking care of animals with special conditions such as arthritis.
As part of a larger community, they hold fundraisers and events to provide more opportunities to other dogs and cats that are in need of help. This also increases the company's capacity to take more animals and further their operations.
In conclusion, if you are around the area and are looking for a new fur buddy and a veterinary clinic with affordable rates, then North County Dublin SPCA is here to provide you with service.
Offers veterinary services
Holds events and fundraisers in the community
Short business hours 
Can be difficult to contact at times
Customer Reviews
Fantastic volunteers
"Fantastic people, they will help you in any way possible and they do it all voluntarily…" – Johan McCarthy
Get the job done
"Was easy to make an appointment. Had my cat microchipped and vaccinated for 2 years back to back and was quite happy with their service. The only downside is clients had to wait outdoors due to covid guideline which means we could not speak directly to the vet." – Kelly Yin, Google Review
FAQs about animal shelters