5 of the Best Places for Dinner in Galway
Whether a romantic date or a fun evening with your friends, dinner is a great way to cap off the night. Nowadays there are so many options to choose from, for different cuisines and dining experiences.
In this article, we take a look at some of the best dinner places in Galway for your next evening out.
How much does dinner in Galway cost?
Dinner costs can highly depend on the quality of ingredients in the restaurant as well as the complexity of the dishes they make. Typically, evening meals can consist of a selection of soups, meat dishes and seafood dishes.
Below is a table of estimated price ranges of meals, appetisers, and drink costs.
| Menu Item | Estimated Average Price |
| --- | --- |
| Seafood Dishes | € 23 to € 30 |
| Meat Dishes | € 15 to € 29 |
| Desserts | € 6 to € 15 |
| Wines *per bottle | € 23 to € 50 |
| Cocktails | €10.00 |
| Appetisers | € 7 to € 13 |
Top Dinner Places in Galway
We assessed the restaurants in our list based on the following criteria:
1. Ard Bia at Nimmos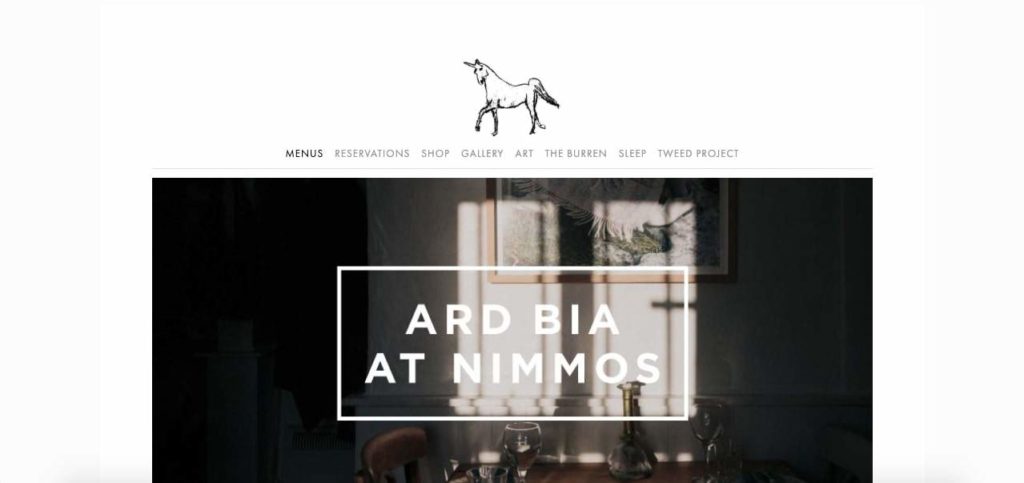 Test
Info
SERVICES
Dine-in, Takeout, Pottery shop, Art
WEBSITE
http://www.ardbia.com/
ADDRESS
Spanish Arch, The Long Walk, Galway
CONTACT DETAILS
+353 091 561 114
OPERATING HOURS
Everyday

• Cafe: 10:00 AM to 3:00 PM

• Dinner: 6:00 PM to 9:00 PM
| | |
| --- | --- |
| Ambiance | ★★★★★(5/5) |
| Price | ★★★★★(5/5) |
| Menu range | ★★★★★(5/5) |
| Meal options | ★★★★★(5/5) |
| Drinks and side dishes | ★★★★☆(4/5) |
| Customer feedback | ★★★★☆(4/5) |
| Availability | ★★★☆☆(3/5) |
| Service | ★★★★★(5/5) |
Ard Bia is unique in the sense of its artistic yet rustic atmosphere. This distinct dining experience helps them stand out from other restaurants.
Upon first glance, customers will already feel an air of mystery to their establishment with its old townhouse facade and overlook of the Claddagh Basin. However, once inside they can enjoy its modern interior with white floors and wooden accents.
Aside from its longstanding history, it has also accumulated numerous online features over the years. Needless to say, they've made quite the reputation for themselves already.
We also really appreciate the variety in their menu which they change both seasonally and daily. This is perfect for those returning to the restaurant as it becomes a different experience each time.
Their dinner menu specifically features a lot of vegetables and seafood. Examples of this include the Harissa monkfish, tagliatelle with tomatoes and artichokes, killary muscles, and Aran Crab.
On the other hand, their desserts include Vanilla Bean Panna Cotta, Raspberry Parfait, and Chocolate Delice. Customers will be delighted to know that prices for all of these are relatively affordable.
As for reservations, they can be conveniently made from their website!
However, keep in mind that you need to email if you are reserving for a party of 6 or more. Also, their breakfast, lunch and brunch service accommodate walk-ins while their evenings require a reservation beforehand.
Unique atmosphere and ambience
Good variety in menu featuring a lot of seafood and vegetables
Have pottery and art available in-store 
Relatively affordable prices
Email for reservations with parties of 6 or more
Reservation slots required for evening services
Customer Reviews
Best Staff in Ireland
We found the place, our first five star restaurant in Ireland 🇮🇪. The place is charming, it's busy but you don't feel rushed or crammed at your table. The staff is the best in Ireland, friendly and accommodating. The food will exceed your expectations but the menu is always changing, keeping it fresh. We bought all the scones, they were so good. My friend said she would work here 😊 -Stephanie Wheaton
Generous Portions, Great Flavor
Really enjoyed our dinner here. Generous portions especially for the starters and great flavor and mix of textures. Good vegetarian options as well. Just be sure to make a reservation well in advance! -Callie Vail
2. Dela Restaurant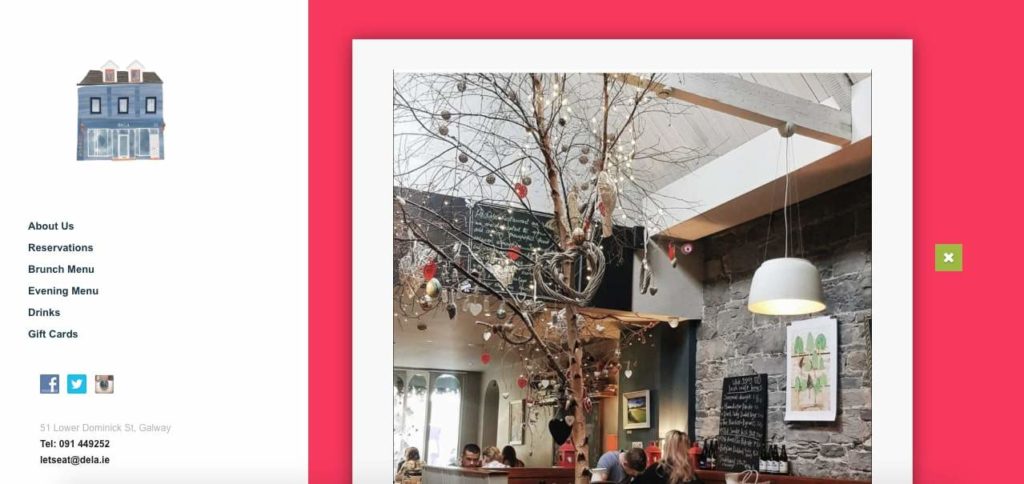 Test
Info
SERVICES
Dine-in, Takeout
WEBSITE
http://dela.ie/
ADDRESS
51 Lower Dominick St, Galway
CONTACT DETAILS
091 449252
OPERATING HOURS
Wednesday to Saturday: 9:30 AM to 3:00 PM; 6:00 PM to 10:00 PM

Sunday: 9:30 AM to 4:00 PM

Monday to Tuesday: 9:30 AM to 3:00 PM
| | |
| --- | --- |
| Ambiance | ★★★★★(5/5) |
| Price | ★★★★☆(4/5) |
| Menu range | ★★★★★(5/5) |
| Meal options | ★★★★★(5/5) |
| Drinks and side dishes | ★★★★★(5/5) |
| Customer feedback | ★★★★☆(4/5) |
| Availability | ★★★☆☆(3/5) |
| Service | ★★★★☆(4/5) |
With a selection made from homegrown produce and inspired by a Scandinavian style of eating, Dela Restaurant is a great option out there if you are looking for amazing food.
Their farm, located in Moycullen, is where they primarily source most of their ingredients, so you can expect their eggs and vegetables to be the freshest of the fresh. We also like that they develop their own beer recipes and support smaller brewers.
We have to say, you can really taste how they interweave local ingredients into their menu. A lot of customer feedback has praised the delicious taste of their food.
Speaking of which, their evening menu in particular presents a good mix of different meat and fish options.

They have a slow braised Gilligan's lamb shoulder, a grilled 10oz Gilligan's Striploin steak, a grilled lemon sole fillet, a pan roasted chicken supreme and some pan fried scallop and prawn.
We find that it's a good selection that can please different meat and seafood preferences.
On the other hand, they also have a good variety of vegetable and appetizer options. This includes grilled courgette aubergine and halloumi, and a meat and cheese sharing plate with farm chutney to name a few.
However, it can be slightly difficult to find a schedule for a reservation. Prospective customers should make sure that they book days in advance when planning an evening here.
Source some of their ingredients from their own farm
Develop their own beer recipes
Evening menu has good meat and fish options
Good selection of vegetable based options
Email reservations for groups larger than 8
Reservations fill up quickly
Customer Reviews
Amazing Food
Such a class experience. Food was amazing. We had steak for main course.. Super tender ❤️ Maud is the best host 😊 the tomatoes that were served with the steak best tomatoes ever! Love that everything is home grown without any pretentious 😊❤️ -M F
Staff were Attentive, Friendly and Personable
Had a FABULOUS family celebration in Dela on Saturday night. 9 of us seated comfortably. The food was outstanding!! Jamie and all the Staff were most attentive, friendly, personable and efficient – nothing was a problem. We had a vegan family member who was catered for VERY well with several choices !! We had a most enjoyable night – will definitely return. Very impressed!! – Maeve Keaveney
3. Kai Restaurant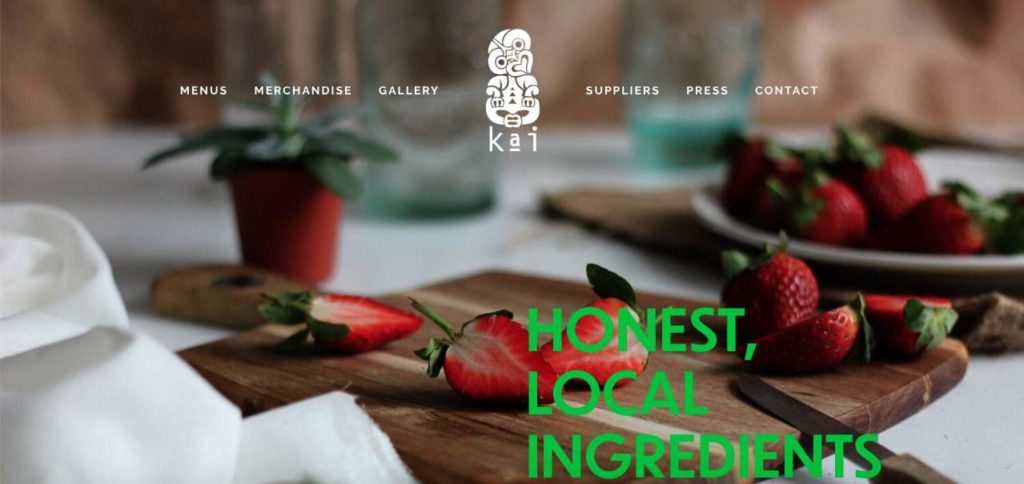 | Test | Info |
| --- | --- |
| SERVICES | Dine-in, Takeout |
| WEBSITE | https://www.kairestaurant.ie/ |
| ADDRESS | 22 Sea Rd, Galway |
| CONTACT DETAILS | 091 526 003 |
| OPERATING HOURS | Tuesday to Saturday: 12:00 PM to 3:00 PM; 6:15 PM to 9:00 PM |
| | |
| --- | --- |
| Ambiance | ★★★★★(5/5) |
| Price | ★★★★☆(4/5) |
| Menu range | ★★★★★(5/5) |
| Meal options | ★★★★★(5/5) |
| Drinks and side dishes | ★★★★★(5/5) |
| Customer feedback | ★★★★★(5/5) |
| Availability | ★★★★☆(4/5) |
| Service | ★★★★★(5/5) |
Known as a Michelin Bib Gourmand Restaurant, Kai restaurant opened first in 2011. Taken from the Māori language, kai means to eat or consume.

With their delicious selection of food, it is no wonder why this restaurant chose such a name.
They really put an emphasis on organic and locally sourced ingredients. That, alongside their carefully curated menu, is what makes their food absolutely outstanding.
Some of their local suppliers are Green Earth Organics, Killeen Farmhouse Cheese, La Rousse Foods, and Lough Boora Farm to name a few.
Their atmosphere is very intimate, with stone floors and warm lighting. We really like how it brings the experience of eating there to a more homey vibe.
As for the dinner menu, we found that their assortment really blends fresh produce into all of the options, from appetisers to desserts.

They have Toby's burrata with cabbage and truffle, Brady's strip steak with chanterelle butter and golden girls, and a sweet William saffron sorbet.
Their selection of wine is also very impressive and they work closely with their suppliers to ensure that the wine is perfect for their menu selection.
Reservations can be made through their email or phone number. However, take note that they are closed during Mondays and Sundays.
Intimate and warm atmosphere
Source ingredients locally
Have merchandise available
Exceptional quality of food
Closed on Mondays and Sundays
Slightly pricier
Customer Reviews
Incredible Food and Service
So lucky to have visited this restaurant for lunch. The food was incredible and the service was exceptional. Went back to dinner the following day with very high expectations and was completely blown away again. We might just move to Galway so we can eat here over and over again. Dominic was our waiter the first day and gave us a very detailed list of tips for our visit that proved to be fantastic. Such a great experience! -Troy Marble
Outstandingly Delicious Food
I absolutely love Kai! We visited Kai about 3 years ago and this time it was even better than we remembered. The food is outstanding, delicious and locally sourced. Priced reasonably, but to be honest compering with other similar place in Galway, food and service in Kai was so much higher ended. Fantastic staff, invisible but always available. Vegan and vegetarian options on the menu were available too. -Urszulla Gamarra
4. The Front Door Pub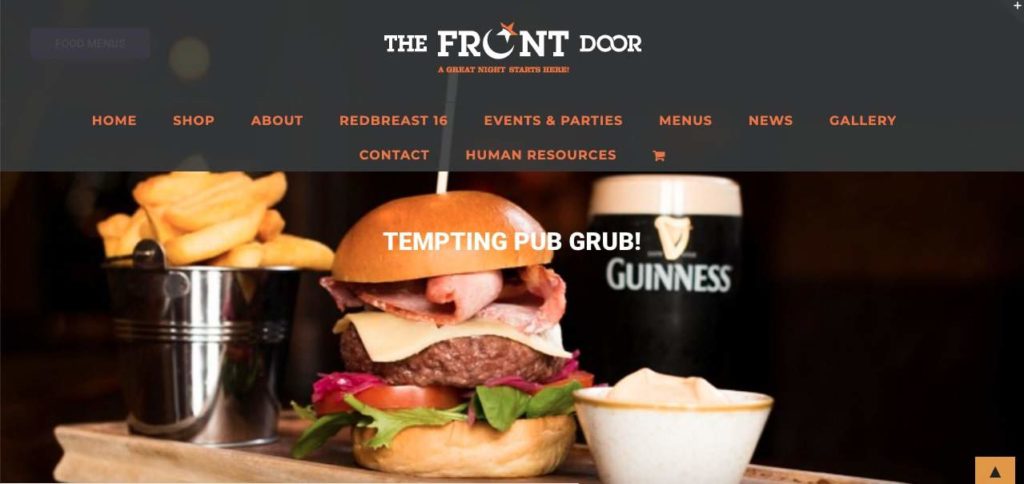 Test
Info
SERVICES
Dine-in, Takeout
WEBSITE
https://www.frontdoorpub.com/
ADDRESS
8 Cross Street Upper, Galway
CONTACT DETAILS
+353 91 563 757
OPERATING HOURS
Monday to Saturday: 10:30 AM to 2:00 AM

Sunday: 11:00 AM to 2:00 AM
| | |
| --- | --- |
| Ambiance | ★★★★☆(4/5) |
| Price | ★★★★★(5/5) |
| Menu range | ★★★★★(5/5) |
| Meal options | ★★★★★(5/5) |
| Drinks and side dishes | ★★★★★(4/5) |
| Customer feedback | ★★★★☆(4/5) |
| Availability | ★★★★☆(4/5) |
| Service | ★★★★☆(4/5) |
The Front Door is a great pub if you're looking for a wide selection of food and drinks as well as a possible venue for your next event.
They're located in the Latin Quarter where the atmosphere is alive and bustling. It's a great place to both dine and socialise.
We also like that The Front Door has entertainment features to keep you engaged during the evenings. They hire live music every day with drinks being served until 2:00 AM and they also screen different sporting events.
What's more is that they accommodate occasions and parties with all of these entertaining amenities. If you're looking for a place to host a casual or lively event, The Front Door is a good place to check out as they can handle the food, set menus and entertainment.
In terms of their menus, they have a wide selection to choose from in terms of alcohol. They have a gin menu, a wine menu, a cocktail menu and whiskey menu. Their whiskey bar is even award-winning.
The evening menu features different dishes from starters, salads, pizzas, desserts to main courses. We were happily surprised with the amount of hearty options they had to offer including a shepherd's pie and beef and Guinness stew.
We would like to take note that the area can get cramped at times due to the more limited space.
Operating hours are until 2:00 AM
Have live entertainment and sports event screenings
Great place to socialize
Good range of evening menu
Walk-in only
Atmosphere can be quite cramped at times
Customer Reviews
Excellent Selection of Cocktails and Gins
Great vibe and interesting layout, lots of turns and corners. Very good price-quality ratio of the food. Really enjoyed the catch of the day, and the vegetable risotto was great.
Excellent selection of cocktails and gins! (Can recommend the Wild Atlantic Way and Eat Me, Drink Me.) -Natalia Neustroeva
Delicious Food and Friendly Staff
This is a cozy pub in the heart of Galway city. If you want to get yourself a nice Irish stew this is the place to go!! I got a shepherd pie 🥧 🤤 and my friend got an Irish stew… both were delicious and the staff very friendly -Veronica Herrera
5. The Dail Bar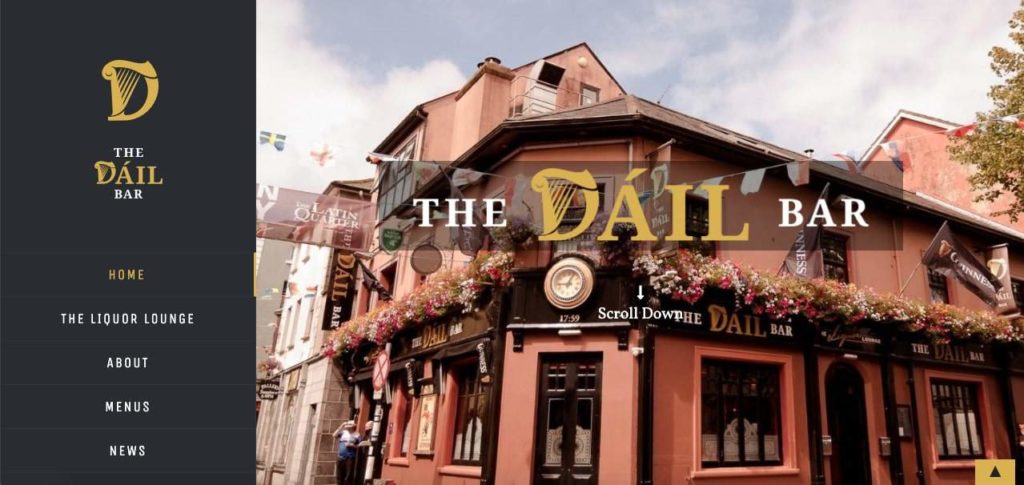 | Test | Info |
| --- | --- |
| SERVICES | Dine-in |
| WEBSITE | https://thedailbar.com/ |
| ADDRESS | 42 to 44 Middle St, Galway |
| CONTACT DETAILS | +353 91 563 777 |
| OPERATING HOURS | Everyday: 12:00 PM to 2:00 AM |
| | |
| --- | --- |
| Ambiance | ★★★★★(5/5) |
| Price | ★★★★★(5/5) |
| Menu range | ★★★★★(5/5) |
| Meal options | ★★★★★(5/5) |
| Drinks and side dishes | ★★★★☆(4/5) |
| Customer feedback | ★★★★☆(4/5) |
| Availability | ★★★☆☆(3/5) |
| Service | ★★★★★(5/5) |
The Dail Bar has a great location in the heart of Galway city. They are known to serve some award winning cocktails and have a great selection of food and entertainment.
We found their evening menu to be very reasonably priced. Some of their selections include meals like a tomato and cheese arancini, cajun chicken penne pasta with smoked bacon, a sirloin steak and some traditional beer battered fish and chips.
On the other hand they offer three desserts for their evening menu: a warm apple pie, homemade sticky toffee pudding and homemade chocolate brownies.
It's a great place to check out if you're looking for heartier meals.
A definite highlight of this bar is its drinks and cocktail menu. We liked how they had a wide variety to choose from catering to different tastes and preferences.
They have options for classic cocktails but if you're feeling more adventurous, their staff favourites section features more unique concoctions. Their wine selection is also quite varied with a lot of options for both red and white.
The Dail Bar can also accommodate different types of gatherings like office parties and birthdays. They close off a reserved area for this and can even provide finger food, late bar service and live entertainment.
Keep in mind that their evening menu does not have a lot of options in terms of more vegetable based meals.
Affordable prices
Great selection of alcoholic beverages
Can accommodate parties
Evening menu includes hearty meals
Evening menu is limited for those who prefer more vegetable based meals
Limited to dine-in
Customer Reviews
Fantastic Environment and Location
The environment is amazing. For those who wants to drink the Guinness and others famous beers in Ireland that is a great place. The service is very helpful. When I went I asked a steak and fries and it was fabulous. The location Is fantastic in a very touristic and busy area in Galway. -Fabricio Souza
Great Atmosphere and Service
Absolutely loved this pub! Delicious food, great atmosphere, amazing playlist, and the service was fantastic!!! Our server was Kerli and she was so friendly, warm and helpful. Gave us great beer selections and even suggested some places around town to visit. We had the Fish and Chips (flakey and perfectly fried) and the Classic Sando (grilled ham and cheese) with the soup of the day (potato leek). Also had the Sticky Toffee Pudding (so light and airy, perfectly sweet). Would run back to this place in a second!!! Can't wait to visit Galway again and come back to our new favourite spot!!! -Steve Konopelski
FAQs about dinner in Galway
---
There are so many great dinner options to choose from but we hope our list helped you narrow it down. Once you're done having a nice meal out and fancy a drink, you may want to check out our article on the best pubs in Ireland.