The 8 Best Recruitment Agencies in Ireland
If you're on the hunt for a job, consider using the services of a reputable recruitment agency. Not only does a recruitment agency speed up the time it takes to find an employer but they can also provide you with insight on the ins and outs of the job market.
To give you a headstart on your search, we've put together a list of the best recruitment agencies in Ireland with different specialisations. Apart from this, we'll also go into detail about tips in choosing a recruitment agency and more.
But before that, let's first talk about the costs involved in availing of the services of a recruitment agency.
How Much Do Recruitment Agencies Charge in Ireland?
Recruitment agencies in Ireland don't charge applicants a placement fee. Instead, they work directly with employers and companies to source applicants.
This means that clients pay recruitment agencies a finder's fee, which is generally calculated from the successful applicant's salary. This doesn't mean that employers directly take away part of your salary to pay the agency.
Instead, agencies use your salary as a baseline to get a certain percentage from the client as their finder's fee. For permanent hires, this usually ranges between 10% to 20%.
The Best Recruitment Agencies in Ireland
Without further ado, let's proceed to our picks of the best recruitment agencies Ireland has to offer!
1. Approach People Recruitment
Best for International and Multilingual Jobs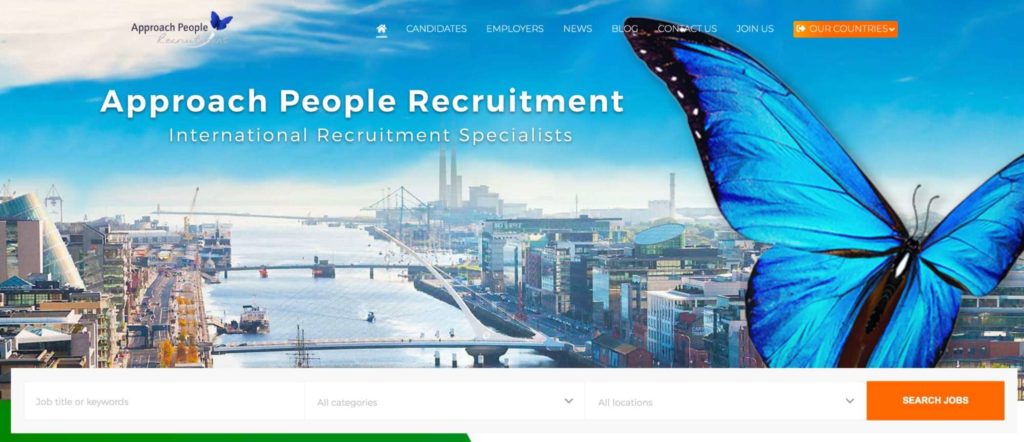 If you want to kickstart your career abroad, Approach People Recruitment can help you with that. They have job opportunities available all across Europe.
Multilingual job applicants benefit the most from Approach People Recruitment as they have different industries to choose from abroad such as IT management and engineering, to name a few. But if you prefer to stay within Ireland or the UK region, they have opportunities for you, too.
From sales to retail jobs, they host a wide range of opportunities across multiple industries on their platform. Unlike other recruitment agencies, you don't have to make an account in order to use their services.
Their quick upload tool only requires your contact information, location and job category of interest, and finally your CV. Once they've found you a match, they'll contact you immediately for an interview—simple as that!
Wide range of industries available
Opportunities abroad available
No placement fee
No sign ups required
Closed on weekends
No part-time jobs
Customer Reviews
Check out some reviews by people who used Approach People Recruitment's services below:
"Sean at Approach People went above and beyond to ensure I was fully prepared for my interview. I went into the interview far more confident than I would have been and this came across in the interview and I was successful in getting the job! I was delighted and my success was in no small way due to Sean's input and support. A credit to the company." —Ronan O'Connor, Google Reviews
"I cannot recommend Approach People enough! If you are lucky, you will get to meet Annika, who is not only a fantastic recruiter but also a wonderful person! I am looking forward to starting an exciting job that suits my personality. Thank you, Approach People!" —Lena Bose, Google Reviews
2. Action Recruitment
Best for Hospitality Jobs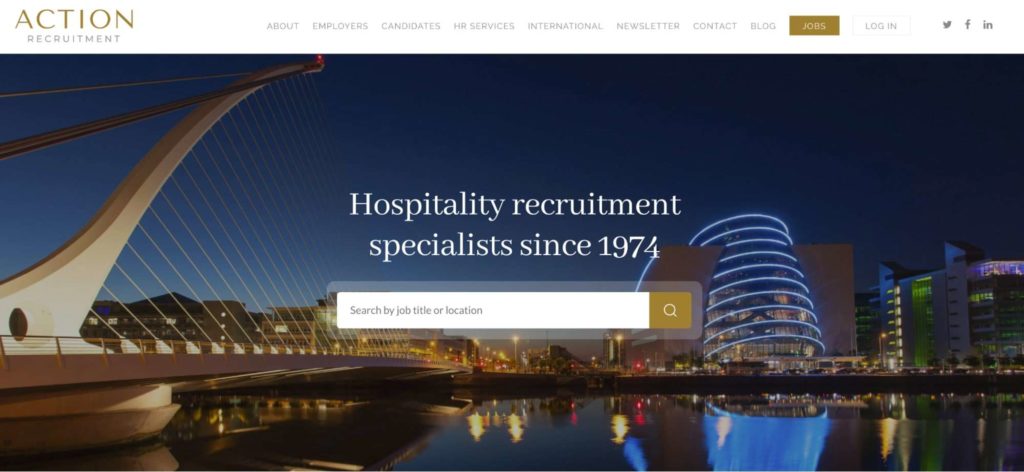 If you're an experienced hospitality worker, Action Recruitment can help you find your next employer. They've been in the business for over 45 years and thus, have built an extensive network of employers in the hospitality industry.
It's said that a lot of 4- and 5-star establishments approach them for their recruitment needs. Apart from jobs in Ireland, they also have vacancies globally—all the way to New York or Cape Town, in fact.
They also take pride in providing potential candidates and clients with high-quality customer service, which can be proven by their commitment to meet with you via Skype or in person. But if you have questions that you need answering ASAP, you can also reach them via WhatsApp.
You have to sign up on their website to proceed with your application. After that, a member of their team will get in touch with you should you be shortlisted for an interview.
Do take note that there are only a handful of positions that they deal with, though, most of which are senior roles.
Wide network of 4- and 5-star hotels
Opportunities abroad available
Option to set a meeting online or in-person
No placement fee
Available jobs limited to senior roles
Closed on weekends
Customer Reviews
Customers generally recommend Action Recruitment's services. Some examples include:
"An agency that I would definitely recommend. I was in contact with Noel for a management position in County Kerry and I was really impressed by his professionalism and his reactivity. His knowledge of the property and of the industry, his support on a daily basis were an asset to my application. Thank you Noel!" —Adrien Moynet, Google Reviews
"I highly recommend Noel, Joyce and all the team at Action Recruitment, they have placed me in two roles now and their focus at a one to one basis in terms of preparation for interview, follow up after interview and helpfulness as well as goodwill when on boarding at a firm is above and beyond the service I have experienced otherwise with their peers in the industry, Anyone dealing with them can be assured of a genuine, professional and above all positive experience from start to finish." —John Beattie, Google Reviews
3. Sigmar Recruitment
Best for a Wide Range of Industries and Part-Time Work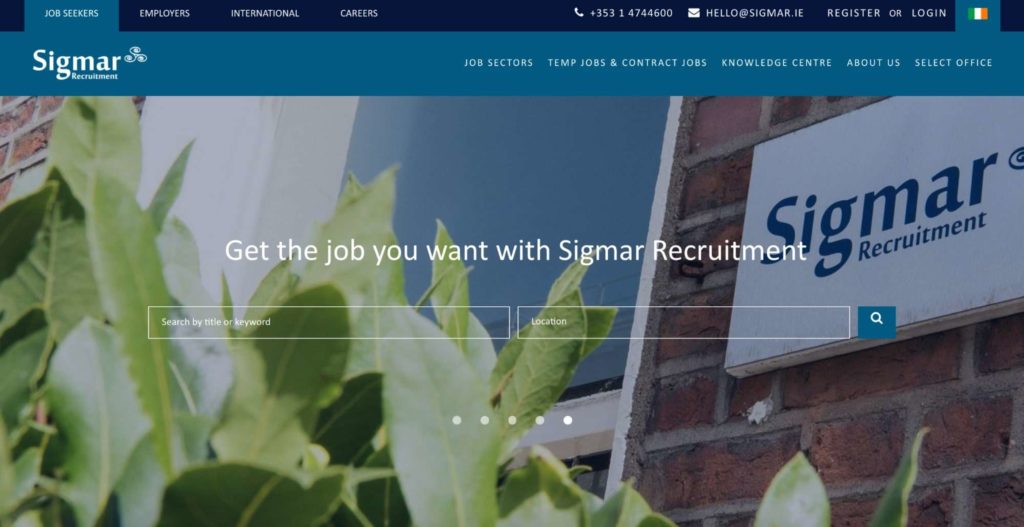 For those only starting their career and unsure how to move forward, try exploring what Sigmar Recruitment has to offer. They have the most extensive range of job sectors on our list, including office support and logistics, to name a few.
Likewise, you may also find contractual and part-time jobs on their database if you're looking for casual or flexible work. You're given a variety of assignments, which are paid weekly, as well as a holiday pay of 8% of basic hours rendered.
Should you need to meet with them, they also have offices in other major cities such as Cork and Galway. Signing up on their site isn't mandatory, and you'll only need to forward your recent CV to them plus your contact details before they can process your application.
While they also have opportunities available in other parts of Europe, we've found that they're limited to IT jobs. So, you might want to skip this one if this isn't your line of expertise.
Otherwise, they have plenty of jobs nationwide. To name some of the employers they have on their database, you can expect to find a couple of Irish authoritative bodies such as The Competition and Consumer Protection Commission and Food Safety Authority.
Wide range of industries available
No placement fee
Multiple offices across Ireland
Ideal part-time work arrangements
Closed on weekends
Jobs abroad limited to IT professionals only
Customer Reviews
Check out what clients had to say about Sigmar Recruitment:
"Alan Murphy got me the most amazing job. I hadn't sent out one application, just set my LinkedIn status to looking for a job. Alan contacted me with the role, it was extremely easy to talk to and told him everything about my current situation. He gave me the best advice, got me the interview and was available every single time I needed to talk to him. Would recommend putting anyone I know on to him if needing a job. Very good at what he does and thanks again Alan!" —Aaron McDonnell, Google Reviews
"It was an absolute pleasure working alongside Elaine Murray. She actively listened to the types of roles I was interested in, would keep me regularly updated throughout the recruitment process and assist with any interview prep that I required. I cannot recommend her services enough." —Austin Reddy, Google Reviews
4. Sonas Recruitment
Best for Construction and Engineering Recruitment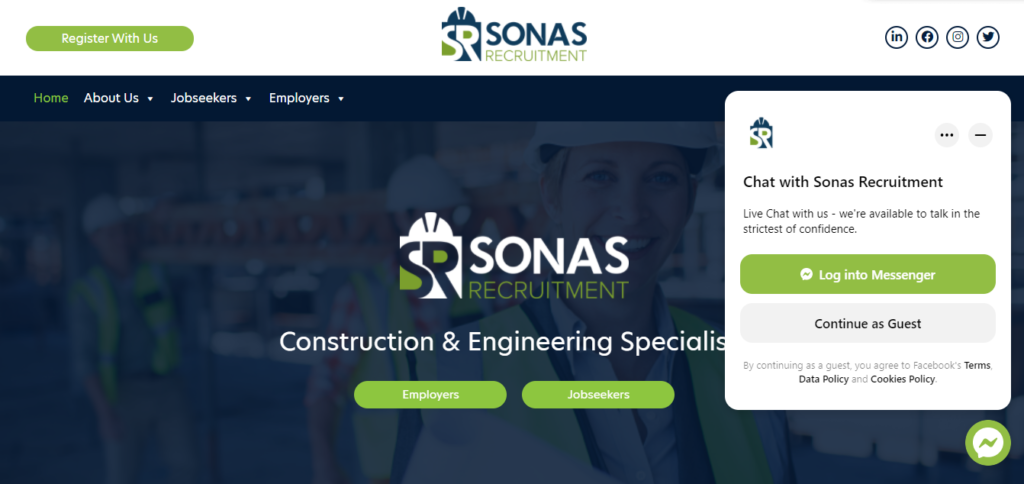 Sonas Recruitment specializes in recruiting construction and engineering staff for permanent and contract roles. Aside from only serving businesses in Ireland, they also serve in the United Kingdom and across Europe.
If you are looking for a job or looking for the perfect candidates for your business, we can recommend them for many reasons.
If you are a job seeker, one reason why we think they are the best is even though they only have a small team, they will immediately have prepared interviews for you in different companies within a few hours of conversing. This is perfect especially when you are new to the area and need a job as soon as possible.
On the other hand, if you are an employer, simply submit the outline of your staffing requirements and a member of their team will be in touch with you. Unlike other agencies, they have a client-focused, flexible, and cost-effective alternative to traditional recruitment and staffing methods for the construction & engineering industry.
May earn up to €1,000 when the person you refer gets the job
Stress-free process
Always available when you contact them
Operating hours are not stated
Customer Reviews
Here's what previous clients say about them:
"Would highly recommend Sonas recruitment . James in particular went above and beyond helping me to find my perfect job by arranging interviews and helping me with everything afterwards to ensure I was looked after."
"Sonas were brilliant for my job hunt. Jennifer was beyond helpful, always very responsive, professional and informative. I'd have no hesitation recommending them to anyone in the job market."
"Cian was extremely helpful, understanding and determined to satisfy all parties involved in the application process. I would highly recommend this agency, they are very professional and easy to deal with."
5. The People Group
Best for Sales and Marketing Jobs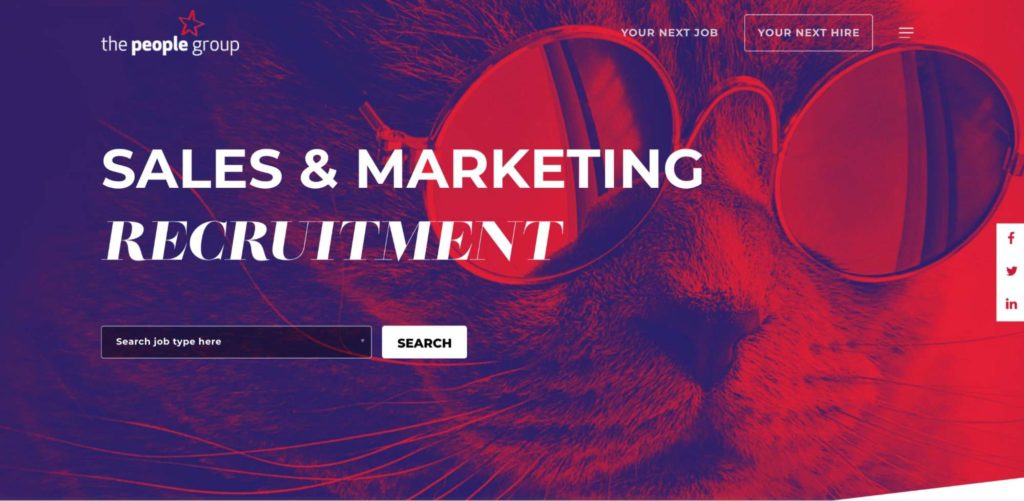 If you're a seasoned creative looking for your next big break, The People Group may have something for you. Their specialty in sales and marketing jobs can land you a job in huge companies such as Skechers, Stafford Lynch, and even Ulster Bank.
You can find full-time jobs and part-time work on their database. For the latter, though, you have to apply to be part of their team of contractors for one-off projects, which is open to everyone regardless of skill level.
It's important to note that most full-time jobs available on their database are limited to mid and senior roles. Otherwise, you can still send them your CV to see if they have something suitable for your experience and skills.
No sign-ups required, by the way, as you can simply submit your CV through their online form here.
Furthermore, their open positions are only limited to placements in Ireland. So if you're looking to pursue a career in this field abroad, you might want to look someplace else.
Part-time work available
No placement fee
Easy to use online form
Available jobs limited to mid/senior roles
No opportunities available abroad
Closed on weekends
Customer Reviews
The People Group has built a strong reputation throughout the years as evidenced by these reviews:
"I was contacted by Colm at the People Group in a recruitment process and he was a pleasure to deal with from the off. He gave me solid advice on the industry, good pointers on my CV, and was my point of contact for all queries that were answered immediately. I was successful and he ultimately guided me through each level and helped me to prepare for the various interviews. He handled all contract negotiations and again, this was so useful to have someone act as a go-between. My experience has been really good, and I'm very grateful that I'd an experienced recruiter handling all aspects of the hiring. They know their stuff and are really approachable, and nice to deal with as well as being utmost professionals." —Sandra Murphy, Google Reviews
"I can't recommend the people group enough for their recruitment and personal skills. My recruitment contact Gary couldn't have done more to help me on my journey, while also supporting and encouraging me to push myself towards my aspirations and career goals. Overall a pleasure to deal with. I would gladly recommend them for their high service and passion." —Shane Doolin, Google Reviews
6. Life Science Recruitment
Best for Healthcare and Science Jobs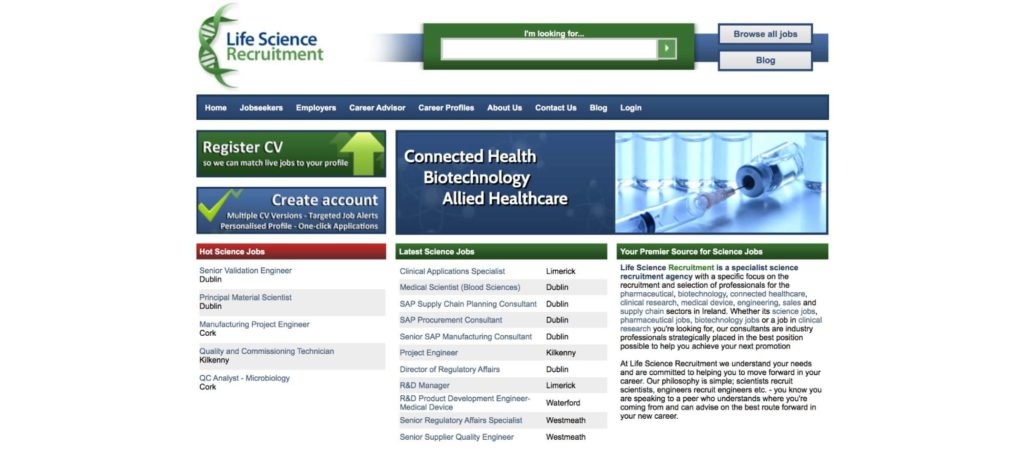 Finally, you can use the services of Life Science Recruitment if your line of expertise is in science, pharmaceuticals, or healthcare. Most jobs in their platform are highly specialised fields that require relevant experiences and qualifications.
You can also rest assured knowing that the Life Science Recruitment team members hold different science degrees themselves… which is ideal for specialists because they can advise you on how to further your career.
Whether you want to work in the field or within a clinic, you can find something in their database. Note that their database is highly limited to Irish territory but if you're lucky, you can also spot job listings based abroad once in a while.
You'd also have to create an account on their website to access more of their services, which comes with a few perks such as one-click applications, job alerts, and more. Otherwise, you can also send them your CV in case you encounter difficulties.
No placement fee
Highly specialised team
One-click application process available
Convenient registration process
Highly limited listings abroad
Part-time work unavailable
Closed on weekends
Customer Reviews
Life Science Recruitment has also built an excellent reputation throughout the years:
"James and team have been a fantastic partner in life science recruitment. The team's knowledge of industry and relationships is second to none in Ireland. I can't recommend Life Science Recruitment highly enough for anyone considering career pathways and opportunities." —Stuart Plascott, Google Reviews
"I recently dealt with LifeScience when changing jobs, and found them extremely helpful, professional and approachable. They provided me with all required information for interviews, including tips for different interview styles, and were very prompt with responding to any queries. Highly recommended." —Maria Spillane, Google Reviews
7. Allen Recruitment
Best for Variety of Jobs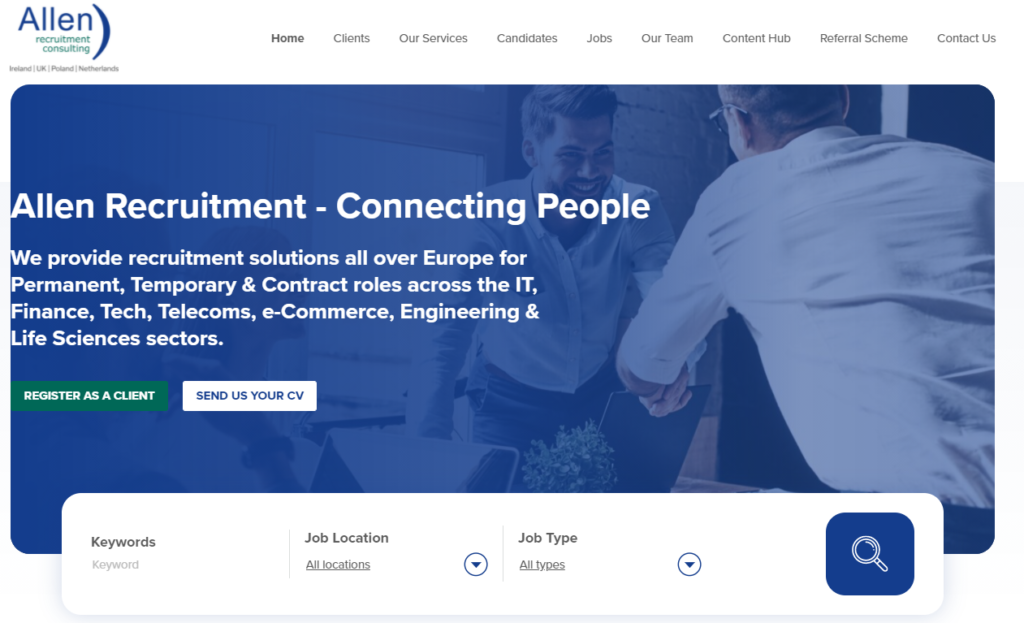 Allen Recruitment has been in service since 1998. They are one of the most trusted international recruitment consultancy firms that source the most number of candidates.
In comparison to the other ones on this list, they specialize in a lot of areas. Whether you are looking for a contract, permanent, or a temporary job, they got you!
Since they are an international recruitment agency, they have a list of countries where different job positions are open. They also have a long list of different work categories they offer, some of these are customer service, graphic designer, marketing, networking, and so much more.
If you are looking for a more specific job, there is a feature on their website where you can add a keyword, and all the job openings related to it will appear below. This is great for those who are not that into technologies.
Unlike other agencies, they also provide payroll services for contractors. They have a number of options for temporary and contract resources such as going on their own payroll, working through an umbrella company, or through their own limited company.
Offers a number of listings abroad
Easy website interface
If you refer a friend, it give you the possibility to earn a €250 Travel or One 4 All gift voucher if the friend you refer gets the job
Operating hours are unavailable
8. Robert Walters
Best for Professional Recruitment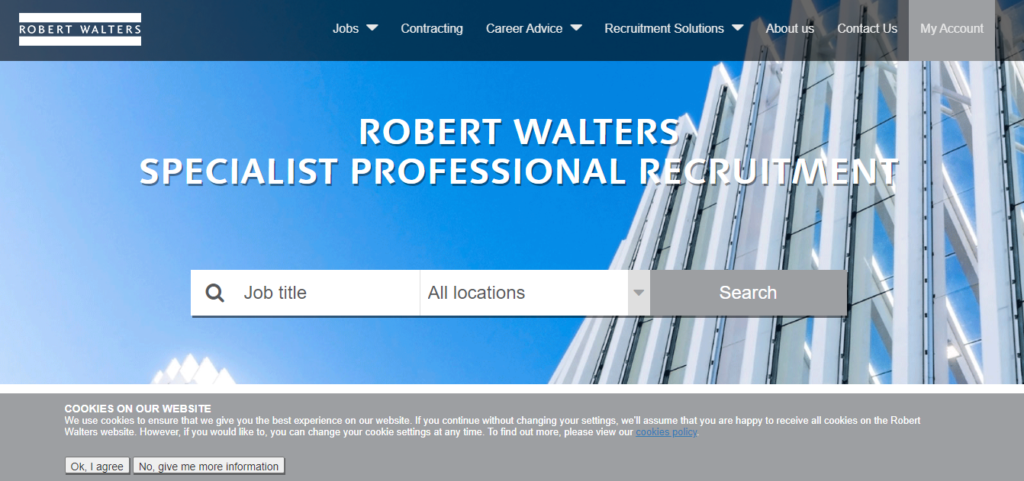 The Robert Walters Specialist Professional Recruitment is a global specialist professional consultancy that is available to countries all around the world such as Africa, Canada, Australia, Singapore, and a lot more countries.
Unlike other recruiters, they are recognized around the world and take note of insights from experts globally as well.
The recruitment of specialists also spans a range of professional areas such as human resources, sales, accounting among others. The company aims for international expansion and welcomes diversification and individuals no matter the background.
Dating back to 1985, the company has been consistent in delivering high-quality service by asserting its values of teamwork, integrity passion, and innovation. Through each transaction, the company's consultants give a strong effort to put the needs of the people first rather than profit.
Accommodating and professional consultants
Comprehensive consultation system
Globally available
Customer Reviews
Here's what previous clients say about them:
"I highly recommend Robert Walters Group. Interviews are highly stressful so having a professional recruiter is essential to succeed. Emily was my recruitment consultant but was really my teacher. She guided me doing prep question and going thru practice interview. It's all about confidence building and being prepared under a tight time frame. Emily has set a new standard of professionalism. Thank you Emily and Robert Walters Group." – Baldwin Liu
"I have had an exceptional experience working with Virali and Kathryn in the Melbourne office. The constant support and encouragement these ladies gave me was tremendous and I can't thank them enough." – Bianca Meyer
FAQs about Recruitment Agencies
---
And those are the best recruitment agencies in Ireland! We hope that our guide has helped you in your job search.
Think we missed other recruitment agencies in our list? Send us a message and we'll look right into it.
And should there be an unfortunate case of employer malpractice when you start your next job, you can refer to our list of the best employment lawyers in Ireland to help you with your case.