The 5 Best Clinics for Tummy Tucks in Ireland
A tummy tuck procedure can provide you a fast track fix to getting rid of stubborn abdominal fat. While there's absolutely nothing wrong with that, we're here to help you make an informed decision whichever makes you feel happy and confident!
In today's list, we're talking about the best clinics for tummy tucks in Ireland. We made sure to only include clinics that can perform these surgeries safely and effectively.
If you're ready, let's begin by talking about costs first. This would allow you to get a benchmark of how much to shell out for the procedure.
How much do tummy tuck procedures cost in Ireland?
Looking at several clinics across Ireland, we found the average cost of an abdominoplasty or tummy tuck to range from €7,500 to €11,500.
The overall cost will depend on several factors including how extensive the surgery will be, consultations, hospital fees, and post-operative care.
We also managed to gather estimates of our entries. Check them out below.
| | |
| --- | --- |
| CLINIC | PRICE ESTIMATE |
| The Avoca Clinic | From €9,500 |
| Aesthetic Institute | From €7,900 |
| River Medical | Contact for More Information |
| Fuan Chan | €7,000 – €12,000 |
| Mr. Richard Hanson | From €6,500 |
The Best Clinics for Tummy Tucks in Ireland
At the end of the day, tummy tucks are still a medical procedure requiring careful scrutiny. We made sure to consider the following criteria in our selection process:
Moving forward, here are the best clinics to get tummy tuck procedures in Ireland!
1. The Avoca Clinic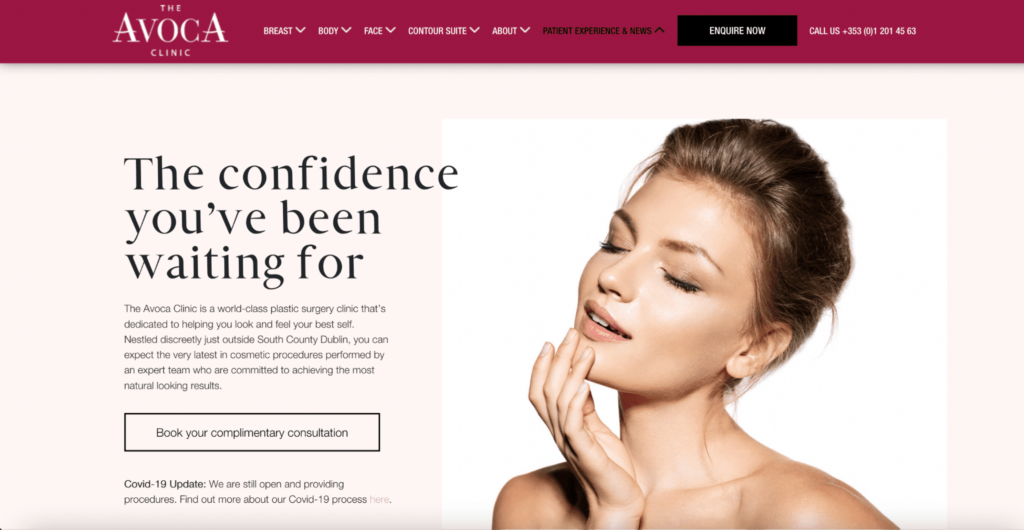 SERVICES
Tummy Tuck/Abdominoplasty, Drainless Tummy Tuck, Labiaplasty & Labia Reduction, Liposuction, Breast Augmentation/Reduction, Fillers, etc.
WEBSITE
https://www.avocaclinic.ie/
ADDRESS
LimerickAvoca Clinic Limerick, First Floor, 45 O'Connell St., Limerick
WicklowGlencormack Business Park, Kilmacanogue, Co. Wicklow
CONTACT DETAILS
Limerick061 529 077 | [email protected]
Wicklow01 2014 563 | [email protected]
OPERATING HOURS
LimerickMon to Sat: 10:00 am – 8:00 pm
WicklowMon to Sat: 10:00 am – 6:00 pm
The Avoca Clinic is a fantastic choice if you're considering any form of cosmetic surgery, not just a tummy tuck. This clinic boasts a qualified team of surgeons and nurses who can perform all sorts of procedures like breast augmentation, liposuction, and of course, tummy tucks.
That said, each of their surgeons is also registered with the Irish Medical Council Specialist Register of Plastic Surgeons, with many years of cosmetic medical experience under their belt. So from this, you can rest assured in knowing that you're in safe and capable hands.
We just love how this clinic values patient privacy and comfort. For one, their facilities are equipped with full hospital facilities and a suite of six private recovery rooms, which will come in handy if you require overnight recovery.
Also, they have two locations for you to choose from—one in Wicklow and one in Limerick. The former is tucked away in the foothills of the Wicklow Mountains, perfect for clients who value privacy.
As far as their tummy tuck services go, it's one of the most popular procedures in this clinic, actually. There are different types of tummy tuck procedures, such as mini tummy tucks, which will depend on the patient and what they require.
We're a bit bummed to see that they sit on the expensive end of the spectrum though. Regardless, you have the option to pay for your procedure in instalments, thanks to their partnership with Humm.
You can know more about prices and the procedure by scheduling a consultation—online or onsite. And don't worry, it's free of charge!
We heard that the waiting list can be quite long though. From your initial consultation, expect about a month to 6 weeks before they can pencil you in for your procedure.
Wide range of services
2 locations available
Free consultation
Full hospital facilities
Instalment plans available
Discreet location
3 licensed surgeons available
Open on Saturdays 
Relatively expensive
Long waiting list 
Wicklow location may be relatively far from city centre
Closed on Sundays
Customer Reviews
Happy with my tummy
"I had liposculpting with the machines and am really happy with my tummy now. i had no loose skin but had fat on my tummy which is now gone. I had to wait in my car for 45 mins for my first appointment that was the only thing but after that there wasn't much waiting and im happy with my tummy." —Joan Keogh, Google Reviews
After-care is wonderful
"I highly recommend the Avoca Clinic for everyone who would like to improve their look.Really lovely place with wonderful people around.The atmosphere is very relaxed and welcoming.I didn't felt any pressure whatsoever, all the people were so nice and very helpful to make my decisions to make me happy and satisfied. All the doctors are qualified professionals will give you the best results. After-care is wonderful.They make sure that you are in your times for the check ups and they try as best they can to serve you for your needs. Very delighted that I found them:) My confidence is boost up now and I feel great couldn't wished for more.Excellent service." —Baiba Super Fit, Google Review
2. Aesthetic Institute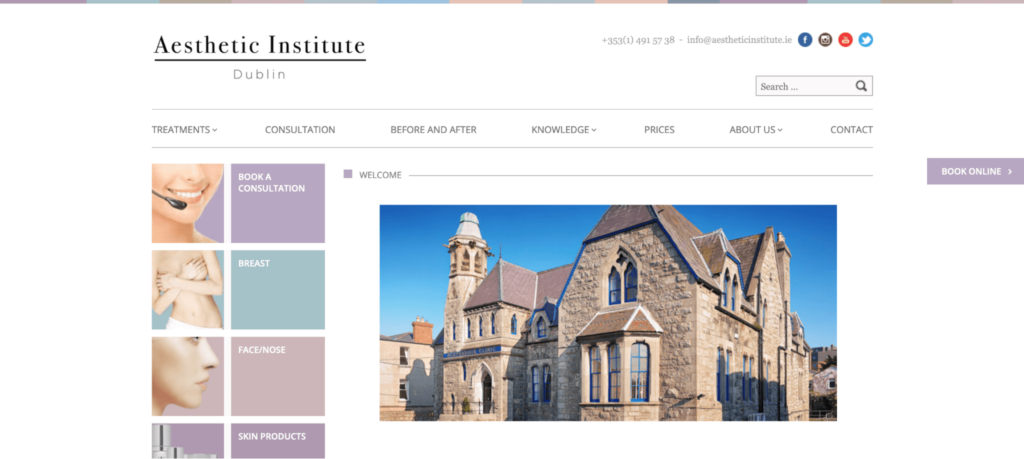 SERVICES
Abdominoplasty (Tummy Tuck), Brachiolplasty (Arm Lift), Buttock Lift, Calf Enlargement, Fat Grafting, Fat Transfer, Hyperhydrosis (Excessive Sweating), Labioplasty, Liposuction, Thigh Lift, etc.
WEBSITE
https://www.aestheticinstitute.ie/ 
ADDRESS
Northbrook Clinic, 15A Northbrook Road, Ranelagh, Dublin
CONTACT DETAILS
01 491 5738 |

[email protected]

OPERATING HOURS
Mon to Thurs: 9:00 am – 5:00 pm
Fri: 9:00 am – 3:00 pm
Another clinic that isn't new to our recommendations is Aesthetic Institute. They specialise in a range of aesthetic and reconstructive plastic surgery, from rhinoplasty to tummy tucks.
Unlike our other entries, this clinic has only one consultant plastic surgeon—Dr. Colin Riordan. While this may mean limited availability in terms of schedules, the fact that he's highly competent and active in the medical community makes up for it.
He's listed in several medical associations, in fact. This includes the Irish Medical Council Specialist Register of Plastic Surgeons, International Society of Aesthetic Plastic Surgeons, just to name a few.
Dr. Riordan can do full tummy tucks, which involves repositioning the belly button and removing fat around it, and mini tummy tucks, which only targets the area below the belly button.
It's just a shame that they don't perform the actual procedure in-clinic, though. On the plus side, the majority of surgical procedures and recovery are held in Blackrock Clinic—one of Dublin's leading private hospitals.
Another major drawback we're seeing is the price and payment scheme. They're quite expensive compared to others, plus they don't offer instalment plans.
In other words, you'll have to pay for everything before the surgery.
However, we're glad to know that their rate is already inclusive of many things including a liposuction procedure, hospital fees, consultant fees, anaesthetist fees, and post-operative appointments.
On top of that, you'll also have access to your plastic surgeon and other healthcare professionals 24/7 following your procedure. This tells us that aftercare is something that they take very seriously!
Wide range of services
Licensed cosmetic surgeon
Prices inclusive of post-op care
24/7 after-care access to doctor 
Central location
No instalment plans
Relatively expensive
Limited availability
Closed on weekends
Customer Reviews
Comfortable and professional
"I have New Lease Of Life feeling brand new, refreshed and renewed. After attending a few sessions with Aesthetic Institute Dublin I have never regretted a thing. Aesthetic Institute Dublin Cosmetic Surgery Clinic is so comfortable and professional that I got all of the procedures I wanted to get done with them. I would highly recommend there services to anyone that needs them. They are definitely the best in the business and I will be returning if I ever need there service again." —Rachell Tyrell, Google Reviews
Results have been amazing
"I have to admit I always disliked some aspects of my body and I always wanted to get something done about it. Thankfully I came across Aesthetic Institute Cosmetic Surgery Clinic. They made my whole consultation very comfortable and where always very supportive and friendly. After doing extensive research into multiple Cosmetic Surgery Clinics in Dublin. I finally decided to get work done with Aesthetic Institute. the results have been amazing and I don't regret one thing about it. I'm extremely grateful for everything Aesthetic Institute have done for me. I highly recommend there services they are true experts." —Cormac Battle, Google Reviews
3. River Medical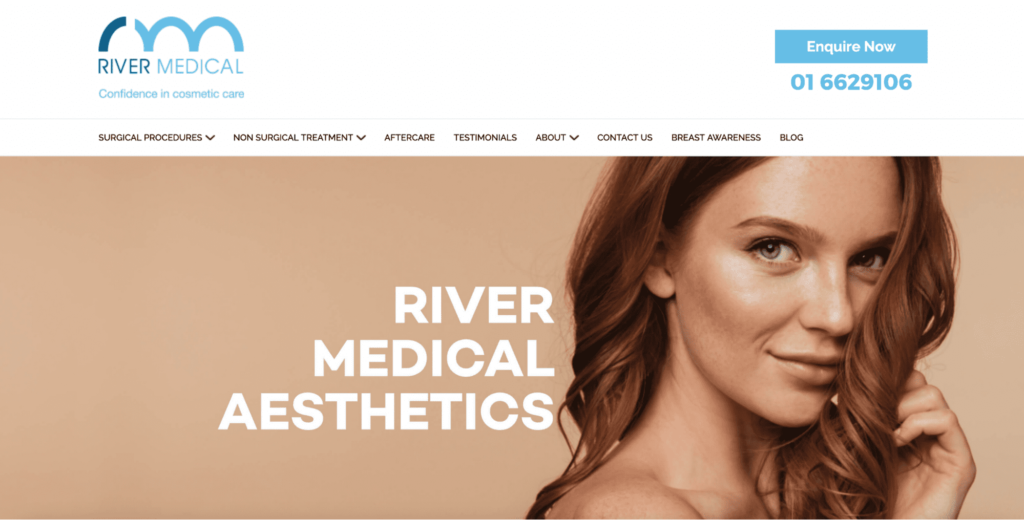 SERVICES
Abdominoplasty (Tummy Tuck), Arm Lift, Breast Augmentation Breast Reduction, Breast Uplift (Mastoplexy), Breast Reduction (Male), Gynaecomastia, Brow Lift, Facelift Surgery, Fat Transfer, Liposuction, Labia Reduction, Neck Lift, Thigh Lift, Otoplasty (Ear Pinning), Eyelid Surgery, Non-surgical Treatments
WEBSITE
https://www.rivermedical.ie/ 
ADDRESS
5 Herbert Pl, Dublin
CONTACT DETAILS
01 662 9106
OPERATING HOURS
Mon to Wed: 9:00 am – 8:00 pm
Thurs to Fri: 9:00 am – 6:00 pm
Sat: 9:00 am – 5:00 pm
River Medical has been around since 2008, specialising in a wide array surgical and non-surgical cosmetic procedures. What caught our eye with this clinic is their relatively large team of medical specialists, among other things.
Here, you'll have access to 4 cosmetic surgeons, nurses, and even a doctor who specialises in non-surgical aesthetic medicine.
That said, their team will present you with a myriad of options before deciding to go under the knife. For instance, they also offer coolsculpting—a non-invasive procedure that involves using a cooling device to freeze fat cells on certain areas of your body.
So really, you can be certain that their surgeons will take you through the tummy tuck procedure in great detail. They'll evaluate your current physical health and health history, ensuring you're a suitable candidate for surgery.
We can confidently say that this clinic will take care of you from start to finish, and even beyond. While we can't get a hold of their rates (since quotes depend on a lot of things), we're glad to know that patients are entitled to 24/7 post-op care for life.
Yes, you heard that right. So if there are concerns even long after your procedure is through, you can always get their opinions free of charge.
We also like the fact that there are financing options available, allowing you to spread out costs if you think they're a bit hefty.
One potential downside to all this is that the procedure and recovery will take place in a private general hospital. You'll know your options regarding this during your consultation, which is also free of charge, by the way.
24/7 post-op care for life
Instalment plans available
Open on Saturdays
Large team of doctors
Free consultation
Central location
Rates unavailable online
No information on partner hospitals
Closed on Sundays
Customer Reviews
Very pleasant and professional
"If you're looking for exceptional and personalised service suited to your needs I would highly recommend this clinic. I'm very pleased with the treatments I've received so far and the results I've seen. Aisling Cleary is very pleasant, professional and has a wealth of knowledge about what she does. I'm very satisfied and I will definitely be back!" —Nelly Winczewska, Google Reviews
Very welcoming and friendly
"My experience at River Medical has been amazing. Aisling Cleary is not only a complete professional but friendly and warm too. The utmost care is taken in ensuring your time there is pleasant, comfortable and the treatment is fantastic. The team there are all very welcoming and friendly too. I would have no hesitation in recommending them." —Victoria Cooke, Google Reviews
4. Mr. Fuan Chan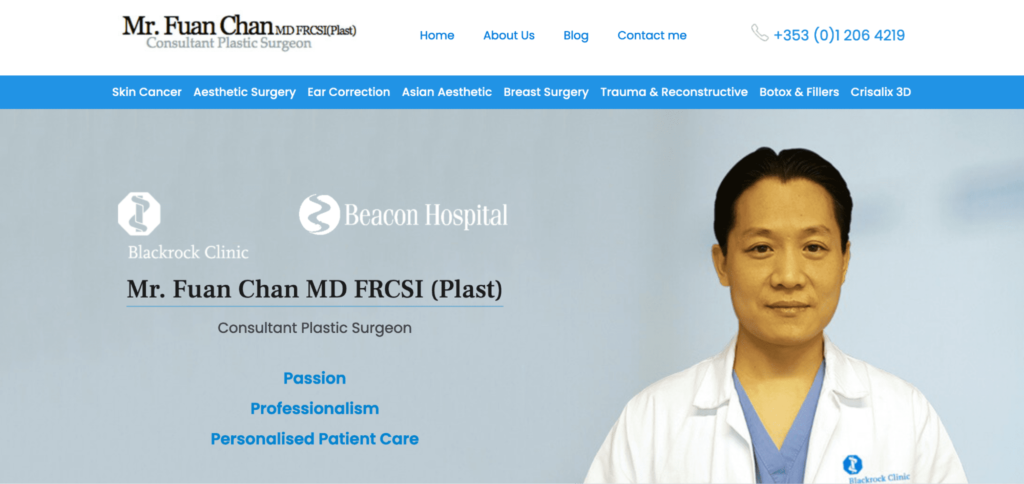 SERVICES
Liposuction & Tummy Tuck Surgery (Body Contouring Surgery), Skin Cancer Surgery/Removal, Facelift, Browlift & Neck Lift, Eyelid (Periorbital Surgery), Nose Job (Aesthetic Rhinoplasty Surgery), Chin (Aesthetic Genioplasty), Breast Surgery, etc.
WEBSITE
https://www.fchan.ie/ 
ADDRESS
Suite 14, Blackrock Clinic, Rock Road, Blackrock, Co. Dublin
CONTACT DETAILS
01 206 4219 |

[email protected]

OPERATING HOURS
Mon to Fri: 9:00 am – 5:00 pm
It's not the first time that Mr. Fuan Chan made it to our list. We first featured him for his rhinoplasty services, but we found other reasons to also highlight him for tummy tuck procedures, actually.
As you can see, Dr. Fuan Chan is the lone consultant of his private practice in Blackrock Clinic. He's fairly active in the cosmetic medical community, with several memberships in prominent associations.
While availability can take a toll here, we heard that he spares no effort in making sure that his patients get the best care possible, and that includes giving you several options to address your concerns about your abdomen.
What initially caught our attention though was his unique way of offering consultations. Here, you can expect a 3D visualisation of your "before and after" body.
In fact, they're one of the very few clinics in Ireland to offer augmented reality consultations, which allows you to see changes in your body in real time.
We think that this would also help you make an informed decision as to whether the procedure is right for you or not. You'll also receive access to the images through email, which gives you plenty of time to decide.
Of course, there are no guarantees that your body will look exactly like how the 3D simulation pictured it. Still, Dr. Chan will go over the risks and benefits of the treatment plan with you—and there's no pressure to commit right away.
You'll have to see him to know more about instalment plans and aftercare, among many other things.
Provides 3D simulation in consultations
Central location
Wide range of services
Specialises in Asian aesthetics
No mention if consultations are free
Lacks information about instalment plans and aftercare
Closed on weekends
Relatively limited availability
Customer Reviews
Absolutely amazing results
"Dr Fuan Chan, the Manager and Secretary are all the most genuine professional and caring people I have ever met. They care about your health and well being in every way possible. I have had a full tummy tuck procedure by Dr Chan with absolutely amazing results. This is an absolutely a life changing experience for me. I cannot thank them enough and especially Mr Chan for all his hard work I know I would never have gotten these results from anyone else. He is so passionate about his work and is not happy unless his patient is happy. Thank you so much for everything you have all done for me, it really does mean the world to me." —Tanya Jane Harris, Google Reviews
Really pleased with the operation
"I am 3 weeks post op for abdominoplasty and I am recovering well. I have highly recommended Fuan to my friends and one of them has already booked a consultation. I am really pleased with how well the operation went and am looking forward to when the swelling has gone down to enjoy my wonderful new body. Many many thanks." —Josephine Kane, Google Reviews
5. Richard Hanson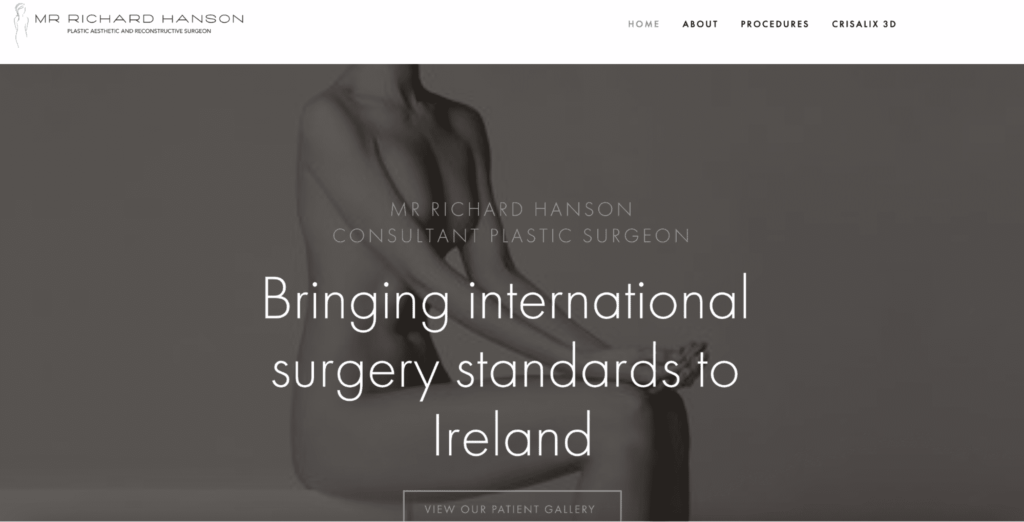 SERVICES
Tummy Tuck, Breast Reduction/Augmentation, Rhinoplasty, Facial Aesthetics, etc.
WEBSITE
https://www.cosmeticsurgeon.ie/ 
ADDRESS
9 Northwood Ave, Santry Demesne, Dublin
CONTACT DETAILS
01 526 2235 |

[email protected]

OPERATING HOURS
Mon to Fri: 8:00 am – 5:00 pm
Dr. Richard Hanson is an all-around cosmetic surgeon who can perform all sorts of procedures including breast augmentation or reduction, rhinoplasty, and tummy tucks.
Like the majority of our entries, he also holds several memberships to cosmetic medical associations like the Irish Association of Plastic Surgeons and the British Association of Plastic, Reconstructive and Aesthetic Surgeons.
He earns a spot here for one main reason: affordability.
Of course, we're not saying that tummy tuck procedures are generally affordable. But from what we've seen, he simply offers one of the best packages that offer real value for money in Ireland.
Fees begin at €6,500, which already sits at the lower end of the industry average. On top of that, there are many inclusions in the package.
This includes numerous consultations with Dr. Hanson until you've decided to push through with surgery, all surgical costs (procedure, aftercare, and overnight stay), and post-operative consultations.
Similar to our entry above, we're glad to know that Dr. Hanson also offers 3D and 4D imaging during consultations.
You can either take your own 2D photo from your camera or phone and upload it to Dr. Hanson's Crisalix website or they can take your "before" photo in the office during your consultation.
Unfortunately, we couldn't get any confirmation if their consultations require a separate fee or not. There's also no information whether they allow instalments or not.
Another drawback we're seeing here is that the clinic's relatively far from the city centre. But we think that this clinic is still worth a visit, based on all that they offer!
Wide range of services
Affordable fees
Provides 3D simulation in consultations
All-inclusive package available
No mention if consultations are free
Lacks information about instalment plans
Closed on weekends
Relatively limited availability
Customer Reviews
So pleased with the results
"I had a Tummy Tuck with Doctor Hanson after having 3 sections and a lot of weight loss I was left with a big pouch of skin that no matter how hard I tried I couldn't lose it. I am so pleased with how it went the results are amazing. My scar is so neat and low down. Dr Hanson and his team are so professional. I felt very comfortable from the moment I met him. The only regret I have is that I didn't do it sooner it has done wonders for my confidence. I would highly recommend Dr Hanson." —Shauna Lawlor, Google Reviews
Excellent surgeon
"I am now 3 months post breast reduction surgery and I couldn't be happier. I am now more confident and can finally wear clothes that fit my body shape. Richard is an excellent surgeon and and at every consultation he made me feel completely at ease. I can't thank Richard and his lovely and friendly secretary Ann Marie enough,I highly recommend Mr.Hanson to anyone who is interested in this procedure." —Jodie Kenny McGrath, Google Reviews
FAQs about Tummy Tuck Procedure
More Resources about Cosmetic Procedures in Ireland