The 5 Best Gas Companies in Ireland
Featured Image from: https://www.pexels.com/photo/blaze-blue-blur-bright-266896/
Your monthly budget could be ruined if you don't allocate enough funds for your utilities like gas. And even if you do, the question is, are you getting value for your money?
Some gas companies either charge high or have inaccurate billing. Yet, they don't provide acceptable customer service to make your payment worth it.
So if you're thinking of switching to another gas provider, you might want to consider the companies we've picked for our best gas companies in Ireland list. We'll tell you why we think they're one of the best and have included their rates and other helpful details too.
The Cost of Gas in Ireland
The price of your gas bill would depend on your usage. But we've checked the average costs of gas of the companies we've included in our list so you can quickly compare.
The table below shows the estimated average gas price per year:
| | |
| --- | --- |
| Company | Estimated Average Cost Per Year |
| Energia | €1,050.55 |
| Electric Ireland | €792.50 |
| Panda Power | €882 |
| Iberdrola | €799.87 |
The Best Gas Companies in Ireland
So, why do we think the companies below are one of the best gas companies in Ireland? We've used the following measures: sustainability, affordability and customer service.
How do we know? Because we are consumers ourselves, that's how.
So without further ado, here's our list of the best gas companies in Ireland:
1. Calor Gas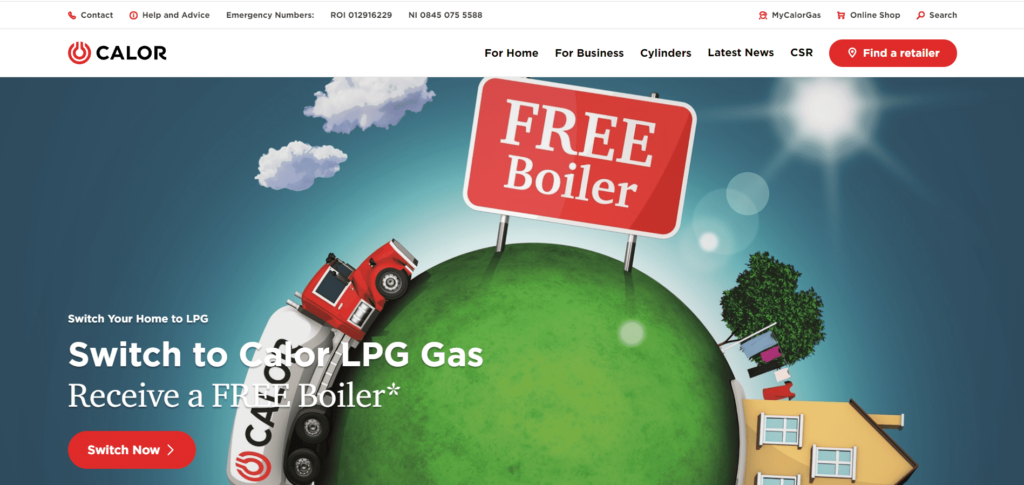 SERVICES
bioLPG, LPG, LNG, energy solutions for hospitality, catering, agriculture, transport, logistic and other businesses
WEBSITE
https://www.calorgas.ie/
ADDRESS
Long Mile Rd, Drimnagh, Dublin 12, Ireland
CONTACT DETAILS
01 291 6229 Emergency
01 450 5000 Customer Service
01 450 5000 24/7 Automated Payments
OPERATING HOURS
9am – 5pm, Monday to Friday (phone lines)
Calor Gas supplies and distributes metered and cylinder LPG (Liquified Petroleum Gas) and LNG (Liquified Natural Gas) to both homes and businesses. They are one of the experts in the procurement, storage, delivery, installation and maintenance of LPG in the country and they have been doing this since 1937.
Although being one of the experts in energy and having the stability to stay in the field for over 80 years are commendable, it's not really the main reason why we picked them. It's because they also offer BioLPG.
BioLPG is a propane gas made from plant and food wastes. It's a clean-burning fuel which makes it a great alternative if you want an energy source for your home or business and reduce your carbon footprints at the same time.
And because it's made from feedstock materials which can be regrown and replaced, it also means BioLPG is a 100% renewable gas.
But what if you're currently using electricity, oil or solid fuel? Would switching to BioLPG be a hassle?
Don't worry. If you do decide to switch, they would send one of their energy consultants to visit your home to assess your energy needs and work out the best way to have your home converted.
They offer payment options too to make the cost of the switch easier on the pocket. They can even spread the cost of a year's worth of gas supply over 12 months!
And if, somehow, you find yourself still struggling to pay your bills, we like that they want customers to contact them so they can further help. Although we hope it doesn't come to that, knowing they can extend help by offering more alternatives is reassuring.
That sounds good to us, as it is. But on top of those, you can also get a grant from SEAI Better Energy Homes if you upgrade your home to an energy efficient one.
That's a lot of options to save. And the free gas boiler thrown in when you switch isn't a bad deal either.
What we wish they have, though, is dual fuel. It's the next best option for people who use electricity and aren't ready to switch to gas completely.
We've also received a few reports that it's sometimes hard to place gas orders. We don't think this is a regular occurrence, but stepping up on this area of their service won't hurt their company and would definitely make their customers happier.
Offers metered and cylinder gas
BioLPG renewable energy offered
Services homes and businesses
Switching to BioLPG is made easy
Payment options available
SEAI grant offered
Free gas boiler upon switching
Closed on weekends
Doesn't offer dual fuel
Some reports of being hard to place gas order
Customer Reviews
Very impressed
"I had a new calor gas tank delivered and fitted today and the old one taken away. This only took a couple of hours and the two Calor guys Allen Brookes and Mike Cook were extremely helpful and courteous. Nothing was too much trouble. Allen made sure that all the gas was working as it should before leaving. Am very impressed and couldn't be happier with the service." -S. Hurst, Trustpilot Review
Amazing service
"I needed a replacement cylinder of gas urgently. Called Calor Gas at 9.30 am. They were very busy but said they would do their best to get it out to me asap. Was told it may be the following day or best case, later that afternoon. By midday the same day, the guy arrived, installed the cylinder! Amazing service, and as I was not a regular customer and we were in the middle of the cv19 crisis, this company went over the top with their customer service. Many thanks to Gary, on the phone, and to the lovely gentleman who delivered it. I didn't get his name." -Cherry Willis, Google Reviews
2. Energia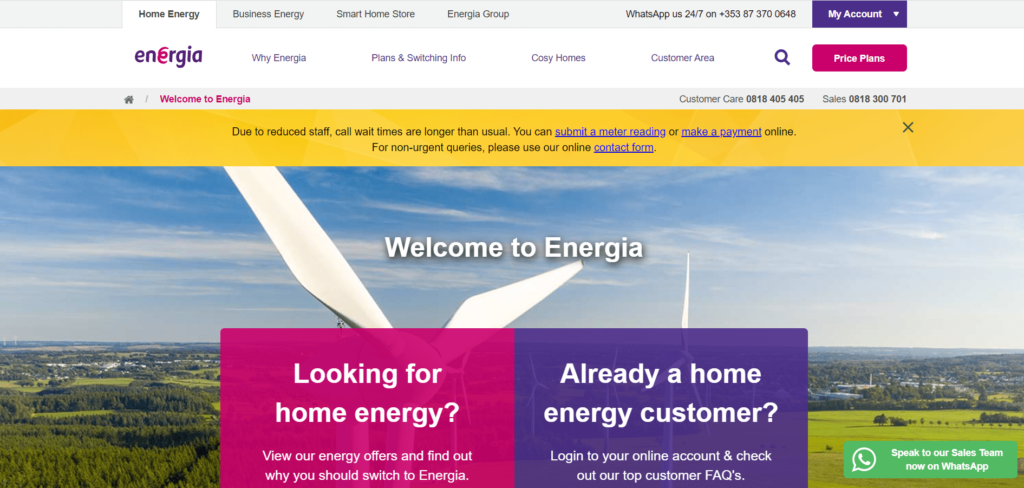 SERVICES
electricity, dual fuel, gas, heat pump systems, gas boiler, solar thermal, retrofit projects
WEBSITE
https://www.energia.ie/home
ADDRESS
Floor 10, Liberty Centre, Blanchardstown Retail Park, Co. Dublin, D15 YT2H, Ireland
CONTACT DETAILS
WhatsApp 24/7 on +353 87 370 0648
Customer Care 0818 405 405
Sales 0818 300 701


[email protected]

(commercial enquiries)
OPERATING HOURS
Mon – Fri, 8am – 8pm, Sat, 10am – 6pm
Another company that provides green energy for homes and businesses, be it electricity or gas, is Energia. They own and operate 309MW of wind assets and are continuing to invest in wind farms and solar projects both in Ireland and offshore.
But aside from actively working for a greener, more sustainable future, there are a few more things that made us decide to add Energia here. One is their customer service.
Of course, it's impossible for every single customer to be satisfied each time they call. But based on our research and the number of good reviews we've received from their customers (and we've received tons!), Energia provides one of the best customer service in the industry.
We've heard they're not just polite and professional, they will also do their utmost to give customers the best deal. They will even go as far as to match, alas, even lower their prices a bit to match those of their competitors.
What's more, Energia doesn't require a deposit and offers discounts like 15% off on standard gas, 3% discount for new customers, 8% discount if you opt for direct debit, cashbacks and other offers where you can save.
All these savings lead us to the next reason why we've picked them for this list: they have an easy-to-understand billing.
We all hate receiving ballooned bills, but even more so, when we don't understand how the companies come up with the final figure or amount. But Energia's bills will make your life easier with an itemised billing including the discounts you're entitled to.
In fact, you can access your bill information using their online service. They even have a video tutorial on how you can understand your bill better so you know there are no hidden fees or nasty surprises.
It's pretty enticing. But if you're not too keen on switching completely to gas, they also offer dual fuel (gas and electricity combo) and a personalised dual fuel plan so you can get the best of both worlds.
These are all good. What we find a bit troubling is some people are complaining of incorrect metre readings.
Although metre-reading is done by ESB and Bord Gáis Networks and not by Energia, it wouldn't hurt if they look into this issue a bit more closely. But despite this, we think that overall, Energia is still a solid gas provider.
Services homes and businesses
100% green electricity and gas
Dual fuel offered
No deposit required
Excellent customer service
Several discount options offered
Personalised plans offered
Easy to understand billing
Closed on Sundays
Some reports of erroneous metre reading
Customer Reviews
Bills are easy to understand
"I've read through a few reviews to see if customers receive the same service as I do. When I read the bad reviews it felt like I'm dealing with a different company.
I've tried just about every provider out there but always seem to come back to Energia. I've had especially bad experiences with BG on two separate occasions. I always find that Energia's prices can't be beaten (Unlike BG). Switching is always quick and easy. The bills are easy to understand (Unlike BG), the customer service is brilliant (Unlike BG) and the website easy to navigate (Unlike BG). Whenever I receive my bills they are almost always less than expected.
What more can I say? I would highly recommend Energia." -Frank Lucker, Trustpilot Reviews
Painless experience
"Very good service. I never had a problem with Energia in the past 3 years we've used them. I moved house and kept them as a provider. The transfer was much easier than expected, a very painless experience with a very pleasant person." -Malika, Google Reviews
3. Electric Ireland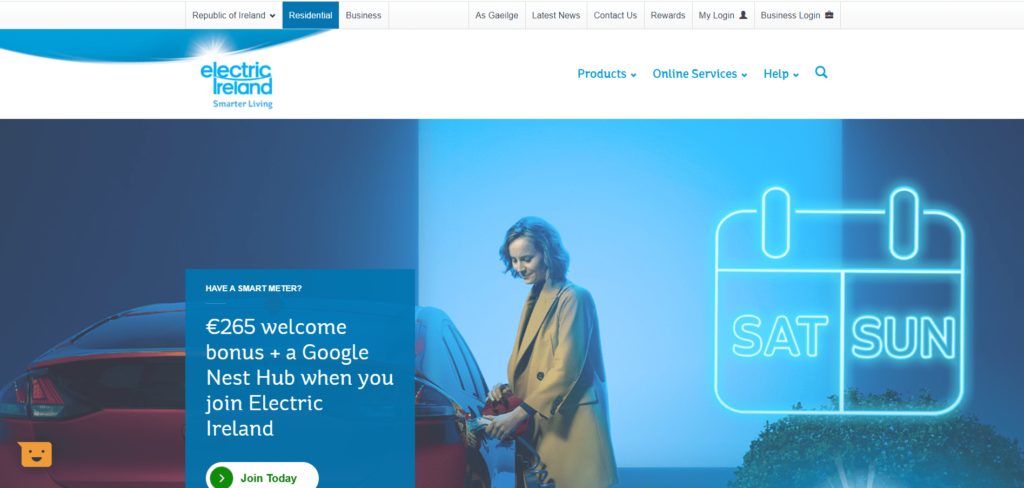 SERVICES
electricity, gas, heating, solar, boiler, home energy products
WEBSITE
https://www.electricireland.ie/
ADDRESS
Electric Ireland, PO Box 841, South City Delivery Office, Cork T12C825
CONTACT DETAILS
1800372372 Customer Service
1800305090 Sales
1800372333 Home Energy Services
If you're primarily looking for a gas company with affordable rates, we recommend Electric Ireland. Based on our research, they offer one of the best prices of gas in the country.
While other providers charge over €1,000 annually, Electric Ireland is just at around €790. That's the approximate annual rate for their EnergySaver Gas 14% plan.
They also have a lot of money-saving offers for you to choose from: they have a €265 welcome bonus for new customers for a 12-month contract. It goes up to €315 if you choose the 24 month-contract.
You'll be given an additional 8.5% discount if you pay your bills using direct debit. Really, they have all sorts of discounts for gas, electricity, and dual fuel for standard, smart, and day & night metre types.
But electricity and gas aren't the only service they have; they also offer boiler and heat pump services, home energy products, solar PV and more for both homes and businesses.
Another thing we like about them is they put consideration for priority cases. For instance, if you live with someone who's dependent on medical equipment (home dialysis machine, ventilator, etc.), then all you need to do is register and they won't disconnect your service.
What do we dislike about them? Aside from the fact that they require a deposit (others don't), they seem to have problems with their billing.
We've received a number of reports complaining of inaccurate metre-reading and bills. There were some complaints, too, about poor customer support.
We hope it isn't the norm, though. Otherwise, the affordability factor and other great stuff we like about them might be discounted altogether.
Affordable rates
Lots of discount options
Services homes and businesses
Also offers solar PV, home energy products and more
No disconnection for special/priority cases
Deposit required
Some reports of inaccurate metre-reading and bills
Some reports of poor customer service
Customer Reviews
No hidden agenda
"Highly recommended. I was with pre pay power after being spun lies about my bill being less. My bills literally doubled. I was so frustrated about paying more because I was in contact with them. More fool me for listening to the sales spiel at my front door.
if I need something I'll go get it because I need it. Not buy into charmers at the door because they need you. Learnt the hard way. Electric Ireland was patient & walked me through the whole process & gave me the facts, no hidden agenda. I will never leave Electric Ireland again." -Linda, Trustpilot Reviews
I have renewed my respect for customer service
"I did receive a call back today from Electric Ireland. The difference with customer service was astounding. Yesterday must have been a very difficult day for customer service. I got through straight away to them. Rachael and Paul were excellent in dealing with my query professionally. I have renewed my respect for customer service. Such that I've changed 3 stars to a 5-star rating. Thank you." -Daithi, Trustpilot Reviews
4. Panda Power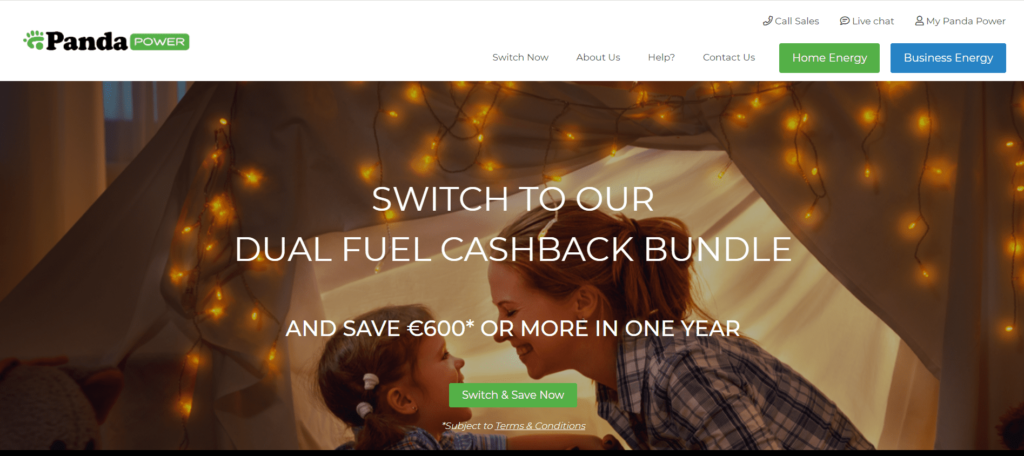 SERVICES
electricity, gas, recycling
WEBSITE
https://www.pandapower.ie/
ADDRESS
Ballymount Road Upper, Ballymount, Dublin 24
CONTACT DETAILS
Customer Care – 01 8298989
Loyalty Team – 01 7739996
Sales – 01 8298960


[email protected]
Another gas company that we think offers one of the best customer care services is Panda Power. We've received a lot of great feedback with how they treat customer issues.
Aside from being fast, efficient and friendly, they are also known to ring customers themselves to offer discounts. Some of their customers told us they've never had any problems calling and their issues were resolved immediately.
But customer service is nothing if the actual product or service isn't quality, right? Well, Panda Power offers 100% green electricity and gas for both homes and businesses.
They extract methane gas from landfills to generate energy. They also have other sources of energy such as wind, biogas, solar, and wave energy.
Not only do they have renewable and sustainable gas, the company also engages in refuse collection and recycling. They are in fact one of the largest traders of recycled fibre in Ireland.
If you want to switch but want to use a mix of gas and electricity, they also offer dual fuel. There's even a €125 cashback and 28% discount off their dual fuel plan.
But if you're ready to switch entirely to gas, don't worry. They also offer a 30% discount off the standard unit gas rates.
Green gas, great customer service and discounts sounds like a good package to us.
Unfortunately, we've also received some negative reports about them, particularly, with regards to price hikes. It seems they increase their prices sometimes without informing their customers first.
That leaves their customers surprised with a large bill. They do publish the hike on newspapers and their website, so you'll just have to be vigilant in checking out their website.
But a better idea would be to include a notice to the bill of each customer so they'd be informed about it beforehand. This way, customers won't be surprised come the next billing cycle and the company's customer care phone won't have to ring incessantly to deal with angry customers.
Great customer service
Services homes and businesses
100% green electricity
Refuse collection and recycling services
Cashbacks and discounts on plans
Closed on weekends
Some reports of unannounced price hikes
Customer Reviews
Polite and helpful
"I have been with them for the past 2 years. People over the phone were very polite and helpful and got a call to keep offering me a discount at the end of my contract. Once I had a problem with estimated reading but called them and provided the actual one and they sent me the right invoice. Very happy with them!" -Aiofe, Trustpilot Reviews
They ring to offer discounts
"Great company 6 years with no problems. They ring to offer discounts. And just rang to change DD and the girl was very nice (sorry can't remember her name). PDF bill every 2 months no login on etc much better" -Greg Owens, Google Reviews
5. Iberdrola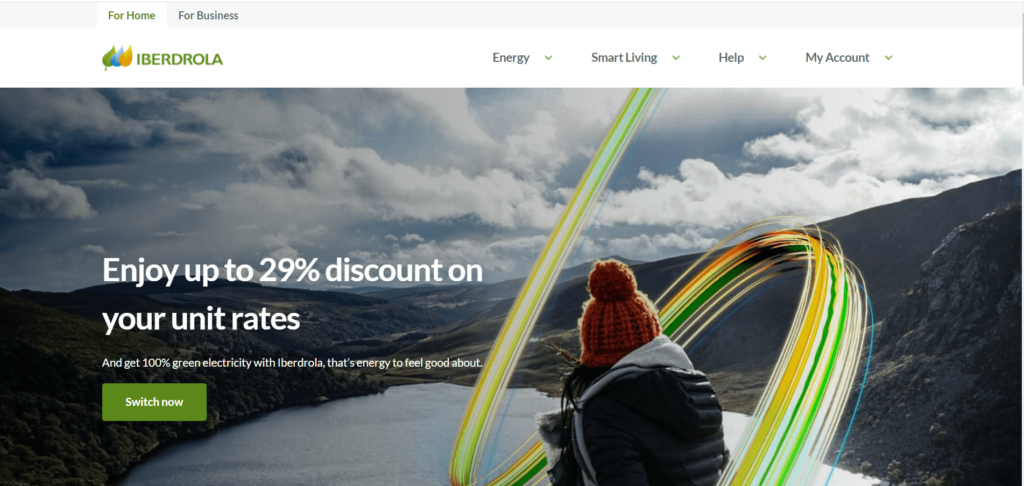 SERVICES
electricity, dual fuel, gas, boiler
WEBSITE
https://www.iberdrola.ie/
ADDRESS
Fitzwilliam House, 4 Pembroke Street Upper, Dublin, D02 VN24, Ireland Customer Service Team, Iberdrola, PO Box 13051, Dublin 2
CONTACT DETAILS
1800 300 370


[email protected]

OPERATING HOURS
Mon – Fri, 8:00 – 8:00pm, Sat, 9am-4pm
Why did we include Iberdrola to our list? Here are the reasons:
We're big on sustainability and Iberdrola offers 100% clean energy. They are one of the top producers of renewable energy in Europe focussing on onshore wind power and smart grids.
They operate six wind farms in Ireland alone. But they are ambitiously planning to increase their production further in the future.
Another thing we like about Iberdrola is they use smart metres (digital metres). They have an app too, so if you're using both electricity and gas, you can easily manage and control your consumption.
The third thing we think is advantageous in choosing Iberdrola is, they have one of the most affordable rates in Ireland. Their Green Discount Save plan is estimated to cost at around €799 per year only.
Compared to other companies, you'd be able to save approximately €300 with Iberdrola. They also offer a 29% discount on unit rates, have a referral discount of €150 and other ways where you can save.
And based on reports we've received, they also provide competent customer services too. So, don't we have any complaints about them?
No company is perfect, of course. We've received good as well as bad reports from their customers.
Most of the complaints are concentrated on bill discrepancy, particularly, wrong tariff and extra charges. There weren't a lot of complaints, but it won't hurt for the company to check their metre-reading and billing system to check if there's a glitch somewhere.
100% clean energy
Smart metre usage
Affordable rates
29% discount on unit rates
€150 referral discount
Competent customer service
Closed on Sundays
Some reports of incorrect tariff and extra charges
Customer Reviews
Better discount
"I got great advice from Wayne on dual fuel discount tariffs, as my contract was up for my dual fuel acc, so I got a better discount for the new yearly contract. Wayne also informed me on boiler servicing, which I wasn't aware of. Very happy with advice from Wayne and there was no pressure from him at all to agree to a new contract. Thanks Wayne" -Deirdre O'Callaghan, Trustpilot Reviews
Cheap rates
"Easy to join, cheap rates, easy billing and you can see it all through the Iberdrola app. Very friendly customer service too!" -Cian Mc Kenna, Facebook Reviews
The Types of Gas Used in Homes
There are several types of gas used in homes: methane, butane, propane and natural gas.
Methane is a naturally-occuring gas commonly found below the earth's surface. However, it can also be produced in the lab by heating soda-lime and sodium ethanoate.
Methane can be used for cooking, lighting, heating and cooling your home. It can also run industrial machineries. However, methane is highly flammable which makes storage tricky.
One of the biggest advantages of using propane at home is, it's nontoxic. It also lasts longer than other gases, and can be used to power all kinds of appliances.
But it has downsides: switching to propane demands a higher upfront cost. It also doesn't work as well in freezing temperatures and the cold causes it to shrink in volume.
Butane burns cleaner than propane, it's cheaper and less toxic too. It's also more efficient by 12% compared to propane which means it lasts a little longer.
However, it is extremely flammable. Since it's heavier than air, distant ignition is possible.
Natural gas is a mixture of propane, butane, and ethane. It's a product of decomposed organic matter.
Using it as an energy source for your home has several advantages. There's an abundant source of natural gas, and the technology and infrastructure so people can use is already in place.
It's also easy to transport and unlike oil and other energy sources, it has a relatively small impact on the environment.
FAQs about the Best Gas Companies in Ireland
---
Did you find a gas company you like from our list of the best gas companies in Ireland? We hope you found one that you think would best serve your needs.
If you're already using one of these gas companies as your supplier, please send us an email. We'd love to hear what your experience is with them.
If you're interested in having solar panels installed in your home instead, you can check our list of the best solar panel companies in Ireland.