The 5 Best Apartments in Galway
Moving into a new place for a new start is definitely one of the biggest changes we have in our lives. Either you're alone or with a family, transferring to a new residence requires a lot of thinking.
To help you decide where to stay in the western central portion of Ireland, we made a quick review of the top apartments in Galway. Check it out here!
How much is the apartment rent in Galway?
The cost of renting in Galway is based on the type and location of apartment you're staying in, the amenities offered, and the overall service provided. Listed below is a quick look of estimated rent costs in Galway:
| Apartment Type | Estimated Average Daily Rates |
| --- | --- |
| One-bedroom | € 45 - €95 |
| Two-bedroom | €135 - €330 |
| Three bedroom | €205- €430 |
The Top Apartments in Galway
Answering the queries on the whats and hows of choosing an apartment is actually the hard part of picking one to stay in. Here are our bases for rating our selections:
1. Galway Bay Sea View Apartments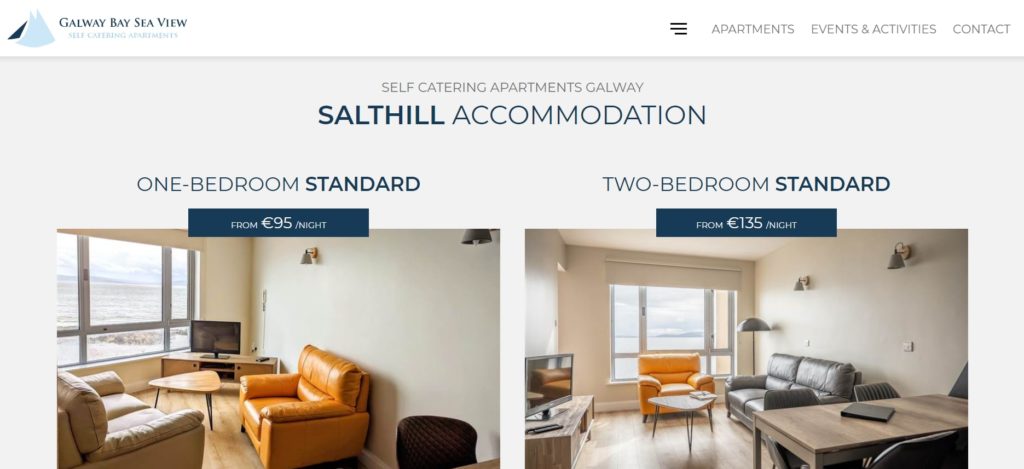 Test
Info
AMENITIES AND SERVICES

Short and Long-Term Lease

Hotel

One to Three Bedroom Flats

Food and Beverage

Events Venue

WEBSITE
https://www.galwaybayseaview.com/
ADDRESS
The Promenade, Salthill, Galway, Ireland H91 CD98
CONTACT DETAILS
+353 8602 29802,

[email protected]

OPERATING HOURS

Open24/7
| | |
| --- | --- |
| AMENITIES | ★★★★★ (5/5) |
| SERVICE | ★★★ ★☆ (4/5) |
| CLEANLINESS | ★★★★★ (5/5) |
| DESIGN | ★★★★★ (5/5) |
| ACCESSIBILITY | ★★★★★ (5/5) |
| VALUE AND COST | ★★★ ★☆ (4/5) |
Comfort at its finest. This is how to describe Galway Bay Sea View Apartments that has an incredible location overlooking the sea.
It has considerable options for self-catering apartments ranging from the standard one-bedroom to the three-bedroom penthouse.
We think you'll feel at home, if not better, staying here. All rooms are equipped with a functional kitchen, dining area, washing area, neat bathrooms, cleaning spaces, and a lounge area.

There's also a free reliable internet connection available! If you're staying here but you have remote work, classes, or just missing your family, this place has you covered.
The rooms are worth your rent fee as they feature bright, airy, spacious, and a contemporary design. The relaxing environment is perfect for those on vacation who just want to relax and enjoy Ireland's cities and waters.
If you want a complete experience though, you can grab the two-bedroom or the three-bedroom penthouse rooms to witness the Galway Bay and the Burren skyline.
This is best for visitors who would want to take a stroll in Galway's streets for its strategic location. It's close to food establishments, bars, shops, and recreational venues.
However, you will need to book in advance to secure a spot in this apartment especially during peak season. A long-term lease will also cost you quite a lot.
All in all, the price of staying here will meet your expectations. In several booking applications, discounts are even offered, thus making it a good option.
Clean and relaxing ambience
Strategic location and accessible
Provides scenic views of Galway
Pricey for long-term stays
Rates are hotel-based
Customer Reviews
Amazing location
"The location is amazing. It's very walkable for shopping, entertainment, pubs, swimming, museums, etc. Many tours pick-up and drop-off here. The view from the room is outstanding. The room itself was also very well equipped and quite nice." – Todd Allen
Spacious rooms with nice view
"Very spacious apartments and a lovely sea view . Also very well located near to the city. Would highly recommend for trips to Galway." – Gavin Daly
Well-equipped and tidy
"My absolute favourite when I am in Galway. The apartment is big enough for 4 people, perfect view across the bay. It is well equipped and very tidy. Bus stop in front of the apartment or you take a nice walk along the sea side to Galway (3 km).Shops and restaurant nearby. The staff is extremely helpful. You feel very welcome in this place…" – Anna Stern
2. Jameson Court Apartments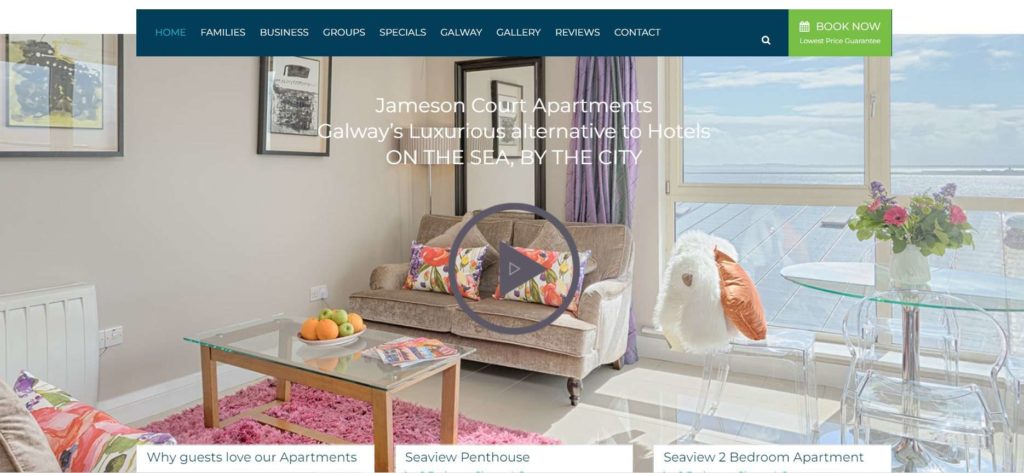 Test
Info
AMENITIES

Short and Long-Term Lease

Hotel

One to Two Bedroom Flats

Food and Beverage

Events Venue, Private Floor

WEBSITE
https://jamesoncourt.ie
ADDRESS
173 Upper Salthill Road, Galway, Ireland H91
CONTACT DETAILS
+353 8791 76970,

[email protected]

OPERATING HOURS

Open 24/7
| | |
| --- | --- |
| AMENITIES | ★★★★★ (5/5) |
| SERVICE | ★★★ ★☆ (4/5) |
| CLEANLINESS | ★★★★★ (5/5) |
| DESIGN | ★★★★★ (5/5) |
| ACCESSIBILITY | ★★★★★ (5/5) |
| VALUE AND COST | ★★★ ★☆ (4/5) |
All your comfort needs to feel at ease while staying away from home are all available at the Jameson Court Apartments in Galway!
To begin with, all the one- to two-bedroom units are large, airy, and are cozy enough to host you as you wander in Ireland. Tourists usually choose this place because of its picturesque views of Salthill Village and Bay.
What is also admirable is it doesn't shortchange you with the amenities. The apartment units have a well-equipped kitchen, many chillout spaces, large beds, and entertainment devices and fast internet connection.
We also appreciate its provision of a welcome pack of milk, tea, and several biscuits.
Jameson Apartments is also strategically situated, giving guests access to pubs, restaurants, and other facilities in Galway. The balconies offer a great view of Salthill, too.
What's more is that it has a great parking space and a very reliable staff to keep everything clean and in order.
The only downside is rates vary and are not visible on its website. Despite this, you can easily call the staff and ask for a reservation and estimated cost.
Overall, this place gives great value for your money through its quality amenities and services.
Spacious rooms
Beautiful view
Strategic location and accessible
Great interiors
Pricey long-term lease
Rates vary and are only available upon request
Customer Reviews
Spacious rooms and great staff
"Very spacious two bedroom two bath apartment. The parking is great. The staff are great. Some really nice little extras like milk in the fridge and sweets in the apartment. I'd go back again in a flash." – Anthony Coughlan
Clean and comfy
"Jameson Court Apartments were well located with plenty of good restaurants and bars close by. Apartments themselves were we'll laid out, spotlessly clean and comfortable. Reception staff were friendly and helpful." – Sandra O'Connell
Great location
"Seaview apartment, massive balcony, spacious, well-appointed and very clean. Love the decor and felt right at home. Stayed for three weeks in December and the place was nicely heated. Great location! Close to the prom and all the amenities Salthill village has to offer…" – Ronan Devaney
3. Menlo Park Apartment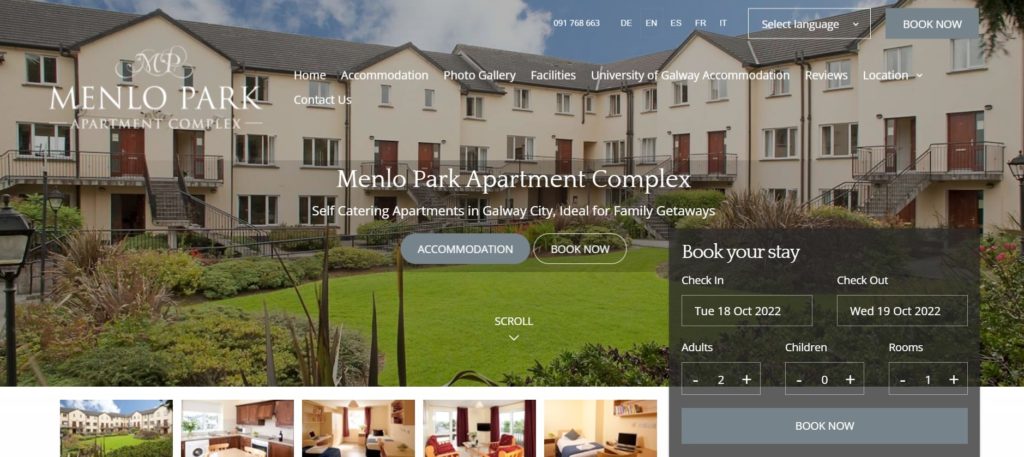 Test
Info
AMENITIES

Self-Catering Apartment

Short and Long-Term Lease

Student Rental

Hotel

One to Three Bedroom Flats

WEBSITE
https://www.menloparkgalway.com/
ADDRESS
Menlo Park Apartment Complex,Terryland, Headford Road, Galway, Ireland H91E0W0
CONTACT DETAILS
+353 917 68663,

[email protected]

OPERATING HOURS

Open 24/7
| | |
| --- | --- |
| AMENITIES | ★★★★☆ (4/5) |
| SERVICE | ★★★★★ (5/5) |
| CLEANLINESS | ★★★★★ (5/5) |
| DESIGN | ★★★★☆ (4/5) |
| ACCESSIBILITY | ★★★★☆ (4/5) |
| VALUE AND COST | ★★★★★ (5/5) |
We love how Menlo Park Apartments offers a broad range of accommodations and facilities in an accessible location.
These include an on-site reception, short and long term stays, complimentary secure car parking, and safe bicycle racks.
The rooms also have kitchen tools, television, free internet, as well as towels and linens. Some guests have said that there were only a few cooking tools that weren't provided too.
Housekeeping service and laundry services are also available should you need it. However, laundry and dry cleaning are excluded from the rates and will cost extra.
Staying indoors if you don't feel like going out wouldn't be a problem. You can sit back and relax in the bright and spacious atmosphere of the rooms with comfortable furniture.
The rooms are tidy, too, but one guest shared in an online review that the doors and drawers are noisy when opened. Nonetheless, while it's a small concern, you can have the maintenance crew check it out if it's too bothersome.
Also, you won't go hungry here because of the bar and restaurants located in the apartment complex's grounds. Guests can also visit other stores and food stalls which are just a short walk from the hotel.
Although there are nearby establishments, it would take a more or less 20-minute walk to get to the town center. You can likewise take public transportation if the weather isn't favorable – there is a bus stop across Menlo's which you can ride to Eyre Square.
All in all, we think it's comfortable staying in this place. It's very accessible and tourist information desks are in place.
Clean rooms
Accessible to other establishments
Friendly staff
Good security
Incomplete kitchen tools 
Distant from town center
Customer Reviews
Perfect apartment
"A perfect little apartment. Keep an eye out for stray cats who are looking for food so it's best to keep your rubbish bags inside. Staff are lovely as are the restaurant staff particularly Mary. Hope to visit again." – Dylan Mckeever
Ideal location
"Location is ideal, staff & service is brilliant. Clean & tidy apartments, spacious rooms. Noisy doors & draws to open & Close need to be looked at by maintenance .New roundabout close by is confusing. Great place to stay… Bus outside too." – Niall Hurley
4. Donegan Court Apartments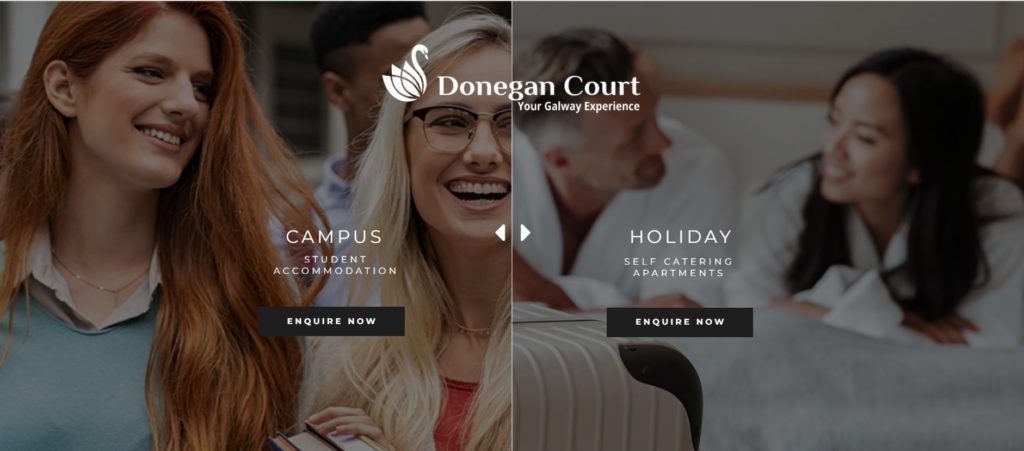 Test
Info
AMENITIES

Self-Catering Apartment

Short and Long-Term Lease

Student Rental

One to Three Bedroom Flats

WEBSITE
https://donegancourt.com
ADDRESS
Donegan Court, New Road, Galway H91 EP3C
CONTACT DETAILS
+353 915 68831,

[email protected]

OPERATING HOURS

Open 24/7
| | |
| --- | --- |
| AMENITIES | ★★★★☆ (4/5) |
| SERVICE | ★★★★☆ (4/5) |
| CLEANLINESS | ★★★★★ (5/5) |
| DESIGN | ★★★★☆ (4/5) |
| ACCESSIBILITY | ★★★★★ (5/5) |
| VALUE AND COST | ★★★★☆ (4/5) |
If you're looking for a place to stay that's close to restaurants, pubs, and Galway's City Center, Donegan Court Apartments might just be the ideal apartment for you.
You can choose between the Type A and B two-bedroom units as well as the Type C and D three-bedroom apartments. All of which have their own neat, spacious, and equipped dining, living rooms, and bath areas.
The kitchens are also equipped with large cabinets, a sizable refrigerator, an oven for all your cooking and grocery storage needs.
Not to mention, we particularly like that the bathrooms are wide, bright, and have their own bathtubs.
The rooms also boast of almost complete amenities of electric storage heating, television,internet connection, and self-service laundry equipment. You can also enjoy its large family dining tables, chairs and sofa, and large beds.
Security-wise, CCTV cameras are installed in common and open areas with 24/7 on-call security and hotel staff. The underground parking area and bicycle stands are also secured.
The big rooms are very family friendly. Children can also enjoy their stay with a playground set within the complex.
One downside of staying here is the noise coming from other units. This is because student tenants are allowed to have parties and the rooms are not fully soundproof.
Another is the malfunctioning kitchen appliances in select rooms.
Overall, Donegan Court Apartments is still a considerable option if you want large and clean apartment units.
Accessible to other establishments
Clean and spacious
Family friendly
Reliable staff and security
Noisy at times (no sound proof)
Lacks furniture and appliance (no heating, not-so comfortable bedding, pillows, oven)
Customer Reviews
Great location and staff
"Friendly staff, great location, food is not too bad either, prices are a bit more than locally." –
Thomas Lennon
Perfect place
"This was my second time staying at Donegan Court and both stays were fantastic. A 10 minute walk from the Latin Quarter, this is a perfect place to use as a home base during your exploration of Galway.– Jack via AirBNB
All you need is here
"Lovely apartment in a brilliant location. Balconies off bedrooms and sitting room were great to have. Apartment had everything you need, cooking utensils, ironing ect. Lovely walk into town, with shops and takeaways near by. WiFi was excellent. Underground car park great, with easy access to apartments." – Karen via Booking.com
5. The Connacht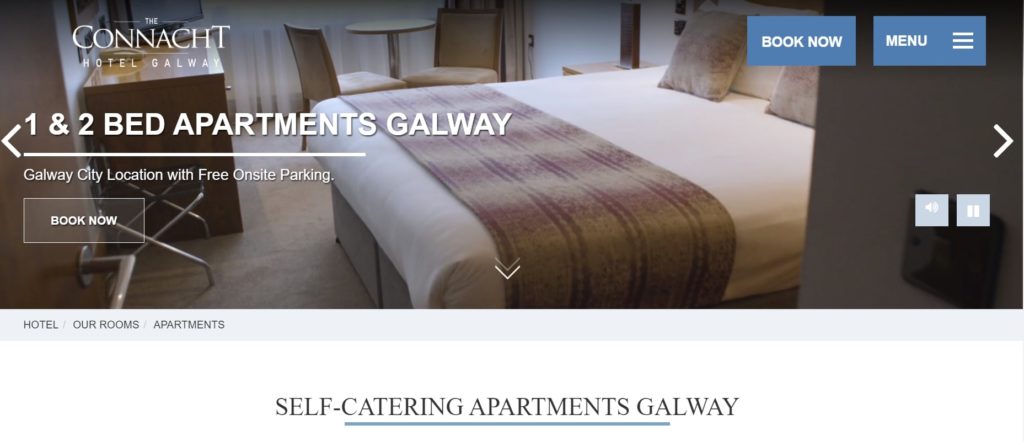 Test
Info
AMENITIES

Self-Catering Apartment

Short and Long-Term Lease

One to Two Bedroom Flats

Leisure Center, Pool

Private vents

Hotel

WEBSITE
https://www.theconnacht.ie//
ADDRESS
The Connacht Hotel, Dublin Road, Galway, Ireland H91 K5DD
CONTACT DETAILS
+353 917 53187,

[email protected]

OPERATING HOURS

Open 24/7
| | |
| --- | --- |
| AMENITIES | ★★★★☆ (4/5) |
| SERVICE | ★★★★☆ (4/5) |
| CLEANLINESS | ★★★★☆ (4/5) |
| DESIGN | ★★★★★ (4/5) |
| ACCESSIBILITY | ★★★★★ (5/5) |
| VALUE AND COST | ★★★★☆ (4/5) |
The Connacht's Self-Catering Apartments inside a hotel complex is one of the most popular accommodation establishments in Galway as a result of its five-decade hosting experience.
When in Galway, you can stay in this complex if you want easy access to nearby food establishments. The place itself also has a leisure center for your food and entertainment needs.
In terms of its facilities, you can choose between the one-bedroom that can host two to four people and the three-bedroom unit that can accommodate up to six persons.
All rooms have free internet connection, large and comfortable beds, living area, and an equipped kitchenette. Apartment tenants are also given access to the pool, free parking, and are serviced by a 24-hour reception.
Those with fitness goals need not to worry about exercising anytime because the gym operates 24/7!
Since it's within a hotel establishment, we like that large and private events can also be held here. The Connacht also organizes Galway-related events and offers accommodation packages on these!
Dining is also one of the highlights of staying here. You can have a seat at Ruebens Restaurant, Bar Solo, The Dock, or even experience having quality tea in the afternoon.
Since it has been operating for decades, several rooms have been outdated according to previous guests that we've spoken to.
Other guests have also mentioned that some amenities are not clean and some of the staff are inexperienced despite the higher rental rates.
Overall though, the amenities, establishments inside the compound, and the accessibility to fun and food hubs can make your stay worth it. This makes The Connacht's Self-Catering Apartments one of our top choices for apartments in Galway.
Offers many amenities
Has large venues for big events
Accessible to other establishments
Offers accommodation packages for events
Expensive 
Old-fashioned rooms
Inexperienced staff
Customer Reviews
Spotless rooms
"Just back after a 4 night stay, Hotel and staff were absolutely lovely, pleasant and very obliging. Our room was spotless. We also dined in the restaurant and the food was lovely. I was just disappointed with the treatment of the staff in the breakfast room and the way they were spoken to and pointed at…" – Sarah Fox
Completely excellent
"Excellent hotel. We went for the kids club and leisure pool and were not disappointed. Superb, friendly professional staff at every point. Well run. Completely excellent. We will be staying there again." – Robert Healy
Lovely lobby
"The hotel is lovely and welcoming and has a lovely lobby and front area. The room we stayed in was clean the bathroom needs an upgrade – but we enjoyed our stay and would stay again." – Phil Hogan
FAQs About Apartments in Galway
---
There are many options if you're looking for a place to stay in Galway to fit your or your family's accommodation needs.
To give you some information on apartment renting in Ireland, you can also check out the best apartments in Dublin.