The 6 Best Self-storage Facilities in Waterford
Need someplace safe to store your belongings? Our list of the best self-storage facilities in Waterford has got your back!
If you haven't heard of them, self-storage facilities offer storage units you can rent for a short or long period of time. People use them if they're travelling, moving out, and so on.
Unsure how to choose one? Don't worry—we've also included tips to help you in your search along with some FAQs about storage units in general.
Self-storage Facility Rates in Waterford
Self-storage facility rates will depend on storage size and rental period, among others.
Our choices' rates are listed in the table below, so you can easily check them. Some of them didn't provide info on their rates, so you'll need to contact them to get a quote.
SELF-STORAGE FACILITY
STORAGE UNIT
COST
U Store It
20 sq ft
From €9 per week
25 sq ft
35 sq ft
50 sq ft
75 sq ft
100 sq ft
150 sq ft
200 sq ft
Storage City
Minipod (11 sq ft)
€ 25
Storage box (35 sq ft)
€ 50
BoxPod (80 sq ft)
€ 75
Container (160 sq ft)
€ 150
Note: all rates incl. VAT
Store-All Logistics
Need to contact
Need to contact
Titan Containers
2.5M X 2.50M X 2.35M
Prices from €2.50 per day +VAT
6M X 2.5M X 2.35M
Prices from €4.00 per day +VAT
12M X 2.5M X 2.35M
Prices from €6.00 per day +VAT
Bigbluebox self-storage
160 sq ft
€150 per month
Rent-A-Box
20 ft x 8 ft x 8 ft
Need to contact
The Best Self-storage Facilities in Waterford
Ready to view our selections for you? Here are our options for Waterford's best self-storage facilities!
1. U Store It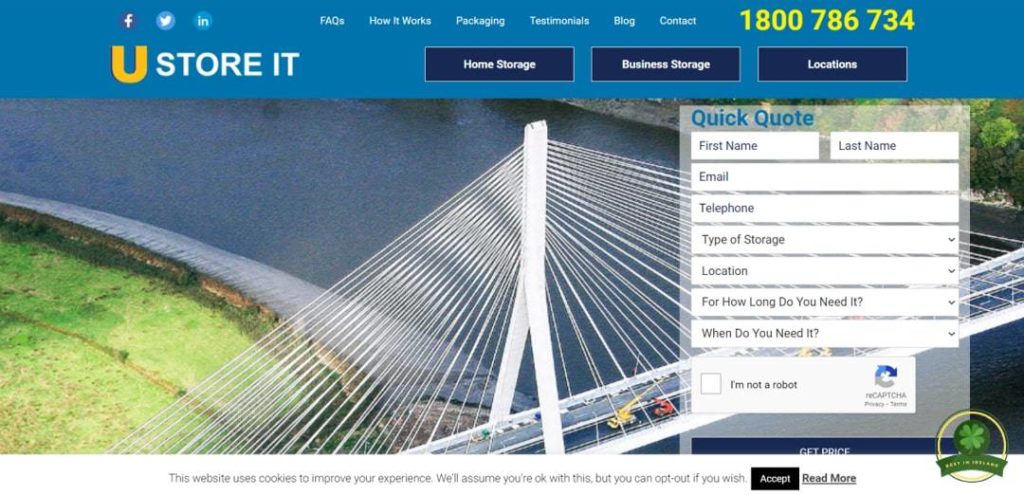 SERVICES
Home storage, business, storage, and packaging supplies
WEBSITE
https://ustoreit.ie/storage/waterford/
ADDRESS
Unit 46, Waterford Business Park, Cork Rd Waterford
CONTACT DETAILS
051 392 942


[email protected]

OPERATING HOURS
9:00 am to 5:30 pm (Monday – Friday)
9:00 am to 4:00 pm (Saturday)
U Store It has almost everything you're looking for in a self-storage facility. Multiple branches, discounts, a variety of storage options, short-term rentals, and more—this company offers it.
To start with, U Store It has 6 locations across Ireland, 4 of which are in Dublin and 1 in the Belfast, UK. They've got multiple storage sizes to choose from, so clients can easily find one that's suited to the number of items they need to store.
Moreover, to give their customers a better idea of what storage size to avail of, their website features a size guide.
For instance, their 20 sq ft storage unit can stock 50 medium boxes or one large carload, while their 100 sq ft storage unit can contain 250 medium boxes or four transit van loads, and so on.
Furthermore, their minimum rental period is less than a month—you can rent a storage unit for as short as 2 weeks. You have unlimited access to your stuff during their operating hours. (Access beyond office hours can be arranged subject to U Store It's terms and conditions.)
U Store It's security features seem tight as well. They have 24-hour CCTV, and each unit is locked using your own padlock. You can only access the storage area via a specific code for each client.
In addition, each unit is equipped with its own alarm which can only be activated/deactivated using the client's specific code.
Meanwhile, they've also got plenty of discount offers. For instance, once you become their customer, you're already entitled to a 20% discount on their packaging supplies. Other discounts include prepayment and long-term discounts, among others.
Multiple branches
Minimum rental period is 2 weeks
Variety of storage sizes
Offers multiple discounts
Packaging materials available
24/7 access available
Ample info on security features
Closed on Sundays
Limited pricing info
Customer Reviews
Take some time to read a couple of customer feedback on U Store It:
"Great facilities, and sraff." -Mini Removals
"Such wonderful staff. They got our movers all set without us having to physically be there at the start of our rental and at the end. Always available for questions. Really just so accommodating. When we went to our unit the facility was always clean and felt secure." -Maile Miller
"Very helpful staff and a great setup." -Phil
2. Storage City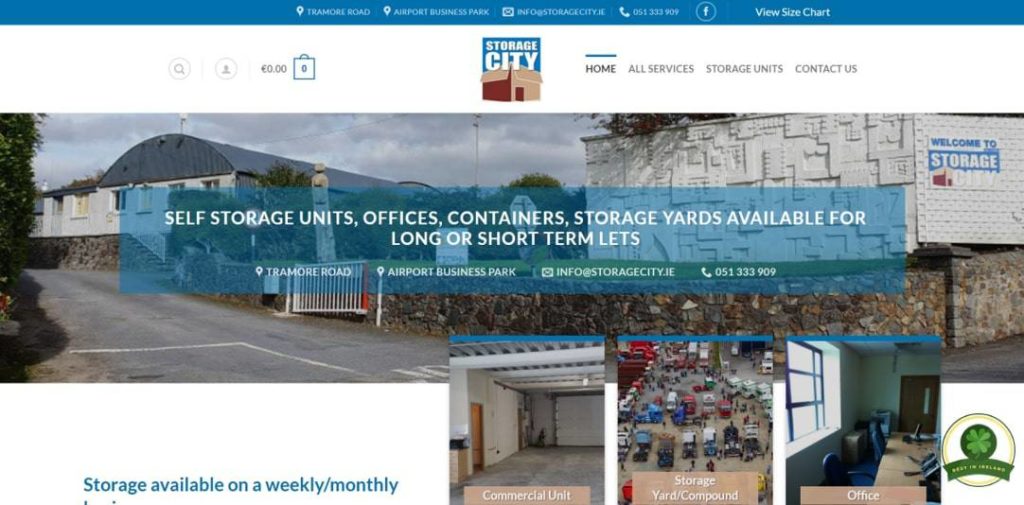 SERVICES
Storage units, commercial units, offices, storage yard/compound, and forklift hire
WEBSITE
https://storagecity.ie/
ADDRESS
Storage City, Mill Lane Complex Ballindud, Co. Waterford

Airport Business Park, Ballygarran, Co. Waterford, X91 NF7P
CONTACT DETAILS
051 333 909


[email protected]

OPERATING HOURS
24/7
Storage City is another self-storage facility that offers a range of storage units, so this means they accommodate small or big amounts of items. Their smallest unit is a mini pod (11 sq ft) while their largest is a 20 ft container which can contain up to 50 boxes.
Meanwhile, what's unique about Storage City is that they also lease offices and commercial units aside from their storage containers.
Moreover, they even offer an outdoor storage yard/compound for vehicles, including trucks. In addition, Storage City is equipped with a forklift which is priced on an hourly basis.
Storage City's website also features a size chart to help its customers gauge their storage sizes. They provide 7-day access and week-to-week rentals, which is great if you only need temporary storage.
And if you want to move out, Storage City requires a 7-day notice.
In terms of security, they're equipped with 24-hour CCTV monitoring, electronic gate access, as well as pest control on site.
One downside is that we didn't find any mention of discounts such as for long-term leases, prepayment, etc.
Variety of storage sizes
2 branches
Also rents offices, commercial units, etc.
7-day access
Week-to-week rental
Has pricing info
No mention of discounts
Limited info on security features
Customer Reviews
Sean O Griofa likes Storage City's location, among other things. Read his full comment:
"Great facility, Storage City offers storage for all shapes and sizes. Really easy doing business with this company. The location is excellent, situated just off the Tramore road with good access to the Waterford City bypass." -Sean O Griofa
3. Store-All Logistics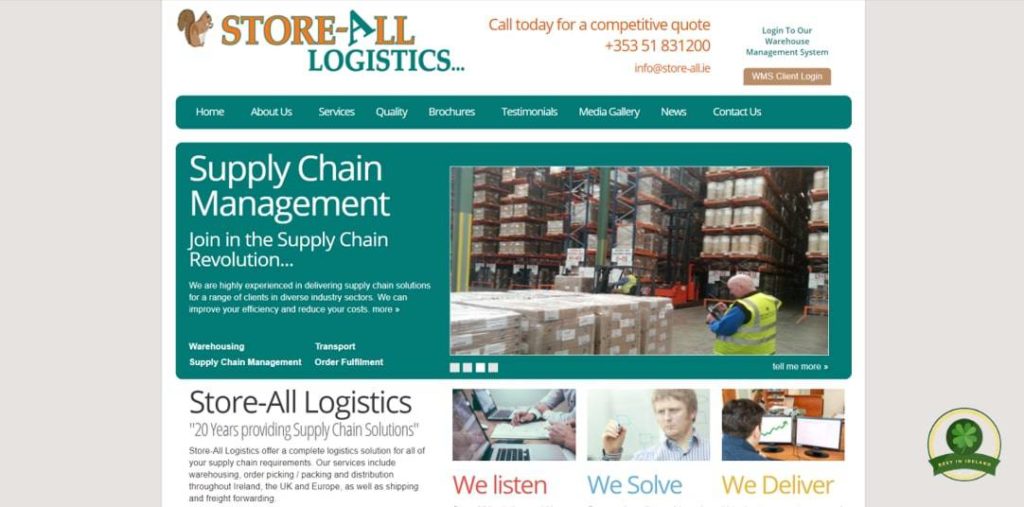 SERVICES
Warehousing, transport, supply chain management, order fulfilment, self-storage, and document storage
WEBSITE
https://www.store-all.ie/
ADDRESS
Head office:
Marine Point, Belview Port, Waterford

Self-storage/document storage:
Cork Road, Waterford
CONTACT DETAILS
Head office:
051 831200
[email protected]

self-storage/document storage:
+353 (0)51 319319


[email protected]




[email protected]
From their name itself, you'll have an idea that Store-All Logistics offers more than just storage facilities.
It's a big company that provides warehousing, order picking/packing and distribution throughout the country and Europe. They also have shipping and freight forwarding services.
While their head office is based in Belview Port, their self/document storage facilities are located in Cork Road.
They didn't give plenty of info on their storage space options, but they offer units as small as lockers and those as big as 1,000 sq ft. Vehicles are accommodated as well.
What's more, Store-All also has tight security. They have 24/ CCTV monitoring, unique customer PIN, storage unit alarm, along with fire and smoke detection alarms.
Concerning access, you've got no worries about hours as they offer 24/7 access.
And if you're storing documents, in particular, Store-All's document storage facilities even come with other services such as shredding and scanning, among others.
They also offer several discount offers, such as bulk discounts for bulk stocks. In addition, Store-All has prepayment discounts which are great if you're planning to store your things with them for more than 1 month.
Unfortunately, you'll have to contact them for their rates since they don't have a pricing matrix posted online.
Offers discounts
Offers 24/7 access
Other services aside from storage
Ample info on security features
No online pricing matrix
Limited info on storage size options
6. Titan Containers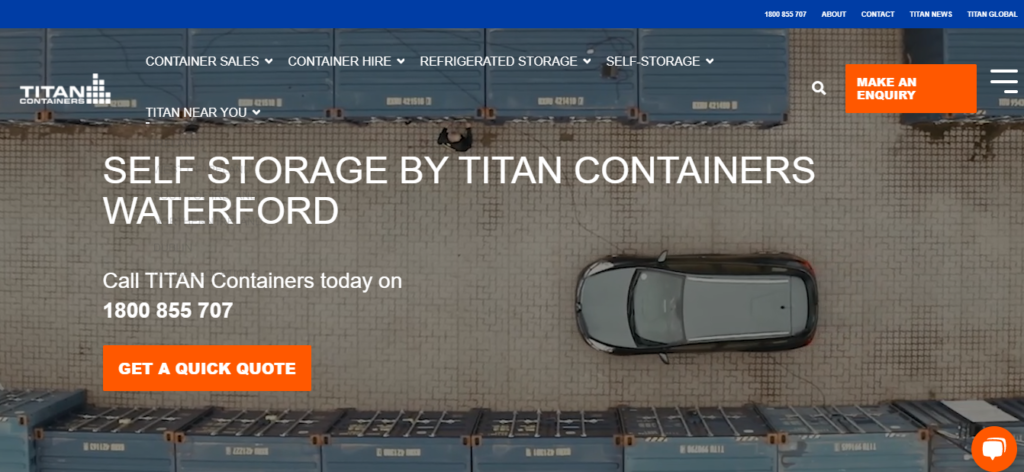 SERVICES
Container Sales
Container Hire
Refrigerated Storage
Self-Storage
WEBSITE
https://titancontainers.ie/
ADDRESS
The Mart, Old Kilmeaden Rd, Co Waterford, X91 Y9HT, Irelan
CONTACT DETAILS
Phone: 1800 855 707
Email:

[email protected]

OPERATING HOURS
Office Hours:
Monday-Friday 9am – 5pm
Closed weekend.

24/7 access granted via an electronic gate system
Titan Containers was founded by Layland Barker in 1987. They are not your usual self-storage facility because they are, perhaps, the largest privately owned company supplying shipping and storage containers for a vast multitude of applications.
In talking about self-storage, we can definitely recommend them because they have multiple branches all over Ireland. In their Waterford branch, they have a 24/7 electronic gate system.
With this, you are granted to enter and go to your storage no matter what time of the day it is.
Even though they only have 3 mentioned storage sizes on their website, you may still contact them and ask if they offer smaller sizes and they will not hesitate to help you.
Competitive prices
Various room sizes from micro to large at most sites
Customer Reviews
Here is a testimonial from one of their clients:
"Thank you very much for your services and professionalism. The container has been well delivered! The installation team on site was very effective. We are looking forward to collaborating further with you in the future for other locations."
5.   Bigbluebox self-storage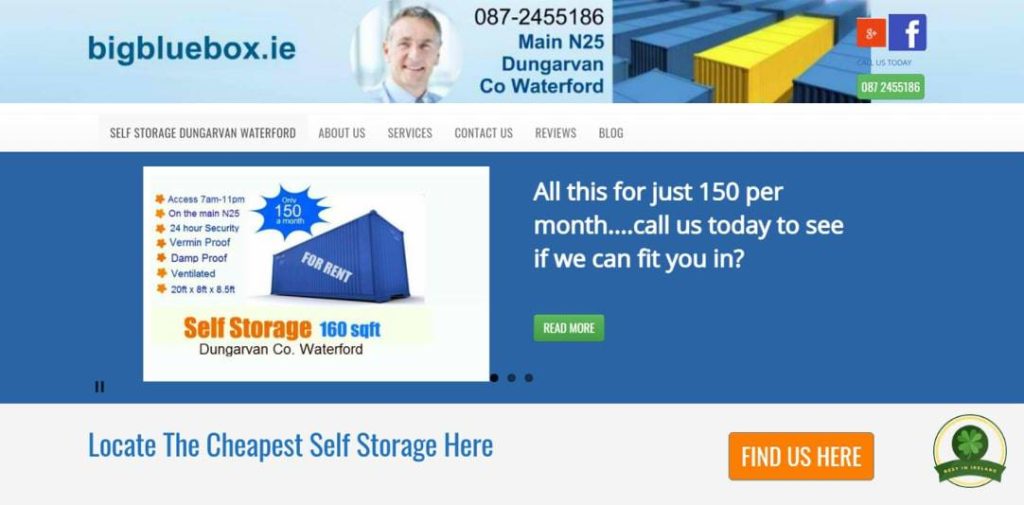 Located on the N25 Cork-Waterford Road, Bigbluebox self-storage offers 20 ft x 8 ft x 8.5 ft or 160 sq ft shipping containers for €150 a month.
In terms of security, these containers are double locked and monitored 24/7. It's completely dry and free of vermin and other hazards, so storing fragile material such as paper is also possible.
You can't access your things 24/7, but you may do so all week long, between 7:00 am to 11:00 pm. And if you need help with moving your things, Bigbluebox can provide assistance by referring you to their recommended mover.
On the other hand, as you may have noticed, this storage facility is only limited to 160 sq ft shipping containers. Hence, to get your money's worth, you'll need to store a huge amount of stuff.
Thus, they're most probably ideal for business clients who need to store multiple boxes of documents, equipment, and such.
All-week access
24/7 security
Has pricing info
Only offers 1 type of storage facility
Limited info on security features
No mention of discounts
Access is not 24/7
Customer Reviews
As proof of Bigbluebox self-storage's claims, the clients below comment positively on the security of their storage units:
"Thanks Tom for being so helpful to us when we used BigBluebox Storage in Dungarvan. Almost the full contents of our house was in the unit for 4 full months, the unit was totally airtight and secure, it was A1. Well done and I would highly recommend it. Very happy customers. Go raibh míle maith agat👏👏" -Siobhan Harrison
"Great facility to store anything. Clean and dry and very secure. Owner very helpful. No issues with extending time of box. Overall very happy with service." -Frances Stafford
6.   Rent-A-Box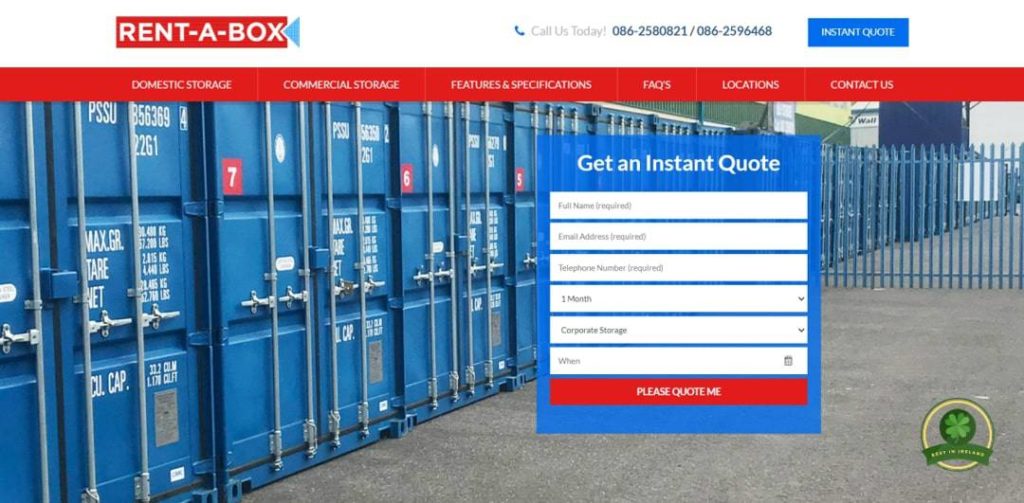 SERVICES
Storage
WEBSITE
http://rentabox.ie/
ADDRESS
Unit 6A, Six Cross Roads Business Park, Waterford, X91 VX70

Unit 10 Kilcohan Industrial Park, Kilcohan, Co. Waterford, X91 PF66

Ballindud Business Park, Ballindud, Co. Waterford, X91 Y971
CONTACT DETAILS
086-2580821
086-2596468


[email protected]

OPERATING HOURS
24/7
You can easily find Rent-A-Box in the county as they've got multiple storage facilities across Waterford, specifically in Six Cross Roads, Kilcohan, and Ballindud. Their Six Cross Roads branch, in particular, is just 5 minutes from Waterford City
And because their storage units are accessible 24/7, there's no need to worry about opening/closing hours. You can get your things at your own convenience.
They offer 20 ft x 8 ft x 8 ft containers, and based on the pictures on their website, Rent-A-Box's storage facilities look pretty neat. The units are checked daily and secured with a padded lock.
There's also CCTV monitoring, but if you're really concerned about security, their Kilcohan facility is more secure as it's located indoors, according to them.
Nevertheless, as we mentioned earlier, Rent-A-Box only offers 20 ft containers, so your storage options are very limited. And in terms of money perks, they didn't mention any discount offers such as for long-term leases and so on.
Multiple branches
Six Cross Roads branch is only 5 min from city
24/7 access
Minimum of 1 month rental term
No mention of discount offers
Only offers 1 type of storage facility
No pricing info
Customer Reviews
Customer Katie Kavanagh had a good experience with Rent-A-Box. Check out her full comment below:
"We went traveling for a year and needed somewhere to store out belongings. Rent A Box made it really easy to signup and move all out stuff in. Rent A Box felt safe and secure, the space was super clean and the 24 hour access meant it was easy to get to when we got back." -Katie Kavanagh
Tips for Selecting a Self-storage Facility
If this is your first time storing your belongings in a self-storage unit, you've got to take note of some things:
Rental period
Not all self-storage companies offer the same minimum rental period. For some, this could be 1 month, and for others, this could be 2 weeks or less.
So, this would depend on your needs. If you only need temporary storage, you might not get your money's worth if the self-storage facility's minimum rental period is way longer than the time you need to store your things.
Security
Another vital point to consider is security, especially if you're storing company equipment, important documents, and other items of value.
How secure is the storage facility? Are there CCTVs in place? If so, are they operational 24/7? What about other security features such as smoke detectors, fire alarms, pest control, etc.?
Storage size options
Again, this is not something that's uniform across different self-storage facilities. Some have a variety of storage sizes while others only offer shipping containers (as you may have noticed from our featured choices).
That's why it's a good idea to check out several self-storage facilities. There may be one offering a storage unit that's better suited to your belongings.
Access
Don't forget accessibility! This refers to how often you can access your belongings. Does the company provide 24/7 access? Or are you only allowed to get your things during their operating hours?
And if they offer an option to access your things 24/7, inquire if this requires higher fees.
Moreover, consider the storage unit's location. If you need to access your things a lot, then pick a self-storage facility that's not too far from your residence, along the road, and so on.
Special offers
Some self-storage facilities offer a variety of discounts. For instance, if you're leasing their storage unit for a long time, they can give this to you at lower rates.
Or perhaps if you pay in advance, that may also earn you some discounts.
In any case, ask about their discounts and special offers to see if you're a candidate for any.
FAQs about the Best Self-storage Facilities in Waterford
---
And that's a wrap for our list of the best self-storage facilities in Waterford! Hopefully, you found what you're looking for in this article!
We'd appreciate hearing from you if you know other self-storage facilities that should also be on this list. Just send us a message!
Are you feeling unwell? We've also made a list of the best doctors in Waterford, so make sure to check it out!