The 9 Best Web Design Companies in Waterford
Looking for an expert to build a quality website for your business? Our top picks for the best web design companies in Waterford have serviced plenty of clients across retail, education, healthcare, and other sectors.
In addition, we arranged a few tips to aid your search and researched answers to some FAQs about web design in general.
And because we're talking about the county's best web design companies, we'll need to discuss their rates as well, so continue reading!
Web Design Rates in Waterford
The costs of building a website depend on the scope of the work. There are many steps involved, such as planning, creating content, testing, marketing, among others.
The table below lists our choices' service prices for your reference. Some of our picks don't have online pricing matrices, so you may have to contact them.
WEB DESIGN COMPANY
SERVICE
COST
Ireland Website Design
Web design
Need to contact
Webie
SME website package
€1,250 + VAT
Online store website package
€2,440 + VAT
Business pro website
€2,540 + VAT
High-performance Cpanel web hosting
€89 per year
SSL certificate
€25 per year
.ie domain registration
€ 40
Whelan Web Design
Web design
Usually start from €3,000
Vitamin
Web design
Need to contact
Passion for Creative
Small brochure website package
From €2,000
Large brochure website package
From €4,000
E-commerce website package
From €6,000
Media Helm
Web Design
Need to contact
Web Design Company
Web Design
Web Development
Website Maintenance
Search Engine Optimization
Hosting & SSL
SME Website €450 (Limited Time Only)
E-Commerce Website €650 (Limited Time Only)
Business Pro Website €950 (Limited Time Only)
Viral Blog Website Full Website Package
€600 + VAT
Transpose Digital
Digital Marketing
Web Design
Need to contact 
The Best Web Design Companies in Waterford
Now that you've seen a sample of what you need to pay for, it's time now to check out Waterford's best web design companies!
1. Ireland Website Design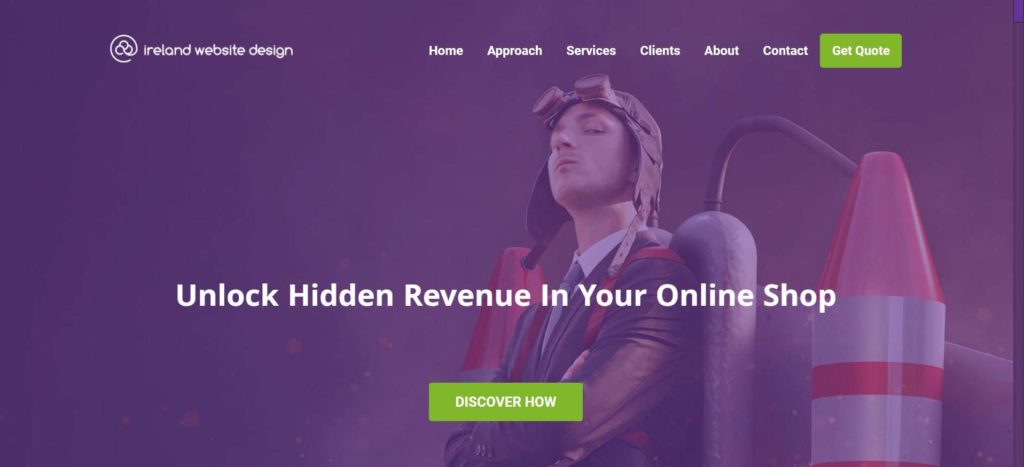 SERVICES
Strategy and consulting:
Business discovery & analysis, brand identity, digital marketing strategy, content strategy & copywriting, website management training, and SEO & marketing training

Creative design:
Website design, e-commerce design, mobile design, logo design & branding, print design, photography, video production, and virtual tours

Web development:
Responsive website development, content management systems, multilingual website development, e-commerce shops, website audits, website security, hacked website repair, servers & maintenance, booking systems, intranets & extranets, membership websites, and website accessibility

Online marketing:
Marketing strategies, search engine optimisation, pay-per-click marketing, local SEO, inbound marketing, and retargeting

Mobile apps:
Mobile app development and mobile app marketing

User testing and software development
WEBSITE
https://www.irelandwebsitedesign.com/
ADDRESS
Unit 4F, Six Cross Roads, Waterford
CONTACT DETAILS
051-325567
089-4278112


[email protected]

OPERATING HOURS
8:30 am to 5:30 pm (Monday – Friday)
We first featured Ireland Website Design in our best web design companies in Ireland article. Looking at their services offerings, it's no wonder they've landed on our list again.
Founded in 2010, this web design company has serviced multiple industries, including government, retail, healthcare, nonprofit, automotive, media, among others.
You know this company means business when it comes to web design as they've given a detailed discussion on the 8 steps they take in website creation.
Undertaken by their digital marketing strategist, their first phase (discovery phase) starts with knowing their client's business. This is then followed by their architecture, design, building, testing, and launch and warranty phases.
All their websites include a staff training phase, the extent of which depends on you. Finally, Ireland Website Design's last phase is centred on marketing.
Moreover, e-commerce is one of their key services. They can provide maintenance, hosting on Irish servers, and around the clock monitoring for your e-commerce website.
What's more, Ireland Website Design has learning resources available on their website such as whitepapers on website design, security, and online marketing as well as a learning hub filled with website design resources.
Consulting with them is also convenient as they're available via telephone or online aside from face-to-face meetups in their office.
Extensive list of services
Portfolio available
Offers telephone/online consultations
Has learning resources on website
Provides info on grants
Online payment available
Has pricing info
Only does custom designs
Closed on weekends
Customer Reviews
These two clients recommend Ireland Website Design. Find out why in their comments:
"I've had the pleasure of working with Nick and his team for a few years now. The team have helped us with a few E-commerce projects and always exceed our expectations. They really take the time to understand the business and what you are trying to achieve. I highly recommend Ireland Website Design to anyone in the retail industry looking to grow their business online." -Thomas Amos
"The team at Ireland Website Design are enthusiastic, creative & driven. Nick, Abby & Krystian have been great to work with. Supporting us in the creation of our Shopify website, consistently providing excellent advice. Highly recommended." –Geoghegans Ltd
2. Webie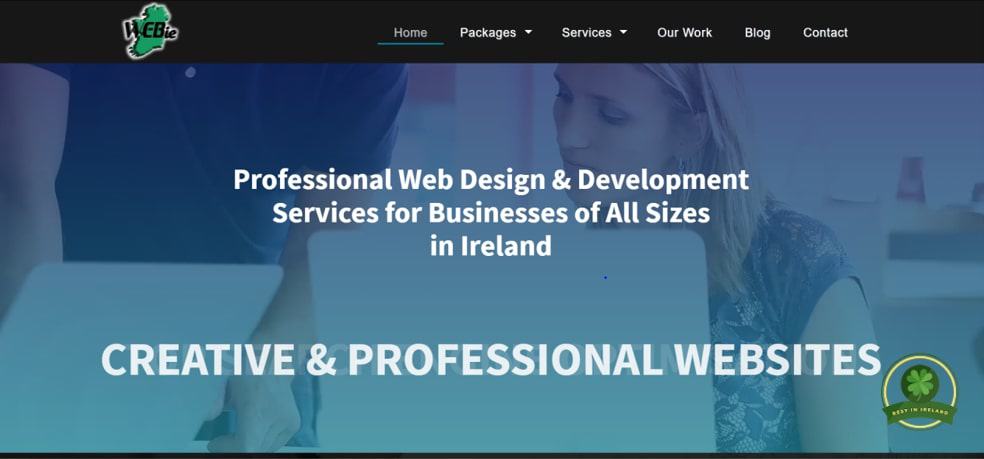 SERVICES
Web development:
Bespoke web design, re-design, CMS websites, e-commerce websites, and maintenance & repairs

Graphic design:
All graphic design and logo design

Mobile app development, SEO & digital marketing, and hosting, SSL, & domain
WEBSITE
https://webie.ie/
ADDRESS
Suite 1, Waterside Chambers, Waterside, Waterford
CONTACT DETAILS
+353 87 609 3738


[email protected]

OPERATING HOURS
9:00 am to 6:00 pm (Monday – Friday)
Based in Waterside, Webie is a fairly new web design and development agency as it was founded in 2016.
You can have an idea of their web design process since they've summarised it into 6 steps. Basically, their team starts with understanding your business, which is then followed by constructing mockups for each website page, content creation, and testing for performance and reliability.
Finally, once the site is live, Webie will be giving free support and maintenance for one month. And to help you manage your website on your own, they provide video tutorials that are recorded especially on your website.
Meanwhile, Webie offers three web design packages to choose from: an SME website, an e-commerce website, and a premium website. Hence, you'll already have an idea of their service rates before getting in touch with them.
Moreover, from what we've seen, Webie is one of the few web design companies to offer info on web design grants offered in the country. This is a great opportunity for business owners to get funding to develop their sites, especially since people largely purchase online nowadays.
In addition, Webie also offers web hosting and domain registration services—something other web design companies do not.
Offers info on grants
Also offers web hosting & domain registration
Has pricing info
Portfolio available
Online payments are available at https://www.webie.ie/pay-bills
Closed on weekends
No info on team
Customer Reviews
Here are a few testimonials from Webie's past clients:
"We got a quote from Webie and it was exactly what we wanted. Martin helped us every step of the way and he explained every single thing that we did not understand about e-commerce.The best thing is that he made as many changes as we wanted for our online store. Emails is the best way to contact them. The website design is good and at very good price. I recommend Webie." -Bandon Rewinds
"Delighted with the website and service that Webie provided us with. They offer quality service from a responsive and easily contactable provider." -John O'Sullivan
3. Whelan Web Design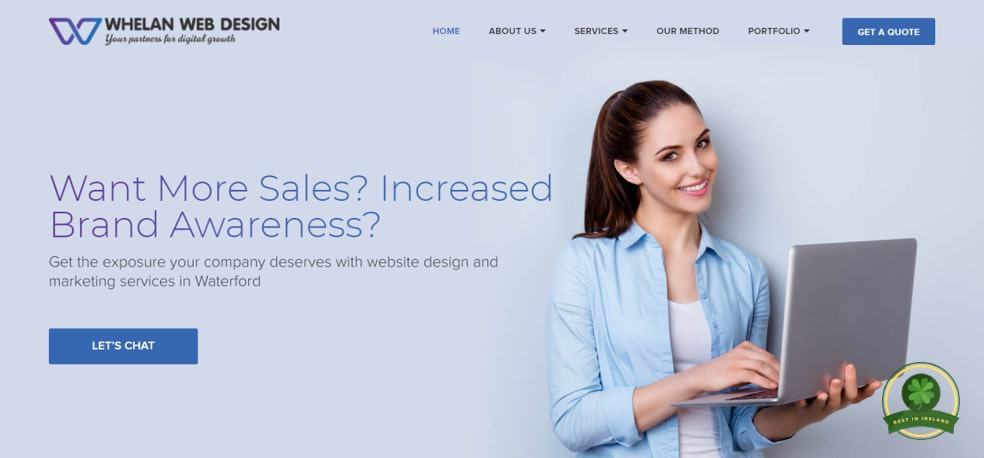 SERVICES
Brand & logo design, credit card payment gateways, content management systems, Irish domain name registration, mobile app development, online marketing, Waterford e-commerce website development, website makeovers, and website design
WEBSITE
https://whelanwebdesign.com/
ADDRESS
X91 FW95, 12 Kilbarry Rd, Six Cross Roads Business Park, Waterford
CONTACT DETAILS
051 – 325567
089 – 4278112


[email protected]

OPERATING HOURS
9:00 am to 6:00 pm (Monday – Thursday)
9:00 am to 4:00 pm (Friday)
9:00 am to 12:00 am (Saturday)
Whelan Web Design was founded more than 20 years ago. It boasts of having worked for more than 300 clients as well as completing over 500 projects.
Aside from Waterford, this web design company has worked with businesses from Wexford, Tipperary, Kilkenny, and other counties.
The process they take to build a website starts with planning and includes other steps such as content creation, development, and site testing. Whelan Web Design's team also provides training in the form of workshops and video tutorials to help you run the website on your own.
In terms of content management systems, Whelan Web Design specialises in WordPress, Joomla, and Shopify. They also use Magento and Drupal.
Meanwhile, if you're selling products or services on your website, they can help with setting up a variety of e-commerce features such as multiple payment gateway options, easy-to-use checkout, multi-currency functionality, shipping options, and such.
According to them, their projects usually start at €3,000—it all depends on the scope of the work. And if you've got no time to meet them on weekdays, Whelan Web Design is also open on Saturdays.
Open until Saturday
Online payment available
Portfolio available
Also offers domain registration
Has pricing info
Closed on Sundays
No mention of photography/video services
Customer Reviews
This client praises Whelan Web Design's expertise:
"Highly skilled team with a wealth of technical and business knowledge. Capable of quickly analysing business requirements and producing fast, stylish and high-quality wesites." -Liam Power
Duke Gray, another client, contacted Whelan Web Design for a Shopify project. Check out his feedback:
"Met Nick & Krystian at a conference a long way away from Ireland (Denver in the US to be precise). The guys know Shopify inside and out and when we had a big ask for a Shopify Plus store development for a US department store we had to pull the guys in on the project. It was a pleasure working with them, they knew the platform so well. Our clients loved working with the guys and the project went live to more sales than ever. . ." -Duke Gray
4. Vitamin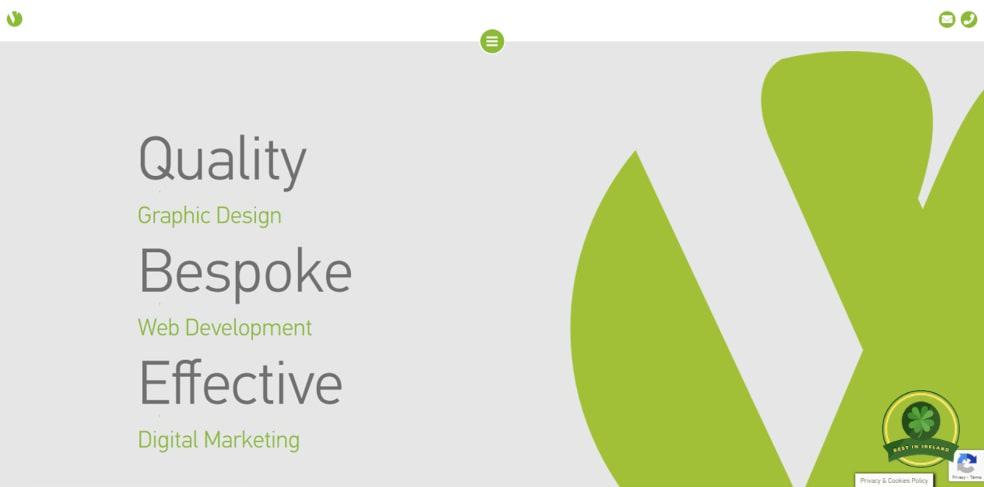 SERVICES
Graphic design:
Logo & branding, infographics, and brochures, magazines, & reports

Web design:
Web design & development and e-commerce

Digital marketing:
Social media, SEO & support, search engine marketing & PPC, content creation, and communications
WEBSITE
https://vitamin.ie/
ADDRESS
Floor 2, Ware Court, Sargeants Lane, Waterford, X91 DD83
CONTACT DETAILS
051585210


[email protected]

OPERATING HOURS
9:00 am to 5:00 pm (Monday – Friday)
Based in Sargeants Lane, Vitamin is a graphic design and web development company founded in 2006.
From their website alone, you can already see their design prowess as it features a catchy and artsy design, so if you're after a similar concept, you might want to check them out.
Concerning content management systems, Vitamin specialises in WordPress and WooCommerce, an e-commerce platform.
Their web design process begins with learning your site's visitors wants and needs and how to best show this to them so they end up purchasing.
Vitamin's team will then focus on developing the user interface (UI) and user experience (UI) design, followed by coding and testing. After your site's launch, Vitamin offers support services, including digital marketing, such as social media and SEO.
As a graphic design company, they also offer a range of design services which includes logo and branding, infographics, as well as brochures, magazines, and reports.
What's more, Vitamin even renders photography services both on location or in their studio. So, if you want to use pictures no one else has on the Internet, you can avail of this.
Nevertheless, we noticed that their content management system software seem limited to WordPress and WooCommerce.
Has photography services
Specialises in WordPress and WooCommerce
Portfolio available
Closed on weekends
Limited to WP and WooCommerce
No pricing info
Customer Reviews
Check out these clients who used Vitamin's services:
"At Frontline Audio Visual we are delighted to have chosen Vitamin to design and create our new website. We are really happy with the final result. David Manser and the team at Vitamin are a pleasure to deal with and made the project seamless and painless for us. 10 out of 10 for customer service and creativity." -Frontline Audio Visual
"Great graphic design, good attention to detail. Highly recommended." -Kevin Heung
5. Passion for Creative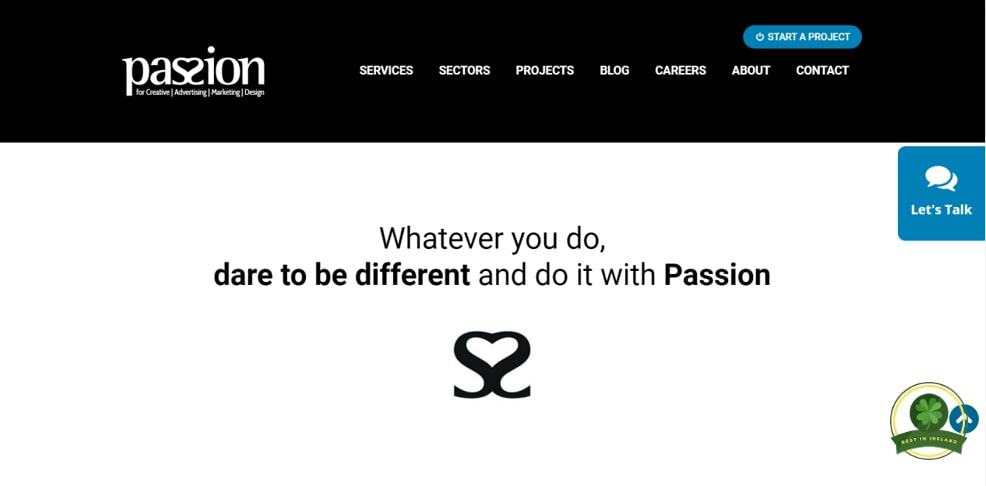 SERVICES
Branding:
Brand strategy, big idea, logo design, and names & taglines

Digital:
Website design & development, search engine marketing, social media strategy, online video, and email marketing

Print:
Brochures & leaflets, press ads, packaging, and signage

Marketing:
Marketing strategy, direct marketing, copywriting, and photography
WEBSITE
https://www.passionforcreative.com/
ADDRESS
City Enterprise Centre, Waterford Business Park, Cork Road, Waterford, X91 HK26
CONTACT DETAILS
+353 (0) 51 580 969


[email protected]

OPERATING HOURS
9:00 am to 5:30 pm (Monday – Friday)
Passion for Creative may be a marketing agency, but it also specialises in web design. Their past work is grouped according to industry, so you can easily check out their projects and clients which range from retail to education and training.
Passion for Creative offers 3 website packages with prices starting at €2,000. Their small brochure website package includes up to 5 pages; their large brochure website package, about 10 pages; and finally, their e-commerce website package, about 15 pages.
Note that their prices are only meant as a guide as this could go higher depending on your needs. For instance, their packages do not include custom photography/online video, copywriting, third party costs (e.g. web hosting), among others.
Speaking of photography, Passion for Creative works with multiple photographers across Ireland. They can also produce online videos (including scripts) for social media and websites.
And of course, as a marketing agency, you can take advantage of their marketing expertise to grow your business.
Passion for Creative will write a marketing plan for you and, if you need to market your brand across different channels (e.g. social media, personal communication, etc.), they can help with that as well.
On the flip side, you might notice that they don't offer other digital services that their competitors offer such as web hosting and domain registration, for instance. Hence, you'll need to contact other companies for these services, which are also needed to launch your site.
Online payment available
Has pricing info
Works with multiple photographers
Portfolio available
Digital services seem limited
Content management systems not mentioned specifically
Closed on weekends
Customer Reviews
Gill, a client, had a good experience working with Passion for Creative. Read her full comment below:
"It was a pleasure working with everyone at Passion For Creative. From the get go, they are approachable, friendly, enthusiastic and full of ideas for creating a new website that not only works for you but takes into consideration all who would be looking at it. Excellent service and support provided. Very easy to talk to and discuss ideas with. Thank you to all, especially Jill, Dan and Darragh, I look forward to working together more in the future." -Gill Pringle Doyle
6. ZOMA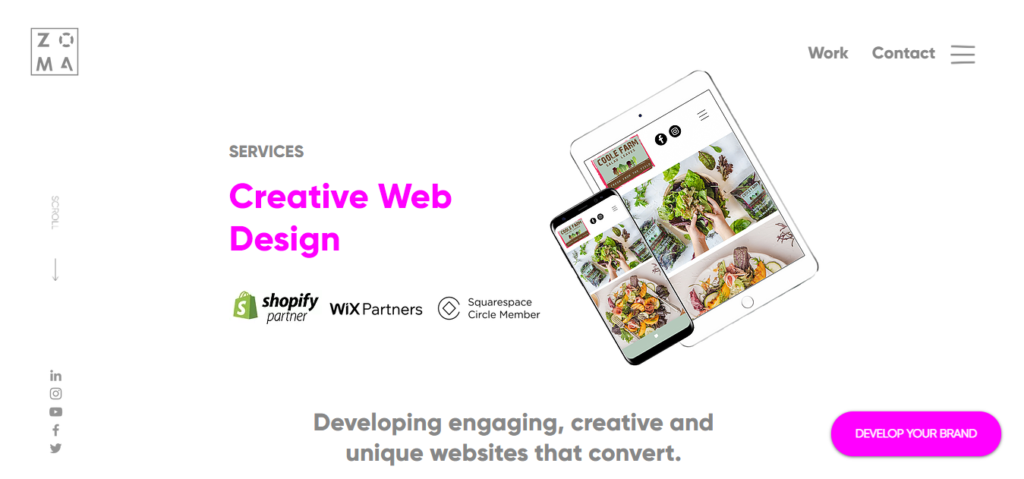 ZOMA is an award-winning web design agency in Waterford that specializes in bespoke website design. A few types of their designs are brochures, booking systems, and landing page websites.
What makes them unique is their passion, creativity, and dedication. They always strive to provide the best service to every client to ensure that they will be more than satisfied with their work.
No matter what type of industry you are in, there is a high chance that they will still be able to create you a website. They cater to the following industries: Corporate, Personal Brands, Health and Wellness, Fashion, Hospitality and Food, Tourism, Sport and Events, Construction, Property and Architecture, Agri Production, Medical and Pharmaceutical, and Automotive and Manufacturing.
With them, your company will increase more in profitability and awareness, you will be able to reach the correct target market and audience, and customer contact and leads will also definitely increase.
Unfortunately, their rates are not available on their website.
Wide range of services
Unique designs like no other
Designs are modern and fun
Operating hours are unavailable
7. Media Helm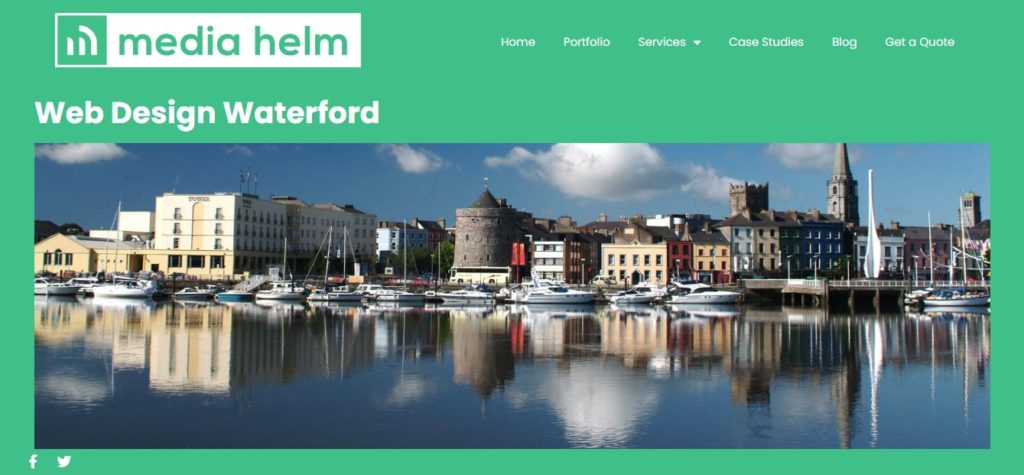 SERVICES
Web Design, Identity and Print Design, Photography and Video Production
WEBSITE
https://mediahelm.ie/
ADDRESS
Boxworks, 40-44 Patrick St. Waterford, X91 X3KF
CONTACT DETAILS
(+353) 087 960 3448
[email protected]
OPERATING HOURS
Monday – Friday: 9AM – 6PM
Saturday: 10AM – 5PM
Media Helm is a creative agency that specializes in creating interactive and innovative websites for small to medium businesses in the Waterford area. Though they do offer similar services in Dublin, Cork, and Galway, they have since then used their services to strengthen and form partnerships with companies they have worked with to better develop their craft.
We think that they have a deep understanding of the website algorithms and the market in the areas that they serve so that their websites are not only geared for numerous devices but also grounded on concrete research.
Consistently staying ahead of the online trends, they are able to revamp, create and boost companies to better attract customers with an interactive and user-friendly design.
Another asset we find notable is their design team which is comprised of professionals with the technical know-how and are part of various interrelated fields to better execute the website wherein the client's company can truly stand out and make a name online.
Though there aren't packages and rates of their services, clients can readily get a quote on their website that is within their budget and expect a steadfast reply from them in a timely manner.
User-friendly designs
Accommodates various local areas
Multi-disciplinary team of developers
Steadfast services
Packages unavailable
Closed on Sundays
Customer Reviews
Here are some reviews from their clients:
"I approached Media Helm to completely re-design my website which had become old and ineffective. They came up with a refreshing, clean and professional design and worked with me to tweak until I was fully happy with it. I am delighted with the result."
"I found the people at Media Helm to be very professional from the start of our business relationship. We worked well together redesigning my e-commerce website and I found the guys easy to contact and they replied promptly.Also if any small problems popped up during the redesign it was corrected and improved swiftly."
8. Web Design Company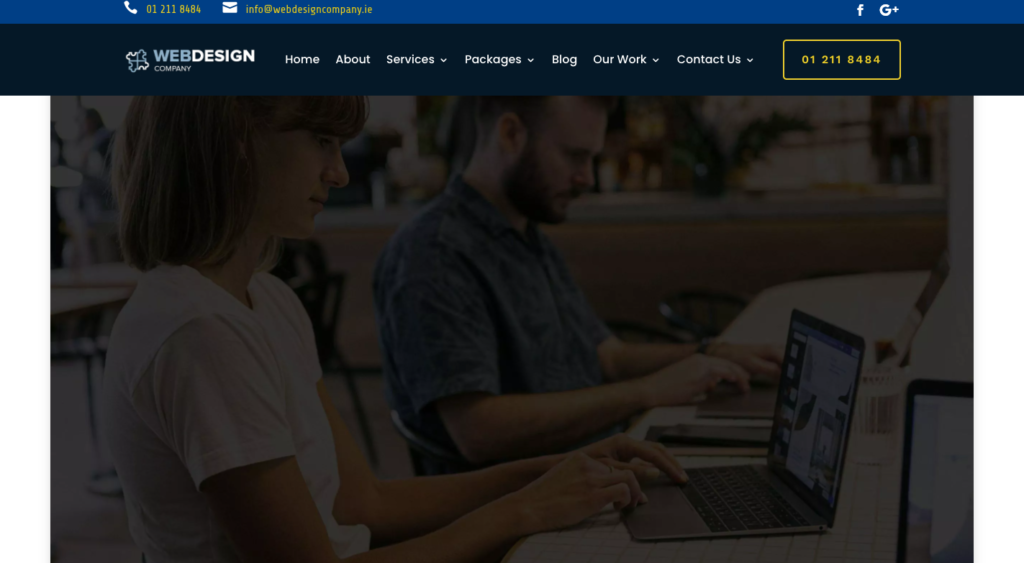 SERVICES
Web Design
Web Development
Website Maintenance
Search Engine Optimization
Hosting & SSL
WEBSITE
https://webdesigncompany.ie/
ADDRESS
Unit 12, ACE Enterprise Park, Bawonogue Road, Clondalkin, Dublin, Dublin 22, Ireland
CONTACT DETAILS
Phone: 01 211 8484
Email:

[email protected]

OPERATING HOURS
Contact them for more information
Users discover new websites on the top pages of the Google search engine with each online search. They visit your website, learn about your company, and then decide whether or not to use your products or services. Your website's first impression can make or break your business.
Good thing that we were able to came across Web Design Company.
Web Design Company is a top-tier web design firm in Ireland dedicated to improving digital experiences for businesses by providing innovative and creative design solutions that serves businesses of all sizes.
This company enhances your brand's visibility, build audience engagement, and drive more sales through innovative web design, excellent functionality, and superior performance.
As one of the leading web development companies in Ireland, they understand that each client has a unique set of requirements. As a result, they concentrate on developing designs that are innovative while also evoking empathy in order to increase customer engagement. They help the designs work wonders for your business by using effective branding and strategy.
Their web design and development professionals strive to create high-quality websites at a reasonable cost for local businesses, eCommerce portals, start-ups, and established businesses in a variety of industries.
To provide top of the line design solutions, their team of web developers and designers keeps up with changing trends. Whatever they do, they do it with your development and website design preferences in Ireland in mind.
Free enquiry
Covers the following areas: Dublin, Cork, Galway, Clare and Limerick
No hidden fees
Cannot find their operating hours online
Customer Reviews
Here are some reviews from their clients:
"Thank you again. I am extremely pleased with what you have produced for us. We have been particularly grateful for the customer service we have received. It is very impressive what you have done with the tight deadlines we had." – Patrick
"As usual very helpful, nothing to much trouble and the end result as I envisaged. Good price point, you pay for what you get and Fluid are full value for money." – Oisin
"First class web design service, I cannot recommend them highly enough. They clearly understood what I was looking for and interpreted my brief precisely. They have an excellent structure for getting all the information from the client which takes away a lot of stress and makes the process easy. I now have another site I want to create and I won't be going anywhere else!" – Ryan
"With myself having no experience in website design and being particularly technical, the guys at Fluid Studios were a great help, particularly Mark who went to great detail and length to help get the new website up and running, and did so in a very friendly manner. Excellent customer service. Excellent Product. Would Definitely Recommend." – Dara
9.   Transpose Digital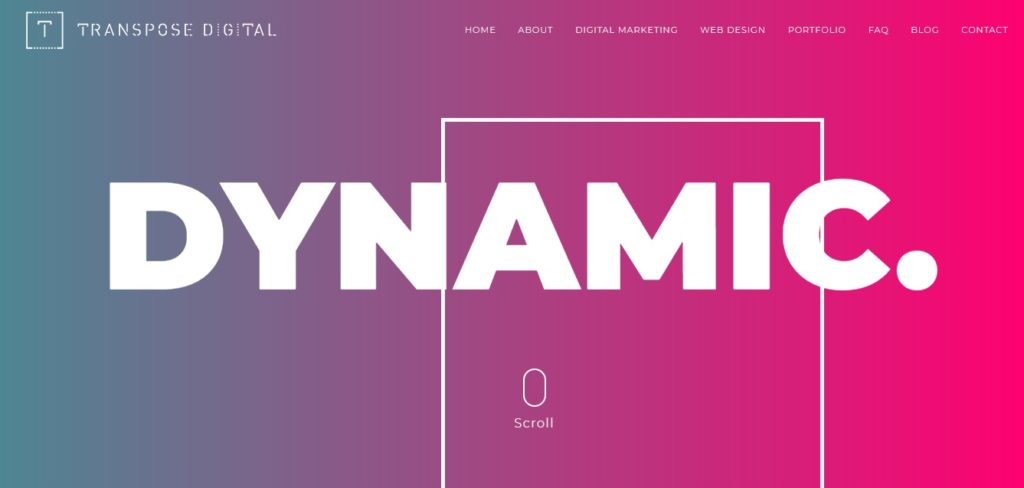 Transpose Digital is a digital marketing agency that accommodates a wide range of online marketing services that can help clients grow, reinvent, and establish firmly their business in the online world and attract more customers in the long run.
Described to be efficient and convenient to work with, their professionals make sure to include the clients themselves during the whole process to ensure that they all stay in control of their business from day one.
Furthermore, they also apply and have knowledge of a variety of online platforms which they can utilize and maximize to better help potential customers know more about the client's business and be interested in their services.
Though note that clients may need to enquire or fill up a form online to receive accurate quotations of their services since rates aren't readily available.
Overall, with their prompt communication, and diverse experience in web design and online marketing, we highly recommend them to clients who would like to boost their presence online in various platforms.
Highly versatile online marketing strategies
Communicative personnel
Accommodates various platforms
Customer Reviews
Here are some reviews from their clients:
"I worked with Joanne and Aaron to build our website for my retail business. I cannot commend them enough. They far surpassed what I ever though would be possible for our store. Our website looks incredible and is perfectly user friendly. They built me a very user friendly site that I can confidently update myself." – Lisa Connolly
"Highly recommended! A great team who have helped me get my work in front of the clients that work for my business – my wedding photograph business has seen huge growth in sales since I've had Joanne and Aaron working with me." – Keith Sullivan
How to Pick a Good Web Design Company
You tips below can help guide you in selecting a web design company:
1. Portfolio
Check the web design company's portfolio. This contains samples of their past projects and clients.
Look at the websites they've made for their clients. How was it designed? Is it user-friendly? Does it look fresh and engaging?
Take note of their clients. Have they serviced multiple clients? From what industries do these clients belong?
See if you can find a client who belongs to the same industry as yours. This will automatically tell you that the web design company does have experience in that area.
2. Website
Similar to checking the web design company's portfolio, take note of their website. The design doesn't have to exactly match your style and preferences, but it should be a quality website.
Does it look professional? Is it easy to navigate? Is the content updated? These are some of the things to look out for.
3. Pricing
Creating a good website entails a variety of services. So make sure you know exactly what you're paying for.
For instance, if the web design company offers website design packages, check what's included and excluded.
Like, how much editing is included in their standard service? What about content creation, marketing, photography/video production services, and so on?
Also, from what we've seen, web design companies usually offer support services after the site's launch. If they offer this for free, know how long it is offered.
FAQs about the Best Web Design Companies in Waterford
---
And that concludes our list of the best web design companies in Waterford! Hopefully, you found someone you liked among our choices.
Know other web design companies that should also be here? Let us know your thoughts! We'll check them out ASAP.
If you're planning to have a website, you'll need web hosting services. Read our list of the best web hosting companies in Ireland to view our selections!