The 8 Best Recruitment Agencies in Cork
Calling employers and job seekers! Our selections for the best recruitment agencies in Cork have got you covered, be it to fill in your company's vacancies or to land your newest job.
Still unconvinced as to how you can benefit from using a recruitment agency? This article will try to answer that in the FAQs we've included.
We also gave some tips that'll help you better choose the right recruitment agency.
Recruitment Agency Service Costs in Ireland
How much will a recruitment agency cost you? As explained by RECRUITERS, job seekers do not have to pay recruitment agencies.
For a recruitment agency to hold an agency licence, they can only charge clients, that is, the companies that hire them to find employees.
Usually, the fees that clients have to pay are a percentage of a candidate or a job seeker's salary.
In a survey conducted by Social Talent on a selection of Irish recruitment agencies, the results showed that on average, employers will be charged between 17.5% to 20% for a permanent contract and 10% to 20% for a temporary contract.
Don't worry, though. This doesn't mean that this fee will be taken off of your salary once you land a job with a recruitment agency. It's only how the fee is calculated, which the employer directly pays the recruitment agency.
The Best Recruitment Agencies in Cork
Ready to see our top choices? Here are Cork's best recruitment agencies!
1. CSA Personnel Consultants
CSA Personnel Consultants is no newbie to recruitment as they've been in the industry since 1967.
Located in the centre of Cork City, they're a recruitment agency that posts job openings from multiple sectors, so different types of job seekers may find them helpful. Some of these sectors are finance, sales, healthcare, software, fashion, and so forth.
Registering with them is simple. You just have to email your CV and include details such as your desired role, expected salary, etc.
Or, you can respond directly to one of their job postings if you found one you like.
For employers, CSA Personnel Consultants can fill in your vacancies, be it permanent, temporary, or contractual. Moreover, if you need a remote worker, they have a team of virtual assistants who provide 24/7 support.
Meanwhile, one notable characteristic of CSA Personnel Consultants is their referral scheme that'll benefit both job seekers and employers. If you meet their requirements, you may earn €200 or a €200 voucher.
Offers permanent, contract, virtual and temporary roles
Offers referral benefits
Offers virtual assistant services
Job listings are limited to Cork
No other branch aside from Cork
Closed on weekends
Customer Reviews
The following clients were all praises for Sam Nicholson, CSA Personnel Consultants's recruitment manager:
"Sam has been a pleasure to deal with. He went above and beyond to secure me a great job. Communication was excellent and very helpful in giving feedback. I would highly recommend CSA personnel." -Marguerite Mckenzie
"Sam is a true professional and was excellent in keeping me informed throughout the whole process which is invaluable. I would highly recommend." -Trad Routes
"Sam is an absolute gent who I'd happily recommend to anyone for their recruitment needs." -James Kelly
2. FRS Recruitment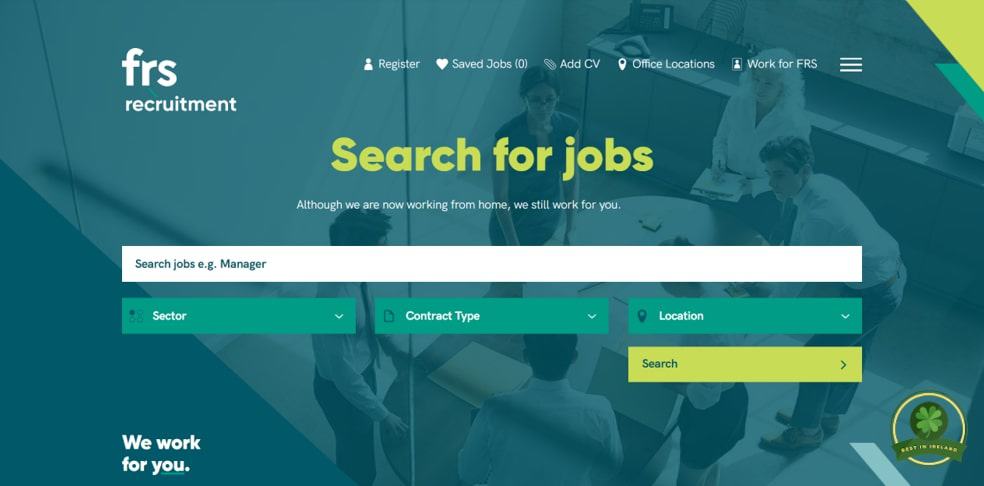 Are you open to job openings outside of Cork? FRS Recruitment posts vacancies from across the country, so check them out.
Additionally, this recruiter has a large presence in the country, operating in 9 other counties aside from Cork, including Tipperary (their head office), Dublin, Cavan, Galway, Kerry, Offaly, and more.
You can quickly find your preferred job listing in a few clicks using FRS's search engine. Or, you can also opt to browse by sector or by location.
They offer employment for a lot of industries. Particularly in Cork, some of FRS's supported industries are healthcare and medical, information technology, construction, life science and engineering, agriculture, and accounting and finance.
As for employers, FRS's website contains info on its consultants, so you'll have an idea of who you'll be working with to acquire needed employees. In particular, you'll know the positions a consultant is currently recruiting for.
Has multiple branches
Nationwide jobs available
Has services for Irish expatriates
Offers full-time and part-time work
Closed on weekends
No mention of referral benefits
Doesn't offer international jobs
Customer Reviews
Lyndsay Hughes particularly complements an FRS team member in her feedback:
"I had the pleasure of having Felicity Farrell from FRS Recruitment help me through every step from applying for a position right through to the interview phase and also when I was offered the job. She was a fantastic help especially with tips on interviews and questions and also checked in to see how I got on and making sure that I was well prepared. Would recommend to a friend." -Lyndsay Hughes
Are you an expatriate? Charmaine Fenech is a client who landed her first job in Ireland through FRS. See what she had to say:
"They found me my first Job in Ireland as an Expat! As soon as I sent in my CV they contacted me and set me up for an interview within a week!! Super responsive and very helpful with location and individuals who are re-locating from other countries! Also provided a pack about the area where I was moving to with all the details for hotels/accomodation/health centers/ solicitors etc… !!. . ." -Charmaine Fenech
3. Osborne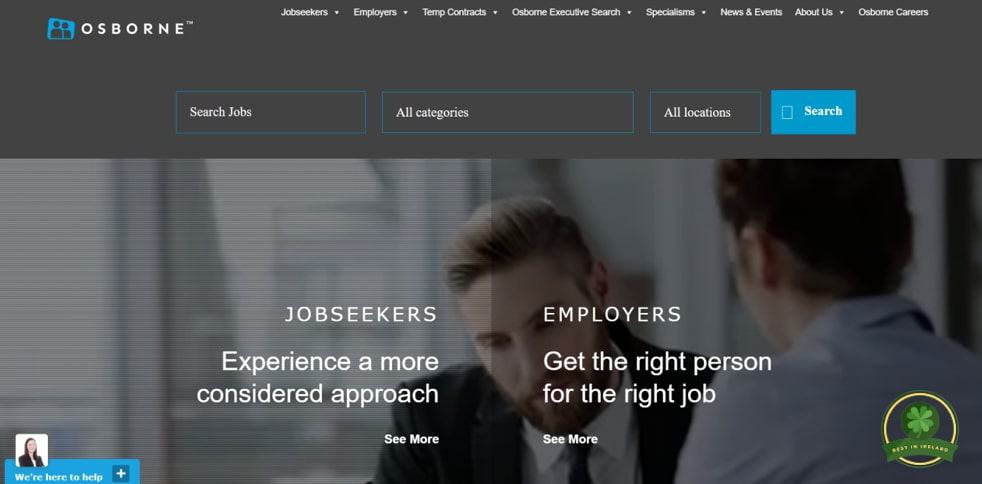 Osborne's Cork office was opened in 2019 and is just one of their 7 offices in Ireland. This recruitment agency also has an international office located in Canada.
Another multi-industry recruiter, their specialist sectors include sales and marketing, technical and engineering, accounting and finance, office, secretarial and customer service, IT, executive, and HR and legal appointments.
Speaking of executive, if your company needs to fill in senior and leadership roles, Osborne has an executive search team that can help you find professionals across multiple industry groups.
On top of this, if your company is restructuring or dealing with a redundancy situation, they also provide outplacement services.
In addition, Osborne's website contains a salary guide employers might find worth checking out. And for job seekers, there are job opportunities from all over the country, which you can apply to in a few clicks.
Moreover, Osborne also offers international recruitment, benefiting both job seekers and employers.
Wide service coverage
1 international office
Nationwide jobs available
Offers international recruitment
Offers outplacement services
No mention of referral benefits
Closed on Sundays
Customer Reviews
Take a look at Sharon Thomas and Diarmuid Gillingham's positive feedback concerning Osborne Cork's staff:
"I recently was helped by an Osborne Recruitment Cork employee named Aoife O Driscoll. Over a three month job search, I worked with many recruiters. I found Aoife and Osborne to be one of the best. Aoife was very responsive to all my questions and was always willing to help. . ." -Diarmuid Gillingham
"I had the pleasure of dealing with Meaghann Murphy in Osborne recruitment in Cork. She was professional, efficient and very friendly, the customer service was excellent and I would highly recommend Osborne recruitment for all of your recruiting needs. Excellent service. I also dealt with aoife and she was also very professional and efficient." -Sharon Thomas
4.   HERO Recruitment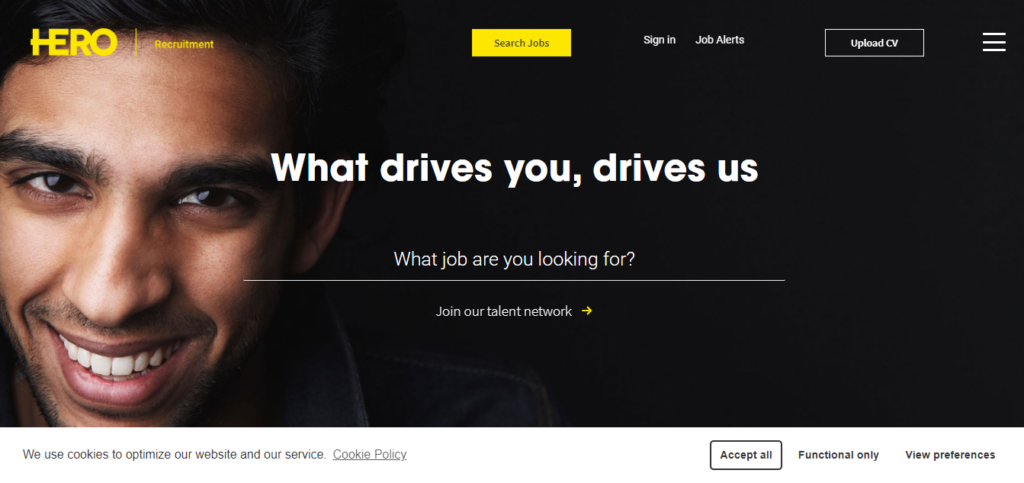 WEBSITE
https://www.hero.ie/
ADDRESS
Penrose House,
Penrose Quay,
Cork, Ireland, T23 V38E
CONTACT DETAILS
+353 91 730022
Ph +021 2066287
linkedin.com/herorecruitment
OPERATING HOURS
Contact for information
HERO Recruitment only finds the best is people in Ireland. What's recommendable about them is how hard they work to promote a partnership of trust and respect with each employer and career seeker.
Whether you are a recruiter or looking for a job, they are the perfect company to go to. In comparison to other recruitment companies, they have a wide range of talent solutions and talent attractions tailored just for you.
They have recruitment Process Outsourcing, On-Site Recruitment Teams, FDI Start-Ups, Graduate Programs, and Project Scale-Ups for their talent solutions. While for talent attractions they have Employer Branding, Career Websites, and Talent Attraction Campaigns.
We think they are one of the best recruitment companies because they only choose the most appropriate candidate that would fit the job description.
They have numerous business sectors. Some of these are Engineering & Technical, IT & Software, Quality, HR/Training/Recruitment, Supply Chain & Materials, Environment, Health, & Safety, Science, Pharmaceutical, & Food, Executive & Management, Production & Manufacturing, and Finance/Banking, & Insurance. So if you see your area of expertise in this list, visiting their website may be the best choice for you.
21-member team
Easy website interface
Multiple locations
Award winning
Operating hours are not mentioned
Customer Reviews
Here are some testimonials from their clients:
"I have found it very easy to work with Karl in HERO Recruitment – he has a very positive approach, is always supportive and very knowledgeable and experienced in recruitment. He has such a pleasant personality and has the insight and expertise to match the person to the job. Always ready with advice and encouragement – meeting Karl has allowed me to take a completely different career path with confidence and ease. Thank you Karl." – Aelmuire Mullaney, Fraud and Breach Coordinator – CyberScout Ventures
"HERO Recruitment's dedicated and knowledgeable staff presented me with numerous suitable graduate jobs. When I chose my ideal job they helped me with interview techniques and tips, which allowed me to give the best account of myself on the day of the interview. I would recommend HERO recruitment to any job seeker, particularly graduates." – Andrew Waters, Mechanical Technician – Sempre Technology, Netherlands
5.   Sigmar Recruitment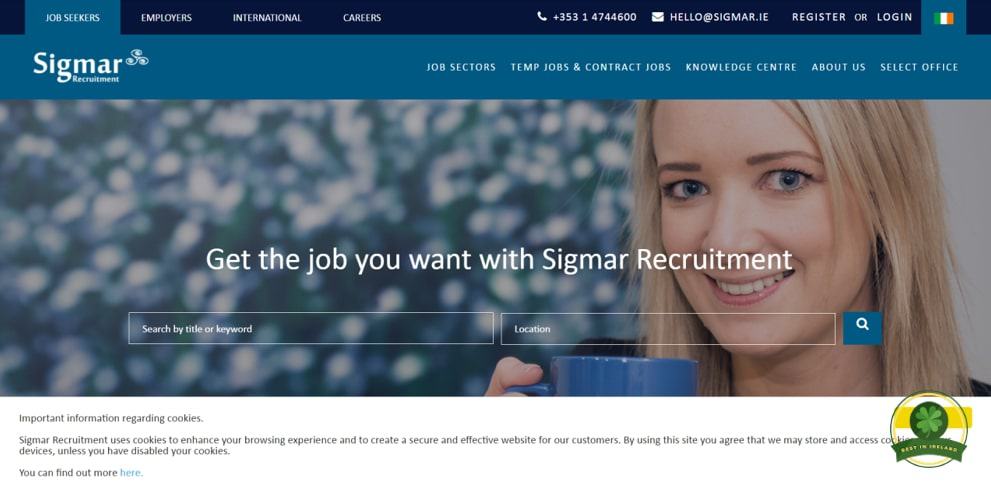 Heads up, IT job hunters! If you want to build or continue your career outside of the country, Sigmar Recruitment offers IT job listings in Europe such as Germany and Sweden.
Some of the IT areas you can choose from are web development, data science and business intelligence, software development, and so on.
This doesn't mean Sigmar only focuses on the IT industry. You can find jobs from sectors such as construction, accountancy and finance, marketing, science and pharmaceutical, multilingual, remote working, and so on from all over Ireland.
And if you're after a non-permanent job offer, you can register with Sigmar for a variety of temporary, contract, part-time, and flexible hours jobs.
Moreover, Sigmar operates more than 150 recruitment specialists in 5 branches, namely, Dublin, Athlone, Galway, and Tralee, including Cork.
Nationwide jobs available
Wide service coverage
International jobs available
Has salary guide on website
International jobs limited to IT industry
No mention of referral benefits
Closed on Sundays
Customer Reviews
Sigmar Recruitment has over a hundred 5-star reviews online. Find out what some clients think about them in more detail by reading the comments below:
"Marcel was 100% committed to finding the right role for my skill set. We were not content just to get a job but had to be the right fit for future development. Always throughout the process would be there if needed. If anyone needs career advice or thinking of a new challenge just do not hesitate to contact Marcel." -Steve Johnson
"I found Sigmar extremely helpful and easy to work with. They were thorough, friendly and they offered me great advise and guidance for the interviews. I had several prep calls which were specific to the company and the role rather than it being generic. I would highly recommend them!" -Julie Browne
6.   Collins McNicholas Recruitment & HR Services Group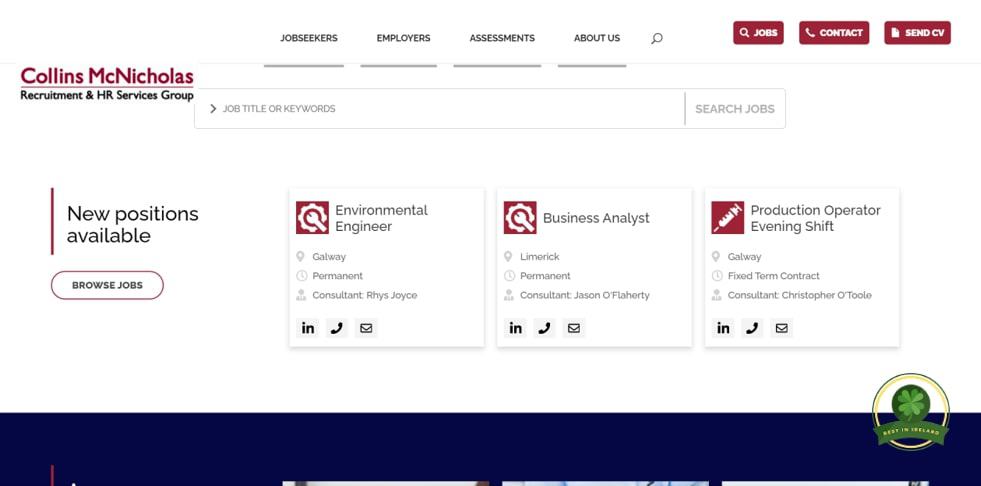 Established in 1990, Collins McNicholas Recruitment & HR Services Group's most noteworthy feature is that it doesn't just provide workers for companies.
To start with, they also recruit professionals for the life sciences sector worldwide, specialising in pharmaceuticals, biotechnology, medical devices, and commercial solutions.
Furthermore, they offer interviewer training (delivered by their HR Services team) and help both employers and employees facing redundancy through their Outplacement Plus programmes.
Meanwhile, for job seekers, you'll find plenty of jobs from all over the country, be it a permanent, fixed-term contract, temporary, or part-time role. Plus, there are also job postings from mainland Europe.
What's more, if you're a foreigner who's thinking of landing a job here in the Emerald Isle, Collins McNicholas can assist you.
Finding accommodation, booking a flight, visa application, applying for social security/PPS number—-these are some of the things they can help you with as regards the relocation process.
Has multiple branches
Nationwide jobs available
International jobs available
Helps foreigners find employment
Offers other services aside from recruitment
Need to fill out form to download salary guide on website
Closed on Sundays
Customer Reviews
Collins McNicholas's positive reviews from its clients are proof of the quality of its services. Here are some of them:
"Very professional from start to finish. Michael O Brien made me feel important and comfortable and always made time to alleviate any concerns I had. The advice was invaluable and the follow through even after I secured the job, was a lovely gesture. Couldnt fault them at all…they really look after you." -Avril Wallace
"They are professional and it was amazing dealing with them, very respectful, and very caring." -William Al menim
"I would highly recommend Collins McNicholas as a recruitment agency to work with very professional to deal with who offer excellent support to candidates in all areas of the process." -Colin Mullin
7.   Servisource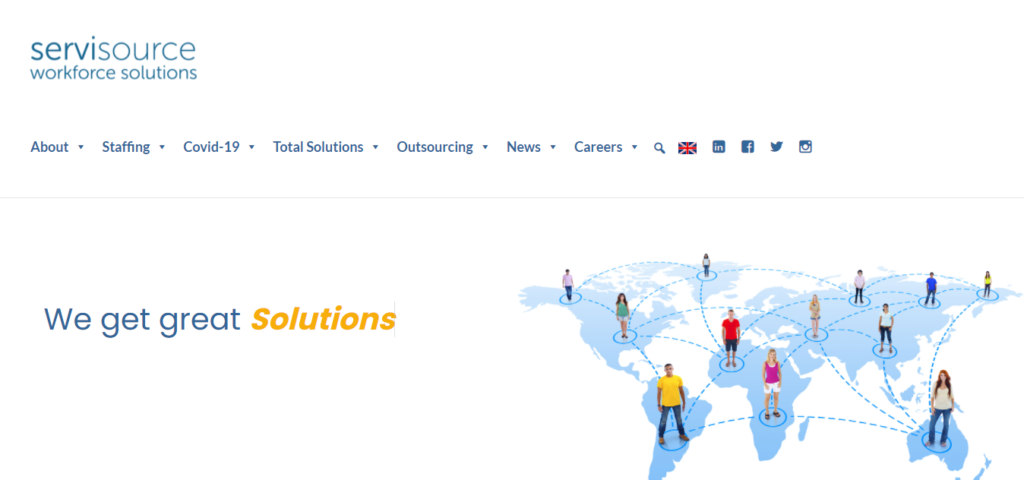 WEBSITE
https://servisource.ie/
ADDRESS
Ireland
CONTACT DETAILS
Freephone: +1 800 603 604
E-mail:

[email protected]

OPERATING HOURS
Mo, Tu, We, Th, Fr: 7:00 am – 11:00 pm
Sat: 7:00 am – 11:00 pm
Sun: 7:00 am – 11:00 pm
Open 365 days per year
Servisource can absolutely help you achieve your dreams. they are a leading provider of high-quality and innovative recruitment and managed solutions across a number of sector specialties.
What's great about them is that they both provide local and personal service with a national and international reach. This can give you even more opportunities than you could ever imagine.
Another thing we like about them is that they support clients to solve capacity or skills challenges through the provision of a bespoke managed staffing service or a managed facilities and staffing service that supplement or increase capacity, clear waiting lists and deliver results.
Regarding their staffing, they offer a great number of sectors. They have Healthcare, Business Support, Construction, Engineering, Pharma, Food Production, Manufacturing, and Facilities Management.
In addition to this, they also have international recruitment, temporary placement, pre-employment screening, contractors, and permanent placement.
Has branches in UK and India
Over 20 years of experience
8.   Ward Personnel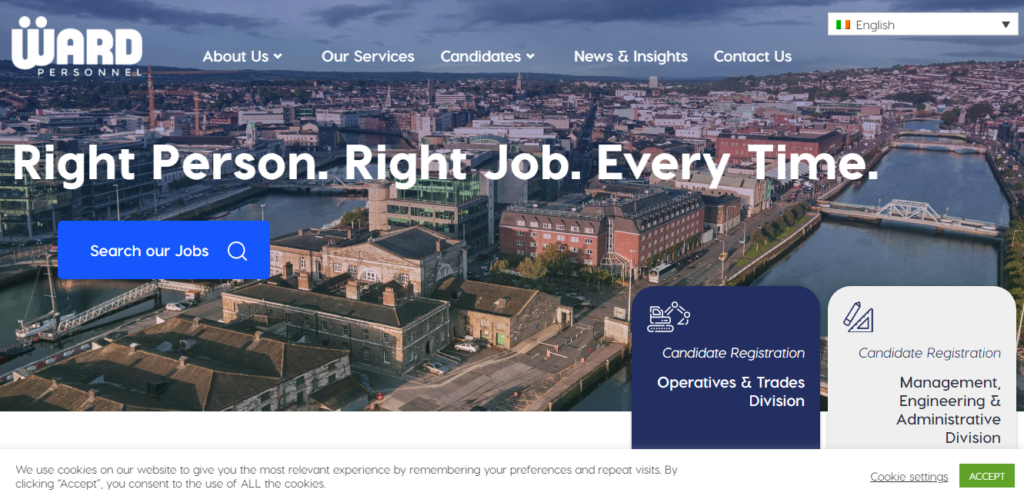 WEBSITE
https://wardpersonnel.com/
ADDRESS
Dublin Office:
Ward Personnel
Damastown Way
Damastown Industrial Park
Dublin 15 D15 E8NX
Cork Office:
Ward Personnel
Unit 4 Portside
Marina Commercial Park
Centre Park Road Cork T12 AE98
Athlone Office:
Ward Personnel
Unit 23 Irishtown Central
Golden Island
Athlone Co Westmeath
CONTACT DETAILS
Dublin Office:
01 539 0600
[email protected]
Cork Office:
021 233 9120
[email protected]
Athlone Office:
01 539 0600
[email protected]
OPERATING HOURS
N/A
Ward Personnel is a company that specializes in recruitment services in which they have three main offices in Dublin, Cork, and Athlone in order to accommodate more clients and become more area-specific as well. It has been in the industry ever since 2010 and is founded and led by its Managing Director David Ward.
The company has then expanded year by year and is now currently recognized as one of Ireland's leading providers of recruitment services especially in the construction and industrial sector and industry. Under the leadership of David, the company has steadily increased in staff in which is now currently composed of a team of thirty members.
Due to its consistent services, the company has then earned its reputation in the industry to deliver excellent customer service and a compliant and hard-working work ethic. It is passionate to deliver such quality as they aim to do so through the integration of values such as transparency and attention to detail.
We recommend this company for clients looking for high-quality customer service in the recruitment industry that specializes in the construction and industrial sector based on the positive feedback of their past clients who have been collaborating with them for a long period of time.
Excellent customer service
Multiple offices
Transparent transactions
Specializes more on only the construction and industrial sector
Customer Reviews
Here are some reviews from their clients:
"Ward Personnel have been one of our preferred providers for labour & trades for over ten years now. During that time, we have done a significant amount of business with them and we have found them to be one of the most reliable providers of labour & trades in the marketplace. They provide us with a very good service and on the vast majority of occasions, the men they supply to us are of a high quality and have the required skills and expertise to do the job. The Ward Personnel office staff are always very courteous and professional to deal with and they are helpful and proactive if there is any issue." – John Sisk & Son
"Ward Personnel are a pleasure to deal with. They understand our industry which means they have built up a deep knowledge for the type of candidates and skillsets that we need on an ongoing basis. In the last two years, we have hired dozens of workers from them. We mainly deal with Matt who manages their Industrial Division. He sources these workers for us in Poland because we cannot find them here in Ireland. Ward Personnel have been our partner of choice for the last two years, they have never let us down, and their overall service level is always very professional." – Davenham Switchgear
How to Choose a Recruitment Agency for Jobseekers
Here are a few tips to further help you in your search:
1. Ask around
Ask relatives and friends who've utilised a recruitment agency to land their current job. They'll be able to tell you about their experiences, how the recruitment agency helped them (or not), and so on.
It can also be helpful to ask those who belong to the same industry as you are. Who knows, you might even get a referral that can fast track your job search.
2. Research about the recruitment agency
Although not a guarantee, one way you can gauge the quality of a recruitment agency is by researching them online.
A good recruitment agency should have a Linkedin profile—see what it says about them. Are the job postings on their website updated? How new is their latest job advertisement?
Look up online reviews from previous clients. How did the recruitment agency benefit them? Check the recruitment company's credentials such as agency licence, awards, etc.
3. International recruitment
Are you specifically looking for job opportunities abroad? Not all recruitment agencies post international jobs, just so you know.
Moreover, inquire about how they can help you throughout the whole process of applying for a job outside the country, such as in terms of visa application, immigration laws, among others.
FAQs about the Best Recruitment Agencies in Cork
---
And that's a wrap for our list featuring the best recruitment agencies in Cork! Hopefully, you find the talent your company needs or the job you've been waiting for via our choices.
If you believe there are other recruitment agencies that should have made it on our list, just ring us up! We'll check them out right away!
In conflict with your employer? Or with your employee? Let the law settle that. Just see our top options for the best employment lawyers in Ireland!