The Best Stores for Party Supplies in Ireland
Party supplies really bring life to a party's atmosphere whether it be balloons, banners, confetti or other items. In this article, we list down some of the best stores for party supplies in Ireland that can help bring some excitement to your celebrations.

If you're ready, read on!
How much do party supplies cost?
Prices of different party supplies depend on the type of party supply, its features, its size, and the material it's made out of. For example, balloons can range from more affordable bouquets to more expensive large arches.
Below is a list of different party supplies as well as their estimated price ranges.
| Party Supply | Price Range Estimates |
| --- | --- |
| Plain Balloons | € 4.5 to € 30 *varying numbers |
| Banners | € 2 to € 8 |
| Kids Costumes | € 7 to € 50 |
| Adult's Costumes | € 10 to € 130 |
| Paper Plates | € 3.5 to € 10 |
| Napkins | € 2 to € 7 |
Top Party Supply Stores in Ireland
We assessed the stores according to the following criteria:
1. Barry's Balloons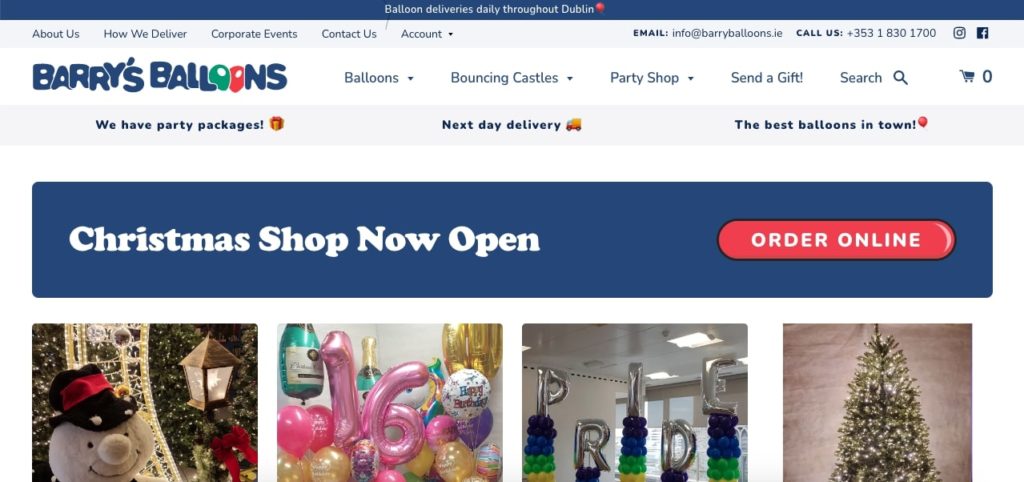 Test
Info
PRODUCTS

Balloons

Bouncing Castles

Party Shop

WEBSITE
https://barryballoons.ie/
ADDRESS
Unit A1, Glasnevin Business Park, B6, Ballyboggan Rd, Glasnevin, Dublin 11
CONTACT DETAILS
01 830 1700, info@barryballoons
OPERATING HOURS

Weekdays: 9:00 AM to 4:00 PM

Saturday: 9:00 AM to 2:00 PM
| | |
| --- | --- |
| Selection | ★★★★☆(4/5) |
| > Price range | ★★★★★(5/5) |
| > Party supply categories | ★★★☆☆(3/5) |
| Terms and conditions | ★★★★★(5/5) |
| Additional services | ★★★★★(5/5) |
| Testimonials | ★★★★☆(4/5) |
| > Quality | ★★★★☆(4/5) |
| > Service | ★★★★☆(4/5) |
A trustworthy option for all your balloon needs, Barry's Balloons has the selection and services to give you a smooth experience.
Having 25 years of experience in the business, their primary product and services focus towards balloons. In our opinion, they're definitely one of the best options out there.
What we like about them is that they have a lot of balloon options to choose from, even having a great array for larger parties. They have colorful and large arches, bouquets, and even a balloon printing service for customization.
On top of this, we appreciate that they also have a lot of affordable options available with the wide range that they carry. They are able to cater to a lot of customers with different budgets.
We also highly recommend them for corporate events as they've worked with a lot of companies in the past. They have larger scale options and even some machine rentals perfect for planning the perfect gathering.
However, beyond balloons, we would like to note that they don't have the widest amount of options in terms of other products for party supplies, like costumes and banners.
They do, however, still offer quite a good amount if you're looking for more standard options like their buntings and affordable character costumes.
All in all, they are a reliable service to consider, especially when it comes to all your party balloon needs.
Substantial experience with a lot of businesses
Outstanding variety of balloon supplies
Good range of prices
Available custom balloon printing
Less range of party supplies besides balloons
Varying delivery costs
Customer Reviews
Great Prices and even Better Service
Fantastic service, absolutely saved the day after being let down by two local party companies. I'm sorry I didn't come here first, great prices and even better service. – Dave Walsh
Absolutely Delighted
Ordered balloons for my son's 30th birthday , on Thursday they have just been delivered to him, absolutely delighted with them , the service was great, will defo be ordering of you again , thankyou x – Linda Costello
2. Jokeshop Ireland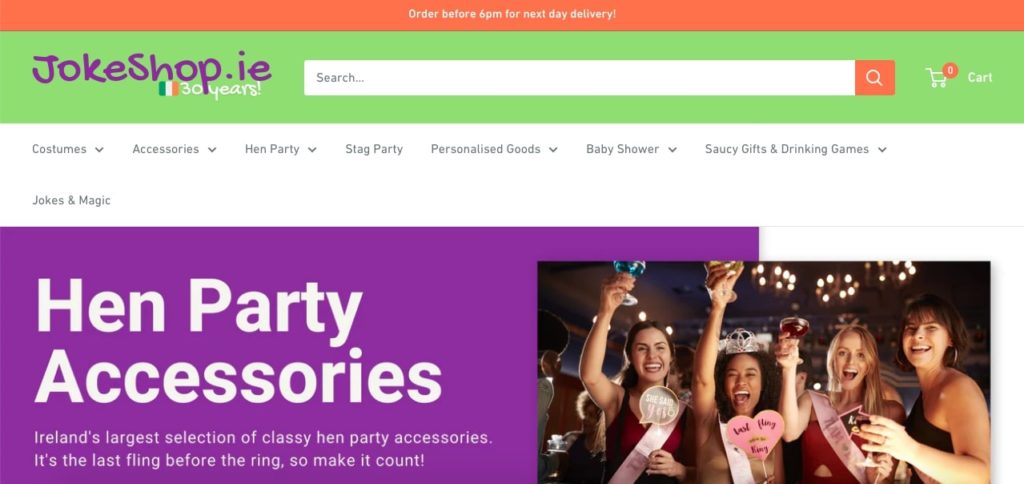 Test
Info
PRODUCTS

Costumes

Accessories

Hen Party and Stag Party Supplies

Personalised Goods

Baby Shower Supplies

Saucy Gifts and Drinking Games

Jokes and Magic

WEBSITE
https://www.jokeshop.ie/
ADDRESS
Dublin Gate St, Athlone, Co. Westmeath
CONTACT DETAILS
090 6476555,

[email protected]

OPERATING HOURS

Monday to Saturday: 9:30 AM to 6:00 PM
| | |
| --- | --- |
| Selection | ★★★★★(5/5) |
| > Price range | ★★★★★(5/5) |
| > Party supply categories | ★★★★☆(4/5) |
| Terms and conditions | ★★★★☆(4/5) |
| Additional services | ★★★★★(5/5) |
| Testimonials | ★★★★★(5/5) |
| > Quality | ★★★★★(5/5) |
| > Service | ★★★★★(5/5) |
Jokeshop Ireland has certainly come a long way to becoming a trustworthy shop for everyone's costume and joke item needs.
They have a wealth of experience that spans 30 years so customers can be assured that their processes and products are continuously adapting to the times.
What we like about them is probably what they're most well known for, which is their selection of costumes. From era-specific outfits to holiday options and even TV and movie characters, you can find what you're looking for here.
What we also like is that they have a good range of prices alongside their expansive collection. We think that they do have one of the best varieties for costumes out there.
They do however still have a relatively good party supply selection when it comes to stag parties, hen parties and baby showers. Customers can purchase personalized goods from them which is great for memorable keepsakes.
However, if you are looking for more general party supplies especially for birthday parties like banners, hats and more, we think that it would be better to find these elsewhere.
Jokeshop Ireland also has a pretty good online purchasing experience. They accept various modes of online payment and they can offer next day delivery for orders before 6 PM.
If you're on the lookout for your next party costume, or customized goods for your stag and hen party, we would highly recommend checking them out.
Very expansive selection of costumes
Also have great accessories and other services for products
Available next day delivery
Accept various forms of online payment
Not best option for birthday party supplies
Saturday deliveries have a fee
Customer Reviews
Second to None Customer Service
I recently bought a customised memory book and keepsake box for a friend's Hen party. It arrived today and it's absolutely perfect! I had made an error within my order and the staff copped this straight away and got in touch with me. Their customer service and attention to detail was second to none. I will definitely be a repeat customer for any events going forward! – Grainne Gaffney
Speedy Delivery, Friendly Staff
A great shop for choice, value and speedy delivery. I made two separate purchases recently and both times I received my order in 2-3 days. I even got a call from them to ensure my order was correct as it was a personalised message on some glasses. Very friendly staff and it's always good to support a small Irish business. I will shop here again for sure. – Siobhan Kelleher
3. Little Star Parties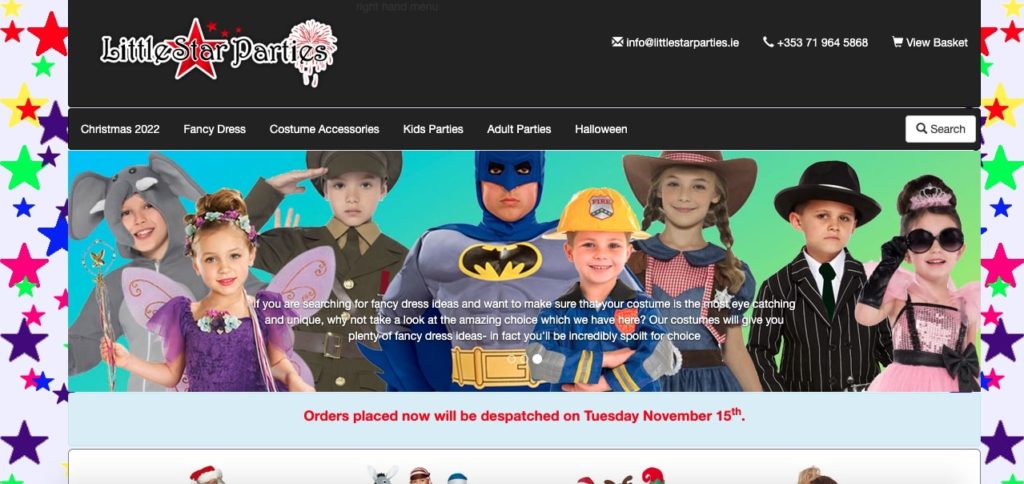 Test
Info
PRODUCTS

Adult Costumes

Childrens Costumes

Party Accessories and Decorations

Costume Accesories

WEBSITE
https://www.littlestarparties.ie/
ADDRESS
Tully, Ballinamore, Co. Leitrim
CONTACT DETAILS
+353 71 964 5868,

[email protected]

OPERATING HOURS

Weekdays: 9:00 AM to 5:00 PM
| | |
| --- | --- |
| Selection | ★★★★★(5/5) |
| > Price range | ★★★★★(5/5) |
| > Party supply categories | ★★★★☆(4/5) |
| Terms and conditions | ★★★★☆(4/5) |
| Additional services | ★★★★★(5/5) |
| Testimonials | ★★★★★(5/5) |
| > Quality | ★★★★★(5/5) |
| > Service | ★★★★★(5/5) |
Although not the largest party supply store out there, if you're looking for a solid offering of costumes, party supplies and decorations we suggest checking out Little Star Parties.
This shop is run by a family in Leitrim County and what we like about them is that they carry a lot of good quality items. Many previous customers we've chatted with highly praised the quality of the costumes especially for their price.
In addition to this, we also like that their delivery terms and processes are very reasonable and efficient. Orders above € 50 are eligible for free delivery and many customers liked that ordering online was both convenient and fast.
We do have to mention though that they only accept three modes of payment online so this is something to keep in mind.
Taking a closer look at their selection of products, Little Star Parties offers quite a good range in terms of both adult and children's parties. Usually stores would have more products for one or the other, but we like that they have a nice variety for both products.
This includes having items for themed parties, seasonal events, character themed items and even baby showers.
If you're looking for a store that strikes a good balance for parties for any age group, check out what Little Star Parties has to offer.
Good quality items
Excellent selection of accompanying costume accessories
Great delivery prices
Have items for both children's and adult parties
More limited online payment options
Selection per category is a little bit less in range
Customer Reviews
Fair Prices, Products as Described
Very happy with purchase. Parcel arrived the next morning, products as described and fair prices. I'll order from them again in the future.– Haidee
Cheap but Good Quality
1st time ordering form Little Star, so impressed with the cheap prices good quality and the speed of the delivery ordered on a Friday after lunch and was here 1st thing Tuesday morning, will defo be recommending to friends and family and will definitely be using them again – Shauna Malone
4. The Party Boutique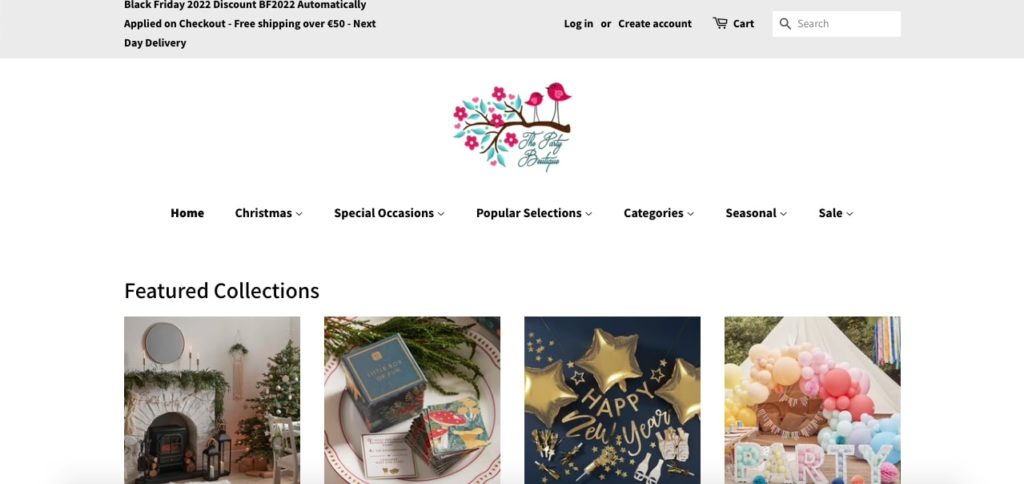 Test
Info
PRODUCTS

Holiday Supplies and Decorations

Special Occasion Supplies

Wrapping Paper

Party Games

Balloons

Party

Hats

WEBSITE
https://www.thepartyboutiqueshop.ie/
ADDRESS
1 Boytonrath, New Inn, Cashel, Co. Tipperary
CONTACT DETAILS
052 7462869,

[email protected]

OPERATING HOURS

Weekdays: 10:00 AM to 6:00 PM
| | |
| --- | --- |
| Selection | ★★★★☆(4/5) |
| > Price range | ★★★★☆(4/5) |
| > Party supply categories | ★★★★☆(4/5) |
| Terms and conditions | ★★★★★(5/5) |
| Additional services | ★★★★★(5/5) |
| Testimonials | ★★★★★(5/5) |
| > Quality | ★★★★★(5/5) |
| > Service | ★★★★★(5/5) |
If you're looking for party supplies that add a touch of more subtlety and elegance, we highly recommend checking out The Party Boutique for their curated supply.
Comparatively, they have opened much more recently, in 2016, but we were very impressed by the quality of their chosen selection of products.
We like that they have an excellent selection of decorations and supplies when it comes to seasonal events. This includes cute lighting for Christmas, colorful Easter bunny themed decor and minimalistic Halloween decorations.
In terms of their party supplies it's on the more subtle and sophisticated side so if you're looking for more bolder decor as well as well known children's characters, this may not be the place for you.
However, the products they do have really cover a lot of different types of party supplies all while maintaining a cohesive stylish look.
For example, they have a lot of metallic accented products and the children's party supplies from the plates to the candles mostly have a very pastel color palette.
We were very impressed by how well all of the items were curated. So if you mix brands and supplies from this shop, they'll still look great together.
For those planning a party with a more minimalistic and stylish look to it, we highly recommend checking out The Party Boutique for their quality selection.
Very sophisticated selection
Free shipping for orders over € 50
Accept a wide range of online payments
Good range of products, especially for seasonal items
Less popular branded birthday party supplies 
Shipment for some items placed on Friday and weekends are dispatched Monday
Customer Reviews
Excellent Delivery Service
The Party Boutique (Roisin) such lovely party bits online, such fast delivery and my order was packed so nice on arrival. Will definitely recommend and will be ordering again. Nicole xx – Tony Stanton
Professional and Helpful
Roisin at the party boutique is so professional! Unfortunately, DPD didn't take care of the package, despite the clear fragile packaging warning, and Roisin was so understanding and helpful, and was happy to replace the item and take the issue up with DPD. This is above and beyond what I expected, and I can't wait for the next party so I can order more items from the Party Boutique. – Aoife Leamy
5. Party Bag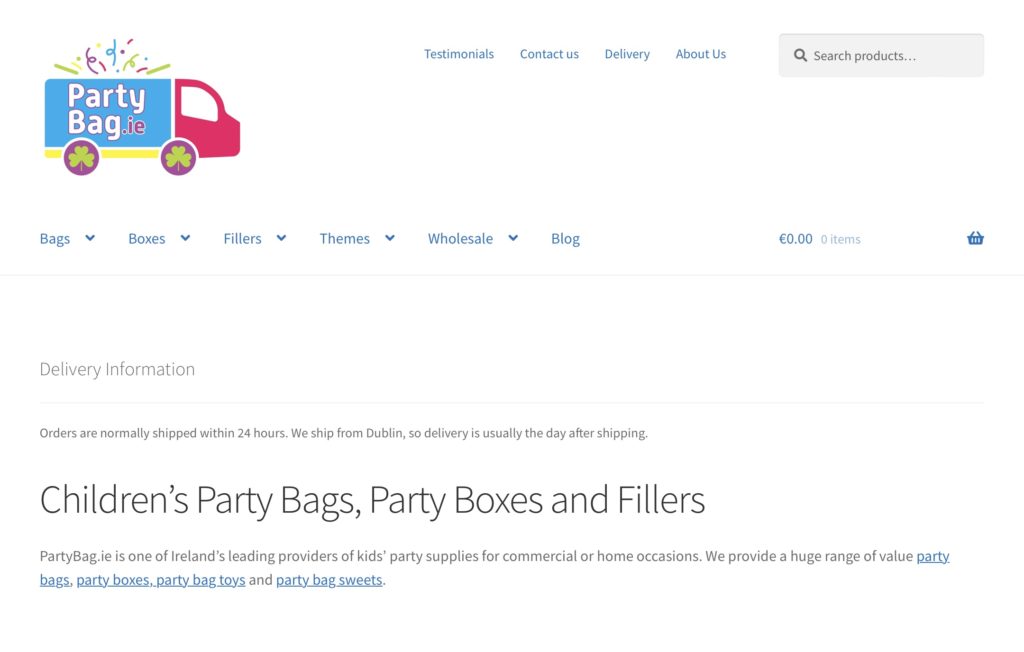 PRODUCTS
Plastic Party Bags
Paper Party Bags
Pre-filled Party Bags
WEBSITE
https://partybag.ie/
ADDRESS
Gosworth Park Dalkey Co. Dublin
CONTACT DETAILS
M: 086 803 4393
E: [email protected]
OPERATING HOURS
By appointment basis only
| | |
| --- | --- |
| Selection | ★★★★☆(4/5) |
| > Price range | ★★★★☆(4/5) |
| > Party supply categories | ★★★★☆(4/5) |
| Terms and conditions | ★★★★★(5/5) |
| Additional services | ★★★★★(5/5) |
| Testimonials | ★★★★★(5/5) |
| > Quality | ★★★★★(5/5) |
| > Service | ★★★★★(5/5) |
Our experience with Party Bag left us with no reservations in declaring them a top-tier party supplies provider.
Their services are nothing short of exceptional. From start to finish, we found their offerings to be a perfect blend of quality and variety.
Convenience is paramount in party planning, and Party Bag knows this well.
Their user-friendly website made it a breeze to browse and order a wide array of party supplies. No more hunting for individual items; they have everything under one digital roof.
When it comes to reputation, Party Bag stands tall. Countless positive reviews and word-of-mouth recommendations led us to their doorstep.
Our high expectations were not only met but exceeded. Their prompt delivery and attention to detail truly set them apart.
Cost-conscious consumers will be delighted by Party Bag's competitive pricing.
We were pleasantly surprised by the affordability of their products. Quality didn't take a back seat, though; each item we received was of the highest caliber.
Our interaction with Party Bag showcased their commitment to customer satisfaction.
Their responsive customer support team swiftly addressed our queries and concerns. It's evident they take pride in fostering a strong rapport with their clients.
A highlight of our experience was the sheer variety of supplies they offer.
Whether it's themed decorations, tableware, or party favors, Party Bag has it all. We were able to curate a unique and memorable event without breaking the bank.
On the day of our event, we were reminded why Party Bag's reputation is sterling.
The items we ordered arrived in perfect condition, and the quality surpassed our expectations. Our party was a resounding success, thanks in no small part to the supplies from Party Bag.
Sadly, they don't offer discounts at the present. So we advise checking in with them to know more about their other affordable packages.
Quality products
Wide variety
Competitive pricing
Excellent reputation
Customer Reviews
"Party Bag made my event a breeze. Their supplies are top-notch, and the service was impeccable."
"I can't thank Party Bag enough. They saved me time and money, and my party was a hit!"
6. PartyWorld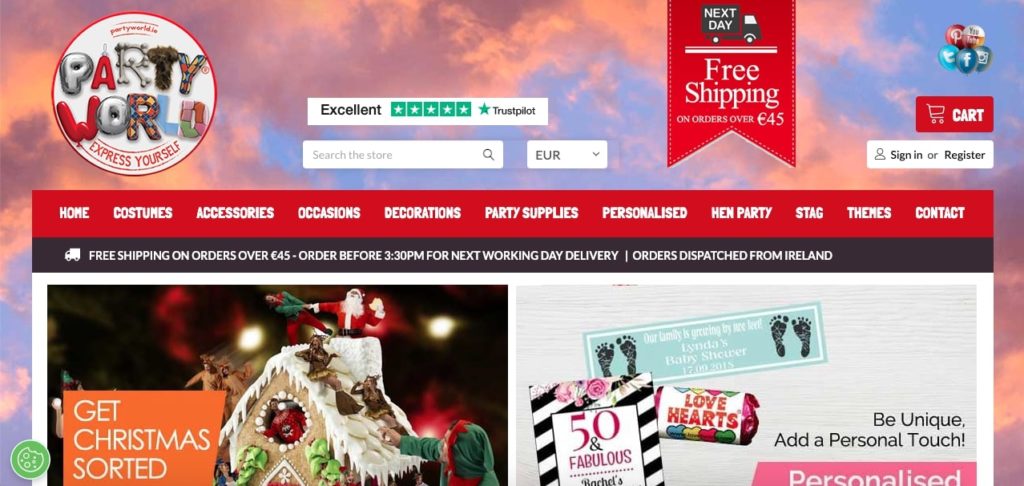 Test
Info
PRODUCTS

Costumes

Accessories

Party Supplies

Special Occasion Supplies

Decorations

Personalized Supplies

WEBSITE
https://www.partyworld.ie/
ADDRESS
Unit 6, Riverstown Business Park, Tramore, Co. Waterford
CONTACT DETAILS
051 338 269,

[email protected]

OPERATING HOURS

Monday to Thursday: 9:00 AM to 5:30 PM

Friday: 9:00 AM to 4:30 PM
| | |
| --- | --- |
| Selection | ★★★★★(5/5) |
| > Price range | ★★★★★(5/5) |
| > Party supply categories | ★★★★★(5/5) |
| Terms and conditions | ★★★★☆(4/5) |
| Additional services | ★★★★★(5/5) |
| Testimonials | ★★★★☆(4/5) |
| > Quality | ★★★★☆(4/5) |
| > Service | ★★★☆☆(3/5) |
A popular store in the area that can cater to most party needs, PartyWorld is a great go-to option when planning your next fun gathering.
It's easy to see why many people look to this store for all of their costume and party needs. They have one of the widest varieties to choose from!
We were very impressed that they carry products for different occasions. They make a great candidate as a one-stop shop for all your party needs.
For example, they have a lot of accessories that help complete the look of their costumes which include things like face paint and special effects.
We also really like that they have a wide range of items that can be personalized. This is a great service especially for children's parties as they offer customizable items from banners, cards, pinatas and even pajamas.
Another standout about them is that under each category of item that they carry, they do have a wide selection to choose from. This is best shown in their costumes selection where they have fancier options but still offer more budget friendly choices.
They make a versatile place when it comes to shopping for different budget ranges.
Keep in mind, however, that there have been some customer troubles in the past when it comes to their collection service.
Still, PartyWorld makes a great option for the top-to-bottom shopping experience when it comes to parties.
Wide selection of personalized options
Excellent selection for each category, from fancier to more budget friendly options
Have a lot of options for sale items
Carry costumes, accessories and themed items
Some customer problems with collect service
Only accept a few types of online payment
Customer Reviews
Impressed with Efficiency
I ordered in a hurry trying to find party pack goodies… my kids party was in 3 days and I ordered with hope of receiving my goodies in time. I also wasn't sure if it was a reputable company as I'd only found them online and in a hurry. I ordered and was so impressed with the speed of my delivery. I ordered on Wednesday night and received My goods by Friday morning. I was so relieved and all my items were so good. Totally impressed as a first time experience. Really very happy customer!! And to top it, the price of the goodies were really good, very reasonable and fair. Very happy customer. – Benka W
Happy with the Price and Quality
Got costumes from this store delivered and I was so happy with the price and quality that I ordered another few bits the next day, I'll be using them in future for my party needs. Delivery was fast and secure and I'd definitely recommend using them! Thanks a mill! – Natasha McCormick
FAQs about Party Supplies
---
Celebrations can be a lot of fun and with the right selection of supplies to choose from you can create an unforgettable atmosphere for your guests.
If you would like to read more, we also have an article on the best balloon stores in Dublin.