The Top 7 Graphics Design Companies in Dublin
Are you planning on using modern and creative digital content for your personal or company's campaign? We've got you covered.
There are a number of great graphics design companies in Dublin and we listed what we think are the best in the area. Also included in this review are their basic information, estimated costs, and some answers to FAQs.


If you're ready, read on!
How much do graphics design companies charge in Dublin?
There are various services offered by graphics design companies such as 3d modeling, publication materials design, and even website covers. To have an idea on the cost, we made a table of estimated prices below:
| Services | Estimated Average Price |
| --- | --- |
| Logo Design | €200 - €1,300 |
| Print Designs | €35 - €1,200 |
| Digital Posters and Infographics | €35 - €1,200 |
| Animations | €1,000 - €6,000 |
The Best Graphic Design Companies in Dublin
The output of graphic designers are very crucial in online and print marketing, content creation, and even in television. To help you get the best graphic designers, we evaluated this list based on the following:
1. Design Minds

Test
Info
SERVICES

Design and Marketing

Logo Design

Brochure and Print Design

Communication Materials Design

Packaging Design

Reports Design

Exhibition Design

Branding Services

Website

Analytics

SEO

Support

Content Management

WEBSITE
https://designminds.ie/
ADDRESS
The View, Marina Village, Malahide, Dublin, Ireland K36 CX99
CONTACT DETAILS
+353 196 10034,

[email protected]

OPERATING HOURS

Monday to Friday, 9:00 a.m. - 6:00 p.m.
| | |
| --- | --- |
| RANGE OF SERVICES | ★★★★★ (5/5) |
| EXPERTISE | ★★★★★ (5/5) |
| ACCESSIBILITY | ★★★★★ (5/5) |
| COST AND VALUE | ★★★★★ (5/5) |
Whether you're looking for experts in graphics design or planning to overhaul your marketing strategy, look no further than Dublin's Design Minds in Marina Village.
Design Minds is not the typical graphics design company because it has the know-how to build a brand and make it popular. They have an extensive range of services from basic graphics design, to branding, along with content creation and analytics.
For graphic design, we think the Advertising press, radio, TV, and online options are the best picks. It offers full coverage for all your promotional needs made by experienced graphics artists and animators.
In fact, Design Minds has been a favorite company of big hotel and resort names, as well as other big businesses in Ireland. This is due to its established reliability, expertise in design and overall branding.
This company also offers basic design for printed materials like reports, brochure, product communications, and even packaging. You can also get other services to support your design through its e-marketing solutions and content management service.
The minor issue, however, is the absence of rates alongside the listed services such as logo design and digital designs on its website. Its closure on weekends also limits the time for revisions for clients working during Saturdays.
Don't worry, you can still get a quotation from this multi-awarded company via email and its office is open during office hours. If you're interested, just check its website and see its massive portfolio to witness how good this company is.
Multi-awarded
Works with big brands
Complete design and marketing package
Expert on digital services
Rates unavailable online
Closed on weekends
Customer reviews
Comprehensive branding service
"We engaged with Design Minds to undertake a complete re-design of our Group logo and associated branding to give it a more premium feel and to associate our business with strength, security and reliability. I was delighted with the professionalism and time taking by Diarmuid and the team to get an understanding of our business and brand and the finished logo and accompanying brand guidelines documents. I would recommend the team at Design Minds to anyone considering changing their branding as the team goes far beyond a simple change of logo and instead provides a more comprehensive branding service to customers." – Alan Gilligan, Joe Duffy Group
Exceeds expectations
"We are a start up taxi company in what is an extremely competitive market so it was very important for us to get our branding and image right from the get go , so we gave design minds the brief and they totally exceeded our expectations, are company is joemaxi the taxi app and soon enough you'll see how good our branding is , all thanks to design minds." – Conor Byrne
2. CI Studio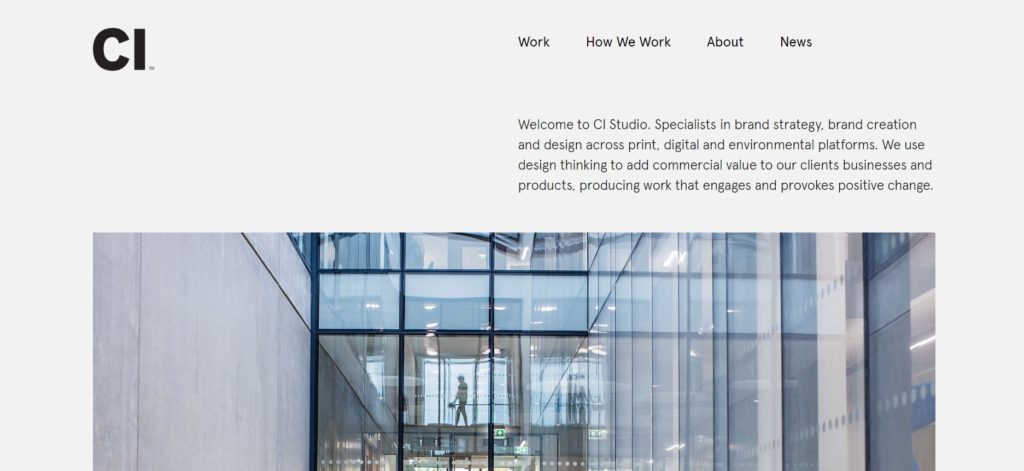 Test
Info
SERVICES

Print and Digital Design

Branding

Environmental

Packaging Design

Book Design

Web Design and Development

WEBSITE
https://cistudio.ie/
ADDRESS
Herbert Mews, Herbert Lane, Dublin 2, Ireland D02 EK18
CONTACT DETAILS
+353 872 419242,

[email protected]

OPERATING HOURS

Monday to Friday, 9:00 a.m. - 5:30 p.m.
| | |
| --- | --- |
| RANGE OF SERVICES | ★★★★★ (5/5) |
| EXPERTISE | ★★★★☆ (4/5) |
| ACCESSIBILITY | ★★★★☆ (4/5) |
| COST AND VALUE | ★★★★☆ (4/5) |
Located along Herbert Lane, CI Design Studio is a graphics service provider that has a broad portfolio of design in all medium types.
We're amazed by its graphics design output with a number of clients in different fields. These clearly demonstrate the versatility of CI Design Studio in graphics design combined with marketing.
Among its services are print and spatial design, branding, packaging, and even web design and development. CI doesn't only design graphics for you, it can even help you promote your design through its branding services.
We also commend the deliberate planning-to-execution process that allows clients to openly express their needs and ask the right questions. Afterwards, the team dedicates its time to craft the best design fit for clients' needs.
Moreover, clients get options from the design package they'd avail because CI studio utilizes varying visual interpretations for each client request. We like that artists and CI's strategists also allocate ample time for revisions and fine-tuning.
The only issue here is its absence of social media accounts to make its output more known to potential clients. Also, the list of services they have on the website is incomplete.
Nevertheless, we appreciate the design company's openness to communicate as it continues to expand its reach and build a strong reputation.
Good with branding
Broad work portfolio
Reliable
Dedicated designers
No social media accounts
Incomplete services list on website
Customer reviews
Fantastic package delivery
"We initially went to CI for our website refresh and loved the output. Conor, Mel, Niall and the team were great at capturing the vision we had and understanding the ethos of our company and the unconventional style we were going for. More recently, we returned to CI for our end of year deal video and again, they delivered a fantastic package that has received a lot of positive engagement and feedback. We would recommend the team at CI and happy to provide references." – Kelly Harvey
Professional team
"Highly highly recommended. From the initial scoping session, through the creative process I was really really impressed. I recall, at the big unveil meeting, being very skeptical as to what I would be asked to review. When they showed me what they came up with I was seriously floored. They nailed the brief and took it somewhere I never dreamed it could be taken. When it comes to brand and communicating core values via imagery and it really does pays in spades to have a professional team in your corner. CI Studio are simply fantastic. Happy to provide direct references." – Stephen Flood
3. Brand New Creative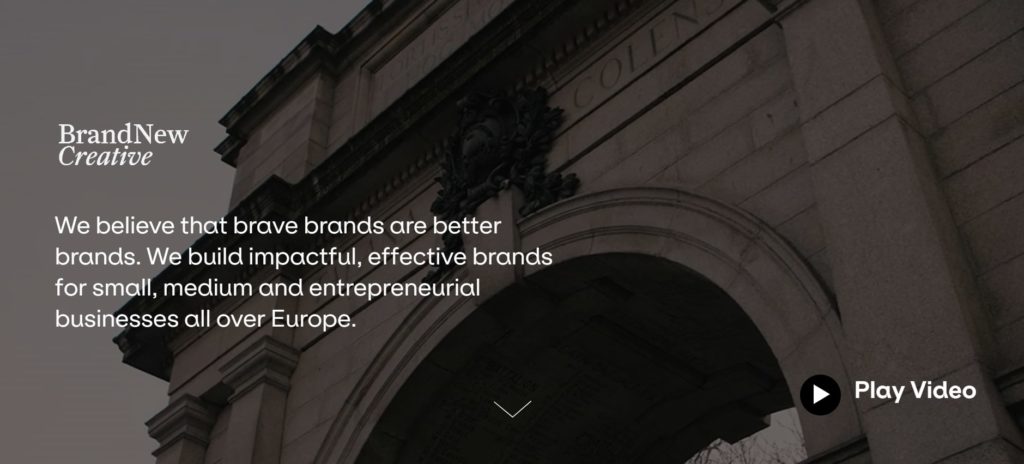 Test
Info
SERVICES

Branding

Marketing

Project Designs

Digital Designs

Logo Design

Photography

Illustration

WEBSITE
https://brandnew.ie/
ADDRESS
26/27 Pembroke Street Upper, Dublin, Ireland D02 X361
CONTACT DETAILS
+353 168 54884,

[email protected]

OPERATING HOURS

Monday to Friday, 9:00 a.m. - 5:30 a.m.
| | |
| --- | --- |
| RANGE OF SERVICES | ★★★★★ (5/5) |
| EXPERTISE | ★★★★★ (5/5) |
| ACCESSIBILITY | ★★★★☆ (4/5) |
| COST AND VALUE | ★★★★☆ (4/5) |
Brand New Creative is the all-in-one place for all clients' needs to improve content and brand, as well as individuals who are still planning to build a content production office.
Situated in Pembroke Street, Brand New Creative is a favorite of Irish brands because of its very extensive range of services ranging from basic strategizing, digital development, branding, and the much needed content creation that includes graphics.
We like that it doesn't only illustrate and animate, but it also offers services on photography, videography, and explainer videos. On top of those, Brand New Creative has its own copywriting and storyboarding in case you aren't sure yet of what to tell.
What brought it to this list is its specialization in almost all types of content creation. This is because the designers are really creative, professional, and love to explore.
In addition, it's client-centered and offers mock-ups to provide clients a look at the finish output. Though not promising perfection, the dry runs serve as avenues for final content improvement.
Because of its experience working with varying brands, the designers already have a vast understanding of the needs of its clients, be it for the web or for basic marketing projects.
The rates are not indicated on its website, though, and the staff are not available to communicate with on weekends because they only operate on weekdays. Still, you can email Brand New Creative and get a quotation.
Specializes in content creation 
Broad services range
Client-centered
Does mock-ups to perfect execution
Complete visuals support package
Cost of services not available on its website
Staff unavailable on weekends
Customer reviews
Engaging and passionate
"We at Digital Marketing Expert have had the pleasure of working with Brand New Creative on a variety of projects over the last few years. I have found the team to be incredibly engaging and passionate about their work, combining this with a genuine ability to understand Brands and what the client is hoping to achieve. I look forward to working with Brand New again in the Near Future." – Director Carl Buckley.
Responsive and professional
"I worked with Brand New Creative on my new business. I was amazed by the level of interest and dedication shown throughout my project. They helped me with brand strategy and visual identity. I was delighted with the results! I thoroughly enjoyed the creative process with them. I found it to be very engaging as I felt included every step of the way. The team are professional, responsive and, most importantly, genuinely passionate about what they do. It was a pleasure to work with Brand New Creative. I highly recommend them!" – Joyce Abiero
4. Éire Graphic Design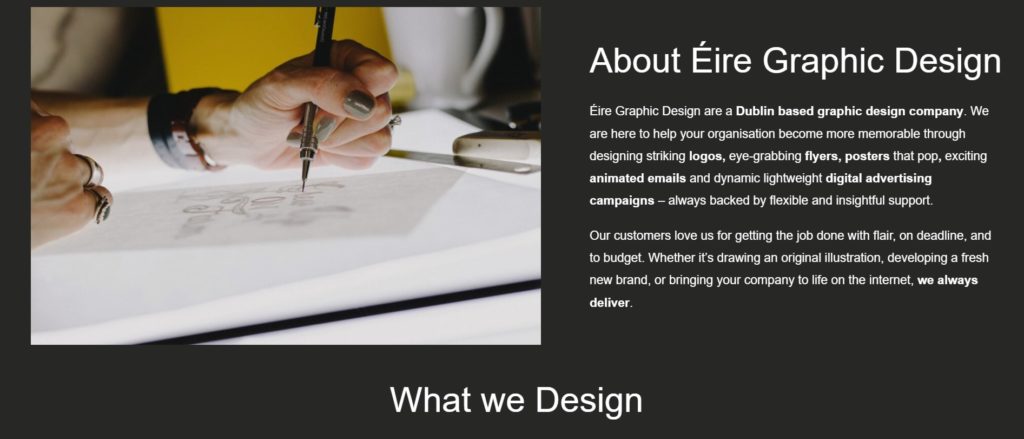 Test
Info
SERVICES

Logo Design

Reports Design

Brochure Design

Poster Design

Infographics

Biz Report Design

Animation

Photo Editing

Print Design

WEBSITE
https://www.graphicdesigneire.ie/
ADDRESS
Richmond Square, Morning Star Ave, Dublin 7, Ireland D07 A6F4
CONTACT DETAILS
+353 894 894081,

[email protected]

OPERATING HOURS

Monday to Friday, 9:00 a.m. - 5:30 a.m.
| | |
| --- | --- |
| RANGE OF SERVICES | ★★★★★ (5/5) |
| EXPERTISE | ★★★★★ (5/5) |
| ACCESSIBILITY | ★★★★☆ (4/5) |
| COST AND VALUE | ★★★★★ (5/5) |
If you're in need of a graphics design service provider that's both good in print and digital media, we suggest trying Éire Graphic Design along Morning Star Ave.
Open during regular office hours from Monday to Friday, Éire Graphic Design has services on basic graphic in-print design, as well as animation, photography, and infographics.
What we like about its services is the quick turnaround time of four days, especially on logo creation without having to compromise quality and the branding. Even with the quick logo process, clients are still provided with good samples to choose from.
Kudos to this company for giving a free logo consultation as well.
Also worth noting is the importance it gives to ownership and customer satisfaction through its direct copyright transfer to the client once the logo is done. As for customer satisfaction, you get a 100% refund if you're not satisfied with the output.
To prevent miscommunication, we appreciate how Éire Graphic Design allows its clients to participate in the entire stages of the project creation. It even allocates time to hear the brand's story that will be incorporated into the designs.
One downside with Éire Graphic Design is its limited only to online appointments. Even so, you can easily contact them on its website, or through call and email when you're planning to book an appointment and avail of its services.
Has free no-obligation logo consultation
Fast turnaround time
Allows client revision for each stage
Has 100% refund policy
No on-site services
Online appointments only
Customer reviews
Patient and efficient
"We were very fortunate to work on a recent rebranding project with Kieran for our hotel. Kieran and his company were not only efficient, and very particular in what they did, but they listened to our vision and were very patient with all of our changes. We are thrilled with the work they delivered on which was all done so quickly and swiftly and very professionally. We look forward to working with Kieran again in the very near future." – The Talbot Hotel Clonmel
Fair price
"Quick, efficient and exactly what I wanted. Had an old company logo that we needed a better resolution image as the original file got lost years ago. Kieran totally updated our image and for a very fair price and timely. Would definitely recommend." – Sarah Carney
Perfect logo design
"Really happy with the result. Kieran was very responsive, gave me lots of options and tried different versions for me to see. Super fast turnaround, great value and perfect logo design." – Aisling Durkan
5. Fuzion Communications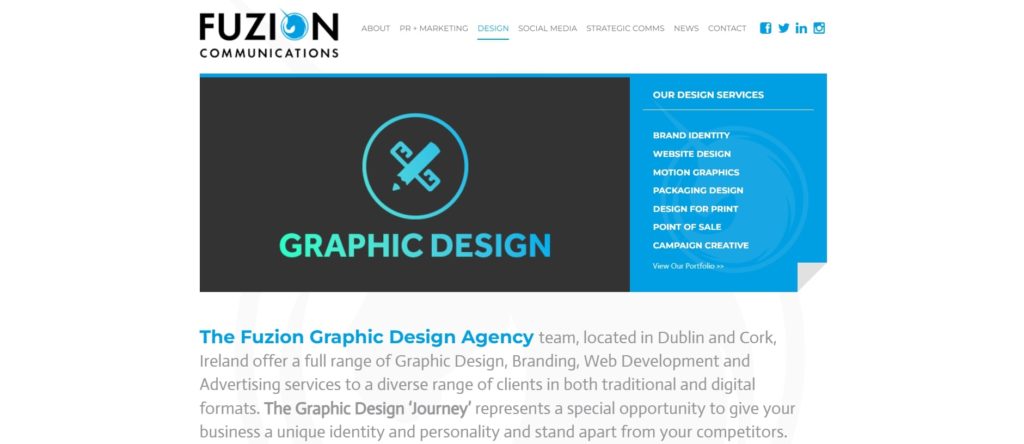 Test
Info
SERVICES

Graphics Design

Creative Solutions

Brand Identity Design

Packaging Design

Public Relations

Marketing

WEBSITE
www.fuzion.ie
ADDRESS
13 Warrington Place, Dublin 2, Ireland D02 A489
CONTACT DETAILS
+353 166 28556,

[email protected]

OPERATING HOURS

Monday to Thursday, 9:00 a.m. - 5:30 p.m.

Friday, 8:30 a.m. - 5:00 p.m.
| | |
| --- | --- |
| RANGE OF SERVICES | ★★★★★ (5/5) |
| EXPERTISE | ★★★★★ (5/5) |
| ACCESSIBILITY | ★★★★★ (5/5) |
| COST AND VALUE | ★★★★☆ (4/5) |
Getting a comprehensive design package matched with experienced public relations strategy will take your brand and business nowhere but up, and that's what Fuzion Communications does.
With offices in Cork and Dublin, Fuzion's Graphic Design Agency has a full variety of graphics and branding work to promote brands of all types. In fact, even if it has worked with top global brands, small businesses can have consultations and be fully serviced.
When it comes to design, clients can choose from its services on motion graphics, print design, campaign creatives, packaging, and even web design. For startups, we recommend getting the brand identity package to safeguard your branding.
You're also in good hands here, as Fuzion Communications lets clients directly work with graphics designers to ensure that the designs they want are better executed. However, there's only a limited number of artists for urgent outputs.
Moreover, we are wowed by its multidisciplinary services that utilize the combined talent of creative professionals and public relations strategists. Not only do you get quality design, but you also have the opportunity to promote your business.
If you're planning to do your own branding and promotion work in the future, Fuzion Communications offers media and social media training to help you stimulate your business better.
However, since it's a regular communications group, the operating hours are limited on weekdays only and are only up to 5:00 p.m. on Fridays. Nonetheless, it has enough staff to cater to your needs during weekdays.
Top brands' choice
Treats clients equally
Covers not only design, but full PR work
Has media and social media training
Open only during regular office hours
Limited number of graphics artists
Customer reviews
Excellent graphics design
"As manager of Manor West, I have used Fuzion Communications extensively since 2011. They have been instrumental in rebranding the centre and repositioning the Shopping Centre and the Retail Park in the customers' minds. They have an excellent graphic design department and their PR activities are extensive and highly effective. I would strongly urge anybody looking for a PR partner to give Fuzion a call." – Derek Rusk
Innovative and professional
"I have engaged Fuzion on two occasions in the past and found them to be both innovative and professional in their approach. No request was too difficult for them, and they delivered excellent results. I would happily recommend Fuzion to friends and colleagues, and I will definitely work with them in the future." – Jeremy Hayes, Business Information Systems, UCC
Helpful in brand promotion
"We've worked with Fuzion for a many years now and we can't recommend them highly enough. Jill, Aoibhinn and all the team always provide high quality content for releases and are prompt with delivery. They are always trying to establish new ideas and ways to promote brands too. A lovely group of people to work with!" – Register 365
6. Design Chief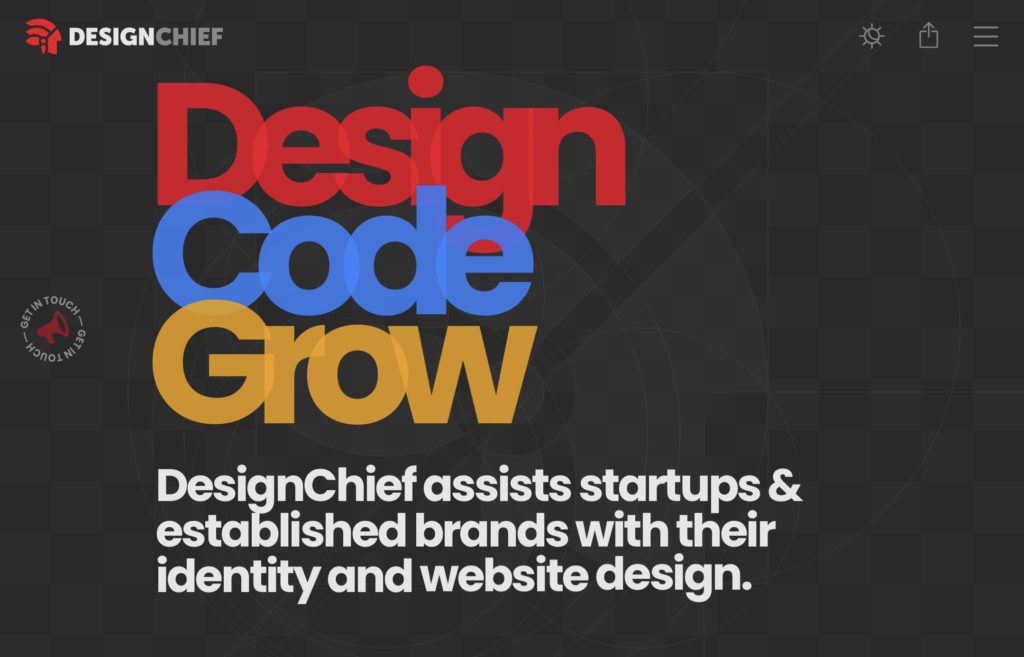 | | |
| --- | --- |
| SERVICES | Logo Design, Style Guides, Iconography, Website Design, App Design, Print Design, Packaging, Stationery, HTML, Webflow, GitHub, and Web Advertising |
| WEBSITE | https://www.designchief.ie/ |
| ADDRESS | 37 Saint Columbanus Ave, Milltown, Dublin, D14 DK58, Ireland |
| CONTACT DETAILS | +353879927776 |
| OPERATING HOURS | Monday to Saturday: 9:00 a.m. – 6:00 p.m. |
| | |
| --- | --- |
| RANGE OF SERVICES | ★★★★★ (5/5) |
| EXPERTISE | ★★★★★ (5/5) |
| ACCESSIBILITY | ★★★★☆ (4/5) |
| COST AND VALUE | ★★★★☆ (4/5) |
At Design Chief, we've had the pleasure of experiencing their exceptional graphic design services, and we must say, they truly live up to their title of "Design Chief."
With great attention to detail and a keen eye for aesthetics, they've secured their position as leaders in the industry.
When it comes to convenience, Design Chief shines brightly. Their streamlined process and user-friendly interface make it effortless for clients to communicate their vision and requirements.
From initial concept discussions to final revisions, the entire journey is smooth sailing, ensuring a stress-free experience for all parties involved.
Design Chief's reputation speaks for itself, and rightfully so. They've earned the trust and admiration of countless clients, both big and small, with their outstanding work.
Whether it's creating stunning logos, captivating brochures, or engaging social media graphics, their portfolio showcases a remarkable range of design expertise.
Now, let's talk about the elephant in the room: cost.
Design Chief knows quality shouldn't come at an exorbitant price, and they deliver on this understanding.
With their competitive pricing structure, they offer exceptional value for money, making high-quality graphic design accessible to businesses of all sizes.
In a world where excellence often comes with a hefty price tag, Design Chief sets a new standard.
However, they can get very busy due to popularity. We recommend booking an appointment to avoid any inconvenience.
Exceptional graphic design services
Convenient and user-friendly process
Stellar reputation in the industry
Affordable pricing with great value
Customer reviews
"Design Chief exceeded my expectations with their exceptional graphic design services. They brought my vision to life with precision and creativity. I couldn't be happier with the final results!"
"The convenience of working with Design Chief is unparalleled. Their user-friendly interface made it easy for me to communicate my design needs, and the entire process was smooth from start to finish. Highly recommended!"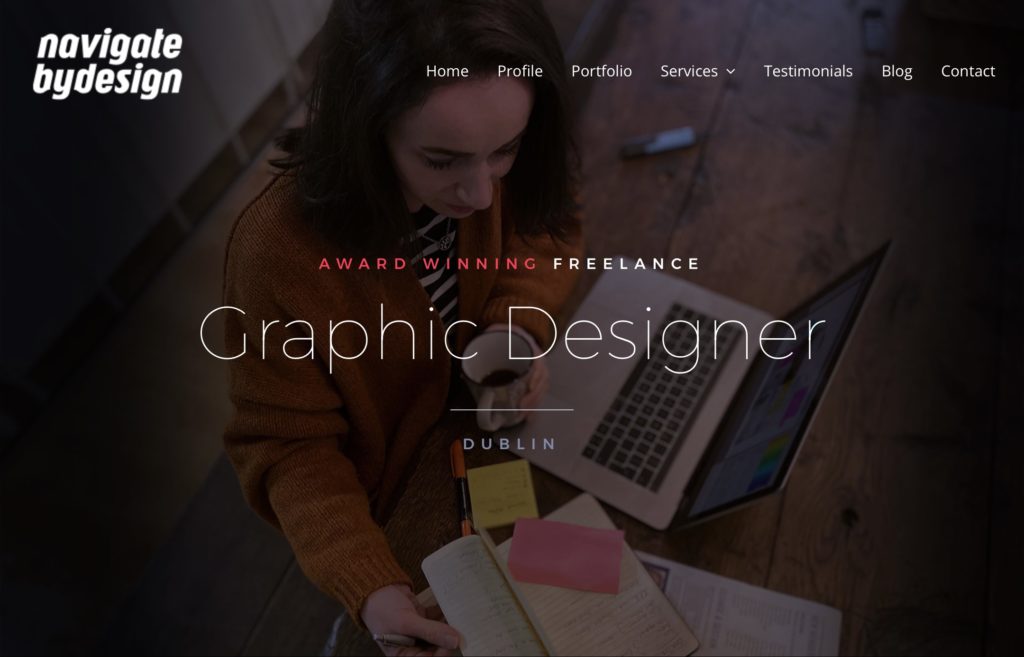 SERVICES
Logo Concept & Development
Competitor Analysis
Brand Positioning
Photo Realistic Mockups
Stationery Suite
Print & Digital Advertising
Point of Sale
Pull-ups & Exhibition Design
Social Cards and Headers
Animated Gifs
Digital Signage & Advertising
Digital Promotions
PowerPoint & Keynote Presentations
WEBSITE
https://navigatebydesign.com/
ADDRESS
77 Lower Camden Street, Dublin, Ireland, D02 XE80
CONTACT DETAILS
[email protected]
+353 1 4429526
OPERATING HOURS
By appointment basis only
| | |
| --- | --- |
| RANGE OF SERVICES | ★★★★★ (5/5) |
| EXPERTISE | ★★★★★ (5/5) |
| ACCESSIBILITY | ★★★★☆ (4/5) |
| COST AND VALUE | ★★★★☆ (4/5) |
At Navigate by Design, we were thrilled by the diverse array of services offered.
From stunning logo designs that set sail on a brand's identity to breathtaking website layouts that effortlessly navigate users through a digital experience, their portfolio is a testament to their expertise and artistic prowess.
Navigating our way through the design process was an absolute breeze with Navigate by Design.
Their team seamlessly knew our vision and transformed it into tangible, awe-inspiring designs. Timelines were honored, revisions were handled with aplomb, and communication was smooth sailing from start to finish.
Their dedication to convenience left us feeling like we were charting a course with seasoned navigators.
Navigate by Design proved to be the compass guiding us towards design greatness. Their track record of success, coupled with their stellar client testimonials, gave us confidence we were embarking on a design voyage with a trusted partner.
They live up to their name, expertly guiding clients through treacherous design waters with unwavering professionalism.
While Navigate by Design delivers top-tier design solutions, we were pleased to discover their prices are as competitive as they come.
In an industry where quality often comes at a steep price, Navigate by Design stands tall as an affordable beacon of creative brilliance. They ensure that exceptional design is within reach for businesses of all sizes.
However, they don't offer promos or discounts at the present. We recommend checking their website from time to time to find new fantastic deals.
Exceptional services
User-friendly convenience
Stellar reputation
Competitive pricing
Free 30-minute consultation
No promos or discounts at the present
Customer reviews
"Laura quickly made herself an indispensable part of the Nordic creative team at Specsavers. Working on a range of projects from conceptual campaigns to quick turn around production jobs. With a great eye for detail and consistency and the ability to always keep smiling despite the relentless pressure, Laura makes a fantastic addition to any team." — Paul Smith
"I cannot imagine a designer as professional and easy to work with as Laura Macaulay. I hired Laura to work on a re-brand for a Ugandan packaging company. The job was challenging, as it involved a rapid turn-around, the creation of a brand that would suit both local & international audiences and collaboration with diverse international stakeholders. Laura has blown me away every step of the way. I could not recommend her more." — Kristina Moody
FAQs about the best graphics design companies in Dublin
---
Executing an effective marketing and campaign plan requires the talent of graphics artists in combination with public relations strategies.
Our review on the best graphics design companies hopes that you'll get the right design company that can understand and implement your needs.
If you're still on the look for other design and marketing services, check out the best digital marketing services in Cork.
---