The Top 5 Jewelry Shops in Limerick
We all want a sparkle in our lives – not just in our eyes, but also on our bodies!
Not only can jewelry make you look classy with the right stones, but you can also make heads turn because of your… "aura".
Can't decide which bling to buy? We've got you covered if you scroll down on this list!
How much are jewelries in Limerick?
The price of jewelry depends on what metals and stones were used. Below is a table of our estimated average costs:
| PRODUCTS | ESTIMATED AVERAGE PRICE |
| --- | --- |
| Bracelets and Bangles | €600.00 |
| Diamond Jewelries | €2,700.00 |
| Earings | €500.00 |
| Gold Jewelries | €2,000.00 |
| Necklaces | €800.00 |
| Pendants | €600.00 |
| Rings | €800.00 |
| Watches | €800.00 |
The Best Jewelry Shops in Limerick
Here are the factors that we considered in rating the shops in this list:
1. Matthew Stephens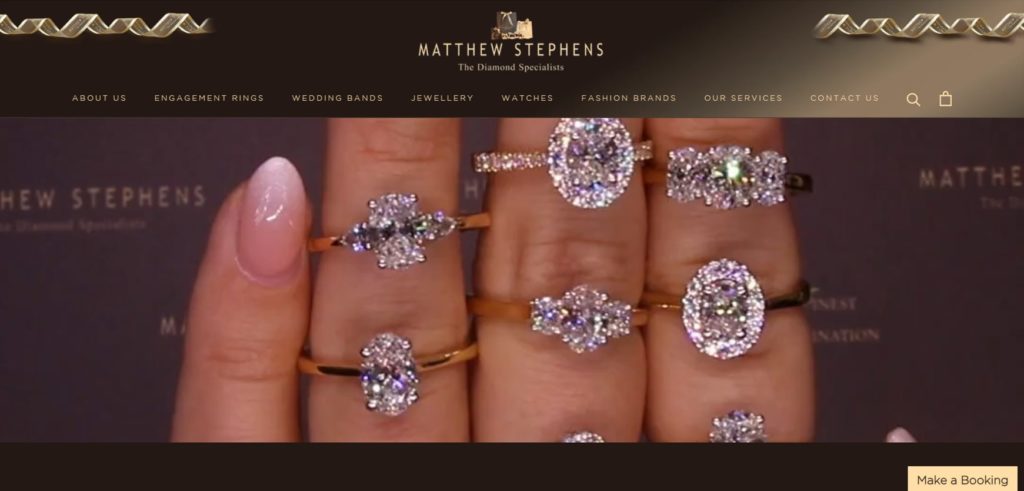 Test
Info
PRODUCTS

Watches, Earrings, Pendants

Bangles, Bracelets, Cuffs

Diamond Eternity Rings

Engagement Rings

Right Hands Rings

Bespoke Jewelries

Weddings Bands

WEBSITE
https://matthewstephens.ie/
ADDRESS
8 O'Connell St, Limerick, V94 HC98, Ireland
CONTACT DETAILS

PHONE: +353 614 15583

OPERATING HOURS

Monday to Tuesday, Thursday to Friday, 9:00 a.m. - 5:30 p.m.

Wednesday and Saturday, 9:30 a.m. - 5:30 p.m.
| | |
| --- | --- |
| AVAILABILITY | ★★★★★ (5/5) |
| DESIGN | ★★★★★ (5/5) |
| RATES | ★★★★★ (5/5) |
| VARIETY | ★★★★★ (5/5) |
True to its tagline, Matthew Stephens stands out as one of the best when it comes to being a diamond specialist.
One great thing about this shop is it's not only locally recognized, but has also won international awards for producing the finest engagement rings.
For meticulous jewelry buyers like us, we love how Matthew Stephens offers bespoke rings that cater to unique tastes and preferences.
This makes it the perfect destination for those looking for luxury jewelry. That's on top of having an impressive diamond collection that ranges from one-stone to 10-stone masterpieces.
Aside from diamonds, Matthew Stephens has a vast selection of other precious stones and metals, and it offers an array of stocks and designs.
We're also impressed with its branded collection featuring popular names such as Carat London, Swarovski, Astrid Miyu, and Thomas Sabo.
Also, pricing is transparent and the item descriptions on its website are very detailed, thus giving you enough information before you make a purchase.
However, one of the few things you might not find here are anklets and readymade crowns. These are minor issues, though, when compared to the store's extensive range of beautiful and high-quality jewelry.
Overall, we still find this shop as one of the undoubtedly best jewelry stores in Limerick that sell the finest sparkle that fits anyone's skin tone and confidence.
Locally and internationally recognized 
Ideal for luxury jewelries
Impressive diamond collection 
Great branded collection 
Detailed item descriptions 
Doesn't sell anklets
No readymade crowns
Customer Reviews
Plenty of styles
"Bought an engagement ring recently and couldn't be happier with how it turned out. They were very helpful and knowledgeable when discussing the different rings. Had plenty of styles and options to choose from to fit all budgets. Huge thank you to Yvonne who helped throughout!" – Ryan Meany
Best experience
"Absolutely a beautiful store with something for everyone. The customer service is above and beyond anywhere else I have visited. Highly recommended for gifts for a loved one or to treat yourself! When it comes to engagement rings or wedding bands book to get the best experience." – Sarah Barry
2. Fields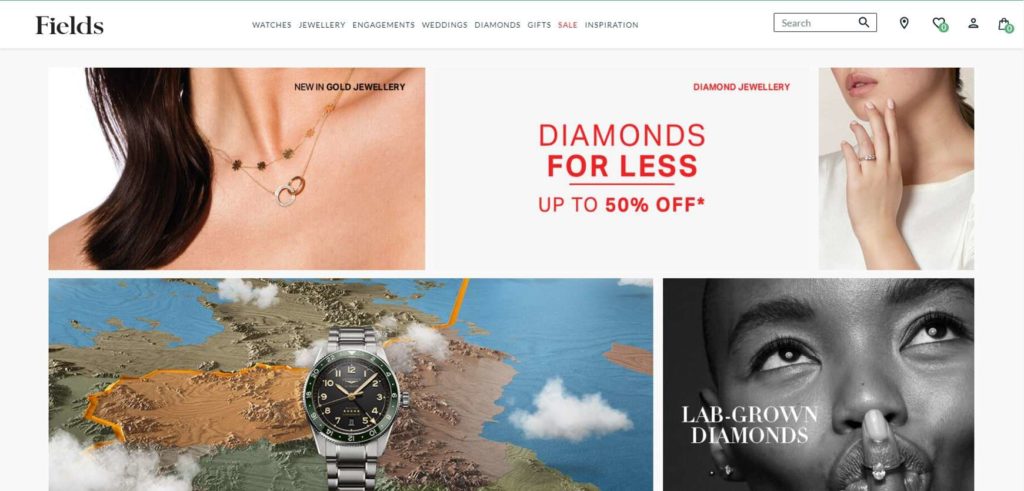 Test
Info
PRODUCTS

Engagements, Weddings

Watches, Jewelries

Diamonds, Gifts

WEBSITE
https://www.fields.ie/
ADDRESS
Crescent Shopping Centre, Dooradoyle Rd, Limerick, Ireland V94 XW7E
CONTACT DETAILS

PHONE: +353 613 07359

OPERATING HOURS

Monday to Wednesday and Saturday, 9:30 a.m. - 6:00 p.m.

Thursday to Friday, 9:30 a.m. - 9:00 p.m.

Sunday, 12:00 p.m. - 6:00 p.m.
| | |
| --- | --- |
| AVAILABILITY | ★★★★★ (5/5) |
| DESIGN | ★★★★★ (5/5) |
| RATES | ★★★★★ (5/5) |
| VARIETY | ★★★★★ (5/5) |
In our opinion, Fields Jewelry Shop is one of the best places in Limerick for jewelry lovers who want a huge collection to choose from.
We find this establishment as having an exceptional collection of watches, stones, and diamond rings. The range of products is perfect for those who appreciate luxury, elegance, and quality.
What's worth mentioning here is that Fields has an extensive collection of watches with 30 different brands with various styles and builds.
This collection is perfect for those who are looking for a timepiece that suits their unique style. It's also good for those who want to add new pieces to their collections.
For those looking for the perfect diamond ring, Fields has a vast selection of 235 products available on its website. Additionally, the shop offers an array of 19 stone types with ample stocks per design.
Also, we like the website because it's organized with clear categorization of items and price details. Moreover, Fields has over a thousand gift items to choose from.
However, there are a few cons to note. One is it doesn't offer free delivery, and the second is there's no mention of customized stone designs.
Despite these, Fields remains a top choice for those who value quality, variety, and elegance in their jewelry.
Extensive watch collection 
Ideal for various stone lovers
Variety of diamond rings 
Over a thousand gift items to choose from 
Organized shopping website 
No free delivery
No mention of customized stone designs
Customer Reviews
Loveliest experience
"I had the loveliest experience in the Limerick store recently getting my new diamond ring thanks to all at Fields Jewellers. I would have had every single thing in the shop if I could have! It was so hard to choose from all of the gorgeous rings. There was the most beautiful jewellery in store to choose from and the nicest staff you could meet. I was treated so well, I left on a high with my gorgeous ring…" – Grace C
Amazing to deal with
"I dealt with Lisa when getting an engagement ring 💍 and Lisa was amazing to deal with. When I had to bring back the ring to get a bigger size Lisa was very helpful. Will definitely go back and get bands there." – Ciara Gough
3. Seoidin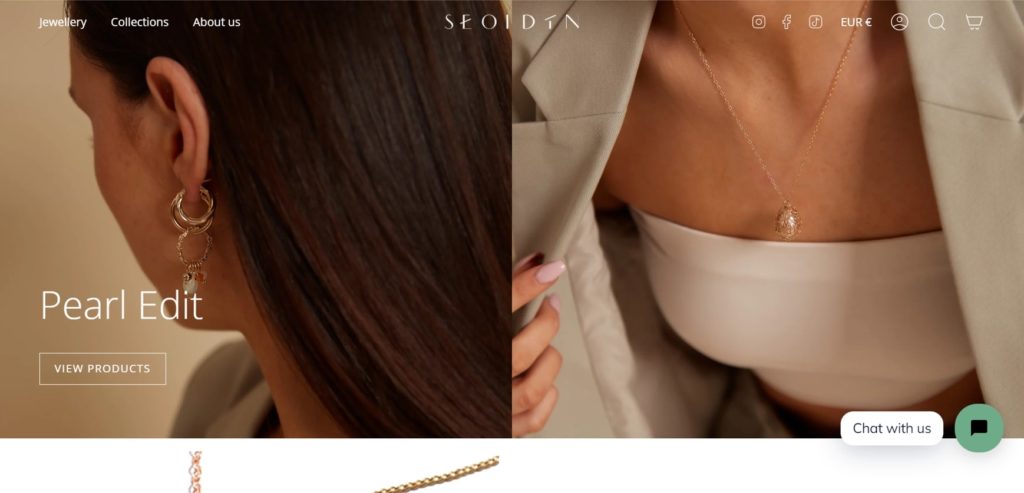 Test
Info
PRODUCTS

Vintage and Antique Rings

Earrings, Rings, Necklaces

Pendants, Bracelets

WEBSITE
https://seoidin.com/
ADDRESS
54 Thomas St, Limerick, Ireland V94 P5P0
CONTACT DETAILS

PHONE: +353 614 05595

OPERATING HOURS

Monday to Saturday, 9:30 a.m. - 6:00 p.m.
| | |
| --- | --- |
| AVAILABILITY | ★★★★★ (5/5) |
| DESIGN | ★★★★★ (5/5) |
| RATES | ★★★★★ (5/5) |
| VARIETY | ★★★★☆ (4/5) |
Seoidin is a well-known jewelry store in Ireland renowned for its impressive range of gold jewelry products.
This establishment is the go-to place for gold jewelry lovers who appreciate locally designed and made pieces that offer a mix of classic and modern takes on design.
We're in awe of its gold jewelry products range that includes necklaces, bracelets, and earrings that are available in a variety of styles.
The vintage rings, which come in different stones of varying colors, are a particular highlight. We love how a gold ring is joined by other stones like emeralds and amethyst for a stunning bling.
Additionally, the store has a lovely selection of 9 carat gold ring designs with various stones that are sure to catch the eye.
What's more, Seoidin's designs are a testament to the store's creativity and craftsmanship.
The store has a fantastic mix of classic and modern takes on jewelry design, making it the perfect place for people looking for unique pieces that stand out.
With four stores located in Clare, Limerick, and Dublin, it's easily accessible for those in different parts of Ireland.
However, its diamond ring collection is limited which may be a drawback for those into diamonds.
Another minor issue is that the jewelry repair service can take 4-5 weeks to complete.
In conclusion, it's a great spot for gold and colored stones lovers but has limited diamond jewelry products.
Ideal for gold jewelry lovers 
Impressive vintage rings 
Lovely 9 carat gold rings designs 
Great designs 
Locally designed and made jewelry pieces
Limited diamond ring options
Jewelry repairs takes 4-5 weeks
Customer Reviews
Outstanding jewelry
"One of my favourite jewellery stores! Ordered online recently. Items arrived within 48 hours. Quality if jewellery is outstanding. Excellent customer service. Highly recommend." – Dee Condron
Love wearing them
"Friendly and helpful staff, I purchased some beautiful, handcrafted pieces from the store a few months ago and still love wearing them. I've also used their online shop which was easy to navigate, delivery arrived within a few days and items were packaged securely. Would definitely recommend!…" – Lisa Q
4. Topaz Jewellers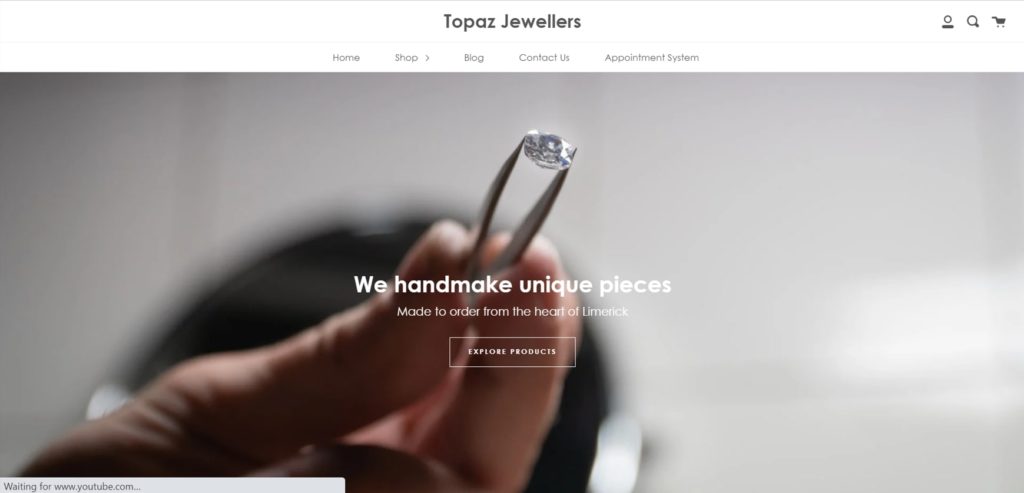 Test
Info
PRODUCTS

Diamond Rings, Wedding Rings

Dress Rings, Men's Rings

Signet Rings, Necklaces

WEBSITE
https://topazjewellers.com/
ADDRESS
12 Upper Gerald Griffin St, Limerick, Ireland V94 FW02
CONTACT DETAILS

PHONE: +353 614 04 575, No Available Email

OPERATING HOURS

Monday to Friday, 9:00 a.m. - 5:30 p.m.

Saturday, 9:00 a.m. - 5:00 p.m.
| | |
| --- | --- |
| AVAILABILITY | ★★★★★ (5/5) |
| DESIGN | ★★★★★ (5/5) |
| RATES | ★★★★★ (5/5) |
| VARIETY | ★★★★☆ (4/5) |
Another gem nestled in the heart of Limerick is Topaz Jewellers. We just love this shops for having an impeccable range of pieces, from wedding rings to name necklaces to men's rings.
What we like in our visit here is its stunning collection of intricate yet simple designs that are sure to leave you and your partner in awe.
And if you're looking for a name necklace, the options are endless. From delicate and dainty to bold and beautiful, Topaz Jewellers has something for everyone, and that's what makes it a great jeweler.
Another great thing about Topaz Jewellers is the variety of men's rings available. Whether you're searching for a classic and timeless design or something more unique and modern, you're sure to find it here.
And the best part? Topaz Jewellers offers lower prices without compromising on quality. This is a steal for those who love a real sparkle but are on a budget.
Another standout feature of Topaz Jewellers is its quick appointment setup just by filling out a form on its website, and ta-da, you're good to go!
The only drawbacks are that Topaz Jewellers doesn't sell bracelets or watches.
Overall, Topaz Jewellers is an exceptional jewelry shop that offers something for everyone. It's no wonder it's a popular spot in Limerick!
Ideal for wedding rings 
Ideal for name necklaces
Variety of men's rings
Lower prices but same quality 
Quick appointment setup
No bracelets
Doesn't sell watches
Customer Reviews
Competitive price
"Topaz is a great place to buy at the most competitive price. They will redesign your old jewellery or make something for you from bits and pieces you no longer use. Friendly and helpful." – Jenn BW
Happy with service
"I highly recommend Topaz I've been going years. Patrick is a gentleman made our wedding rings 13 years ago and we have gotten beautiful pieces since including my eternity ring. I've sent many of my cousins in when they were getting married and they are all very happy with the service as well. Beautiful pieces you will not be disappointed." – Charlotte Kiely
5. Pandora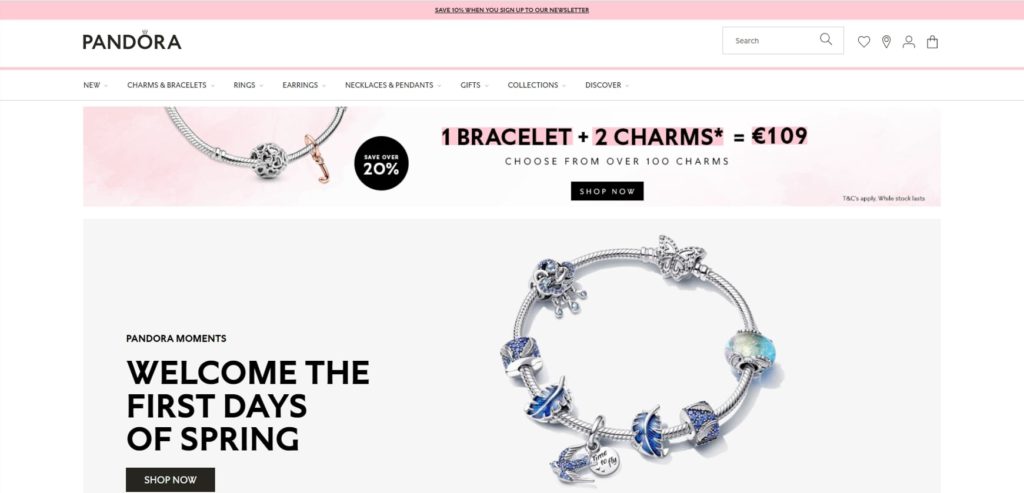 Test
Info
PRODUCTS

Necklaces & Pendants, Gifts

Charms & Bracelets

Rings, Earrings

WEBSITE
https://ie.pandora.net/
ADDRESS
18 O'Connell St, Limerick, Ireland V94 R2T7
CONTACT DETAILS

PHONE: +353 614 18963

OPERATING HOURS

Monday to Saturday, 10:00 a.m. - 6:00 p.m.

Sunday, 1:00 p.m. - 5:00 p.m.
| | |
| --- | --- |
| AVAILABILITY | ★★★★★ (5/5) |
| DESIGN | ★★★★☆ (4/5) |
| RATES | |
| VARIETY | |
Of course you know this place. I mean, who hasn't heard about Pandora?
When it comes to finding the perfect gift for any occasion, Pandora is the top jeweler in Limerick.
We like its exceptional collection of jewelry pieces that are categorized by recipient and occasion, making it easy to find the ideal gift for your loved ones.
What we also find as a deal-maker is the featured gifting option, which offers a charming combination of bracelets and charms that are sure to delight any recipient.
But the best part? Pandora offers many affordable choices that won't break the bank. And with their wide variety of products, from classic to contemporary styles, there's something for everyone.
Plus, it ships internationally, making it easy to send gifts all around the world.
What's more is that we appreciate Pandora for having the prices of its products available on its shopping site and even on site.
Also, we find the child-friendly designs really pretty and ideal for teenagers and kids! These have cartoon, animal, or even random characters that make for perfect gifts.
And because it's open daily, you can stop by anytime to browse the updated collections.
The only minor drawback is that some products may not have stocks available online and that orders over €70 only get a free delivery. Still, you'll get your orders delivered the same day you order them.
Best for gifts 
Many affordable choices
Ships internationally
Transparent pricing
Client favorite
Child-friendly designs 
Some products don't have stocks online
Free delivery is for orders over €70
Customer Reviews
Welcoming staff
"My absolutely favourite Pandora store since 2016. Staff is welcoming and very helpful. Can't understand all the negative comments, as I've always received best of service and most staff are there years. I would really recommend to everyone." – Maja Stypula
Friendly atmosphere
"I emailed the store in advance to be sure they had a specific bracelet in stock. I received a response in under an hour from Michelle, who was very kind and helpful. When I went into the store I was shown the bracelet but didn't feel pressured into buying it, there was a really friendly atmosphere in the store. I enjoyed the entire process of shopping with Pandora." – Joshua O'Dwyer
FAQs About the Best Shops for Jewelries in Limerick
---
Still can't decide which jewelry shop to visit? Check these out:
---