The 5 Best Shops for Used Cars in Galway
Have you ever wondered why people still buy used cars? Especially when there's a lot of brand new cars out there promising to have the best features and latest technology?
Well, the quick answer is: you can save more money buying second hand!
That said, we've rounded up a list of where to buy the best used cars in Galway. Check 'em out how much they cost below!
How much do used cars cost in Galway?
Aside from added responsibility, buying a brand new or used vehicle needs a lot of money from a buyer. As a guide, a table below shows the estimated average price per type of secondhand vehicle in Galway:
| TYPE OF USED VEHICLES | ESTIMATED AVERAGE PRICE |
| --- | --- |
| Sedan | €20,000.00 |
| SUV | €25,000.00 |
| Hatchback | €20,000.00 |
| Convertible | €30,000.00 |
| Pickup | €25,000.00 |
| Van | €25,000.00 |
| Coupe | €35,000.00 |
| Supercar | €55,000.00 |
| Truck | €15,000.00 |
The Best Shops for Used Cars in Galway
When you're about to spend huge on something, you wanna make sure it's worth it. There's no exception when it comes to cars, so we made sure to only include the best stores based on the following:
1. Cunningham Autopoint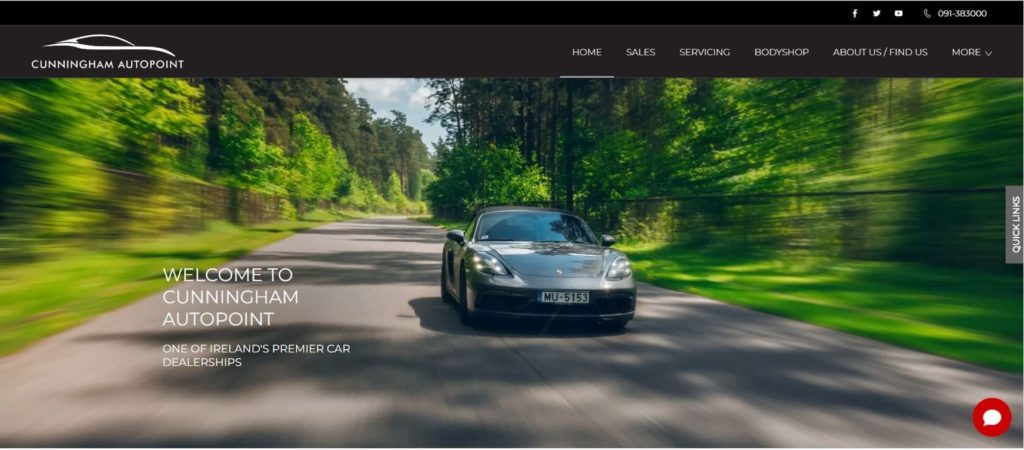 Test
Info
PRODUCTS

Automatic, Diesel

Hybrid, Manual

Petrol, Luxury

Sedan, Mini

WEBSITE
https://www.auto-point.ie/
ADDRESS
M6 Exit 19, Carnmore West, Oranmore, Carnmore, Galway, Ireland H91 R6CP
CONTACT DETAILS

PHONE: +353 913 83000, No Available Email

OPERATING HOURS

Monday to Friday, 9:00 a.m. - 5:30 p.m.

Sunday, 9:30 a.m. - 1:30 p.m.
| | |
| --- | --- |
| VARIETY | ★★★★☆ (4/5) |
| QUALITY | ★★★★★ (5/5) |
| AVAILABILITY | ★★★★★ (5/5) |
| ACCESSIBILITY | ★★★★★ (5/5) |
| PRICING | ★★★★☆ (4/5) |
If you're looking for classy vehicles but don't want to get a brand new one, you can check out the options at Cunningham Autopoint in Carnmore.
The shop's inventory consists of multiple brands such as Audi, Mercedes, BMW, Jaguar, and Volvo. So if you're looking for a high-end car, this is the place to go.
We find the online reservation and shopping process convenient and straightforward. This is because customers only need to browse and find their desired vehicle online, via web or mobile, anytime and anywhere.
We think that one of the unique features of Cunningham Autopoint is the in-website financing calculator, which helps customers calculate the cost of their purchase and plan their budget.
The website also includes basic information about the products, such as model, mileage, among others. This means customers can easily get an idea of what they're interested in before visiting or booking a test drive.
Also, we find the shop's client retention reassuring, with 50% of monthly customers returning for additional purchases. Additionally, the customer base extends nationwide.
However, it's worth noting that Cunningham Autopoint doesn't have any trucks available, so if that's what you're looking for, you'll need to check elsewhere.
Also, given the focus on luxury vehicles, it might not be the best option for those who want simple and more affordable cars.
Overall, Cunningham Autopoint is an excellent option for anyone looking for a luxury car in Galway for its accessibility and quality of products sold based on previous clients' accounts.
Ideal for luxury cars 
Convenient online platform
Products have basic information on website
Client retention 
Nationwide customer base
No trucks
More on luxury vehicles
Customer Reviews
Best dealership
"We purchased a car from Cunningham auto , g30, it is truly one of the best dealership to purchase your new vehicle , I was dealing with Gary and Patrick and they are a pleasure to deal with! Highly recommend them , and I will definitely be buying future cars from them! Keep up the great work." –Mariam Abbas
Professional and seamless
"We purchased a car off Cunningham Auto last year. That process was as expected, professional and seamless. There was a small issue with the car last month that they took care of, with the same level of professionalism. The car is still under their 12 month warranty and they very kindly collected it from Dublin and left us with a replacement. Communication was transparent throughout and they delivered the car back, when they said they would…" – Owen Watters
2. Western Motors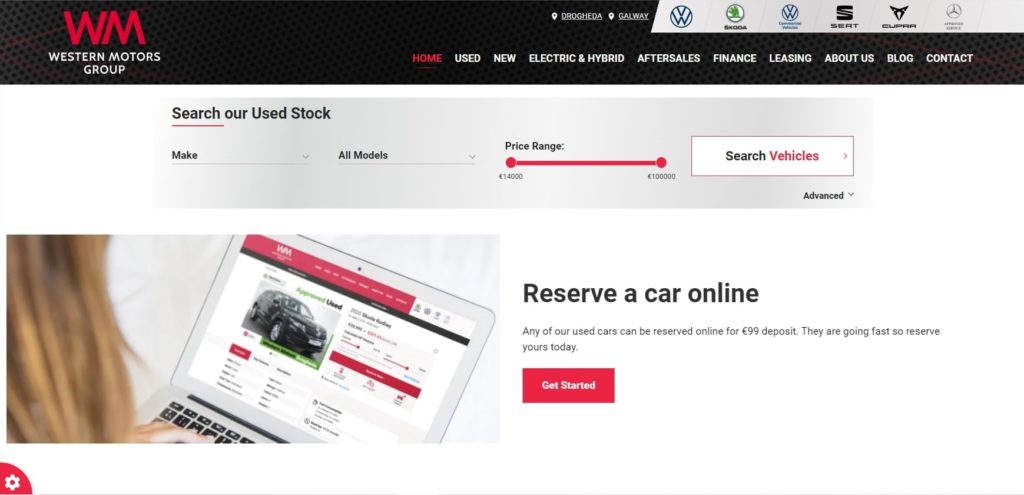 Test
Info
PRODUCTS

New and Used Cars

Hybrid, Electric

WEBSITE
https://www.westernmotors.ie/
ADDRESS
Ballybrit, Galway, Ireland H91 HH51
CONTACT DETAILS

PHONE: +353 917 09970

OPERATING HOURS

Monday to Friday, 9:00 a.m. - 6:00 p.m.

Saturday, 9:00 a.m. - 3:00 p.m.
| | |
| --- | --- |
| VARIETY | ★★★★☆ (4/5) |
| QUALITY | ★★★★★ (5/5) |
| AVAILABILITY | ★★★★★ (5/5) |
| ACCESSIBILITY | ★★★★★ (5/5) |
| PRICING | ★★★★☆ (4/5) |
If convenience is what you want when purchasing a vehicle, then Western Motors might just be of help to you as it's one of the best-used car dealerships in Galway.
One thing we liked most here is its efficient online car valuation system that helps customers to get a fair price for their used cars.
We also like that Western Motors offers flexible payment plans, including installment/monthly payment schemes through its Hire Purchase, Used Car Finance, and Personal Contract Plans.
It's very helpful to customers who are looking for a payment plan that works for them based on their budget.
What's more is that it has insurance on Volkswagen cars, providing an added layer of protection for clients of this car brand under this car shop.
Additionally, the after-sales services are helpful, especially for those that need repairs even for their newly purchased used cars. Not just that, but it has locations in Galway and Drogheda to make it accessible.
When it comes to reliability, this shop has built a reputation from its over five decades of experience, having been in operation since 1964.
However, this used cars shop doesn't offer construction or heavy equipment vehicles or Asian brands for vehicles. Don't worry though, as it has enough vehicles for you to choose from.
Efficient online car valuation 
Allows installment/monthly payment scheme
Offers insurance 
Helpful after sales services
Established experience 
Two locations 
No construction/heavy equipment vehicles
No Asian brands
Customer Reviews
Honest and efficient
"Couldn't be happier – We dealt with Gabriel and he is a really nice, honest and efficient salesman. If ever we couldn't get him on the phone, he would return our call promptly. Always upfront about everything (delivery dates etc), knowledgeable on electric cars, grants etc, – overall top class service from Gabriel and Volkswagen, Galway." – A G
Really good experience
"Really good experience with Gabriel in Western Motors. Seamless transaction and given plenty of support and time in getting up and running in our new ID4. Thank you so much and what an amazing car. Thanks again VW and in particular Gabriel!" – Tom Barry
3. Tony Burke Motors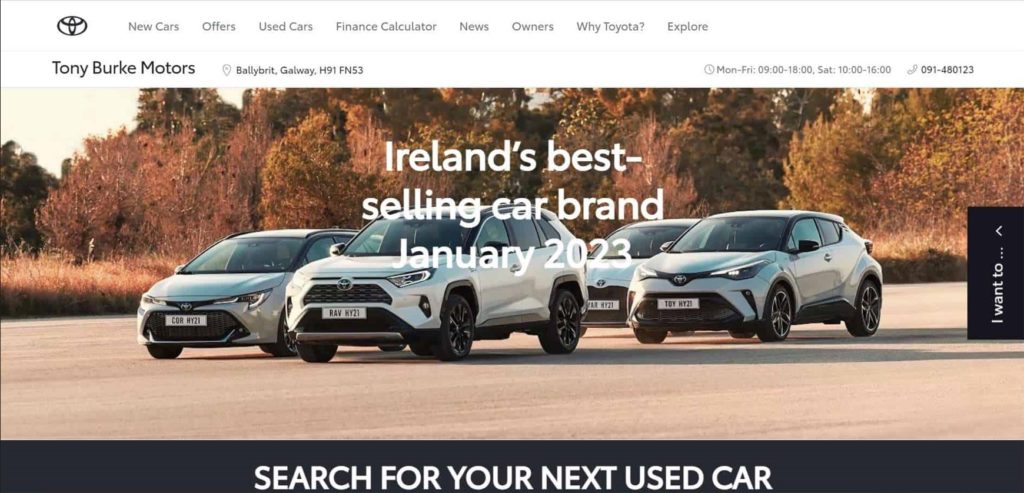 Test
Info
PRODUCTS

New, Used, Hybrid Cars

WEBSITE
https://www.tonyburkemotors.ie/
ADDRESS
Ballybrit, Galway, Ireland H91 FN53
CONTACT DETAILS

PHONE: +353 914 80123

OPERATING HOURS

Monday to Friday, 9:00 a.m. - 6:00 p.m.

Saturday, 10:00 a.m. 4:00 p.m.
| | |
| --- | --- |
| VARIETY | ★★★★☆ (4/5) |
| QUALITY | ★★★★★ (5/5) |
| AVAILABILITY | ★★★★★ (5/5) |
| ACCESSIBILITY | ★★★★★ (5/5) |
| PRICING | ★★★★★ (5/5) |
When Asian cars are your top choice when buying one, Tony Burke has a number of vehicles in its inventory including used and brand new ones.
We think Tony Burke Motors is a standout used car dealership in Galway for offering customers a premium selection of 2022 or later models that still fall within the 3-5 year warranty period.
We find it one of the best places to purchase a hybrid car because of its extensive inventory and in-depth knowledge of the technology.
For us, one of the key benefits of shopping cars here is the transparency of its pricing. All of the prices and what you will have to pay monthly are all indicated in its website which is a deal maker if you ask us.
What's more is that financing is also made easy with detailed options available to suit your budget regardless of what car you may be wanting to purchase.
We also like its online recall booking system that's hassle-free for those who experience troubles on their car purchase. Scheduling any necessary recalls is made easy through its website, saving them time and hassle in the long run.
While Tony Burke Motors is limited to one brand only, it's not a big deal when it comes to limitations as this allows the shop to focus and be an expert on the cars it sells.
Do note also that if you're a vintage car enthusiast, you may not find these types of vehicles here.
Still, Tony Burke Motors is a fantastic choice for anyone in the market interested in hybrid technology.
Ideal for hybrid cars
Used cars were 2022 or later models 
Updated inventory
Transparent pricing
Convenient recall system
Limited to one brand 
No vintage cars
Customer Reviews
Knowledgeable and helpful
"Only popped in to have a look and came out with having bought a lovely car. Aidan was really nice, not pushy at all (which completely puts us off) and was just really chilled but knowledgeable and helpful. A really nice experience and can't wait to collect the car on Friday." – Lottie C
Completed efficiently
"Bought a car from Mike this week. Could not have dealt with a nicer guy who went out of his way to ensure the car was in tip top condition on collection and that all required paper work was completed as efficiently as possible!" – Kate Phelan
4. Windsor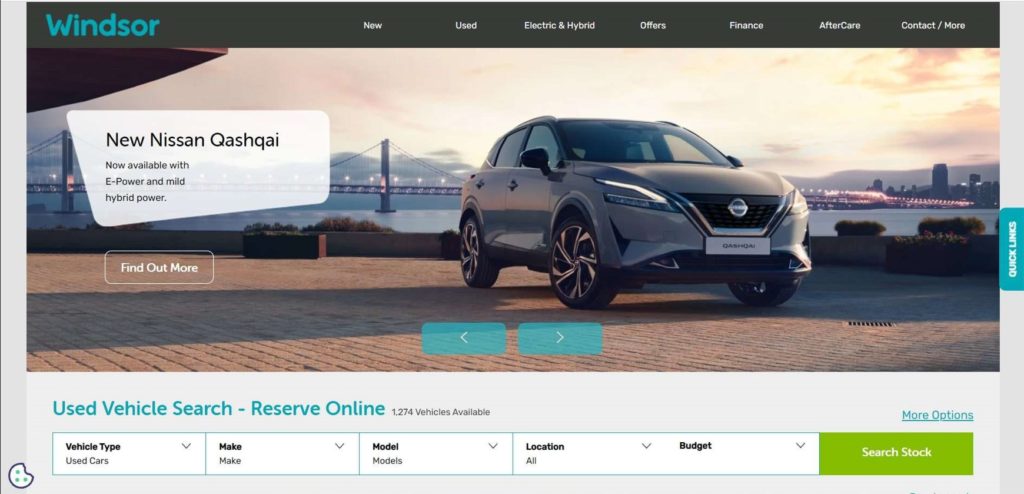 Test
Info
PRODUCTS

New and Used Vehicles

Electric, Hybrid

WEBSITE
https://www.windsor.ie/
ADDRESS
Monivea Rd, Galway, Ireland H91 Y673
CONTACT DETAILS

PHONE: +353 917 70707, No Available Email

OPERATING HOURS

Monday to Friday, 9:00 a.m. - 6:00 p.m.

Saturday, 10:00 a.m. - 3:00 p.m.
| | |
| --- | --- |
| VARIETY | ★★★★★ (5/5) |
| QUALITY | ★★★★☆ (4/5) |
| AVAILABILITY | ★★★★★ (5/5) |
| ACCESSIBILITY | ★★★★☆ (4/5) |
| PRICING | ★★★★★ (5/5) |
Windsor is one of the most popular used car dealerships in Galway, and it's not hard to understand why.
When you look at its online shop through its website, you'll see that it has an impressive vast inventory of over 1,200 vehicles for customers to choose from.
The good thing about this is the products are very well organized at the site. Not just that, but there are stocks for you whether you're looking for a luxury car or something more affordable.
We appreciate Windsor for providing detailed vehicle specifications. This is helpful in making it easy for customers to find the right car but don't know which one exactly is the best.
Another winning factor that we find here is the affordability of the vehicles. With prices starting at just €11,000, there are plenty of options for customers who are on a tighter budget.
Additionally, Windsor offers manufacturer-approved repairs, so your peace of mind is guaranteed knowing your vehicle is serviced by trained professionals.
What sets this apart from others is its Interactive Vehicle Health Check (iVHC) video report, which is provided free of charge to help you know the status of your vehicle.
However, unlike others, Windsor asks for a reservation fee. Also, some of the vehicles have higher mileage with some exceeding 120,000 km.
That just explains why some cars sold here are really cheap.
Nonetheless, it's an ideal used car shop for those looking for a variety of vehicles that are affordable.
Great variety with huge inventory 
Detailed vehicle specs
More affordable options to choose from 
Does manufacturer-approved repairs
Free Interactive Vehicle Health Check video report 
Reservation isn't free
Some vehicles have over 120,000 km mileage
Customer Reviews
"Having recently purchased a new car from Windsor Motors Galway, I cannot rate it highly enough for its top class service. The salesman Gary Brown was a pleasure to deal with. From the very beginning he was professional, efficient, very knowledgeable and nothing was a problem to him. I would highly recommend Windsor Motors & Gary. I'll definitely return in the future." – Eileen Curran
"Great dealership, everything was smooth and hassle free. Got a great car and a great deal too. Wojtek is a great salesman and he suggested the car i was looking to buy before i even said id been looking at it. Even the finance department was great too." – Sean Jackson
5. Sheils Motor Group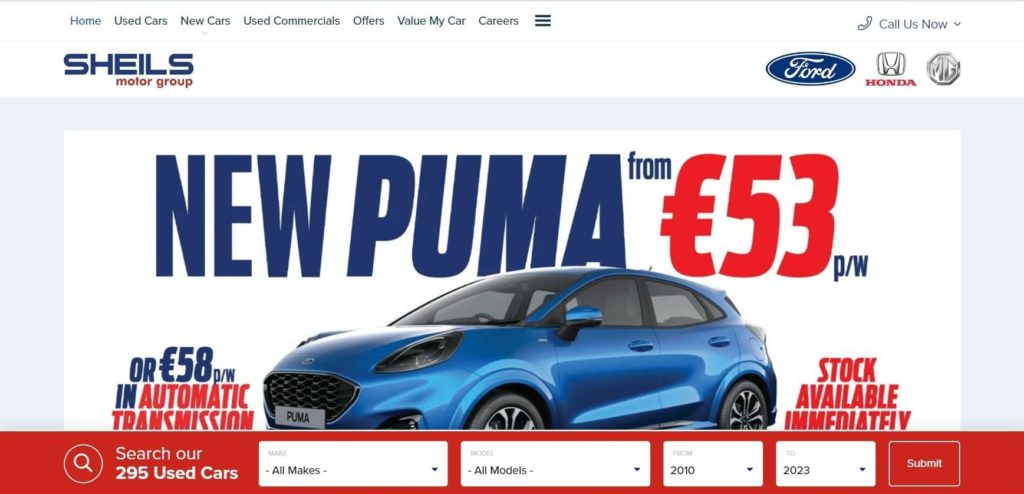 Test
Info
PRODUCTS

New and Used Cars

Commercial Vehicles

WEBSITE
https://www.sheils.ie/
ADDRESS
Sheils Motorpark, Headford Rd, Galway, Ireland H91 X7PD
CONTACT DETAILS

PHONE: +353 917 41100

OPERATING HOURS

Monday to Friday, 8:30 a.m. - 6:00 p.m.

Saturday, 10:00 a.m. - 4:00 p.m.
| | |
| --- | --- |
| VARIETY | ★★★★☆ (4/5) |
| QUALITY | ★★★★☆ (4/5) |
| AVAILABILITY | ★★★★★ (5/5) |
| ACCESSIBILITY | ★★★★★ (5/5) |
| PRICING | ★★★★★ (5/5) |
Sheils Motor Group is a trusted used car dealership in Galway, with an impressive array of more than 350 units to choose from.
We like that this shop has an ample van collection so customers like us have plenty of choices to choose from, especially those for commercial car users.
In case you didn't know, Sheils Motor Group has been around since 1925, which explains its knowledge and experience when it comes to car dealerships and the paper works it entails.
We think one of the benefits of shopping here is its comprehensive warranty program that covers all vehicles sold in its store. This is ideal for car buyers that think too much about taking care of their investments.
Additionally, we commend this shop for having a handy finance calculator that can help you plan your payments, be it on a monthly or weekly basis.
Another worth nothing is that sellers looking to trade in their vehicle can take advantage of Sheils Motor Group's free online valuation service. This provides an accurate estimate of their car's worth.
However, this dealership doesn't offer supercars, and the majority of the used cars available are of one brand.
Overall, Sheils Motor Group remains a reliable used and brand new car shop in Galway because of its established experience in handling purchases and trade ins.
Ample van collection for commercial use
Offers warranty for all vehicles
Handy finance calculator 
Free online valuation for sellers
Established dealership experience 
No supercars
Majority of used cars are of one brand
Customer Reviews
Very friendly staff
"We recently purchased a used car from Sheils. The sales rep (Shane) was very friendly and anxious to meet our needs. When found a car we wanted to see, he let us take our time without giving us the "hard sell." He gave us a very fair price for our old car, and he even arranged for someone to meet us halfway to arrange the trade. (We're based in Dublin.) We'd definitely buy from here again." – Peter Stone
Great place
"Great place to buy a car. All the team there  made the entire process so easy. One stop shop for everything – Competitive finance rates and a great selection  of cars…" – Emer Finnerty
FAQs About the Best Shops for Used Cars in Galway
---
Now that you have an idea on where to acquire quality used cars in Galway, you may also read our review on the top car auction spots in Ireland!
---