The 6 Best Artificial Grass Companies in Ireland
Is your lawn giving you headaches? Well, we've got some good news for you!
You never have to worry about mowing grass again, thanks to the best artificial grass companies in Ireland. In this article, you'll find our entries' pros and cons, rates, and much more!
Below this article we've also answered some questions you might have. But before giving you our picks, let's talk about costs first.
How Much Does Artificial Grass Cost in Ireland?
We've gathered the average cost of our entries' products and listed them down below. Take note that actual prices may vary depending on the measurement and type.
For a full list of costs, check out our entries' respective websites.
| | | |
| --- | --- | --- |
| COMPANY | MATERIAL | ESTIMATED COST |
| Artificial Grass Ireland | 25mm Kinsale Grass | €21.95 (per sq. m.) |
| | 35mm Lansdowne Grass | €24.95 (per sq. m.) |
| | 40mm Boyne Grass | €27.95 (per sq. m.) |
| FamilyGrass | 25mm Grass | €25 (per sq. m.) |
| Class Grass | Artificial Grass | Contact for more information |
| Sportslawn Ireland | Artificial Grass | Contact for more information |
| Sanctuary Synthetics | 40mm Eco-friendly Artificial Grass | €33 (per sq. m.) |
| | 15mm Intro (Entry-level) Artificial Grass | €16 (per sq. m.) |
| | 40mm Super (Mid-to-Top Range) Artificial Grass | €38 (per sq. m.) |
| Papa Turf | Villandry | €14.95㎡ |
| | Kew | €9.95/㎡ |
| | Eden | €12.95/㎡ |
| | Babylon | €10.95/㎡ |
The Best Artificial Grass Companies in Ireland
Now that we've got that covered, allow us to take you through the top companies to call for your artificial grass installation needs!
1. Papa Turf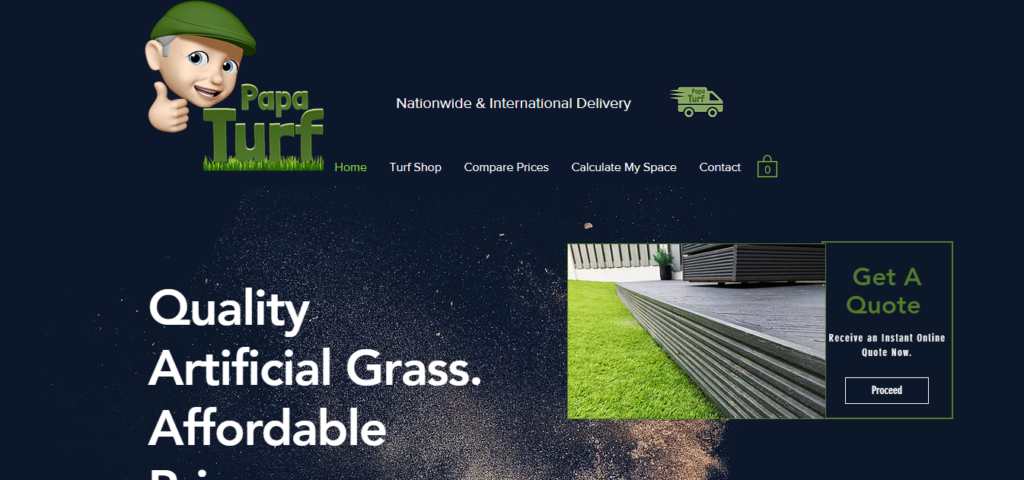 Do you want quality and affordable artificial grass for your lawn? Impress your friends and family with Papa Turf!
We gave them a spot in the top 10 because they are one of the companies that offer the most affordable artificial grasses. In comparison to others, they have Villandry for €14.95㎡, Kew for €9.95/㎡, Eden for €12.95/㎡, and Babylon for €10.95/㎡.
Another reason is they give a free sample pack that contains 14×14 cm of all of their grass types. This can help you in choosing the best grass for your chosen area.
Unfortunately, they do not install the turfs and cannot afford refunds once the artificial grass has been delivered.
Operating hours are unavailable
Can provide installation services only on request
Customer Reviews
Here's a review from one of their previous clients:
"A great quality product at a great price With great advice from papa turf himself"
2. Artificial Grass Ireland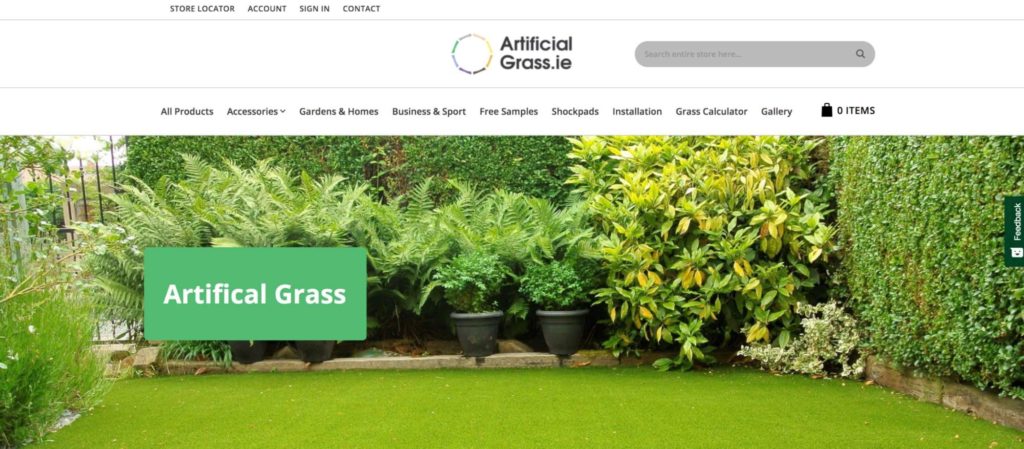 PRODUCTS
Garden grass, commercial grass
WEBSITE
https://artificialgrass.ie/
ADDRESS
Meath
Dunboyne Outdoor Living, 6 Dunboyne Business Park, Co. Meath

Wicklow
Outdoor Living Garden Centre, Behind Horkans Garden Centre, Glen of the Downs, Co. Wicklow
CONTACT DETAILS
Meath
01 801 8000


[email protected]



Wicklow
01 801 8000


[email protected]

OPERATING HOURS
Mon to Sat: 9:30 am to 5:30 pm
Sun: 12:30 pm to 5:30 pm
Artificial Grass Ireland has one of the most versatile selections of artificial grass on our list, most of which include an 8-year warranty. Whether you need a grass cover for your garden or balcony, you'll likely find one that'll best suit your purpose.
We'd like to highlight their 25mm Kinsale grass as an ideal choice for lawns. It features thick and realistic green blades that are also among the most affordable ones on the market.
If you want a detailed look of this product, you have 2 options moving forward. You can drop by their showroom at Meath or you can order up to 4 free samples online.
If you don't mind waiting a bit, we recommend going with the latter though, as some products aren't showcased in their showrooms.
Otherwise, you can also purchase your chosen grass online and have them delivered for a separate fee. Furthermore, they offer installation services in surrounding areas for an additional cost.
Ideal for domestic and commercial use
Free samples available
Two showrooms available
8-year warranty
Delivers nationwide
Open on weekends
Not all products available in Wicklow
Installation services available separately
Customer Reviews
Here are some comments about Artificial Grass Ireland:
"Recommend this place very highly need grass for grave he cut it perfect to size and was very helpful thank you 🤗" —Colm Eakins, Google Reviews
"Had a great experience purchasing artificial grass. Thanks to Marian for looking after us, after one conversation on the phone, she was attentive to what we needed and linked us up with the best product to suit our needs. Great staff and great value." —Aoife Gannon, Google Reviews
"Highly recommended quality product excellent service & sales." —Oakleaf Landscaping, Google Reviews
3. FamilyGrass

PRODUCTS
Artificial grass for gardens and commercial establishments
WEBSITE
https://familygrass.ie/
ADDRESS
FamilyGrass Ireland Ltd, Kingswood, Dublin 22
CONTACT DETAILS
01 901 9630


[email protected]

OPERATING HOURS
Mon to Fri: 9:00 am to 5:00 pm
FamilyGrass made it to this list due to its affordability and wide reach. We love that they have multiple bases nationwide, allowing them to offer obligation-free site visits and installation services to their customers.
What also sets them apart from other companies on this list is that they offer flexible financing plans through Permanent TSB. Still, they have one of the most affordable prices for 25mm artificial grass on our list, which also comes with a 10-year warranty.
As an additional service, you can also opt to avail their grass garden transformation services if you wish to give your lawn a major makeover. Apart from artificial grass installation, they can even add flower beds and fences, to name a few.
Unfortunately, they don't have an online shop nor do they offer free samples online. So apart from site visits and select showrooms, you'll have to rely on photos for reference.
Free site visits
Affordable rates
Nationwide coverage
Showrooms available
Flexible financing options available
10-year warranty
Landscaping services available
Closed on weekends
No free samples
No online shop
Customer Reviews
Below you'll see some reviews by FamilyGrass' previous clients:
"Great company, prompt service and delighted with the result. It has essentially created another room for us to use as it is clean and lovely to walk and lie on. The kids are spending way more time in the garden." —Ellen O'Connor, Google Reviews
"Absolutely chuffed with Family Grass, from start to finish everything was very professional, I didn't have any trouble whatsoever, Bernadette and Ashleigh in the office were great, from mailing to phone calls, organised a site visit for quotation free of charge and Norman was great when he arrived, the work itself has turned out better than ever expected, the lads arrived bang on the date / time that was giving to us, and again very professional, in and out within a few hours and left the place spotless. Highly recommend Family grass!! Thanks a mill all, Leo." —Leo Ridgeway, Google Reviews
4. Class Grass

PRODUCTS
Artificial grass for residential and commercial establishments, installation services
WEBSITE
https://www.classgrassireland.com/
ADDRESS
Aughagower, Castlecoote, Co. Roscommon
CONTACT DETAILS
087 838 0618 or 090 662 1219


[email protected]

OPERATING HOURS
Contact for more information
It's unsurprising that Class Grass also made it to our list. As a one-stop shop for all your gardening needs, they offer artificial grass installations and landscaping design services.
They may be based at a remote location but they actually cover areas all over the country, from Dulin to Galway. Our favourite thing about them is the fact that they offer free site visits and free samples to customers nationwide.
From these highlights alone, we think that they're the company to call no matter what your landscaping goals are. You can check out their website to get a glimpse of their previous projects.
Take note though that you'll have to call them first to know your options seeing that their collection of products isn't available online. Moreover, their artificial grass has an 8-year manufacturer's guarantee, with an expected lifespan of 20 years maximum.
Free site visits
Free samples
Landscaping services available
8-year guarantee
Nationwide coverage
No online shop
Remote location
Operating hours not listed online
Customer Reviews
Here's what customers have to say about Class Grass:
"Absolutely delighted with the work carried out by Class Grass. Padraic and the team were so lovely to deal with and they transformed our soggy Waterlogged garden into the perfect play area for our two small children. The kids love it, it looks beautiful and no more mucky shoes for Mammy! Highly recommended 👌" —Gillian Mckenna, Google Reviews
"I had an initial conversation with Padraic, about getting artificial grass and some landscaping for our back yard. He was very generous with his time, very informative and professional and only for a change of plan on our side, I would not have hesitated in getting him in to do the work. Hopefully we'll work together another time. 5 stars from me on that basis." —Emma Jane Morissey, Google Reviews
5. Sportslawn Ireland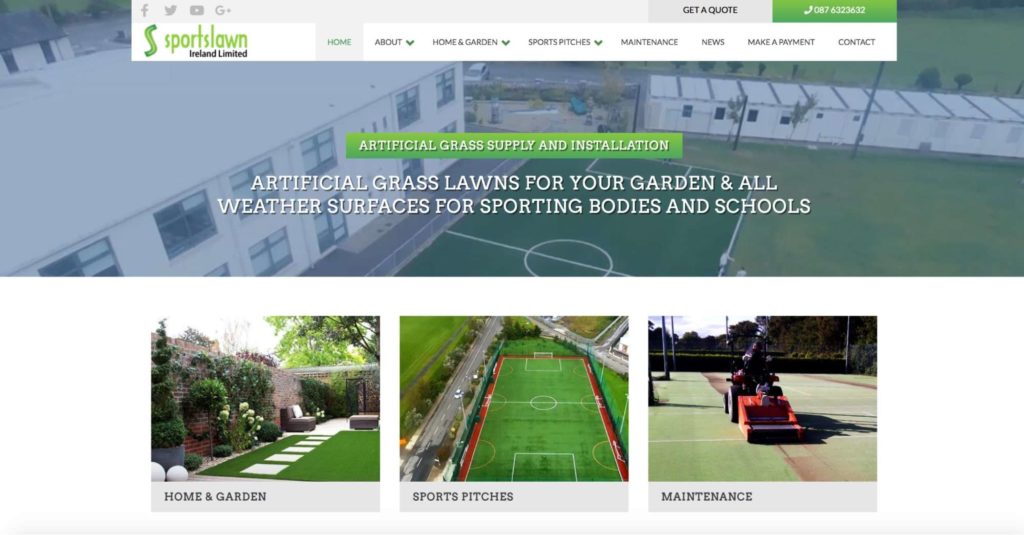 Aptly named Sportslawn Ireland, you can probably guess by now that they specialise in artificial turfs for sporting fields. Apart from providing the actual installation, their team of experts can supervise the entire process including installations of fences and floodlight systems.
So if your local sporting centre needs this, you can refer your local representatives to Sportslawn Ireland.
They may specialise in artificial grass for sporting fields, but they also supply artificial grass for homes and gardens. All products come with an 8-year warranty, on top of a lifespan of 15 to 20 years.
What's more is that you can also schedule a free site visit so they can conduct a thorough survey of your garden. While they have offices in Dublin and County Clare, they actually cater to customers nationwide.
Unique to Sportslawn Ireland is that they provide maintenance services for artificial grass, which includes deep cleaning, seam repairs, and grooming, among others.
Considering that this service is quite comprehensive, we only recommend maintenance work for sporting fields to avoid unnecessary costs. Artificial grass for private use is generally low maintenance.
Sadly, they don't have an online shop, so you'll have to contact them to check out their selections in detail.
Specialises in sporting fields
Nationwide coverage
8-year warranty
Maintenance services available
Free site visits
No online shop
No free samples
Closed on weekends
Customer Reviews
See what some of Sportslawn Ireland's former clients have to say about their products:
"Great service. Amazing staff. Delighted with the result. Would highly recommend." —Ann Mcgee, Google Reviews
"​​Sportslawn Ireland have provided a cleaning and maintenance service to our all weather pitch. At all times the quality of this work and the attention to detail has been superb." —Maria Barry, St. Wolstan's Community School
6. Sanctuary Synthetics

PRODUCTS
Artificial grass for domestic and commercial use, installation services
WEBSITE
https://www.sanctuarysynthetics.ie/
ADDRESS
Sanctuary Synthetics, Grassland Military Road Industrial Park, Rowley Terrace, (Off Newbridge Road), Naas, Co. Kildare
CONTACT DETAILS
045 901 970


[email protected]

OPERATING HOURS
Mon to Fri: 9:00 am to 5:30 pm
Sat: 9:00 am to 1:00 pm
Since 2003, Sanctuary Synthetics has been providing pet- and child-friendly artificial grass to homes all over Ireland. Their wide range of products are suited to fit domestic and commercial establishments.
We'd like to highlight their eco-friendly artificial grass that's both recyclable and is made with recycled materials. It's the first of its kind to be introduced in Ireland, and they're the only company on our list to offer it.
Moreover, the grass is quite thick at 40mm, offering more protection to kids from falls. It also comes with the standard 10-year warranty.
We also love the fact that the company takes part in recycling initiatives after their manufacturing process. So if environmental impact is a major concern for you, then we highly recommend checking out Sanctuary Synthetics.
If you're around Kildare, you can simply go to their showroom at Grassland Military Road Industrial Park. But if your location is a bit far, you can get free samples or you can also book a free home consultation instead.
The only drawback is that the wait for an installation schedule can be quite long at around 4 weeks. Hence, keep this timeframe in mind during your planning process.
Specialises in recyclable artificial grass
Showroom available
Free site visit
Open on weekends
Nationwide coverage
Online shop available
Long wait for installation
Warranties vary per product
Customer Reviews
Check out some comments about Sanctuary Synthetics below:
"The quality of customer service is fantastic, Both Bonnie and Anne could not be more helpful. The real grass is brilliant quality and great value too compared to what the DIY chains sell. My dog and daughter love the new grass. The delivery was 24 hours from order to drop off. I asked for some off cuts to put in between my granite tiles and what they supplied was perfect. Definitely recommend." —Ronan O B, Google Reviews
"I would highly recommend Sanctuary Synthetics. From start to finish they were highly professional and reliable. Very happy with the standard of work and transformed my garden from a building site to an oasis of calm!" —Nicola Clarke, Google Reviews
FAQs about Artificial Grass in Ireland
---
And those are the best artificial grass companies in Ireland! Just give these companies a call, and they'll get the job done for you very soon!
Got other recommendations? Go ahead and send us an email, and we'll check them out as soon as we can.
Now, if you're looking for a shed to complement your new artificial grass-covered lawn, then we just have the thing for that, too. Our list of the best shed installation companies in Ireland can give you a hand in that.