The 5 Best Jewellery Stores in Waterford
Are you buying jewellery for yourself or someone else? Or maybe, you just wanted to repair or alter one to make it seem new again?
For special occasions, jewellery with flowers and chocolates is fancied by many. These are available almost anywhere – from the best stores for jewellery in Waterford to the best flower delivery shops in Galway.
But before you start by exploring top jewellery stores, it's smart to consider the costs first.
How Much Do Jewellery Services in Waterford Cost
The pricing of the services for jewellery in Waterford vary depending on the location, type of metal or jewellery, and services performed overall.
Before heading to the estimated costs below, just remember that not all stores offer all these services:
| Services | Estimated Costs |
| --- | --- |
| Jewellery Purchase | Prices vary based on the features, complexity, refinement, and the like. |
| Valuation | €50 |
| Cleaning & Polishing | €5 to €55 |
| Rhodium Plating | €30 |
| White Gold Plating | €30 to €50 |
| Ring Sizes Up | €15 to €65 |
| Rings Sizes Down | €10 to €65 |
| Solder Repair | €5 to €10 |
| Engraving | From €15 |
The Best Jewellery Stores in Waterford
We assessed the top stores offering the best services for jewellery in Waterford based on the following criteria:
1. Harlow Fine Jewellery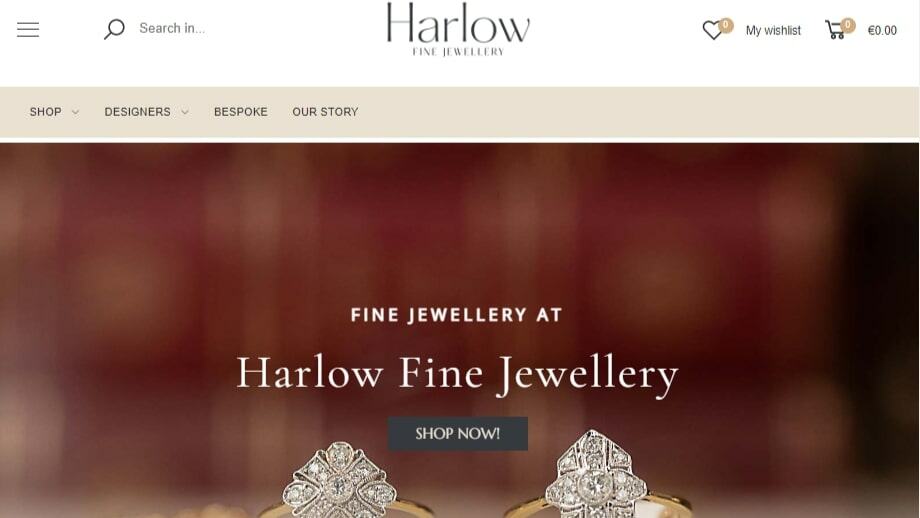 | Test | Info |
| --- | --- |
| SERVICES | In-store Shopping, Bespoke Design, Delivery |
| WEBSITE | https://harlowjewellery.ie |
| ADDRESS | 15 Bailey's New St, Waterford, X91 EAC1, Ireland |
| CONTACT DETAILS | +353 51 364 070 |
| OPERATING HOURS | Thursday - Saturday: 11:00 AM - 5:30 PM |
| | |
| --- | --- |
| AVAILABILITY | ★★★☆☆ (3/5) |
| QUALITY | ★★★★★ (5/5) |
| CUSTOMER SERVICE | ★★★★★ (5/5) |
| VALUE | ★★★★★ (5/5) |
Harlow Fine Jewellery in Waterford is known for their lovely collection and wonderful staff.
We appreciate that they have a wide range of products tailored to the customers' specifications. Everything looked so pretty that a customer contemplated buying everything at once!
Aside from the gorgeous and unique pieces, the sales lady we talked to was friendly and warm. It was remarkable that they made every purchase feel special and meaningful.
They were valuable assets, especially with the engagement ring we bought. Their team was knowledgeable and immediately figured out what we liked and guided us with great advice.
It was overwhelming at first. But because of their patience, they made the whole process easier and more enjoyable.
A male client we spoke to also admitted to not having the slightest clue about what he was looking for. Good for him, Harlow has some excellent ideas in store!
Because of this, we're motivated to buy our wedding bands from them too! We're glad to find stunning options at affordable prices.
Their online store was also pretty straightforward to shop from. Shipping was fast and the items were well-packaged.
Just make sure to book them for bespoke engagement ring designs. They only discuss this at length through appointments.
All in all, Harlow Fine Jewellery in Waterford is a beautiful shop for your jewellery needs. Visit them and know you're in the right hands.
Good range of jewellery 
Lovely collection
Friendly and knowledgeable staff
Seamless online store experience
Affordable prices
Bespoke designs are only by appointment
Open only 3 days a week
Customer Reviews
Highly recommended
"Friendly service. Wide range of products tailored to your specifications. Highly recommended." – Aisling Breen
Great service
"Absolutely love this shop, everything is so pretty…I want it all is the only problem. The service is great too. This shop is a fabulous reason/excuse to visit Waterford! " – Maeve O'Connor
2. Menders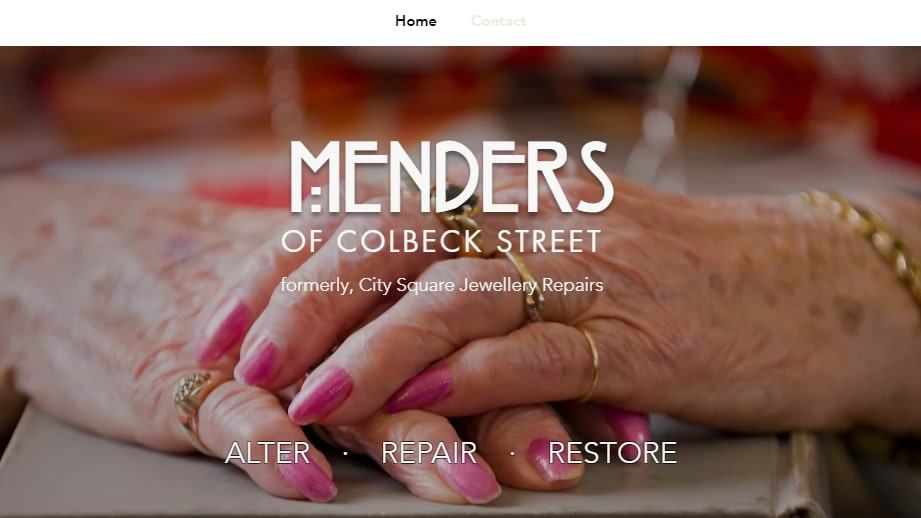 Test
Info
SERVICES
Jewellery Alteration, Repair, Restoration
WEBSITE
https://www.menders.ie/
ADDRESS
7 Colbeck St, Waterford, X91 YA02, Ireland
CONTACT DETAILS
+353 51 878 968
OPERATING HOURS
Monday - Friday: 10:00 AM - 5:00 PM

Saturday: 10:00 AM - 4:00 PM
| | |
| --- | --- |
| AVAILABILITY | ★★★★★ (5/5) |
| QUALITY | ★★★★★ (5/5) |
| CUSTOMER SERVICE | ★★★★★ (5/5) |
| VALUE | ★★★★☆ (4/5) |
If you want to alter, repair, or restore your jewellery in Waterford, Menders of Colbeck Street is among the experts in the city!
Firstly, their staff was professional and kind. Even though the jewellery we brought was small in monetary terms, we still felt important as they took the time to make the alterations we wanted.
We also appreciate they were done when they said they'd be. We're happy we didn't have to wait too long for our jewellery.
It seems like they were experienced enough to know the estimated length of their work as well. This was great for us because customers can save a lot of time with them.
There would be times when the shop would receive too many customers, though. Despite that, their level of customer service didn't diminish and they remained enthusiastic with us.
Regardless, their website seems to lack a lot of valuable information. For now, it consists only of a lacklustre home and contact page.
Of course, we'd love to know more about their services, pricing, and portfolio of previous works as a reference for future transactions. In addition, this would make it easier for us to refer them to friends.
But overall, their services were quick and efficient at reasonable prices. Check out Menders and bring your jewellery back to life!
Open 6 days a week
Professional and kind staff
Quick and efficient service
Reasonable prices
May have a lot of customers
Website lacks information
Customer Reviews
Fast and efficient
"I dropped in 2 rings for repair. They were done when they told me they'd be done. Perfect repair work. Fast and efficient." – Nicola Stone
Very friendly
"Popped in to get a repair done on a chain, it was ready very quickly. The owner and staff are very friendly." – David Hearne
3. Island Lane Jewellers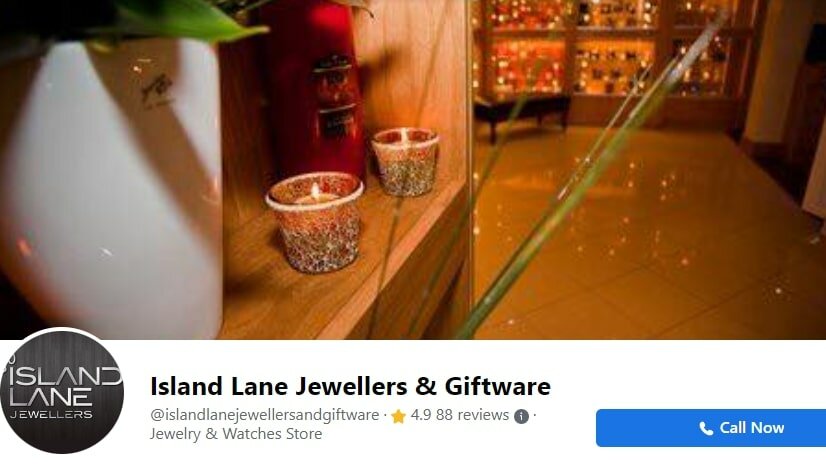 Test
Info
SERVICES
Jewellery, Watches, Gifts
FACEBOOK PAGE
https://www.facebook.com/islandlanejewellersandgiftware/
ADDRESS
Ardkeen Shopping Centre, Dunmore Rd., Waterford, Ireland
CONTACT DETAILS
+353 51 841 136
OPERATING HOURS
Monday - Friday: 9:15 AM - 5:45 PM

Saturday: 9:30 AM - 5:30 PM
| | |
| --- | --- |
| AVAILABILITY | ★★★★★ (5/5) |
| QUALITY | ★★★★☆ (4/5) |
| CUSTOMER SERVICE | ★★★★★ (5/5) |
| VALUE | ★★★★☆ (4/5) |
Other than beautiful jewellery in Waterford, lots of gift ideas for all types of budget are available at Island Lane Jewellers!
We know how hard it can be to pick the perfect gift for your family, friends, and loved ones. Thankfully, Island Lane has a bunch of adorable jewellery and other items to get you started.
Unlike many others, this store is open 6 days a week! We believe this offers adequate times for customers to schedule their free time around.
We're amazed to see their stunning collection of gold, silver, and costume jewellery too. Moreover, they have a fantastic range of watches as well!
But besides their jewellery, you can also find a large range of gifts for all occasions. They have pottery, candles, frames, handbags, and lots more!
It was also delightful to see the adorable posts on their Facebook page. Many of these contain items fit for relevant occasions such as Mother's Day, weddings, rainy days, and the like.
On top of their pleasing services, they provided us with lovely gift wrapping too! We didn't have to worry about anything else.
We just wish they have a proper website for us to browse through their collections in advance.
Nevertheless, many of Island Lane Jewellers' items are competitively priced so you're sure to spend your money right. A tonne of options is in store for you so check them out!
Open 6 days a week
Good for every budget
Adorable jewellery picks
Many products aside from jewellery
Relevant social media presence
No website
No email address displayed
Customer Reviews
Fabulous
"Fabulous range of jewellery and gifts with friendly helpful service." – Dave Manser
Lots of gift ideas
"Lots of gift ideas for all budgets. Lovely staff and gift wrapping too." – Shane McDonald
4. Hallmark Jewellers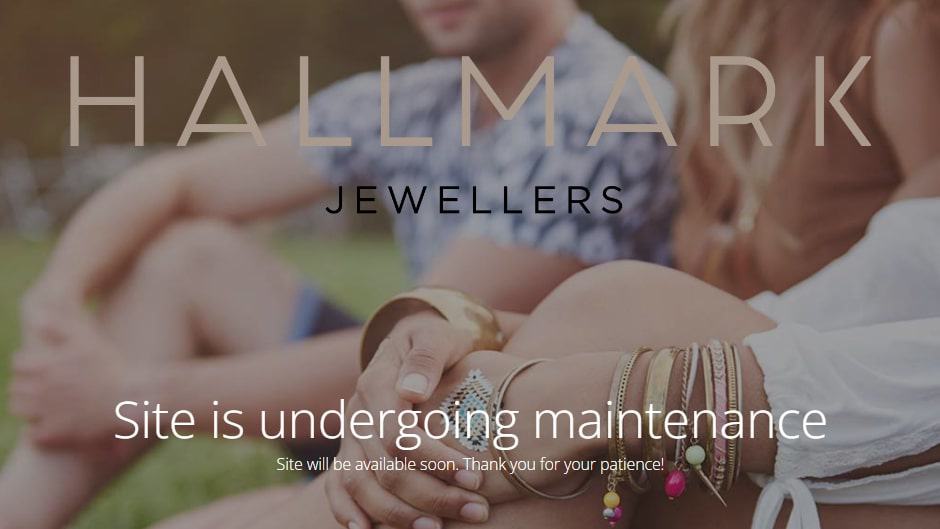 | Test | Info |
| --- | --- |
| SERVICES | Jewellery & Watches |
| WEBSITE | https://hallmarkjewellers.ie/ |
| ADDRESS | Arundel Square, Waterford, Ireland |
| CONTACT DETAILS | +353 51 853 144 |
| OPERATING HOURS | Monday - Friday: 9:30 AM - 6:00 PM |
| | |
| --- | --- |
| AVAILABILITY | ★★★★☆ (4/5) |
| QUALITY | ★★★★☆ (4/5) |
| CUSTOMER SERVICE | ★★★★☆ (4/5) |
| VALUE | ★★★★☆ (4/5) |
From celebratory jewellery to sparkling statement accessories, Hallmark Jewellers can be your next favourite for shopping jewellery in Waterford.
What we liked most about them was their nice and helpful staff. We were in luck that they got us through our decision-making process efficiently.
They also have a bunch of items in classic and timeless designs to choose from!
In addition, customers are also easily aware of their product prices on their Facebook and Instagram. Their transparency with this information was highly appreciated because this saves time for many.
Many of their items also come with a meaningful description too.
This just shows that the jewellery we purchase can be more than just aesthetic products. They can be significant to the identity or image we're building for ourselves.
Apart from celebrating wins, jewellery for Hallmark Jewellers is fit for simple milestones as well. They have several whimsical designs many will adore!
Nevertheless, we hope they could fix their website as soon as possible. It has been undergoing maintenance for a while now and prospects could easily miss out on their products and services.
Altogether, Hallmark Jewellers' charming designs and lovely staff would attract you to their store for a long time. Try them on your next shopping spree!
Nice and helpful staff
Lots of items to choose from
Charming designs 
Transparent with pricing
Website undergoes maintenance a lot
Closed during the weekend
Customer Reviews
Great rings and staff
"Got my wedding rings here. Staff couldn't have been nicer or more helpful." – Marie Sheridan
Very helpful
"Very helpful and friendly people." – Gavin
5. H. Samuel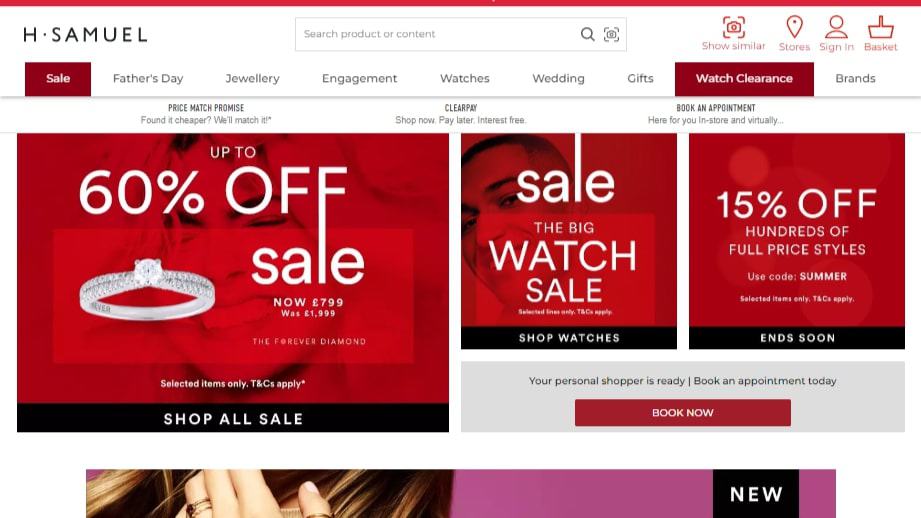 | | |
| --- | --- |
| AVAILABILITY | ★★★★☆ (4/5) |
| QUALITY | ★★★★☆ (4/5) |
| CUSTOMER SERVICE | ★★★★★ (5/5) |
| VALUE | ★★★★★ (5/5) |
Located on the main street, H. Samuel for jewellery in Waterford was a good spot with a spacious area for our liking.
From the start, the staff were pleasant and accommodating during our journey to purchase. This involves our payment for services such as valuations and cleaning as well.
We're glad that they were experts in the scene and knew what they were talking about. The salesperson had a comprehensive knowledge of the brands of the items we were enquiring about.
Not only that, but it was also amazing how they can read the customers' body language and facial expressions. This helped us choose the perfect ring!
Just be careful with the sizes, though. One customer experienced a size mishap on the rings she ordered so it's best to check it twice.
But for the most part, we like that they have a great range of products for jewellery, watches, and other gifts too.
It was also convenient for us that their website is organised and easy to browse. You could shop in different useful categories – by price, brand, metal type, occasion, collection, recipient, and more!
Because of this, we believe they have items catered to all ages and preferences! Upon subscribing to their newsletter, we happily received a 10% off voucher for our next purchase too.
Make the most of your shopping when buying gifts and jewellery in Waterford with H. Samuel's vast collection!
Spacious area
Pleasant and knowledgeable staff
Wide range of products
Organised website / online store
Get 10% off voucher for newsletter subscription
Occasional ring size mistakes
No email address for Waterford shop
Closed on Sundays
Customer Reviews
Top-class
"Top class customer service. Located on the main Street in Waterford city. Plenty of space inside the store and a wide selection of jewellery and advice." – Declan
Good service
"Popular jewellers, part of a chain. Good services, like valuations and cleaning. Pleasant staff." – Lucia Farrell
FAQs About Jewellery in Waterford
---
There you have it! We hope you liked our review of the best stores servicing jewellery in Waterford. May you pick the most gorgeous gifts for you or your loved ones!
If you want to find more gift-related services, check out our review of the shops that do the best flower delivery services in Dublin to learn more!