5 of the Best Accounting Firms in Waterford
For any business or establishment out there, numbers play a key role in determining your current standing and points at what needs to be improved.

This language of numbers can sometimes be difficult to understand, so an accountant can be of great help in summarizing and organizing what you need to know .
In this article we take a look at some of the best accounting firms in Waterford.
How much do accounting services cost?
Most accounting services' cost would be calculated as a percentage of annual turnover. This is because the accounting would depend on variable factors such as company size and time.
This percentage would typically be no more than 4%. Most outsourced accounting services would still need to be quoted because all companies are different.
However, there are accountants that offer fixed fee packages. These can be packaged based on company size, services, or even growth objectives.
Fixed fee packages offer a safer expectation for business owners budgeting their accounting cost. Take note that these may only be estimated starting fees.
| Service | Conditions | Price |
| --- | --- | --- |
| Company set-up | Monthly basis | €250 |
| Set of company accounts | - | €800 |
| Consultations | Hourly basis | €130 |
| Bookkeeping | Hourly basis | €40 |
| Payroll | Up to 10 payslips per month | €92 |
| Annual return for CRO (Form B1) | - | €120 |
| General compliance and taxes | Monthly basis | €155 |
| Established businesses | Includes full reporting and growth objective | €273 |
| Large companies | More focused on growth, and want significant results, highly variable | €200 to €650 |
Top Accounting Firms in Waterford
We assessed the accounting firms according to the following criteria:
1. Park Chambers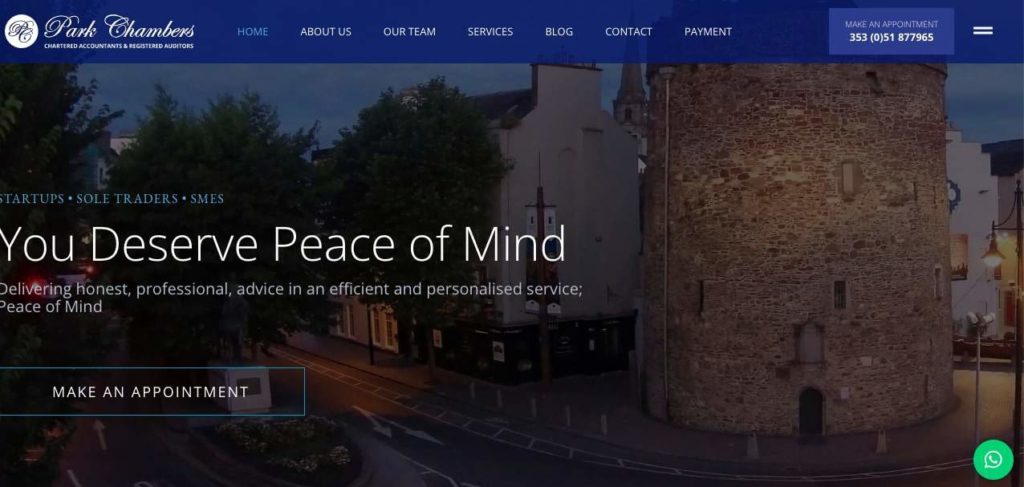 Test
Info
SERVICES
Bespoke Accounting Services, Forensic Accounting, Mediation, Auditing Services, Payroll Services, Bookkeeping Services, Company Secretarial Services, Individual Returns, Financial Statements, Company Formations, Outsourced Financial Services, Sole Trader and Partnership Registration, Business Planning and Projections
WEBSITE
https://parkchambers.com/
ADDRESS
96 Lower Yellow Rd, Waterford
CONTACT DETAILS
353 (0) 51 877965,

[email protected]

OPERATING HOURS
Weekdays: 9:00 AM to 5:30 PM
| | |
| --- | --- |
| Range of services | ★★★★☆ (4/5) |
| Degree of involvement | ★★★★★ (5/5) |
| Member backgrounds | ★★★★★ (5/5) |
| Customer feedback | ★★★★★ (5/5) |
What sets Park Chambers apart is their wide offering of services paired with a bespoke mindset. This allows them to really interact and tailor fit their services to the client company's objectives.
We were very impressed by their range of services. They offer more essential services like payroll, bookkeeping, and individual returns.
Additionally, they present more in-depth or unique services like forensic accounting, mediation, and bespoke accounting. This wide range gives clients a bigger pool of products to choose from making Park Chambers basically a one–stop shop.
If your company is looking for a place to start with all of these services, Park Chambers provides free, no obligation consultations. On top of this, Park Chambers consists of a team of experts in different categories.
This goes beyond our expectations, opposing the common designated point person arrangement. This team includes a specialist on IT/Cloud based systems to a payroll expert on top of their foundation of accountants.
What we felt were limitations to this company would be that their tailor fit approach really makes the cost variable. All of their services would have to be quoted for making the client company's budgeting for accounting less clear if they were to avail.
What's more is that their bespoke accounting services are for smaller to medium sized structures. This is disadvantageous for larger companies who would like to avail.
Overall, if you are a smaller to medium sized company looking for an accountant with a wide range of services, Park Chambers is a great option.
Wide range of services
Access to a full team of experts
Provide free, no obligation consultation
Tailor fit services
Bespoke accounting services are limited to companies with smaller to medium sized structures
Services need to be quoted for and price varies
Customer Reviews
The Best of Advice and Direction
For over 20 years now Park Chambers Accountants have looked after my accounting needs…Whether personal accounts or business affairs Barry and his team are ALWAYS on hand Professional, timely, practical and never fail to offer the best of advice and direction –Lenny Burns
Provides Periodic Updates
Peter provided an excellent service from quote to completion of job. He explained what was needed and had taken photos when inspecting so he could clearly show where the problems lay and once fixed, showed us more pictures of the completed work as well –Bethany Frank
2. MK Brazil Accountants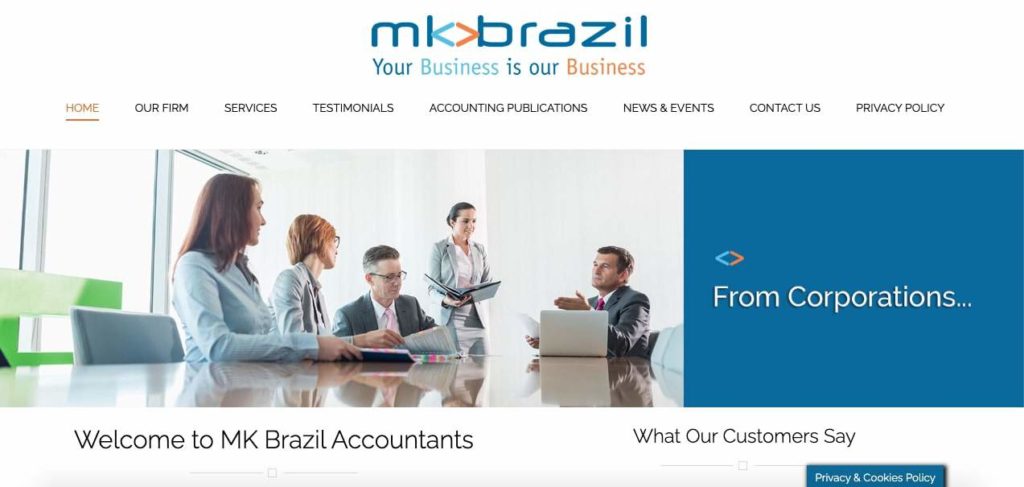 Test
Info
SERVICES
Audit, Assurance & Advisory, Business Recovery & Insolvency, Corporate Finance, Forensic Accounting & Litigation Support, SME support Services, Taxation
WEBSITE
https://www.mkbrazil.com/
ADDRESS
O'Connell Court, 64 O'Connell Street, Waterford
CONTACT DETAILS
+051 840800,

[email protected]

OPERATING HOURS
Weekdays: 8:30 AM to 5:00 PM
| | |
| --- | --- |
| Range of services | ★★★★☆ (4/5) |
| Degree of involvement | ★★★★★ (5/5) |
| Member backgrounds | ★★★★★ (5/5) |
| Customer feedback | ★★★★★ (5/5) |
MK Brazil's strategy of expertise driven service that caters to companies of any size has attracted and will attract many businesses from different sectors.
What initially stood out for us are the extensive and unique backgrounds of each of their firm partners. There are partners who specialize in owner-managed businesses, family businesses, risk management, and even businesses dealing with property.
They also have a partner for regulated entities such as not-for-profit organizations, so if you have a more particular business structure you may want to check them out. Their expertise and experience really make them unique.
Another factor that set them apart for us was their service targeted for businesses getting started. This service assists newcomers regarding structure, budgets, and recording systems just to name a few.
So from established companies to start ups, MK Brazil's clients feel more assured with their spectrum of approaches.
However, MK Brazil's limitations lie in their focus on more traditional methods. Clients who are looking for more help regarding technological based accounting systems and expertise may feel limited.
Another con of the company is due to their highly tailored expertise based service, there is a need for quotation for their services. Clients will need to consult with the company in order to get an estimate which then may still be variable.
Extensive background of firm partners
Partner with expertise on regulated entities
Separate service targeted for businesses getting started
Provide resources through accounting publications
Not as focused on more technological accounting methods and softwares
Need for quotation for price
Customer Reviews
Invaluable Assistance
Their assistance is invaluable, professional and personal. They have saved us a lot of money too! –Patrick Bruen
3. Comerford Foley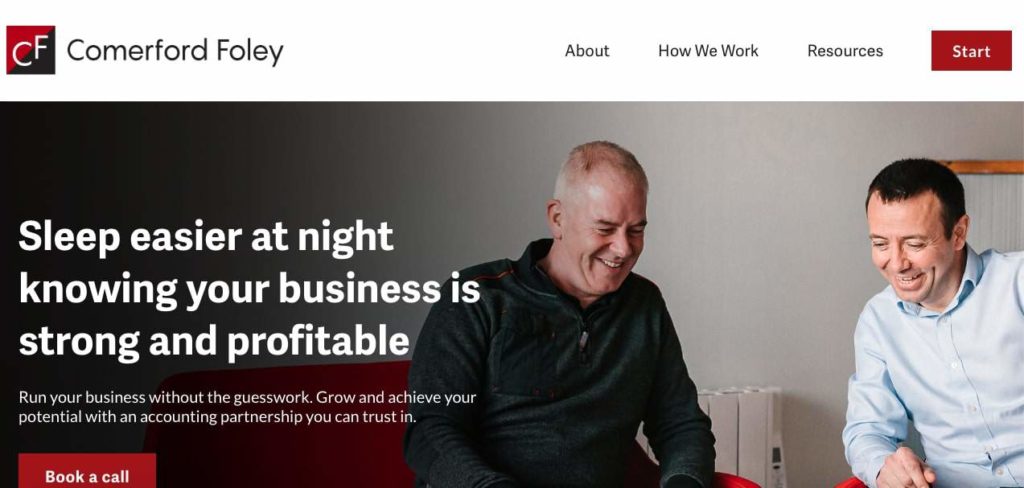 | Test | Info |
| --- | --- |
| SERVICES | Bookkeeping, Non-Resident Tax, Company Formation, VAT payroll accounts, Corporation Tax, Company Secretarial, Income Tax Service, Client Manager and Support, Monthly Management Accounts, Cashflow Management, Projections, Banking Relationship Maintenance, Funding and Grant Applications |
| WEBSITE | https://comerfordfoley.ie/ |
| ADDRESS | Riverstown 5 Complex, Unit 502 Riverstown Business Park, Tramore, Waterford |
| CONTACT DETAILS | +353 51 396 703 |
| OPERATING HOURS | Weekdays: 9:00 AM to 5:30 PM |
| | |
| --- | --- |
| Range of services | ★★★★☆ (4/5) |
| Degree of involvement | ★★★★★ (5/5) |
| Member backgrounds | ★★★★★ (5/5) |
| Customer feedback | ★★★★★ (5/5) |
Comerford Foley focuses primarily on helping smaller enterprises with a strong foundation of services as well as some unique offerings.
Their team consists of a friendly group of staff, each with their own specializations and focuses. One of these focuses that stood out to us were the use of accounting and payroll services.
For smaller companies who want to explore and integrate softwares such as Xero, Sage and Micropay, Comerford's guidance helps greatly. They will be able to attend to making sure that these softwares help the structure and practices of your venture.
Another more unique service they offer is their expertise on non–resident tax. This largely helps those who live abroad and own Irish property but don't understand the more complicated dealings with paying local taxes.
It is a very impressive option that not many accounting firms deal with and it does not sacrifice any of their thorough local fixed processes.
They also categorize their offerings based on how established a client's company is. So whether you are a sole trader to a company seeking pure outsourced services, they make the process easy on the client which of their accounting services is applicable.
Looking at their flow of steps as well shows just how involved they are with the client. It is great that they have multiple check-ins to see if you're on track with your goals.
In terms of the company's limitations, they do have a fee needed for their first meeting. This would range from €75 to €125 without VAT which they justify giving you the full attention and analysis of your concerns right from the get go.
This may intimidate newcomers who want to take the process much slower.
Another con would involve their focus on smaller enterprises and family owned businesses. Although this greatly helps such businesses, their services wouldn't suit those much larger in scale, so these companies might have to look elsewhere.
Pre​​-categorized services based on degree of establishment
Specialization on non-resident tax
Very thorough check in processes through each step
Expertise on accounting softwares
First meeting pay
Focus on smaller enterprises and family owned businesses
Customer Reviews
Critical to Business Growth
For us…it's all about partnership with Comerford Foley for our growth. They've always got our back. As a family business this loyalty is not only appreciated but critical to our business growth…We've been working with them for several years and in that time we have found them to be truly invaluable to our company.–Ted Murphy
4. DMB Chartered Accountants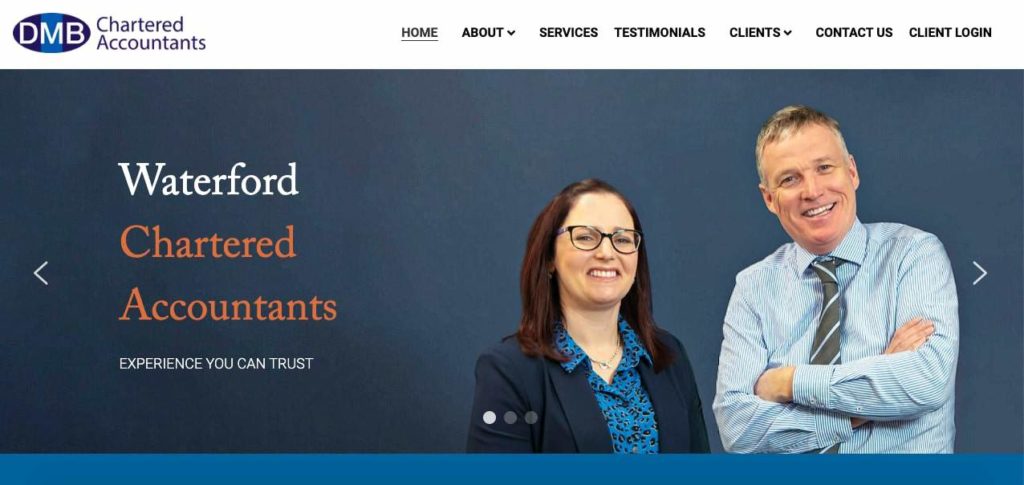 Test
Info
SERVICES
Audit & Compliance, Accountancy & Business Advisory, Taxation, Corporate Finance, Insolvency
WEBSITE
https://www.dmbca.ie
ADDRESS
Maritana Gate, Wallace House, Canada St, Waterford
CONTACT DETAILS
353 51 875222,

[email protected]

OPERATING HOURS
Weekdays: 8:30 AM to 5:00 PM
| | |
| --- | --- |
| Range of services | ★★★☆☆ (3/5) |
| Degree of involvement | ★★★★★ (5/5) |
| Member backgrounds | ★★★★☆ (4/5) |
| Customer feedback | ★★★★★ (5/5) |
DMB Chartered Accountants focuses on giving clients a well thought out package of essential services that will make them feel assured.
At the core of this company is the long-term clients it has made over the years. This is a testament to their efficiency and it impresses us because these clients all praise DMB for their direct approach.
The company is able to give sound advice as an adviser to companies at different stages of their establishment, whether that be the formation or the growth stages.
The company is also able to coordinate well with their clients whether it be for auditing, financial advice or guidance on expansions. We like how engaging and involved they are with the businesses which may also be one of the reasons many clients have stayed with them for so long.
These businesses they deal with also vary in terms of size and discipline. The company's team has backgrounds in voluntary organizations, digital marketing and retail sectors to name a few.
So whatever the nature of your company is, their services, experience, and advice will most likely be applicable to you.
However, for us, the company does have limitations in terms of the services they offer. These services fall under 4 categories: audit and compliance, accountancy and business advisory, taxation, corporate finance and insolvency.
While this conciseness is helpful for those who want to focus on more "essential" accounting services and don't like to be overwhelmed, it may also limit those who want more options.
Overall, if you would like to build a strong relationship between your business and an accounting firm, DMB Chartered Accountants is a great option.
High involvement and coordination
Multiple long term clients
Caters to different business sizes and disciplines
Direct approach in terms of language and process
Comparatively limited range of services
Does not offer expertise in terms of accounting technologies and softwares
Customer Reviews
Professional, Approachable, Informative and Positive
My experience with Caroline and DMB Chartered Accountants from the onset was very professional, very approachable, informative and positive. Always at the other end of the phone to help. Prompt and clear in response to queries. Would highly recommend to anyone considering an accounting firm –Bernie O'Sullivan
5. Connors & Company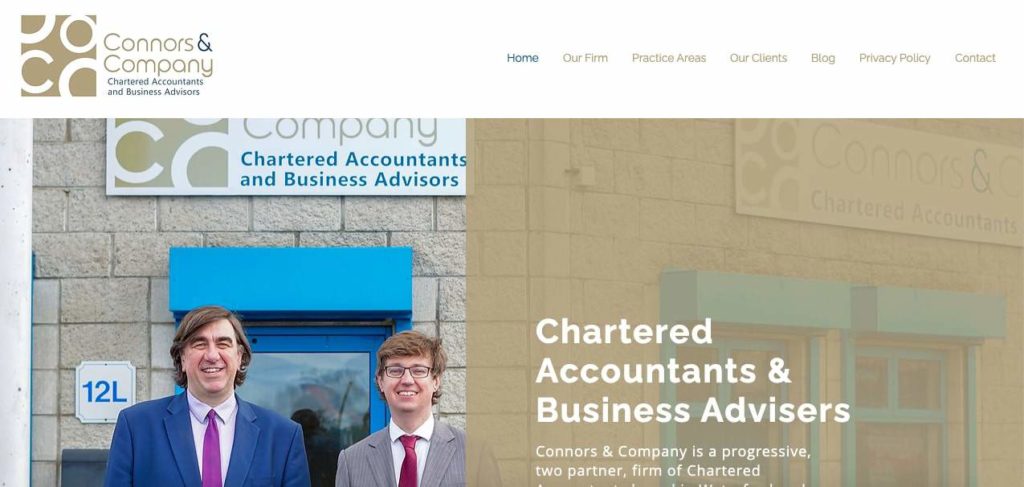 Test
Info
SERVICES
Accounting, Taxation, Audit Work, Mergers & Acquisitions, Corporate Insolvency
WEBSITE
https://www.connorsandco.ie/
ADDRESS
Unit 12L, Six Cross Roads Business Park, Kilbarry, Waterford
CONTACT DETAILS
(051) 872 824,

[email protected]

OPERATING HOURS
Weekdays: 9:00 AM to 5:15 PM
| | |
| --- | --- |
| Range of services | ★★★★☆ (4/5) |
| Degree of involvement | ★★★★★ (5/5) |
| Member backgrounds | ★★★★☆ (4/5) |
| Customer feedback | ★★★★★ (5/5) |
Connors and Company caters to clients in more unique sectors, offering their expertise for more closely partnered accounting services.
What stood out for us about Connors and Company are the more unique industries they offer their services to. Industries such as farming and the veterinary industry, enjoy the depth of their advice and auditing, due to their extensive experiences with them.
For example, the firm is aware of key issues facing the farming sector so they can advise cost reducing initiatives and performance benchmarking to combat this. Their background and experience definitely come in handy in this regard.
For people thinking about even just starting a business, the company offers free, no obligation meetings to gain an understanding. We appreciate that their focus on SMEs as well allows them to really establish clients who are only in the beginning stages.
This affords them a wide range of clients from beginning to those more established.
What's more is that Connors and Company use state-of-the-art IT and cloud based bookkeeping softwares, making their services versatile for those who are more used to this structure in their company.
In terms, however, of their limitations, we find that their team consisting of two partners poses risks especially in scheduling and scope of expertise. As opposed to a larger team of partners, it might be more difficult to get a hold of this company, as they split their time between two offices
What's more is that, although their expertise lies in unique sectors, coordinating only with two people may limit the perspectives other companies benefit from.
Additionally, most of their services focus on aiding SMEs and startups so larger companies may have to look elsewhere.
Their practice areas also offer a more limited umbrella of services only including fundamental services such as accounting, audit work, mergers, acquisitions, and corporate insolvency.
If your business, however, does fall under a more unique sector, and you're looking for a company that offers a great foundational set of accounting services, Connors Company may be a good fit.
Experience in unique sectors
Guided process for SMEs and startups
Extensive backgrounds of partners
Support IT and cloud based systems
Offer free, no obligation meeting
Limitation of only two firm partners
Limitation to mostly SMEs
Limited portfolio of services
Customer Reviews
Simple and Straightforward Experience
I needed a Waterford accountant after returning to Ireland and registering as a sole trader. Shane and his team of accountants came highly recommended as tax advisers and they've made my experience with the Revenue office a relatively simple experience. Very happy to recommend them for anyone else in the same boat –Richard Lawton
FAQs about accounting
---
We hope this list helps narrow down the initially overwhelming subject of accounting.
If you would like to check out accountants in your area, we have articles on the best accountants in Dublin and Galway.