The 6 Best Clinics to Get Braces in Dublin
Contrary to popular belief, braces aren't only used to straighten crooked teeth for aesthetic purposes. In fact, having straight teeth actually reduces the risks of cavities and gum disease in the long run.
Take this as the sign you're looking for to have your teeth treated and to get that healthy smile you deserve. Keep reading as we've listed our recommendations below to give you the best clinics to get braces in Dublin!
Most concerns in getting orthodontic treatment revolve around the cost, so we've laid out the range for you. We'll also answer some common questions about braces that you might have down below.
How Much Do Braces Cost in Dublin?
It's common knowledge that braces don't come cheap. There are different types of braces and its cost will vary depending on the treatment your orthodontist deems suitable.
To give you an estimated cost, check out the table below.
| | |
| --- | --- |
| CLINIC/ORTHODONTIST | PRICE RANGE |
| Dr. Kostas | €2,050 to €8,000 |
| Dublin Orthodontics | Contact clinic for more information |
| Clontarf Orthodontics | €1,000 to €5,900 |
| Smile Direct Club | €1,650 |
| Dental Options | €2,095 – €4,295 |
| Seapoint Dental Clinic | Contact clinic for more information |
The Best Clinics to Get Braces in Dublin
Now that we've broken down its price range, let's talk about these clinics in-depth and how they can give you that picture-perfect smile! Take note that this list is in no particular order.
1. Dr. Kostas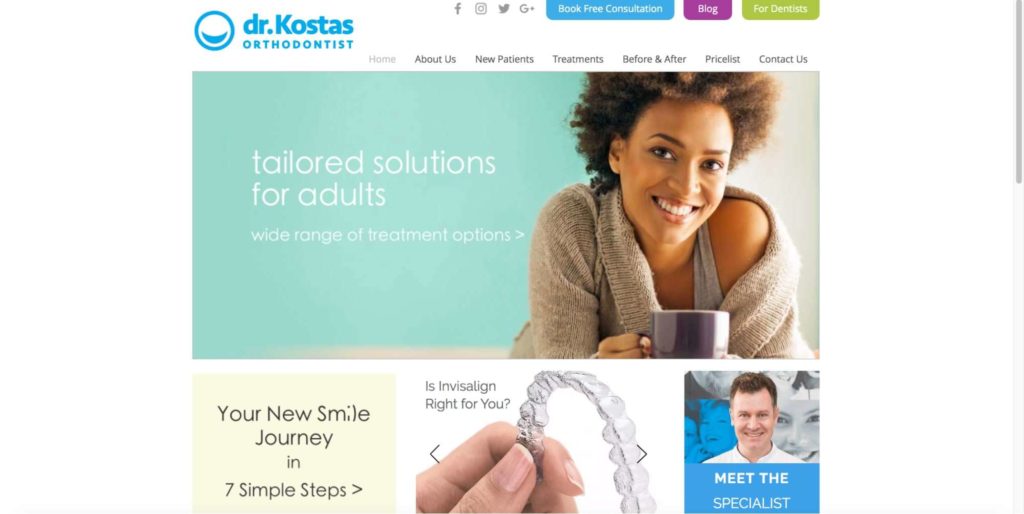 SERVICES
Damon Self-Ligating Braces, Invisalign, Incognito Hidden Braces, Ceramic Braces, 6-Month Braces, Jaw Surgery, Retainers
WEBSITE
https://www.drkostas.ie/
ADDRESS
27 South Anne Street, Dublin 2
CONTACT DETAILS
01 472 1134


[email protected]

OPERATING HOURS
Monday, Wednesday, Friday 9:00 am to 5:00 pm
Tuesday, Thursday 12:00 pm to 8:00 pm
Saturday (once a month) 9:00 am to 5:00 pm
Dr. Kostas has been a dentist since 2001 and is actually the principal orthodontist at Smiles Orthodontic—a chain of orthodontic clinics located all over Ireland. He takes pride in helping over 2,000 patients achieve their healthy smiles over the years.
He's the dentist to see if you're looking for and open to a wide range of orthodontic treatments, from Damon Braces to Invisalign. He, along with his team, offers these treatments and more at competitive prices and flexible interest-free payment plans.
What's also noteworthy about Dr. Kostas' clinic is that he also specialises in jaw surgeries—an option for those who need it.
For new patients, you can easily book a free consultation through his website. Expect that Dr. Kostas will examine your teeth and discuss treatment options with you, which you may or may not decide to continue with.
And for patients who dread going to the dentist, Dr. Kostas uses the latest technology in low-force braces, meaning that treatment time will be shorter and more efficient. If you decide to push through, good news is that he can get your treatment started in just 2 to 3 weeks time.
Wide range of braces and treatments
Central clinic location
Free initial consultation
Interest-free payment plans available
Relatively short waiting list
Limited weekend availability
Virtual consultations unavailable
Customer Reviews
Check out what Dr. Kostas' previous patients have to say:
"I know Dr. Kostas for many years now, both of my children attending his practice with amazing results. Very professional, attentive, and highly dedicated to his work, with lots of years of experience in his field. Dr. Kostas is definitely the one to look for. Highly recommended."
—Dan Balew, Google Reviews
"The best orthodontist in Ireland without a doubt. From the very first day the experience was very professional. And the work that was done makes the world of a difference in a smile. And if there was ever a problem to do with the braces it was fixed within a day or two. Not only that but all the staff there were extremely nice. Wouldn't choose any other man for the job."
—Bartek Sobocinski, Google Reviews
2. Dublin Orthodontics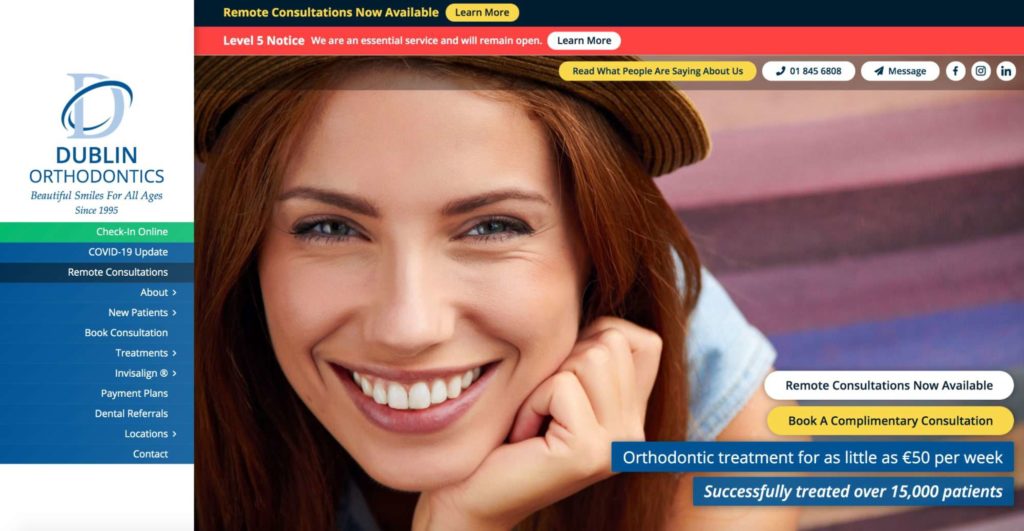 SERVICES
Invisalign, Orthodontics for Children, Orthodontics for Adults, Metal Fixed Braces, Ceramic Fixed Braces, Incognito Hidden Braces, Retainers
WEBSITE
https://www.dublinorthodontics.ie/
ADDRESS
Northbrook Clinic, 15a Northbrook Road, Ranelagh, Dublin 6
(other locations available on their website)
CONTACT DETAILS
01 496 7724


[email protected]

OPERATING HOURS
Monday to Friday 9:00 am to 5:00 pm
Dublin Orthodontics' team of specialists have treated over 15,000 patients in total ranging from 7 to 70 years old. If you're looking to have your whole family treated, this clinic is the one to call.
As a new patient you're entitled to an initial consultation in their clinic free of charge. Otherwise, they also offer virtual consultations from the comforts of your home as an option, which you can conveniently sign up for here.
They also carry a variety of treatment options for you such as conventional fixed metal braces and the more modern Invisalign treatment.
More often than not, orthodontists require x-rays of your teeth to determine which treatment is best for you. You don't have to look for a separate dental facility because they can have it done in-house.
Lastly, their payment plans are also flexible and interest-free. Discounts apply if the fee is paid in full or if you have another family member in treatment.
Virtual consultations available
Wide range of braces and treatments
Discounts available
Free initial consultation
Interest-free payment plans available
Various clinic locations
Closed on weekends
Rates unavailable online
Customer Reviews
Below you'll see some reviews left by Dublin Orthodontics's previous patients:
"From start to finish the level of service, professionalism and care I experienced at Dublin Orthodontics, Northbrook Clinic was second to none. The work was carried out in an extremely timely and efficient manner and I was seen by both the orthodontic consultant, Dr Anthony Coughlan and his truly amazing assistant, Casha at each check-up. I could not fault any aspect of the treatment I received and am absolutely thrilled with the wonderful results. I would highly recommend Dublin Orthodontics, Northbrook Clinic." —Brenda Curran, Google Reviews
"Looking back at the last 14 months, I am amazed by the professionalism, knowledge & care demonstrated by Erfan, Petrina and the Dublin Orthodontics team. I consulted several clinics, but decided to go with Dublin Orthodontics due to the superior services and guidance that they provided. If I could turn back time I would choose them again. I went for the ceramic braces. The outcome of which, are perfectly straight & aligned teeth. And we even finished 5 months ahead of schedule. A heartfelt thank you to the whole team. Cheers, Bojan."
—Bojan Magušić, Google Reviews
3. Clontarf Orthodontics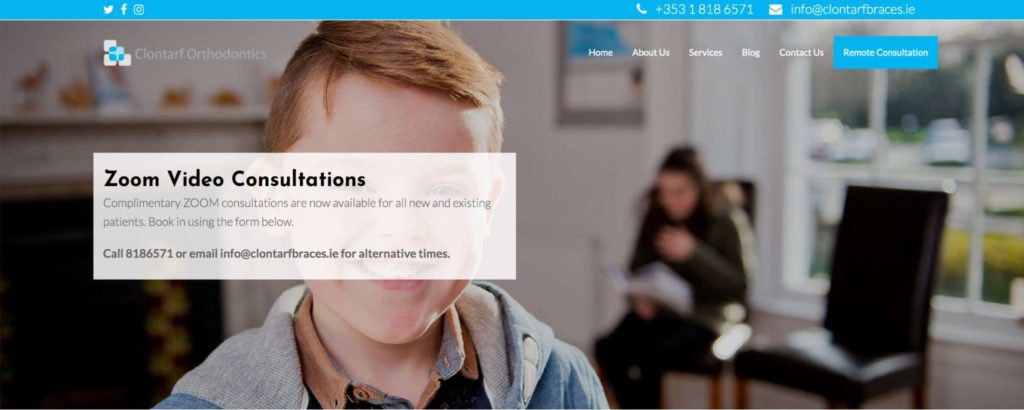 SERVICES
Kids/Teen Orthodontic Treatments, Adult Orthodontic Treatments, Traditional Metal Braces, Invisalign, Incognito Hidden Braces, Removable Braces, Ceramic Braces, Debonding
WEBSITE
https://www.clontarforthodontics.ie/
ADDRESS
Clontarf Orthodontics 9 Clontarf Road, Clontarf, Dublin 3
CONTACT DETAILS
01 818 6571


[email protected]

OPERATING HOURS
Monday, Wednesday 8:00 am to 8:00 pm
Tuesday, Friday 8:00 am to 6:00 pm
Thursday 8:00 am to 5:00 pm
Saturday 8:00 am to 1:00 pm
Another clinic worth mentioning is Clontarf Orthodontics, which has a small but dedicated team of specialists and nurses with over 20 years of experience.
Like most orthodontic clinics, they provide patients with various treatment options depending on the severity of one's case. Important to note that not all consultations are free, and it's best to contact them directly to go through all possible options.
However, Clontarf Orthodontics regularly offers different promos like free assessments or free 3D scans, which you can watch out for on their Facebook page. Likewise, you may also book a complimentary consultation via Zoom, which you can access on their website.
Apart from offering an array of treatments for kids, teens, and adults, they also offer facial fillers for those who are thinking of enhancing certain facial features. You may also have your teeth digitally x-rayed on-site for a separate fee.
Wide range of braces and treatments
Virtual consultations available
Dental x-ray services available
Relatively longer weekend schedule
Rates unavailable online
Payment plans unavailable online
Customer Reviews
Take a look at what some of Clontarf Orthodontics's previous patients said about them:
"As a 'mature' patient embarking on the Orthodontic route, I had some reservations and concerns. I must say that after my initial consultation with Dr John O' Mahony, my mind was completely at ease and it was easy to make the decision to proceed. John is an absolute professional and took the time to explain every step that would be taken. I have always felt that I was in safe hands with both John and his assistant Sandra. I would have no hesitation in recommending Clontarf Orthodontics based on their professionalism and patient care. I have completed my treatment now and am absolutely delighted with the results. Huge thanks to all at Clontarf Orthodontics." —Terry Flood, Google Reviews
"From my very first appointment I knew I was in the right place, put completely at ease and talked through a process which I realised was a lot more straightforward after a couple of minutes of talking with Shona and Sandra. Appointments are always so seamless and I could not be happier with my results, my younger brother now attends too! Massive thanks to Shona Sandra and Kate." —Stephen Murphy, Google Reviews
4. Smile Direct Club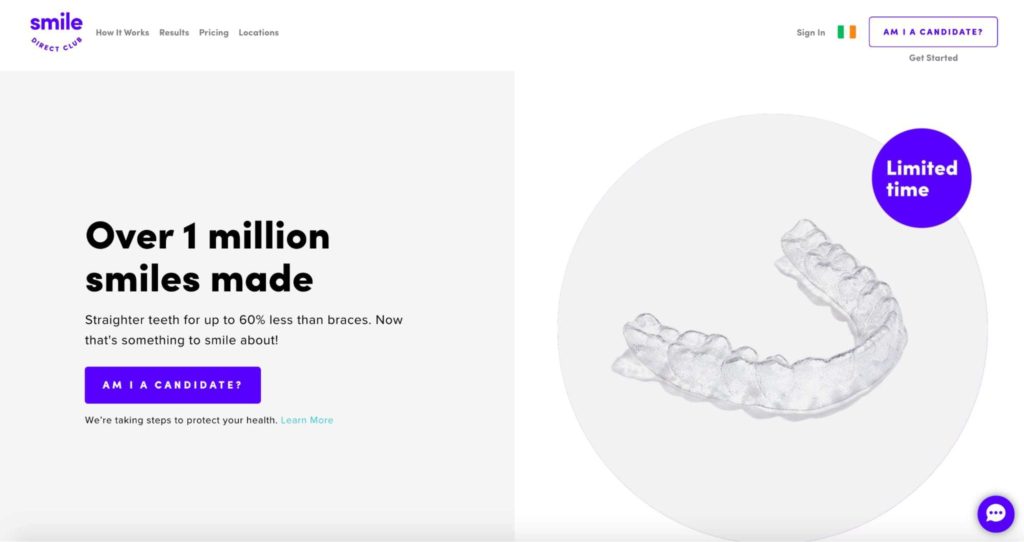 SERVICES
Clear Aligners, Nighttime Clear Aligners, Traditional Braces
WEBSITE
https://smiledirectclub.ie/en-ie/
ADDRESS
Level One, St Stephens Green Shopping Centre, Unit 106 Dublin
CONTACT DETAILS
1800 851 076


[email protected]

OPERATING HOURS
Tuesday to Friday 10:00 am to 6:00 pm
Saturday 9:00 am to 5:00pm
For those who'd want to take the less traditional route in orthodontic treatment, Smile Direct Club is an option to consider. Their line of clear aligners is quite simple: either you get ones that you have to wear 22 hours a day or nighttime aligners for 10 hours.
Of course, before proceeding with this treatment, it's important to know if you're eligible for it to save money. Fortunately, you may easily find out by answering a few questions through their free online tool.
Alternatively, you can also book a free 30-minute 3D scan in their centre, which is ideal if you want to have your questions or uncertainties about the treatment answered. In most cases, only those with very minor dental issues may find this treatment useful.
If you don't intend on leaving your home, they also have DIY kits available for a separate fee to help you capture clear photos of your teeth.
Bear in mind that errors may occur during the initial impression, and we highly recommend that you give them a visit or that you ask your dentist more about it.
Ideal for minor corrections
Free in-person 3D scan
More affordable than traditional braces
30-day money back guarantee
Not suitable for severe cases
No in-person orthodontist check-ups
No possession of your prior medical/dental records
Limited locations
Customer Reviews
Here's a glimpse of what some of their past patients have to say about them:
"The staff, in particular Andrea and Kaya, were so lovely and friendly and made me feel very comfortable immediately. They were so knowledgeable and gave me many opportunities to ask any questions I may have had throughout the process. I felt happy leaving and they made it clear that they were able to help with any future questions. Great experience." —Chloe Lynch, Google Reviews
"Today was my first visit to Smile Direct Club in Stephens Green where I was examined by the lovely Andrea who took her time to answer all of my questions, show me before and after photos, share success stories and explain what my journey to a new smile will look like." —Kristina Pasti, Google Reviews
5. Dental Options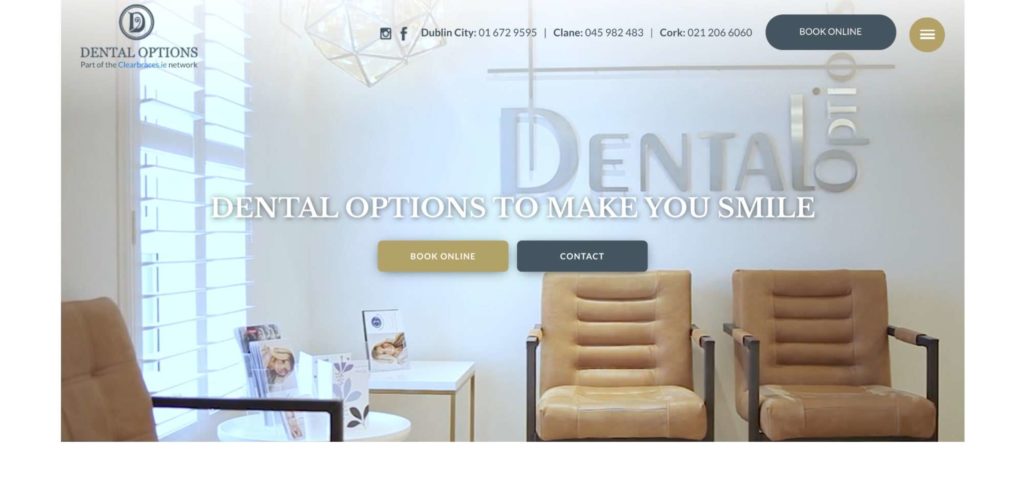 SERVICES
Invisalign, Fixed Braces, Kids Braces, 6-Month Orthodontics, etc.
WEBSITE
https://dentaloptions.ie/
ADDRESS
4 Chatham Street, (Top of Grafton Street), 2nd Floor, Dublin 2
CONTACT DETAILS
01 672 9595


[email protected]

OPERATING HOURS
Monday to Thursday 8:00 am to 8:00 pm
Friday to Saturday 8:00 am to 5:00 pm
Dental Options—a one-stop shop for all of your dental needs. Whether you need braces or implants, they specialise in a range of general and cosmetic dentistry that best fits your needs.
Their current line of braces are limited to fixed metal, Invisalign, and clear 6-month braces, which works best for those who don't fancy the full metal look. Regardless, their in-house orthodontic specialist will make sure to work with you on the best possible treatment plan.
What makes Dental Options different from other entries on our list is their commitment to helping patients overcome anxieties about going to the dentist.
They have a dedicated playroom for kids and likewise, adults may choose to wear their noise-cancelling headphones during their treatment. Their treatment rooms are also designed to relax patients.
You may also get a free orthodontic consultation in their clinic. They also have a comprehensive dental examination package, which includes x-rays, available for a separate fee.
Free initial consultation
Long clinic hours
Noise-cancelling headphones available
Central clinic location
Flexible payment plans
Limited options for braces
Virtual consultations unavailable
Customer Reviews
Check out some comments about Dental Options below:
"Just finished my Invisalign treatment with Dora and couldn't be happier! Enjoy going to the dentist now, all the staff from the girls on reception to the dentists are an absolute pleasure. They kept my treatment up throughout the pandemic, couldn't recommend enough!"
—Sadhbh Whitty, Google Reviews
"I cannot recommend Dental Options enough. I have always feared going to the dentist (probably why I've found myself visiting so much recently) but the experience I have had with the team in Dental Options (Richard & Ciara) and anyone I've spoken to has been brilliant. Great communication throughout and follow ups, always on top of my progressions as well as friendly and professional throughout. One happy customer." —Paul O'Leary, Google Reviews
6. Seapoint Dental Clinic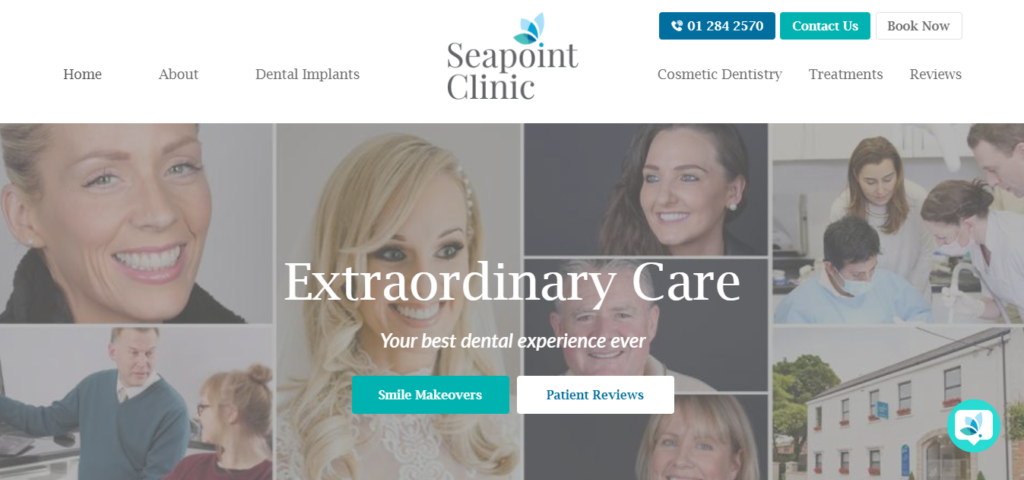 SERVICES
Veneers & Crowns
Six Month Braces
Invisalign Braces
Teeth Whitening
Wedding
Instant Veneers
Dental Implants
WEBSITE
https://www.seapointclinic.ie/
ADDRESS
23 Seapoint Avenue, Blackrock, Co. Dublin
CONTACT DETAILS

[email protected]


01 284 2570
OPERATING HOURS
Mon: 8am – 5pm
Tue/Wed/Thur: 8am – 7pm
Fri:8am – 5pm
Sat: 9am – 2pm
Sun: Closed
Technology has allowed them to advance to where people can have life-changing dental work within a single day, with little to no discomfort. Seapoint Dental Clinic's team of professionals is dedicated to ensuring that patients of all ages and backgrounds can smile confidently once again.
Over the years, they have built a reputation in Ireland. As of now, they are the premier 5-star dental clinic in the country that serves people from all areas.
Whether it's simply getting over your fear of the dentist, fixing a gap in your teeth or a complete smile makeover, their team of treatment coordinators will bring you quality service and experience like no other. Unlike other dentists, they have over 1,200 patients seen monthly!
In comparison to other dentists, they are Ireland's largest cosmetic and implant center. They do not believe in cost-cutting measures since they recognize that quality must last a long time so that it would be worth the investment.
Detailed pricing
Highly trained professionals
Technicians are Irish, UK or American trained
Six-month braces can be see-through braces and metal finish braces
No free and virtual consultation
Customer Reviews
Here are some reviews from their previous clients:
"All the staff were just lovely and I was treated so well throughout my whole experience. By the end I didn't even need any sedation."
"Initially I was worried it would look a little bit fake, or that it would be painful, but the whole process has been so simple and there was no pain involved"
FAQs about Braces
---
And our guide on the best clinics to get braces in Dublin has come to an end! If you proceed with any of our entries' services, drop us a message and let us know your experience!
Likewise, you can also send us your own recommendations and we'll be happy to check them out as soon as we can!
For parents, you can also read about our list of the best child-friendly dentists in Dublin to take your kids to.