The 8 Best Hair Transplant Clinics in Ireland
If you're worried about hair loss and thinning, then we've got some good news for you. Thanks to modern technology, you can actually get a hair transplant to restore your thick and natural-looking hair.
Instead of getting a wig, you can turn to the best hair transplant clinics in Ireland for your hair restoration solutions. In this guide, we'll discuss the pros and cons of each clinic, their services, as well as our tips on selecting a hair transplant clinic or doctor.
We also understand that most concerns about getting this type of treatment revolves around the cost. So without further ado, let's talk about that first.
How Much Do Hair Transplants Cost in Ireland?
In Ireland, hair transplants may cost between €8,000 to €20,000 on average. The price range may include the procedure, consultation services, and products if applicable.
The total cost will normally depend on the number of hair follicles transplanted. We've listed down some of our entries' hair transplant estimates below.
Take note that the prices indicated below may exclude other fees such as follow-up consultations, medication, etc.
| | |
| --- | --- |
| CLINIC | PRICE RANGE |
| Ailesbury Hair Clinic | Contact for more information |
| Premier Hair Restoration | Contact for more information |
| Millennium Hair Restoration Clinic | Contact for more information |
| Dr. André Nel | €3,500 to €15,000 |
| Hair Restoration Blackrock | Starting from €8,000 |
| MHR Clinic Ireland | Contact for more information |
| Tir na nÒg Clinic | €2,000 and €4,000 |
The Best Hair Transplant Clinics in Ireland
Now that we covered the cost, let's head over to our list of the top clinics to call for your hair transplant needs in Ireland! This list is in no particular order.
1. Ailesbury Hair Clinic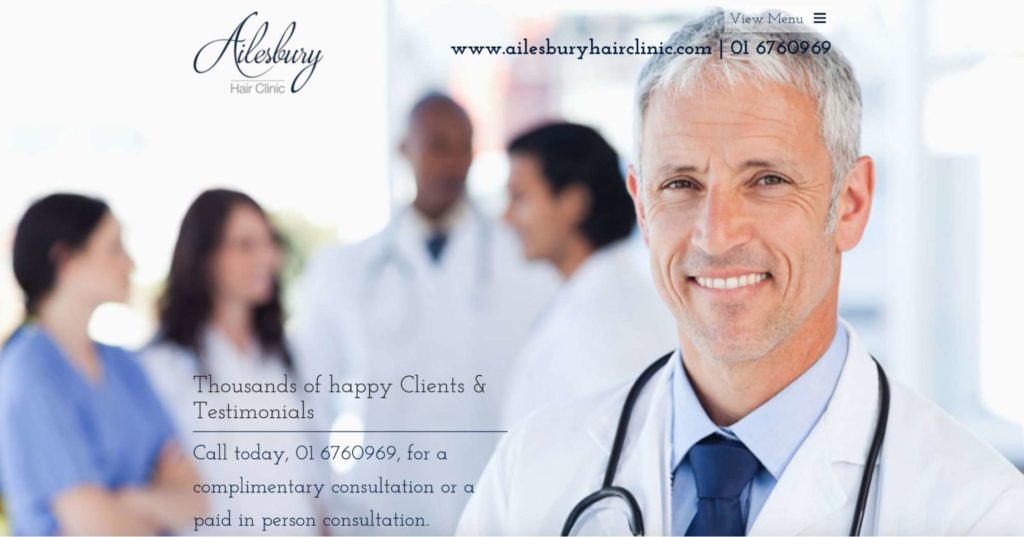 A quick search of hair transplant clinics in Ireland puts Ailesbury Hair Clinic at the top of the list. They have successfully treated and restored countless patients' hair loss and thinning problems, as evidenced by client reviews.
The founder and proprietor of Ailesbury Hair Clinic is Dr. Patrick Treacy, a multi-awarded general practitioner specialising in aesthetic medicine. In fact, he was also the lead cosmetic doctor of Michael Jackson back when he lived in Ireland.
Their line of hair treatments and procedures can cater to men and women. It's also the only clinic to use a combination of hair restoration techniques in their process, which they call the Aesthetic Hair Integration (AHI) Technique.
The AHI technique involves the use of Follicular Unit Extraction (FUE), laser light rejuvenation therapy, Platelet-Rich Plasma (PRP) therapy, and trichology hair products prescribed by their in-house pharmacist.
Unfortunately, estimates aren't available online as procedure costs will depend on the number of hair follicles you need. However, you can give them a ring for a complimentary online consultation or schedule a paid in-person appointment.
Multi-awarded resident doctor and clinic
Uses a specialised technique
Cork branch available
Before and after photos available on Facebook page
Complimentary online consultation
Rates unavailable online
Closed on weekends
Customer Reviews
Take a look at what some of Ailesbury Hair Clinic's former clients said about them:
"Got my transplant last week delighted with the results. Staff are very helpful and informative and make themselves present to answer any queries. Procedure was painless and I would highly recommend it. I want to say thanks especially to Effie who was my point of contact since I first registered interest in getting the procedure, who was extremely helpful and friendly." —Aaron Murphy, Google Reviews
"Had a great experience at Ailesbury, I couldn't recommend the clinic enough. Wanting to keep my procedure in Ireland, I did my research and kept coming back to Ailesbury. From the initial consultation with Joe, to Effie's brilliant support I couldn't fault them. The day of the procedure, meeting different members of the team, each as nice and calming as the next. Special thanks to Cara who played a blinder on the day. Delighted with the results so far, no pain at all. Looking forward to seeing how the results progress over the next few months. 10/10!" —Cormac F, Google Reviews
2. Dr. André Nel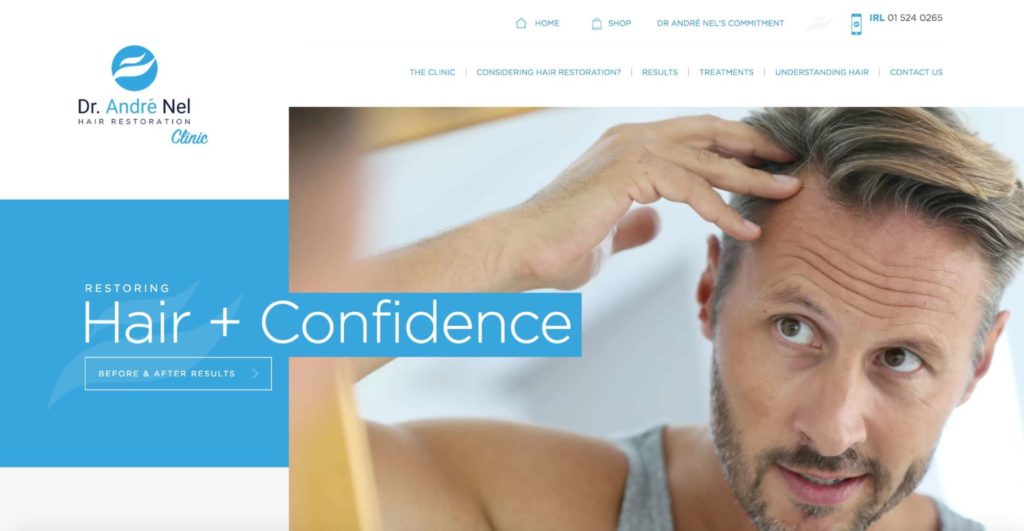 SERVICES
Surgical treatments, non-surgical treatments, microneedling, laser treatment
WEBSITE
https://www.hswclinic.com/
ADDRESS
Link Road, Holywell, Swords, Co. Dublin
CONTACT DETAILS
01 524 0265
Support ticket available here
OPERATING HOURS
Monday to Sunday
9:00 am to 5:00 pm
Dr. André Nel used to spend long hours as a general practitioner and emergency physician before he ventured into hair restoration. Over the years, he's learned from the best mentors who are renowned doctors in hair restoration.
Now, he travels back and forth between Dublin and London where he has his own private practise specialising in FUE techniques. Despite having a team to assist him, he personally handles each procedure and consultation, so rest assured that you are in good hands.
Surgical treatments are his forte, and these include FUE, FUT, and a combination of both, to name a few. Beard transplants are not commonly offered by clinics, but Dr. André can perform this procedure, too.
Dr. André also strives to provide his patients with highly personalised service. We really like that patients can freely contact him for questions and emergencies, as well as the provision of long-term care following the procedure.
Unique to Dr. André is a hair follicle unit cost page available on his website, which gives you a better idea of how much to expect. Furthermore, they've partnered with Flexi-Fi to give patients a variety of repayment options.
Wide range of surgical treatments
Before and after photos available online
Flexible repayment options
Long-term care available
Obligation-free callbacks available
Open on weekends
Mostly caters to men
Clinic location outside of city centre
Customer Reviews
See what some of Dr. Nel's former patients have to say about his services:
"In my three years of experience with Dr Nel and his staff I have always found them to be passionate, thoughtful, professional, accommodating and engaging. At this clinic you will get honest opinions from people who want the best for their clients and who appreciate how hair impacts self-confidence. Highly recommended." —Rebecca Carr, Google Reviews
"I would highly recommend Andre to anyone thinking of a hair transplant. He is straight to the point, honest, and cares very much about the results he achieves for his patients. I achieved a fantastic result which has lasted over two years with no need for further grafts. He is concerned about achieving a great result that looks natural. He is not extortionist and provides a superb result for a fantastic price. I know from speaking to him that he himself suffered extreme hair loss in the past and this is why he does not believe in ripping people off unlike numerous other clinics whose names I won't mention." —Michael, Google Reviews
3. Millennium Hair Restoration Clinic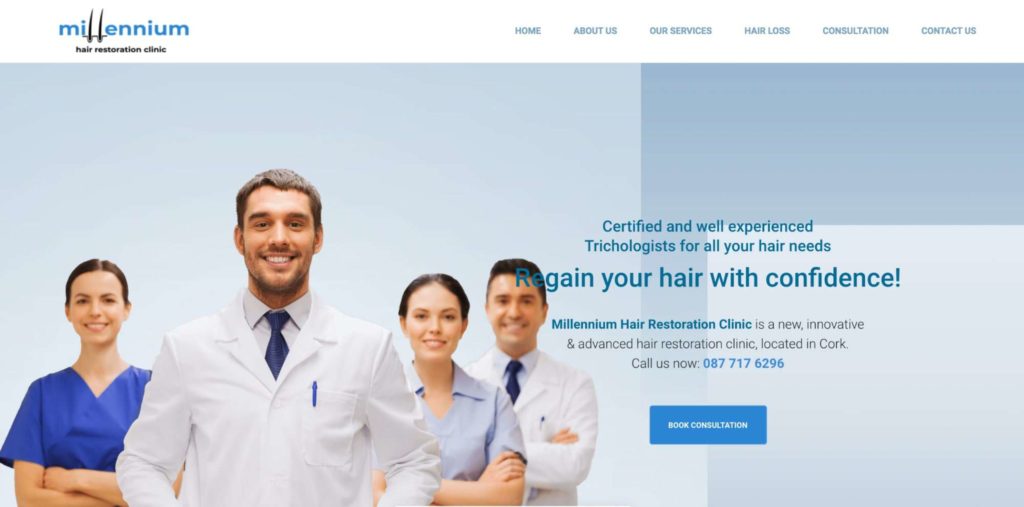 SERVICES
Hair transplant, laser hair regrowth, scalp micropigmentation, trichological treatments, non-surgical hair replacement
WEBSITE
https://millenniumhairclinic.ie/
ADDRESS
1st Floor, Westlink House, Westlink Business Park, Blackpool, Co. Cork
CONTACT DETAILS
087 717 6296


[email protected]

OPERATING HOURS
Monday to Friday
8:00 am to 7:00 pm
We're heading down south to Millennium Hair Restoration Clinic in Cork. Their team of specialists have a combined experience of over 50 years handling hair and scalp problems.
Their treatments and procedures can accommodate men and women. For hair transplants, you only have the option to choose the FUE method, for which you're also provided with a written guarantee to ensure good results.
If you're experiencing thinning and want to avoid discomfort caused by needles, they also offer laser growth therapy. This process involves using low-level laser light to improve the ability of hair follicles to generate thicker and fuller hair.
You can contact them via their official number and email address to schedule an appointment and discuss their rates. Apart from those suffering with hair loss and thinning problems, they also welcome patients who seek advice on how to maintain a healthy scalp and prevent problems in due time.
Ideal for men and women
Wide range of procedures and treatments
Before and after photos available online
Long business hours
Guaranteed results
Rates unavailable online
Limited surgical hair transplant options
No doctor profiles available online
Customer Reviews
Here's what customers have to say about Millennium Hair Restoration Clinic's services:
"5 stars is not enough for this fine establishment. Joe and his team are second to none in this field. The results of my laser treatment have been excellent, I could not be happier. The facilities are spotless and well located. I found the price to be very reasonable considering the results and the highest level of service they provide. One of the best attributes about this place is its staff and the friendly environment they create, having visited numerous times over the last 6 months I would now consider them as friends. Thank you Joe and team!" —Donal Carroll, Google Reviews
"Had my first consultation with Joe, then had my procedure about 2 weeks later. Joe was so helpful and made me feel really comfortable and relaxed to go ahead with it! He's always on the other side of the phone to answer any questions I have. Can't recommend enough." —Evan H, Google Reviews
4. Premier Hair Restoration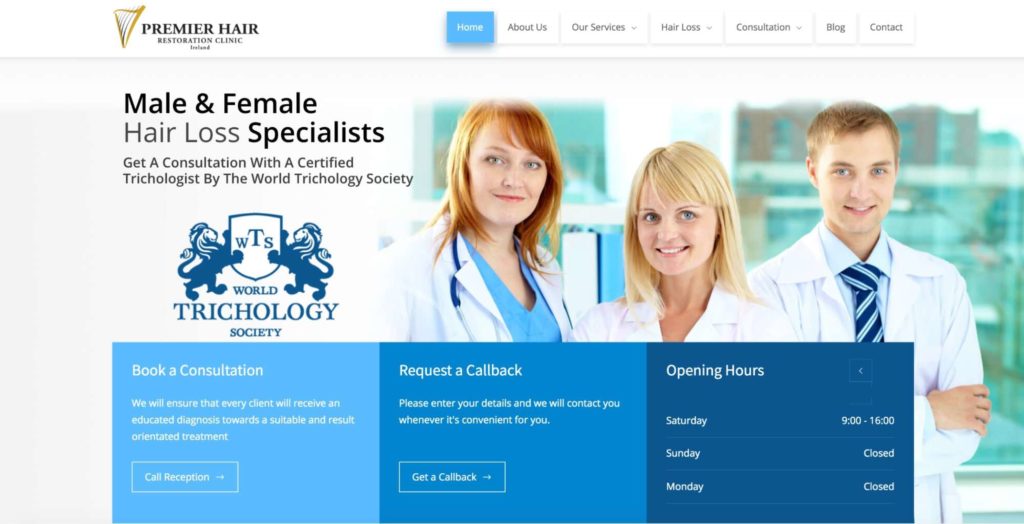 SERVICES
Hair transplant, laser hair regrowth therapy, non-surgical hair replacement, trichological treatment, scalp micropigmentation
WEBSITE
https://premierhairclinic.ie/
ADDRESS
The Mews, Rear of 19, Leinster Square, Rathmines, Dublin 6
CONTACT DETAILS
01 412 6076 or 087 788 8483


[email protected]

premierhairclinic.ie
OPERATING HOURS
Tuesday to Thursday
10:00 am to 7:30 pm

Friday
10:00 am to 6:00 pm

Saturday
9:00 am to 4:00 pm
Another top-rated clinic is Premier Hair Restoration, which has a team of specialists with a combined experience of over 35 years in practise.
They have a wide range of services that can meet your needs including surgical and non-surgical hair transplants. They also offer scalp micropigmentation—a non-invasive treatment that's meant to give the appearance of a fuller short buzz cut.
What sets them apart is that patients have the option to consult with their resident trichologist, a non-doctor expert that specialises in hair and scalp problems. Otherwise, their team also has qualified doctors for surgical procedures.
Rates and online consultations aren't available on their website. You'd have to schedule an in-person appointment to know about your options and their corresponding rates.
Their clinic is located off Leinster Road in Harold's Cross, which some may have trouble locating initially. But once you find the route to Leinster Square, just go all the way and you'll reach the clinic at the end.
Ideal for men and women
Wide range of procedures and treatments
Option to consult with a trichologist
Open on Saturdays
Relatively inaccessible clinic
Rates unavailable online
No before and after photos online
No doctor profiles available online
Customer Reviews
Check out some reviews by Premier Hair Restoration Clinic's previous patients:
"My experience at premiere hair was excellent. My technician/stylist was very professional, warm and welcoming. Everything was explained in detail and I thoroughly enjoyed my visit, it was very relaxing. I had a hair treatment designed for a build up of oil and product which included a cut and blow-dry. My hair feels and looks so healthy now. I would highly recommend premier hair for this treatment. I am delighted with my results." —Lena Culleton, Google Reviews
"Just had my hair system installed and I love it and the service too. I am so impressed with the standard of service received from all Premier Hair members. From start to finish the process has been first class. Everyone is very friendly, helpful and flexible when arranging consultations, dates etc. I appreciated how things were conducted calmly with no pressure or rush at any stage in the process. My stylist was amazing and I really appreciated the patient and unrestricted duration of the fitting of my system. There was no 'rush you in rush you out' experience… on the contrary the experience was very much we're here until you're ready to leave which means so much when experiencing something completely new. Will add some pics as soon as I get the opportunity to snap them but the results are perfect." —Lance Kerrigan, Google Reviews
5. Hair Restoration Blackrock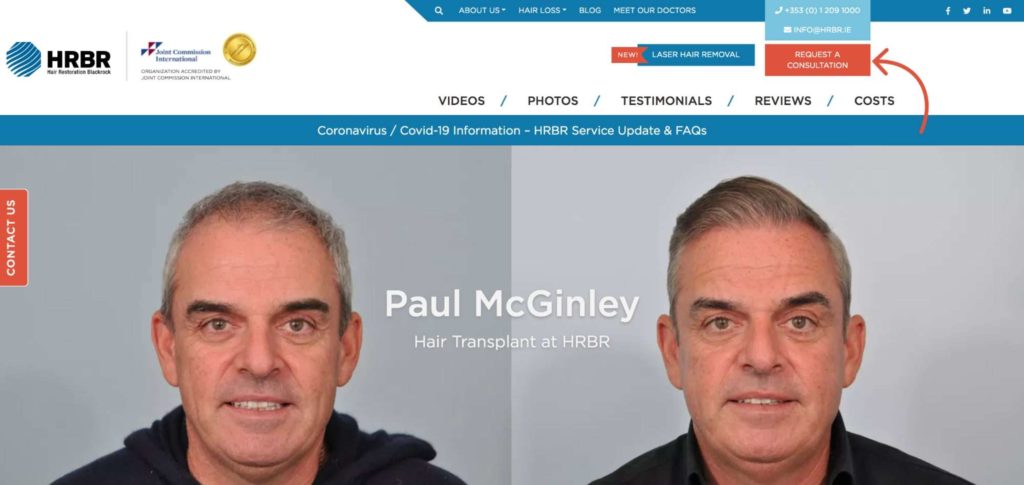 SERVICES
Hair loss treatment for men, hair transplant repair work, hair transplant surgery, combination therapy
WEBSITE
https://www.hrbr.ie/
ADDRESS
Samson House, Sweetman's Avenue Blackrock, Dublin
CONTACT DETAILS
01 209 1000 or 087 187 0517 or 01 209 1001


[email protected]

OPERATING HOURS
Monday to Friday
8:00 am to 5:30 pm
And lastly, you might also want to consider Hair Restoration Blackrock, which is one of the very few hair transplant clinics in the world to hold a JCI accreditation. Getting this award means that they have achieved the gold standard in global health care.
Some of their well-known clients are James Nesbitt, Louis Walsh, and James Kavanagh. Apart from their testimonials, you can also see more before and after photos/videos of previous clients on their website.
Their hair restoration specialists are qualified doctors and surgeons who can perform a variety of hair transplants operations. You can easily access their profiles and list of qualifications on their website.
In comparison to our other entries, consultation and treatment costs are detailed on their website. While initial consultations may be a bit steep, patients who choose to undergo the procedure are entitled to free appointments 18 months after the initial procedure.
Take note though that patients must pay an extra fee for appointments following the 18-month period. Their payment policy also requires patients to pay in full prior to the surgery.
Ideal for men and women
Doctor profiles available online
Before and after photos/videos available online
Hair transplant financing available
Relatively expensive fees
Extra charge for annual review consultations
Full payment required prior to surgery
Long-term care available for extra fees
Customer Reviews
Check out some comments about Hair Restoration Blackrock below:
"As soon as I entered HRBR and met the team, I knew I was in the safest hands. I had consultations in 4 clinics, and nowhere comes close to the level of professionalism HRBR has. I got the FUE transplant and I'm currently healing up. I was looked after so well and can already see positive results. If you're thinking about a transplant, go in for a consultation and let them talk through your options. You're not forced into anything and they very much leave the decision up to you. Couldn't recommend this place enough." —James Kavanagh, Google Reviews
"I have not had surgery here, but in the 10 years that I've been sporadically visiting they've expressed interest in following ethical standards, at no point pressuring me into a hair transplant. Anyone that considers a transplant here can attend a pre-op appointment – it's free for HRBR customers – it's informative and relaxed and they take their time dealing with your queries." —Ross Clarke, Google Reviews
6. MHR Clinic Ireland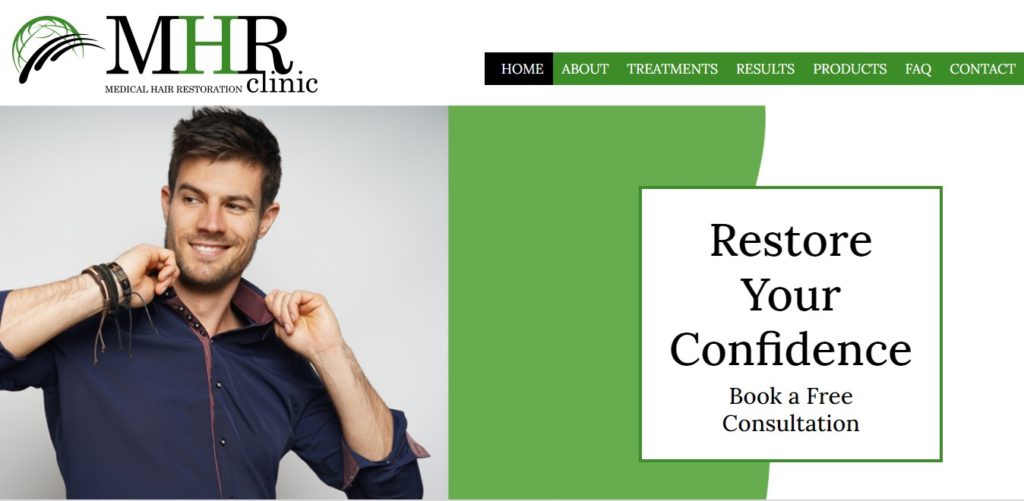 SERVICES
FUE Hair Transplant
Un-Shaven FUE Hair Transplant
Platelet Rich Plasma (PRP) Therapy
Laser Hair Growth Regeneration (LHGR) Therapy
Scalp Micropigmentation (SMP)
WEBSITE
https://www.mhrclinicireland.com/
ADDRESS
32 Dawson Street,
Dublin 2
D02 X009
CONTACT DETAILS
(+353) 01 4410860
[email protected]
OPERATING HOURS
Contact for details
MHR Clinic Ireland offers four types of services, both for hair transplant and growth. Regarding their Follicle Unit Extraction, they are the only clinic that can extract 4500 to 5500 hair follicles in one procedure, donor area permitting and depending on the density of the recipient are required.
The next stage is they will see how the placement of the follicles will be distributed into the recipient areas. They will make sure that it goes at the correct depth, angle, and direction in order to create a dense and natural-looking result.
What's great about getting this procedure from them is that in a few days, you will be able to see noticeable results already. And in three months, the hair will begin to grow and thicken up.
In line with this is another procedure called Unshaven Follicle Unit Extraction. It involves carefully extracting the hair of the donor without shaving the area, keeping the hair intact.
Minimally Invasive Hair Transplant
Suitable for both men and women
MHR Clinic are able to do 1500-2000 follicles for a one-day U-FUE Procedure
Also offers Corrective FUE Hair Transplant, Eyebrow FUE Transplant, and Beard FUE Transplant
Rates are unavailable online
Customer Reviews
Here are a few reviews from their previous clients:
"Had my procedure today, surgeon was the business, nurses were excellent, especially the head nurse, she knew her job inside out, brilliant girl, they made me feel so relaxed, atmosphere was great, could'nt ask for a better team, had a laugh!, thanks MHR, big thanks to Kim
TOMMY"
"After being messed around by many clinics that we're only interested in taking my money.. and also after research… learning thatfamous clinics are using ordinary PEOPLE CLAIMING TO BE DOCTORS ! MHR clinic changed my life towards the better 1000% professional in all ways and the best choice ever.. thank you Kim and DR john . Useful ShareAU"
7. Tir na nÒg Clinic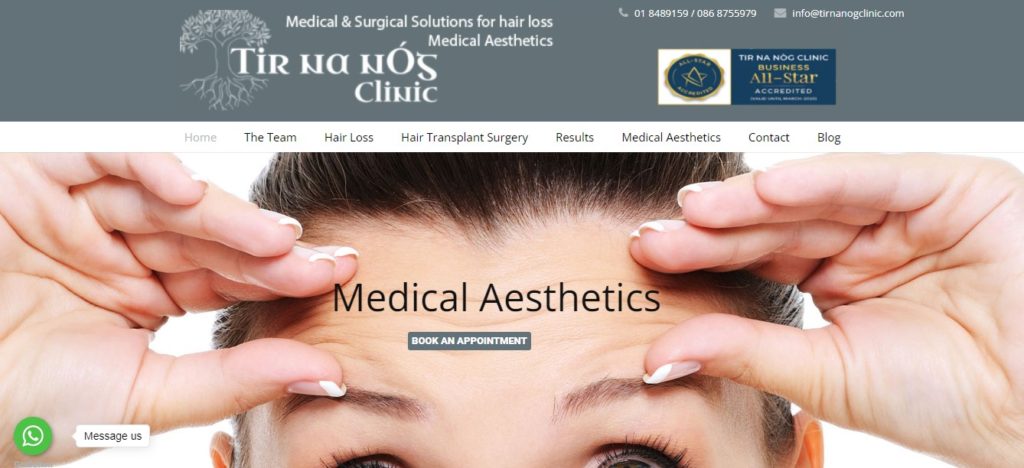 SERVICES
FUE
FUT
Non-surgical treatments
WEBSITE
https://tirnanogclinic.com/
ADDRESS
Grange Clinic, Grange Rd, Donaghmede, Dublin 13, D13 F7H9

The Meath Primary Care Centre 1-9 Heytesbury St. Saint Peter's, Dublin 8, D08 Y1TW

GP Practice round the corner from Meagher's Pharmacy, 192 Glenview Park, Tymon North, Tallaght, Dublin 24, D24 K030
CONTACT DETAILS
01-8489159 | 1-8489159 | 01-8489159 |

[email protected]

OPERATING HOURS
Contact for details as it depends on the location of the clinic
Tir na nÒg Clinic was made possible by Kevin and Natasha McDonald. They started their business way back in 2011 and they were providing anti-wrinkle treatments at an affordable price.
In comparison to other clinics, Dr. Kevin McDonald MB MRCS MCh focuses on natural hairlines. This appears to have the randomness, irregularity, and angulation of real hair.
What's great about them is how they offer both invasive and non-invasive treatments. they have medical treatments, PRP (Platelet Reach Plasma) Therapy, and Mesotherapy.
Do remember that these conservative treatment methods cannot regenerate dead hair follicles or re-grow lost hairs in bald areas. Rather, these can possibly stop the progress of hair loss and improve the overall condition of existing hair follicles.
Another great factor about this clinic is its team of experts. Aside from Kevin and Natasha, they have other five professionals that can get your service done as quickly as possible.
Aside from Hair Transplant Surgery, they also offer Medical Aesthetics. They can do Blepharoplasty, Anti Wrinkle Injections, and Medical-Microneedling.
Maybe you can consider getting these, if possible, on the same day of your hair transplant!
Offers both minimally invasive and non-invasive treatments
FUE is a one-day out-patient procedure
Can watch TV or take a nap during transplant
Prices range from €2,000 to €4,000
Operating hours are not on their website
Customer Reviews
Here are a few testimonialss from their previous clients:
"Having looked abroad, I was concerned about the quality I would get and had seen good things about Tir Na Nog online so availed of a free consultation. From my first consultation, one big difference stood out. Dr Kevin and the team are not driven by making quick money rather, they genuinely want to do what is best for the patient. Due to some skin complications, I had to wait some time for my surgery and Dr Kevin went above and beyond to make sure I was ready to get the best result for me. The team are also honest in setting expectations and very credible and clear in explaining the procedure. By the time my surgery arrived I was full of confidence. The actual day of the procedure was seamless. Because the team are relatively small, their attention to detail and ownership is second to none. While they do it every day, they were incredibly sensitive to make sure I was ok at all times and even provided a delicious lunch! The level of professionalism and meticulous approach to the hair transplant was quite remarkable. It became clear that the team only care about one thing and that is delivering the best outcome for you as the patient. It was not rushed, there were no short cuts and I felt totally comfortable end to end. The prices are also affordable and as mentioned, they seem genuinely driven by good patient outcomes rather than exorbitant prices. I couldn't recommend Tir Na Nog more if you are considering a transplant." – Ben
"I was looking into a hair transplant lately as I have seen my hair receed in the last year or two, so I decided to react early, I was made aware of tír na nÓg clinic by a friend and how they were so right!from the beginning it was a warm and inviting process with emphasis on the patients needs. All the staff were outstanding to deal with and I could not recommend Dr Kevin and his brilliant team Highley enough. I will look forward to seeing my hair grow over the coming months and have confidence again in my appearance. Thank you for the outstanding work." Keith Landers
8. Celtic Hair Restoration Clinic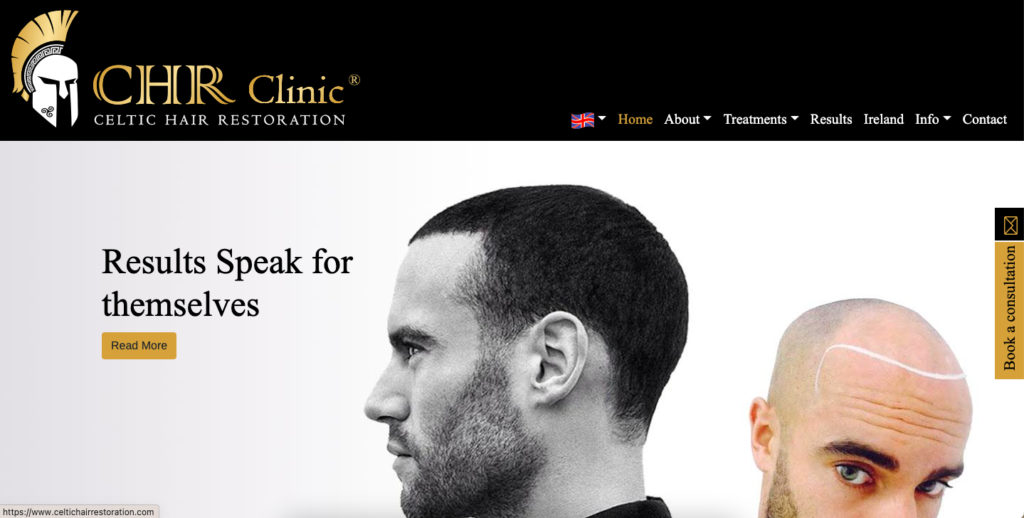 SERVICES
FUE Hair Transplantation
Un-Shaven FUE Hair Transplantation
Platelet Rich Plasma Therapy (PRP)
Scalp Micropigmentation (SMP)
Laser Hair Growth Regeneration (LHGR)
WEBSITE
https://www.celtichairrestoration.com/
ADDRESS
32 Dawson Street, Dublin 2, Co. Dublin, Ireland D02X009
CONTACT DETAILS
+353 1 4410861 |

[email protected]

OPERATING HOURS
Contact for more information
Celtic Hair Restoration Clinic is an award winning clinic based in Dublin.
One thing we like about their clinic is that they understand that each and every client is unique so they consider individual requirements to come up with a bespoke treatment.
You wouldn't have to worry so much because they only use qualified and insured doctors and technicians who are specialised in FUE and U-FUE Hair Restoration Transplant. Plus, they all have more than 30 years of experience combined.
Another selling point is that they offer a free online consultation to help individuals take the first step towards hair restoration.
Of course, we've also done more research on the results of their procedures, and we can say that they work! They've corrected hairlines and restored the hair of many of their clients.
Given all of these, we highly encourage you to look into them to see if they'll be the best fit for you!
Bespoke treatments for hair loss
Award-winning clinic
Qualified and insured doctors and technicians
Free online consultation
Prices are not available on website
Operating hours unavailable on website
How to Choose the Right Hair Transplant Clinic for You
Just like most major medical procedures, hair transplant treatments are not to be taken lightly. Choosing the right doctor or clinic is important to ensure that you're getting excellent results for its cost.
Here are some of our top tips to consider when choosing a hair transplant clinic or qualified hair transplant surgeon:
Find clinics that offer obligation-free consultations
An important thing to know about hair transplants is that not everyone is eligible for them. You must have your scalp assessed by the clinic or doctor of your choice to see the right treatment option for you, and so they can answer questions you might have.
Don't be discouraged if consultations aren't free of charge. You can rest assured that the doctor who'll be examining you is fully qualified and will give you a wide picture of your hair loss.
And with that, it's also important to find a clinic that doesn't pressure you into proceeding with the services that they offer. Be wary of sales professionals who will try to convince you.
Research your chosen doctor or clinic
Legitimacy is a major factor to consider when finding a clinic or specialist.
Get as much information as you can through online research. Make sure that they have the relevant experience and qualifications to administer the services that they offer.
You can also factor in the address of the clinic and permits that they hold. It's vital that the clinic provides its clients with safe and clean conditions where they can perform the procedure.
Look at previous client experiences
Clinics should have photos of their previous clients' before and after look as references. This will also show future clients that the procedures are effective and safe.
You can begin by looking at the clinic's reputation online.
Good clinics have many positive comments written about them. You can try to ask a previous client about his/her experience if the comment is public.
But because testimonials can be easily faked, our tip is to see if your chosen clinic has produced case studies, which provides an in-depth analysis of how a certain treatment has worked for a specific client.
Ask about aftercare
After your procedure, ask your chosen clinic or specialist about your recovery plan.
Some important questions to ask: Will you prescribe medications or certain products to me? Am I entitled to free follow-up consultations after my procedure?
And finally, ask them about their protocols and options should an emergency arise. Make sure that they are fully equipped to attend to emergency situations after the procedure.
FAQs about Hair Transplants
---
And those are our picks of the best hair transplant clinics in Ireland! Give these folks a call and they'll answer all of your questions about hair transplants.
If you have other recommendations, drop us a line and we'll get back to you ASAP!
In case you didn't know, dermatologists can also help you understand your hair loss problems. You can also check out our list of the best dermatologists in Dublin for more options.