The 9 Best Psychotherapists in Dublin
Taking care of your mental well-being is one of the most important investments you can make. Not only does mental health affect your everyday life, but it also alters how you think and handle situations in the long term.
When faced with emotional difficulty, give your mental health the same importance as your physical health by seeking professional help. We've rounded up some of the best psychotherapists in Dublin to help you plan your next steps.
Much of the stigma in seeking professional help partly comes from concerns about its cost. Likewise, we also understand that choosing the best one may not necessarily be the right one for you.
So before we give you our picks, let's discuss those first. At the end of this article, you'll also find our tips on finding the right therapist for you, along with answers to some of the most common questions about psychotherapists.
How Much Does Psychotherapy Treatment Cost in Dublin?
In Dublin, psychotherapy clinics offer a range of services from one-on-one counselling to couples therapy. Depending on your needs, your choice of therapy will have different costs.
The table below only covers individual counselling sessions. For more information on prices of other related services, you may contact the clinic or visit their respective websites.
CLINIC/PSYCHOTHERAPIST
PRICE RANGE
City Therapy
€60 to €120 (face-to-face counselling)
€50 to €75 (online counselling)
The Therapy Centre
€50 to €70
The Other Clinic
€90 (first session of online/face-to-face counselling)
Reborn Clinic
€65 (online counselling)
€75 + €25 non-refundable booking fee for first sessions (face-to-face counselling)
Talk Therapy Dublin
€50 to €70 (individual counselling)
€90 (couples counselling)
Here4you Therapy
€70 to €90
Kelly Counselling
€70 (face-to-face counselling)
€65 (online counselling)
The Best Psychotherapists in Dublin
Without further ado, here are our picks of the best psychotherapists in Dublin, based on the recommendations of our friends and experts, and what they can offer.
This list is in no particular order.
1. Remedy Clinic
SERVICES
Psychology, Counseling, Wellness Consultancy, Online Counseling, Psychotherapy, Remedy-EAP Corporate Wellness
WEBSITE
https://remedyclinic.ie/
ADDRESS
29 Westland Square, Pearse Street, Dublin 2

CONTACT DETAILS
Phone: (01) 685-5832
Email: [email protected]
OPERATING HOURS
Monday to Friday: 7:00am to 9:00pm
Saturday: 8:00am – 6:00pm
Sunday / Bank Holidays: 8:00am – 6:00pm
Public holidays: Open when required – please enquire with your practitioner
Remedy Clinic was established in 2017, providing counseling, psychotherapy, and wellness consultations to individuals of any age at reasonable prices.
Their facility features a modern, well-equipped, and safe place for people to discuss their concerns and problems. By providing an area that's conducive to mental health and wellness, Remedy Clinic promotes positive changes in people's lives through active discussion.
They offer one-on-one counseling with accredited therapists and psychologists to assist individuals in promoting their positive well-being. They also offer online therapy for those who wish to wish to begin their journey to a happier life from the comfort of their own home.
We like that Remedy Clinic offers a flat-rate option for therapy based on specific issues that you're currently facing. These affordable packages can easily provide help to those that only need assistance with a specific concern, such as relationship problems or grieving a loved one.
Remedy Clinic also has an Employee Assistance Program for employers so that they can provide their workforce with the help they need. Providing this service for employees can help increase productivity and reduce absenteeism.
If more work is needed to get to the root of an individual's problem, Remedy Clinic's in-depth psychotherapy services provide a deeper spectrum of treatment. They also offer nutritional and wellness therapy for those that wish to receive general healing for their mind, body, and soul.
With their full spectrum of services, corporate packages, and online therapy options, Remedy Clinic is one of our top picks for the best psychotherapists in Ireland.
Modern facility
Wide range of services
Offers issue-specific packages
Offers online therapy sessions
Has corporate EAP packages
No group therapy sessions
Relatively shorter weekend hours
2. City Therapy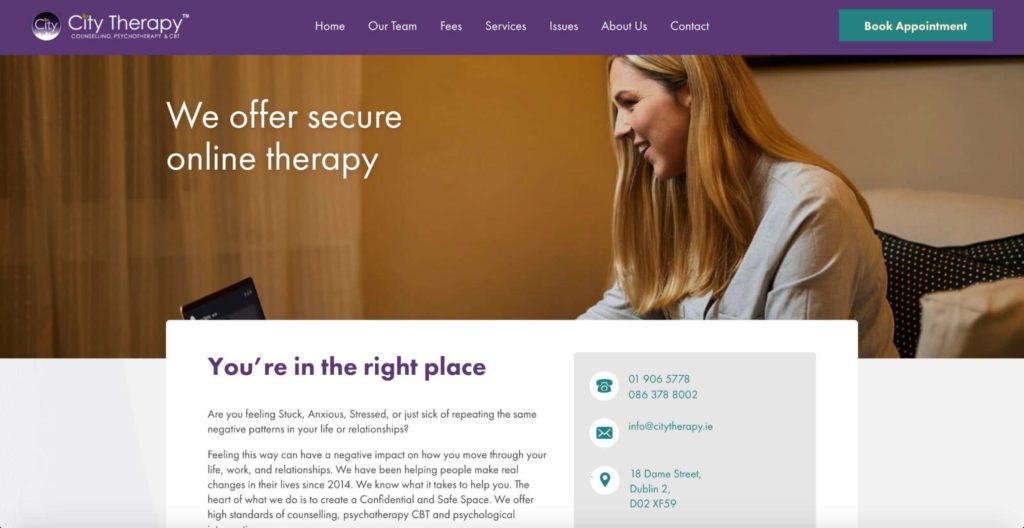 SERVICES
Counselling psychotherapy (individuals, couples, group, online, telephone, small businesses, corporate), humanistic and integrative psychotherapy, cognitive behavioral therapy (CBT), clinical psychologist, psychoanalytic psychotherapy, psychodynamic psychotherapy
WEBSITE
https://www.citytherapy.ie/
ADDRESS
18 Dame Street, Dublin 2, D02 XF59
CONTACT DETAILS
01 906 5778 or 086 378 8002


[email protected]

OPERATING HOURS
Monday to Friday 8:00 am to 10:00 pm
Saturday 8:00 am to 7:00 pm
City Therapy's team of mental health professionals are trained in Ireland and abroad. Their resident psychotherapists have a wide range of specialities, which can allow patients to easily narrow down their search.
Each psychotherapist's profile is available on their website. You may easily access what each psychotherapist has to offer in terms of qualifications and line of expertise, so you can make an informed decision before booking a therapist.
If you aren't satisfied with your initial therapist's services, they may also arrange a session with another therapist for you free of cost.
Their services can accommodate a variety of patients ranging from individuals, couples, and groups. Similarly, their large team of psychotherapists can also provide counselling to employees of small businesses or corporations—a service that's unique to them.
City Therapy's clinic conveniently sits at the heart of Dublin's city centre, making it easily accessible to patients. If you're a practitioner or a student, they also allow you to rent their private therapy rooms for use, available 7 days a week from 8 am to 10 pm.
Wide range of services for different patients
Ideal for small businesses/corporations
Central clinic location
Large team of psychotherapists
Long business hours
Closed on Sundays
Relatively higher rates
Customer Reviews
Here's what former patients have to say about City Therapy's services:
"Great experience, wonderful place, absolutely worth a trip if you're seeking professional help. My therapist, Anne, was fantastic. She was compassionate and knowledgeable and an all around lovely person." —Shashank H., Google Reviews
"I highly recommend both therapists and clients to reach out to City Therapy to receive the level of professionalism, expertise and kindness that defines the amazing work that is carried out in this service." —Daniel K., Google Reviews
3. The Therapy Centre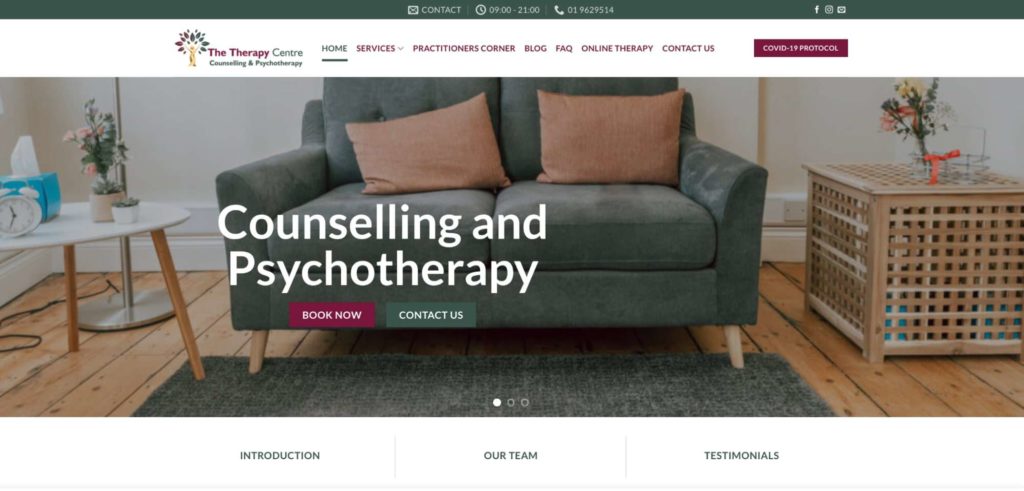 SERVICES
Counselling and psychotherapy, couples counselling, CBT, LGBT counselling, stress management, personal development, anger management counselling, anxiety counselling, depression counselling, low cost counselling, postnatal depression counselling
WEBSITE
https://thetherapycentre.ie/
ADDRESS
8 Store Street, Dublin 1 or 25 Dawson Street, Dublin 2
CONTACT DETAILS
01 962 9514 or 086 1083669


[email protected]

OPERATING HOURS
Monday to Friday 9:00 am to 9:00 pm
Saturday 9:00 am to 3:00 pm
The Therapy Centre's large team of experts also specialises in a wide range of issues from trauma to anger management. As members of various Irish associations for psychotherapists, their team's guaranteed to be updated with the latest approaches in therapy.
Like most major clinics, they offer an array of services for individuals and couples. Group therapy isn't available at the moment, so you might want to skip this one if that's what you're looking for.
Along with our previous entry, individuals and couples may also book one of their therapy rooms for private use, which are also available in the evenings and weekends.
Online therapy is also an option if a face-to-face session isn't possible. Take note though that as of writing, only one therapist is available to book for online therapy and it's best to contact them for more information.
The Therapy Centre has two clinics in the city centre to choose from, both of which are easily accessible by public transport.
Ideal for individuals and couples
Large team of psychotherapists
Central clinic location
Therapy rooms available for private use
Relatively more affordable rates
No credit/debit card facilities
Relatively shorter weekend business hours
Lack of group therapy options
Customer Reviews
Below you'll see some reviews left by The Therapy Centre's previous patients:
"I was very hesitant to get into therapy. But from the first time I contacted Laura I had an extremely positive experience right up to the end of my therapy. I received incredible support and have seen a lot of positive change! I would highly recommend the Therapy Centre to anybody." —Denise O., Google Reviews
"I first went to see Laura suffering from postnatal depression. My G.P had prescribed medication and then recommended I see Laura also. For the first time in my life I had a space where I could finally let myself go. I cried and cried during each session. I was able to say whatever I felt, and knew I would never be judged." —Julie M., Google Reviews
4. The Other Clinic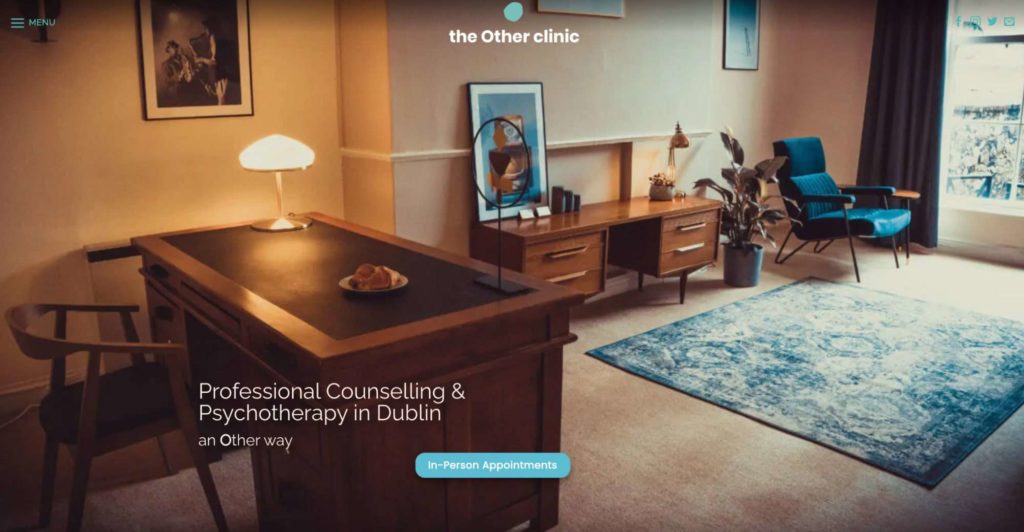 SERVICES
Individual therapy, couples therapy, online therapy, psychoanalysis, psychological assessment
WEBSITE
https://theotherclinic.ie/
ADDRESS
7 Pembroke Street Upper, South City Centre, Dublin 2, D02 T681
CONTACT DETAILS
01 685 6264


[email protected]

OPERATING HOURS
Monday to Friday 7:00 am to 9:00 pm
Saturday to Sunday 10:00 am to 6:00 pm
Next on our list is The Other Clinic. Despite having a relatively smaller team, each psychotherapist holds at least one master's degree and years of experience in psychotherapy.
They have also worked with dozens of issues in the past including addiction, bereavement, self-harming, to name a few. You may look at each therapist's profile on their website to determine which one may be suitable for you.
While individual therapy's their strength, they also accommodate couples who may be having troubles in their relationships. Group therapy also isn't available for those who seek it.
Important to note about The Other Clinic is their pricing scheme. The first preliminary session is priced at €90, which may be a bit steep for some, but succeeding sessions are priced depending on the case at hand.
If you're unavailable on the weekdays or even on Saturdays, you may book an appointment with them on Sundays instead. In fact, it's the only clinic on our list that accommodates patients on all days of the week.
Ideal for individual and couples counselling
Ideal for French speakers
Open on Sundays
Wide range of services
Central clinic location
Relatively steeper costs
Relatively smaller team of psychotherapists
Lack of group therapy options
Customer Reviews
See what some of their past patients have to say about them:
"I was recommended to this clinic and was sceptical at first, much like about putting a review online, but after the level of care I received I wanted to share. I had a lot of questions like was it for me, would I be able, could I afford it etc. but after contacting them many of these were answered and I felt more at ease. I had been struggling with things for a while and when I started I didn't quite understand the connection between what the therapist said and what I was saying but it really taught me to think twice about things and why I might feel a certain way, it really opened my eyes. Coming here and more importantly sticking it out is one of the best decisions I've made and I'm sincerely thankful for all their help. Thanks again!" —Barry M., Google Reviews
"I would highly recommend the services of the wonderful people at the other clinic. From the very first contact they have helped me to feel at ease and assured. They have guided me through my ongoing process, with great care and are enabling me finally to see how I am able to deal with so much more than I ever thought possible! . They have given me a safe place to just talk and allow myself to really see why I have been struggling. Great people doing great work!" —Christopher M., Google Reviews
5. Reborn Clinic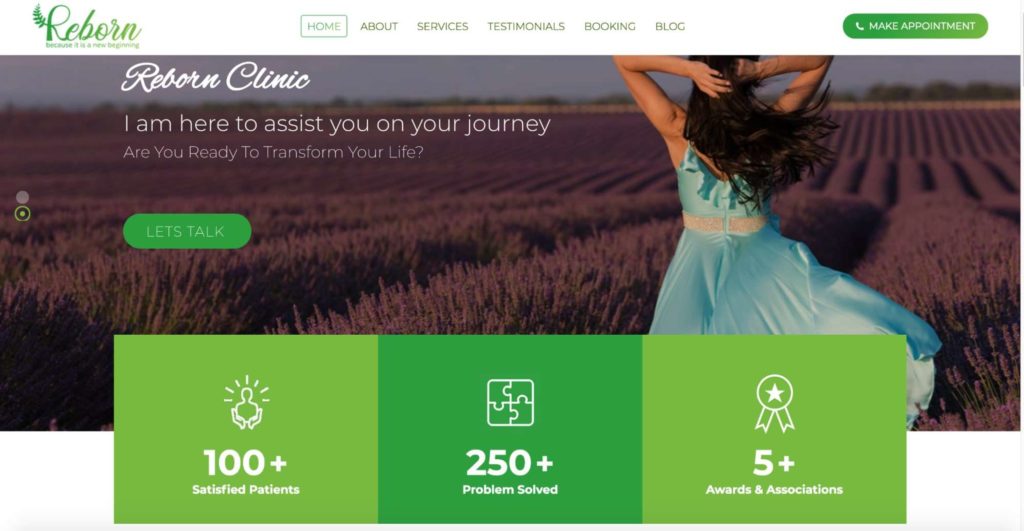 SERVICES
Online therapy, face-to-face counselling, couples therapy, youth therapy
WEBSITE
https://www.rebornclinic.ie/
ADDRESS
29 Westland Square, Pearse Street, Dublin 2
CONTACT DETAILS
+353 85 715 06 99


[email protected]

OPERATING HOURS
Monday to Friday 1:00 pm to 8:00 pm
Finally, we have Reborn Clinic, an award-winning mental health service owned and operated by licensed psychotherapist Renata Redyk.
Despite being a one-woman team, Renata has served many patients over the years. While couples therapy is an option, she specialises in individual counselling, which can be conducted online or face-to-face.
Renata is also open to receiving patients worldwide through her online therapy service. This may be for you if you're dealing with anxiety, depression, OCD, PTSD, panic attacks, anger management, self-esteem, insomnia, or relationship problems.
If you are dealing with other issues beyond what's stated above, Renata notes that this service may not be suitable for you.
Currently, Reborn Clinic only holds online sessions on Mondays and Fridays and face-to-face sessions from Tuesday to Thursday. If you're unavailable on these dates, you can simply contact her for more flexibility.
Ideal for individual and couples counselling
Youth therapy options are available
Accepts patients worldwide
Closed on weekends
Relatively shorter business hours
Single practitioner may result to limited slot availability
Customer Reviews
Check out some comments about Reborn Clinic below:
"I would highly recommend Renata, her approach helped me back on my feet after a tough patch and I feel like a new, wiser, more awake person! I came to Renata after I had had other sessions with other counsellors/psychologists and I just didn't click with them. I had just had an experience in my life that left me overwhelmed and lost. After 6 months with Renata I was solidly back on my feet and I still check in now to look after my mental health. I leave all the interactions we have felt more aware and more motivated, I cry, I learn and I laugh in each session. Renata has a very gentle approach but she gets deep to the root of problems and offers valuable, practical solutions to work through them. I felt very supported in resolving my issues for myself! I would highly recommend it to anyone who feels a bit lost and doesn't know where to start!" —Ciara, WhatClinic
"I felt instantly at ease with Renata. I was very nervous before going in. She's very knowledgeable and she seems very humane which was something I worried about. Would highly recommend her services and would advise anyone to not put it off as I had for years. I'm working on some depression and anger management. One session in, I can see the light at the end of the tunnel." —Shane, WhatClinic
6. Talk Therapy Dublin

SERVICES
Counselling, psychotherapy treatment, therapy room hire, video counselling
WEBSITE
https://talktherapy.ie/
ADDRESS
Argus House
Greenmount Office Park
Harold's Cross
Dublin 6W

1 A Swanville Place,
Rathmines
Dublin 6
D06 D0D1
CONTACT DETAILS
083- 8254160


[email protected]

OPERATING HOURS
Monday – Sunday 8am-9pm for appointments
Talk Therapy Dublin is a company committed to providing counselling and psychotherapy services and also information on various mental health concerns.
The company also has available connections to other psychotherapy institutions and specialists in order to provide the customer with the best and most relevant information on their concerns.
Identifying itself as an inclusive Dublin-based institution, the company prides itself on being able to cater to a large scope of clients from various backgrounds and cultures. Coupled with a high-quality core team of specialists, the company is also able to offer these services in Spanish, Romanian and German.
The company also offers low-cost counselling services and 15-minute phone conversations should the client wish to inquire regarding the said services or any mental health-related concerns as well.
Psychotherapy at a low cost
Offers free information and inquiry
Embraces a diverse set of clients
High demand for face to face sessions means limited availability of times.
Customer Reviews
Here are some reviews from clients of Talk Therapy Dublin:
"It was really useful and he helped me learn how to deal with different situations. I was in for anger management with Rav and found it great. It was really useful and he helped me learn how to deal with different situations." -Conor, Ireland
"My son and I found Ravind kind, gentle and very sympathetic while dispensing very good and sound advice to my son. He was patient and successfully built trust with my son who had not undertaken counselling before. He was available for follow up by phone on occasions where my son became upset. I would highly recommend Ravind to those looking for a gentle approach and good advice. I was looking for a male counsellor who I felt that my son could relate to." – Aislinn, Ireland
7. Here4you Therapy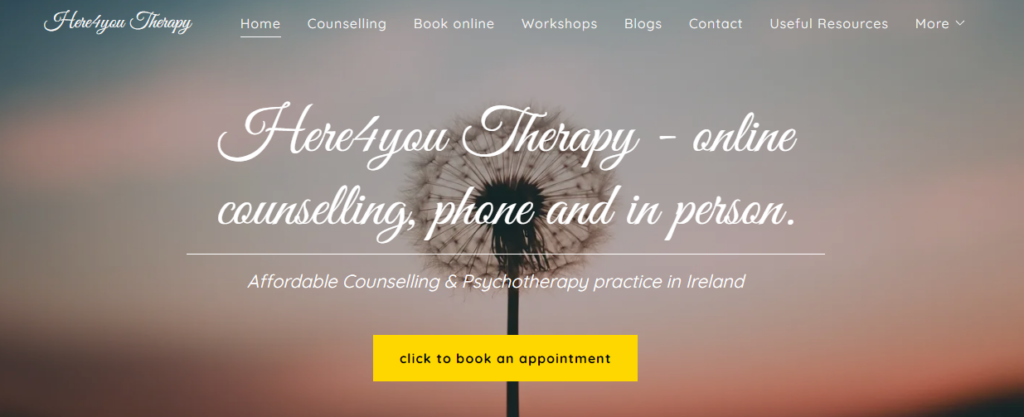 SERVICES
Online counselling, phone counselling, teen counselling, CBT, individual and group counselling, face-to-face counselling in Dublin and Kildare
WEBSITE
https://here4youtherapy.com/
ADDRESS
Citywest Village, Citywest Dublin, Ireland D24
CONTACT DETAILS
0896139617


[email protected]

OPERATING HOURS
9-9pm (Mon-Thurs)
9-5pm (Friday)
Here4you Therapy is an Ireland-based company that offers counselling services in person, on the phone and online as well.
Run by a fully qualified Counselor and Psychotherapist, they comprise a small yet closely-knit team of professional psychotherapists in which they provide the said counselling services all over Ireland, the UK and Europe.
They also pride themselves in having experience working with clients in various backgrounds such as adults, teens and the LGBTQQI+ in which they have received excellent reviews regarding their services. Furthermore, a brief description regarding their counsellors in their team is also available on their official website which can help the client know more about the counsellors handling them.
Compassionate and professional, the practice continues to accommodate clients of numerous backgrounds and a wide range of mental concerns that they have. The rates of their counselling sessions are affordable and budget-friendly and could be an excellent starting point should one be considering their budget.
Cost-efficient counselling
Highly qualified staff
Professional and accommodating
Limited clients due to language barriers
Customer Reviews
Here are some reviews from clients of Here4you Therapy:
"Sinéad is an absolute credit to her profession. I found her not only to be very accommodating and compassionate but also has a strong ability to connect. This is in her nature, allowing her to truly appreciate various issues and their consequences. I would definitely recommend here4youtherapy to anyone needing a friendly, understanding and non judgemental ear." – Dorcy Mac An Fháilí
"Sinead is kind & compassionate, very professional and has helped me in endless ways. Would highly recommend her." – Sarah Lyons
8. Kelly Counselling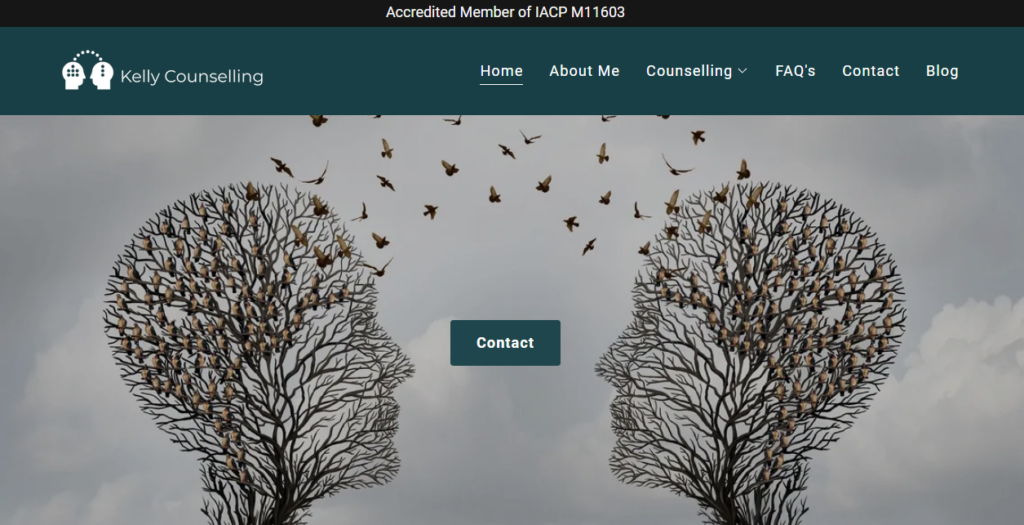 Kelly Counselling is headed and operated by Michelle Kelly – a licensed adolescent counsellor and adult psychotherapist. Currently completing a course in Adolescent Psychotherapy, the aid counselling company offers a variety of face-to-face sessions and online video sessions in terms of counselling.
Passionate and driven as her role as a counsellor and psychotherapist, Michelle is well-renowned to be professional yet understanding toward her clients which earns her a fully-booked schedule of sessions.
She also offers a short period of consultation with the client before the client can agree to push through with sessions that center on self-understanding under the guidance of the counsellor herself.
The counsellor also employs different that will suit the needs of the client such as Attachment and Sensorimotor approaches in order that the problem can be efficiently be addressed at the client's pace. Furthermore, the company is an accredited member of IACP M11603 which adds to its credibility as a counselling company.
Competitive and accredited
Makes use of theories for effective counselling
Flexible sessions
Number of slots is limited
Customer Reviews
Here are some reviews from clients of Kelly Counselling:
"I recommend Michelle because I've had the misfortune of having dealt with other therapists in the past. I can honestly say that she's the most professional and easiest person to sit in front of." – Lisa Greyson
"I'm so glad I went to Michelle. She slowly helped me realise that I can change. I'm not the person I was six months ago, broken and fearful. I'm healthy and happy and for the first time being kind to myself. Thank you for giving me my life back." – Lisa Greyson
9. Fettle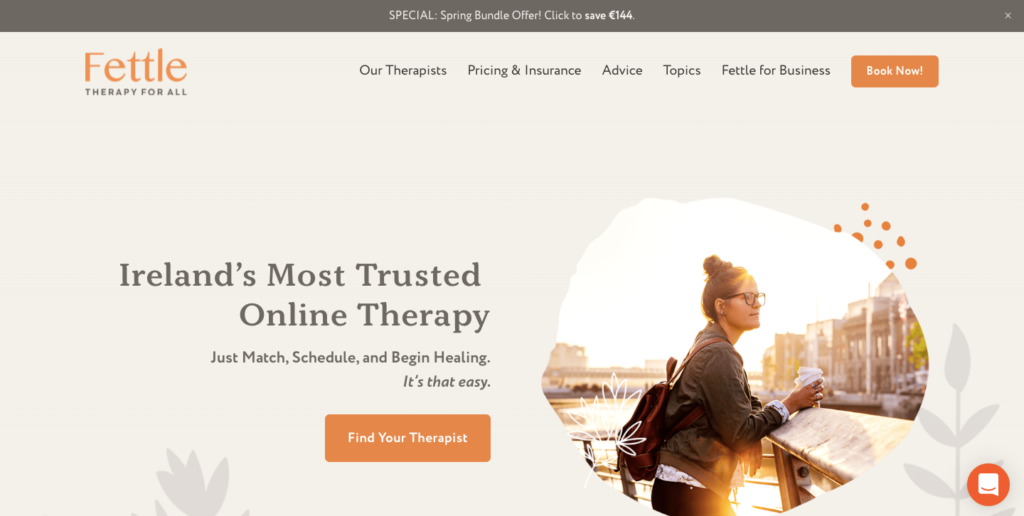 SERVICES
Humanistic Therapy
Cognitive Behavioural Therapy (CBT)
Dialectical Behavioural Therapy (DBT)
Psychodynamic Therapy
Behavioural Therapy
Acceptance & Commitment Therapy (ACT)
WEBSITE
https://www.fettle.ie/
ADDRESS
Ireland
CONTACT DETAILS
Email:

[email protected]


For media enquiries

[email protected]

.ie
For therapists who wish to work with Fettle:

[email protected]

OPERATING HOURS
Contact them for more information
Next on our list is Fettle – therapy for all.
Having your initial session with a therapist will give you an idea of whether therapy is right for you. After the first appointment, you are not obligated to attend any additional sessions.
This is what you will be experiencing if you try the service of Fettle. Their clients frequently find that their first experience is beneficial in determining what they require and whether the therapist they have seen is the right fit for them.
Fettle uses Ireland's most experienced network of accredited and qualified online therapists to assist you with anxiety, depression, grief, trauma, couples therapy, and other issues. Alternatively, select your online counselor based on specialized therapeutic approaches such as Cognitive Behavioral Therapy.
They never compromise on care quality. But they've figured out how to provide this service at the most competitive prices possible, while also providing the best user experience in the industry.
They believe in providing truly meaningful therapy in order to achieve truly meaningful results. The most effective way to accomplish this is to provide evidence-based talk therapy on a consistent basis. They want to provide you with the best and most affordable pricing options that meet your needs. With this in mind, they provide a bundle option because many of our clients prefer to purchase a block of sessions in order to save money.
Fettle online therapists have an average of 10 years of counseling experience and multiple accreditations from reputable psychotherapy organizations such as the IACP. Their online counselors are all insured and fully accredited or pre-accredited by professional bodies.
Affordable, convenience, well-organized
Offers different kinds of therapies
Employed quality therapists
Customer Reviews
Here are some reviews from clients of Fettle:
"I have found this to be tremendously helpful as a service, and I'm delighted with the flexibility it affords in my ongoing journey." – Sean M.
"I have been availing of Fettle counselling for a few months now and cannot recommend them enough. Great accessible service from the comfort of your own home." – Biddy S. Early
"Would highly recommend Fettle. Ive gone to therapy a few years ago and it can sometimes be very daunting. Being able to match with a therapist and speak to them over zoom made it an easier and less stressful experience. I have already booked in for next week and looking forward to my next appointment." – Thomas Kane
FAQs about Psychotherapists in Dublin
---
And that concludes our guide on the best psychotherapists in Dublin. We hope that we were able to shed some light on this daunting process.
If you think that there are others who deserve to be on our list, don't hesitate to leave us a message.
Know someone in need of a good physiotherapist? We've also written about the best physiotherapists in Dublin.