The 5 Best Psychologists in Dublin
If you have something heavy lingering on your mind, don't suffer in silence. You can call a friend or seek the help of a mental health professional.
To help you with that, we're tackling the best psychologists in Dublin today, along with their services, rates, and more. Below you'll also find tips and answers to some common questions that you might have about them.
First things first, allow us to tell you a little about costs so you'll know what to expect.
How Much Do Psychologists Charge in Dublin?
Psychologists normally charge their patients by the hour, which can range between €60 to €110 on average. Check out the table below for our entries' rates:
CLINIC
RATES
Etymon Psychotherapy & Psychology
€55 (for full- or part-time working adults)
€35 (for unemployed adults and students)
€25 (for ages 64 and above)
€40 (for children and adolescents)
Dr. Kevin Lambe
€70 (30 minutes)
€120 (60 minutes)
bWell Clinic
€125
Silver Lining Therapy
Individual Therapy – 50mins / €60
Couples Therapy – 80mins / €80
Family Therapy – 80mins / €80
Children and Teens Therapy – 50mins / €60
InterCultural Psychology
€70 – €100
The Best Psychologists in Dublin
Let's go ahead to our picks of the top psychologists in Dublin!
1. Etymon Psychotherapy & Psychology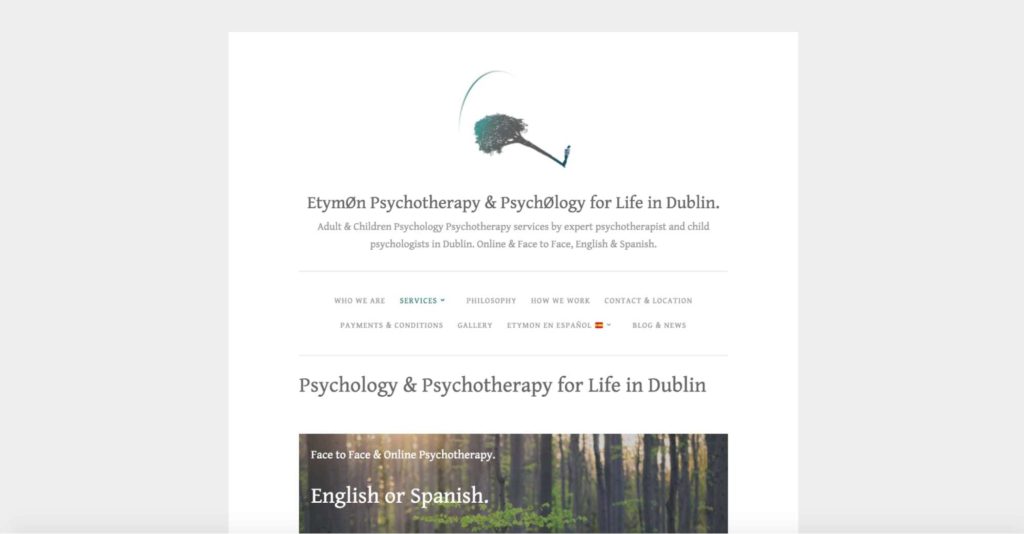 SERVICES
Adult/adolescent/children psychology services, online psychotherapy
WEBSITE
https://etymonpsychology.com/
ADDRESS
64 Patrick St, Dún Laoghaire, Dublin
CONTACT DETAILS
01 437 0962 or 089 232 4477


[email protected]

OPERATING HOURS
Monday to Friday 3:00 pm to 9:00 pm
Specialising in clinical psychology, Etymon Psychotherapy & Psychology is one of the most inclusive clinics on our list. From children to the elderly, they accommodate everyone from all walks of life.
Apart from their inclusivity, we like that Etymon has pretty affordable and flexible rates for everyone, especially for certain demographics who may not have the means to afford counselling.
You have the option to choose between online or face-to-face counselling, with the former being €5 more affordable than the latter.
We also highly recommend this clinic for Spanish speakers as counselling services are available in this language, too.
The only downsides we're seeing is their location and clinic hours.
Their clinic is located relatively far from the city centre, so accessibility may be a problem for some. Clinic hours also start relatively late at 3:00 pm onwards.
Hence, we recommend getting an online counselling session instead if location and time are concerns for you.
Accommodates children, adults, elderly
Ideal for Spanish speakers
Affordable rates
Online counselling available
Flexible payment options
Closed on weekends
Relatively far location
Clinic hours start late
Customer Reviews
Check out some comments about Etymon Psychology:
"I attended Etymon Psychology for a number of months. During this time I found the Therapist to be understanding and very professional. She helped me work through my problems in a very warm manner and helped me to build a new perspective on my situation. Would highly recommend." —Dar B., Google Reviews
"I have been seeing one of their psychologists for about a year. She was very warm, understanding and accommodating and helped me talk through a complicated emotional situation. I really encourage you to visit her center if you need to find support and a better new perspective and change in your life." —Ion C., Google Reviews
2. Dr. Kevin Lambe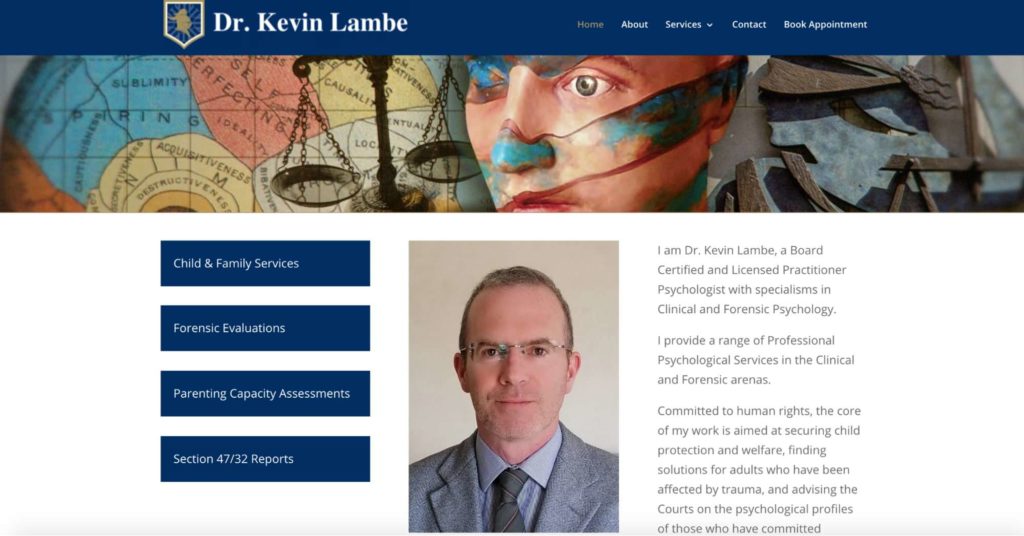 SERVICES
Psychological assessments and treatments, child and family services, forensic evaluations, parenting capacity assessments, supervision and training, consultation services
WEBSITE
https://drlambe.com/
ADDRESS
Pembroke Hall, 38/39 Fitzwilliam Pl, Dublin 2
CONTACT DETAILS
01 602 4720


[email protected]

OPERATING HOURS
Monday 10:00 am to 5:30 pm
Tuesday to Thursday 9:00 am to 5:00 pm
Friday 10:00 am to 3:00 pm
Dr. Kevin Lambe is a licensed psychologist specialising in clinical and forensic psychology. He has a wide range of services that mostly accommodate children and adolescents.
Beyond counselling, he offers psycho-educational evaluations and intelligence testing for children aged 4 and above. Apart from that, he also has varied experiences in working with adolescents above 14 years old who have experienced violence and sexual abuse.
He's also one of the very few psychologists in Dublin specialising in forensic psychology, meaning that he provides consultations involving criminal matters.
If you'd like to get a feel of how Dr. Lambe works, you can simply book a 30-minute consultation. Otherwise, you can also go for a full hour, which can be conducted online or face-to-face.
We also like that Dr. Lambe offers a free weekly clinic for anyone who can't afford regular rates. It's too bad that waiting lists are quite long though.
His online booking portal is updated a month in advance, so we recommend checking his availability every now and then to secure an appointment. Similarly, you can also contact him for availability—you'll never know when a spot frees up at the last minute.
Wide range of services available
Ideal for children and adolescents
Specialises in forensic evaluations
Online consultations available
Free weekly clinic
Limited availability due to high demand
Relatively expensive
Relatively short clinic hours
Customer Reviews
Here's what some of his former patients said about his services:
"Extremely professional and efficient, my husband who was the patient found Dr Lambe very helpful, understanding and approachable. My husband needed an appointment at very short notice and Dr Lambe went out of his way to arrange one. The price of the consultation was as quoted." —Louise, WhatClinic
"Excellent actually, I got a personal phone-call the next day and Dr Lambe was very pleasant and helpful." —Elmer, WhatClinic
3. bWell Clinic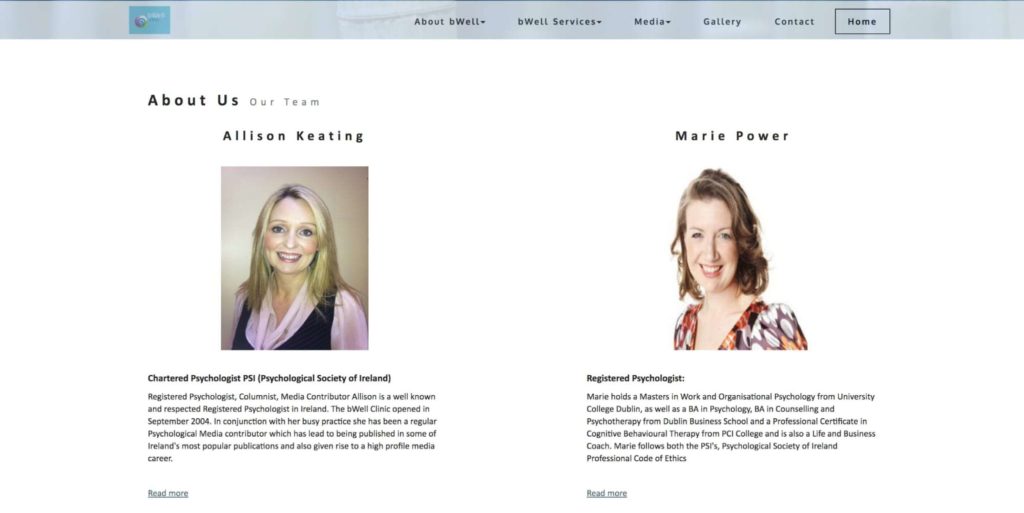 SERVICES
bWell one-to-one therapy
WEBSITE
http://www.bwell.ie/
ADDRESS
12 Saint James Terrace Malahide Co. Dublin
CONTACT DETAILS
01 845 6070


[email protected]

OPERATING HOURS
Monday to Friday 9:30 am to 8:00 pm
Lastly, bWell Clinic employs a combination of positive psychology strategies for patients coping with emotional difficulty. They've seen patients with different concerns such as anxiety, eating disorders, depression, phobias, among many others.
Their trio of psychologists have extensive backgrounds in clinical psychology. But what's common among them is their focus on dealing with anxiety and panic attacks.
Despite catering to adult patients for the most part, resident psychotherapist Geraldine Griffin also accommodates children and adolescents. In fact, she also speaks French.
Their clinic is located further up north from the city centre—all the way to Malahide, in fact. While accessibility may be an issue for some, we still like that their clinic is relatively easy to find—just in front of the Malahide Yacht Club Clubhouse.
You can bring your car as there's a pay-and-display parking available on site. Commuters can also access the clinic via bus or train, which is just a 5-minute walk away from the clinic.
Specialises in anxiety and panic attacks
Ideal for French speakers
Pay-and-display parking available
Accessible via public transportation
Small team of psychologists
Closed on weekends
Far from city centre
Customer Reviews
Here's a glimpse of how former clients think of bWell's services:
"I have attended Allison's clinic on numerous occasions since 2014. I have always found her very welcoming and I feel emotionally lighter after only 15 minutes with her. I know she is a busy mom, with children of her own, so I know we resonate on a human level . Allison always gives me validations on my next step in life, helping me to deal with everyday stresses. Sometimes I tune in to TV3 and she gives me help with issues I'm dealing with on that day,without her even knowing it!! Allison is an intuitive, compassionate, emphatic, therapist practicing in a safe, comfortable environment." —Hazel G., Google Reviews
"I went to see Allison about a year ago for my anxiety and I couldn't recommend her and her clinic more highly. The therapy was insightful and thought provoking and I was amazed at how quickly we got to the root of my problem. Suffice it to say I feel my life has been transformed as a result." —Andy M., Google Reviews
4. Silver Lining Therapy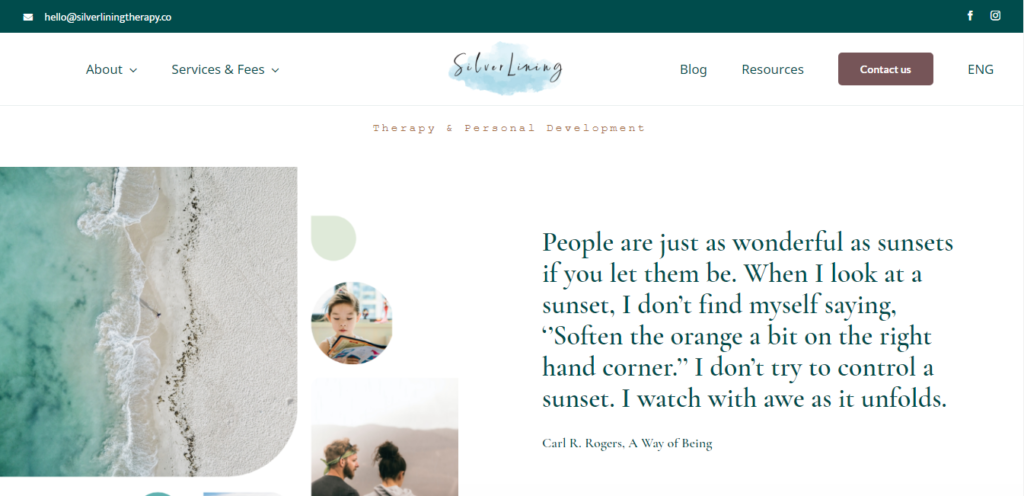 Silver Lining Therapy provides counselling and therapy for a variety of clients offering sessions for individuals, families and couples.
They specialise in Trauma Informed Therapy and Couples Therapy, working with Gottman Method. They are authors of and provide tailored Marriage Preparation Course. They are based in Dublin, headed by two highly certified counselling psychologists.
Their individual sessions are characterized by a deep collaboration between the client and the therapist wherein they are geared to build rapport with each other in order to go forward with the client's goals. They usually offer the said session for a short term which comprises of 6-12 sessions and a long term which exceeds 12 sessions once a week should the client wish to.
They also are able to accommodate both in-person and online sessions at different times and a consistent price range as well. Furthermore, they also provide a short introduction to their services in order to find the most appropriate one.
We recommend this company for clients looking for therapy and personal development services due to the collaborative and highly specialized work that they put into counselling and therapy at consistent prices.
Offers both online and in person counselling
Consistent rates
Accommodates both short term and long term sessions
5. InterCultural Psychology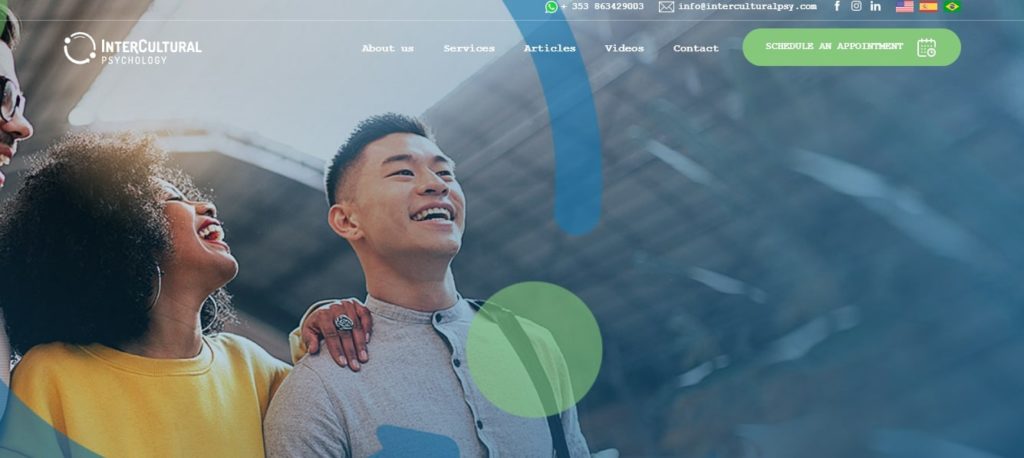 SERVICES
Adult/adolescent/children psychology services, online psychotherapy
WEBSITE
https://interculturalpsy.com/
ADDRESS
12 Priory Office Park, Stillorgan Road, Blackrock. Dublin
CONTACT DETAILS
353 863429003
[email protected]
OPERATING HOURS
Monday to Saturday 9:00 AM – 7:30 PM
Face to face and online
InterCultural Psychology is a clinic that gears immigrants and exchange students with the right mindset when it comes to settling into another country which in this case is Ireland.  Headed by Psychologist Silvana Byrne– who specializes in Cognitive Behavioral Psychotherapy, they have since then been offering consistent and quality sessions to clients from over 15 countries.
What we find impressive about the clinic, is that they are able to emulate the essence of accommodating international clients since they are able to hold and offer face-to-face sessions and online sessions at flexible times and schedules.
They are able to offer these sessions in Portuguese, English, and Spanish to better accommodate foreign clients and communicate at a better pace without sacrificing the approach of their psychotherapy.
Another thing we find commendable is that they constantly update their approaches and techniques so that clients can experience a wide variety and the most efficient combination when it comes to their treatment in order to produce optimal results.
Overall, with their professional and reliable personnel and experts, we highly recommend them to clients looking for an approach to better adjusting should they be thinking of moving to other countries such as Ireland.
Able to accommodate sessions in Portuguese and Spanish
Multiple approaches employed
Accommodates online sessions
FAQs about Psychologists
---
And those are the best psychologists in Dublin. We hope that our list has provided you with ample resources for mental health professionals.
If you've tried the services of other excellent psychologists that's not on our list, drop us a line and we'll check them out as soon as we can.
Didn't find what you're looking for? We've also written about the best psychotherapists in Dublin to give you more options.