5 of the Best Design Agencies in Ireland
In a world with so many products and services out there, design is an important characteristic that most would say is the first thing they notice.

We can't help but admit that looks play a part in the products we choose to the websites we visit.
In line with this, we've rounded up some of the best design agencies in Ireland that can help you get started in redesigning or forming your brand.
How much do design agency services cost?
Design agencies cater to a lot of different services from logo design to website design. Because it is a more creative and freeform process, a lot of the costs will have wide ranges depending on factors such as company size, intended marketing campaign reach, techniques used and so on and so forth.
| Category | Conditions | Price |
| --- | --- | --- |
| Packaging concept design | Per hour | 24 to 33 |
| 2D Animation and Motion Graphics | Use of stock elements | 499 to 599 |
| 3D Animation | - | 1299 |
| 3D Rendering | Interior and exterior | 713 |
| Logo Design | - | 300 to 1300 |
| Website Design | Small businesses | 249 to 300 |
Top Design Agencies in Ireland
We assessed the design agencies according to the following criteria:
1. Icon Creative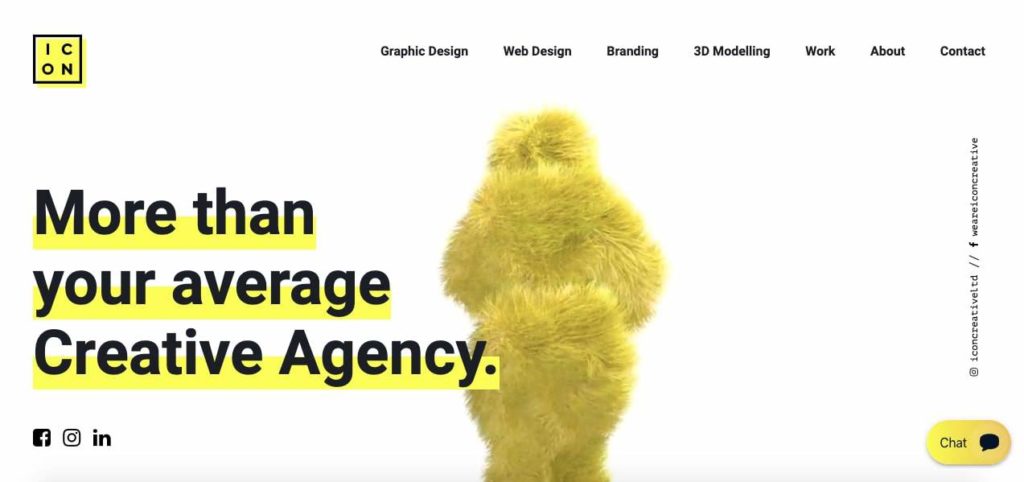 Test
Info
SERVICES
Graphic Design, Web Design, Branding, 3D Modeling
WEBSITE
https://icon-creative.com/
ADDRESS
Suite 704, Lisburn Enterprise Centre, 6 Enterprise Crescent Lisburn
CONTACT DETAILS
+44 (0) 2892 670 522,

[email protected]

OPERATING HOURS
Weekdays: 8:00 AM to 5:00 PM
| | |
| --- | --- |
| Range of services | ★★★★★(5/5) |
| Range of portfolio and previous works | ★★★★★(5/5) |
| Depth of services | ★★★★★(5/5) |
| Customer satisfaction | ★★★★★(5/5) |
Icon Creative has produced a wide portfolio of bold and creative branding that have certainly made for memorable design impact.
Their clients include the likes of Red Bull and Evian, with whom they've produced world class and recognizable graphics and event materials. However, we also appreciate that they work as well with local businesses big or small.
Whatever size your product or service is or no matter what stage your company is at, we like that Icon Creative will still deliver excellent output.
In terms of the quotation of their services, we also like that the company is very flexible. If there needs to be a reevaluation in terms of the brief or any changes are needed down the line, the company has a corresponding policy to adjust and requote.
This is a great practice, in our opinion, especially when it comes to creative services. This is because it allows the client more freedom for critiques.
They also offer special rush rates where they can place the priority for your project to be finished. This does come at an additional cost of 50%, but we like that there is an option for this for those needing rush designs.
What we found most impressive about the company, is that they offer a solid range of services from branding to 3D modeling. If you need a complete makeover of your company's brand design, Icon Creative has most of the options available.
However, do take note that the price quotation would be highly variable because of how customizable everything is. Their process, although thorough, might take longer and the costs of these projects would need to be watched closer.
Icon Creative all in all offers a great foundation of design services that will really make any brand out there pop and stand out.
Solid offering of services
Offers rush rates
Works with big or small businesses
Gives full access to tracking your data in web design
Flexible on any adjustments to the brief
Variable price quotation
Processes might take longer if no rush requests
Customer Reviews
Ideas that Elevated Our Brand
My business has literally lifted off after Icon not only designed and created a very user friendly and extremely professional website, but a bespoke online client portal and booking system. I'd love to say I come up with these ideas but it's all down to the team at Icon Creative. -Aimee Oliver
Delivered Solutions and Innovation
Icon designed and built a new web app for our families and practitioners. They really delivered something special, suggesting solutions to any issues and innovative ideas for how the system would work. We are delighted with the outcome. -Catherine Quinn
2. Fuel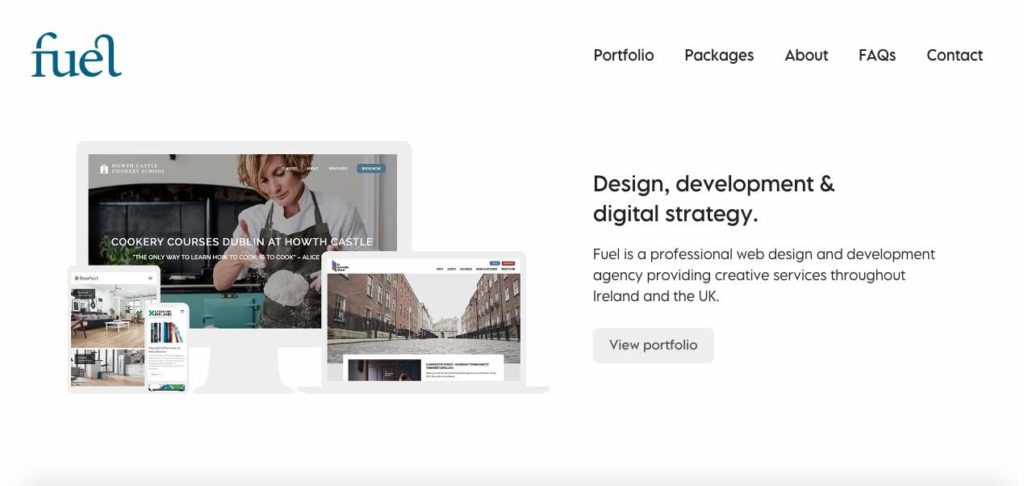 Test
Info
SERVICES
Custom Designed Website, Prefab Website, Business Starter Package, Ongoing Support Package
WEBSITE
https://www.fuel.ie/
ADDRESS
Fuel, Studio Two, 136 Capel Street, Dublin 1
CONTACT DETAILS
01 8656956,

[email protected]

OPERATING HOURS
Weekdays: 9:00 AM to 5:00 PM
| | |
| --- | --- |
| Range of services | ★★★★☆(4/5) |
| Range of portfolio and previous works | ★★★★★(5/5) |
| Depth of services | ★★★★☆(4/5) |
| Customer satisfaction | ★★★★★(5/5) |
Fuel is a website design agency that offers key services for companies looking to revamp or establish their website.
They have catered to a wide array of clients from sole traders to large corporations, each under distinct categories such as film festivals and healthcare industries to name a few. Their range is impressive and impresses us with how adaptable their website design processes are.
We are impressed by how their processes are very detailed. From the very first step, they cross the bridge to understanding what the client's goals and visions are to the very last step of quality assurance tests to make sure everything is running smoothly.
Customer feedback highlights this especially, with how they complement the completion of the project and how pleased they are with the outcomes of their websites.
Their prices for a custom designed website start from €5000 but they also offer a prefab website as a cheaper alternative. This prefab option saves time and money by using templates which is a great option for those who want a faster and cheaper design service.
Most design agencies out there don't offer this alternative, so it is something unique that attracts customers to fuel.
Lastly, they make sure that the features really complete the little details of the website. For example, they make sure that the websites they produce are SEO optimized, and they have an informative document for customers about further optimizing their website.
It is important to note however that they use specific programs and practices in carrying out their tasks, such as Silverstripe and Squarespace. In this sense it would be limiting for those looking for wider options in terms of programs applicable to their website.
Fuel is still a great option out there if you're looking for a web design company that will get the job done.
Offers prefab website as cheaper alternative
Offers website training after the whole design process
Make sure to run assurance test at the end
Worked with a wide array of clients
Prefab website option limited to Squarespace
CMS limitation to Silverstripe
Customer Reviews
Smooth and Pleasant Process
Professionalism and responsiveness, along with delivering the project on budget and on time, makes for an incredibly smooth and pleasant process. We highly recommend. -Mercers Medical Centre
A Fantastic New Website
Neil and David created not only our new branding suite but also a fantastic new website, professional and at times very patient, delighted with the results -John Vaughan Electrical
3. Brand New Creative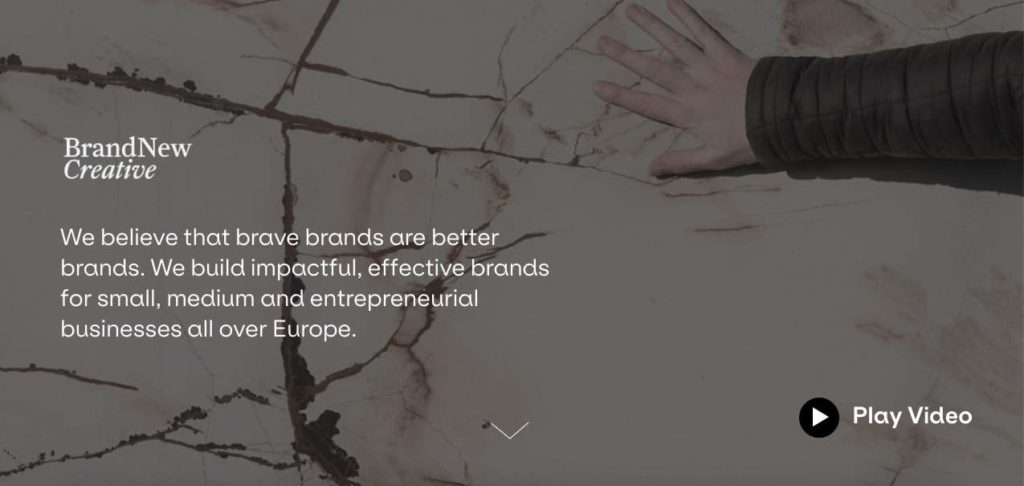 Test
Info
SERVICES
Strategy, Digital Development, Branding, Content Creation
WEBSITE
https://brandnew.ie/
ADDRESS
26/27 Pembroke Street Upper, Dublin
CONTACT DETAILS
+353 (0)1 685 4884,

[email protected]

OPERATING HOURS
Weekdays: 9:00 AM to 5:30 PM
| | |
| --- | --- |
| Range of services | ★★★★★(5/5) |
| Range of portfolio and previous works | ★★★★☆(4/5) |
| Depth of services | ★★★★☆(4/5) |
| Customer satisfaction | ★★★★★(5/5) |
Brand New Creative's excellent workflow alongside its focus on strategy and execution, makes it the total package for design services.
They have produced very elegant designs and cohesive brand concepts. However, what pushes them beyond this is that they make sure to connect it with the brand's intent, personality and project in mind.
Brand New Creative is open to small, medium, and entrepreneurial businesses from different sectors and the structure of their team makes a perfect fit for a variety of branding strategies. They might only consist of a small core team of three, but what makes them adaptable is that they connect with a network of many resources.
From freelance designers to marketing and PR consultants, Brand New Creative collaborates with a bunch of other services and creatives to find the right fit for the client's project. We are very impressed with how flexible they are because this makes sure that when it comes to brand design, they consider different perspectives in the mix.
In terms of their services, they have a very good range from strategy all the way down to content creation. It really is a comprehensive menu from concept to execution for any brand out there looking to start from scratch.
What's more, is that the depth of these services is thorough as well. For example, the content creation part of their services includes storyboarding, videography, motion graphics, and photography and that's just scratching the surface.
Probably what sets them most apart however is their four step process. The estimated time frame for this process is relatively quick as they really focus on the essential parts needed for your brand.
In the first step especially, they really dig deep to get to know your audience, goals and values and use what is called a brand sprint to get to the essence and turn ideas into concrete realizations. You can tell by working with them how deeply they understand each of the brands they work with and we really appreciate a company who gets to know the brand right to the heart.
In terms of limitations, they have worked more mainly with premium and lifestyle sectors so that does affect their design outputs in some way. It would be best to study their portfolio of works first and if it is in line with your intended brand's designs.
We also do wish a little bit that the 4 step process would include some extended monitoring in terms of how the strategic executions turn out. However, Brand New Creative still keeps track of the entire process down to the small details so reevaluating them wouldn't be a problem
Overall, Brand New Creative is a great option for any business out there that would like a creative yet streamlined brand designing experience.
Agile core team
Solid range of services with good depth in each
Streamlined four step process with fast estimated timeframe
Works and collaborates with other different services
Great understanding of the client's brand and intent
Background is mostly in the premium and lifestyle sector
Would like to see some more monitoring during post-execution
Customer Reviews
Thorough and Enjoyable Process
We worked with BrandNew Creative to design a brand visual identity and communication strategy. From our very first consultation to the final delivery of all brand assets we were impressed by how thorough the team was. They really understood what we were looking for and also guided us through the design process every step of the way. Communication was alwasy easy and fast and nothing was ever a problem. We really enjoyed working with Amos, Laura and David on a personal level. Needless to say we are absolutely delighted with the results and so many people already complimented the design.
-Dasha Caffrey
Reinvigorated our Business
Brand New Creative have been amazing to work with. My only regret is we didn't work with you guys years ago. The whole process of rebranding and really getting to know ourselves in the process has reinvigorated our business. -Kevin O' Neill
4. Piquant
Test
Info
SERVICES
Brand Development, Campaign Management, Graphic Design, Media Production, Motion Graphics, Website Design and Development, Training and Consultancy
WEBSITE
https://piquant.ie/
ADDRESS
99 O'Connell Street, Limerick
CONTACT DETAILS
+353 (0) 61 597512,

[email protected]

OPERATING HOURS
Weekdays: 9:00 AM to 5:00 PM
| | |
| --- | --- |
| Range of services | ★★★★★(5/5) |
| Range of portfolio and previous works | ★★★★★(5/5) |
| Depth of services | ★★★★★(5/5) |
| Customer satisfaction | ★★★★★(5/5) |
Piquant is a highly creative design agency that takes brands leaps and bounds further through unique processes and an in-house design team.
What stands out initially about Piquant is the background of their team which includes graphic designers, artistic directors, and digital communications heads to name a few. Clients are in good hands when it comes to content creation due to their extensive background and expertise.
This background has served Piquant well, especially in terms of producing tasks that have a strong sense of brand identity. They really make sure to set each of their clients apart from their respective environments.
Their portfolio of clients includes artists, businesses, schools, campaigns and tourism promotions. We liked that it included more uncommon projects in the realm of design which opens the doors for clients with likewise, more unconventional design or production requests.
We were also impressed by their range of service offerings, which included more content based services such as graphic design to more technical and business related services such as campaign management.
They really make sure to take it a step further beyond design, to see how their work impacts your business or projects.
Zooming into these services, they employ a unique multidisciplinary approach to the more creative content driven side. Their graphic design team works with different mediums and applications and they also offer different choices for motion graphics.
We also liked that in their brand development service they make sure to have a step for evaluation. This keen sense of detail for improvement is also evident in their campaign management service, which is a unique service offering for a design agency.
In terms of their limitations, the types of projects that benefit most from their creative backgrounds are those of the less formal aesthetic. What's more is that their multidisciplinary approach can cost some extra time and money so it is best to make sure to consult and plan ahead with their team.
Piquant, however, is a great choice for those looking for a highly creative design approach that offers unique technical and management services as well
Highly unique design output
Has worked with a variety of clients that includes artists
Extensive team background on creative content production
Offers services for campaign management
Offers services for training and consultancy
Lens on the less formal design aesthetic
Possible higher cost and longer time frame due to multidisciplinary approach
Customer Reviews
Very Talented and Creative
We work with most of the departments in Piquant and the standard of their work is very high. Everybody is very creative, super talented and they all really want to do good work. They made a huge effort when a couple of our deadlines were really tight, and that's the measure of a great agency. They are a trusted partner now. Would heartily recommend that you get in touch with them before you start your next project.– Brian Griffin
Great Creativity and Strategic Thinking
We worked with Piquant on a campaign to encourage people who have problems reading and writing to access free courses nationwide. The team were enthusiastic throughout the project and brought great creativity and strategic thinking to the campaign. This resulted in a high uptake of courses as well as contact from friends and family who wanted information and advice on what was available. I would definitely recommend Piquant as they really go the extra mile in trying to make your campaign as effective as possible by talking to and understanding your audience, indeed walking in their shoes which has really worked well for us and our clients. – Nala Ireland
5. Moji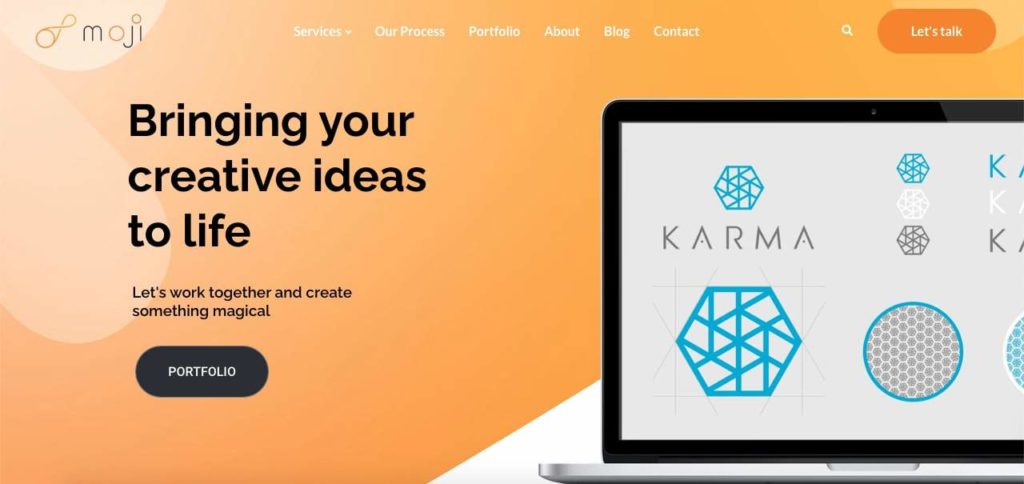 Test
Info
SERVICES
Branding, Graphic Design, Web Design, Photography, Marketing
WEBSITE
https://moji.ie/
ADDRESS
Galway, Ireland
CONTACT DETAILS
(+353) 86 865 7591,

[email protected]

OPERATING HOURS
Weekdays: 9:00 AM to 5:00 PM
| | |
| --- | --- |
| Range of services | ★★★★★(5/5) |
| Range of portfolio and previous works | ★★★★☆(4/5) |
| Depth of services | ★★★★☆(4/5) |
| Customer satisfaction | ★★★★★(5/5) |
Moji's drive to express emotion and creativity through graphics has led to a portfolio filled with unique small business designs. Previous output has included working with dance academies, healthcare professionals, and marketing agencies to name a few.
Although composed of a small team of three, each member plays a distinct role for each of their offered services. We also find that this small team does not limit this company in terms of the range of such services offered.
The four step process they carry out regardless of the type of service, includes definition, creation, refinement all the way to delivery. What's more is that the refinement step highlights their openness to revisions and adjustments.
Going deeper into the services, we like that they are packaged and grouped for easy understanding of the client. For example, under the branding service there is a standard, an advantage and a premium package, each with additional features on top of the last.
For their web design services, they offer options that aren't commonly seen in other design agencies. These include payment gateway set-up for ecommerce sites, website hosting and website maintenance.
These more technical features are great additions for clients looking for a complete bundle.
On the other hand, under the umbrella of photography services, videography, photo editing and half day to full day photoshoots are offered. We like the available range here as it allows for more visual options for the client.
In terms of their limitations, it would be best to look at the packages as some do have ceilings in their features. For example, in their web design services site package and e–commerce site package, their cap is 10 pages.
Their portfolio also primarily consists of experiences with smaller brands and companies which can possibly be due to the scope of their smaller sized core team.
Regardless, Moji is a great option for those looking for a wide range of services with impactful design goals in mind.
Process accommodates adjustments and refinement
Solid range of services
Offers free initial consultation for some services
Offers different distinct packages for each service
Great depth of service in web design, including ecommerce, hosting and maintenance
Limitations of services per package
Mostly worked with smaller businesses
Customer Reviews
Recommendable Straightforward Process
The whole process was simple and straightforward with a quick turnaround. I'm happy to recommend Moji for any design work. -David Cleary Fitness
One of the Most Creative
Mikey is one of the most creative people our agency has worked and the proof is in his work– Rob. Couldn't recommend him enough. Happi Digital
FAQs about Brand Design
---
We know it can be overwhelming sometimes to look at the many options we have now in terms of creative services. Hopefully this list helped in giving you a summarized picture of the best design agencies in Ireland.
If you would like to read more about creative services we also have articles on the best digital marketing agencies in Ireland and the best advertising companies in Galway.