The 5 Best Bicycle Shops in Dublin
Biking or cycling offers various benefits. Aside from improved health and fitness, many also bike for fun or add it to their list of unique date ideas to try in Ireland.
But to be successful in your biking adventures, you need a well-maintained bicycle. A smart bike owner would have at least one reliable bicycle shop in Dublin or other cities nearby that they frequent.
But before you go to your chosen bike store for rentals, repairs, or upgrades, we should consider the costs first.
How Much Do Bicycle Shop Services in Dublin Cost
The prices of services for bicycle shops in Dublin vary. This depends on the type of bike (regular, e-bike, hybrid, etc.), depth of repair service, number of upgrades, and the like.
Here are the estimates for easy reference:
Bicycle Shop
Prices *may be subject to change
ThinkBike Terenure

Bike To Work

E-bike Limit - €1,500

Regular Bike Limit - €1,250




Workshop

Standard Service - €65

Road / Full Suspension Service - €75 to €80

Strip Down Service - €160

Individual Workshop Jobs - €10 to €75

Bikes - €244 to €8,599

360 Cycles
Bike Repair Bookings

Standard Service - €57

Premium Service - €89

Advanced Service - €199

Junior Service (for fixies and bikes with only one gear) - €30

Safety Check - €35

Other Common Labour Charges - €14 to €60

Cycle To Work - Requires €50 Deposit

Joe Daly Cycles

Bike To Work

E-bike Limit - €1,500

Regular Bike Limit - €1,250




Repairs

General Service - €35 plus the cost of any parts needed

New Tube Fitting (wheel only) - €6 plus the cost of the tube

New Tube Fitting (bike) - €8 plus the cost of the tube

Spoke and True Wheel - €20

Pack Bike for Transport - €35

Rothar

Electric Bikes - €1,760 to €6,600

Hybrid and Commuter Bikes - €570 to €1,200

Classes - €50 to €800




Small Repairs

Puncture - €15

Cable Change - From €15

Pads Change - From €15

Bottom Bracket - From €45

Gear or Brake Adjustment - From €10

Wheel Truing - From €15

Safety Check - €25

General Service - €45

Premium Service - €160

Other Repairs - From €60
The Best Bicycle Shops in Dublin
We assessed the best services for bicycle shops in Dublin based on the following criteria:
1. ThinkBike Terenure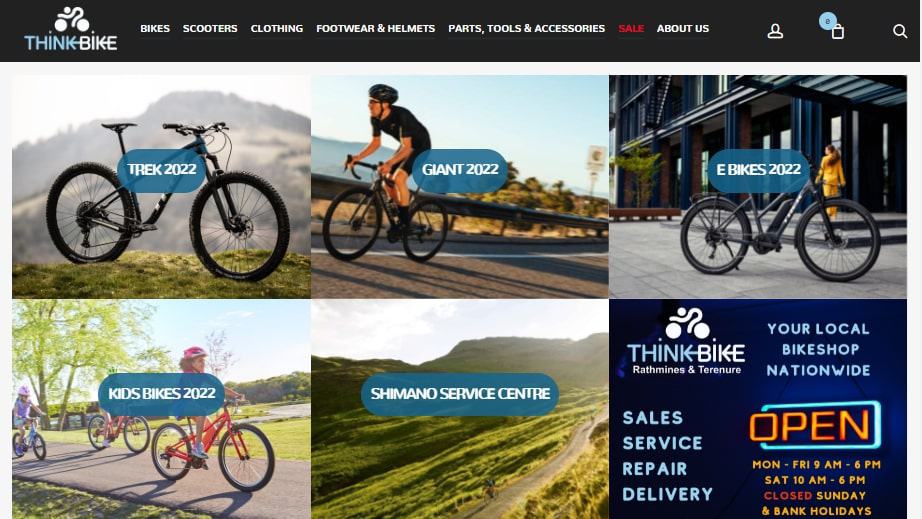 Test
Info
SERVICES
Bicycle Store, Workshop, Repair
WEBSITE
https://www.thinkbike.ie/
ADDRESS
8 Terenure Pl, Terenure, Dublin, D6W Y006, Ireland
CONTACT DETAILS
+353 1 693 1299
OPERATING HOURS
Monday - Thursday: 9:00 AM - 6:00 PM

Friday: 9:00 AM - 7:00 PM

Saturday: 10:00 AM - 6:00 PM
| | |
| --- | --- |
| COST | ★★★★☆ (4/5) |
| CUSTOMER SATISFACTION | ★★★★★ (5/5) |
| SERVICES | ★★★★★ (5/5) |
| ⮕ VARIETY | ★★★★★ (5/5) |
| ⮕ QUALITY | ★★★★★ (5/5) |
| COMMUNICATION | ★★★★★ (5/5) |
| ⮕ AVAILABILITY | ★★★★☆ (4/5) |
| ⮕ HELPFULNESS | ★★★★★ (5/5) |
For a good selection of bikes, parts, clothing, accessories, and more, we recommend ThinkBike Terenure as your next go-to bicycle shop in Dublin!
The first thing we noticed was that they have a good stock of bikes available at a wide price range. We were in awe of their excellent selection of bicycles for men, women, and kids.
They also have great options for trekking, electric bikes, Bullit cargo, and more! Because of their wide array of choices, we believe there's something here for everybody.
Their staff was extremely knowledgeable and generous with their time. They aided us in choosing which bikes are the most suitable for our needs so it wasn't too overwhelming.
They were also genuine enough not to upsell on their customers too much. We were offered the services we needed without the pressure to purchase a lot more.
It was a bonus that they have helpful customer service as well! They were highly responsive even when we weren't in the shop anymore.
Upon checking their website, it was also user-friendly for finding relevant information for our biking needs. The delivery experience was pleasant too.
However, just like any other busy store, there were times when this shop was suddenly not able to accommodate their customers. To avoid any hassle, it's best to contact them before coming to their store.
All in all, if you want a customer-focused bicycle shop in Dublin with quick and efficient repairs, ThinkBike Terenure is among our favourites.
Wide selection of bikes and services
Knowledgeable and helpful staff
Genuine and helpful customer service
User-friendly website
Offers free 2-year bike servicing
Closed on Sundays
Shop may be unavailable without prior notice
Customer Reviews
Brilliant service
"Excellent customer service ordered the bike on a Saturday and it was delivered to my door by the CEO personally on Tuesday!!! Very helpful on delivery!! Brilliant service excellent quality bike id a great bank holiday weekend cheers." – Martina Hickey
No complaints
"Very efficient and professional service in my experience. Ordered a bike (live in the North West), had it the next day, friendly and pleasant staff. Absolutely no complaints so far, I recommend this company." – John Resassoc
2. 360 Cycles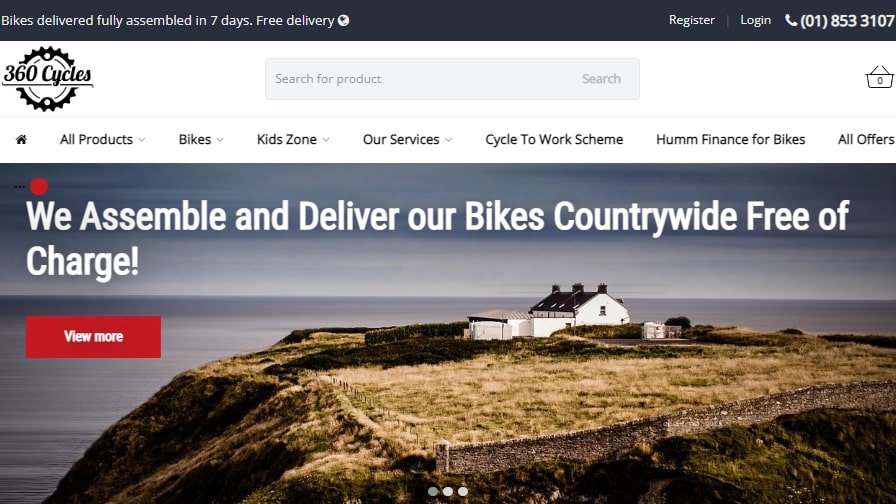 Test
Info
SERVICES
Bike Repair Bookings, Mechanic Classes, Equipment & Bike Rentals, Bike Fitting, Electric Bike & Scooter Repairs
WEBSITE
https://www.360cycles.ie/
ADDRESS
360 Clontarf Rd, Clontarf, Dublin 3, D03 WP78, Ireland
CONTACT DETAILS
+353 1 853 3107
OPERATING HOURS
Monday - Friday: 11:00 AM - 8:00 PM

Saturday - Sunday: 9:00 AM - 6:00 PM
| | |
| --- | --- |
| COST | ★★★★☆ (4/5) |
| CUSTOMER SATISFACTION | ★★★★☆ (4/5) |
| SERVICES | ★★★★★ (5/5) |
| ⮕ VARIETY | ★★★★★ (5/5) |
| ⮕ QUALITY | ★★★★☆ (4/5) |
| COMMUNICATION | ★★★★★ (5/5) |
| ⮕ AVAILABILITY | ★★★★★ (5/5) |
| ⮕ HELPFULNESS | ★★★★☆ (4/5) |
Biking is 360 Cycles' passion and we were lucky enough to see it when we visited their amazing bicycle shop in Dublin.
From our initial drop-in, they generously provided us with sample bikes. This guided us through the overwhelming selection available in their shop.
For customers with little cycling experience, this was helpful to provide them with enough confidence in purchasing the most suitable choice. They were great with suggesting relevant accessories like panniers, locks, and helmets too!
The staff was very helpful, professional, and efficient when we phoned them with a query about our online orders. They were knowledgeable and went above and beyond to source the spare parts required.
We also commend their timely delivery – a customer we spoke to ordered at 3:30 pm and got their new biking shoes on their doorstep by 8:00 am the next day!
Nevertheless, for some, their services can be a little pricey. Still, they seem to have lots of customers in the store who didn't mind it as much.
Having a huge volume of customers can be challenging for them too. Sometimes, they also get swamped and experience mixups with the bikes.
Still, 360 Cycles looks into the smallest details to correct mistakes and give customer satisfaction. Check them out for a low-maintenance biking experience!
Open every day
Offers a wide range of bike services
Professional and helpful staff
Assembles and delivers countrywide, free of charge
Delivery is timely and sufficient
Lots of customers at times
Can be pricey for some
Occasional bike mixups
Customer Reviews
Excellent value
"Super professional, outstanding service to the smallest detail! Excellent value for money, would absolutely highly recommend 360 Cycles Clontarf." – Ioan Grad
Helpful and knowledgeable
"Great bunch of guys very helpful and very knowledgeable. Continually go above and beyond sourcing spares required. Nothing is a problem for them. Love the new coffee trailer 😃" – Brian Kavanagh
3. Funked Up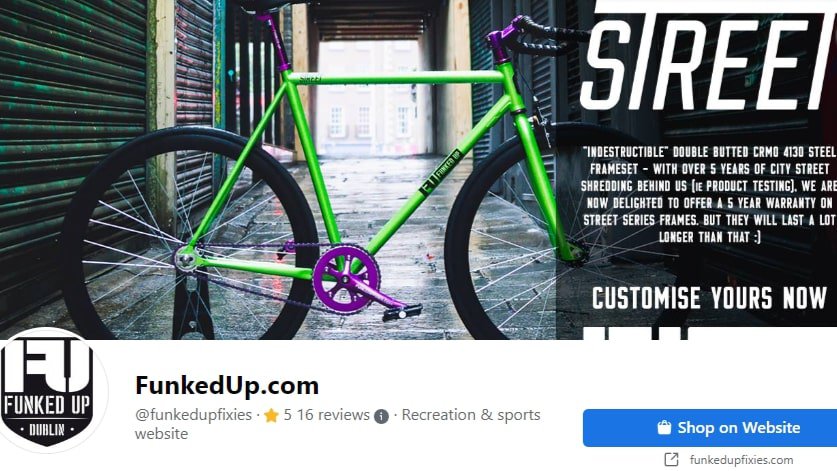 | Test | Info |
| --- | --- |
| SERVICES | Custom Bikes, Repair, Parts |
| WEBSITE | https://www.funkedupbikes.com/ |
| ADDRESS | Dean Court, Unit 5, Dean St, The Liberties, Dublin 8, D08 RR44, Ireland |
| CONTACT DETAILS | +353 86 170 9357 |
| | |
| --- | --- |
| COST | ★★★★☆ (4/5) |
| CUSTOMER SATISFACTION | ★★★★☆ (4/5) |
| SERVICES | ★★★★☆ (4/5) |
| ⮕ VARIETY | ★★★★☆ (4/5) |
| ⮕ QUALITY | ★★★★☆ (4/5) |
| COMMUNICATION | ★★★★★ (5/5) |
| ⮕ AVAILABILITY | ★★★★☆ (4/5) |
| ⮕ HELPFULNESS | ★★★★★ (5/5) |
Funked Up may be a small bicycle shop in Dublin, but don't be deceived by its size to reflect their quality of services.
We went inside the shop and were met with fantastic bicycles and sets of equipment. It was also nice to see some quality bike frames to choose from.
For some customers, the variety of frames can get stressful because there's so much to look at. Thankfully, their staff understood what we needed and gave us a tonne of help.
One customer, in particular, requested bike services at 9 am and was pleased to have it ready at 4 pm on the same day!
This store also provided us with adequate services for bicycle repairs. We appreciate that they were professional, chill, and prompt with their approach too.
More specifically, they were honest and gave us non-pushy advice. This can be especially rare among many bike shops around.
They have reasonably-priced services and items as well. We're happy that they also added some bike tubing to protect our front basket, free of charge!
However, we just want customers to be mindful of the bikes' quality over time. Bikes need care too, so make sure to ask how to take care of them to avoid rusting or deterioration.
We think they should ensure their website works all the time too. While their physical store was impressive, improving their online presence can help more prospects.
Altogether, their customer service provided us with a great bike purchase. Go to Funked Up and start your fun biking journey too!
Global delivery and fast shipping
Quality items to choose from
Adequate repair services
Genuine and honest staff
Good customer service
Some of their bikes need better care than others
Website may not work at times
No operating hours displayed
Customer Reviews
Chill and professional
"Excellent shop and even better service. Lads have been chill and professional. Can't recommend them enough!" – Johan Hedlund
Fantastic
"I was in recently to get repairs done and some new equipment. Fantastic as always. The only question now, is which bike I should buy next? They have some quality looking frames to choose from." – Mark Stewart
4. Joe Daly Cycles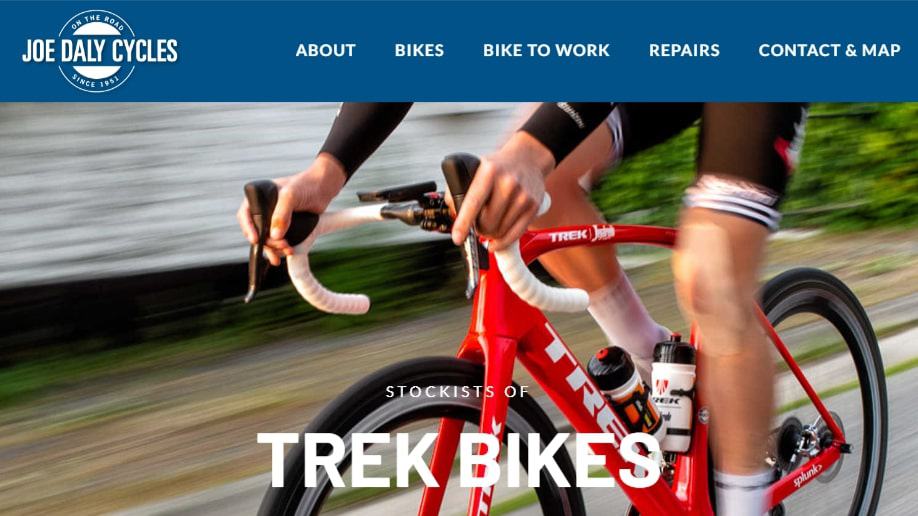 | Test | Info |
| --- | --- |
| SERVICES | Bikes, Clothing, Accessories, Parts, Bike To Work, Repair |
| WEBSITE | http://joedalycycles.com/ |
| ADDRESS | Lower Main St, Dundrum, Dublin 14, D14 A9W7, Ireland |
| CONTACT DETAILS | +353 1 298 1485 |
| OPERATING HOURS | Monday - Saturday: 9:00 AM - 6:00 PM |
| | |
| --- | --- |
| COST | ★★★★★ (5/5) |
| CUSTOMER SATISFACTION | ★★★★☆ (4/5) |
| SERVICES | ★★★★★ (5/5) |
| ⮕ VARIETY | ★★★★★ (5/5) |
| ⮕ QUALITY | ★★★★☆ (4/5) |
| COMMUNICATION | ★★★★☆ (4/5) |
| ⮕ AVAILABILITY | ★★★★☆ (4/5) |
| ⮕ HELPFULNESS | ★★★★☆ (4/5) |
Wondering where to get a bike for work trips? Joe Daly Cycles is a bicycle shop in Dublin that offers an efficient Bike To Work scheme.
This enables an employed individual to get a bike and accessories of up to €1,250 for regular bikes and €1,500 for e-bikes in value. We noticed how this project is done at several other bike shops too.
What we liked about Joe Daly Cycles is that they provided us with discounts on certain accessories. Plus, we enjoyed a free service after 6 weeks to ensure our bike stays in top condition.
The staff also knew what they were doing and offered us a wide range of products. They have a lot of displays in their modern showroom that we didn't know where to start looking.
Good for us, they were accommodating enough – we ended up with a bike filled with our daunting list of specifications!
Their repair services were thorough and quick too. One of the customers dropped his bike in and got it fixed on the same day!
Compared to other bike shops, they're among the affordable ones too. They're known for their reasonable pricing partnered with good aftersales.
Just make sure that you return your bike as soon as you find its condition substandard. Some clients only found a problem with their bike after a couple of uses.
But with their decent services, Joe Daly Cycles was a reliable bicycle shop in Dublin overall. You'll have a seamless experience with their staff, for sure!
Open 6 days a week
Quick and efficient repair services
Modern showroom with lots of display
Reasonable prices
Efficient Bike To Work scheme
Closed on Sundays
Some bike models and sizes aren't available
Customer Reviews
Absolutely worth it
"I'm very much a novice and was full of questions both about cycling and the cycle to work scheme. The staff were excellent, very friendly and knowledgeable. Came here from a friend's recommendation, and was absolutely worth it." – Jeff Taylor
Friendly and efficient
"Bought my bike to work bike here last week. Friendly, efficient service. They were excellent at linking in with my employer. Delighted with my new bike and gear." – Stephen Stewart
5. Rothar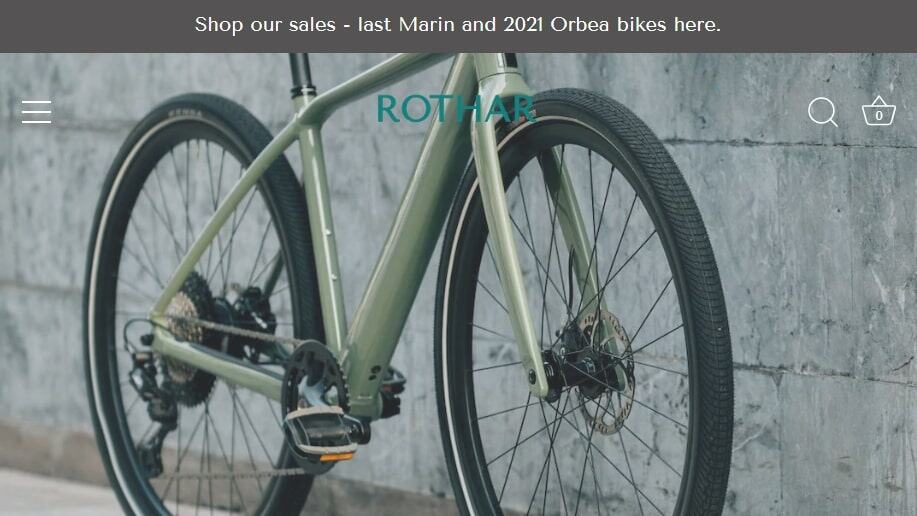 | Test | Info |
| --- | --- |
| SERVICES | Bikes, Electric Bikes, Accessories, Classes, Repair, Workshop, E-shop |
| WEBSITE | https://rothar.ie/ |
| ADDRESS | 167 Phibsborough Rd, Phibsborough, Dublin, D07 KP96, Ireland |
| CONTACT DETAILS | +353 1 860 2615 |
| OPERATING HOURS | Monday - Saturday: 10:00 AM - 6:00 PM |
| | |
| --- | --- |
| COST | ★★★★☆ (4/5) |
| CUSTOMER SATISFACTION | ★★★★☆ (4/5) |
| SERVICES | ★★★★★ (5/5) |
| ⮕ VARIETY | ★★★★★ (5/5) |
| ⮕ QUALITY | ★★★★☆ (4/5) |
| COMMUNICATION | ★★★★☆ (4/5) |
| ⮕ AVAILABILITY | ★★★★☆ (4/5) |
| ⮕ HELPFULNESS | ★★★★☆ (4/5) |
If you want your bike to run smoothly, get an urban e-bike or accessorise your current one with Rothar's bicycle shop in Dublin.
It was reassuring to have constant communication with them regarding our bike order. Their staff was informative and diligent in handling our needs.
They also informed us about the global shortage of bikes. Although it can get difficult to get new bicycles because of this, they kept us updated throughout the process.
In addition, bike shops can sometimes be intimidating when the jargon used isn't familiar. But, Rothar made sure the whole experience was relaxing and inviting for us.
The staff answered all our questions without making us feel silly or stupid. They were also quick to respond outside of the shop – kudos to their friendly and patient team!
Repairs were also finished promptly. They did a thorough job and gave us good advice about the bike's maintenance.
Whenever we had issues with their Bike To Work scheme, they also fixed them on the spot. They communicated via WhatsApp, which was convenient for us as well.
Occasionally, there were small delays in the delivery but these were unavoidable due to the climate changes.
In the end, Rothar was a brilliant bicycle shop in Dublin. Make sure to reach them for your future bicycle adventures too!
Various bike brands to choose from
Informative and diligent staff
Quick to respond
Efficient repair services
Closed on Sundays
Short delays in the delivery
Customer Reviews
Good communication
"I purchased two bikes from Rothar, one via the Bike to Work Scheme. Communication and customer service couldn't have been better and everyone I dealt with was very friendly and happy to provide me with lots of advice." – Katie O'Dwyer
Professional and timely
"Very professional service. Repairs are done in a timely manner and with great communication, and I got a bike for my daughter that she now loves." – Emilie Boncart-Durham
FAQs About Bicycle Shop in Dublin
---
There you have it! We hope you liked our review of the best bicycle shops in Dublin. May you find the most suitable one and ride your bikes at ease!
If you want to find more transportation-related services, start with our review about the best driving schools in Dublin to learn more!