The 5 Best Clinics for Lip Fillers in Cork
If you're aiming to get plumper lips, getting lip fillers might be the solution for you. But because cosmetic procedures in Ireland have loose regulations, it's important to only get lip fillers from medical professionals, for safety.
Luckily, you can avoid botched jobs with the best clinics for lip fillers in Cork! Our list contains contact information, pros and cons, and FAQs, to name a few.
Before we get started, let's talk about rates first.
How Much Do Lip Fillers Cost in Cork?
We've gathered the estimated costs of our entries' lip filler treatments in the table below. Take note that you'll need to schedule an initial consultation prior to your appointment, which is generally free of charge.
Alternatively, you may also consult with a dermatologist prior to treatment, which costs €50 to €150 on average.
CLINIC
PRICE RANGE
Eden Medical Clinic
€200 (0.5ml)
€300 (1ml)
Doctor 1.618
From €250
SISU Clinic
€300 (1ml)
€540 (1ml for 2 people)
Cosmeticare
€220 (small Juvederm smile)
€300 (1ml)
Celeste Medical Clinic
€199 (0.5ml)
€299 (1ml)
€150 (Gummy smile Botox treatment)
The Best Clinics for Lip Fillers in Cork
Here are our picks of the top clinics for lip fillers with different specialities that Cork has to offer.
1. Eden Medical Clinic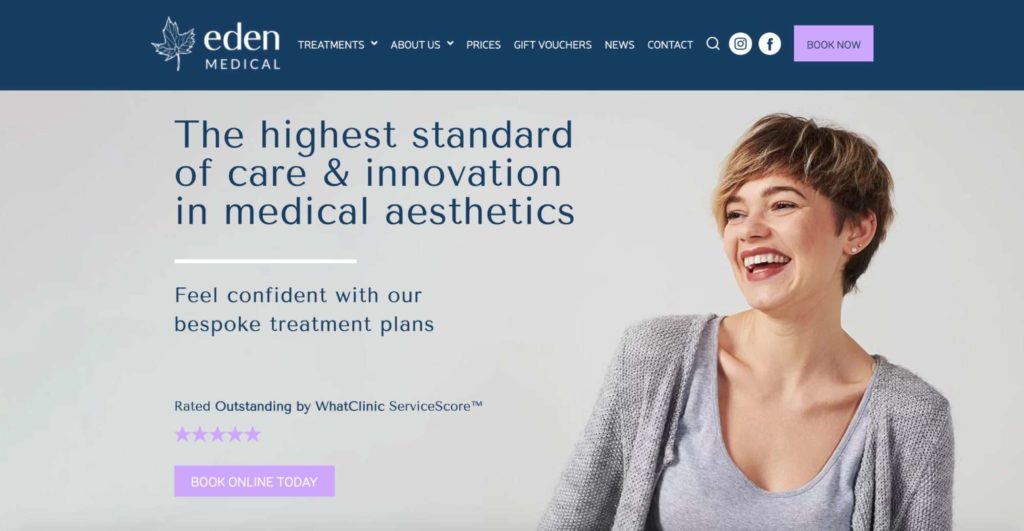 SERVICES
Dermal fillers, lip fillers, nose fillers, fat dissolving treatments, hyperhidrosis treatments, wrinkle reduction, eye treatments
WEBSITE
https://eden-medicalclinic.com/
ADDRESS
Orchard Gardens, Dennehys Cross, Cork
CONTACT DETAILS
021 206 7768


[email protected]

OPERATING HOURS
Mon, Fri: 9:00 am to 5:00 pm
Tues: 9:00 am to 7:00 pm
Wed to Thurs: 9:00 am to 6:00 pm
Eden Medical was founded by Dr. Emma Sheehan, a dentist-turned-facial-aesthetic doctor. In fact, their team comprises medical professionals who have extensive training in dentistry and aesthetic medicine, which means they can help you enhance the look of your smile.
But don't be mistaken—Eden Medical is purely a medical aesthetic clinic focusing on non-invasive procedures such as lip fillers, dermal fillers, fat dissolving treatments, and more.
Apart from lip fillers, they also have a couple of lip treatments using anti-wrinkle injections that you can consider as alternatives.
One of our favourite things about Eden Medical is the fact that they have several branches nationwide. Their location at Cork is just a few minutes away from major landmarks such as Bon Secours Hospital and University College Cork.
We also like that they offer free initial consultations—no need to pay extra to see if you qualify for the treatment or not! If you can't come to their clinic, they can also arrange a video consultation instead, which is also free of charge.
Not only that, but they also offer flexible payment plans through Flexi-fi. Still, we found their treatments to be reasonably priced, given that they're administered by medical professionals.
Several branches nationwide
Free consultation
Online consultation available
Flexible payment plans
Central location
Closed on weekends
Weekday hours vary
Customer Reviews
Here's what former clients have to say about Eden Medical Clinic's services:
"5 star treatment at Eden Medical! Professional, friendly staff await you at Eden Medical with a wonderful atmosphere in the clinic, and also 10/10 for hygiene! Especially during these unprecedented times I have witnessed the staff at Eden Medical to uphold the highest level of cleanliness which is so reassuring." —Aoife O'Mahony, Google Reviews
"I had a very positive experience for my first visit to Eden Medical, Cork, this morning. This was my first time getting Botox. I had booked for treatment of 1-2 areas, however I changed my mind and asked during the appointment if it might be possible to add a third area, which was no issue at all. The atmosphere was very friendly, comfortable and clean. The price was also very reasonable compared to that of other places, which is another plus. I really have nothing negative to say at this point. I'll return for my review appointment in 2 weeks. I'm a very happy customer." —Amy van Bree, Google Reviews
2. Doctor 1.618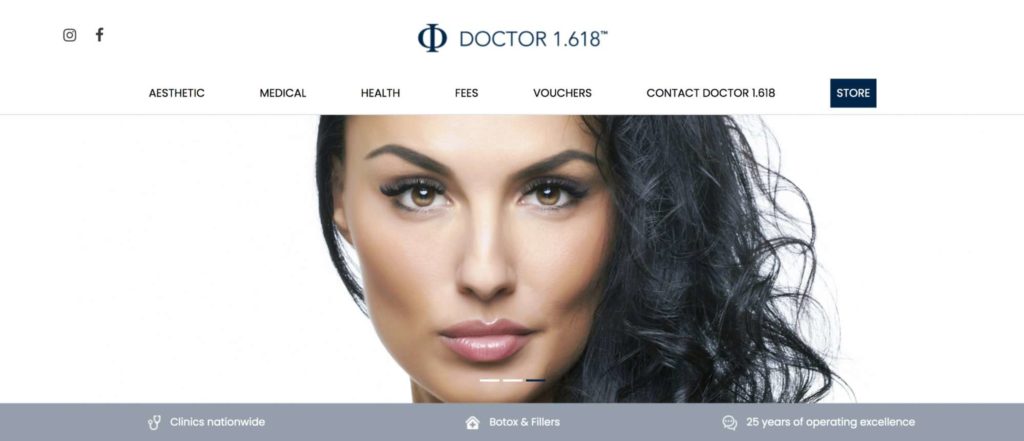 SERVICES
Botox, fillers, chemical peels
WEBSITE
https://doctor1618.ie/
ADDRESS
Unit 3 Camden Wharf, Cork
CONTACT DETAILS
021 455 4663
Online enquiry form available here
OPERATING HOURS
Mon to Wed: 9:00 am to 6:00 pm
Thurs to Fri: 9:00 am to 8:00 pm
Sat: 9:00 am to 5:00 pm
If you're looking for a GP and aesthetic doctor at the same time, then look no further than Doctor 1.618! Beyond aesthetic treatments like lip fillers, they also have a wide range of medical services including medical screenings, GP consultations, and more.
While we think having online profiles of their team would've been helpful, rest assured that you'll be in safe hands with them. They also offer free initial consultations for aesthetic treatments, where they will come up with the best treatment plan suited for your face.
While they have several clinics nationwide, their clinic at downtown Cork has a pretty central location at Camden Wharf. There are plenty of restaurants within walking distance—perfect for waiting before your appointment!
Perhaps what sets this clinic apart from others is that they offer "ultra-privacy" options for clients. This means that you can request a totally empty clinic if privacy is a major concern for you.
Wide range of medical services
Additional GP services available
Central location
Free consultation
Several branches nationwide
Weekday hours vary
No list of medical team online
Customer Reviews
Below you'll see some reviews by Doctor 1.618's previous clients:
"My face is amazing. I've had Botox and Fillers by Doctor 1.618 Aesthetics and had minimal swelling and bruising and it looks so great now. I have told my friends of my treatments and they all want the same. I am over the moon!" —Alice Cooney, Google Reviews
""I had my lips treated with Belotero Lip at Doctor 1.618. My lips are amazing! It really didn't hurt and I love the results. Some of my friends have had their lips done elsewhere and didn't have nearly as good an experience as I had. The best!" —Rebecca Lohan, Google Reviews
3. SISU Aesthetic Clinic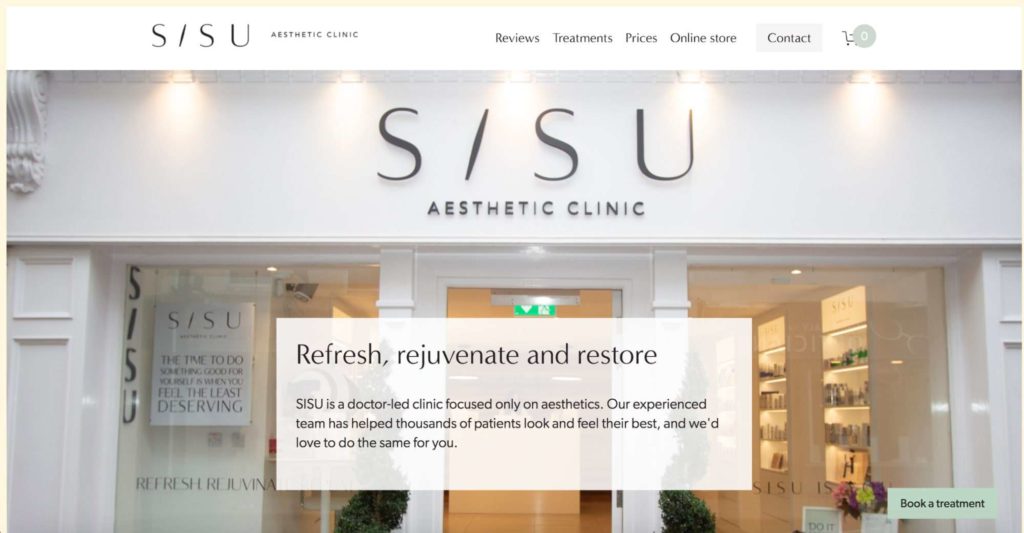 SERVICES
Injections, fillers, skin booster, nose jobs, laser teeth whitening, microneedling, laser hair removal, etc.
WEBSITE
https://www.sisuclinic.com/
ADDRESS
60 Oliver Plunkett St., Cork
CONTACT DETAILS
085 189 2489
Support ticket available here
OPERATING HOURS
Mon to Fri: 10:00 am to 8:00 pm
Sat: 10:00 am to 5:30 pm
Another clinic that isn't new to our recommendations is SISU Aesthetic Clinic. It's headed by siblings Dr. Brian Cotter and Dr. James Cotter, who are both physicians specialising in aesthetic medicine.
They have a wide range of aesthetic treatments to choose from including fillers, thread lifts, wrinkle reductions, and many more. So if you're looking to get several treatments from one clinic, they're the ones to check out.
One of their most popular treatments is the SISU Kiss, which they brand as a "pain-free" lip filler process that only takes about 3 minutes to administer. The only drawback is that there's only one price for this treatment, contrary to other clinics that offer lower prices for less work.
But if you also have a friend interested in getting lip fillers, then you can get the treatment together as SISU Clinic has special prices for 2. Moreover, you can also schedule a free 30-minute consultation with one of their aesthetic doctors.
While they also have several clinics nationwide, the very first one that started it all is located right here at downtown Cork.
We found their clinic to provide easy access to many shops and restaurants, yet maintain some level of privacy at the same time, considering that it's located just off St. Patrick's Street.
Wide range of aesthetic treatments
Free 30-minute consultation
Multiple branches nationwide
Open on Saturdays
Central location
Quick lip filler process
Fixed price for fillers regardless of quantity
No list of medical team online
Customer Reviews
Take a look at what some of SISU Aesthetic Clinic's previous patients said about them:
"Had an amazing experience in SISU Cork today from the warm welcome at reception to the exceptional treatment from Dr. James. I got their new innovative facial treatment SISU bright. The treatment lasted 15 mins and the clinic is fantastic, so clean and a beautiful relaxing atmosphere. I am looking forward to my next treatment." —Amy Horgan, Google Reviews
"Siobhan was so lovely and very informative. Made me feel at ease and comfortable with my decision. She explained everything to me. There is so much more to fillers girls than just injecting the lips. There was care to follow the natural shape of my lip. I'm so excited to see them when they have settled. Dream come true for me." —Monique Egan, Google Reviews
4. Cosmeticare

SERVICES
Dermal fillers, anti-wrinkle treatments, line reduction treatments, cheek enhancement, chin reshaping, etc.
WEBSITE
https://annehegartycosmeticare.ie/
ADDRESS
Affidea, Elysian Building, Eglington St., Ballintemple, Cork
CONTACT DETAILS
086 172 0413


[email protected]

OPERATING HOURS
Mon to Wed, Sat: 8:00 am to 7:00 pm
Cosmeticare is another one-stop shop for your consideration. They also have a comprehensive selection of aesthetic treatments ranging from fillers to dermaplaning.
It's run by a nurse and doctor duo who both have extensive experiences in aesthetic medicine. In fact, nurse Anne Hegarty is a founding member of a national association of dermatology aesthetic nurses, so you can rest knowing that procedures are conducted in a safe manner.
This relatively small team of specialists may mean that availability will be limited though, especially since they're closed on Thursdays and Fridays. Hence, we highly recommend planning your visit ahead of time.
For lip fillers, there are 2 products to choose from: Restylane Kysse and Juvederm, both of which have different effects. The former tends to give a more natural look with less swelling post-treatment, while the latter gives a plumper look.
Both products are reasonably priced as well, with the latter being slightly more affordable due to lesser quantities. Whatever look you're aiming for, they will advise you on the best option moving forward during your free consultation.
We'd also like to highlight their clinic's location, which is easily accessible via public transport and private vehicles. The clinic is also friendly to people with disabilities, thanks to designated parking spaces, ramps, and more.
Wide range of aesthetic treatments
Free consultation
Open on Saturdays
PWD-friendly facility
Convenient location
Closed on Thursdays and Fridays
Small medical team
Customer Reviews
See what some of their past clients have to say about them:
"I went to Anne to get my lips done for the first time. She put me at ease straight away and was so friendly. The results are amazing and super natural. I am over the moon with them. I would recommend Anne to everybody, she is phenomenal at what she does and so professional." —Stephanie Cronin Harkins, Google Reviews
"Anne is absolutely amazing at what she does, she's informative, caring, patient, friendly and such a professional. She makes you feel at ease from the getgo. I would highly recommend her, thanks again Ann, hope to see you again soon. 😍 X" —Martina Murphy, Google Reviews
5. Celeste Medical Clinic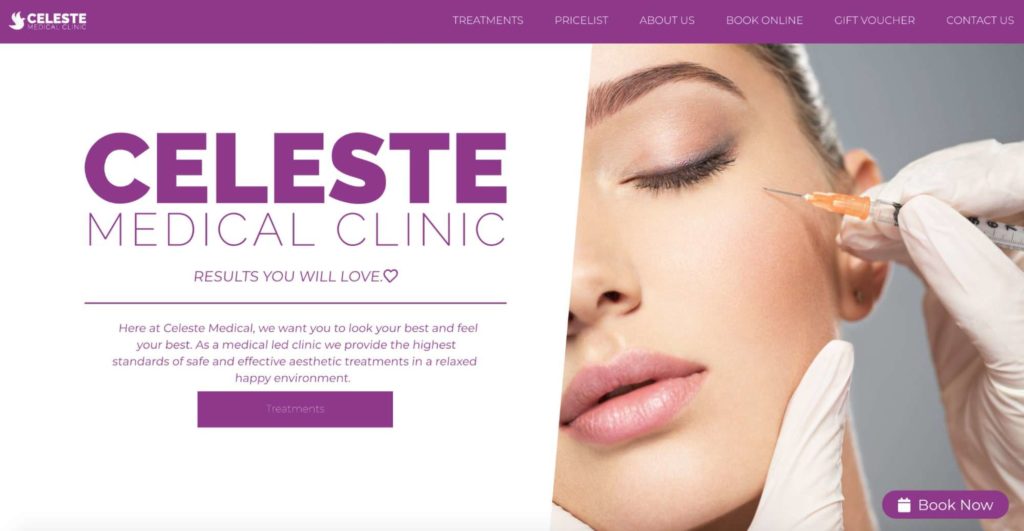 SERVICES
Lip fillers, dermal fillers, jawline sculpting, chin reshaping, anti-wrinkle treatments, under eye fillers, etc.
WEBSITE
https://celeste-medical.ie/
ADDRESS
Belvedere Court, Belvedere Lawn Douglas Road, Cork
CONTACT DETAILS
089 616 7848 or 021 429 2472


[email protected]

OPERATING HOURS
Mon, Fri: 10:00 am to 5:00 pm
Tues, Thurs: 10:00 am to 7:00 pm
Wed: 10:00 am to 6:00 pm
Sat: 10:00 am to 2:00 pm
Celeste Medical Clinic is another medically-run aesthetic clinic located south of the city centre. Despite being a fairly new clinic, it has gained a good reputation for its Botox treatments and excellent customer service.
Headed by Dr. Mary Sheehan, their team of medically-trained professionals have various facial aesthetic training in Ireland and London. And after working in private practises abroad, they set up shop right here in the city, plus a recent one in Killarney.
You can get lip fillers at different quantities, which are standardly priced. Alternatively, you can also get a Botox injection if having a gummy smile concerns you, which on the other hand is more affordable.
The only downside to this treatment is that effects only last about 4 months. Like most aesthetic clinics nowadays, they also offer obligation-free consultations so they can understand your needs better.
We also like the fact that the clinic regularly posts before-and-after photos of their clients' lip fillers on their Facebook page. They also announce promos and special offers there, so make sure to watch out for less rates!
Despite these good sides, we're not too keen about their business hours, as this can be a source of confusion especially for walk-ins. So go ahead and bookmark this page, as we have all the relevant information for you above.
Wide range of aesthetic treatments
Free consultation
Open on Saturdays
Before and after photos available
Killarney branch available
Weekday hours vary
Relatively far location from city centre
Short weekend hours
Customer Reviews
Check out some comments about Celeste Medical Clinic below:
"I am over the moon with my results. It was such a great experience from the minute I walked in the door I was welcomed by the lovely Michelle, and then there's Dr. Mary who is like someone out of a magazine. So beautiful on the inside and out. She made me feel so comfortable and chatted again with ease. I will definitely go back and have recommended Celeste Medical to all my friends." —Saarah Tucker, Google Reviews
"Listen up ladies! This is the place to go if you want to look great! I went in not knowing what I wanted and Dr Mairead was brilliant in every way. She went above and beyond to explain what exactly I should and should not do. No pressure whatsoever and made me feel normal and comfortable. That was the main thing for me. Love it there. 100% recommend 5 star treatment." —Laura Heenan, Google Reviews
FAQs about Lip Fillers in Cork
---
And there you have it! We hope our list of the best clinics to get lip fillers in Cork will be helpful to you.
If you think that there are others who deserve to be on our list, don't hesitate to leave us a message.
Apart from your lips, perhaps your skin needs a little bit of TLC, too. To help you out with that, we've also written about the best dermatology clinics in Cork.