The 7 Best Movers in Dublin
Featured Image Source: RODNAE Productions from Pexels
So, you've decided to move. Whether it's for a new job or you just want a change of environment, moving is a major decision that entails some serious logistical planning.
Even the most minute details like where to get boxes and crates become troublesome.
To make your move a bit easier, we've put together a list of the best movers in Dublin. In addition to that, we've listed the costs, a few tips for getting yourself ready for your move and the answers to FAQs about moving in the city.
How Much Does It Cost to Hire a Mover in Dublin?
The cost of hiring a mover varies. It is based on many factors like:
How much stuff do you have? Do you own a lot of furniture? These things will be noted by your movers so they can determine the packing supplies needed and the right truck size they should use. The volume of your things is typically measured in cubic meters.
Fragile items like mirrors, art, antiques and other valuables need special care when moved. Special equipment might also be needed to move large items which could affect the price.
How far is the distance between your old home and your new home? Is it within Dublin, another city or international?
The time and season of the move also affect costs. Peak times like summer, Easter, December and January (when there is high demand for movers) are usually more expensive.
Can the truck get near enough your property to load your things? Are there stairs to climb with no lift? The harder it is to access your property, the more expensive moving will be.
Will you be buying your own crates and boxes or not? Will you be packing your own stuff? Do you have pets that need to be transported? Would you like your movers to clean up your old home after the move? Do you need storage space if you can't immediately move?
Here's the average rate of moving and packing per house size:
Average Moving Costs
| | | |
| --- | --- | --- |
| No. of Bedrooms | Average Fixed Rate Range | Average Extra Packing Costs |
| 1 | €420 – €560 | €170 – €220 |
| 2 | €500 – €675 | €220 – €280 |
| 3 | €900 – €1,000 | €280 – €330 |
| 4 | €1,000 – €1,100 | €330 – €450 |
The Best Movers in Dublin
Now let's talk about the movers we settled on after going through all of the recommendations sent to us. Here are the top movers in Dublin:
1. Top Removals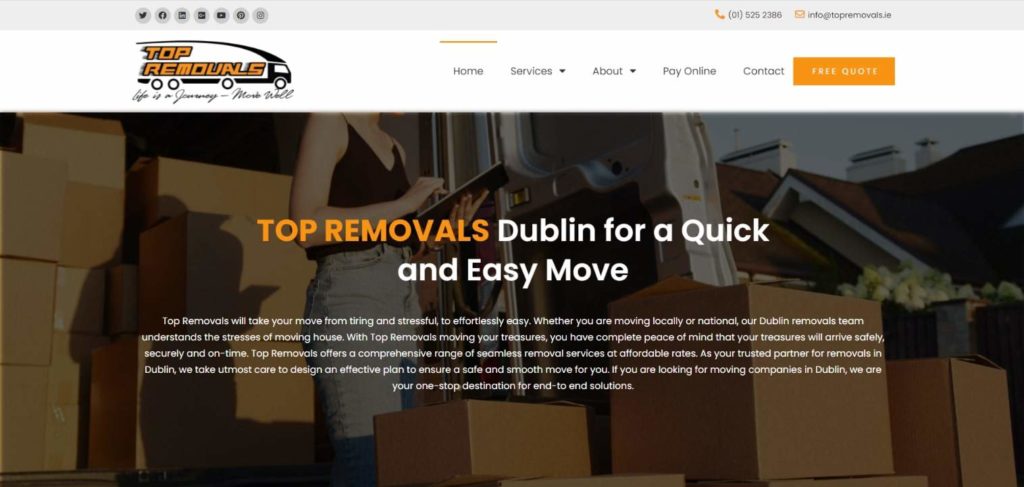 SERVICES
removals, man and van, storage, boxes and packing service, move out cleaning
WEBSITE
https://topremovals.ie/
CONTACT DETAILS
(01) 525 2386 [email protected]
OPERATING HOURS
Mon – Fri, 8am – 6pm
Weekends and public holidays, 9am – 4pm
Top Removals is a fairly young company, so how did it make it to our list of top picks? The answer: great customer service.
We've heard so many horror stories of people who had to deal with ill-mannered movers. Moving is hard as it is even when things go well, so rude treatment from your mover is nothing short of a nightmare!
But that's unlikely to happen to you with Top Removals, it appears.
Their principle is fairly simple: "great service to our customers, all of the time." And that is apparent in the services they offer.
For instance, while most movers are closed on weekends, Top Removals remain open. They know people could be in need of their services any day of the week, hence the weekend availability.
And although not as wide-ranging in their services as other movers, they do cover the essentials: house, furniture, commercial, apartment and office removals, man and van (where a man with a van comes to help you pack and move your stuff), storage and move-out cleaning… all done professionally and courteously!
It's also apparent in their reputation. A lot of their previous clients who have used their services only have good things to say about them, as you can see in the Customer Reviews section below.
Perhaps this is why their growth has been immense in just 5 years. They are still rapidly growing, so we hope to see their services expand in the next coming years!
Residential and commercial removal
Cubic meter calculator available on their website
Free quote
Open on weekends
Doesn't offer as many services as some of the bigger competitors
Only does moves within Ireland
Customer Reviews
Customer reviews are a testament to the quality of service a company has. Here's what some clients of Top Removals say about them:
"Fantastic removal service, my stuff was moved from storage to my new home for a fraction of the cost of other removal companies. Fast, efficient, reliable, very reasonable, highly recommended" – Olive Nugents, Facebook Reviews
"Just got our things moved to our new apartment and we could not wait to give them a 5 star review. We are extremely happy with their service . They came on time to collect the things and off loaded them carefully to the new apartment even though there wasn't a lift in either the old or the new apartment. They charged what they committed to even though we had a few extras. The guys were very kind enough to not over charge us which is a nice gesture from top removals . We highly recommend top removals !!! – Rajendran Jeeva, Google Reviews
"Very professional, careful and friendly service" – Amanda Ronan, Facebook Reviews
2. DJ Hanley Removals and Storage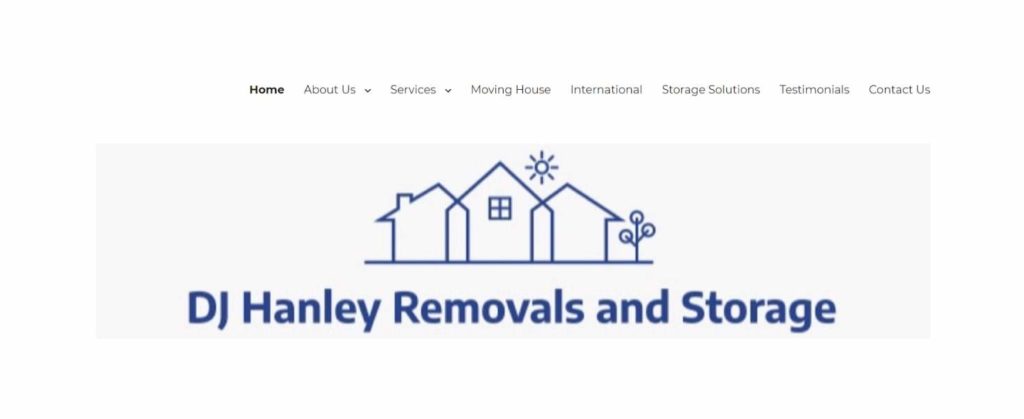 SERVICES
packing, local and international removal, storage, shipping, delivery, crate hire, waste management
WEBSITE
https://djhanleys.ie/
ADDRESS
Chapel River, Kiladreenan, Newtown Mount Kennedy, Co, Dublin
CONTACT DETAILS
+35312810416


[email protected]

OPERATING HOURS
Mon – Fri, 9am-5pm
We can't stress it enough—moving is hard. But it's even harder if you're relocating to another country.
We picked DJ Hanley as one of the best movers in Dublin because they can help you relocate from Ireland to any part of the world. There's literally no area they don't cover.
What makes this possible is their network of partners stationed around the world. These global partners help them with all the necessary paperwork to ensure your things are moved door-to-door not just on time, but in one piece!
They also have a few extra services that are hard to find with other companies, like crate hire. Yes, other movers might have the same service, but DJ Hanley offers flexible rates and some without a time limit, too.
You can also arrange to have the crates dropped off to where you are for your convenience. They'll just pick them up once you're done packing.
DJ Hanley can also collect and get rid of bulky things and domestic waste for you, all done using environment-friendly methods. They even offer 15% off any skip you hire exclusively for green garden waste.
It's a bummer they don't seem to have a pet transport service, but the thoughtful extra services we've mentioned above more than make up for it. We hope they do get pet services in the future, though!
Handles both local and international removals
Can do both residential and commercial removals
Free pre-move survey
Offers service for dismantling and reassembly of furniture
Offers waste collection
Has crate hire with flexible rates
Has domestic, commercial and archival storage solutions
Pet transport unavailable
Not open on weekends
Customer Reviews
Take a look at some of the testimonies of DJ Hanley's happy clients:
"The removal went like a dream from pick up in the UK to drop off in Ireland. Thoroughly lovely lads on both sides of the contract. Polite, well mannered and friendly. We don't intend to ever move again but would recommend this firm to anyone that is." – Claire Brooks, Removal Reviews
"Used them recently for our move. Can't fault them! Very punctual, super friendly, fast and our things very packed carefully. Very easy to deal with and they were very flexible with our constant date changes. Could highly recommend. Thank you for making our move a little less stressful."- Martina Molnarova Plazewska, Facebook Reviews
3. AMC Moving & Storage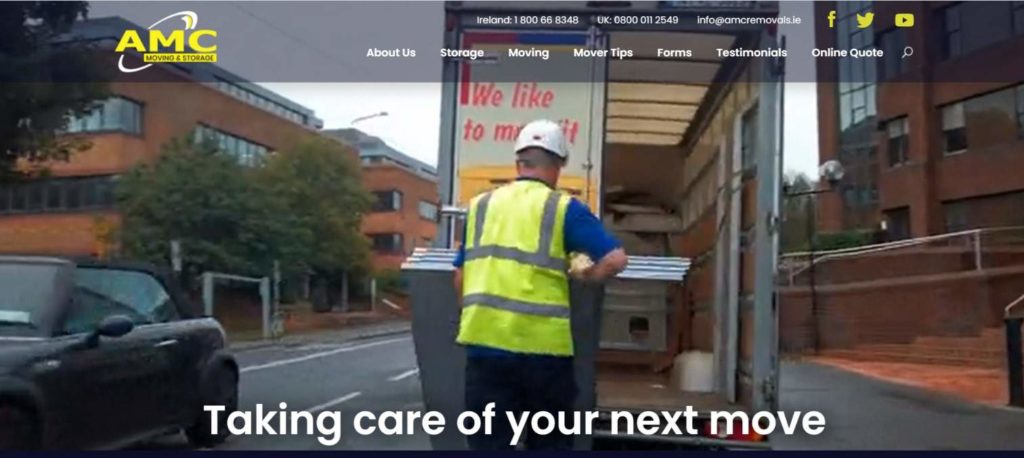 PRODUCTS
removals, packing, moving service, pet travel, storage
WEBSITE
https://www.amcremovals.ie/
ADDRESS
Naas Industrial Estate, Naas, Co. Kildare, Ireland, W91 X5KT
CONTACT DETAILS
Mobile: 00353 (0)85 253 6537
Phone: 045 874 498
Int: 00353 (0)45 874 498


[email protected]

It's not just things we bring with us when we move, but pets too. They are family, after all.
The problem is, transporting them is different from transporting non-living things. It's a tad more difficult because they need more attention and require extra care.
Pet transport also involves a lot of paperwork (certificate of veterinary inspection, etc.), quarantine rules of the country where the pet is going to be moved, flights, customs and other pet travel prerequisites.
But AMC handles all that.
We like that they have International Air Transport Association or IATA-approved agents who can help with everything you need to know about relocating your pet safely.
And these agents have also been approved by the Irish Department of Agriculture for Moving Pets too.
AMC also has pet partners and designated coordinators who will manage your pet all throughout—from removal to transportation to its final destination.
Of course, AMC offers packing, moving, storage and other basic removal services as well… and they're all solid, from what we've seen. But what really stands out about them, in our opinion, is their pet service, which is one of the best in Dublin!
Excellent pet transport services
Handles both national and international removal
Can do both residential and commercial removal
Vehicle storage services available
Custom forms available online
Storage access unavailable on weekends except by appointment
Customer Reviews
AMC's satisfied customers are happy to share what they think of their services:
"Moving a National Radio Station is no easy matter. However, AMC rose to the challenge and offered an efficient, professional and timely service. Their 'hands-on, can-do' attitude made it easy to deal with any unforeseen problems. I would have no hesitation in recommending AMC Removals" – Caroline Davies of Today FM, Website reviews
"I want to say a wonderful and BIG, BIG THANK YOU SO MUCH!!!!
Your crew was great, friendly and very, very quick and circumspect with my sensitive furnitures and antique dishes in Ireland. And the driver, how was here in Hilden as well, was a nice competently person here in Hilden as well. I live in a narrow place and he manage all the driving without any damages. The housekeeper was full with compliments later. Not all removal drivers did those managing without any damages in the past. The elevator was clean and no rubbish from the packing lay in the surrounding after he left the place. The 2 members from AMS, Hilden, where quick and able as well.The service before my big date was excellent as well. Friendly and able all the time. My unpacking needs now a little time. But in the moment I did not found any damages. I recommend this company definitely to others" – Rosemary Sarge, International Movers Reviews
4. Careline International Moving & Storage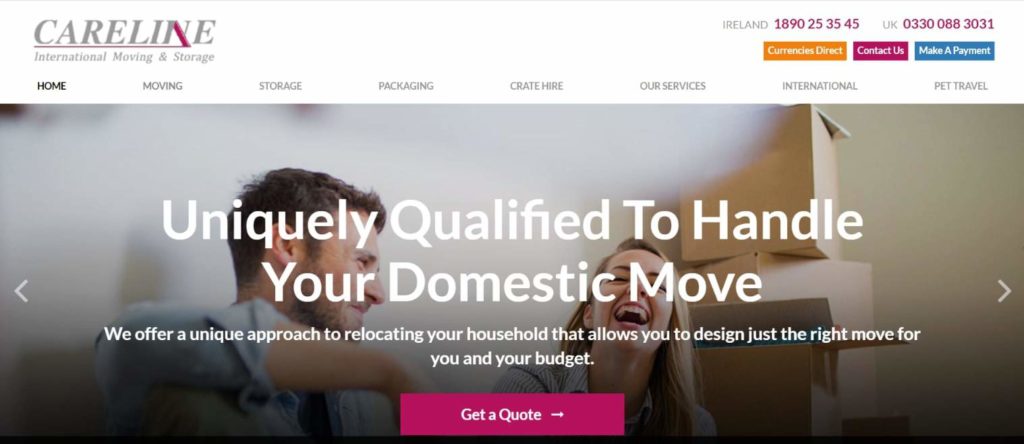 PRODUCTS
packing, removal, storage, pet travel, crate hire,
WEBSITE
https://www.careline.ie/
ADDRESS
504-2 Grants Drive, Greenogue Business Park, Rathcoole, Co. Dublin
CONTACT DETAILS
Tel: +353 (0) 1 2576000 (Sales)
Tel: +353 (0) 1 2576057 (Operations)
Fax: +353 1 4587560
Email:

[email protected]
Careline is a division of Carey's Removals and Storage, one of the oldest removal companies in Ireland.
Now, longevity says a lot about a business. It means stability; it means they have a core belief that's not tied entirely to making a profit.
And at 132 years old, you can easily say this company is doing something right for their customers.
Careline offers removal and relocation services, but their specialty is furniture. They provide services for its transport in Ireland and all over Europe.
What makes them great is that they're very clear on their relocation and moving process: how they pack China and other fragile items, what they do to protect soft furnishings and furniture with polished surfaces. Clients say they actually follow all their stated rules and procedures too.
Like AMC, Careline has pet travel services as well, which is another plus. But we personally think it's their furniture removal and transport that's the real highlight, in their case.
One thing we hope they offer in the future is relocation further overseas. Still, if your destination is within their range, they're certainly a great choice.
Good furniture packaging and transport
Offers pet transport services
Computer crate hire available
Door-to-door removal
Packaging for hanging clothes wardrobes available
Servicing Ireland and Europe only
Customer Reviews
Clients have stressed how stress-free moving is with AMC:
"Got multiple quotes from different companies and Careline were the best value for money. No hassle. Very easy contact and always a person at the end of the phone. We had 20 boxes and some furniture and all arrived with no issues. Also very knowledgeable with all the new customs rules since Brexit which could have been a nightmare!"- Karen, Get a Mover Reviews
"Absolutely stress free with communication and assistance every step of the way from custom and excise requirements and superb packing service. Careline were able to accommodate the late move of our date for vacating our London property to earlier due to last minute change in contract details with our buyer for sale of our London property before move to Dublin."- R.A.S.H., Sirelo Reviews
5. Beazley Moving Storage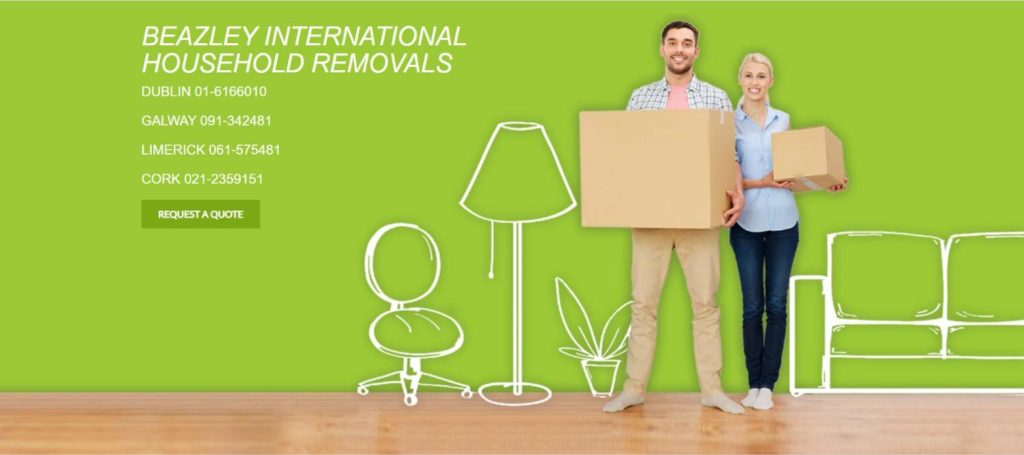 SERVICES
packing, removal, transport, home cleaning, storage
WEBSITE
https://irishmovers.ie/
ADDRESS
Unit 15 Parkwest Road, Parkwest Industrial Estate, Dublin 12, Ireland
CONTACT DETAILS
+35316166010


[email protected]
A quick glance at Beazley won't tell you much about what makes them special. Their services are typically offered by every other moving company: packing, removal, transport, cleanup, storage.
What makes them worth checking out is that they have a reputation for being conscientious movers. From what we've heard, they take a lot of pride in packing and relocating things the right way.
In fact, they're so meticulous that their packing teams undergo training on a regular basis. This way, they are kept up-to-date with the latest packing techniques and materials.
That's one less thing you should worry about. It means you can be confident your delicate items are safe, especially as Beazley will go so far as to make customised crates to secure clients' belongings, we're told.
That kind of attitude would be great in pet transport… if they ever think of offering it in the future, that is. Still, for what they offer now, they're a solid choice for relocation services.
Regularly trained workers
Can do custom boxes/crates for clients
Can do national and international removal
Can do residential and commercial removal
Offers furniture disassembly and reassembly
Secure storage offered
Pet transport unavailable
Office hours not disclosed on the website
Customer Reviews
Here's what some of their customers had to say about them:
"Very happy we used this company for our move from London to Galway. We received a few quotes and this company seemed to offer the best value for money (especially with being charged in Euros) and fitted in with our removal dates. The office was good to deal with and the crew that did our move were a brilliant bunch. We will be using them again in the near future to move from our rented house to the new house we are in the process of buying. Thanks to everyone for making our move hassle free." – John Joyce, Removal Reviews
"This company came recommended by my brother-in-law and they lived up to the recommendation, they arrived when promised and delivered our effects on the day and time as promised in Dublin. Everything arrived in one piece and they even took apart and put back together our super king size wood frame bed. Guys were polite and well presented. Supply the odd cup of tea and enjoy the chat with the movers. Can recommend to anyone." – Greg Beatty, Removal Reviews
6. FastMovers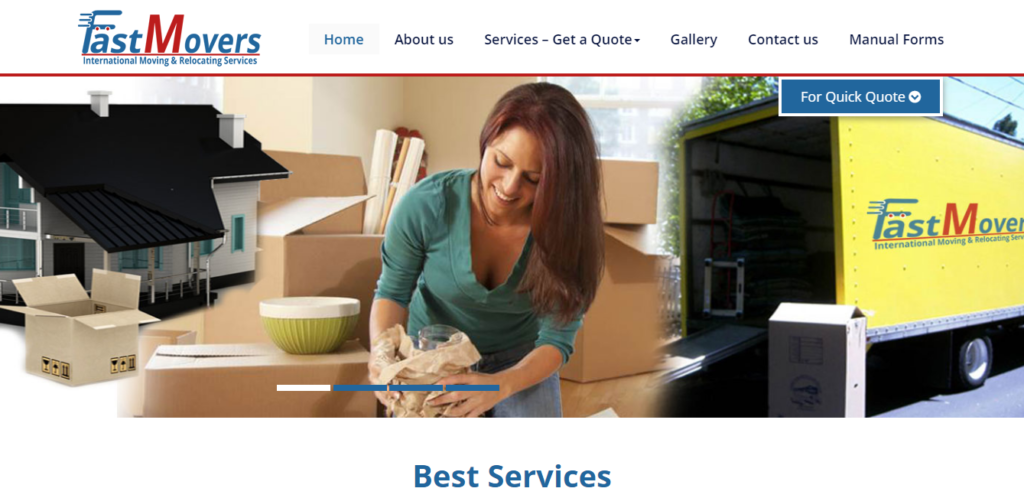 SERVICES
House Moving Services
WEBSITE
https://fastmovers.ie/
ADDRESS
Accounts Office: Suite 7, Rockingham Grove, Leixlip, County Kildare, Republic Of Ireland.
Warehouse: Northwest Business Park, Dublin 15
CONTACT DETAILS
+353 87 2566698


[email protected]
FastMovers is a company that specializes in International Home Removals among other interrelated services such as pet transportation, Factory relocation, Logistics, and freight forwarding by Air, Road & Sea among others. They are also partners with International freight forwarders and logistics companies on a global scale in order to provide each client with high-quality removal services.
With over 70 years in the said industry, the company has grown to be one of the leading market figures in the said industry both in local Ireland and internationally as well. They also offer negotiable packages wherein they will prioritize and accommodate a client's particular budget and other requirements that is within the said service.
Their company strives to provide you with the best removal and storage solutions for individuals and businesses. No matter where you move, they work with local and International removal companies to ensure a seamless move.
Fast Movers Ireland has experience with a refined selection of partners that can best meet the needs and requirements of their clients. As one of the best international removal companies Dublin, they ensure professionalism and world-class quality standards in international removals.
Whether you are moving to or from Ireland, our partners provide you with the best removal services.
Excellent company handling all types of International Home Removals
Can do both residential and commercial removals
Custom forms available online
Partners at Origin and Destination worldwide
Members of WLN group www.wln.ie with worldwide connections.
Can offer you global insurance at the best competitive price in Ireland –  whether you use their services or not
Some services are only available within Ireland
Customer Reviews
Here are some reviews from their clients:
"FastMovers were recommended by a friend who used their services in the past. What a fantastic company to work with. The attention to detail surpassed any other service provider I have ever worked with." – John Weever
"How are all you lads at FastMovers! I just wanted to say a big thank you for looking after my daughters Student Move to New York. All her belongings arrived on time and she was delighted with the service provided." – Lisa White
7.  MOVERSDUBLIN.ie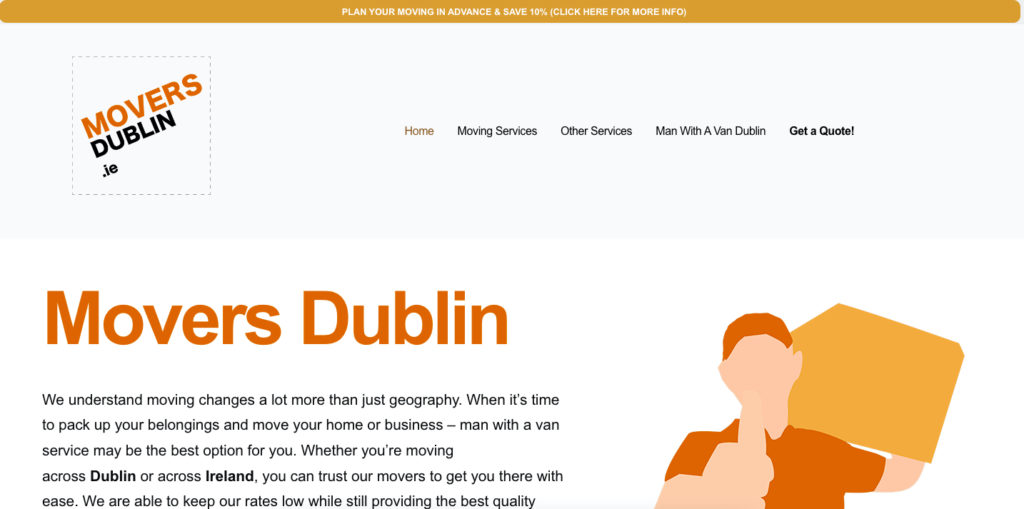 SERVICES
House Moving Services, Furniture Delivery, Mattress Disposal, Packing and Unpacking, Piano Movers, Storage Units, Student Movers
WEBSITE
https://moversdublin.ie/
ADDRESS
Contact for more information
CONTACT DETAILS
+353 (89) 951 3164


[email protected]
Whether you need assistance with moving across Dublin or across Ireland, Movers Dublin can be trusted to get the job done for you.
We like that they offer very comprehensive relocation services and provide assistance for each part of the move—from planning to realization.
This moving company provides high quality service because of their experience, abilities and the specific equipment devices they have.
This is also why they can come up with a free quotation for you within 24 hours.
We like that they also have a low cost for their services. For the quality and efficiency of their work, we think that this gives them an edge.
Sometimes we never know when we'll need moving services so we're a fan of their same day removal service.
Although a con we found is that they don't service beyond Ireland so they don't deal with international moves unlike other companies.
On the whole, we still think that this is one of your best options for movers.
Free quote within 24 hours
Same day removal service
Low cost
Only available within Ireland
How to Make Moving a Little Easier
Some movers say several of their clients get sick as soon as they arrive at their new place. No doubt moving is a stressful event.
To reduce the pressures of moving, consider these tips:
1. Don't take what you don't need.
If you don't need it, don't bring it. It will just add to the moving costs. Consider doing a garage sale, giving away furniture or getting a waste collection service to get rid of stuff you need to discard.
2. Pack early.
If you wait too close to the day of the move, you're likely to forget things. And you might not be able to pack fragile things properly. Start packing as soon as possible starting with rooms (and things) you don't often use.
3. Label boxes.
What label should you put on the boxes? Indicate which room it should go to in your new home. Is it the kitchen, master's bedroom, living room? Bullet point some of the items the box contains so you'll have an idea what's inside.
4. Don't be hasty in choosing your mover.
You'll be putting your things and valuables in the hands of your movers. You should make sure to do your research and choose the right movers carefully… or you can start with the ones we've already vetted and put in this list!
5. Consider the extra services you need.
Movers usually have a selection of services to suit their client's needs. For instance, they will put the boxes and furniture where you ask them to. However, unpacking the boxes will be charged extra.
Movers usually offer assembly and disassembly of your things, move-out cleaning, pet transport and secure storage, all for an extra fee.
FAQs about Movers in Dublin
---
We hope these helped make your relocation plan easier. Have you tried other great movers in Dublin not on this list? Let us know!
You may also want to check out our list of some of the best landscaping companies in Ireland if you're interested in improving your new home once your move is done!