9 Best Web Design Companies in Ireland
Do you want to make a good first impression on potential customers, partners, or investors through a professionally designed website? If so, we've put together a list of the best web design companies in Ireland that can help you achieve a kickass website.
Read on to find out how much web design companies charge, learn important details about each firm that made it to the cut, and get answers to the most commonly asked questions about web design services.
How Much Does Web Design Cost in Ireland
Before we get into the details of the best web design companies in Ireland, below is a price comparison table of their rates.
This will not only let you see which one charges an hourly rate that best suits your budget, but also give you a general idea of how much web design costs in the country.
The Best Web Design Companies in Ireland
Now that you have a clear idea of how much it costs to hire a web design company in Ireland, it's time to learn more about each company we selected, what they offer, what they're best for, and more.
1.   BeQuick Media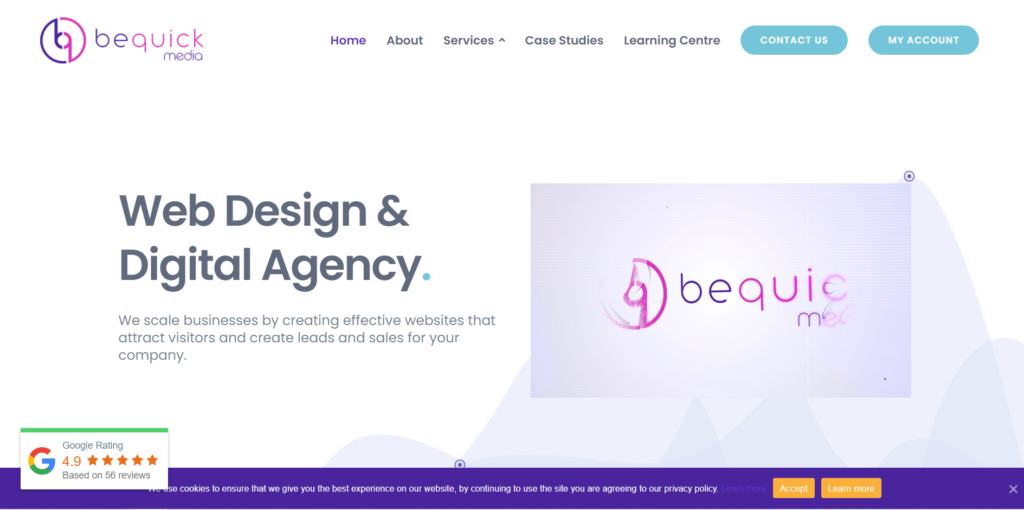 BEST FOR
Web Design and SEO
SERVICES
Web design, digital marketing, lifetime support
WEBSITE
https://bequick.ie/
RATES
€5 – €50 / hr; Min Project size €2,500+
ADDRESS
Unit 1A, Upper Cranford Center,
Montrose, Dublin 4, D04 X6H0
CONTACT DETAILS
+353 (01) 908 1449 | [email protected]
OPERATING HOURS
Contact for more details
BeQuick Media scales businesses by creating effective websites that attract visitors and create leads and sales for your company.
Their results-driven team will bring you from vision to execution, achieving focus, profits, and results. They focus on the metrics that matter, whether that be customer retention, revenue growth or new lead generation.
They work with e-commerce and service businesses to systematically scale their operations online.
It should be noted that their repeat business and growth stem from great work that keeps their clients coming back, and referrals rolling in. With their establishment only in 2017, it can be said that they are relatively younger compare to other companies.
Has long term partnerships that have resulted to measurable results
Follows a strict schedule so that each project is delivered on time
Provides a consistent return on investment for their clients
Younger compared to other companies
Customer Reviews
Here is what their past clients have to say about their services:
"Darragh was incredible with his knowledge of the Trading Online Voucher. I already had a website, but needed some work on my website SEO and paid Ads."
"Very fast turnaround. I had my website already structured and my content ready, and they offered a considerable discount on their core website package. I get lots of comment on how nice the site actually is. I am very pleased. Thanks"
"We didn't have any idea what we needed from our website. Darragh talked through our general vision and helped simplify the website and put together a great project proposal that outlined everything we needed to do."
2.   HatchHouse Digital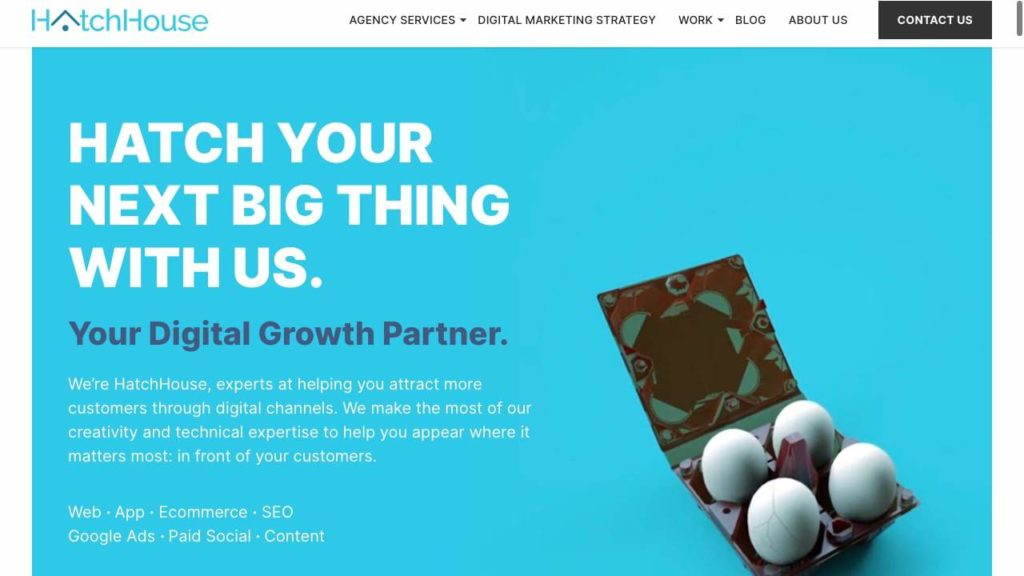 BEST FOR
Ecommerce web design & development and digital marketing strategy
SERVICES
Google Ads Management
Facebook Ads Management
Instagram Ads Management
YouTube Ads Management
Pinterest Ads Management
TikTok Ads Management
LinkedIn Ads Management
Inbound Marketing
Website Design & Development
Mobile App Design & Development
Ecommerce Design & Development
Search Engine Optimisation (SEO)
Low-Code Minimum Viable Products (MVP)
Social Media Management
Instagram Engagement
Influencer Marketing
WEBSITE
https://www.hatchhouse.digital/
RATES
Hourly Rate: €50 – €99 / hr
Minimum Project Size: €5,000+
ADDRESS
Unit A9 Ballymount Corp. Park, Ballymount, Dublin 12
CONTACT DETAILS
+353 87 295 2510


[email protected]

OPERATING HOURS
9:00 am to 6:00 pm (Monday-Friday)
HatchHouse Digital is a Ballymount, Dublin-based agency that offers a wide range of services including web design and development, SEO, paid advertising, social media management, content, and inbound marketing. All these are intended to attract more customers through various digital channels.
Its team is composed of professionals who have worked for award-winning Irish software companies and globally recognised brands such as Dell, IBM, Cisco, and Apple. This big-brand experience coupled with their personalised approach and excellent customer service is what clients love most about them.
When you partner with HatchHouse Digital for your website needs, you can expect to end up with a mobile-friendly and intuitive custom website that wows your audience. They can design and develop websites for any industry, but have a strong focus on the ecommerce niche.
Comprehensive suite of digital marketing, design, and development services
Offers bundled services at discounted rates
Ecommerce businesses can benefit from their expertise on this niche
Only offers custom website design, no ready-made templates
Customer Reviews
Check out some comments from their past clients:
"We are still at the early stages of the project launch but one thing I have noticed is that all the people involved in my company are very happy with the outcome. They love the open, clean look and feel of the website and the quickness in which you can access the various elements. Even with the 3 weeks since the launch, we have had a noticeable increase of donations on our site, as it's much easier for people to click and donate. Delighted!" -Catherine McMahon, Fiuntas Centres Limited T/A Lismullin Institute
"We're really happy with the quality of work. There were quite a few different features and content we wanted, and we got all of that loaded. We had some changes that have come up over the last few months with COVID-19 as we have had to change our opening hours and make our restaurant takeaway only. They have been really supportive and made a lot of the changes for us online without any charge. They're also now going to train me and another manager so that we can use the website ourselves and make simple changes to the website like opening times and menus." -Shona McCabe, KERB
"We're really happy with them. We've been live for only three weeks, but our sales have already increased. Visitor interaction with our website has gone up as well. The deadline to go live was the end of February, but it wasn't ready to go until December. The delay was on our end; it was a busy time for us." -James Thorton, Rhino Rugby
3.   InsideOut Consulting
BEST FOR
Design and Branding
SERVICES
Branding
Design
Strategy
Digital Marketing
WEBSITE
https://www.insideoutconsulting.ie/
RATES
Hourly Rate: €100 – €149 / hr
Minimum Project Size: €10,000+
ADDRESS
Suite 17 / The Cubes Offices, Beacon South Quarter, Sandyford Business Park, Dublin · D18 E932
CONTACT DETAILS
086 245 6423


[email protected]

OPERATING HOURS
9:00 am to 6:00 pm (Monday-Friday)
InsideOut Consulting is a digital marketing firm headquartered in Sandyford Business Park, Dublin. It offers branding, design, strategy, and digital marketing services for both B2B and B2C businesses.
Their team is composed of three senior professionals who have diverse but complementary skill sets. With their global exposure, they pride themselves on their deep understanding of the culture and business environments in the US, Canada, the UK, France, Spain, Germany, South Africa, and the Nordics.
Aside from web design, they are also strong in other areas of design such as graphic design and illustrations, print collateral and packaging, UX design, and digital assets.
They are not only creative, but they are also strategic in terms of brand development and content creation.
Global experience and strong understanding of different cultures
Strong on branding
Limited range of services
Smaller team compared to other firms
Customer Reviews
Here are some reviews from their past clients:
"Refreshing and invaluable to me in a quick pace business is their ability to understand requirements quickly, challenge briefs and think in a positive way." -Sinead Cummins, Head of Communications & Engagement, AIB Bank
"Really enjoy working with InsideOut. Smart and imaginative design that is rooted in the practical and the client's needs." -Justin Moran, Communications Manager, IWEA
The team have consistently delivered high-end results over the years on a variety of projects … attention to detail, responsiveness and genuine interest in their customers' business are what set them apart along with displaying a flexible and pragmatic approach to their work." -Matthew Nolan, Global Director of Marketing, Pfizer
4.   Zesty
BEST FOR
Web Design & Development and Digital Marketing Training
SERVICES
Design
Development
Ux
Digital Marketing
Data Insights
Digital Training
WEBSITE
https://www.simplyzesty.com/
RATES
Hourly Rate: €50 – €99 / hr
Minimum Project Size: €1,000
ADDRESS
2nd floor, Macken House, 39-40 Mayor Street Upper Dublin 1, D01 C9W8
CONTACT DETAILS
+353 (0)1 660 2260


[email protected]

OPERATING HOURS
9:00 am to 5:30 pm (Monday-Friday)
Zesty is an award-winning full-service digital agency that offers design, development, and digital marketing services. Founded in 1996, it has undertaken over 2,000 digital and web projects.
With a mid-sized team of 31 professionals with varying skills and expertise, this firm can cope with the increasing demands of clients. Their designers have decades of industry experience and implement a personalised and user-focused approach to enhance your brand.
Aside from web design, you can also entrust your branding with Zesty, including your signage, printed marketing collateral, and other corporate document templates.
What makes them unique is that they are not hesitant to share their knowledge. In fact, they offer data insights and training for you and your in-house marketing team.
Also offers training and data insights for strategic decision-making
Award-winning firm guarantees competence
Affordable rates
Customer Reviews
Below are some of the testimonials shared by their past clients:
"through a business contact who raved about their customer service. From day one, they really listened to our both our business needs and customer wants. From UX, through to design and launch, the entire experience was seamless. The whole team were really helpful and they were a pleasure to work with. We are delighted with the finished product – our conversion rate increased significantly from day one which proves how much our customers like it too!" -office CitySplashTours
"Ireland's Social Media rockstars. They focus on one area of expertise and do it right. Also worth checking out their blog, lots of informative content there if you're interested in Social Media and technology news." -James R.
"I was impressed by their ability to relate to us, understand our needs, and work towards the bigger picture." -CEO, Visit Somerset
5. The Wikid Agency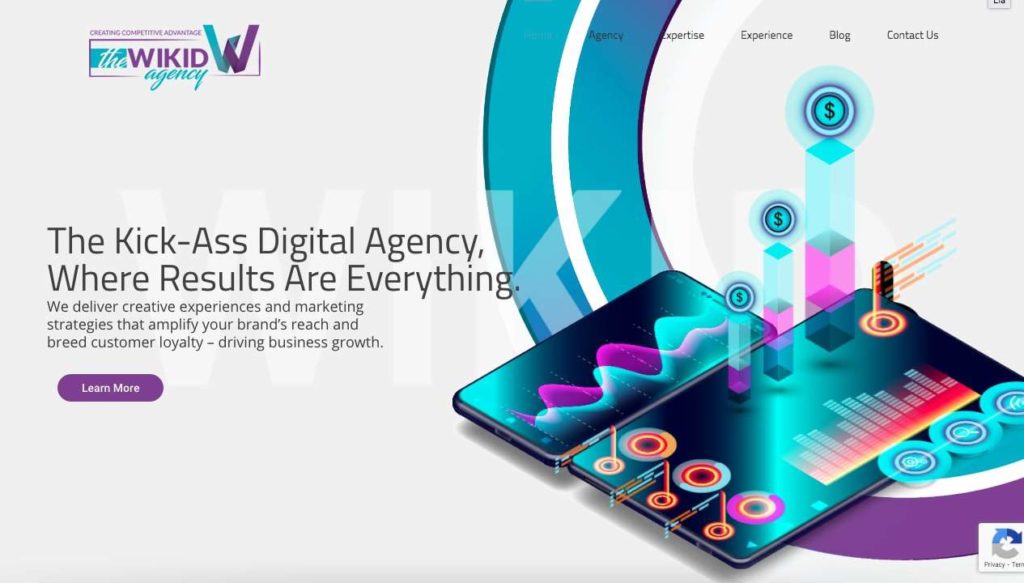 BEST FOR
Web Design and Brand Enhancement
SERVICES
Brand enhancement
Creative web design
Graphic design
Hosting and maintenance
WEBSITE
https://wikid.ie/
RATES
Hourly Rate: €50 – €99 / hr
Minimum Project Size: €1,000
ADDRESS
Olcovar, Shankill, DB D18VW18, Ireland
CONTACT DETAILS
+353 85 885 6070


[email protected]

OPERATING HOURS
8:00 am to 5:00 pm (Monday-Friday)
The Wikid Agency is a digital agency in Shankill, Dublin that helps brands amplify their reach and drive growth by providing creative experiences. They are experts in web and graphic design, brand enhancement, digital marketing, and website hosting and maintenance.
What makes them web design masters is their customer-centric mindset when creating designs. Aside from prioritising the needs of visitors, they also keep your goals in mind and design with a purpose.
When you work with them for website design, you can take advantage of their copywriting services so you'll have attention-grabbing content. Their creative web design combined with their killer content can help you convert more leads into actual sales.
Offers a wide range of digital marketing services
Low hourly rate and minimum project size
Can also do the content
Mainly offers design work and hosting
Doesn't really offer digital marketing
Customer Reviews
Here are some comments from their past clients:
"I have used Wikid Design for many years; from website designs, logo creations, printed & embroided shirts. No job is too big or too small for this company. The service is amazing, and I have never been disappointed in the quality of the work." -The Gutter Queen
"I have never experienced such efficiency in my life. The Wikid Design is customer service redefined." -Karabo Phetla
"They deliver on what they promise and they are very professional." -Head of Marketing, JJT Accountants and Auditors
6. Wolfgang Digital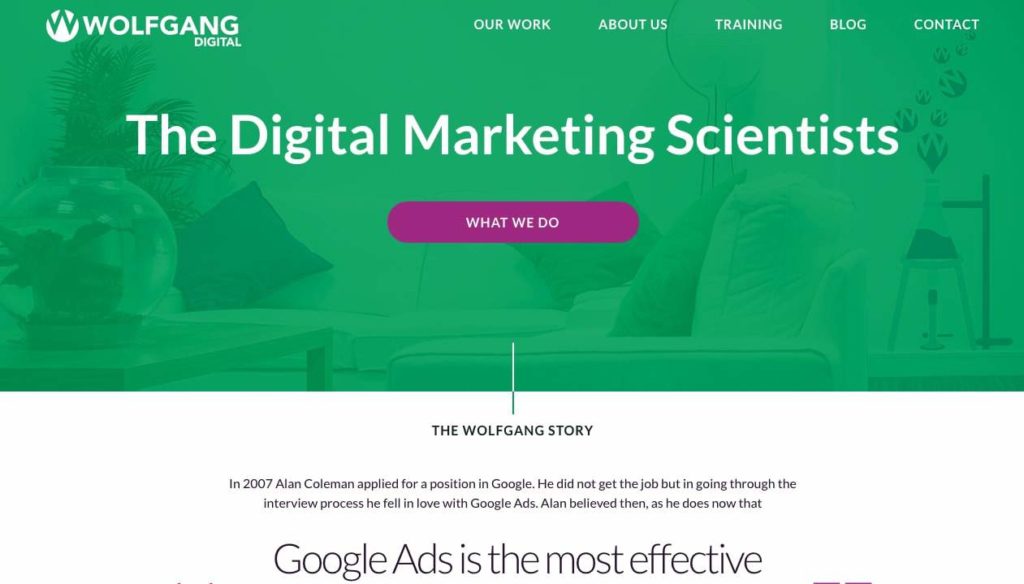 BEST FOR
Paid advertising and SEO
SERVICES
Design
PPC
SEO
Social
Analytics
Native Advertising
Content Marketing
Conversion Optimisation
Retargeting
Infographics
Video
WEBSITE
https://www.wolfgangdigital.com/
RATES
Hourly Rate: €100 – €149 / hr
Minimum Project Size: €1,000+
ADDRESS
Palmerston House, Denzille Lane Dublin 2
CONTACT DETAILS
+353 1 663 8020


[email protected]

OPERATING HOURS
9:00 am to 5:30 pm (Monday-Friday)
Wolfgang Digital is a multi-award-winning digital marketing agency in Dublin that offers design, content marketing, paid advertising, SEO, and analytics. It is one of the fastest growing tech companies in the country.
With their creative and strategic professionals, many clients love Wolfgang Digital for producing stellar results.
Aside from their creative designs, videos, and content, they are acclaimed for their paid advertising, social media, and SEO expertise.
If you want to learn from their team of specialists who have won awards both locally and internationally, you can sign up for their training services.
Large team to cater to more clients
Offers training services
Strong on other areas of digital marketing such as SEO, social media, and PPC
Doesn't offer website development
Customer Reviews
Here is what their past clients have to say about their services:
"Attended the 1-day social media strategy workshop. Definitely recommend it if you are reviewing your approach to social advertising. Plenty of insights and takeaways that can be out into action." -Homeland Retail Stores
"Wolfgang Digital are one of the few digital agencies in Ireland I'd recommend to clients. Their attention to detail, knowledge of current and future changes in the industry, and determination to deliver real measurable results is second to none. I couldn't recommend them highly enough. You won't regret working with their highly experienced team." -Mark Scully
"I've worked with Wolfgang since 2011 when they were known as 'Online Advertising'. They've always been ahead of the curve and offering great insights into the direction of the digital industry and we've been very impressed with their work for us over the last six years." -Sean Carty, Zurich Life
7. Ireland Website Design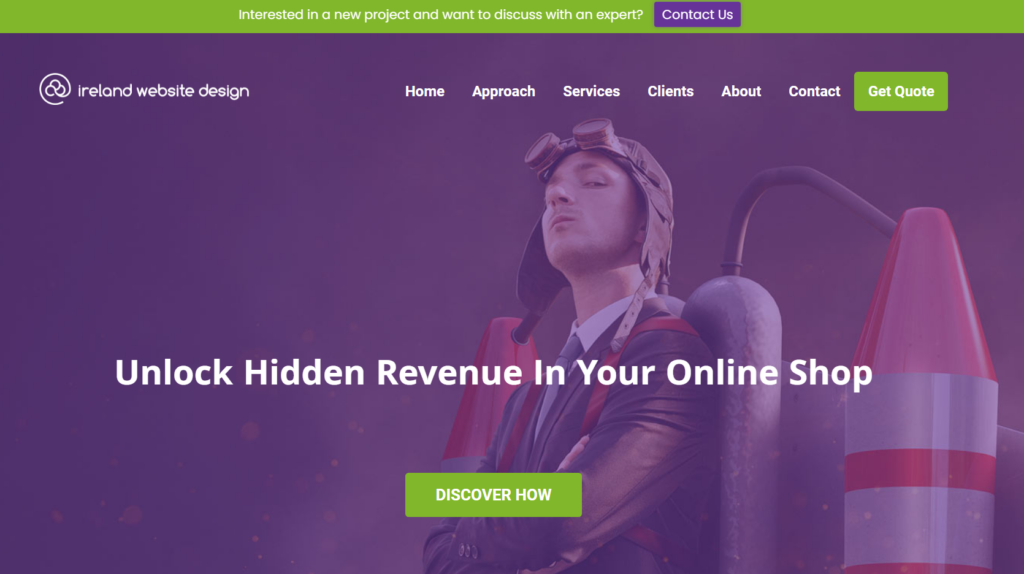 BEST FOR
Increasing shop revenue
SERVICES
Strategy and Consulting
Creative Design
Web Development
Online Marketing
Mobile Apps
User Testing
Software Development
WEBSITE
https://www.irelandwebsitedesign.com/
RATES
€80 – €100
Minimum Project Size: €5,000+
ADDRESS
Unit 4F, Six Cross Roads Business Park,
Waterford, Ireland
CONTACT DETAILS
051-325567
089-4278112
OPERATING HOURS
Contact for more details
With over 15 years' experience in the web design world, Ireland Website Design has been carefully crafting their processes and honing their skills to keep ahead of the revolutionary online world. From their offices in County Waterford, they boast an impressive portfolio of ongoing working relationships with local, national, and international companies.
One of the most unique traits of their team is the 8-step process they follow for each project.
Split into 8 intricate phases, their process is devoted to every stage of crafting a high-quality, high-conversion website. Their web design process is designed to ensure every member of our team understands each client's unique needs.
Specialises in eCommerce
Thorough creation process
Has long term partnerships that have resulted to measurable results
Strong in eCommerce Marketing & website development
Does not offer pre-made templates
Only does custom design
Customer Reviews
Here is what their past clients have to say about their services:
"Nick and his team in Ireland Website Design developed the latest Retail excellence website. The level of support and attention to detail was superb and this has resulted in significant improvements to the website traffic levels and conversion rates."
"The team at Ireland Website Design are enthusiastic, creative & driven. Nick, Abby & Krystian have been great to work with. Supporting us in the creation of our Shopify website, consistently providing excellent advice. Highly recommended."
8. Web Design Ireland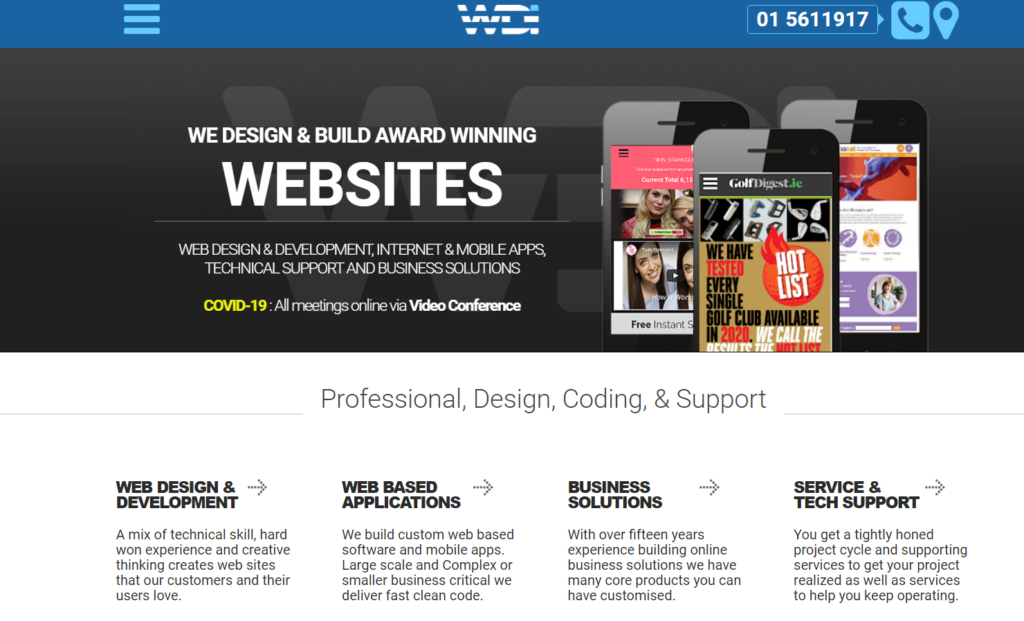 | | |
| --- | --- |
| BEST FOR | Web Application Development & UI Design |
| SERVICES | Web/UI Graphic Design, Software Development, MVP development, SaaS Development, Mobile Web app dev, Systems Integration, Payment gateway integration, Custom Development |
| WEBSITE | https://www.webdesignireland.ie/ |
| RATES | €85 – €110 / hr; Min Project size €5,000+ |
| ADDRESS | Synergy Centre, TU Dublin Campus, Tallaght, D24 A386 |
| CONTACT DETAILS | +353 1 5611917 | [email protected] |
| OPERATING HOURS | 10:00 – 18:00 (M – F) |
Web Design Ireland is an agile web application development agency that is able to provide a full end-to-end service that guarantees control over the design, development and operation of enterprise class web projects.
In addition to this, they also offer critical maintenance and operations support under annual contract.
Rest easy knowing that they work with start-ups from conception, through MVP, to production and into fully mature operation.
Open source agile development
Technical and business development consultancy available
Software and hardware architecting
Strong on SEO/SEP methods and processes
Deep technical knowledge
Custom web design
Does not provide Internet Marketing Services
Not recommended for very small projects
Customer Reviews
Here is what their past clients have to say about their services:
"When you add up all our input to your project and what we deliver – we offer great value. Creative input, Strategy development, Design quality, Agile Development and obsessive project management that results in fast delivery and early engagement." Jer Ryan – CEO
9. Little Blue Studio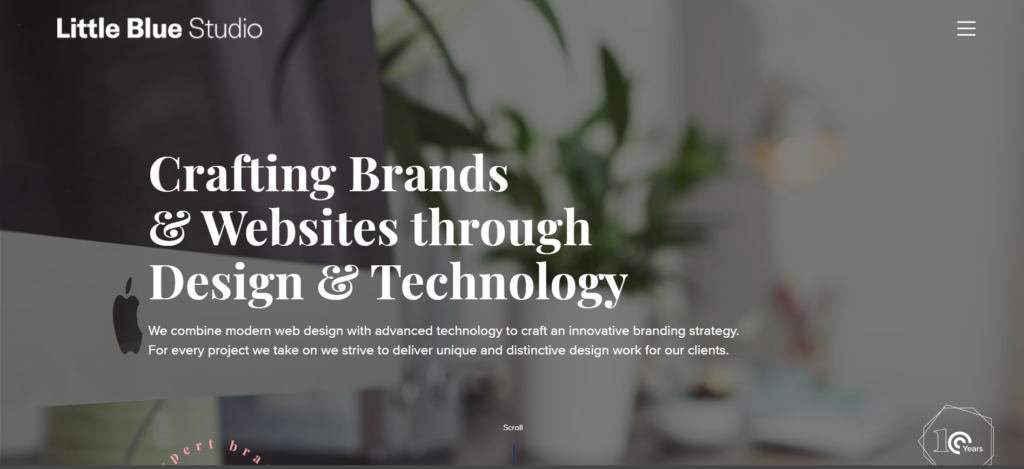 | | |
| --- | --- |
| BEST FOR | Web Design and Branding Experts |
| SERVICES | Branding identities, web design and custom solutions, eCommerce website design, WordPress support and maintenance |
| WEBSITE | https://littlebluestudio.ie/ |
| RATES | Contact for more details |
| ADDRESS | 18 Mayorstone Crescent, Ennis Road, Limerick |
| CONTACT DETAILS | [email protected] |
| OPERATING HOURS | Contact for more details |
Little Blue Studio's hand-crafted branding and website design is based on a strategic foundation that enables their clients to express their true brand essence and tell engaging stories about their products and services
Founded in 2009 by Elaine Hennessy and Kieran Calvert, Little Blue Studio has since launched over 200 projects, won several industry awards, and helped SMEs, large organizations, and multinational companies strategically grow their businesses through the creation and development of their brands and websites.
They have also been awarded with the coveted Business All-Star Accreditation. It is an independently verified standard mark for businesses based on rigorous selection criteria; performance, trust and customer centricity.
Has extensive industry experience
Engages every aspect of your business to solve complicated problems with simple solutions
Does not offer pre-made templates
FAQs About the Best Web Design Companies in Ireland
---
Ready to revamp your website and make it look more amazing? Now that you know what each of our top picks can offer, including their rates, it should be easier for you to decide which one to hire.
Have you worked with any of the best web design companies in Ireland included in our list? Share your experience with us!