The 12 Top Career Coaches in Dublin
For those who are serious about getting the most out of their careers, career coaches can be a great help. A good coach is an objective third party in your career decisions, helping you make better sense of what you want, how to get it, and how to get there.
If you need a good career coach to help you identify your ideal type of job, we've got you covered on our list of the top career coaches in Dublin.
Can't wait to see a brighter path? Take this review article as the first step!
How much are career coaching lessons in Dublin?
Career coaching programs cost around €450.00. Here's our range of prices to help you prepare how much time and money you're willing to spend:
| Services | Estimated Average Price |
| --- | --- |
| 2-Session Package | €300.00 - €350.00 |
| 3-Session Package | €150.00 - €300.00 |
| 4-Session Package | €500.00 - €600.00 |
| 6-10-Session Package | €700.00 - €1,100.00 |
The Top Career Coaches in Dublin
It takes legitimate professionals to improve or change your insights about building a career. Here's what we also looked at to make sure this list only has the best coaches:
1. The Career Coach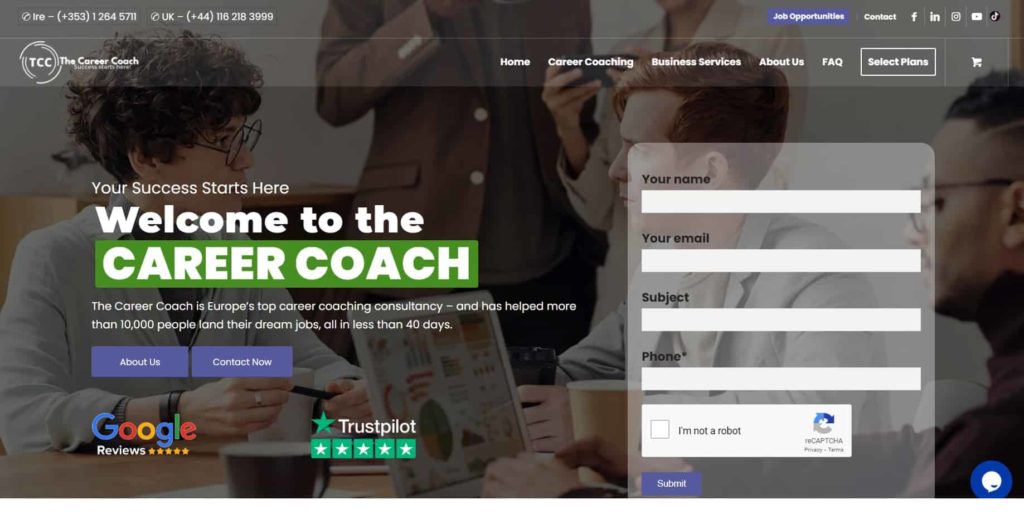 Test
Info
SERVICES
Career Coaching

Career Coaching

Jobseeker

Career Changer

Interview Preparation

CV and Cover Letter Creation

Career Success Club

Executive Coaching

Linkedin Optimization

1:1 Consultation

Business Services

Business Services

Talent Acquisition

Business Consulting

Flexible SalesForce

WEBSITE
https://www.thecareer-coach.com
ADDRESS
Avonmore Rd, Oldbawn, Dublin, D24 K07Y, Ireland
CONTACT DETAILS
+353 1 264 5711
OPERATING HOURS
Monday - Friday: 9 AM - 6 PM
| | |
| --- | --- |
| SERVICES | ★★★★★ (5/5) |
| EXPERTISE | ★★★★★ (5/5) |
| TECHNIQUE AND COVERAGE | ★★★★★ (5/5) |
| PRICING AND VALUE | ★★★★☆ (4/5) |
The Career Coach is a company that provides its clients with innovative and comprehensive coaching and training services ideal for individuals, teams, and organizations intending to bring each person new opportunities and career progress to the next level.
Past clients who have experienced working with them have commended them for their holistic support and engaging approach when it comes to concretizing strategies to better alleviate mindsets and other coaching methods.
Aside from this, clients can readily book their intended services on their website and pay through various online means to make the whole procedure much more transparent and convenient overall.
Note though that they only accommodate online coach meetings at the moment which clients may need to inquire further when it comes to such arrangements beforehand in this matter.
Nonetheless, with their flexible scheduling systems, a wide array of coaching fields accommodated, and diverse experience in the field, we highly recommend interested clients to check them out.
Holistic and effective coaching strategies employed
Convenient transaction processing
Versatile coaching services offered
Coach meeting accommodated may only be through online means
Customer Reviews
Here are some reviews from their clients:
"Ian Richardson is my coach. He really knows his stuff and a very good at getting it across. A pleasure to work with. The experience has been positive and am giving 5 stars in the expectation of securing a position in the very near future."
"I can't thank the career coaches, especially Dan and Ian for being so helpful with preparing me for my interview next week!! 100% would recommend to anyone"
2. Ciara Stewart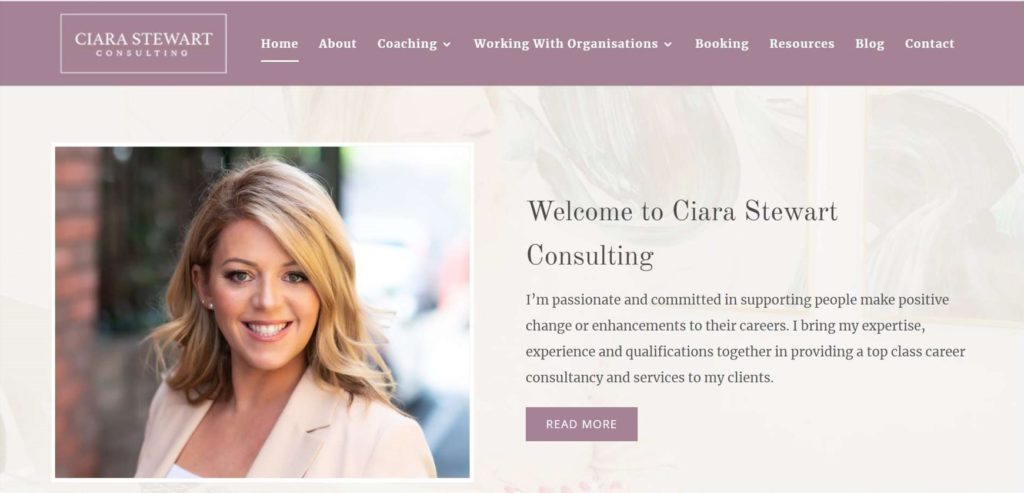 Test
Info
SERVICES

Career Coaching

Interview Coaching

Career Workshops

CV Writing and Review

Interviewing

Talent Acquisition Consulting

WEBSITE
https://ciarastewartconsulting.ie/
ADDRESS
Hazelbrook, Grange, Malahide, Co. Dublin, Ireland K36 A078
CONTACT DETAILS
Phone: +353 868 232774

EMAIL: [email protected]

OPERATING HOURS

Monday to Friday, 9:00 a.m. - 6:00 p.m.
| | |
| --- | --- |
| SERVICES | ★★★★★ (5/5) |
| EXPERTISE | ★★★★★ (5/5) |
| TECHNIQUE AND COVERAGE | ★★★★☆ (4/5) |
| PRICING AND VALUE | ★★★★★ (5/5) |
Ciara Stewart is an experienced career coach who has worked in the human resource industry for over 20 years. She is based in Dublin, Ireland but offers services internationally to those who wish to work with her remotely.
What brought her to this list is her long list of qualifications to be an effective career coach. This includes a in psychology and psychoanalysis and a master's degree in career guidance & counseling.
Aside from career coaching, her other expertise includes profile writing and review, and interview coaching. No wonder she's among the commonly tapped resource persons for career workshops, talent acquisition consulting, and more.
We like Ciara for offering different packages for clients that range from two-session one-to-one coaching to longer courses that take up to 12 sessions. Also, we commend her for tailoring the packages to address the particular career concern of clients.
Ciara's career coaching coverage impressed us because she tackles everything work-related, including motivations, work disputes, legalities, and even promotions and effective job searches.
Because she's an experienced coach, she also conducts regular workshops for organizations seeking to improve manpower management processes.
The only downside about her services is the purely online sessions of one-to-one career coaching. She's also the only career coach of her firm.
Still, her experience and established career is a testament to the success of her programs.
Many qualifications
Variety of packages
Experienced in HR and recruitment
Conducts workshops
No in-person one-to-one career coaching sessions 
One coach only 
Customer Reviews
Wealthy of knowledge
"Ciara has a wealth of knowledge in interview preparation. Her feedback was detailed and tailor made to her client. Her mock interviews are tough but are great preparation for the real thing! She was very professional throughout the whole process. I cannot recommend her highly enough." – Niamh Sullivan
Outstanding coach
"I've had the pleasure of working with Ciara as she delivered a career coaching sessions for the company I work for. Ciara is an outstanding coach, highly qualified, extremely competent and she has a natural ability to build rapport with her clients, creating a safe space for them to explore their ideas." – Francesca Bartolone
3. Terry O'Brien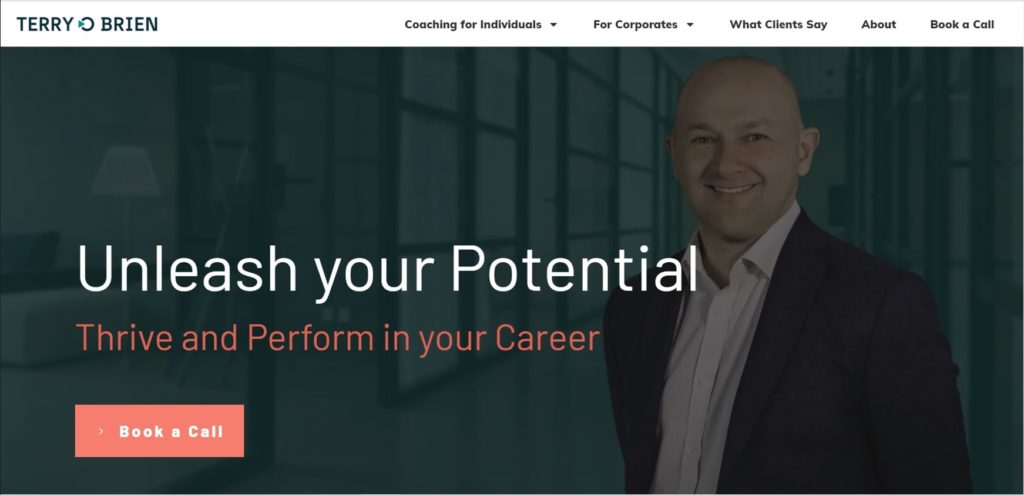 Test
Info
SERVICES

Career Coaching

Interview Coaching

Job Search Coaching

Career Guidance

Career Development

Career Wellbeing

WEBSITE
htps://terryobriencareers.com/
ADDRESS
92 George's Street Lower, Dun Laoghaire, Co. Dublin, Ireland A96 VR66
CONTACT DETAILS
Phone: +353 879 097675

EMAIL: [email protected]

OPERATING HOURS

Monday to Friday, 9:00 a.m. - 6:30 p.m.
| | |
| --- | --- |
| SERVICES | ★★★★★ (5/5) |
| EXPERTISE | ★★★★★ (5/5) |
| TECHNIQUE AND COVERAGE | ★★★★★ (5/5) |
| PRICING AND VALUE | ★★★★☆ (4/5) |
Terry O'Brien is a career coach with a lot of experience—25 years, to be exact. He's a professional who not only works as a career coach, but also teaches personal development in Dublin City University.
In our opinion, he's among the most qualified to do career coaching not because he teaches personal development, but because of his decades-long experience in coaching people to find jobs and the workplace they love.
The greatest yet simplest asset he has on coaching is his five-step process called CareerWell Framework. This helps clients identify their values and passions, then develop a plan to achieve their professional goals.
Terry is also qualified to use psychometric tests and exercises to help him identify what a client's strengths are, which can be helpful when choosing a career path that fits someone's personality traits.
A five-star rating from thousands of clients shows how effective Terry's services are. His clients have said that he's easy to talk to and responsive to their needs at every step of their journey together.
When it comes to his programs, he has a lot to offer from individual job search and coaching to corporate career development and wellbeing.
However, his rates are a little higher compared to other Irish career coaches and there's also a need to schedule a call to discuss how you will proceed. These are only minor issues that can be outweighed by his high performance as career coach.
Effective framework
Thousands of clients served
Career professional
Uses psychometric testing and exercises
Pricey
Needs scheduled call to discuss options
Customer Reviews
Broadened my perspective
"…From my session with Terry, I gained the confidence and clarity to pursue my goal and I am now excited to start studying the course I always wanted. Terry broadened my perspective by revealing many different options and alternative routes to achieve my goal. I loved how Terry took the time to understand what I wanted and worked with me to help achieve my goals…" – Aine Aspel
Helped me get clarity
"Terry is an excellent Career Mentor who supported and helped me on my career journey…He helped me get the clarity I needed to identify new career ideas and choices available to me. Thanks to his advice, I chose to specialise in data analytics and visualisation, and I am very happy with this. Terry's support and encouragement helped me clarify the career direction I wanted to take, and I am grateful for his guidance and help." – Mehmet Ali Erol
4. Ciara Spillane – Positive Prospects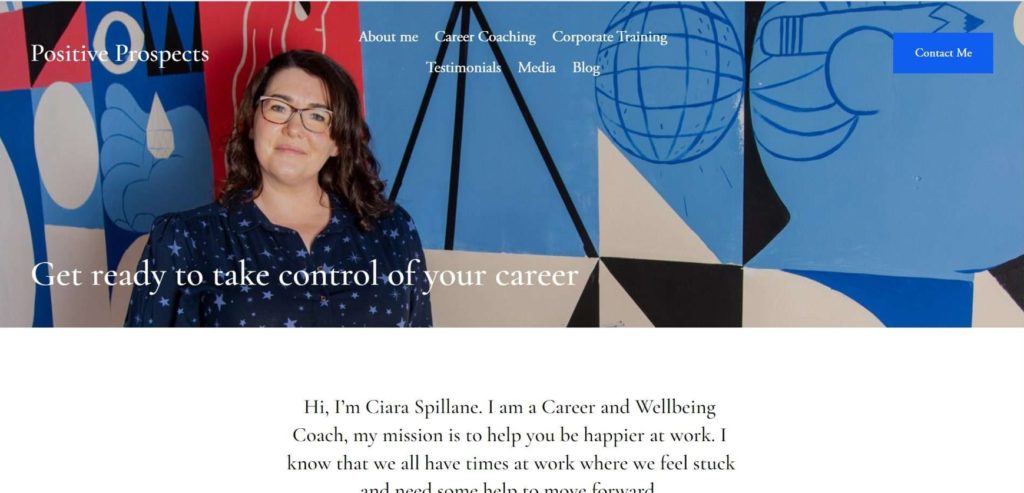 Test
Info
SERVICES

Career Coaching

Corporate Training

WEBSITE
https://www.positiveprospects.ie/
ADDRESS
Dublin, Ireland
CONTACT DETAILS
Phone: No available contact number

EMAIL: [email protected]

OPERATING HOURS

Monday, Tuesday, Thursday, 9:00 a.m. - 5:00 p.m.

Wednesday and Friday, 9:00 a.m. - 2:00 p.m.

Saturday, 10:00 a.m. - 12:00 p.m.
| | |
| --- | --- |
| SERVICES | ★★★★★ (5/5) |
| EXPERTISE | ★★★★★ (5/5) |
| TECHNIQUE AND COVERAGE | ★★★★★ (5/5) |
| PRICING AND VALUE | ★★★★☆ (4/5) |
Ciara Spillane at Positive Prospects is a career coach with a background in recruitment, who is ready to help you move forward in your career.
It's great to know that her recruitment experience is combined with her psychology training. This means clients get the best of both worlds and are guaranteed effective sessions using science and experience.
In fact, she has around 20 years of experience working with big global companies, nine years of work with leaders for recruitment, and she's currently working on her Masters in Positive Psychology from University of East London.
Not only that, but she is also an Associate Member of Psychology Society of Ireland, a special interest group in coaching psychology. This is on top of her advanced diplomas in coaching.
Ciara offers a wide range of services including career coaching, corporate training, and executive coaching. Her career coaching sessions include topics like motivation, work environment, promotions, balance and confidence.
Your first session is free and lasts 30 minutes, and if you decide to continue your sessions with Ciara, she'll tailor a program that's just right for you. She's also flexible, attentive, and emphatic throughout her programs.
However, there are no contact numbers or exact addresses on her website. Also, the operating hours vary from week to week depending on how busy she is at work.
No biggie, everything can be done remotely these days. You just need a schedule, an internet, and a well-functioning device to get your career path improved.
Wide topic coverage
Free 30-minute consultation
Comprehensive programs
Emphatic and attentive coach
No contact number and exact address
Varying operating hours
Customer Reviews
Great advice
"…Ciara really helped me with my confidence and made me feel like I was the best person for the job. She gave me some really great advice about interviews and I am happy to say that 6 people were interviewed for the position and I was the successful candidate." – Tara Mackinnon
Insightful and experienced
"Ciara is a very insightful and experienced coach. She combines empathy with loads of experience in major tech companies, which in my opinion sets her apart from other coaches. Overall I had a very positive experience and highly recommend Positive Prospects!" – Daniel Gonzalez
5. Ronan Kennedy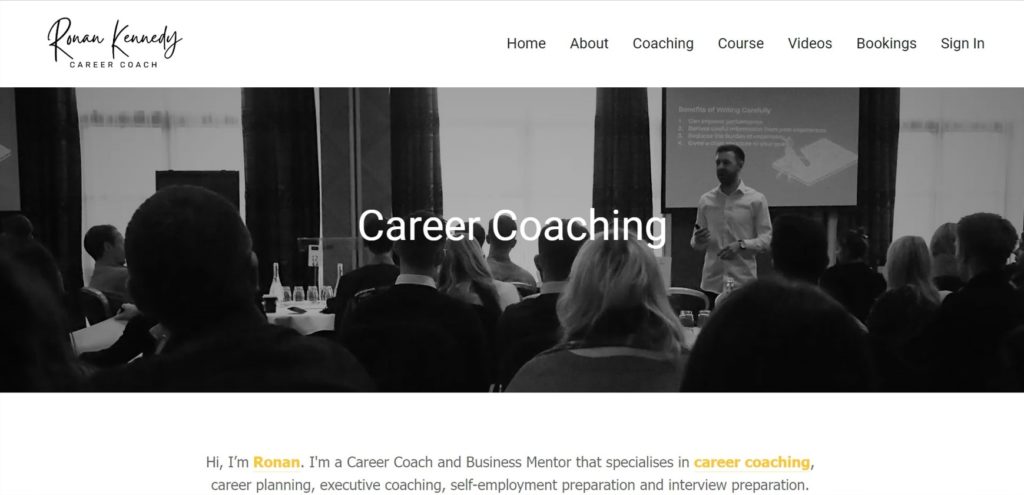 Test
Info
SERVICES

Career Coaching

Group Session

One-to-One Sessions

WEBSITE
https://www.ronankennedy.net/
ADDRESS
20 Harcourt St, Saint Kevin's, Dublin, Ireland D02 PF99
CONTACT DETAILS
https://www.ronankennedy.net/
OPERATING HOURS

Monday, 7:00 a.m. - 4:00 p.m.

Tuesday to Thursday, 7:00 a.m. - 5:00 p.m.

Friday, 8:00 a.m. - 5:00 p.m.
| | |
| --- | --- |
| SERVICES | ★★★★★ (5/5) |
| EXPERTISE | ★★★★☆ (4/5) |
| TECHNIQUE AND COVERAGE | ★★★★☆ (4/5) |
| PRICING AND VALUE | ★★★★☆ (4/5) |
Career coaching is a great way to get your career on track. If you're looking for a popular career coach, Ronan Kennedy is your guy.
Ronan is a life coach who has been working with people for over 10 years and has experienced in helping people with their careers and finding the right job or in getting a much-desired promotion.
Another good thing about him is his comprehensive career coaching services that are conducted in group or one-to-one, as well as lectures and practices on interviews and career advancement.
We like his flexible coaching schedule that allows clients to learn on their free time without the hassle of commuting. He offers lessons that are pre-recorded so that you can listen to them at your own pace.
On top of the recorded lessons, there are weekly live sessions that you have to attend. Plus point to Ronan for giving bonuses such as free one-to-one sessions and printed materials on career advancement.
His lessons will help you develop skills such as identifying your strengths and weaknesses, as well as finding out what makes you unique. You'll also learn how to prepare yourself before interviews through his complete interview practice.
Despite not having a psychology degree, he has two coaching degrees that makes him qualified. When you want to book, he has a link for it on his website since he does not share his email and contact number.
Flexible schedule
Helpful job search techniques
Complete interview preparation
Qualified coach
No available contact details
Limited psychology background
Customer Reviews
Incredibly helpful
"Ronan was incredibly helpful during my job search. He provided feedback that helped with my confidence and professionalism during interviews. I ended up with multiple offers. Ronan also helped me to negotiate better salary and benefits. Highly recommended!" – Brittany Stusick
Comprehensive approach
"Ronan has fantastic perspective and insight, and was instrumental in helping me reshape my viewpoint on my own skills and strengths and giving me confidence in my abilities again. His comprehensive approach to post-meeting follow-ups is also greatly appreciated and is something that a lot more consultants should follow." – Eoin Mangan
6. Clearview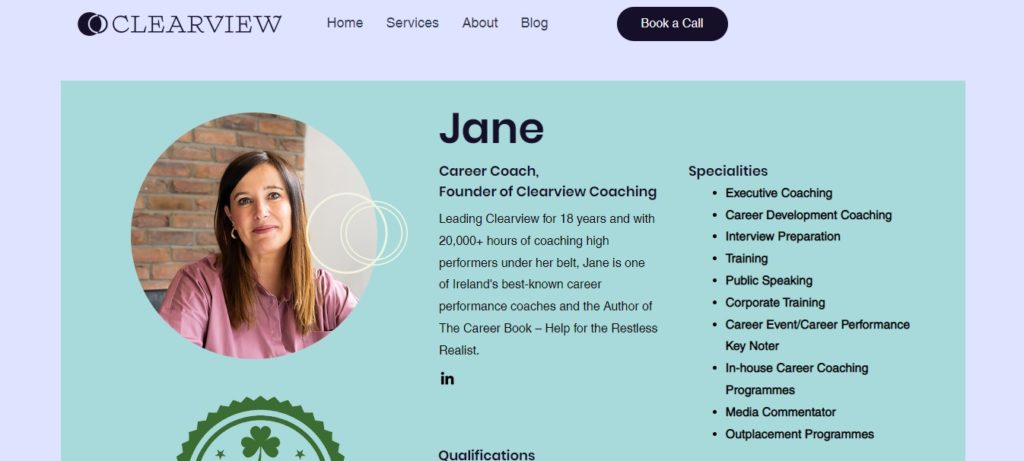 | | |
| --- | --- |
| SERVICES | ★★★★★ (5/5) |
| EXPERTISE | ★★★★★ (5/5) |
| TECHNIQUE AND COVERAGE | ★★★★★ (5/5) |
| PRICING AND VALUE | ★★★★★ (5/5) |
Jane, the founder, has been leading Clearview for 18 years, and counting, and with 20,000+ hours of coaching high performers under her belt.
To give you more reason why Jane is one of the best career coach, she has helped numerous C-suite Executives and Senior Managers from CEOs to Entrepreneurs and Line Managers and early / mid stage careerists.
Apart from this, she has successfully supported many talented individuals to create work they love and manage their career performance.
What made us like them is that they do not only offer basic career counselling. On their website, you will be able to see how extensive their coaching services are.
From Interview Skills Coaching, Career Transition, Personal Branding, and Student Career Coaching, Jane can guide you.
In comparison to other clinics, the rates of their services are already displayed on the internet. This makes it easier for those who are interested but still have doubts if they should do it or not.
Winners of The Irish Enterprise Awards for Best Career Coaching Business in 2021
Has successfully partnered with many businesses from brand name multinationals to semi-state organizations
Structured and methodological approach
Customer Reviews
Here are some testimonials from Jane's website:
"I was looking for a change after 7 years in a professional services firm. I appreciated that Jane did not go through her standard programme with me but adjusted and tailored her approach to meet my needs. I needed an independent sounding board, somebody other than my friends and family, and she was not afraid to challenge me. She helped me structure my thoughts and develop a career plan which helped me through a successful transition."
"Jane Downes' book brings a rare freshness, wit and depth of understanding to the fairly tired genre of career self-help literature. I defy you to read the book without feeling an urge to transform your career."
7. Laura Griffin – Griffin Career Consultancy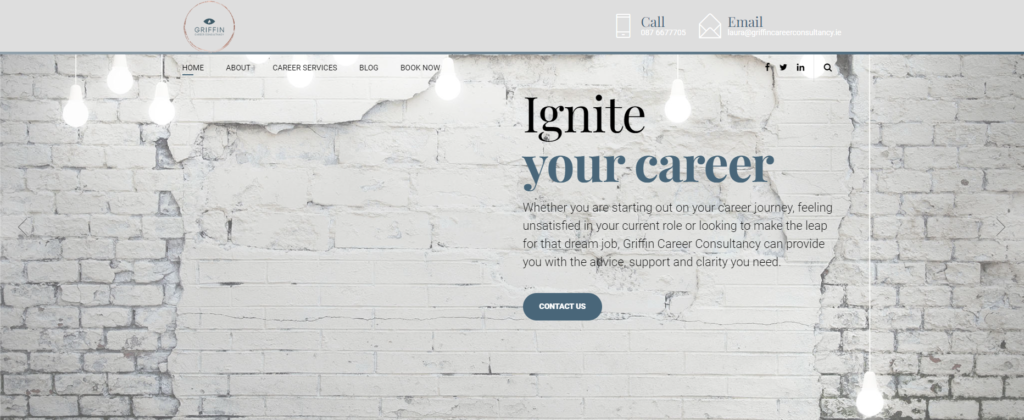 Test
Info
SERVICES
Student Career Consultation

Adult Career Consultation

Interview Skills & Job Search Strategy

WEBSITE
https://griffincareerconsultancy.ie
ADDRESS
8 Cruagh Green, Stepaside, Dublin, D18 W524
CONTACT DETAILS
Phone: +353876677705

EMAIL: [email protected]

OPERATING HOURS
Monday to Friday, 9 AM-5 PM

Saturday, 9 AM-1 PM
| | |
| --- | --- |
| SERVICES | ★★★★☆ (4/5) |
| EXPERTISE | ★★★★★ (5/5) |
| TECHNIQUE AND COVERAGE | ★★★★☆ (4/5) |
| PRICING AND VALUE | ★★★★★ (5/5) |
Tackling one's career path can be a daunting venture, and it is important to have the right guidance when navigating job searches and job applications.
Griffin Career Consultancy offers a wide range of services to help job seekers find success, no matter their stage in life.
They can provide job search strategy coaching for both students and adults, job interview preparation advice, and job application assistance. With their experienced consultants, job seekers can gain confidence as they go through the job search process.
Griffin Career Consultancy also provides tailored career coaching options. They take a personalized approach to helping job seekers identify their unique strengths, aspirations, and goals so they can reach their full potential no matter what industry they are in.
For anyone looking for career coaching in Dublin, Griffin Career Consultancy is the perfect choice to help them explore job opportunities and build a successful job search strategy.
With an unwavering commitment to providing quality services and outstanding results, Griffin Career Consultancy is sure to provide job seekers with the guidance they need to find meaningful employment or advance their careers.
Extensive career experience
Collaborative consultation process
Insightful and effective advice
8. Griffin Career Consultancy
SERVICES
Student Career Consultation
Adult Career Consultation
Interview Skills & Job Search Strategy
WEBSITE
http://griffincareerconsultancy.ie
ADDRESS
Kilternan, Dublin 18
CONTACT DETAILS
+353 876677705
[email protected]
OPERATING HOURS
Monday – Saturday, 9:00 AM – 5 PM
| | |
| --- | --- |
| SERVICES | ★★★★☆ (4/5) |
| EXPERTISE | ★★★★★ (5/5) |
| TECHNIQUE AND COVERAGE | ★★★★☆ (4/5) |
| PRICING AND VALUE | ★★★★★ (5/5) |
Griffin Career Consultancy has been known for their role in providing expert career consultations in Dublin. Their objective is to collaborate with you to determine the job that is best for you, based on your personality, lifestyle, and skill set.
Additionally, they also help you enhance your interview skills so that you can secure your job with the right preparedness, knowledge, and confidence. That is why they will help you improve your preparation by working with you on competency-based interview questions, confidence-building strategies, and performing a mock interview.
Aside from being a great help if you are starting out, they are also vital for people who are hoping to find that dream job or are relocating and need a fresh start. They want to provide you clarity on the proper path to bring you where you need to go and to empower you to take command of your professional path and spark your career.
Personalized coaching plans
Best for people starting out
Affordable rates
Customer Reviews
I would 100% recommend her and will be using her services again
"I had done 4 public sector competencey based interviews before having my coaching sessions with Laura, and never seemed to be able to nail the competencies or pick up on cues. Laura went through all of this in thorough detail with me. She gave me a comprehensive document on how to approach each competency and different ways each competency could be asked at interview. We did 2 mock interviews, and other prep. in advance of my interview. I felt very prepared going in to the interview and did a great interview! I was able to tackle difficult questions and any other curve balls that were thrown at me. I came second in the competition, which placed me first in the panel for this role for the next 12 months. This is all down to Laura's help. Laura has a lovely style of coaching, is very knowledgable in public sector interviews, and in interview coaching in general. I would 100% recommend her and will be using her services again should another interview come up.Thanks Laura!" – Aisling O' Connor
Recommending Laura for anyone looking to improve on interview technique
"I booked an interview prep course with Laura, I found her to be very helpful and knowledgeable. She gave me great pointers and tips on areas that I can improve on. I would have no hesitation Recommending Laura for anyone looking to improve on interview technique" – Dan Neary
9. Laura and Paul Smyth – Possible.ie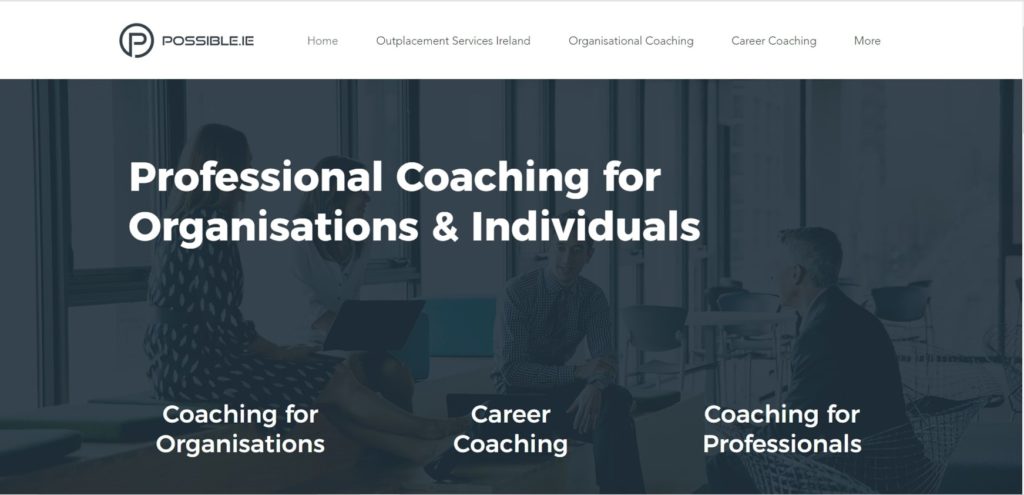 | | |
| --- | --- |
| SERVICES | ★★★★★ (5/5) |
| EXPERTISE | ★★★★★ (5/5) |
| TECHNIQUE AND COVERAGE | ★★★★☆ (4/5) |
| PRICING AND VALUE | ★★★★★ (5/5) |
The Smyths at Possible.IE are a husband-and-wife team who have been working in the career coaching business for around a decade. It's a tandem of career coaching professionals Paul and Laura.
We like that these coaches don't only have coaching qualification, but have established experiences in technology and business. Combined together, you'll get career advice that's supported by the latest technology and current market trends.
They have a good range of services that include CV masterclasses, organizational coaching, and career coaching for everything from entry-level positions to executive level positions.
We commend them for making it a primary focus to help clients identify their strengths and weaknesses so that they can develop the skills needed to achieve success in the workplace.
Also, they help clients improve their networking skills by teaching them how to use technology and SEO techniques to build an online profile that will help them advance in their fields.
The Smyths understand that everyone has different needs when it comes to finding a job or changing careers, and they tailor each package according to what each client wants out of their session with them
They also teach negotiation techniques through teaching ways on overcoming career blocks with the proper confidence.
However, the Smyths have a limited psychology background and cannot administer basic psychological tests that are usually done in recruitment. Nonetheless, we consider them among the best as it's always two is better than one.
Tailored packages for each client
Has career networking strategies
Teaches negotiation techniques
Free consultation
No psychology background
Lacks psychological tests 
Customer Reviews
Great Masterclass program
"Great Masterclass last night with Paul at Possible Coaching. Picked up some really good tips on how to tailor and structure my CV etc. Would definitely tune into another masterclass in the future." – Nicole Byrne
Helpful insights
"Great experience & Laura was so helpful in nudging and guiding me to insights about my career and long term goals. Highly recommend for anyone looking to take stock and control of their career path." – Fiona
10. Be Coaching Solutions
SERVICES
Life and Career Coaching
WEBSITE
becoachingsolutions.com
ADDRESS
Saint Joseph's Square, Dublin, D03, Ireland
CONTACT DETAILS
[email protected]
+353 872373902
OPERATING HOURS
Monday – Friday, 10:00 AM – 6 PM
| | |
| --- | --- |
| SERVICES | ★★★★★ (5/5) |
| EXPERTISE | ★★★★★ (5/5) |
| TECHNIQUE AND COVERAGE | ★★★★★ (5/5) |
| PRICING AND VALUE | ★★★★★ (5/5) |
Be Coaching Solutions provides a safe atmosphere in which you may be open and honest, allowing you to become your genuine self. Place where you feel at home. They provide non-judgment, responsibility, and elevating awareness to enable you to make better choices for yourself.
Neeve has over 20 years of corporate experience and worked Global Technology Companies such as Meta & Linkedin, coaching Executives of all levels and specialising in Women in Leadership. She knows business and understands people.
Driving alignment between values & beliefs, and optimising the strengths of Neuroscience, individuals are empowered to achieve their Professional & Personal aspirations.
Neeve's Mission via her business is to "Ignite the Power of Possibility' Blending the neuroscience of coaching and fusing it with the essence of the individual, this creates a 'whole' human experience.
Its nimble and adaptive services are available online and in person (Greater Dublin, Ennis, and Lahinch), or a mix of the two, depending on location and needs. They offer a global reach, providing availability in a time zone that works for you and your company. Their services are adaptable and convenient, without sacrificing quality.
Be's transformational coaching is based on the neuroscience method, which is regarded as the most evolved and sophisticated style of coaching. These coaches are the most advanced and industry-relevant instructors on the market today. Coaching using Neuroscience has been shown to provide revolutionary effects and facilitate long-term development.
Experienced coaches
Provides a safe and non-judgemental atmosphere
Reasonable rates
Saturdays and Sundays are open on appointments only
11. Mary Curran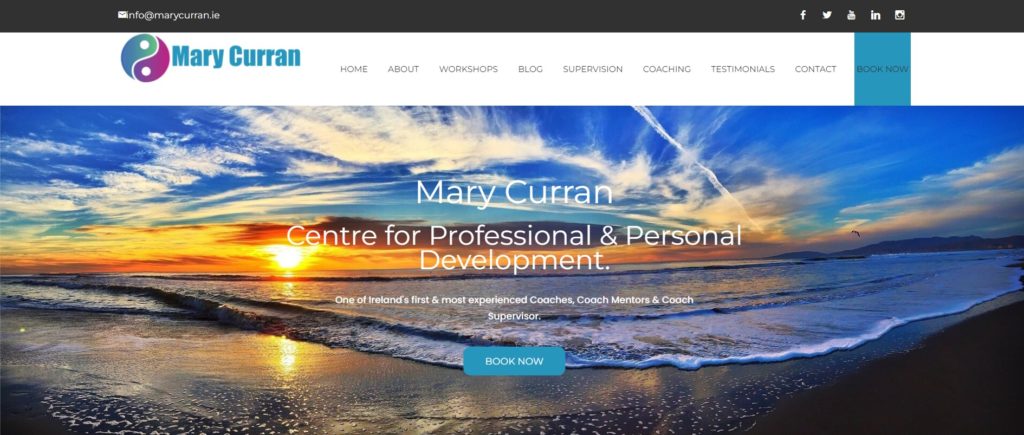 SERVICES
Career Coaching
Relationship Coaching
1-1 Coaching
WEBSITE
https://marycurran.ie/
ADDRESS
21 Fitzwilliam Place, First Floor, Dublin 2, Dublin
CONTACT DETAILS
086 232 8143


[email protected]

OPERATING HOURS
Monday – Friday: 7:30 – 16:00
| | |
| --- | --- |
| SERVICES | ★★★★☆ (4.5/5) |
| EXPERTISE | ★★★★★ (5/5) |
| TECHNIQUE AND COVERAGE | ★★★★★ (5/5) |
| PRICING AND VALUE | ★★★★★ (5/5) |
Mary Curran is a highly experienced career coach based in Ireland, and the founder of the Centre for Professional & Personal Development. What we like about her is that with almost 20 years of full-time experience in the profession, Mary has become one of Ireland's most respected and accomplished coaches, coach mentors, and coach supervisors.
Mary's coaching is unbeatable. Her approach is jargon-free and down-to-earth, making her coaching interventions accessible and easy to understand. This approach is particularly helpful for individuals who may not be familiar with coaching or who are new to the field.
An advantage in working with Mary is that she utilizes various psychometric tools to help her clients gain a deeper understanding of their strengths, weaknesses, and personal preferences. These tools can be particularly useful for individuals who are looking to make a career change or to identify areas for professional development.
Additionally, another benefit in getting Mary as your coach is that she develops personalized coaching plans for each of her clients, based on their specific needs and goals. This personalized approach ensures that clients receive coaching that is tailored to their unique circumstances and challenges.
However, as a highly sought-after coach, Mary's availability may be limited at times. Clients may need to book sessions in advance to secure a slot that fits their schedule.
Utilizes various psychometric tools
Jargon-free and personalized approach
Have positively impacted the careers and businesses of hundreds of individuals
12. MK Career Guidance and Coaching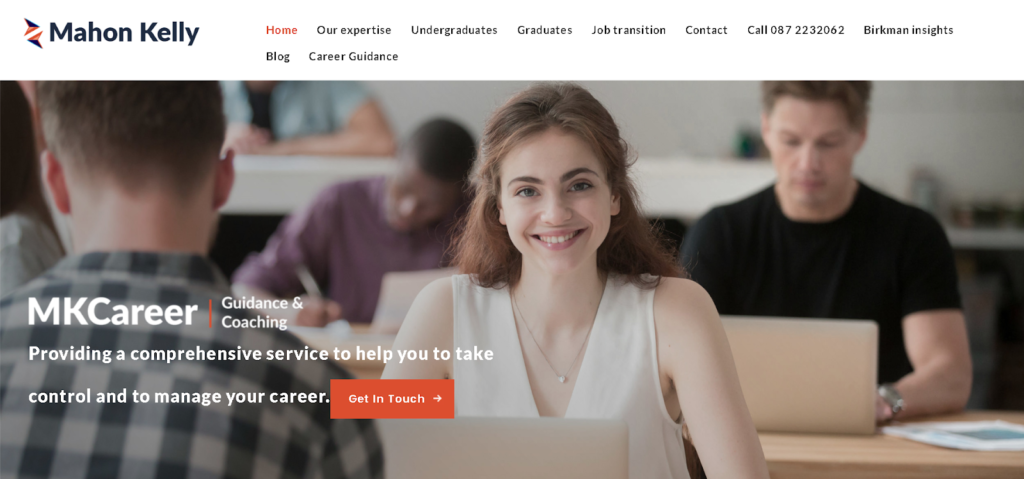 SERVICES
Career coaching for undergraduates
Career coaching for graduates
Career coaching for job transitioning
WEBSITE
careerguidanceandcoaching.ie
ADDRESS
North Dublin Office: 4 South Hill, Sutton, Dublin 13. Eircode: D13NH64
CONTACT DETAILS
087 2232062
[email protected]
OPERATING HOURS
MK Career Guidance and Coaching has been one of the leading experts in providing career coaching in Dublin. Because of their years of highly developed business relationships, they understand how job markets and career paths are changing and what companies are seeking for today.
They are recognized to deal with both corporate and individual candidates. Furthermore, they have over 25 years of experience in human resources, personal development, and recruitment consulting, working with over 40 different firms in Ireland, the United Kingdom, Europe, Canada, and the Middle East.
Some of the advantages we discovered after reviewing them are that they provide real and experienced assistance to help you navigate through a variety of possibilities, allowing you to target your dream career and work role. Furthermore, they will assist you with developing your CV, preparing for interviews, and coaching you in the necessary skills and strategies to get your chosen job.
Genuine, efficient, and result-based coaching advice
Reasonable rates
Over 25 years of experience
Website needs to be updated
FAQs about the top career coaches in Dublin
---
Career coaches are a great way to take a step back from the hustle and bustle of the workplace, and help you think about your professional life from a new perspective.
If you're on the search for life advisors, you may also read this: 8 Of The Best Life Coaches In Ireland
---