Tea Time: 5 Best Spots for Afternoon Tea in Dublin
While afternoon tea was an English invention as a snack time before dinner, Ireland has embraced it for themselves and made it their own as a time to celebrate and relax with friends. It has since then become a popular tradition in Dublin.
With that, here are a number of beautiful and relaxing places perfect for your afternoon tea in Dublin!
How much does afternoon tea cost?
Similar to brunches and buffets, afternoon tea in restaurants usually come with a set menu and package. So, the price varies depending on the components included:
| PACKAGE | PRICE RANGE |
| --- | --- |
| Tea, coffee and food | €35 to €49.50 |
| Tea, coffee, alcohol and food | €49 to €59 |
What makes the best afternoon tea time?
For the most decadent afternoon tea time, it would need the following elements raised to the highest level:
1. Pink Afternoon Tea
Test
Info
MENU
Dessert, Tea
PRICE RANGE FOR TWO
€45
WEBSITE
https://pinkrestaurant.ie/
ADDRESS
34 William St South, Dublin 2, D02 T205
CONTACT DETAILS
01 531 3818
OPERATING HOURS

Monday to Friday - 12NN to 3:30PM

Saturday and Sunday - 11AM to 3:30PM
| | |
| --- | --- |
| MENU | ★★★★★ (5/5) |
| FOOD QUALITY | ★★★★ (4/5) |
| TEA QUALITY | ★★★★★ (5/5) |
| VALUE | ★★★★ (4/5) |
| AMBIENCE | ★★★★★ (5/5) |
What we love here is that pink isn't just a color, it's an experience! Instead of the standard prim and proper tea time, Pink Afternoon Tea makes it more fun, bright and playful.
The interior design is spacious and yet, somehow cozy and intimate. Everything is in a tasteful shade of pink and rimmed in a shimmering gold. Coming in here, it's like you were transported into a fancier Barbie world.
To have your afternoon tea here, however, you're first required to make a reservation on their website, at least one day prior to your set date. This gives them enough time to prepare the exact menu you'd like.
The menu has limited options: five choices each for savory snacks and sweet desserts. Our favorite of the desserts is the White Chocolate and Rose Heart. It's the perfect treat to pair with a cup of tea.
Afternoon tea usually provides room for personal taste, such as having jam and creams set aside for you to choose. But here, the food is already filled in. To make sure you're able to personalize your food, it would be better to inform the staff beforehand.
Nonetheless, the restaurant is beautiful. It's the perfect backdrop for modern-day afternoon tea. While the food and tea are more on the expensive side, they still provide a wonderful, pink experience with friends.
Accommodating staff
Delicious desserts
Beautifully decorated
A little overpriced
Slow service
Reservation-only
Customer Reviews
Lovely Afternoon Tea
"Savory and sweets were a great balance. While I expected more for the price tag, it was great to have some pretty solid bites. The mini croque monsieur was fantastic. Sure. It's expensive, and I'm sure you can find a better experience elsewhere for the cost point, but for what we were seeking, we were absolutely glad we enjoyed it." — J. Hakono
Incredible Interior
"My sisters and I came here when we were visiting Dublin. I am obsessed with the interior! absolutely everything was pink, even the mayo! We were delighted with the cocktails and the desserts were so good. I will definitely be back for my birthday!" — M. July
2. The Vintage Teapot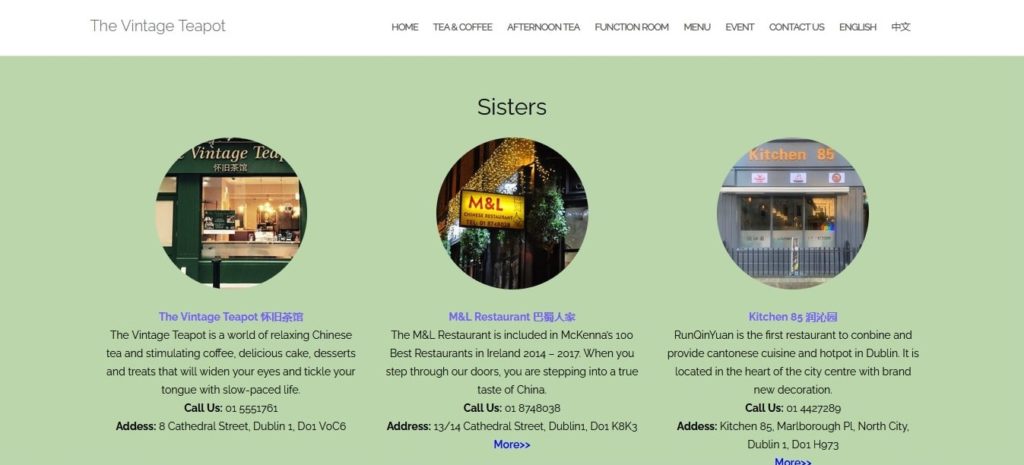 Test
Info
MENU
Chinese cuisine, Desserts, Tea
PRICE RANGE FOR TWO
€39.95
WEBSITE
https://thevintageteapot.ie/
ADDRESS
8 Cathedral Street, Dublin 1, D01 V0C6
CONTACT DETAILS
01 5551761
OPERATING HOURS
Sunday to Wednesday - 10AM to 8PM

Thursday to Saturday - 10AM to 10PM
| | |
| --- | --- |
| MENU | ★★★★★ (5/5) |
| FOOD QUALITY | ★★★★★ (5/5) |
| TEA QUALITY | ★★★★★ (5/5) |
| VALUE | ★★★★★ (5/5) |
| AMBIENCE | ★★★★★ (5/5) |
The Vintage Teapot is a picturesque tea house that provides a new and interesting experience for avid tea lovers in Dublin. Tucked away in Cathedral Street, this tea house may be a little hard to find. But it's such a worthy find!
Inside, it's an intimate setting. The tight space helps with the coziness. The seating is modern black leather; the tables a matching black, right next to beige walls washed in yellowish lighting and decorated with Chinese artwork and teapots.
Despite this though, they do have a separate function room you can book. This one has decent space, with lots of plush seating and dark brown woods. It's great for afternoon tea with a big group!
What we enjoy the most here is their unique take on afternoon tea. They've embraced the traditional afternoon tea and gave it a fun Chinese twist. Other than the standard little desserts and Irish tea, they've included dumplings as well as Chinese tea.
It works so well, we recommend it. The food is excellently made at a reasonable price. It's served with grace and attention; the staff friendly and accommodating to any request.
The Vintage Teapot is the go-to tea spot for all tea lovers looking for a refreshing and extraordinary take on the afternoon tea experience. It provides an unforgettable time.
Comfy atmosphere
Unique experience
Wide range of choices
Excellent tea and food
Hard to find
Inactive social media
Customer Reviews
Wide Range of Teas
"Having sampled many afternoon teas in the city, it was refreshing to be offered a wide range of teas as well as coffees. We opted for traditional afternoon tea, but they offer a birdcage option, which looked delicious for the more adventurous customer.
I would definitely recommend a stop here on any trip to the city centre, the tray bakes and cakes look fabulous. I'll be back." — Culture
Relaxing Tea and Cake in a Quaint Tea House
"It's a great little cafe, designed with a modern take on Asian tea houses. The staff are very welcoming and they have a great selection of teas and cakes. The atmosphere is very relaxing – we were only 2 of about 6 people in the whole place—and it's a great place to chill out, even so close to the city centre. If you're looking for something with character, and different from the usual branded/chain places like Starbucks, then come here!" — Allinred
3. The Morrison Hotel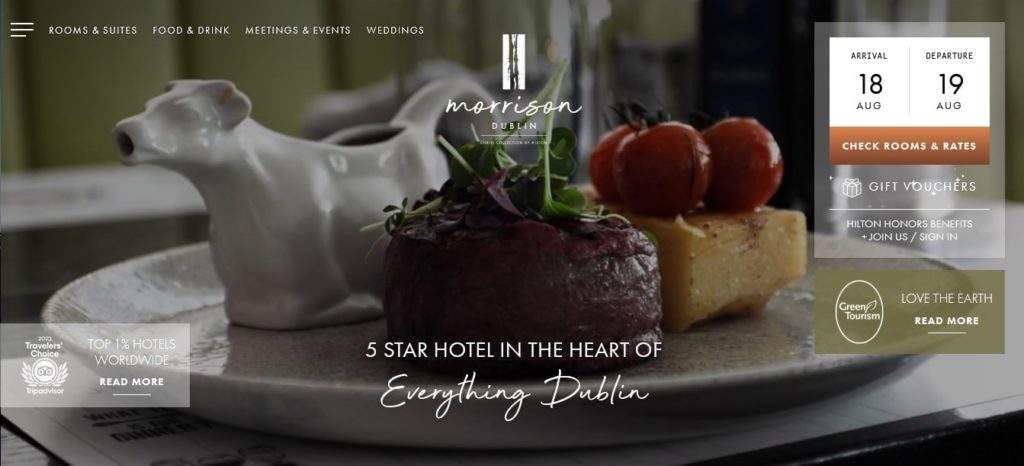 | Test | Info |
| --- | --- |
| MENU | Dessert, Tea |
| PRICE RANGE FOR TWO | €42 |
| WEBSITE | https://www.morrisonhotel.ie/ |
| ADDRESS | Morrison Hotel, Ormond Quay Lower, D01 K5X5, Dublin 1 |
| CONTACT DETAILS | +353 1 887 2400 |
| OPERATING HOURS | 12NN to 11:30PM |
| | |
| --- | --- |
| MENU | ★★★★★ (5/5) |
| FOOD QUALITY | ★★★★★ (5/5) |
| TEA QUALITY | ★★★★★ (5/5) |
| VALUE | ★★★★★ (5/5) |
| AMBIENCE | ★★★★★ (5/5) |
Morrison Grill is found in the lobby of The Morrison Hotel, a statuesque, brick building located in the center of the city. Don't worry, you don't need a hotel reservation to eat at the restaurant, but you should definitely book a table beforehand.
Morrison Grill is well-decorated with its polished wood tables and comfortable seating, like in any other high-end restaurant. There's also a clear view of the street outside, filling the place with natural light.
As expected, the staff is welcoming and accommodating. The moment you step in, they'll provide you with a delicious complimentary prosecco!
We love that their afternoon tea has a number of packages: Fancy Pants Afternoon Tea, Gentlemens' Tea, Vegan Afternoon Tea and Wheat Free Afternoon Tea. They all come with different sets of food and drinks.
Across the board though, their afternoon tea comes with the standard dessert tray of three tiers, all scrumptious, whether savory or sweet. It's actually quite a traditional set of food.
However, their beverages are more modern. Other than tea, there are other choices, such as coffee or even champagne, which is a lovely twist for more non-traditional tea lovers.
If you're looking for a high-end backdrop for your afternoon tea at a reasonable price, you can't go wrong with The Morrison Hotel.
Friendly staff
Great atmosphere
Wide menu variety
Delicious food and desserts
Fair priced
Booking-only
Less attentive staff
Customer Reviews
Great Tea Time
"The only thing traditional about the tea at the Morrison was the food, which was very very good! We chose the Fancy Pants tea, and the Gentleman's tea so that we could taste it all. The price was very good, and the service could have been just a bit more attentive. The service team finally figured out that we would need more tea or more scones. I'm going to say it again; the food was wonderful! The setting was very near the hotel lobby, absolutely nothing traditional about the setting. We would do this again in a heartbeat!" — Thomas O.
Wonderful Afternoon Tea
"Absolutely loved our afternoon tea visit. Staff were so accommodating, friendly and professional. Thank you to everyone & the wonderful chefs. We look forward to our next visit." — Mags P.
4. Póg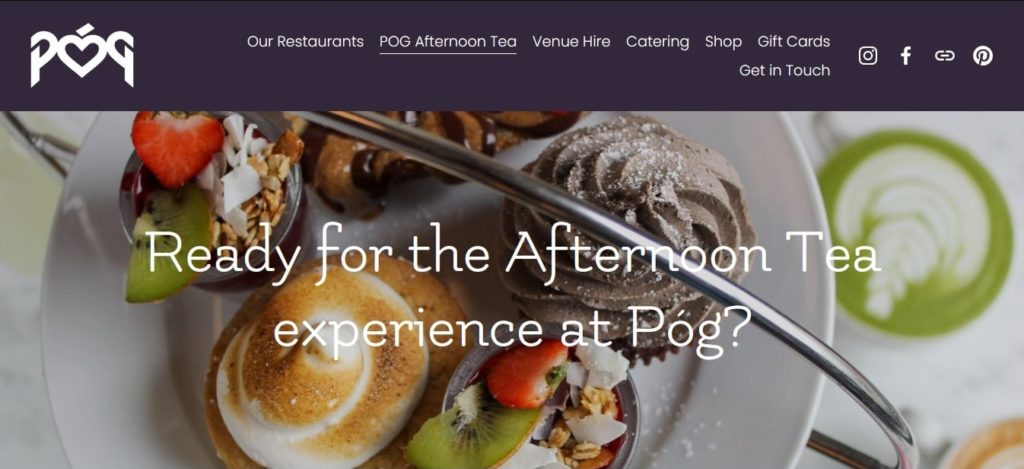 Test
Info
MENU
Dessert, Tea
PRICE RANGE FOR TWO
€35
WEBSITE
https://www.ifancyapog.ie/
ADDRESS
Unit 2 Trinity Plaza, Tara Street, Dublin 2
CONTACT DETAILS
(01) 5374103
OPERATING HOURS
Monday to Friday - 8AM to 3:00PM

Saturday and Sunday - 2PM to 3:00PM
| | |
| --- | --- |
| MENU | ★★★★★ (5/5) |
| FOOD QUALITY | ★★★★ (4/5) |
| TEA QUALITY | ★★★★ (4/5) |
| VALUE | ★★★★ (4/5) |
| AMBIENCE | ★★★★ (4/5) |
Póg is the epitome of a modern cafe with its wide bay windows, exposed walls, neon lights, hanging plants and beige and black seating. Yet, it's known as a breakfast place with the perfect pancakes as well as some delicious afternoon tea.
The cafe itself isn't that big, but the closeness works well for intimate and casual afternoon tea. Their afternoon tea itself also has more diverse menu choices.
For their afternoon tea, they have two menu sets: one for the traditional, regular tea and another with entirely vegan choices. We love their unique twist on combining healthy and sweet snacks.
At €37, it already comes with unlimited tea and coffee. There is a great selection of teas available, from the classic black teas to teas with herbal infusions.
If you're ordering from their vegetarian menu though, we highly recommend the Green Tea Ginseng. Its refreshing flavor pairs well with their signature avocado on toast for a relaxing afternoon.
Unfortunately, their service is not as excellent as their selection of teas. Due to the restaurant's small space, it's often crowded. The food comes out slowly and the staff is constantly rushing.
Because of that, the price of the experience may feel too steep. Nonetheless, for tea lovers with a health kick, this is a great spot for a more casual and relaxed afternoon tea.
Wide range of options
Delicious dessert
Intimate atmosphere
Booking-only
Expensive
Slow service
Customer Reviews
Amazing!
"All the staff is amazing and the food is fantastic! The place is a little small so it can get busy fast, but if you know that coming in, then you should be understanding if there is a little bit of a wait." — Kendra M.
Lovely Time
"The staff were so friendly, it was busy but still felt relaxed and I couldn't believe how reasonably priced the lunch was. We all had a lovely time and will be back." — Sarah D.
5. Vintage Tea Tour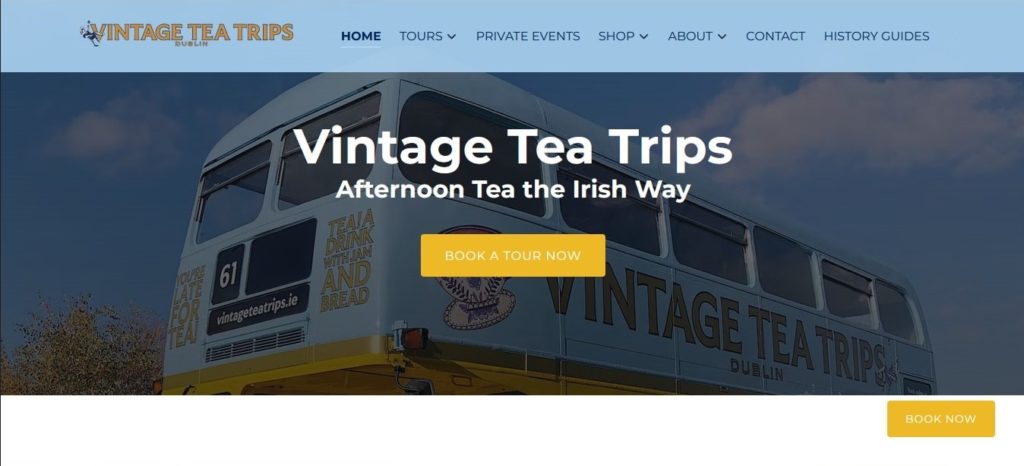 Test
Info
MENU
Dessert, Tea
PRICE RANGE FOR TWO
€31
WEBSITE
https://www.vintageteatrips.ie/
ADDRESS
4 Essex Street East, Dublin 8
CONTACT DETAILS
01 255 1777
OPERATING HOURS
Monday and Tuesday - 1:15PM, 3:30PM

Wednesday to Sunday - 11AM, 1:15PM and 3:30PM
| | |
| --- | --- |
| MENU | ★★★★ (4/5) |
| FOOD QUALITY | ★★★★ (4/5) |
| TEA QUALITY | ★★★★ (4/5) |
| VALUE | ★★★★★ (5/5) |
| AMBIENCE | ★★★★★ (5/5) |
For the ultimate unforgettable afternoon tea, Vintage Tea Tips is your go-to mobile cafe.
Vintage Tea Trips has three double decker buses that can be booked. These were last used for transport in London, and there's something nostalgic about them.
It's this nostalgia that Vintage Tea Trips tries to bring out with their 1950s jazz music and the historical stories hosts would share about specific areas of Dublin.
Speaking of hosts, they're absolutely terrific. They're amiable, ready for any conversation, and tell stories with such enthusiasm.
However, the food they serve may not be as terrific. Since this afternoon tea is set up in a tour bus, the food is not as fresh and the options are less than the standard dessert tray. Our favorite, though, is the Lemon and Raspberry Tart for its nostalgic sweetness.
Vintage Tea Trips provide the perfect blend of modern-day playfulness and sentimental tradition for afternoon tea, perfect for tea lovers looking for an experience unlike any other.
Unique and amazing experience
Friendly and attentive staff
Delicious dessert and tea
Tight space
Less savory dishes
Booking-only
Customer Reviews
Afternoon Tea On The Go
"We were on the bus on a day with lashing rain, but that didn't ruin our day. It's a lovely old bus and we enjoyed a little trip around Dublin under our blankets, while Ella did a wonderful job telling fun little stories about the different places. There was all the tea, coffee and hot chocolate you could drink (just remember, there is no toilet on the bus) with your scones and cakes, the only thing we would have loved is a bit more savory treats instead of sweets. It was a fun way to do your afternoon tea and I would recommend it if you want to see a bit of Dublin while sipping tea." — Michelle F.
Better Than Expected
"We LOVED our tea tour. The food was amazing and they beautifully accommodated our celiac dietary restrictions. The information was enjoyable and the host and hostess were kind, warm and engaging. I highly recommend!" — Karlyn S.
FAQs about Afternoon Tea
---
While you can always do afternoon tea at home, it becomes an entirely new experience when it's somewhere special. We hope these spots make your tea time even more memorable!