5 Fun-tastic Karaoke Bars in Dublin
Nothing is more fun than a karaoke night with friends at a bar. Whether you want to relieve stress, to meet new friends, or to let out your feelings, karaoke in Dublin is the fun solution for it all!
And we've found the perfect karaoke bars in Dublin just for you!
How much does karaoke cost?
Karaoke bars usually have set packages of food and drinks, so the price more often depends on the time of day, day of the week, and the general size of the room. It usually costs like this:
| PACKAGE | PRICE RANGE |
| --- | --- |
| | WEEKDAYS, AFTERNOON |
| Small Room / Hour | €20 to €25 |
| Large Room / Hour | €20 to €35 |
| | WEEKDAYS, NIGHT |
| Small Room / Hour | €45 to €80 |
| Large Room / Hour | €60 to €100 |
| | WEEKENDS, AFTERNOON |
| Small Room / Hour | €35 to €40 |
| Large Room / Hour | €40 to €45 |
| | WEEKENDS, NIGHT |
| Small Room / Hour | €60 to €166 |
| Large Room / Hour | €95 to €166 |
Think carefully about your budget. There might be added fees for reservation and food separate from the package. While karaoke seems expensive, it won't really hurt your wallet as much when there's a lot of people joining.
What makes a fun-tastic time in karaoke?
It takes a few key elements to have an unbeatable, fun-tastic time in a karaoke bar:
1. Maneki Japanese Cuisine and Karaoke Box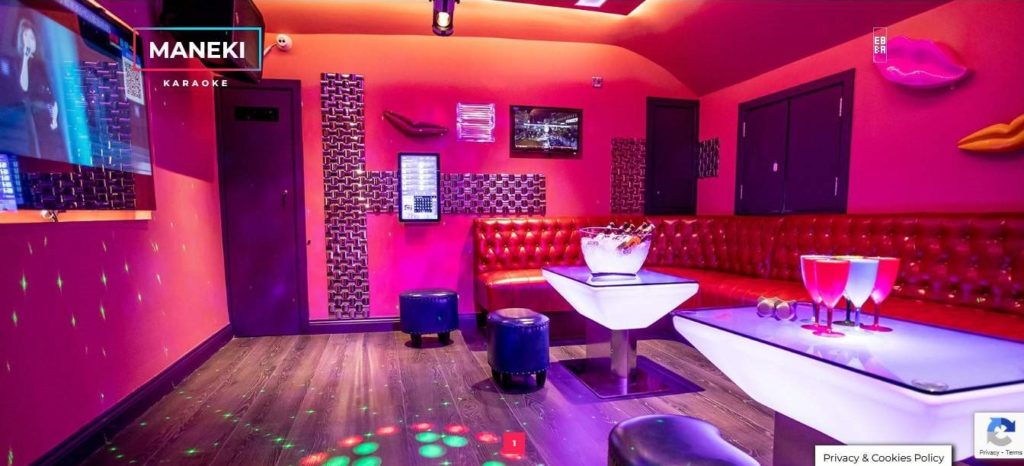 Test
Info
MENU
Japanese cuisine
PRICE RANGE
€25 to €999
WEBSITE
https://maneki.ie/
ADDRESS
43 Dawson Street, Dublin 2 Ireland
CONTACT DETAILS
+353 1 561 0889
OPERATING HOURS
Sunday to Thursday - 12NN to 10:30PM

Friday and Saturday - 12NN to 11:30PM
| | |
| --- | --- |
| MENU | ★★★★★ (5/5) |
| FOOD QUALITY | ★★★★★ (5/5) |
| AMBIENCE | ★★★★★ (5/5) |
| EQUIPMENT | ★★★★★ (5/5) |
| VALUE | ★★★★★ (5/5) |
Maneki Japanese Cuisine and Karaoke Box serving lunch and dinner downstairs with a party area upstairs. They have a variety of karaoke rooms, all designed in stylish and lively colors with plush seating and fun lighting.
Stepping inside one of these rooms, you instantly know it's party time! The equipment is ready – a gigantic TV, microphones and a surround sound system.
They have the food to show for it too. Their menu contains a wide variety of Japanese dishes and drinks. What's unique here is that they offer a special package that'll have you dining while singing karaoke. This is not something all karaoke bars offer.
This is a fantastic package, where you get to eat three meal courses and have at least two hours of karaoke. The service is competent and attentive as well, even in private rooms. It starts at around €45, but if there are five of you, that's simply €9 each!
That's not a bad price to pay for delicious food, excellent service, karaoke, and just an overall good time! Afterwards, you can have a real dinner downstairs. But as expected, it would be somewhat noisy, with all the karaoke upstairs.
Multiple packages
Dining and karaoke
Delicious food and drinks
Attentive and fast service
Customer Reviews
Great Karaoke Facilities!
"Great spot for karaoke, good service and drinks delivered promptly to the private room. Highly recommend it for team events." — Francesca T.
An Experience to Remember!
"We visited Maneki yesterday afternoon for my cousin's hen do. We had booked 4 hours for karaoke and dinner (two courses). There were 18 of us and honestly the service was incredible. The drinks were prompt and everyone was so attentive. The food was great and it was such a laugh, I would highly recommend visiting for any occasion, or even just for a meal. I forgot to note down the name of our waitress which I'm gutted about because she honestly made our afternoon feel so special. Thank you so much!" — Bethan O.
2. Marrakesh by Mindo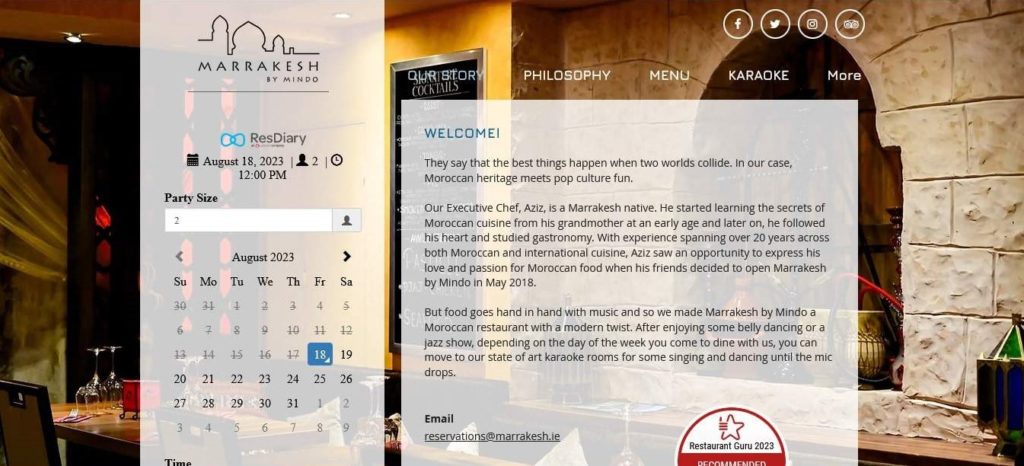 Test
Info
MENU
Moroccan cuisine
PRICE RANGE
€80 to €100
WEBSITE
https://www.marrakesh.ie/
ADDRESS
121/122 Capel Street, Dublin 1, D01 V3P0
CONTACT DETAILS
(01) 878 8988
OPERATING HOURS

Dining Restaurant:

Monday to Thursday - 4PM to 10PM

Friday to Saturday - 12NN to 10:30PM

Sunday - 12NN to 10PM




​Karaoke:

Mon to Sun - 4PM to 12AM
| | |
| --- | --- |
| MENU | ★★★★★ (5/5) |
| FOOD QUALITY | ★★★★★ (5/5) |
| AMBIENCE | ★★★★★ (5/5) |
| EQUIPMENT | ★★★★ (4/5) |
| VALUE | ★★★★4 (4/5) |
Marrakesh by Mindo is a beautiful, karaoke restaurant in Capel Street, where Moroccan cuisine collides with fun and food comes with music. Stamped with a recommendation from Restaurant Guru this 2023, this is a restaurant you cannot miss.
Upstairs is the dining space, dressed in dark woods, stone walls and African patterns. It's a stunning place for dinner, especially a romantic one.
But the fun begins in their karaoke rooms downstairs. They have a number of rooms in a variety of sizes. It isn't as bright and lively as the standard karaoke room, but there is something exciting and rich about its subtle decor, with plush seating and glass tables.
The ambiance here is more relaxing, but it's not any less fun. We recommend trying out their signature dish, the Marrakesh Tagine, a slow-roasted lamb that melts in your mouth, and pair it with a glass of wine. It'll make karaoke even more exciting.
The only unfortunate thing is with the equipment. Microphones frequently break; their system is sometimes too complicated to navigate; and their catalog of songs is too limited to sing.
There have been multiple cases when time would be wasted on fixing this equipment, instead of having fun. Nonetheless, the staff is eager to help out.
Still, for a more unique experience to karaoke, Marrakesh by Mindo is the place to go.
Delicious drinks and food
Beautiful ambiance
Limited selection of songs
Unorganized karaoke
Customer Reviews
Best Karaoke in Dublin!
"Excellent venue, super staff, amazing atmosphere and facilities! It's an awesome place for a team / or night! Food is top quality and the karaoke rooms are the best in Dublin! Will definitely be back! So much fun, definitely a place to make memories!" — Joanne O.
We All Sang with the Voice of Angels
"The night itself was a complete success, the service was fantastic, and the food – well there were alot of empty plates. After our dinner we just needed to step downstairs for karaoke – no wandering around Dublin hoping everyone would get in something and then standing/squeezing space – a private booth with table service – and after a few extra glasses of wine – there was no worrying about playlists. Five star experience at a fabulous price – we will be back." – Imos
3. Wigwam
| Test | Info |
| --- | --- |
| MENU | Irish and Mexican cuisine |
| PRICE RANGE | €20 |
| WEBSITE | https://wigwamdublin.com/ |
| ADDRESS | 54 Middle Abbey St, Dublin 1 |
| CONTACT DETAILS | (01) 873 4020 |
| OPERATING HOURS | Monday to Sunday - 12NN to late |
| | |
| --- | --- |
| MENU | ★★★★★ (5/5) |
| FOOD QUALITY | ★★★★★ (5/5) |
| AMBIENCE | ★★★★★ (5/5) |
| EQUIPMENT | ★★★★★ (5/5) |
| VALUE | ★★★★ (4/5) |
If there's a party, Wigwam is where it's at! The front is small and misleading, but once you step inside, it's really a three-story restaurant bar, complete with a pingpong table, a disco space, and of course, a karaoke room.
Unfortunately, they only have one karaoke room. It is, however, spacious enough to fit at most 20 people. The interior design isn't as premium, but it is complete with a large TV, microphones, and decent speakers. It's enough for a casual night out.
It's also so affordable. At €20, you can reserve a room for 45 minutes. They're adamant about pre-booking, though; and they have a rule that your booking is final when you've actually paid. This is important to keep in mind.
While that €20 comes with no set menu, you can order from their website. They have an ordering system attached to their website that you can access on your phone; and they will have the food delivered to your room.
The food is the standard Irish cuisine, with a touch of inspiration from Mexican cuisine. We recommend their Vegan Burger as a healthy snack in between partying, and their Pina Colada for stronger partying.
The service, however, leaves more to be desired. Sometimes, they are attentive and efficient; other times, less so. We suspect this is due to the number of people constantly flowing through the bar. But they're always cheerful and ready for a conversation.
Nonetheless, for a karaoke night you may forget but never regret, Wigwam is where you should go.
Great party vibes
Affordably priced
Delicious food
Inconsistent service quality
One karaoke room
Customer Reviews
Best Night in Dublin
"David and Chris for Bingo were the funniest, most welcoming staff members ever. Seriously book a table in advance and get on down here: their Manager has them to thank for so so so so many drinks being bought: amazing friendly attitude. Would recommend it to anyone." — Stay
Worth a Visit
"We booked a karaoke booth for 20 euro for 10 people last saturday. The staff were friendly and welcoming and couldn't do enough for us. We ended up having the booth for longer than expected due to no bookings. Drinks were reasonably priced for Dublin too. Karaoke was newly decorated and spacious." — Charlene C.
4. Ukiyo Bar and Restaurant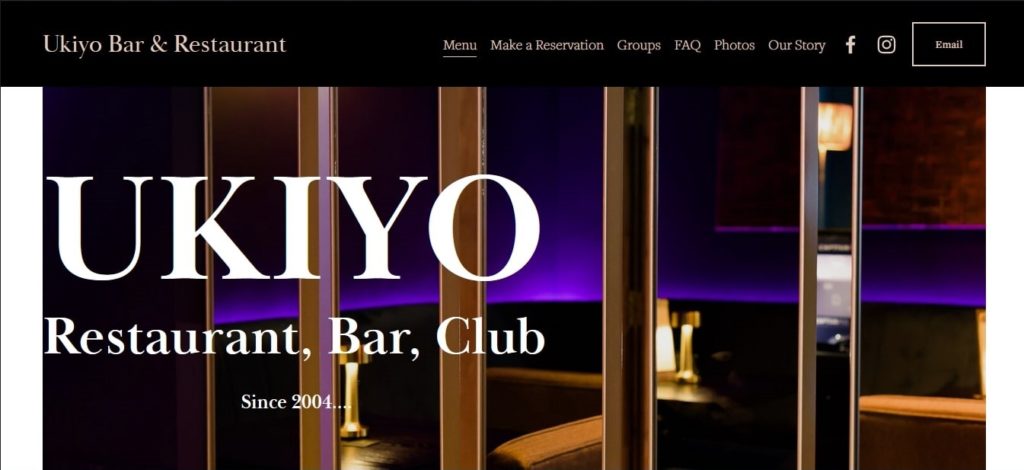 | Test | Info |
| --- | --- |
| MENU | Japanese and Korean cuisine |
| PRICE RANGE | €500 |
| WEBSITE | https://www.ukiyobar.com/ |
| ADDRESS | 7 Exchequer Street, Dublin 2 |
| CONTACT DETAILS | (0) 1 6334071 |
| OPERATING HOURS | Monday to Sunday - 12NN to 12:30AM |
| | |
| --- | --- |
| MENU | ★★★★★ (5/5) |
| FOOD QUALITY | ★★★★★ (5/5) |
| AMBIENCE | ★★★★★ (5/5) |
| EQUIPMENT | ★★★★★ (5/5) |
| VALUE | ★★★★ (4/5) |
Ukiyo is a high-end restaurant that fuses two cuisines: Japanese and Korean. These are two cuisines that at their core, is all about communal sharing and enjoyment.
So, it comes to no one's surprise that its food comes with music! They offer a karaoke room big enough to fit eight to ten people, with a decent karaoke machine, an almost endless number of songs, a bluetooth sound system, and even laser lighting.
What may come as a surprise is their set price of €500. This covers, however, three hours of karaoke, an exclusive waiter who you can summon by a bluetooth bell, and dinner from their set menu.
The dinner includes a number of great dishes. But what we recommend the most is their Chicken Gyoza. Other than tasting crisp and delicious, it's a great stomach-filler in between bouts of singing and drinking.
It makes for a wonderful, private experience of dining and singing along with family—all for about €16.67 per person in those three hours.
The only downside is the service. As Ukiyo is also a bar and a restaurant, the staff is often rushing between areas to accommodate requests. It may slow down some service in the karaoke room.
Nevertheless, eating Japanese and Korean fusion meals while singing karaoke with friends sounds like an excellent night to us!
Excellent food and cocktails
Wide variety of choices
Efficient staff
Inconsistent service quality
Expensive set price
Customer Reviews
Amazing!
"It was amazing! So friendly and accommodating. The karaoke room was so fun and the cocktails were delicious. We will definitely be back because the food looked amazing." — Excursion
Funky House and Disco Vibes
"Just happened to stumble across this place – the funkiest house & disco we heard all weekend in Dublin on the Saturday night, it was pure vibes! Excellent cocktails, too." — Neilo
5. Boba Bar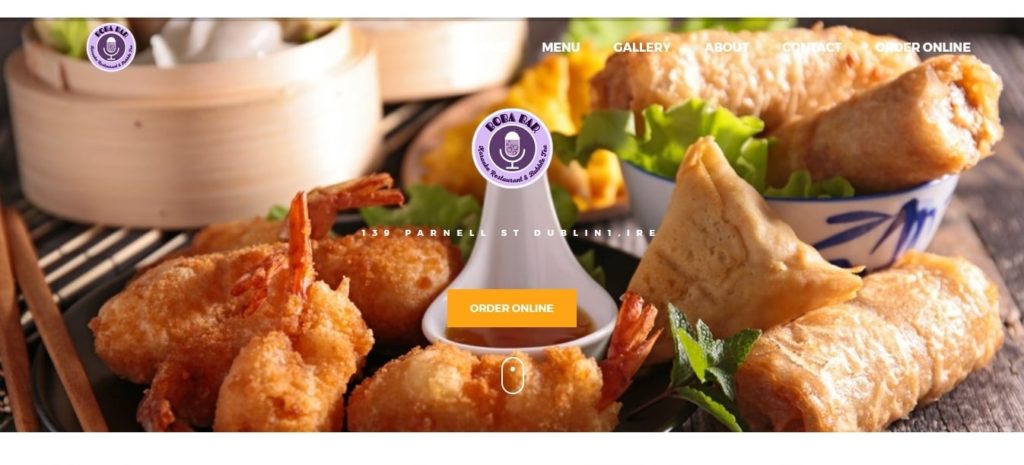 | Test | Info |
| --- | --- |
| MENU | Vietnamese cuisine, Bubble Tea |
| PRICE RANGE | €40 |
| WEBSITE | https://www.bobabar.ie/ |
| ADDRESS | 139 Parnell St., Dublin 1 |
| CONTACT DETAILS | 015 - 559888 |
| OPERATING HOURS | Monday to Sunday - 12NN to 10PM |
| | |
| --- | --- |
| MENU | ★★★★★ (5/5) |
| FOOD QUALITY | ★★★★★ (5/5) |
| AMBIENCE | ★★★★★ (5/5) |
| EQUIPMENT | ★★★★★ (5/5) |
| VALUE | ★★★★ (4/5) |
Hidden on top of a Vietnamese restaurant are two karaoke rooms! Boba Bar is an adorable, quaint cafe that offers a wide selection of bubble tea and of warm and authentic Vietnamese food.
You'd think it would be a strange combination, but it somehow works. The bubble tea will get you into a playful mood, enough for a hilarious and fun karaoke session upstairs. To relax, some comforting Vietnamese food can be delivered into your room.
They have two karaoke rooms, both spacious enough to fit 12 and 15 people respectively. It is washed in blue and purple lighting, decorated with a soft wrap-around couch and neon lights on the wall.
It's complete with a large TV screen and even the ability to connect it onto YouTube for other songs. We love that they have a wide catalog as well, including Chinese and Vietnamese songs. It's accessible!
Unfortunately, the quality of the service is inconsistent. Staff are often distracted with other needs, although they are cheerful and accommodating.
Still, at its affordable price of €40, that's €2.67 per person for an hour. That's basically a steal! For a more casual and fun time with friends, this is the best karaoke bar for you.
Delicious food and drinks 
Unique experience
Affordably priced
Spacious rooms
Wide range of songs
Inconsistent service
Not much information about their karaoke online
Customer Reviews
Karaoke For Ourselves!
"I went to the boba bar with my friend and had a lovely time! We ate dinner and it was so good. The staff was really nice to us and we ended with a karaoke, we had the whole room for ourselves." —- Joanna Sanspoux
Cute, Sweet, Great Food at a Great Price!
"The curry I had was amazing, with massive portions of rice and side dishes of noodles for an awesome price. Bubble tea is awesome hot, warm, or cold. They're all great. The place is adorned with giant teddies and other cute decorations giving the place a lovely relaxed atmosphere." — Rainbow Kitty
FAQs about Karaoke
---
Karaoke may not be everyone's cup of tea, but don't knock it out 'til you try it! Sing well or not, it doesn't matter at the end of the day. It'll just be a grand ol' fun-tastic time with friends!