5 Must-Try Vietnamese Restaurants in Dublin
One of the most unique cuisines in the world, Vietnamese food is where you go for an exceptionally satisfying, healthy meal with friends.
So, whether you're trying to shift your diet or to expand your palate, we have here a list of the most delicious Vietnamese restaurants in Dublin! 
How much does Vietnamese food cost?
Like every other restaurant, the price of Vietnamese food will depend on the ingredients, equipment used, and cooking time. But on average, here are the prices of the most popular Vietnamese dishes:
| FOOD | PRICE RANGE |
| --- | --- |
| Pho (Vietnamese Noodle Soup) | €7.00 to €14.50 |
| Nem Ran (Fried Spring Rolls) | €4.00 to €5.50 |
| Banh Mi (Baguettes) | €5 to €8 |
| Banh Xeo (Crepe Wrap) | €6.50 to €15 |
| Thit Nuong (Grilled Pork) | €9.50 to €17 |
The Best Dining Experience in a Vietnamese Restaurant
Any Vietnamese restaurant will give you a wonderful time, but to have the best time, there is a number of specific qualities needed: 
1. Pho Kim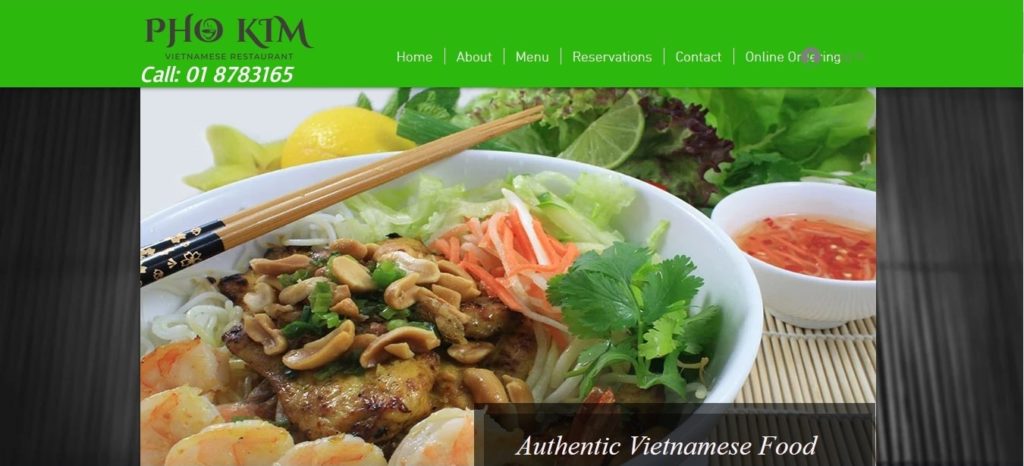 Test
Info
MENU
Traditional Vietnamese cuisine
PRICE RANGE
€10.95
WEBSITE
https://www.phokim.ie/
ADDRESS
162 Parnell Street, Dublin 1
CONTACT DETAILS
01 8783165
OPERATING HOURS
Sunday to Thursday - 12NN to 10PM

Friday and Saturday - 12NN to 11PM
| | |
| --- | --- |
| AUTHENTICITY | ★★★★★ (5/5) |
| MENU | ★★★★★ (5/5) |
| FOOD QUALITY | ★★★★★ (5/5) |
| VALUE | ★★★★★ (5/5) |
| AMBIENCE | ★★★★★ (5/5) |
One of the first Vietnamese restaurants in Ireland, Pho Kim is a humble, neighborhood establishment. It was a Vietnamese family's dream come true, a passion come to life, when they migrated to Ireland back in the 1970s.
It came from a desire to share a piece of their own culture in a foreign land and it shows in the prices of their dishes. Each one is priced reasonably, starting at €14.50 for a main meal.
It's also in their menu: from comforting soups like Pho Ga, their chicken noodle soup; to spicy like Ca Ri Ga, their own curry; to vegetarian, like Pho Veg, their tofu and veggie soup.
Additionally, the staff is so helpful and kind. They're ready to guide you throughout their menu, answer questions and provide recommendations. We find this wonderful especially for first-timers trying out Vietnamese cuisine.
But the downside is that Pho Kim is often fully booked. Sometimes, it can get so hectic the service slows down and the staff has difficulty accommodating everyone. The small space doesn't help.
One thing to keep in mind too is that they aren't open to take-aways until an hour before their closing hour. But to be honest, we recommend dining inside the restaurant, anyway. The food and ambience are worth staying in for.
If you're coming by to take a bite, be sure to either reserve first on their website or to come before the peak hours! We promise you, for the days you're in need of comfort, this is the place to go.
Excellent and authentic Vietnamese food
Accommodating staff
Wide menu variety
Affordably priced
Small space
Open for take-aways an hour before closing
Customer Reviews
An Amazing Restaurant and Dining Experience
"What a brilliant find! Amazing menu, food and people. The management / staff were excellent — so friendly, helpful with menu choices and pleasant. The menu was authentic and varied — something to suit everyone's tastes. The meals were well prepared and served — so fresh and flavorsome. We visited twice in a week, which speaks volumes." — Barry
A Hidden Gem
"A hidden gem. I went to Pho Kim last night with 2 other couples. Staff service was superb. Food was delicious, we had a variety of dishes across the group and all were really really good. Cannot wait to recommend this to my friends." — Meander
2. Aobaba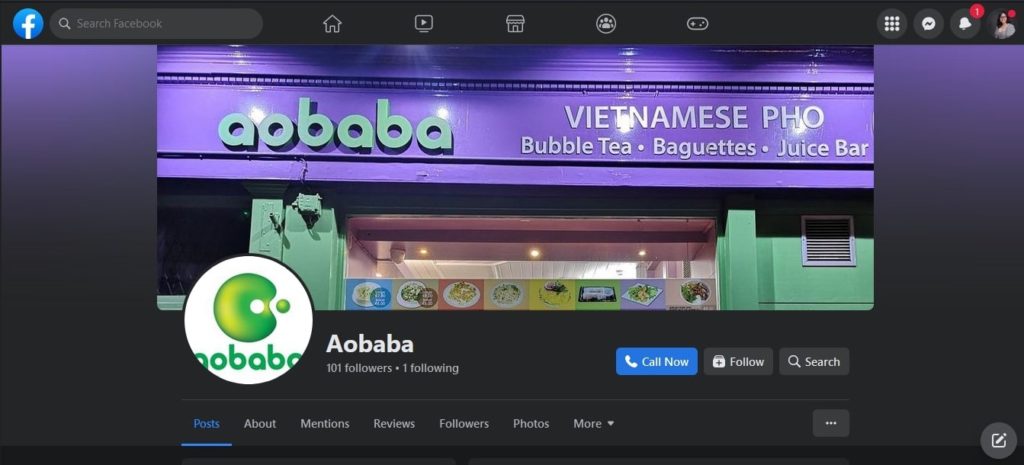 | Test | Info |
| --- | --- |
| MENU | Traditional Vietnamese cuisine, Bubble Tea |
| PRICE RANGE | €10.00 |
| WEBSITE | https://www.facebook.com/aobabadublin/ |
| ADDRESS | 46A Capel Street, Dublin |
| CONTACT DETAILS | +353 1 878 8555 |
| OPERATING HOURS | Sunday to Saturday - 12PM to 9PM |
| | |
| --- | --- |
| AUTHENTICITY | ★★★★★ (5/5) |
| MENU | ★★★★★ (5/5) |
| FOOD QUALITY | ★★★★★ (5/5) |
| VALUE | ★★★★★ (5/5) |
| AMBIENCE | ★★★★ (4/5) |
For a quick health fix, a great place to go is Aobaba in Capel Street. It's a small restaurant that offers a unique, casual experience: to satisfy all your cravings for Vietnamese food and bubble tea!
Their menu is varied enough, and the meals authentic, with noodle soups like the famous Pho; fried rice like Yang Chow Fried Rice; and the classic Banh Mi with grilled pork.
But to make meals more fun, they have a selection of bubble tea flavors, including milk tea, Vietnamese coffee, and the standard fruit smoothies.
The savory, flavorful main meal partnered with an iced, sweet beverage is a strange mixture. But it worked, especially for a meal like the Spicy Hue Style Noodle Soup. While the soup warms you up on a cold day, the beverage keeps the spice at bay.
All affordably priced, Aobaba provides the perfect place for casual lunches or mid-day snacks. It can host only a number of people, however. About 16 to 20 people can fit inside, while a couple more can fit in their alfresco dining area.
It's also often filled with people. As a result, service can be a bit slow and meals can take a lot longer to prepare. But for an inexpensive, delicious and fun meal, you might not mind it.
Authentic Vietnamese cuisine
Affordably priced
Unique, casual experience
Customer Reviews
Vietnamese Street Food
"We walked past this busy little cafe several times on our trip to Dublin & had to give it a try before we left. Spring rolls were really tasty, followed by excellent Beef / Pork Pho. Generous portions, fantastic value & fantastic & authentic Vietnamese Street food. Great place!" — Chris H.
Best Pho in Dublin
"Been frequenting this shop since 2016. The standard of food has remained the exact same, excellent pho, so savory and super delicious. For 9 euro, a large bowl of pho is excellent value. I've never had any bad experiences in this shop, they really have a customer based focus." – Rena
3. Pho Ta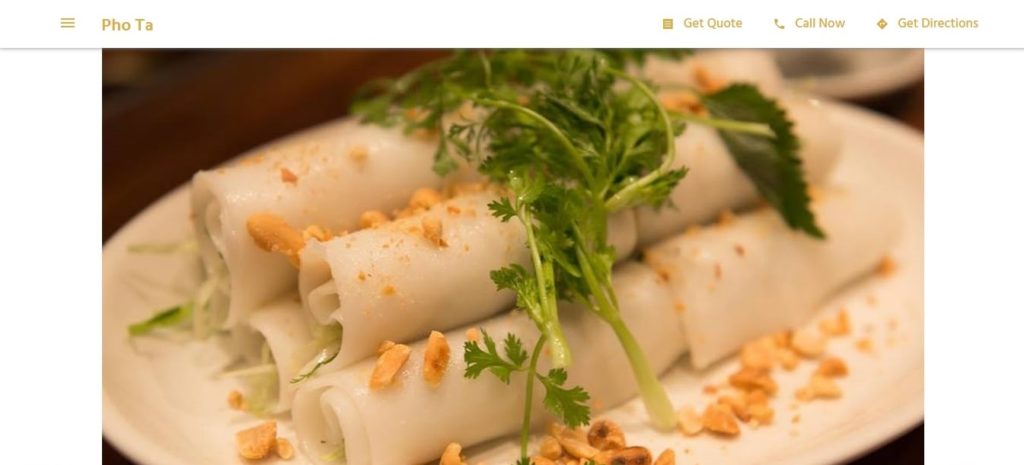 Test
Info
MENU
Traditional Vietnamese cuisine
PRICE RANGE
€20.00
WEBSITE
https://pho-ta.business.site/
ADDRESS
6 Cope Street, Temple Bar, Dublin 2, Dublin
CONTACT DETAILS
(01) 671 8671
OPERATING HOURS
Sunday to Wednesday - 12:30PM to 10PM

Thursday to Saturday - 12:30PM to 11PM
| | |
| --- | --- |
| AUTHENTICITY | ★★★★★ (5/5) |
| MENU | ★★★★★ (5/5) |
| FOOD QUALITY | ★★★★★ (5/5) |
| VALUE | ★★★★★ (5/5) |
| AMBIENCE | ★★★★★ (5/5) |
At the center of the city sits a traditional, family dining establishment called Pho Ta. It's an intimate restaurant, with dark brown woods and beige walls. Every table is for groups with each meal served on pristine porcelain. We love the warm and snug atmosphere!
This family-friendly atmosphere perfectly matches their extensive, four-paged menu. Each member of the family has something to choose.
In addition, each dish is clearly rooted in Vietnamese cuisine from the Pho and Bahn Mi classics to homemade yogurt like Sua Chua and handmade caramel, Caramen, for desserts.
On the other hand, the food is so true to the cuisine that no restaurant personality is added. There's no twist, no play, no elevation. But maybe, that's the point.
While the goal of Pho Ta may not be to bring something new to the table, they instead focus on bringing a sense of comfort and community. You can see it from the group tables, the communal meals, to even the prices, starting at €10 for their main courses.
We also like that the staff are friendly and perceptive. They serve each table with quick feet and a smile, in spite of all the constantly full tables.
While it's unlucky that the space isn't large enough to accommodate more people, it does, in the end, add to the atmosphere of a restaurant. Inside, it feels like you've been invited into a family reunion at a Vietnamese feast.
Authentic Vietnamese cuisine
Reasonably priced
Friendly service
Cozy atmosphere
Small space
Inactive social media
Customer Reviews
Delicious Food
"Just what we were looking for! Delicious, fresh food and served quickly. We loved the summer rolls and pho. Great location too. Would highly recommend." — H. Corrighan
Are you Pho Real?!
"Amazing food! Crispy spring rolls and pho that's flavoursome and delicious. The beef was tender and soft. The Vietnamese coffee is beautiful. It tastes like chocolate. Friendly staff, great service. Absolute gem!" — Lanzarote
4. Saba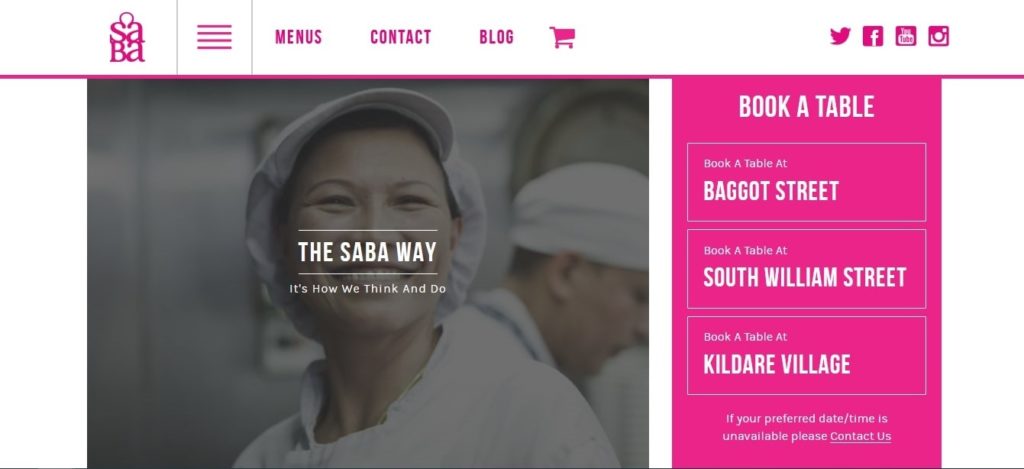 | Test | Info |
| --- | --- |
| MENU | Traditional Thai and Vietnamese cuisine |
| PRICE RANGE | €30.00 |
| WEBSITE | https://www.sabadublin.com/ |
| ADDRESS | No 7 South William Street, Dublin 2 |
| CONTACT DETAILS | +353 (1) 67 92 000 |
| OPERATING HOURS | Monday to Sunday - 12NN onwards |
| | |
| --- | --- |
| AUTHENTICITY | ★★★★★ (5/5) |
| MENU | ★★★★★ (5/5) |
| FOOD QUALITY | ★★★★ (4/5) |
| VALUE | ★★★★ (4/5) |
| AMBIENCE | ★★★★ (4/5) |
On the outside in South Williams Street, Saba is huddled by the sidewalk, noticeable with its pinkish elements, and a wide glass door as your only window inside.
But once you step inside, it is like an elongated hallway. Above you is a skylight, filling the room with natural light; and there are rows and rows of bright, pink tables against white and brick walls.
Saba provides a more premium ambiance, different from the casual Vietnamese restaurants. In all its playfulness, the air here is sharp with business accuracy.
We also like that the staff moves through the space with efficiency, moving from one table to the next, accommodating one request after the other. They speak to the tables like they are their own personal guests.
The cuisine here is a mixture of Thai and Vietnamese cuisine resulting in a menu with a range of spices and dishes fit for a paleo diet. The meals are detailed with fresh ingredients, apparently sourced from South East Asia.
While it does make an interesting experience, it can sometimes result with meals that felt hit-or-miss. The quality of the food isn't always consistent, some dishes coming in bland or spared from more vegetables or meat.
For the price of these meals, starting at around €20 for their main course, this can be concerning. But the service, the atmosphere and the special cuisine could be worth it. For a sure seat though, you'd need to book a table on their website.
Unique cuisine
Premium atmosphere
Efficient staff
Inconsistent food quality
More on the expensive side
Crowded
Customer Reviews
Great Food, Atmosphere and Staff
"Wow! Loved this place so much. Food was outstanding, their chef deserves great credit. Staff were efficient, polite and attentive. The glass roof means it is flooded with light, unlike a lot of Dublin restaurants, oh and did I mention the food…" — John D.
Awesome Place
"Amazing sea bass main course, and ribs starter as main, we were late arriving and kept in constant contact with the Restaurant. 2 great cocktails also were awesome. Great atmosphere, all staff looked happy even it being St Patrick's Eve." – Gary C.
5. Vietnom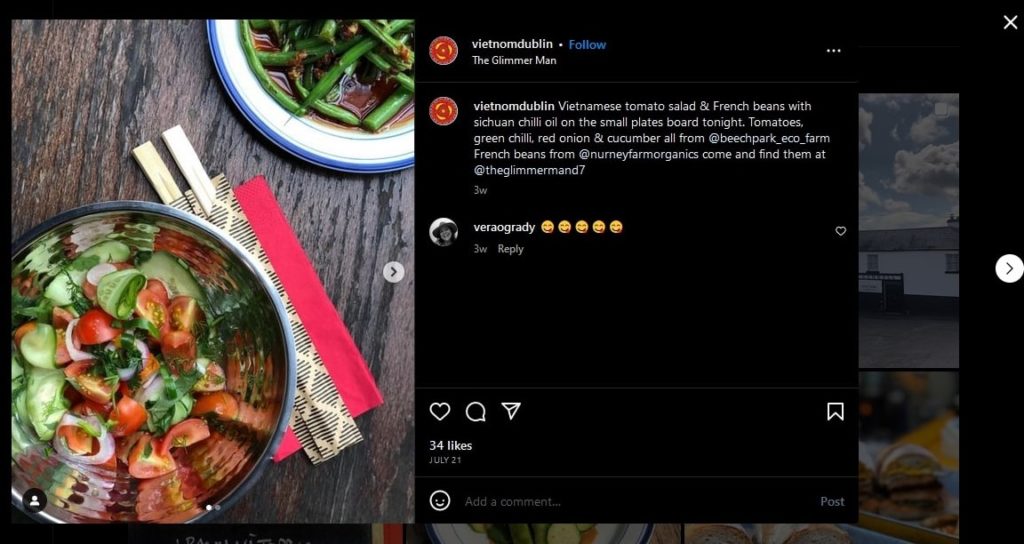 Test
Info
MENU
Traditional Vietnamese cuisine, Irish pub
PRICE RANGE
€11.00
WEBSITE
https://www.instagram.com/vietnomdublin/
ADDRESS
The Glimmerman, 14 Stoneybatter, Dublin 7
CONTACT DETAILS
+353 87 320 7279
OPERATING HOURS
Thursday to Friday - 5:30PM to 10:30PM

Saturday - 3PM to 10:30PM

Sunday - 3PM to 8:30PM
| | |
| --- | --- |
| AUTHENTICITY | ★★★★★ (5/5) |
| MENU | ★★★★★ (5/5) |
| FOOD QUALITY | ★★★★★ (5/5) |
| VALUE | ★★★★★ (5/5) |
| AMBIENCE | ★★★★★ (5/5) |
For a quick and affordable bite, there's no better place to go than to Vietnom. Unlike the other restaurants, Vietnom is a trailer house converted into a food truck, settled in a garden at the back of the Glimmer Man pub.
This food truck has down-to-earth but eccentric decor, resulting in a casual and fun space. The ambience is a unique experience different from the standard Vietnamese restaurant.
Despite all this, the communal energy is still there. Since it's behind a pub, the place is often crowded where everyone is engaging with one another and having fun.
We have to say, the food here is refreshingly authentic, even if the menu is quite limited. Made with fresh ingredients, the food is simple and to the point with classics such as banh mi, tostadas and salads. Paired with a drink from the bar, and it's the perfect meal for a night out with friends!
Although the service might be a bit slow and there is barely any space to eat, the food and the experience are too invaluable to miss.
Excellent and authentic Vietnamese cuisine
Unique atmosphere
Affordably priced
Crowded
Small space
Limited menu
Slow service
Customer Reviews
Neighborhood Gem
"Never thought I'd see food in the glimmer man. Never mind Vietnamese food. A uber cool converted horse trailer houses amazingly vibrant tasty simple food. Fantastic value. Mostly vegetarian but recently a little sneaky bit of meat is appearing on the menu, and it is spectacular. The menu is refreshed regularly and it never fails to surprise." — Locate
Amazing Food
"This place left me a little speechless when I first stumbled across it completely by accident and continue to be blown away ever since. Incredible food, lovely garden and excellent friendly staff in the van. Fresh, tangy goodness, tastes of sweet vinegar from the excellent pickled veg, the best rice noodle salad I've ever had and the only good banh mi Dublin has to offer. 11/10." — Alex O.
FAQs about Vietnamese Restaurants
---
And that's our list! Whichever you choose among these Vietnamese restaurants in Dublin, there's no doubt you'll have a lovely, healthy and comfy time!