The 11 Best Landscaping Companies in Dublin
Gardening and landscaping is hard work, even for people with a green thumb. If you want to turn your yard into a personal oasis without the hassle, you need professional landscaping services.
Not all contractors are created equal, and it takes the right company to get the job done right. So we did the heavylifting for you and crafted a guide on the best landscaping companies in Dublin to save you some time. To add, you might want to check out this guide on lightroom landscape presets to help you out.
Without further ado, let's get started!
How Much Does Landscaping Cost in Dublin
Transforming your backyard into your own definition of paradise comes with a price tag. Various factors may come into play including the scope of the work, your garden size, the plants and materials that will be used, and the experience of the landscaping contractor.
We looked around and found that landscaping an average-sized to large garden (100 to 500 square metres) may cost anywhere from €8,000 to €14,000. Meanwhile, small garden landscaping (anything below 100 square metres) may cost €4,000 to €8,000.
These amounts already include the design fees and the actual delivery of the work. As a rule of thumb, the design costs around 8% to 20% of the total price.
By and large, actual costs will vary quite a bit, however. It's still best to get quotes from companies for a better sense of what your project will entail.
The Best Landscaping Companies in Dublin
If you're determined to push through with this home improvement project after getting a general idea of the costs involved, let's proceed to the best landscaping companies in Dublin. Here, we'll discuss what they can offer so you can decide which one best suits your needs.
1. Capital Garden Services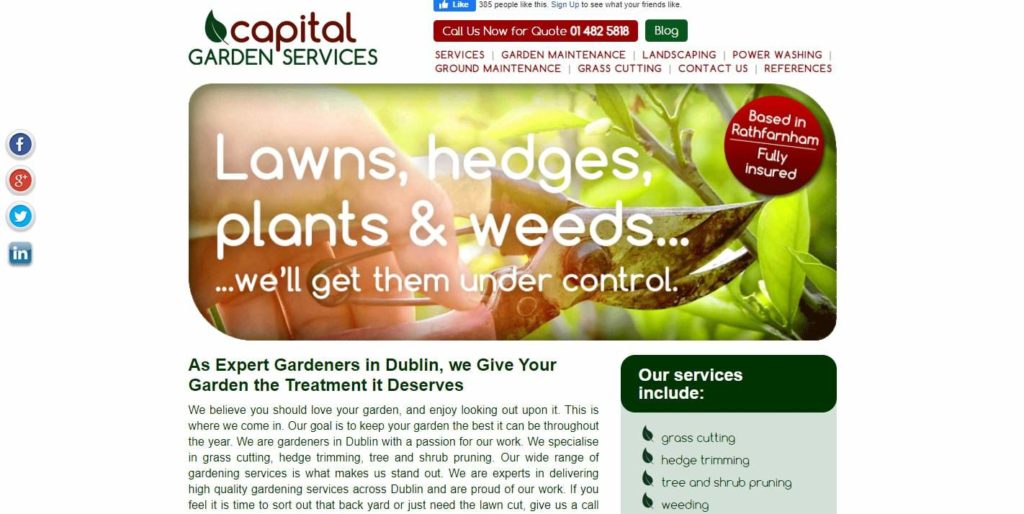 SERVICES
● Grass cutting
● Hedge trimming
● Tree and shrub pruning
● Weeding
● Litter collection
● Garden refuse removal
● Planting of seasonal plants
● Tree surgery
● Maintenance contracts
● Power washing of patios and driveways
WEBSITE
https://www.capitalgardenservices.ie/
ADDRESS
30A Marley Lawn, Rathfarnham, Dublin 16, D16 HX88, Ireland
CONTACT DETAILS
01 482 5818


[email protected]

OPERATING HOURS
9:00 am to 6:00 pm (Monday-Saturday)
Capital Garden Services is one of the highest-rated landscaping and garden maintenance providers in the city. For 12+ years, it has been working with residential, commercial, and semi-state bodies such as the ESB.
Although there's nothing really special about the services they offer, they accomplish jobs exceptionally well. Their landscaping services may involve full garden redesign or simply transforming just a small part of the space.
What we like about them is that they have various decking, fencing, and gating solutions using various types of materials and styles. This means you can choose from natural timbers, ranch fencing, or any other type.
You can also come to them for regular garden maintenance and sign up for a weekly, fortnightly, or monthly contract. Because they're popular in the city and are always busy, you have to be a bit patient with them if your callback requests and emails are not attended to quickly.
Wide range of landscaping and garden maintenance services
Also provides decking, fencing, and gating services
12+ years of experience in working with residential, commercial, and semi-state clients
Weekly, fortnightly, and monthly contracts available for regular maintenance
Customer service, particularly callbacks can be improved
Customer Reviews
Check out what their past clients have to say about their services:
"They were on time on a rainy day and waited for an hour till the rain eased off. The work was pruning ivy and overhanging branches as shown in the photos (see the before and after photos 1 and 2), trimming shrubs( see the before and after photos 3). Also a border was cleared (not shown). Joe and his team are very helpful and did everything I asked. The clean up after was amazing. I am happy to recommend them highly." -P Malthouse
"Joe and the lads did some seriously great work on our back garden (we brought them back after they did a great job for us out the front initially). There was a lot to do between cutting down trees and removing all the overgrown shrubs and the guys flew through the work – I didn't actually think they could do that much work in just 2 days! We are very happy with the service we got from Capital Garden Services, was everything we asked for and will be using them again in future." -Emma Fennell
"Joe got back to me in good time with a fair quote for the work. His team arrived and carried out the work promptly, without any fuss and to a very good standard. We are very happy with the work undertaken and would recommend to others. We would definitely get them back again in the future." -Andrew O'Carroll
2. Emerald Garden Services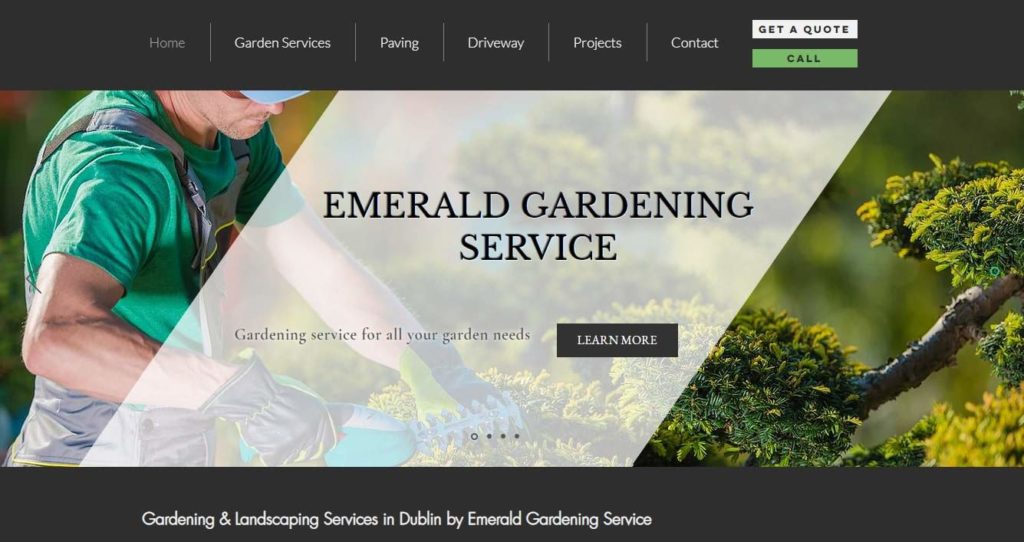 SERVICES
● Gardening & Landscaping
● Landscaping & Garden Design
● Paving
● Tree Care & Tree Maintenance
WEBSITE
https://www.emeraldgardenservices.eu/
ADDRESS
Emerald Garden Service 230 Western industrial estate, Holly Road, Ballymount, Dublin 12
CONTACT DETAILS
+35387346 6333


[email protected]

OPERATING HOURS
8:00 am to 8:00 pm (Monday-Saturday)
8:00 am to 10:00 pm (Sunday)
Emerald Garden Services is a full-service landscaping company that serves Dublin and its surrounding areas 7 days a week. Aside from all the regular garden services, their team offers specialist pre-construction services such as ground grading, land drains installation, site drainage, and irrigation systems.
When you hire them for landscaping, you can expect to receive detailed garden designs, concept layouts, and planting plans. This is one of the things we like about them because they're systematic and these plans help manage clients' expectations.
They also offer a pretty good mix of garden sculptures, lighting, and other structures such as gazebos and summerhouses. However, one thing we noticed though is that they don't have any pre-designed packages for regular garden maintenance.
Although other companies also provide paving services, Emerald Garden Services is one of the best out there. With 30+ years of experience as a tarmac contractor, it has gained its reputation as a driveway and patio paving expert.
Specialist pre-construction services offered (e.g., site drainage, irrigation systems, etc.)
Landscaping involves detailed garden designs, concept layouts, and planting plans
Paving expert with its 30+ years experience as a tarmac contractor
Also offers garden lighting, sculptures, and other structures (e.g., gazebos, summerhouses, arbours)
Also serves areas surrounding Dublin
Open even Sundays
No pre-designed packages or contracts for regular garden maintenance
Customer Reviews
Here are some of the comments from their past clients:
"I hired Emerald Garden Services Ireland for hedge trimming and weeding on two occasions. Michael and Thomas did a great job; they were punctual and the services were reasonably priced. Plus, they left the garden tidier than they found it! Would definitely recommend and will hire again to get the garden summer-ready." -Eoin McGinley
"Big thanks to Tom and his crew for wonderfully upgrading our garden. Great work on replacing lawns, front and back and renovating garden wall. Very happy with the result, highly recommend." -Angelika Heron
"Great work done by Michael and Thomas. Guys made my driveway look nice and tidy, trimmed plants and placed fresh ones, also gave advice to maintain the place. Will definitely use their service in the future." -Robert Spiewanowski
3. Gardenviews Dublin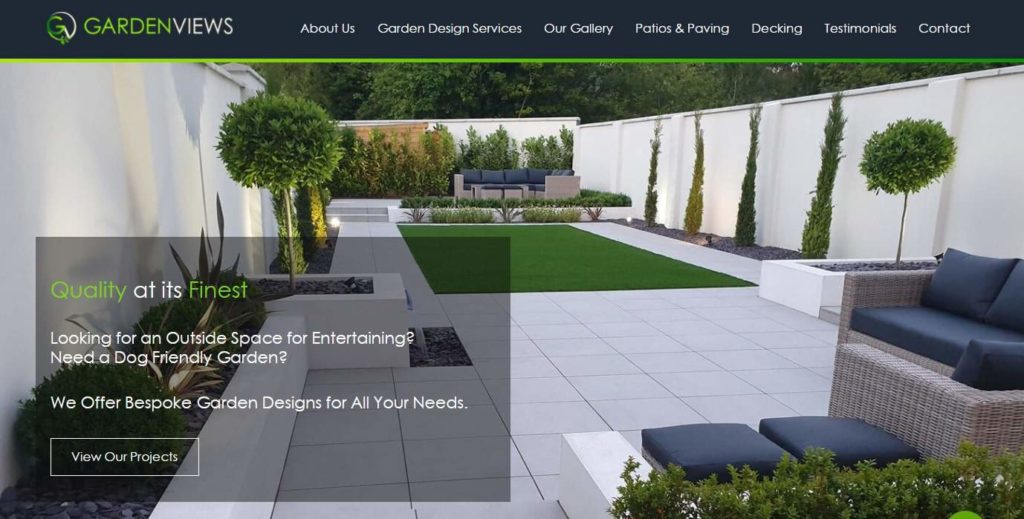 SERVICES
● Landscape lighting/ Nitescaping
● 3D garden designs
● Artificial grass
● Composite decking
● Wheelchair-friendly gardens
● Patios and paving
● Low-budget garden design
● Mini makeovers
● Garden clearances
● Annual landscape maintenance
WEBSITE
https://gardenviews.ie/
ADDRESS
Heath Square, McKee Ave, Finglas East, Dublin 11, Ireland
CONTACT DETAILS
087 121 2853


[email protected]

OPERATING HOURS
8:00 am to 9:00 pm (Monday-Saturday)
Established in 2005, Gardenviews is a family-run landscaping business that provides an extensive range of garden maintenance, decking, and paving services. One of its expert services that's not offered by all landscaping contractors is 3D landscape design.
Their team serves both residential and commercial clients, and has designed over 200 gardens in the greater Dublin area. What makes them stand out for us is that they can accommodate wheelchair-friendly and low budget designs.
Based on their portfolio, their designs are distinct for their contemporary appeal and strong architectural lines. Landscape lighting or nitescaping is also one of their strongest areas.
However, if you want to have your landscape maintained regularly, it's important to note that they offer this service in annual contracts.
16+ years in the business
3D landscape designs available
Nitescaping or landscape lighting experts
Wheelchair-friendly designs
Low budget designs offered
Offers composite decking made of 100% recycled materials
Annual contracts for landscape maintenance
Customer Reviews

Below are some of the testimonials from their past clients:
"Philip and the team from Gardenviews were excellent from initial design right through to the creation of a wonderful space. Would definitely recommend. They were clean, professional, reliable and very easy to deal with. 5 star service!" -marty mac
"Superb people to deal with. Extremely professional and efficient. I`ve never seen such attention to detail in all aspects of the project. I could not recommend them enough. Absolutely delighted with the work, they went way beyond my expectations. I`d give them 6 stars if I could and so nice to deal with, polite and friendly on site from start to immaculate finish." -Precious Petals
"Great team, really nice finishing to their work even in the tightest of spaces. Philip has amazing imagination with ideas that really made practical sense while making the end job look exquisite. Well worth the money……thank you guys, I would highly recommend your company in the future." -Stephen Phoenix
4. Landscapes.ie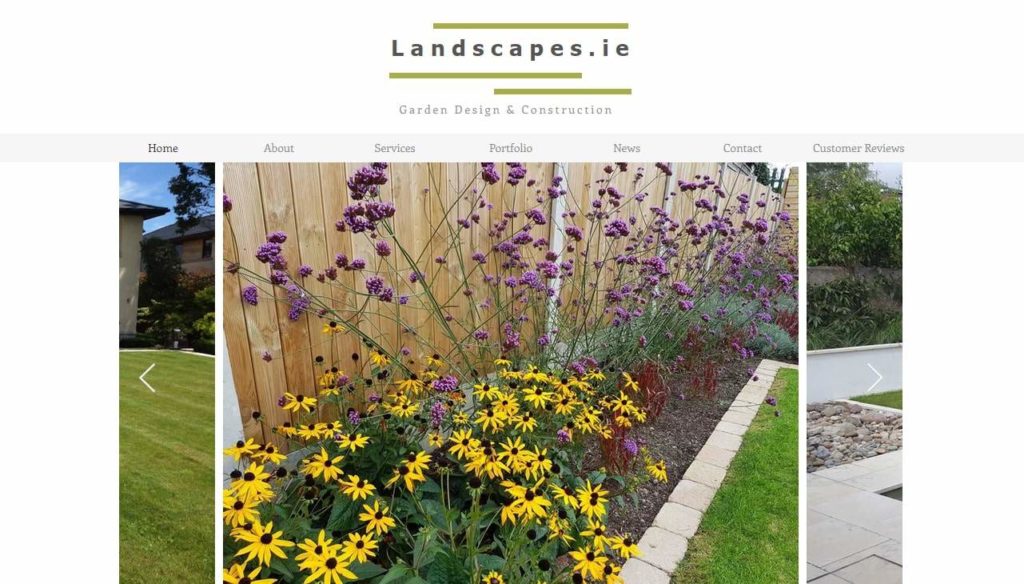 SERVICES
● Landscaping Services
● Garden Maintenance
WEBSITE
https://www.landscapes.ie/
ADDRESS
24a Hollybrook Grove Clontarf Dublin 3
CONTACT DETAILS
01 8330090
087 2599458
086 3127532


[email protected]

OPERATING HOURS
8:00 am to 5:00 pm (Monday-Friday)
Landscapes.ie is yet another top-rated landscaping contractor in the city, which only offers landscaping and garden maintenance services. Although they have limited services, we can't help but include them in our list because of their stellar reputation.
When you work with them, they'll do a site survey and full client consultation before creating the designs. Their designs include garden lighting options and custom water features and ponds for added appeal.
Besides the quality of their work, what we admire about them is their strong commitment to responsible environmental conduct.
As a client-centred company, they also offer flexible arrangements for garden maintenance. You can arrange for a one-off service or a regular, scheduled maintenance of your garden, but keep in mind that they only operate during the weekdays.
Full client consultation and site survey
Flexible arrangements for maintenance services
Offers garden lighting options
Water features and ponds for landscape designs available
Solid commitment to responsible environmental conduct
Limited range of services
Closed during the weekends
Customer response times can be improved
Customer Reviews
Here are some of the reviews from their past customers:
"The guys from landscapes were an absolute pleasure to work with and so neat and tidy . The finished job was 10/10 fair play ! Would certainly recommend them going forward" -David Beggs
"We recently had Gerry and his team completely makeover our back garden. Gerry was a pleasure to deal with, took all of our request on board, while offering his own expert opinion. His team began exactly when agreed and even with terrible weather, managed to complete the job with minimal delays. In the end we are left with a beautiful back garden which we love, that ticks all of our boxes. We would strongly recommend them to a friend." -Sean Mulvaney
"We have engaged the company Landscapes a number of times over the years and they have always carried out our garden requirements to an exceptional standard. We wouldn't hesitate to use them again and would recommend them highly." -Manuel McAleavey
5. MDR Landscapes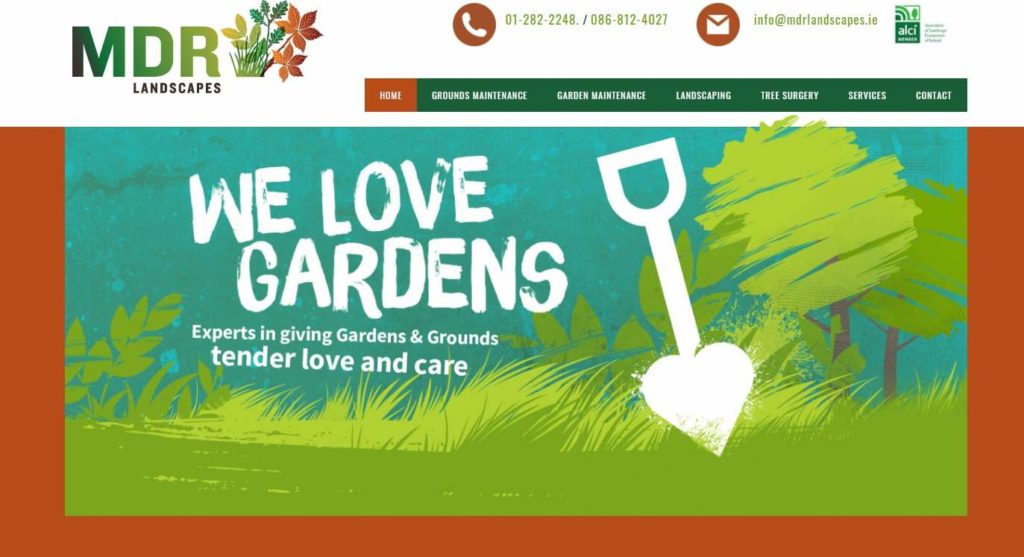 SERVICES
● Lawn Care
● Hedge Trimming
● Planting
● Weed Control
● Maintenance of Beds
● Tree Surgery
● Litter Removal
● Landscape Design
● Landscaping Services
● Autumn debris
● Power Washing
● Winter Maintenance
WEBSITE
http://mdrlandscapes.ie/
ADDRESS
Shankill Dublin, Ireland, D18
CONTACT DETAILS
01-282-2248 086-8124027


[email protected]

OPERATING HOURS
9:00 am to 7:00 pm (Monday-Saturday)
MDR Landscapes is a South Dublin-based landscaping company with a perfect 5-star rating on Google Reviews. Its team provides a wide range of landscaping and grounds maintenance services using the best equipment and materials.
You can come to them for a full landscaping service including planting, laying of pathways, installation of lighting, and fencing. After a free initial consultation and providing a quote, they'll create designs and plans for your review.
However, they don't offer 3D design visualisations, unlike other landscaping contractors. Nevertheless, their drawings and plans can still give you a pretty good idea of how your outdoors will look upon project completion.
Just like other companies in this list, MDR Landscapes offers one-off, weekly, monthly, and quarterly garden maintenance. They even have bespoke winter and autumn maintenance and cleaning services to make your life easier during these seasons.
5-star rating on Google Reviews
Comprehensive range of garden maintenance and landscaping services
One-off, weekly, monthly, and quarterly maintenance available
Winter and autumn maintenance and cleaning
Doesn't provide 3D garden designs
Customer Reviews
Check out some of the comments from their past clients:
"Mark did a fantastic job landscaping the front garden of our house, including vehicular access. All who worked on the project were very professional and the standard of workmanship was excellant." -Eimear
"We got our dream garden from Mark and his team during the summer.I could not rate Mark highly enough. His knowledge, his understanding, his dedication and his patience were second to none. Our garden project was so enjoyable and we never hit any bumps along the way. No request was too big or too small for Mark and his team. Everyone that worked on our garden was lovely and respectful. The lads took total pride in everything they did and made sure our house and surrounding areas were always left clean and tidy. All at MDR are incredible at what they do and Mark has a genuine love and passion for what he does. He will treat your garden like it's his own." -Sarah Lacey
"Mark and his team did a full rip and replace of our garden and did a fantastic job. From initial planning to picking out the finer details he was extremely helpful and professional. The team worked really hard during some unforgiving weather and the result was brilliant. We are really happy with our new garden!" -Elizabeth Boland
6. Pinewood Landscapes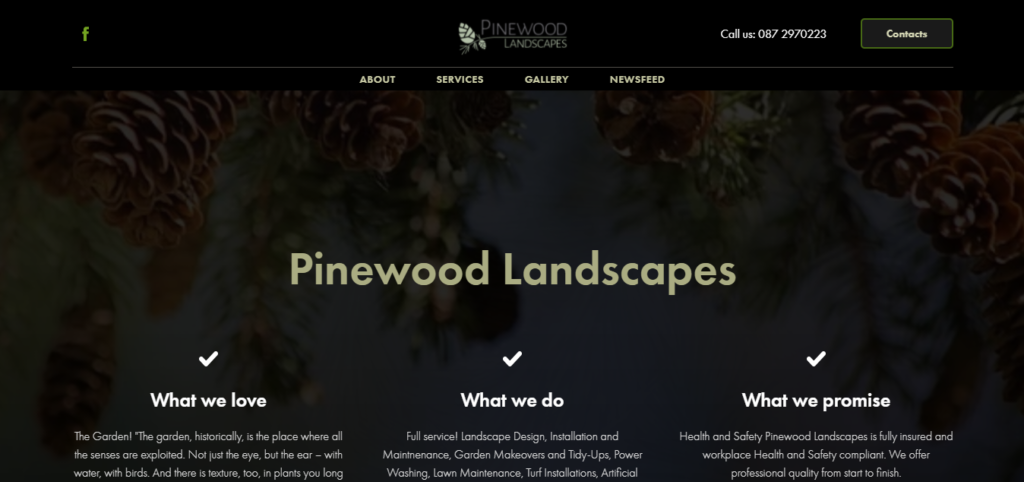 SERVICES
Landscape design
Installation and Maintnenance
Garden Makeovers And Tidy-Ups
Power Washing
Lawn Maintenance
Turf Installations
Artificial lawns
Planting
Grow Your Own Veg
Kitchen Gardens
Wildlife Gardens
Water Gardens
Roof Terraces, Balconies
Decking
Driveways
Fencing and Enclosures
Garden Lighting
Garden Structures and Water Features
Irrigation Systems
Landscape Lighting
Paving Stone
Natural Stone
Design and Build Consultations
Plans 2D/3D
WEBSITE
https://pinewoodlandscapes.ie/
ADDRESS
Shankill Dublin, Ireland, D18
CONTACT DETAILS
087 2970223


[email protected]

OPERATING HOURS
Contact for more details
Pinewood Landscapes is a company that specializes in Garden Service and Landscaping. Over the year, they have built a reputation for themselves due to the quality of their services.
In comparison to other companies, they provide exceptional quality landscaping services to residential and commercial clients at very competitive prices.
What people love about them is how active and hands-on they are from the beginning of the project until the end.
They have preferred supplier arrangements with associated trades such as carpenters, earthmoving contractors, and wholesale plant suppliers.
Fully insured
Workplace health and safety compliant
Projects are customized to our client's requirements
Operating hours are unavailable
7. Dublin Landscaping Services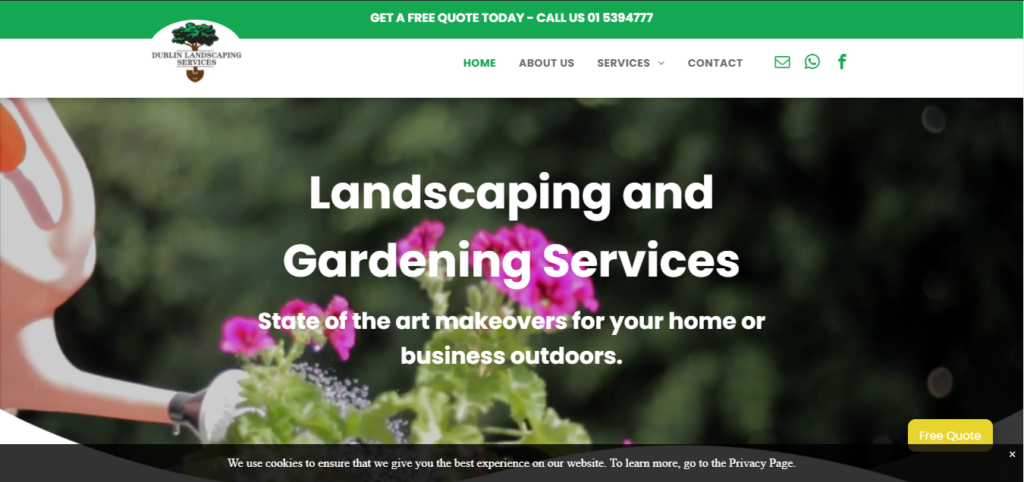 Dublin Landscaping Services is one of Dublin's most known landscaping companies. They offer state-of-the-art makeovers for your home, business, or outdoor area.
People prefer contacting them when in need because they are very hands-on on their projects. From landscape design to garden conception, installations, and maintenance, they are present.
Unlike other companies, they also offer garden maintenance & aftercare services. With this, it can truly make a difference in your environment.
They are a local contractor who is dedicated in delivering hig-quality workmanship for an affordable price.
Free Quote
Fully insured
10 years guarantee
Operating hours are unavailable
8. Dundrum Paving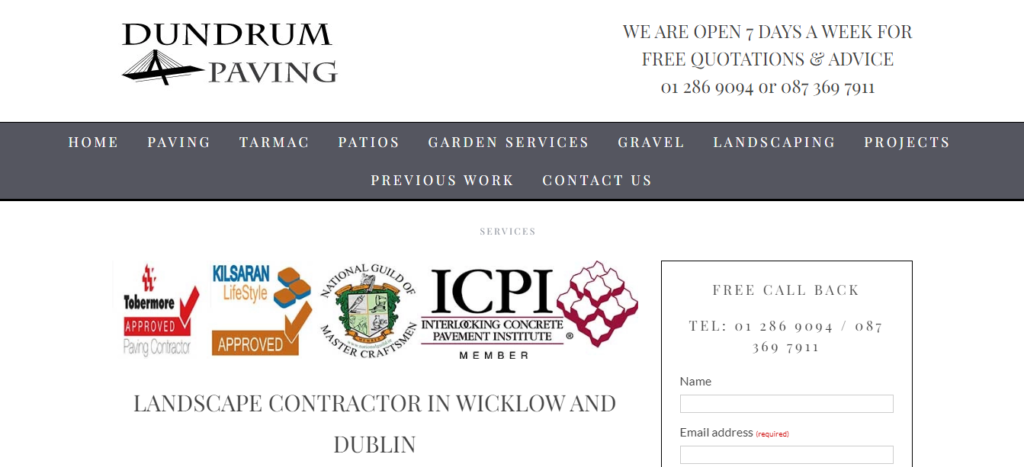 SERVICES
Paving
Tarmac
Patios
Garden Design
Garden Maintenance
Landscaping
WEBSITE
https://www.dundrumpaving.ie/
ADDRESS
4-5 Burton Hall Park Sandyford Dublin 18
CONTACT DETAILS
01 286 9094 / 087 369 7911 / [email protected]
OPERATING HOURS
24/7
Are you in search of a company available all week for your paving needs? Dundrum Paving is the landscape contractor and supplier for you.
Coupling affordable services with high-quality materials, they are proud to offer you stellar and outstanding project results. Each of their personnel is certified and trained for their job and brings over 40 years of experience to your garden.
They can tailor each project that fits your gardening needs and interests to make it a reality as well. Should you be landscaping other than a garden, it would be best to utilize their free estimate for the design you want to ensure compatibility.
We highly recommend that you give their services a try and experience their accommodating customer service and amazing craftsmanship firsthand.
Highly experienced
Free estimateOpen all week
Operating hours are unclear
9. Leaf2Leaf Landscapes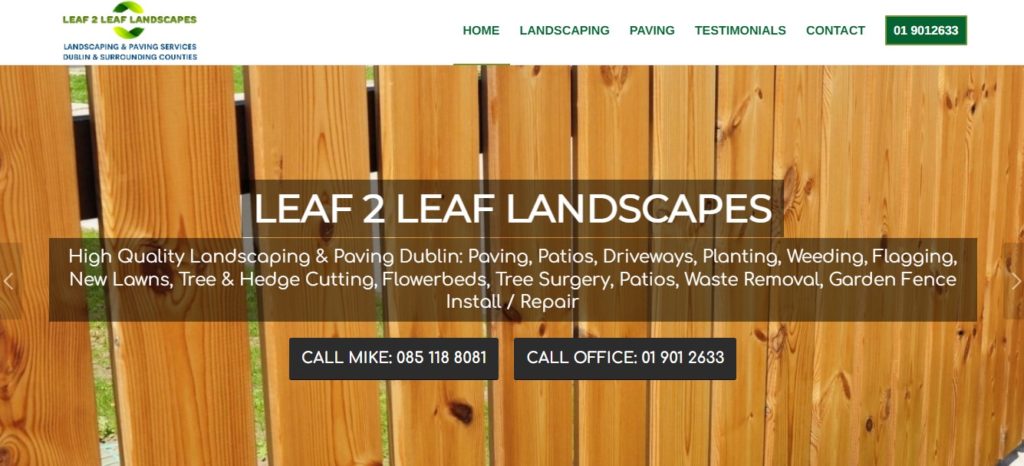 SERVICES
Landscaping, Powerwashing, and Paving
WEBSITE
https://leaf2leaflandscapes.ie/
ADDRESS
UNIT 4/5, Burton Hall Park, Burton Hall Rd, Sandyford Business Park, Sandyford, Dublin 18, D18 A094
CONTACT DETAILS
Dublin Office: 01 901 2633
Mike's Mobile: 085 118 8081
Email: [email protected]
OPERATING HOURS
Contact for more information
Leaf2Leaf Landscapes is a professional landscaping and paving company that offers an expensive range of services throughout the great Dublin and Meath areas.
In comparison to other companies, they provide more than enough services anyone can need. From planting, wedding, and flagging services, to tree surgery, patio installation, and garden fences, they can deliver it to you.
Just by looking at the reviews of their previous clients online, we can say that they are one of the most trusted. So if you want a better lawn that will get the attention of people, you might want to consider them.
Unfortunately, their rates are not available on the website. However, you may contact them first for a free consultation.
Free consultation
Offers numerous services
Excellent workmanship
Operating hours are not mentioned
10. Darragh Connolly Garden Care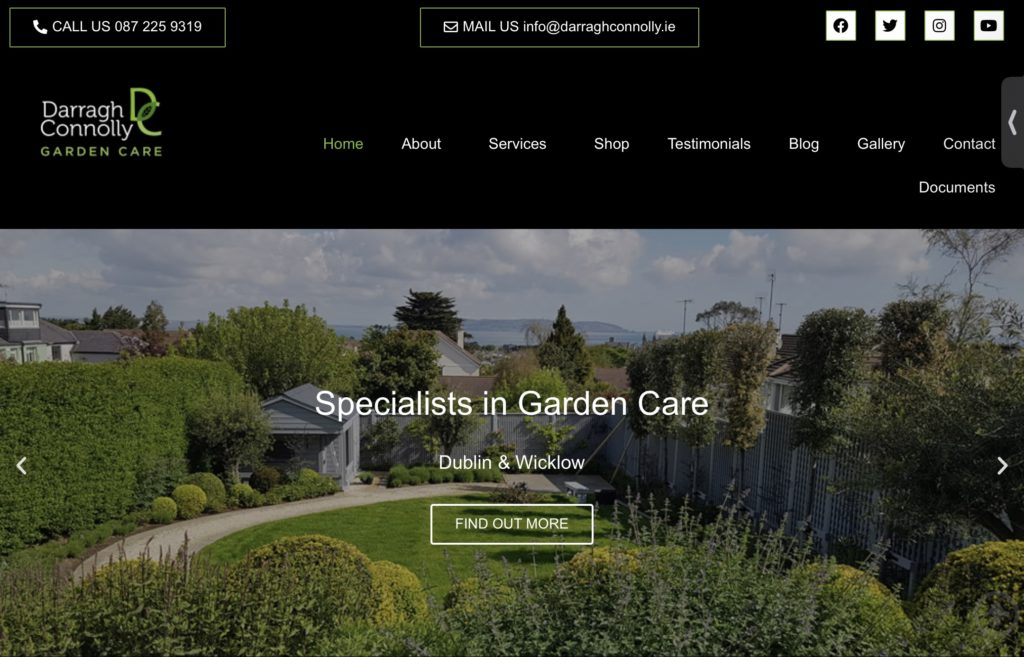 At Darragh Connolly Garden Care, we've unearthed a landscaping gem that combines service excellence with a convenient touch. Our experience with their services has been nothing short of remarkable.
From the moment we engaged with Darragh Connolly Garden Care, it was clear that their commitment to transforming outdoor spaces was impeccable.
Their comprehensive suite of services, ranging from meticulous lawn maintenance to imaginative landscape design, reflects a company dedicated to exceeding expectations.
Convenience reigns supreme here. Our schedules are as bustling as a beehive, and that's where Darragh Connolly Garden Care truly shines.
Their seamless appointment booking system and punctual arrivals demonstrate a respect for our time that's as refreshing as a summer breeze. Our garden flourishes without us feeling the strain.
Reputation echoes loudly in the realm of landscaping, and Darragh Connolly Garden Care's resounds like a harmonious symphony.
With a track record built on turning barren plots into vibrant oases, they've garnered not just clients, but advocates. Our circle of friends can't stop raving about the awe-inspiring transformations they've witnessed.
However, they don't offer discounts yet. We suggest checking their website for other affordable deals.
Transformative landscaping expertise
Punctual and hassle-free experience
Trusted by delighted clientele
Quality investment with transparent pricing
11. Driveway Paving and Patios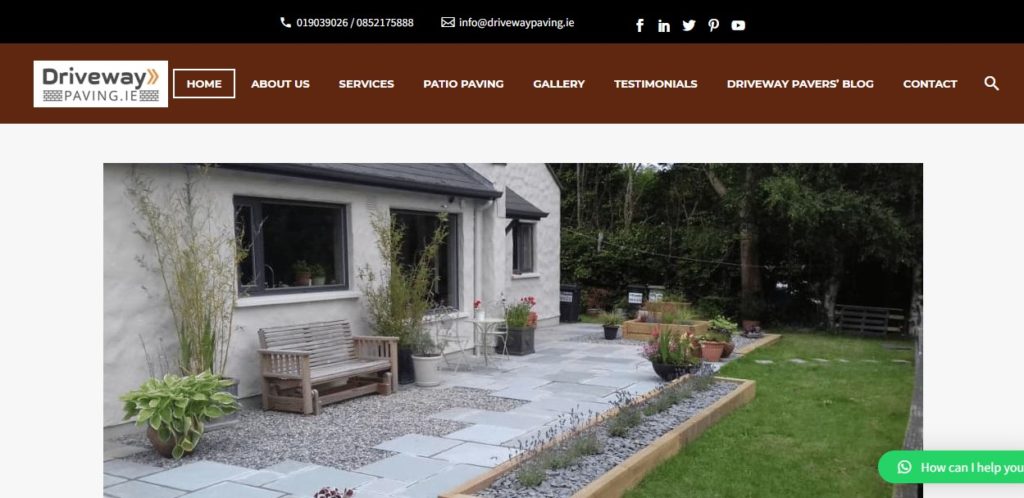 With Driveway Paving and Patios, your garden area will be a living space for you and your family again. No matter if you are only looking for a quick tidy-up or a total garden renovation, they can offer you the perfect solutions.
We love how they only use the best quality materials from their long-established suppliers. Some of these are Kilsaran, Roadstone, Double LL Concrete, and Naas Patio Centre.
In comparison to other companies, with them, your driveway or garden will be transformed in just a matter of days.
Regarding their landscaping, they only source their grass from Dublin Lawn Turf, growers of top-quality rollout grass. Before laying these rolls, the ground soil is prepared first.
Afterward, you must water it heavily for a week until it roots.
Can also do flower beds & planters and polytunnel preparation
Fully registered and have many years of experience in all aspects of paving and landscaping
A 5-star-review paving contractor on Google and Facebook
Doesn't supply plants or shrubs
FAQs About the Best Landscaping Companies in Dublin
---
Have you always wanted to elevate the appeal of your property by building exquisite gardens that stun guests and passersby? Choose from the best landscaping companies in Dublin featured in this guide to bring your landscaping visions to life.
If you're looking for landscaping contractors outside the city, you might also want to check out our guide on the best landscaping services in Ireland which features our top picks nationwide.