The 6 Best Steel Fabrication Companies in Dublin
Steel fabrication is a process that requires a lot of skill, equipment and experience in the trade. As such, finding the right fabricator is highly important when it comes to matching your request to the best service.
In this article, we listed down the best places for steel fabrication in Dublin that can help out with many types of manufacturing requests.
How much does steel fabrication cost?
Steel fabrication prices are determined through the production cost, equipment cost, price of the materials, as well as the complexity of the request.
Below is a list of price estimates for fabricating steel.
| Product | Clothing Item |
| --- | --- |
| Steel Prices per Ton | € 1,200 |
| Gates | € 600 to € 4000 |
| Fence | € 2300 to € 6100 |
| Railing | € 250 to € 350 *around 20 feet |
| Stairs | € 100 to € 200 *per step |
| Bollards | € 89 to € 350 |
Top steel fabricators in Dublin
We assessed the steel fabricator according to the following criteria:
1. Brendan Buggy Steel Fabrication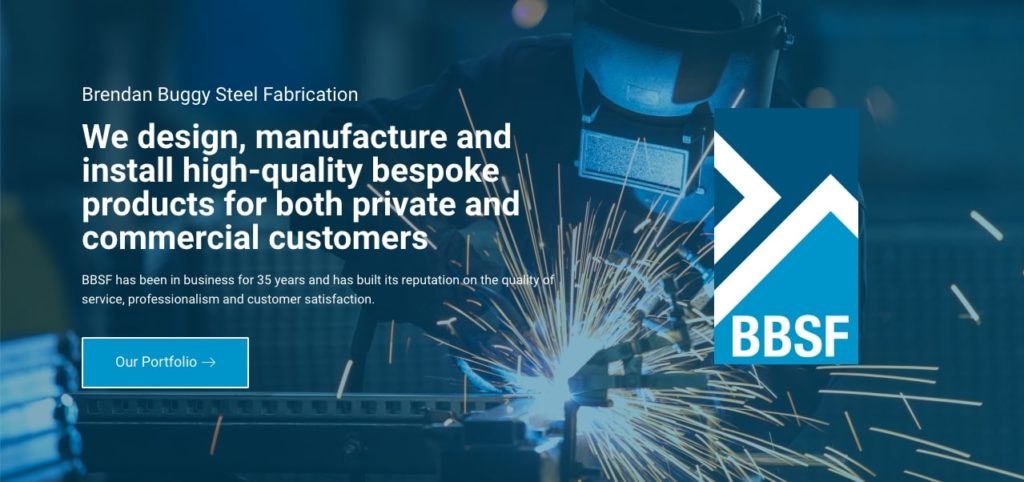 Test
Info
SERVICES

Balustrades

Handrails

Frameless Glass Systems

Bespoke Stairs

Canopies and Shelters

Gates and Railings

Miscellaneous Metal Work

Design Service

Structural Steel

WEBSITE
https://bbsf.ie/
ADDRESS
117 Bann Rd, Cabra East, Dublin
CONTACT DETAILS
+(353) 1 401 8234,

[email protected]

OPERATING HOURS

Weekdays: 8:00 AM to 5:30 PM
| | |
| --- | --- |
| Portfolio | ★★★★★(5/5) |
| Range | ★★★★★(5/5) |
| ●Services | ★★★★★(5/5) |
| ●Materials | ★★★★★(5/5) |
| Coordination | ★★★★★(5/5) |
| Feedback | ★★★★★(5/5) |
| ●Customer satisfaction | ★★★★★(5/5) |
| ●Customer service | ★★★★★(5/5) |
From balustrades to gates and railings, if you're looking for a steel fabrication service that has a great selection options for more residential and commercial buildings, you may want to check out Brendan Buggy Steel Fabrication.
They specialize in providing bespoke steel products. What we like about them is that they have great qualifications and a substantial background in the field.
Established in 1982, they have since expanded their technologies and services to accommodate many types of steel forms.
What we really appreciate about them is that their process considers all steps of the fabrication service. They begin with project management and design, helping out customers with the timeline and drawings.
Once the fabrication is finished, their installation team steps in to finish the job. If you're looking for a fabricator that has the all-in-one package, we highly suggest checking them out.
In terms of their specific services, we do warn that because of their quality and bespoke approach, the prices tend to get more expensive. Nonetheless, you get what you pay for.
From stairs to fire escapes to canopies, it really is a great selection that is versatile for both residential houses as well as stores with more unique steelwork requests.
All in all, they make a top choice when it comes to steel fabrication in Dublin.
Great background and experience
Work for both commercial and private customers
Process is very thorough
Wide selection of services
Bespoke quality can cause more pricey options
Customer Reviews
Your Staff Never Let Us Down
The preconstruction process BBSF demonstrate is very impressive. The quality of workmanship and the adherence to health and safety on site is top class. The other point to mention is your staff have great etiquette. This is most important where we are working in live environments and the client's staff are in the same vicinity. Our sub-contractors reflect our reputation, and it is great that your staff never let us down. My site managers are very complimentary on how easy you make a life for them onsite. – John McCormack
Extremely Reliable
We have been working with BBSF for a number of years. We have worked closely with them on numerous projects including Educational Structural Remediation Projects, Commercial Projects and Pharmaceutical Projects. BBSF are extremely reliable, professional and innovative. They offer high-quality services and a highly skilled team. – Bernard McLoughlin
2. Grove Engineering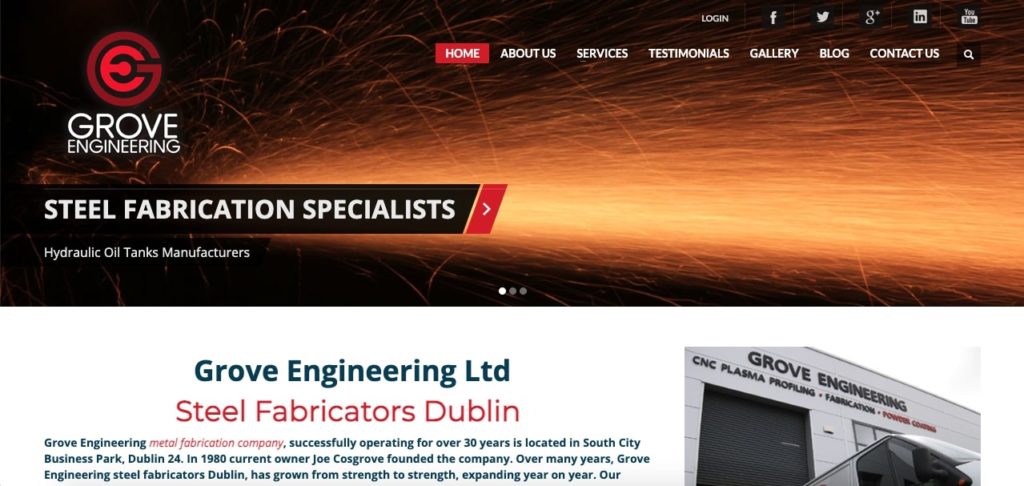 Test
Info
SERVICES

Steel Fabrication

CNC Plasma Cutting

Powder Coating

WEBSITE
http://groveengineering.ie/
ADDRESS
Unit B2, South City Business Pk, Whitestown Way, Tallaght, Dublin 24
CONTACT DETAILS
+353 1 452 0405,

[email protected]

OPERATING HOURS

Monday to Thursday: 7:30 AM to 4:00 PM

Friday: 7:30 AM to 3:00 PM
| | |
| --- | --- |
| Portfolio | ★★★★☆(4/5) |
| Range | ★★★★☆(4/5) |
| ●Services | ★★★★☆(4/5) |
| ●Materials | ★★★★☆(4/5) |
| Coordination | ★★★★★(5/5) |
| Feedback | ★★★★★(5/5) |
| ●Customer satisfaction | ★★★★★(5/5) |
| ●Customer service | ★★★★★(5/5) |
Founded in 1980, Grove Engineering definitely has a longstanding history as a reliable and go-to service for steel fabrication.
What we like about them is the positive rapport and professionalism they've built with customers over the years. Some customers we've spoken with mentioned how dependable and reliable they are.
If you are looking to find a service that you can repeatedly go back to for discussions and coordinations, we definitely think that they are an excellent choice.
Speaking of efficiency, their steel fabrication service in particular is a great option for those who want quick turnarounds and more efficient processes. Grove Engineering does an excellent job delivering the product on time.
However, looking at their portfolio, they seem to have more experience constructing more industrial requests like trolleys and steel frames. We would highly suggest those looking for more residential applications to consult with them beforehand.
Another positive we find about them is that they have great complementary services in addition to steel fabrication. They even offer CNC plasma cutting as well as powder coating which we feel rounds out the process in terms of finishing and design.
Their powder coating in particular is very flexible in terms of color and has a lot of other additional features. This makes it a very attractive choice if you're looking for more unique options in terms of steel finishings.
Overall, they are an excellent choice when it comes to mid industrial requests as well as providing additional steel finishing services.
Offer CNC Plasma Cutting
Their powder coating services are a great finishing step
Customer testimonials mention their dependability
Very efficient with their process
Operating hours end a bit earlier than other services
Gallery shows more experience in constructing industrial requests
Customer Reviews
Reliable, Friendly, Professional
We have found Grove Engineering and Metal Fabrictaors Dublin to be reliable, friendly & professional at all times. They provide a reliable service and we are happy to recommend – Leo O' Callaghan
Always Received a Super Service
I have worked with Grove Engineering for several years now. Previously, I have used another excellent supplier but I had issues with their costs. I took a chance with Grove Engineering and I have never looked back! I have always received a super service, from the initial enquiry, to quote, right through to the finished product. We work within a very fast moving environment, with very short lead times and where detail can be scarce. Grove have always delivered on time and to a quality that meets and exceed our expectations. I look forward to continuing to work with Grove and would have no hesitation in recommending them. – Feargall Scott
3. National Steel Fabrication Ltd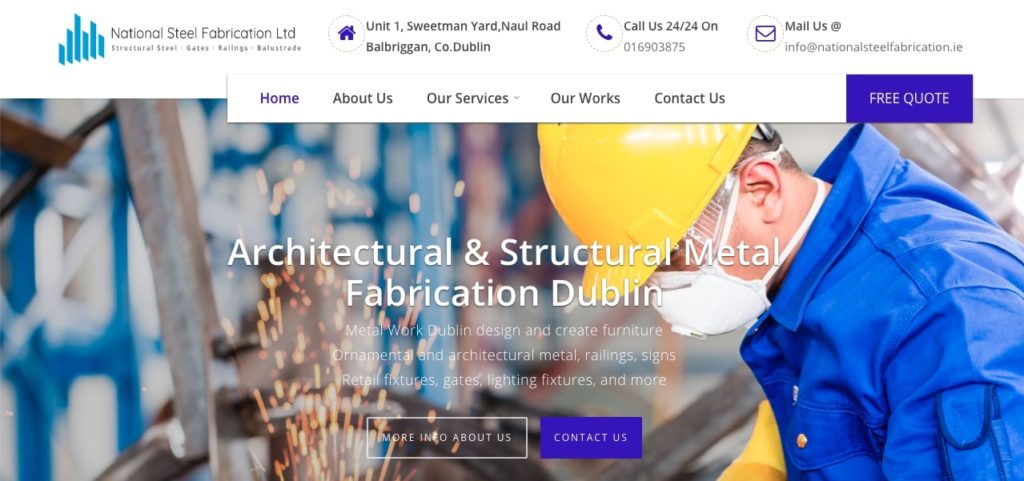 Test
Info
SERVICES

Metal Fabrications

Powder Coating and Galvanising

Welding, Structural Steel

Gates, Fences

Handrails

Balustrades

Staircases

Balconies

WEBSITE
https://nationalsteelfabrication.ie/
ADDRESS
Unit 1, Sweetman Yard, Naul Road, Balbriggan, Co.Dublin
CONTACT DETAILS
016903875,

[email protected]

OPERATING HOURS

Weekdays: 8:30 AM to 6:00 PM
| | |
| --- | --- |
| Portfolio | ★★★★☆(4/5) |
| Range | ★★★★★(5/5) |
| ●Services | ★★★★☆(4/5) |
| ●Materials | ★★★★★(5/5) |
| Coordination | ★★★★★(5/5) |
| Feedback | ★★★★★(5/5) |
| ●Customer satisfaction | ★★★★★(5/5) |
| ●Customer service | ★★★★★(5/5) |
A family run business, National Steel Fabrication Ltd has an impressive range to choose from. They specialize in homes seeking to modernize the look of their steel architecture.
What we like about them is that they come prepared with different types of equipment available, making the applications of their job versatile and varied. This includes metal inert gas and tungsten inert gas welding, so we really like how well equipped they are.
We also appreciate that they're rigorous with the safety testing beforehand. It's an extra step that really makes a difference in the process.
We like the portfolio of previous projects that they have. We find the designs and quality to be very clean especially when paired with other materials like glass.
However, we did notice that their applications lean more towards the residential side. So for larger and more commercial requests, you may want to consult with them in advance.
In terms of their services, we still do like the versatility that they have. Their metal fabrications service for example, works with mild steel for applications like platforms, cages and driveway gates.
If you're looking to spruce up your house with some steel accents, check out National Steel Fabrication Ltd for their competitive rates and versatile applications.
Have an versatile range of equipment available
Worked with different types of industries and companies
Competitive rates
Great option for more residential requests
Less experience with more commercial projects
Fabrication services mostly limited to stainless and mild steel
Customer Reviews
A Pleasure to Deal With
We recently had steel gates and railings fitted to our property in Skerries. Octavian and Virgil were a pleasure to deal with, quick to reply and communicate with us, and we are very happy with both the product and the service we received. We can highly recommend National Steel Fabrication and would not hesitate to refer a friend to them for similar services. – Skerries Apartment
Very Punctual
We are really happy with our experience with this company. Dealing with both Octavian and Virgil, we needed to replace an exterior wood staircase which was failing. I provided a photo of something similar to what we wanted. The new steps were to be granite treads on a steel frame. They responded quickly, visited the site, measured and discussed the details. We received a quote in a very timely fashion. They advised on both design and health and safety guidelines. The steps were manufactured galvanized and powder coated, then brought to the site in a modular fashion. Installed in one day by a a great crew. These guys are skilled, and a pleasure to do business with. – Sarah Lardner
4. McGuirk Steel Works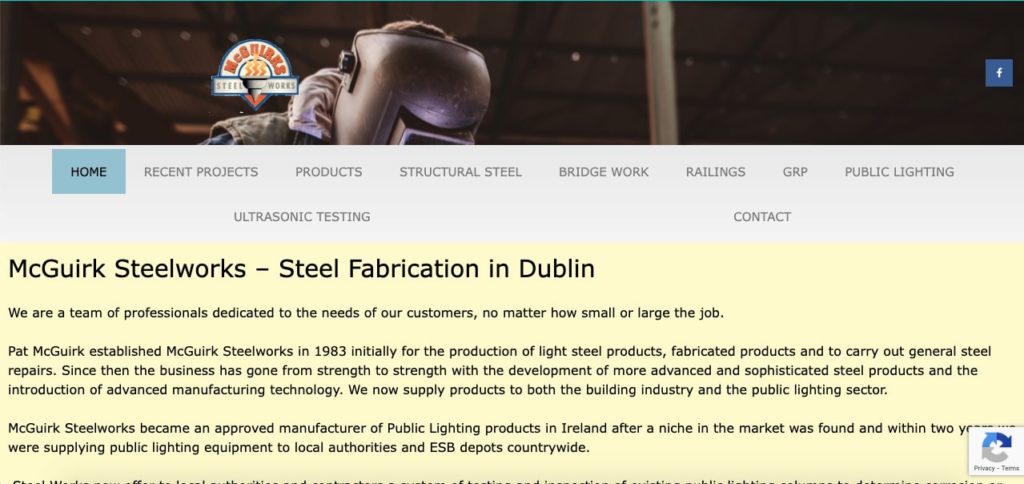 Test
Info
SERVICES

Stainless Steel Fabrication

Aluminum Welding Repairs

Mesh Cages

Flow Forge Grating

Welding Repairs

Outreach Brackets

Traffic Signal Poles

Tube Bending Mini Pillars

Micro and Midi Pillars

etc.

WEBSITE
https://mcguirk-steelworks.ie/mcguirksteelworks/
ADDRESS
4 Balgriffin Park, Balgriffin Rd, Balgriffin, Dublin 13
CONTACT DETAILS
01 846 0120,

[email protected]

OPERATING HOURS

Weekdays: 8:00 AM to 4:30 PM
| | |
| --- | --- |
| Portfolio | ★★★★☆(4/5) |
| Range | ★★★★★(5/5) |
| ●Services | ★★★★★(5/5) |
| ●Materials | ★★★★☆(4/5) |
| Coordination | ★★★★★(5/5) |
| Feedback | ★★★★★(5/5) |
| ●Customer satisfaction | ★★★★★(5/5) |
| ●Customer service | ★★★★★(5/5) |
McGuirk Steel Works has a wide variety of services to choose from, catering to a large number of different customer needs and scenarios. They first started as a light steel business in 1983 and have since expanded their credentials.
We find them to be a great choice when it comes to more commercial projects as they now have solid experience working with the building industry and the public lighting sector.
With regards to the latter, customers will definitely be impressed with the accreditations they have. What's great about McGuirk Steel Works is that they uniquely provide ultrasonic testing which is used for identifying damages in metal columns.
If you have a steel project with regards to metal column lighting, we highly recommend their knowledgeable staff and expertise.
Aside from this, their selection is also very wide in terms of type and distinction. From mesh cages, sports dugouts and even fire baskets, we find their offerings to be a bit more unique and varied than the usual in terms of steel works.
While their skills are more equipped to service more commercial and public projects, we still find some of these offerings to be versatile with regards to more home related steel facilities like gates for example.
In the end, McGuirk Steel Works is a definite option if you're looking for a steel fabricator with more than adequate experience with more public projects.
Have substantial experience in working with steel lighting products
Very credible
Wide variety of services to choose from
Excellent choice for more commercial projects
Skills and capabilities are more equipped for public and commercial projects
Less experience with more decorative
Customer Reviews
Amazing Turnaround Time
Excellent and professional service at a reasonable price. The turnaround time was amazing. I was very fortunate to have found Patrick and his team and plan to use McGuirk Steelworks for any future metalwork. – John Boland
Great Communication
Delighted with the emergency works Pat and his team carried out on a carpark electric gate at the weekend. The bar had snapped and needed rewelding, someone had attempted a fix that did not hold. The gate is now working perfectly. Great communication and works carried out exactly as stated, decent cost, highly recommend. – Bianca Wilson
5. Techfab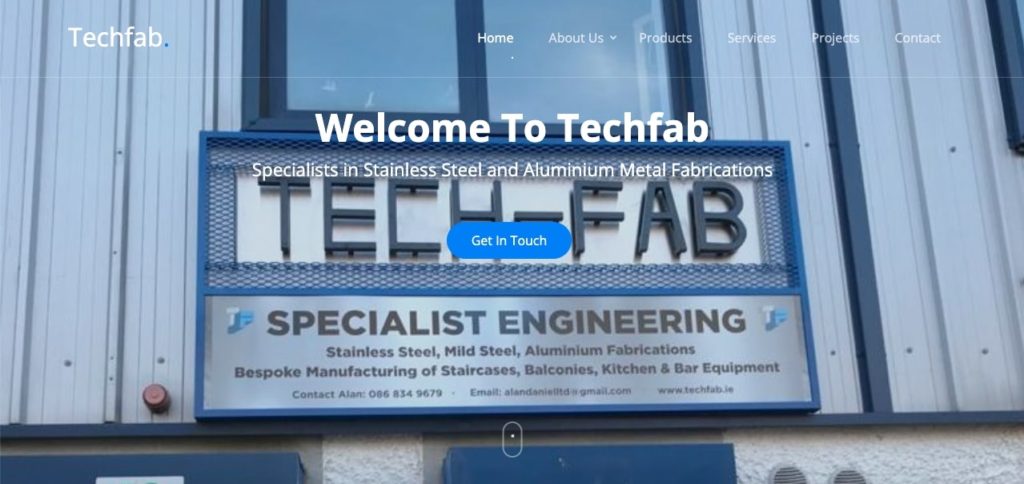 Test
Info
SERVICES

Workshop Services

Metal Fabrication Services

Repair Services

WEBSITE
https://www.techfab.ie/index.html
ADDRESS
Unit 52, Block 503 Grants Drive, Greenogue Business Park, Rathcoole, Co. Dublin
CONTACT DETAILS
086 834 9679,

[email protected]

OPERATING HOURS

Weekdays: 9:00 AM to 5:00 PM
| | |
| --- | --- |
| Portfolio | ★★★★★(5/5) |
| Range | ★★★★☆(4/5) |
| ●Services | ★★★★☆(4/5) |
| ●Materials | ★★★★☆(4/5) |
| Coordination | ★★★★★(5/5) |
| Feedback | ★★★★★(5/5) |
| ●Customer satisfaction | ★★★★★(5/5) |
| ●Customer service | ★★★★★(5/5) |
Specializing in providing metalwork products for over 20 years, Techfab has a curated selection that is perfect for households and repair.
We really like that a lot of their designs are clean and simple. This is perfect because these can be adaptable to any type of household no matter what style.
We highly suggest checking out their portfolio because their applications even in more commercial settings are top notch. We find them very sleek and versatile, from black frameworks, to modern entryways and discreet staircases.
They are the perfect choice for places like contemporary restaurants and establishments, as their look fits well with different ambiances that the customer facility is going for.
Furthermore, we also really appreciate that they do take requests for protective coatings. These include painting, galvanising, lacquering and more.
These add a nice touch to the whole process, making it more convenient for the customer to really customize it to their request.
We would like to note that they do only use specific types of metal, but nonetheless the selection of applications is still quite varied. We really like that their workshop services allow for more flexibility in requests.
This included features like a plasma cutter, a punching machine, as well as a tube former. Also, as if it couldn't get more convenient, they also offer repair and maintenance services, making them a great choice for repeat purchases.
In the end, if you're looking for a smaller though quality selection of services, you may want to check out what Techfab has to offer.
Over 20 years of experience
Excellent range of services for households
Negotiable lead times
Products can be treated with protective coatings
More limited to stainless, mild and aluminium
Less service options compared to other fabricators
6. Profab Services Limited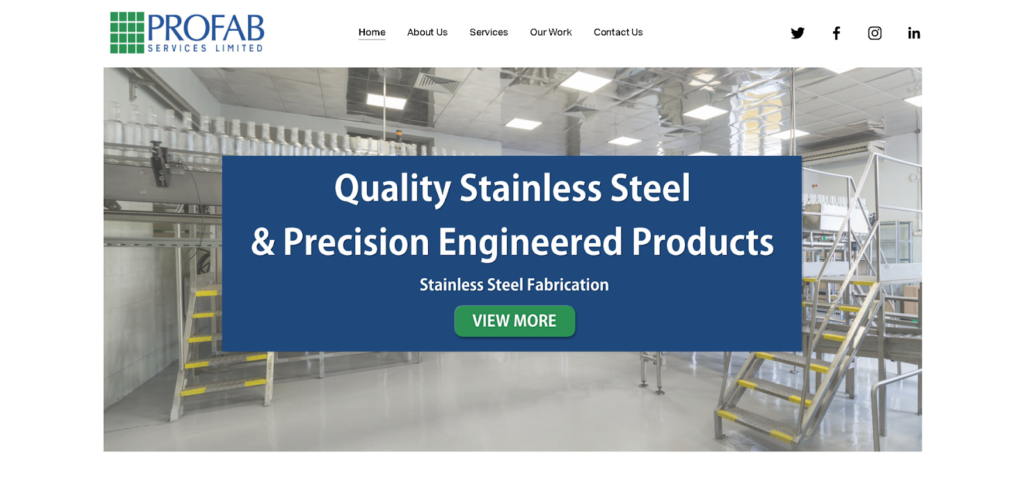 SERVICES
Stainless Steel Fabrication
Precision Engineering
Design
Manufacturing
WEBSITE
profabservices.ie
ADDRESS
Unit C6,South City Business Park,Tallaght,Dublin 24.
CONTACT DETAILS
Phone : (01) 459 6221
Fax : (01) 459 6651
[email protected]
OPERATING HOURS
Monday – Friday, 8:30 AM – 5 PM
| | |
| --- | --- |
| Portfolio | ★★★★★(5/5) |
| Range | ★★★★★(5/5) |
| ●Services | ★★★★☆(4/5) |
| ●Materials | ★★★★☆(4/5) |
| Coordination | ★★★★★(5/5) |
| Feedback | ★★★★☆(4/5) |
| ●Customer satisfaction | ★★★★★(5/5) |
| ●Customer service | ★★★★★(5/5) |
Profab Services has successfully created superior stainless steel fabrication and precise engineering products for a wide range of Irish industries since its inception in 1992. Profab Services has worked on several projects with well-known international pharmaceutical businesses over the previous decade. This has provided them with vital industry knowledge and led to the development of a large client base.
Their dedication to meeting the needs of their clients, through the production of high quality, custom made products allows them to guarantee a personal service that ensures your deadline is their deadline. Profab Services makes high-quality stainless steel bespoke items in a variety of sizes and shapes for a wide range of industries.
They create, fabricate, service, repair, reconfigure, and install a diverse variety of unique stainless steel products and equipment. Profab Services is your one-stop solution supplier for bespoke goods, cleanroom furniture, processing tanks, storage tanks, cabinets, work stations, conveyors, pipe processing, and more.
Offering a complete stainless steel fabrication and machining service where high-quality components and assemblies are required has helped them gain a diverse client base of global corporations and local enterprises.
Quality, durable, and affordable products
Great customer support
Years of experience
Customer Reviews
Very professional and highly skilled
"My company The Lock Hospital Locksmiths have been dealing with Sean and his team at Profab for over 20 years can't rate them highly enough very professional and highly skilled" – John H
FAQs about Steel Fabrication
---
From design to process to equipment, each fabricator has their own pros and cons and we hope our list helps narrow down which ones would be best for your project.
If you would like to read more, we also have an article on the best panel beaters in Cork.