The 10 Best Interior Designers in Dublin
If you're looking for a change in scenery, an interior designer can help you transform the look and feel of your living space.
To help you with that, we've gathered the best interior designers in Dublin, along with their services, contact details, pros and cons, and more. We'll also answer some questions you might have about them at the end of this article. You might also want to check out these interior designers lightroom presets to help you out.
Without further ado, let's discuss the costs of hiring an interior designer first.
How Much Do Interior Designers Charge in Dublin?
In Ireland, interior designing costs will vary depending on the size of the project and your chosen designer's experience. For big projects, hiring an interior designer will amount to 10% of the entire project.
More often than not, interior designers have an hourly rate starting at €250 for consultation services. Full-range design services begin at €700 and above, which include detailed floor plans, a 3D simulation, a shopping list, etc.
Because no two projects are alike, most interior designers in Ireland won't post their rates upfront. Some designers also require additional payments such as transportation or monthly fees.
For this reason, we highly recommend asking your chosen designer about their rates beforehand. Make sure to read your contract carefully to avoid hidden fees.
The Best Interior Designers in Dublin
Let's proceed to our picks of the best interior designers in Dublin for your home decorating needs!
1. Divine Design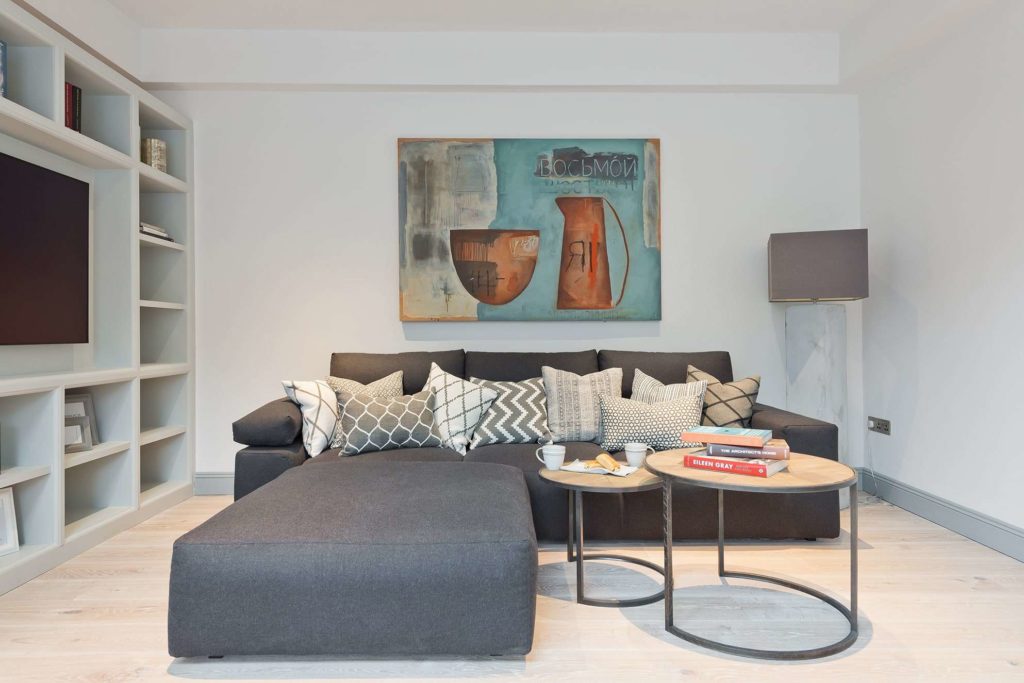 BEST FOR
Homeowners based overseas; sustainable green interiors
SERVICES
Residential and commercial interior design services, styling and staging, holiday home design, sustainable green interiors, soft furnishings, smart homes
WEBSITE
http://divinedesign.ie/
ADDRESS
Workshop 2, 13B Camac Park, Inchicore, Dublin 12
CONTACT DETAILS
(01) 457 6236


[email protected]

OPERATING HOURS
Monday to Friday 9:00 am to 5:00 pm
Most homeowners based overseas typically put their properties in Dublin on the market, whether it's for letting or selling. If you're looking to increase your property value by sprucing it up, then we recommend Divine Design.
As a full-range residential and commercial interior design company, they mostly take pride in working on second homes or homes whose owners are primarily based overseas.
You don't have to worry about being left out of the process. They'll make it a point to keep you regularly updated via Skype, WhatsApp, or any other platform you prefer.
We also like that they specialise in sustainable green interiors, which means that they'll mostly use sustainably sourced materials or repurposed materials available on site.
If you're particularly concerned about minimising your ecological footprint, then this service is for you.
Divine Design's services are quite in demand in Dublin though. And with a relatively small team, you might have difficulty in securing the services of the designer you prefer.
Hence, we recommend enquiring early if your timeline isn't immediate.
Award-winning designers
Wide range of services
Specialises in working remotely
Ethically-sourced materials
Limited availability due to high demand
Rates unavailable online
Relatively small team
Customer Reviews
Check out some reviews by people who used Divine Design's services below:
"Gwen and her fabulous team changed up my dated dark apartment to a colourful, elegant and fun space. The team's knowledge on colour schemes and the best quality supplier was outstanding. Gwen and team understood the task from the start and also understood the modern look of the apartment I was looking for. Each piece was sourced from quality suppliers and perfect for the space. I never would have achieved this look on my own and could not imagine the transformation. I would highly recommend Divine Design." —Niamh Cusack, Google Reviews
"Gwen Is just so knowledgeable when it comes to all things interiors !! I did one of her masterclasses and what I loved the most was how she wants you to inject your personality into your house and don't just follow trends!! go to a masterclass if you can or else get her to work with you , you wont regret it!" —Lisa Sheppard, Google Reviews
2. Kingston Lafferty Design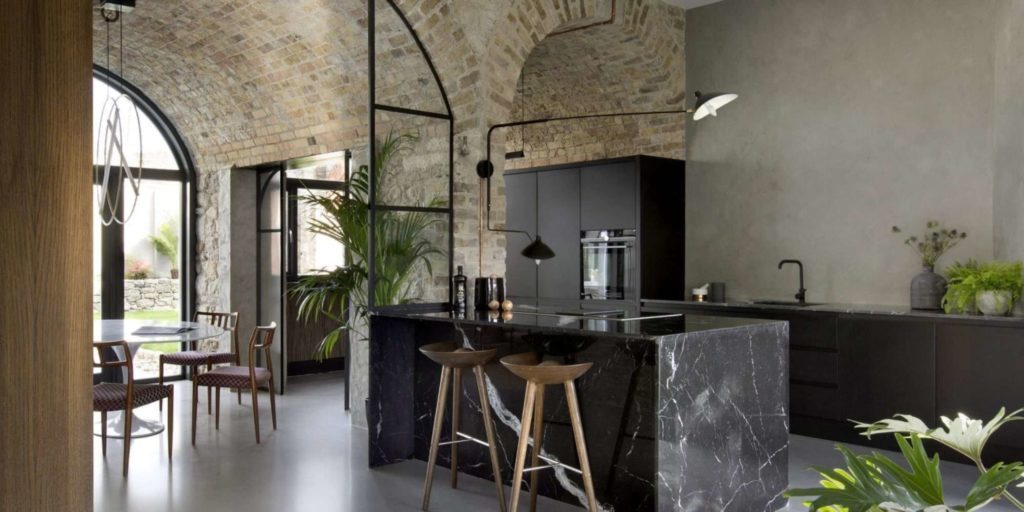 BEST FOR
Modern and minimalist styles, city residences
SERVICES
Residential and commercial interior design
WEBSITE
https://kingstonlaffertydesign.com/
ADDRESS
Kingston Lafferty Design, 48 Eastmoreland Lane, Dublin 4
CONTACT DETAILS
(01) 551 4836


[email protected]

OPERATING HOURS
Monday to Friday 9:00 am to 6:00 pm
A quick glance at Kingston Lafferty Design's (KLD) portfolio reveals that they like to mix modern and minimalist styles. And although most decor and furniture pieces have neutral and dark tones, they aren't afraid of incorporating a splash of bold colours to provide a bit of contrast.
If this style is right up your alley, the designers at KLD are the ones to call. They're an award-winning studio that specialises in residential and commercial interior design, architecture, and even graphic design.
They're regularly featured in major design magazines and because of this popularity, this may result in a high volume of enquiries.
Currently, their services are limited to interior architecture and interior design—but don't let this stop you. Whether you're planning to reconfigure an existing space or want a new look, KLD can help you with that.
On their website, you can have a detailed look at their portfolio, which also includes a short case study on what they've accomplished with the space.
Although we would've liked to see their rates from the get-go, you can still give them a call to know more.
Award-winning studio and designers
Branding services available
Mid-sized team of designers
Rates unavailable online
Limited availability due to high demand
Customer Reviews
Check out what clients had to say about Kingston Lafferty Design:
"Kingston Lafferty Design is a vibrant and creative company with great style. I have been following their work online and love their new website. After meeting the team I can't wait to work with them." —Kate Sheridan, Google Reviews
"Kingston Lafferty Design has an amazing eye for detail. I love their approach to design and the way they offer the complete design service from interior architecture right down to the branding and everything in between." —Zulfa Mohd, Google Reviews
3. Cohn Design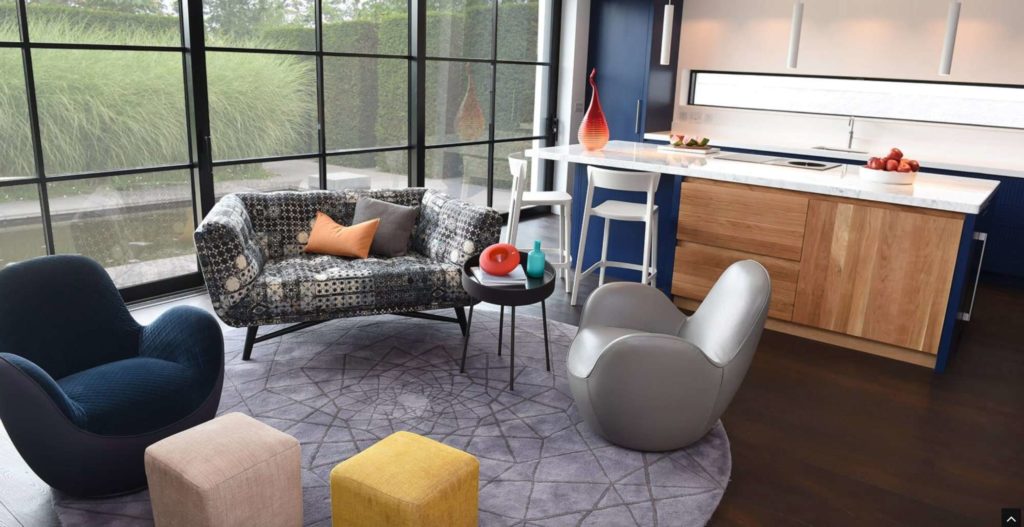 BEST FOR
Modern luxury; country houses/mansions
SERVICES
Residential and commercial interior design services
WEBSITE
https://www.cohndesign.com/
ADDRESS
50 Mount Street Upper, Dublin
CONTACT DETAILS
(01) 902 3388


[email protected]

OPERATING HOURS
Monday to Friday 9:00 am to 6:00 pm
Despite being a native New Yorker, studio founder Garry Cohn has found a home in Dublin by giving Irish homes a taste of modern luxury. Apart from residential homes, he also specialises in commercial interiors for retail and fashion shops, as well as luxury hotels.
His portfolio mostly revolves around private residences in the countryside, both rustic and modern houses. He likes using light and bright colours in his projects so if that's something appealing to you, then go ahead and give him a call.
Regardless of your location, you can book an online consultation package, which includes 3 meetings, a personalised style guide, a 3D visualisation of your room, and a shopping list, among others. Just download Zoom onto your phone or computer, and you're good to go!
For each package you book, their team will only focus on one specific room of your house, which will ramp up costs if you're planning to revamp multiple rooms.
Otherwise, you can schedule a private visit, which also includes everything mentioned above.
Take note though that private visits are only limited to Dublin and northern Wicklow. So if you're residing beyond these areas, we recommend going for their online consultation package instead.
Specialises in light colours
Online consultations available
Free additional consultation for every referral
Gift vouchers available
Site visits limited to Dublin and northern Wicklow
Relatively expensive
Online payments only
Customer Reviews
Clients generally recommend Cohn Design's services. Some examples include:
"Garry is an exceptional designer and when you enter a property or house you see his touches and know Garry was involved. I have seen his work first hand and there is always something sparkling, different , fun and always creative. Garry is a pleasure to work with and always on time and on budget." —Marc Thornton, Google Reviews
"Garry Cohn of Cohn Design is an international trend setter when it comes to architecture and interior design. Originally from New York and now based in Dublin, he creates beautiful colourful interiors and architecture internationally. He specialises in retail, hospitality and residential. His designs are bright, beautiful and bold. He has an amazing way of helping his clients step out of their comfort zone so that they get a truly unique, leading edge design. Cohn Design is the architect/designer to select if you are a trendsetter and you want something that nobody else has." —Ben Simpson, Google Reviews

4. Julianne Kelly Interiors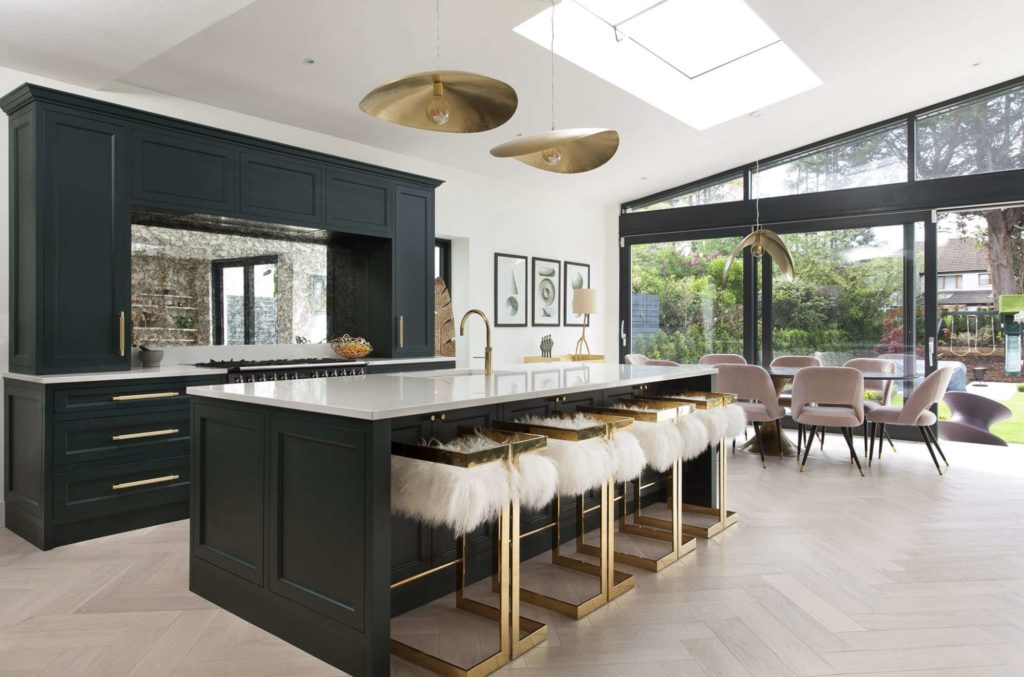 BEST FOR
Contemporary and traditional designs
SERVICES
Design consultancy, window dressing, bespoke furniture, re-upholstery, wallpaper, lighting, accessories, carpet and rugs
WEBSITE
https://www.juliannekellyinteriors.ie/
ADDRESS
105 Morehampton Rd, Dublin 4
CONTACT DETAILS
(01) 668 8533


[email protected]

OPERATING HOURS
Monday to Thursday 9:00 am to 5:30 pm
Friday 9:00 am to 5:00 pm
Saturday 11:00 am to 4:00 pm
If you're looking for a one-stop shop for all your design needs, consider Julianne Kelly Interiors' services. Being in the industry for almost 50 years has allowed them to build an extensive network of suppliers that provides curtains, furniture, wallpaper, and the like.
What's unique about them is that they have a showroom in Donnybrook that's also open on Saturdays. If you happen to be in the area, you can pop by for a look at their design samples and have a quick chat with one of their designers.
While their style is mostly contemporary, their portfolio shows that they have worked on a number of English-style houses. So if you like traditional aesthetics, they can give you the look that you've envisioned for your home.
Moreover, they also have an online shop available for a selection of internationally sourced designer furniture and decor—ideal for those who want to experiment on their own.
Important to note that they mostly specialise in residential homes. If you're looking for a full-range commercial interior designer, they might not be the right fit for you.
Extensive network of suppliers
Open on Saturdays
Showroom available
Online shop available
Limited commercial projects
Rates unavailable online
Small team
Customer Reviews
Julianne Kelly Interiors has built a strong reputation throughout the years as evidenced by these reviews:
"We completed a renovation on our home but with small children we had no time to complete the finishing touches. Julianne and Melanie transformed our decor and pushed our boundaries with colours and patterns we never would have considered but have fallen in love with. They've done all the hard work to find us amazing pieces, fabrics, furniture and colour schemes that are both plush and practical! Such a fab team to work with, they're accommodating, approachable and very friendly." —Claire Ruse, Google Reviews
"Julianne and her staff provided the expertise I needed when setting up my healthcare clinic to set the tone for a professional and modern environment and her quality materials have lasted the test of time! I have since sought her expertise for home upgrade work also with renovation of a bedroom. Overall she and her team have changed my initial misconceptions about the cost of interior design services, and are wonderfully approachable and helpful with jobs of all sizes. Highly recommend." —Lorraine Hanrahan, Google Reviews
5. Clontarf Interiors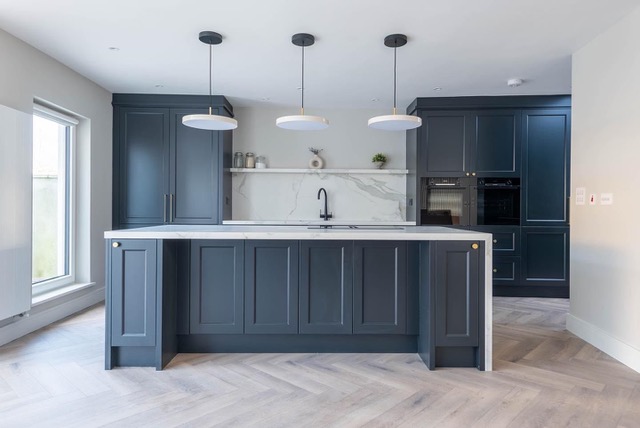 BEST FOR
Interior Design
SERVICES
Bespoke Upholstery and Cabinetry, Full design concepts for Kitchens and Bathrooms, Curtain Making, Supplier of fabrics and wallpapers, Furniture sourcing from our suppliers, Interior Styling
WEBSITE
https://www.clontarfinteriors.ie/
ADDRESS
Wellfield House, Malahide Road, Kinsealy, Co Dublin
CONTACT DETAILS
087 827 4858 |

[email protected]

OPERATING HOURS
Contact for more information
Clontarf Interiors is an interior design company that was established by Linda McNally in 2004. Over the years, they have gained a reputation as a company that can serve well both commercial ad residential projects.
So no matter how big or small the project is, they can definitely handle it.
Similar to others, they make sure to keep an eye on the latest styles. This allows them to cater to clients who prefer recent trends rather than basic ones.
But what makes them stand out is the fact that when you avail of their service, they will provide you with a complete solution to your home. They incorporate spatial planning, both interior and exterior design, build, architectural reconfiguration, lighting design, furnishing, decoration, and procurement.
The only thing you will basically do is tell them your idea and they will get working.
Can do neutral and colorful designs
Will work around your budget
Offers home staging, which is great if you are preparing for a house sale
Base rates are unavailable
Customer Reviews
Here are some reviews from their previous clients:
"Many thanks for the work you suggested and carried out on our home on 74 Clonliffe Road. We have been the proud and happy owners of a five bed,two bath,six fireplace home for nearly thirty years,but the time had come to move on. Linda surveyed the property and found that it needed an upgrade in terms of redecoration -and she was absolutely right! With her supervision and Darius her painter,our home was transformed. The house can be viewed on Movehome.ie We achieved an excellent price and this we attribute to you. Many thanks again" – Michael Moss
"I have an apartment in Clontarf but live in England, so furnishing it was going to be a problem so I looked up interiors designers in the area. I rang Linda and told her what I was looking for and budget I had. I instantly warmed to her and thought she was someone I could trust and work with. Linda met with my sister and made an immediate impression on her for her ease and professionalism and her eye for detail. The apartment needed everything from beds to sofas and lamps. Linda sorted everything with loads of enthusiasm and very quickly as I had given her a time limit. She arranged for someone to make a beautiful bespoke floor to ceiling, wall to wall bookcase which also housed the Television and entertainment equipment and an enormous amount of storage which is always a problem with apartments. Apartments by nature can be quite cold and sterile but with the choices of sofas, pictures and beautiful lamps along with the bespoke bookshelf, Linda made the apartment extremely cosy with a beautiful and very practical feature wall. In the bedrooms, Linda sourced Irish handmade beds, beautiful headboards that matched the curtains and bespoke floating lockers which again maximised the space. Finishing touches of luxurious mirrors and lamps and in the hall a beautiful mirror and table added to the ambience of the apartment. Linda even sourced a lovely table and chairs for the balcony. All the furniture was delivered, constructed on site and rubbish was taken away, curtains were hung and cushions made for the sofas that matched the curtains. Every detail was considered and thought of. I found Linda to be extremely easy to work with and her enthusiasm for her job and ideas of what would work very inspiring. I was delighted with the finished product and wouldn't hesitate to use her again. I would recommend Linda at Clontarf Interiors to anyone with any budget. Worth every penny." – Orla Murphy
6. Black Fox Interiors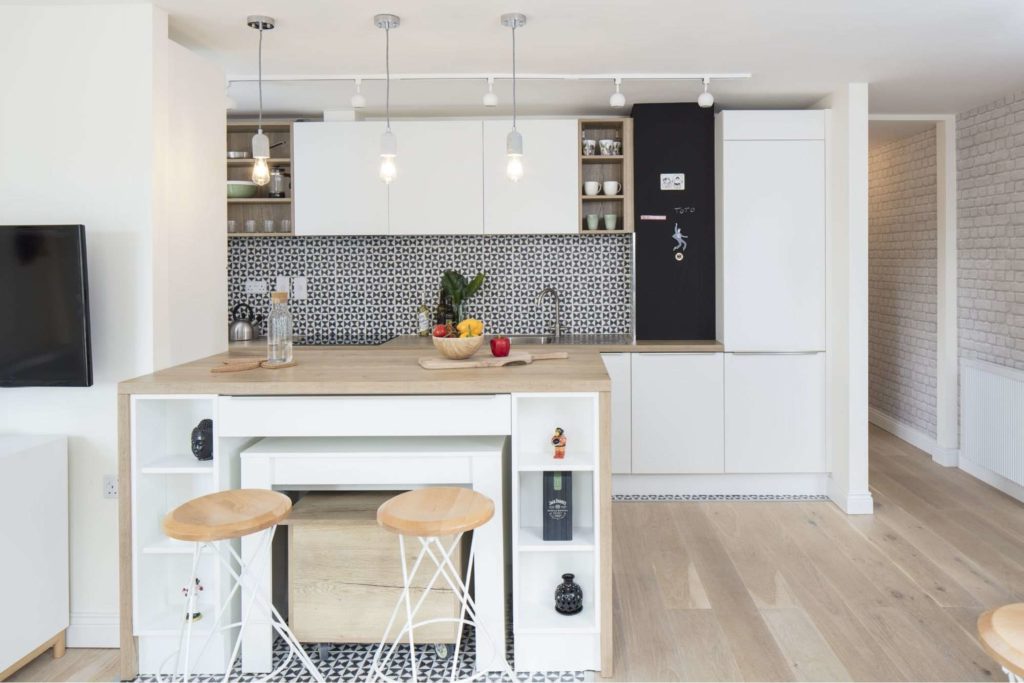 BEST FOR
Contemporary designs, flexible arrangements
SERVICES
Design consultation, full service design
WEBSITE
https://www.blackfoxinteriors.com/
ADDRESS
Lynwood House, Ballinteer Rd, Dundrum, Dublin
CONTACT DETAILS
(089) 221 9185


[email protected]

OPERATING HOURS
Monday to Friday 9:30 am to 6:30 pm
Saturday By appointment only
Black Fox Interiors offers the most flexible designing plans on our list. Allow us to tell you why.
If you merely need advice on how to improve your space, you can book a 2-hour design consultation appointment. A few days after the consultation, expect a written report, a digital mood board of ideas, and a list of possible suppliers that you can contact moving forward.
Otherwise, you can also book their full design service if you want a hassle-free experience. Black Fox Interiors will do everything from the ground up—from conceptualisation to supervising installation.
What's particularly special about them is their Black Fox Box, containing drawings, mood boards, paint colours, finishing samples, and more.
Note that a designer from their team will visit your home to discuss your preferences and needs, which they'll need to develop your own box. Once the box has been delivered, you can be your own interior designer moving forward!
Flexible designing arrangements
Saturdays appointments available
Extensive network of suppliers
Rates unavailable online
Small team
Customer Reviews
Check out some clients who used Black Fox Interiors' services:
"We worked with Black Fox Interiors on the renovation of our home last year. We initially sought Dana out to advise on layout options, and then decided to also use her project management service. It was the best decision we ever made. Dana has an excellent eye for detail and colour, knew exactly what we wanted before we did, and took care of every possible thing so we didn't need to worry. Our apartment is relatively small, with a rather unusual layout, and Dana put thought and care in ensuring we made the very best of the space we have. Highly recommended." –Elaine Cronin, Google Reviews
"Dana designed our home which we bought in the midst of the pandemic. . We were very confident from the initial call when we described our requirements to her. She was meticulous on the project plan based on our requirements and pragmatic about how things work in the real world. She brought the ethnic elements with the blend of contemporary look that we envisioned. Right from the initial project design to completion she was diligent in making things right. She was highly responsive to any queries we had throughout the duration of this project." —Jayaveeran Kadhiresan, Google Reviews
7. Estilo Design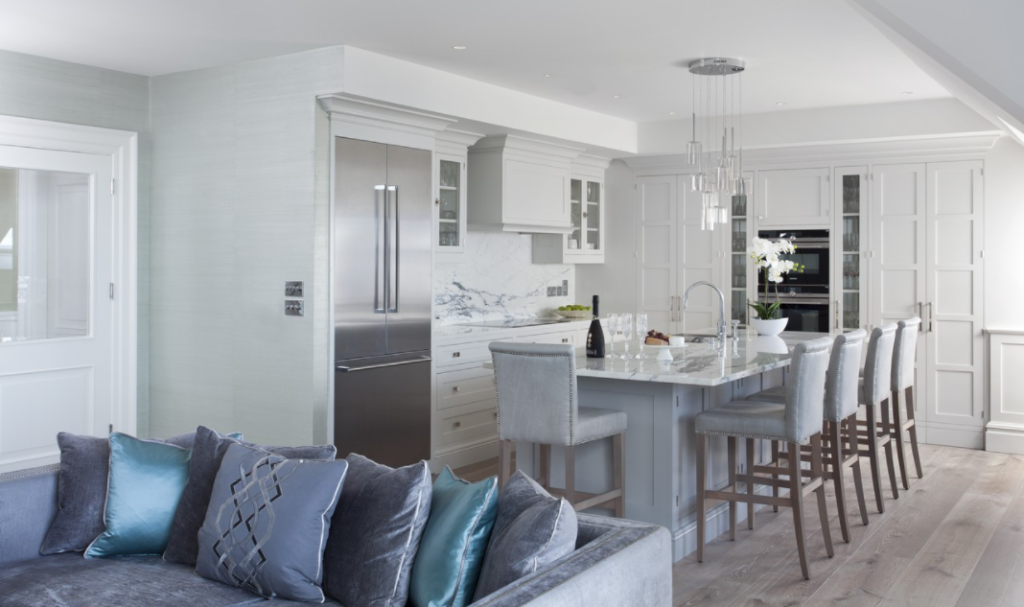 BEST FOR
Showhouses and private homes
SERVICES
Interior Design
Interior Architecture
Interior Styling
Bespoke Upholstery and Joinery
Curtain Making and Window Treatments
Luxury Turnkey Design for Overseas Clients
Apartment and Rental Property Fit-outs
WEBSITE
https://www.estilodesign.ie/
ADDRESS
Unit 26, Airways Industrial Estate, Co. Dublin, D17 TH93
CONTACT DETAILS
PHONE
Audrey Reynolds (086) 272 3433

EMAIL


[email protected]

OPERATING HOURS
Monday – Friday 9am to 5pm
Saturday 10am to 3pm
Sunday Closed
Estilo Design was started by Aubrey Reynolds in 2015. We think they are great because they are able to provide amazing and beautiful collections of furniture, fabrics, wall coverings, and lightings that come from all over the world.
In comparison to other companies, they work very closely with their partners. Some of the people they work with are artisan craftsmen, kitchen manufacturers, highly skilled joiners, curtain makers, upholsterers, painters, decorators, and much more.
They mentioned that they do this in order to enable them to bring out the highest standards of luxury and design to all of their projects.
Just by looking at their website, we immediately knew that they will be one of the interior designers we absolutely recommend. One reason for is they work with different international brands.
If you prefer brands like Kitmiles, Eichholtz, Andrew Martin, Thibaut, and the likes, they are the perfect company for you.
Works with international brands
Can help you with everything, from paint and wallpapers to furniture and additional home accessories
Wide range of services
Rates are not on their website
Customer Reviews
Here are some of the testimonials of their clients:
"Audrey @ Estilo is one of the most talented designers in Ireland. Audrey combines her knowledge, expertise,and elegant designs to enhance your home and lifestyle. If you are in any way obsesses with interiors, Audrey @ Estilo is an absolute must to visit. We are both thrilled with our home and the show houses Audrey has completed for us." – Lisa and Greg Gallagher
"We were able to source some really unique pieces with Audrey in Estilo Design. She has the most amazing collections of wallpapers and there is so much to choose from. We finally decided on ours and are so happy with it. We also got our couch and dining table at Estilo and they are like nothing I have seen anywhere else" – Tara Anderson
8. Michela Mantero Interior Design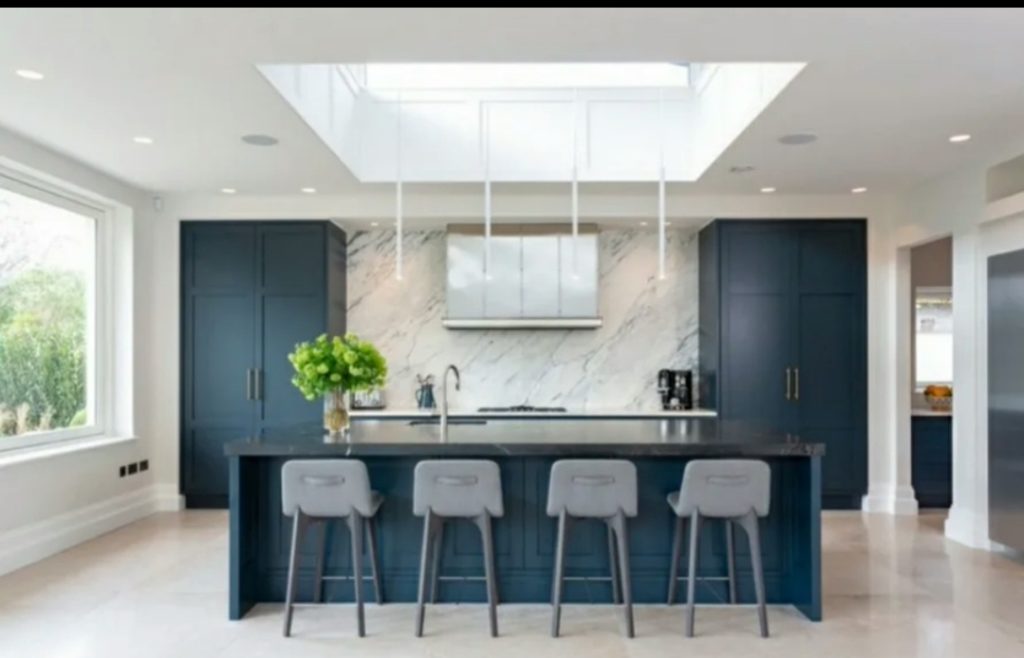 The designer behind Michela Mantero Interior Design is Michela, who has worked with and even retained, clients in both Ireland and Italy.
What makes them stand out from other designers is their 360-degree approach. From consultation, design process, architectural planning, to exterior landscape design, they can do it.
This feature of theirs is a great deal for those who are having a hard time choosing a designer as they can serve you almost everything!
We love how Michela combines the finest materials with sophisticated color schemes. This simple combination can make your interior pop but not make it an eyesore.
Unlike others, Michela gets her unique ideas by traveling back and forth between the United Kingdom and Italy. If you plan on contacting her, she will consider all your requirements, context, and personal taste,
She will also give you her insights if she thinks it will benefit your home and lifestyle.
Has been in the industry for more than 15 years
Most of her business comes from repeat clients
Base rates are unavailable
Customer Reviews
Here are some reviews from their previous clients:
"Michela is excellent at what she does and a wonderful person to work with. Michela has a fabulous eye for design, which looks great but which fits in with how your household will work. She was involved from the very beginning of our project and made some critical changes to the initial design of our house which made a massive difference to the result from both an aesthetic look and feel along with practical use." – Elaine R.
"All projects have been completed on time and within budget and have achieved everything we were promised and more by the initial schemes. She is also very personable and a pleasure to work with. Michela has impeccable taste and all of her work has a sophisticated style. Her work never disappoints." – Paul & Denise O'R.
9. Think Contemporary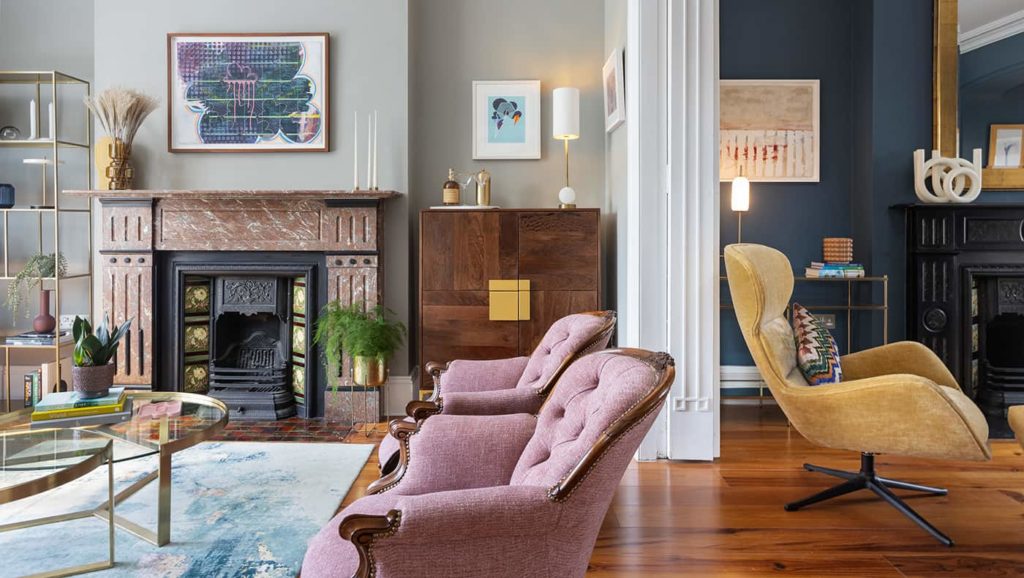 BEST FOR
Interior Design and Architecture
SERVICES
Commercial Design and Residential Design
WEBSITE
https://www.thinkcontemporary.com/
ADDRESS
76 Thomas St, Dublin 8, Ireland. D08 KD6C
CONTACT DETAILS
+ 353 1 5550398 |

[email protected]

OPERATING HOURS
Contact for more details
Think Contemporary has been in the industry since the year 2008. They take pride in working for both local and international clients.
Similar to other companies, they offer design solutions to the residential and commercial markets. But what makes them stand out is how you can now have a central point to organize all your trades.
You will be given the option of having Think Contemporary manage everything. From your design project to liaise with all the appropriate trades and stakeholders in order to finish your project on time and stay within the said budget.
What made us love them, even more, is that even though they only have a small team, they are still tight-knit. This can imply that they only have one mission in mind, and that is to satisfy your needs.
Their residential interior design method is preferred by most because aside from providing a visually pleasing interior, they also take into mind the lifestyle of their client. From storage to where they place the sockets, they will think of it thoroughly.
When talking about commercial design, their team completely shifts. This is another thing that makes them great because they do intensive research on the area of their client and list down all the details they need before working.
They make sure to have a knowledge of the policy, rules and regulations, management, spatial planning, up-to-date design styles, appropriate materials and type of construction to be used, and so much more.
The interior design team works with Architects, Engineers, Quantity Surveyors, and a variety of stakeholders
On larger-scale projects, they consult on the full-scale redevelopment of multiple workspaces
Keeps client updated about the the process
Rates are unavailable on their website
Customer Reviews
Here are some reviews from their previous clients:
"Joanne and Anthony were a pleasure to work with for our two show houses (a 3 bed duplex and a 4 bed house) at Westminster Wood in Foxrock, Dublin 18. Right from the beginning at planning stage, they showed their professionalism and enthusiasm by truly understanding the brief and delivered on time and within budget interiors that were perfectly styled to suit the development. I found them both to be very creative, adaptive and willing to collaborate. I would highly recommend working with Think Contemporary."
"I recommended Think Contemporary to client of mine who acquired an investment property in Dublin. The property was in poor decorative condition. The client was absolutely delighted with the service provided by Think Contemporary as this goal of securing a corporate tenant at a premium rent was realised thanks to the design, fit-out and styling by Think Contemporary."
"I found working with Anthony of Think Contemporary on a refurbishment of our sitting room/dining room and study to be a very positive experience both from a design and project management perspective. Anthony understood our requirements and brought a creative flair to the project that challenged our design boundaries. The work was completed to a very high standard and within budget. The end result is modern and stylish yet practical and comfortable. I believe we have achieved a more stylish, complete and cohesive look than we would ever have done on our own."
10. RK Designs
BEST FOR
SERVICES
WEBSITE
https://rkdesigns.ie/
ADDRESS
Hillview House, Bracken Road, Sandyford, Dublin 18.
CONTACT DETAILS
+353 (0) 1 6678659
+353 (0) 87 988 1442


[email protected]

OPERATING HOURS
Contact for more information
The company was founded in 200 and has been featured on several television programs such as RTE's Showhouse & publications such as The Sunday Business Post, Social & Personal, The Irish Independent, and House and Home magazine.
What's great about them is that they do not only offer residential and commercial interiors, but also project management, associated services, and commissioning and supervision of all professionals. This will literally lift all the weight off your shoulder and help you continue your daily routine.
They can help you manage your renovation, refurbishment, or restoration. For their associated services, they can do custom lighting design, custom furniture, curtains & upholstery treatment, sourcing of fine art, photography, & decorative, and, lastly, carpeting and hard flooring.
If you are not yet sure about the things you want to change in your home, do not worry as they can also help you with this. Ruth Kennelly, the founder, can immediately give you pieces of advice before starting the project.
Talking about budget, they are one of the companies that strictly follow this. They do not make any changes without their client's permission and they make sure to keep in mind the vision of their clients so that they can achieve maximum satisfaction from them.
ruth went on to be accredited in interior design with Rhodec International
Studied fine art and antiques with the Professional Institute of Irish Auctioneers and Valuers
Provides a full project consultation
Starting prices of service is not available on the website
Customer Reviews
Here are some reviews from their previous clients:
"Ruth Kennelly designed and managed a complete refurbishment of my house. I trusted her judgement and style, so much so that I handed her the keys and went away on holidays for three weeks!!! And what a result – a fantastic revamp from old to new. I have no hesitation in highly recommending RK Designs to family and friends alike" – Clodhna Ferris, Dun Laoghaire
"R.K.Designs has managed a number of fit outs for me over the past few months, all of which have been carried out excellently, I have no hesitation in recommending RK Designs to anyone looking for a creative, reliable and professional service." – Joe Jackman, Dublin 14
FAQs about Interior Designers
---
And that concludes our list of the best interior designers in Dublin! We hope that we've helped you get one step closer to your dream home.
Think there are other interior designers we need to feature? Drop us a line and we'll check them out as soon as we can.
Now, if you're also looking for an architect to complete your dream home, we've also listed the best architecture firms in Dublin to help you with that.