The Best IT Service Companies in Dublin
IT can be very tricky to oversee because it requires specialized knowledge for effective management. Getting the help of a third party service opens the doors to what your company can do when it comes to this aspect.
In this article, we look at the best IT service companies in Dublin that can help you manage your systems.
How much do IT services cost?
Prices can differ with the many different service types and categories it IT. It can also be affected by the complexity of the project, its duration, as well as how involved the third party company would need to be.
| Service | Price Estimates |
| --- | --- |
| IT Monitoring | € 100 to € 130 per month |
| IT Consultancy | € 25 to € 260 per hour |
| IT Security Services | € 77 to € 258 per user, per month |
| IT Disaster Recovery | € 1437 to € 5740 |
| Data Recovery | € 100 to € 2060 |
Top IT Service Companies in Dublin
IT service companies can have a lot of different offerings, such as services for security as well as those targeted for business growth.
We assessed the companies based on to the following criteria:
1. IT Force
Test
Info
SERVICES

Managed IT Services

Managed IT Security Services

WEBSITE
https://www.itforce.ie/
ADDRESS
Heather House, Heather Rd, Sandyford, Dublin 18
CONTACT DETAILS
+353 1 5546 000,

[email protected]

OPERATING HOURS

Monday to Saturday: 9:45 AM to 5:30 PM
| | |
| --- | --- |
| Range of services | ★★★★☆(4/5) |
| ●Variety | ★★★☆☆(3/5) |
| ●Depth | ★★★★★(5/5) |
| Background and expertise | ★★★★★(5/5) |
| Past clients | ★★★★★(5/5) |
| Feedback | ★★★★★(5/5) |
| ●Coordination | ★★★★★(5/5) |
| ●Satisfaction | ★★★★★(5/5) |
IT Force is a highly qualified company that offers a very concise selection of services towards computer support, IT management and security.
Since being established in 1999, they have steadily grown their services to become a trusted one amongst its clients.
We think that customers will be assured of their quality with the many credentials they have. These include having a client retention of 96% as well as being rated as one of the top 500 IT providers in the world.
What we really like about them is that their services are perfect for certain types of industries like those that provide professional and financial services.
For professional type services like legal firms, consultancies and ad agencies, IT Force can help by increasing revenue and growth. Their past clients enjoyed how communicative they were during the process.
On the other hand, IT Force is able to help financial services by prioritizing security and compliance which are key areas for these types of companies.
We really like how flexible they are in terms of different types of companies they can help out. However, they may not be the best option for larger sized companies as they do focus more on SMEs.
It is worth mentioning that they can also help companies with their Virtual Annual General Meetings systems which not a lot of other IT services offer. These systems help improve online communication between team members.
All in all, despite their more curated selection of offerings, IT Force is an excellently versatile company that builds customer loyalty through their adaptable approach.
Good fit for financial companies
Qualified and award winning
Comprehensive services for security services
Unique offering of help with virtual AGM service
Less range of specialized services
Not the most suitable for large businesses
Customer Reviews
Prompt Service, Attentive Staff
IT Force is a great company for businesses. My experience was satisfactory with them, prompt service and the staff are attentive and resolved the issues as quickly as possible. I really recommend this company to anyone looking for differentiated service with skilled and friendly people. – Carol Pinheiro
Knowledgeable and Well Trusted
Working with the IT Force team over the years has been a great experience, they are knowledge and well trusted in their field. We look forward to continuing our working partnership with them in the foreseeable future. – Usman Shah
2. IT.ie Managed IT Support Services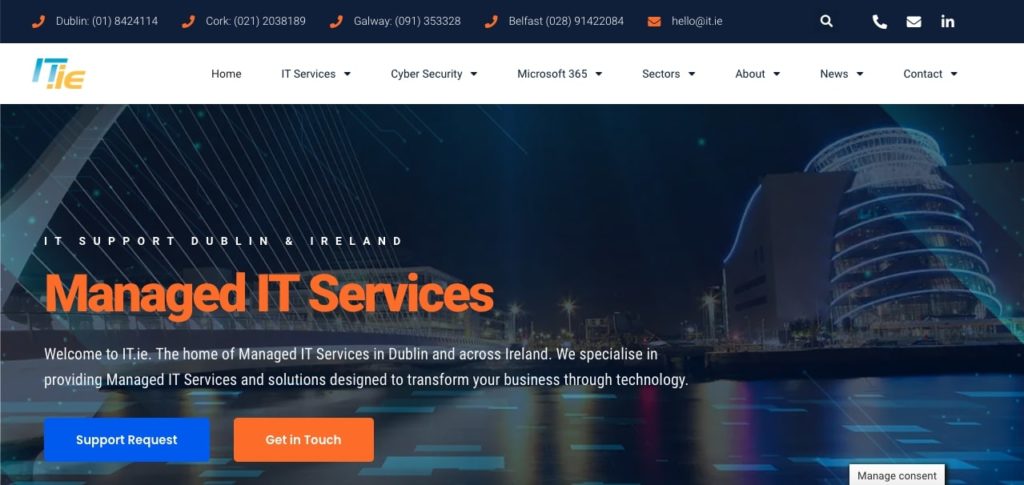 Test
Info
SERVICES

Managed Services

VoIP Solutions for Business

Business Broadband

Interactive Whiteboards

Cyber Security

Microsoft 365

Other Services

WEBSITE
https://it.ie/
ADDRESS
Finglas Business Centre, Unit 35, Jamestown Rd, Finglas North, Dublin
CONTACT DETAILS
(01) 8424114,

[email protected]

OPERATING HOURS
Weekdays: 8:00 AM to 5:30 PM
| | |
| --- | --- |
| Range of services | ★★★★★(5/5) |
| ●Variety | ★★★★★(5/5) |
| ●Depth | ★★★★☆(4/5) |
| Background and expertise | ★★★★☆(4/5) |
| Past clients | ★★★★★(5/5) |
| Feedback | ★★★★☆(4/5) |
| ●Coordination | ★★★★☆(4/5) |
| ●Satisfaction | ★★★★☆(4/5) |
IT.ie has come a long way, initially starting as a service for remote support requests.
If anything, their development and growth has proven that they can expand with the rapid changing pace of technology. Most recently, they were presented with the ISO 27001.
What we appreciate about them is the many features and expertise they have which make coordinating with them a breeze. They are well-versed in a lot of different applications and they can accommodate monthly payments for all of their offerings.
Aside from this, we like that their processes are concise, which make them an excellent choice for small businesses who prioritize efficiency.
For example, their procedure for the managed print service takes into account everything in between, right down to the review and feedback while still focusing on optimization. They even offer a free print audit.
We highly suggest checking out their sectors page which details their services for specific types of organizations you won't commonly find highlighted by IT companies like schools and charities
IT.ie is also one of the best options out there in terms of services for hardware. The company can help with broadband Internet, and offers different packages for fibre.
Take note, however, that their fully managed IT support package has certain limitations regarding its coverage with server repairs as well as printing.
Regardless, IT.ie has more than proven that its tools and list of services make it a comprehensive choice for different company needs and situations.
Have worked with a wide variety of past clients
Can provide free consultations
Very adaptable processes that can work for a variety of institutions
Help with business broadband, interactive whiteboards
Excludes certain aspects for fully managed IT support
Backup and recovery services limited to one provider, Ekco
Customer Reviews
Great Responsiveness, Trustworthy
Very happy with the service from IT.ie. We have used them for our small firm for almost two years now and would recommend them to anyone. Immediate response to all queries, always put in 100% effort, trustworthy and reliable. Couldn't be happier with them really. – Wendy Lyon
Efficient, Patient, Helpful
We moved our school IT contract to IT.ie this year and we are thrilled with the support that they have offered us. They have helped us to create and proceed with a comprehensive digital plan for our school which has been a great step forward for us. Throughout the process all of the employees that we have dealt with at IT.ie have been efficient, patient and helpful. They have done everything possible to help us out. We wouldn't hesitate to recommend them to anyone looking for an IT support company. – Nicola Boyne
3. iPing IT Support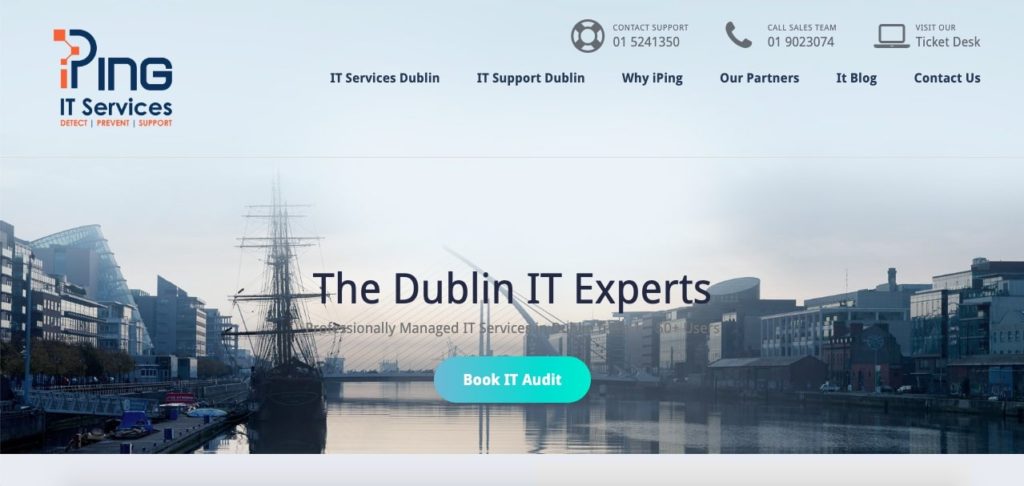 Test
Info
SERVICES

Hardware Sales

Good Advice

Internet Security

Managed IT Services

Remote Users

Server Installs

WEBSITE
https://www.iping.ie/
ADDRESS
3rd Floor, 126 Baggot Street Lower, Dublin
CONTACT DETAILS
+353 1 524 1350,

[email protected]

OPERATING HOURS
Weekdays: 8:30 AM to 6:00 PM
| | |
| --- | --- |
| Range of services | ★★★★★(5/5) |
| ●Variety | ★★★★☆(4/5) |
| ●Depth | ★★★★★(5/5) |
| Background and expertise | ★★★★★(5/5) |
| Past clients | ★★★★★(5/5) |
| Feedback | ★★★★★(5/5) |
| ●Coordination | ★★★★★(5/5) |
| ●Satisfaction | ★★★★★(5/5) |
Established in 2005, what we like about iPing IT Support is that their services can cater to a variety of different client situations. From efficient processes for one-off requests to tedious software and system migrations, they cover quite a solid range.
What we like about them is that they have very strategic and convenient partners that can help provide clients with quality services.
iPing IT Support is, for example, partners with Highline Office Technology which is convenient for those with office equipment needs.
Probably one of their most highlighted services is their remote IT support and what we like about this is that it makes the delivery of their processes more efficient especially for urgent requests.
We find this to be very suitable for companies who are experiencing more day to day troubles with their systems. We think they really are able to cover quite a range and depth of troubleshooting.
However, they do still provide onsite support should the need arise for it.
Admittedly, their range of services are a bit more limited and less targeted but we still find the selection solid nonetheless. They can help with business email migrations and even connect companies with the appropriate software tools.
It is no surprise why iPing IT Support is a well-received service provider amongst its business clients.
Can provide free consultation
Offers efficient remote support for emergency requests
Partners with a lot of computer and software brands
Very positive customer experiences
Comparably less range of more unique services to choose from
Have a more specific/limited list of providers
Customer Reviews
Cost Effective and Efficient
I've worked with Danny and the Team at iPing on a few projects and I've found them cost effective and efficient in service. I'd have no problem recommending them to any company. – Q-Fitz
Promptly Delivered, Great Experience
Danny at iPing took time to understand my current IT needs and challenges and we worked together on selecting the best solution (email and device security). This was promptly delivered by Mark who quickly completed a seamless email migration and help ensure all content from previous client was accessible. Great experience and thanks to the iPing team for quick and efficient service. – Seamus Power
4. Calnet IT Solutions
Test
Info
SERVICES

IT Support

Microsoft 365 for Business

Managed IT Services

Cloud Services

Backup and Disaster Services

Cyber Security Services

Managed Print Services

WEBSITE
https://calnet.ie/
ADDRESS
Eastpoint Business Park, Marina House, Block V, Dublin
CONTACT DETAILS
+353 (0)1 818 3272,

[email protected]

OPERATING HOURS
Weekdays: 8:00 AM to 6:00 PM
| | |
| --- | --- |
| Range of services | ★★★★★(5/5) |
| ●Variety | ★★★★☆(4/5) |
| ●Depth | ★★★★★(5/5) |
| Background and expertise | ★★★★★(5/5) |
| Past clients | ★★★★★(5/5) |
| Feedback | ★★★★★(5/5) |
| ●Coordination | ★★★★★(5/5) |
| ●Satisfaction | ★★★★★(5/5) |
With an excellent customer retention rate, Calnet IT Solutions's excellent customer support and professional approach makes them one of the most reliable options on our list.
Clients will be assured that the company has a solid background. Their founders alone have a combined 40 years of experience in the IT industry.
They've worked with help desk engineers and IT managers, so you can be certain that they can adapt well and provide qualified knowledge on any issue you may have.
We also appreciate that they have downloadable resources available on their site regarding various IT topics. We highly suggest checking these out.
Looking at their IT services more closely, we find them to be very comprehensive and suitable to many different types of situations the client may be facing.
For example, their IT helpdesk service is structured quite efficiently. They have 3 different levels of engineers who are able to address the areas of concern appropriately.
All of this, paired with their pleasant and approachable attitude, makes for a definite top choice amongst all other similar services.
Can cater to businesses of all sizes
Have downloadable resources available for IT issues
Dependable background and very knowledgeable
Offer more focused options for services like infrastructure as a service (IaaS)
Have limitations regarding brands for hardware support
Firewall service primarily limited to Sonicwall
Customer Reviews
Excellent Service Provided
We have used Calnet for a number of year now and the service they provide is excellent. They provide rapid responses and solutions to our managed IT services for the company remotely and in person when needed. They managed our office move with ease and speed and we were operational during the whole period. Highly recommend to businesses needed IT services. – Louis Coyne
A Team of Very Experienced IT Engineers
Our firm had partnered with a previous IT firm where some of the guys at Calnet worked before so when they moved to Calnet, we had no hesitation is changing IT service provider. They are client focussed and therefore their customer service is excellent. They deal with IT queries, no matter how big or small, efficiently and promptly, which is just what we need. They have a team of very experienced IT engineers and professionals and we have no hesitation is giving them a 5 star rating. – Janet Slattery
5. CK Solutions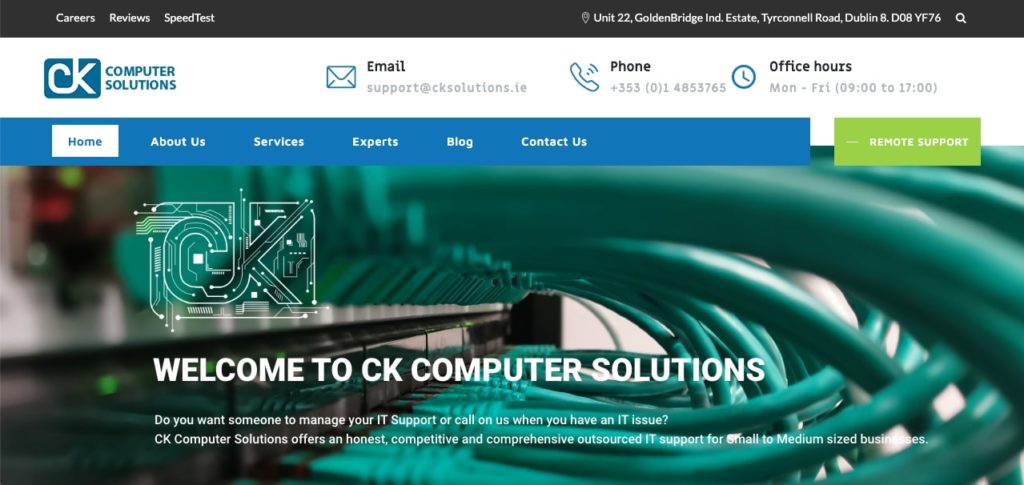 Test
Info
SERVICES

Project Management

Network Installation

Managed Services

Tech Deck

Online Backups

Consultation

Security Audits

Mac Services

WEBSITE
https://cksolutions.ie/
ADDRESS
Goldenbridge Industrial Estate, Unit 22, Inchicore, Dublin
CONTACT DETAILS
+353 (0)1 4853765,

[email protected]

OPERATING HOURS
Weekdays: 8:00 AM to 6:00 PM
| | |
| --- | --- |
| Range of services | ★★★★☆(4/5) |
| ●Variety | ★★★☆☆(3/5) |
| ●Depth | ★★★★★(5/5) |
| Background and expertise | ★★★★★(5/5) |
| Past clients | ★★★★★(5/5) |
| Feedback | ★★★★★(5/5) |
| ●Coordination | ★★★★★(5/5) |
| ●Satisfaction | ★★★★★(5/5) |
Launched in 2008, CK Solutions' concise selection of services pairs excellently with their knowledge and awareness of the growing IT industry.
What's impressive and noteworthy about them is that their customer service is very responsive and professional. Past clients have stated how pleasant it was to work with them because of their work ethic and excellent communication.
If you're a company that's a better fit with a more hands-on style of collaboration, CK Solution's approach may be just the right fit for you.
What customers will appreciate about them and their services is that they have a versatile offering of providing project management as well. Through this service, CK Solutions can manage quite the range of requests.
This includes telephone and Wi-Fi systems, structured cabling, co-working spaces and many more. Not a lot of comparable IT services offer similar types of thorough management services.
We would, however, note that their services are geared more towards small to medium sized enterprises. That said, large structured businesses may have to avail of IT services elsewhere.
But beyond this, we also find their consultation services to be very comprehensive. From scope to analysis to determining software requirements, they're able to collaborate and communicate well the needs of their clients.
CK Solutions makes a great service for small to medium sized companies looking for a great customer service that is very communicative yet professional.
Very knowledgeable and adapt well to changing industry trends
Great customer feedback on responsiveness and professionalism
Thorough consultation service
Offers project management as well
Not the best option for large scale businesses
Less options for non MAC computers
Customer Reviews
Very Responsive, Solution Focused
Great service. We are a primary school and Andrei and the CK solutions team are very responsive and solutions focused. I would have no hesitation in recommending the company for all IT needs (lap tops, computers, projectors etc.). – John Scottus National School
Very Dedicated
We've been using CK Solutions for years now and they are fantastic IT support. They're dedicated and work tirelessly to solve any issues you may have. I couldn't recommend them highly enough. – Laura Conlon
6. KOS IT SERVICES
SERVICES
IT SUPPORT & CONSULTANCY
REMOTE SUPPORT
WEBSITE DEVELOPMENT
CLOUD CONFIGURATION SETUP
WEBSITE
http://kositservices.ie
ADDRESS
Unit 2A, Eklad Cl, Malahide Road Ind. Park, D17 PH98
CONTACT DETAILS
[email protected]
+353 85 812 8512
OPERATING HOURS
Monday – Friday, 10:00 AM – 4 PM
| | |
| --- | --- |
| Range of services | ★★★★☆(4/5) |
| ●Variety | ★★★☆☆(3/5) |
| ●Depth | ★★★★★(5/5) |
| Background and expertise | ★★★★★(5/5) |
| Past clients | ★★★★★(5/5) |
| Feedback | ★★★★★(5/5) |
| ●Coordination | ★★★★★(5/5) |
| ●Satisfaction | ★★★★★(5/5) |
If you're looking for one of the most reliable companies to provide IT services in Dublin, then look no further away from KOS IT Services. Their philosophy is that they can handle any IT-related difficulties.
They can also install and manage gear and software and are adjusting to each customer's individual demands and working around them. They are here to assist companies with universal IT solutions.
What we like about them is how they turn their experiences into weapons and one thing that experience has taught them is that any IT issue can be either fixed or worked around. Thus they have been both setting up the hardware and the software for their Clients. Optimizing their IT office processes and virtualizing their working and/or client data.
With this they can improve business processes and make those easier, optimize their prices and make them affordable, and lastly, embrace all the latest technologies which as a result will widen the offers they can provide.
Personalized solutions
Affordable rates
Experienced staff
FAQs about IT Services
---
IT can be a very intimidating side to deal with, but with the right resources and help, your company can grow and expand. We hope our article helps out and if you would like to read more, we also have one on the best computer repair shops in Dublin.