The 7 Best Architecture Firms in Dublin
Building the house of your dreams? Looking to build a building to establish your business further?
Well, no matter how small or large your building project is, we got you. In this article, we've assembled a list of the best architecture firms in Dublin!
From their pros and cons down to some tips on how to choose the right one—you'll find it here. Before that though, you'll need some facts about how architecture firms price their services.
How Architecture Firms Charge Fees
Architects do not usually have a standard fee for their services as it would depend on the scope of the project.
Architects may charge fees by hour or daily. Or the client and architect may agree on a lump sum based on the expected work.
Usually, though, an architect's fee is calculated by a quoted percentage of the total cost of the construction. The table below presents the percentage of construction costs based on a number of sources.
The Best Architecture Firms in Dublin
Without further ado, let's take a look now at Dublin's best architecture firms!
1. Architectural Drawings and Building Services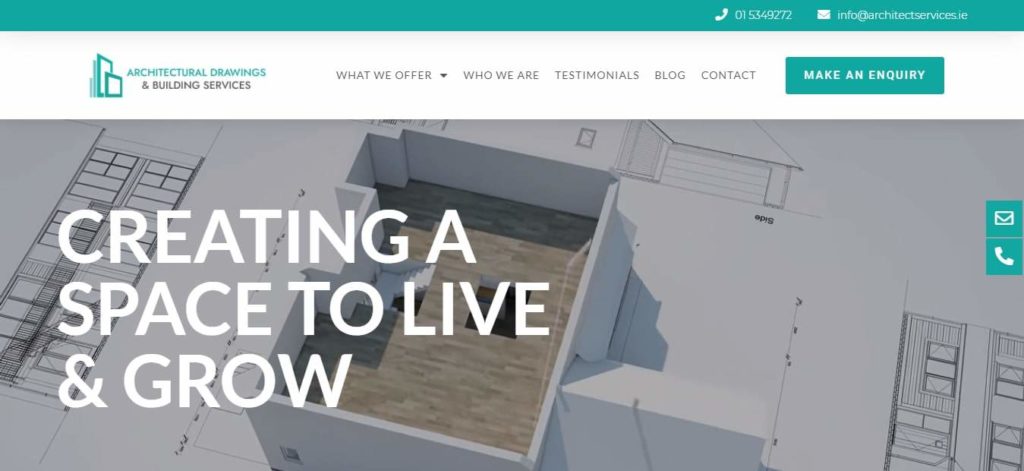 SERVICES
New build housing, one-off house, house extensions, attic conversions, project management, 3D modelling, interior design services, commercial premises, building surveys, full certification, and civil and structural design services
WEBSITE
https://www.architectservices.ie/
ADDRESS
D14, 19 Aranleigh Gardens, Rathfarnham, Dublin, D14 R2W9, Ireland
CONTACT DETAILS
01 5349272


[email protected]

OPERATING HOURS
9:00 to 5:00 pm (Monday – Friday)
Architectural Drawings and Building Services is an architectural and engineering design consultancy located in the Rathfarnham Dublin area.
If you want a bigger or more functional living space there's no need to relocate. You can save more money by tapping into their long list of renovation services.
Whether you need a house extension or simply require a revamp of your kitchen, bathroom, or attic, Architectural Drawings and Building Services can deliver that.
Moreover, they can give your house more natural lighting with their roof window installations. And if you desire a safe and functional staircase, just contact them for your stair building needs.
For smaller projects, they can quote a set fee for you based on the number of hours needed to complete the project. Meanwhile, for projects requiring a full service (from feasibility to handover), they charge fees based on a percentage of the total construction cost.
However, although they do claim that they offer design solutions for commercial buildings as well, the projects they showcase seem to only include residential homes.
Nevertheless, families should still check out their offerings for any house renovating/extension needs.
Free site visit for smaller projects
Issues certificates for mortgage purposes
Consultation service for fireplaces, stoves, or radiators
Customer Reviews
Take a look at what their satisfied clients have to say about their services:
"Kevin was very prompt in responding to me. His work and his approach to the job was very professional. He was very pleasant to work with. I would recommend Kevin highly." -Anita Dunphy
"Gavin is very responsive, reliable and professional. I used his services twice now and would certainly recommend him for any architectural drawings. Good quality and good value." -Wioleta Walczak
"Architectural drawings and building services did an amazing design for our 1950's Rathmines home. After we presented them with a design we thought would work they came up with ideas that we had never even considered. With the first draft of the design, we knew they had nailed it! The house turned out great and we get lots of compliments. Recommended a great builder at a good price. The job went smoothly from start to finish. Love my new bright well designed home. Thank you." -Robert McGee
2. The House Architects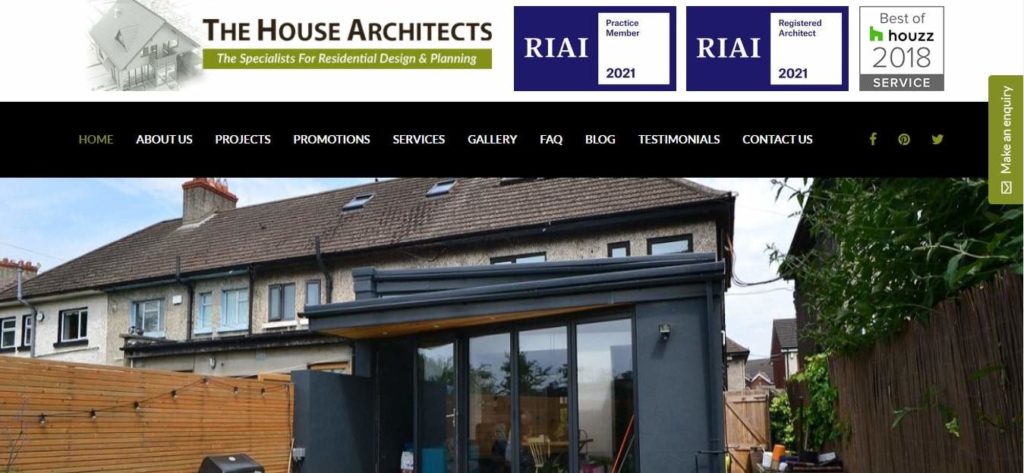 The House Architects is an architecture firm headed by veteran architects Josh and Vivienne Maguire.
They are another architecture firm you might want to seek the service of for your home. Specialising in the residential sector, their projects include house extensions, home renovations, and private house design in Dublin.
As experts in the design of house extensions, one-off self-build houses, and residential developments, clients can expect architecture services such as thorough site evaluation and appraisals as well as the development of 3D sketch designs, among others.
You can also rely on them to help you secure planning permission as well as advice for your house plans.
What's special about The House Architects is that they work with the Health Board Occupational Therapists to come up with the right design for families whose members include those with mobility limitations.
They also have experience in designing homes for people with intellectual and physical needs.
Meanwhile, their project management services include feasibility studies, pre-purchase house inspection, and drafting of contracts for construction and monitoring of construction quality, to name a few.
Concerning service fees, The House Architects charges a fixed fee on all their projects based on the agreed-upon extent of work broken down to each project stage.
Expect about three to four weeks for them to finalise designs for house extensions. On the other hand, the process of creating alternative designs and finalising them for private houses and developments may take about four to six weeks.
Offers advice with regard to statutory requirements
Free first consultation
Works with Health Board Occupational Therapists
Closed on weekends
Services residential sector only
Customer Reviews
See what clients have to say about The House Architects's services:
"John designed an extension for our 3rd bed semi-d in Dublin 9. The job also involved significant renovation, including a change to the layout of the existing ground floor room. Aside from providing a design which we are delighted with, Josh provided expert project management and invaluable support on every aspect of the process. He was extremely approachable throughout and all competitive." -Colman Gallagher
"Josh came on board late in the project as we have a few issues with the previous architect. He was brilliant. He understood from the very beginning what we were trying to achieve with the house, (new extension) and he put his own stamp in the project. He managed the project from the start of the building to the end. I wish i would have known him from the start! totally recommend it!" -Donncha Hughes
"Although we are still at the early stage of our project, we feel that The House Architects have a very clear understanding of our needs for the extension of our house. This has been achieved by regular communication and a down-to earth manner in which everything had been clarified, as well as attention to detail. we are very confident that the completed project will have the wow factor we want." -Lorcan Campbell
3. Joe Fallon Architectural Design Ltd.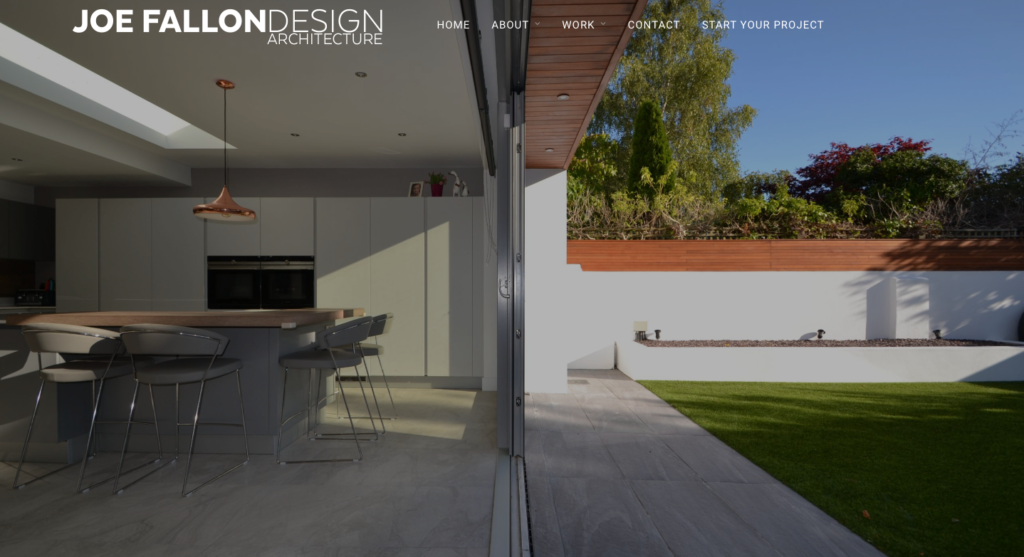 SERVICES
Architectural design & Drawings, one-off houses, house extensions, landscape design, attic conversions and renovations
WEBSITE
http://joefallon.com/
ADDRESS
6 Main Street, Dundrum, Dublin 14
Ryland House, Ryland Street, Bunclody, Wexford.
CONTACT DETAILS
015143688, 0539377633 /

[email protected]

OPERATING HOURS
8:30 – 5:30 (Monday to Thursday); 8: 30 – 1:30 (Friday)
Next on our list is Joe Fallon Architectural Design Ltd.
We are impressed as they are a multi-disciplinary team of architects and architectural technologists who, in collaboration with their team of consultant engineers, quantity surveyors, and health and safety professionals, provide a full range of services from initial assessment and conceptual drawings to construction monitoring and final certification.
They have full professional indemnity insurance and are registered with the CIAT and CABE, as well as the Society of Chartered Surveyors of Ireland SCSI, as an assigned certifier under the new building regulations BC(A)R 2014.
We are also amazed as their employees have also received training in Nearly Zero Energy Building (NZEB) policy and technology. Mr. Perry Kelly, a Fellow of the Royal Institute of Architects of Ireland (FRIAI), brings to the team a wealth of knowledge and experience.
Providing 30 years of service in the construction industry, they design extensions, one-off houses, renovations, and a growing amount of commercial work. They are also a Sustainable Energy Authority Ireland (SEAI) registered BER assessor, and energy efficiency is central to our work.
In comparing them to other companies, they have already been featured multiple times in magazines such as "Selfbuild & Improve Your Home," "Ireland Home & Build," "Homes with Style," and so much more. If you want to read their articles in the different magazines, just click here and you will see all the press they are in.
Their design style incorporates a lot of glazing, which allows light to enter previously darkened corners and creates bright, spacious, light-filled spaces that fit their modern, dynamic way of life.
They believe in going above and beyond, carefully listening to their client's wishes, and understanding that this will most likely be one of the most significant changes they will ever face.
Great customer service
Full professional insurance
Customer Reviews
Below are some reviews from Joe Fallon Architectural Design Ltd.'s clients:
"Joe & team are amazing! Have had several chats with joe recently, he is so obliging and has been really supportive and helpful with my queries regarding potential development, can't recommend him highly enough.. 5 stars ⭐️⭐️⭐️⭐️⭐️" – Caroline Giblin Jennings
"Excellent standard of work and very professional from start to finish. One of the best architects I've worked with. No hesitation in recommending for future projects. Tomás Mangan – Ballyteague Contracting Ltd." – Tomas Mangan
4.   RKD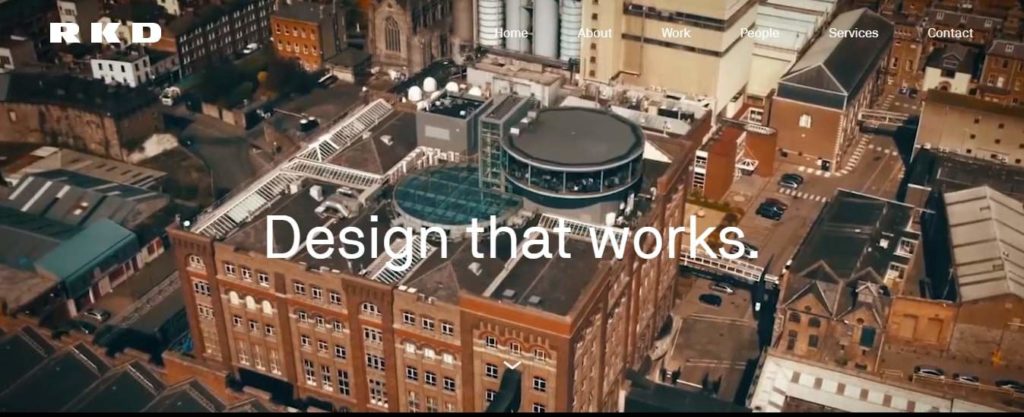 SERVICES
Architecture, interiors, master planning, project management, sustainability, BC(a)R, BIM, cleanrooms, labs, and site selection
WEBSITE
https://rkd.ie/
ADDRESS
59 Northumberland Road, Ballsbridge, Dublin 4, D04 WP89, Ireland
CONTACT DETAILS
+353 1 668 1055


[email protected]

OPERATING HOURS
9:00 am to 5:00 pm (Monday)
9:00 am to 5:30 pm (Tuesday – Thursday)
9:00 am to 4:00 pm (Friday)
Founded way back in 1913, RKD is an architecture practice that renders its services to an extensive list of sectors from residential down to healthcare. Having worked for companies such as PayPal, UCD Science Centre, Microsoft, among others, it's no wonder why RKD has made it on our list.
Their services include master planning, project management, labs, and site selection, to name a few.
Clients can expect their projects to be handled by a project architect and a team as part of their bespoke architecture services. They also have an interiors team that help drive business growth through design.
RKD assures its clients that the buildings they provide are safe, compliant, tested and audited with processes that are subject to the Building Control (Amendment) Regulations, or BC(a)R.
What's more, RKD has the know-how to program and design specialist containment as well as labs and research facilities.
Composed of a team of multiple professionals, RKD also has offices in Cork and Waterford, as well as offices in Belgium, Italy, and Sweden.
On the flip side though, expect RKD to be geared more towards large-scale projects. If you're looking for architecture services for your home, you might want to check out the other options mentioned on our list.
Multiple office locations
Has BC(a)R Certification service
Services wide range of sectors
Closed on weekends
Shorter operating hours on Fridays 
More suitable large-scale projects
5.   David Flynn Architects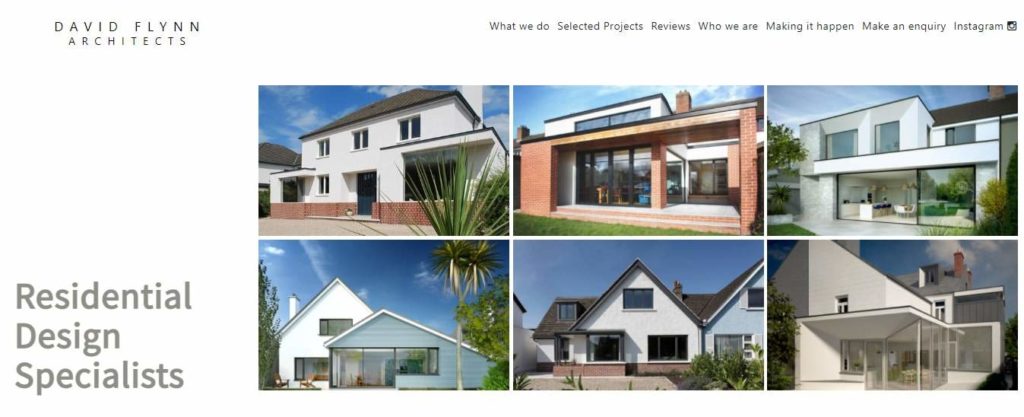 David Flynn Architects is another architecture firm with expertise in residential homes. Founded in 2011, they have been nominated and commended many times by notable award-giving bodies in the industry.
Whether it be building a new home from the ground up or rebuilding an existing one, you can tap them for their skills. And if you need planning permissions, they can help you obtain one in different settings.
They also utilise Building Information Modelling (BIM) software for a more accurate and quality building design.
David Flynn Architects's most noteworthy characteristic is that they specialise in renovating and enlarging houses from the early- to mid-1900s.
Hence, if you've got a house from the twentieth century and want some renovations done, we recommend this firm. They assure clients that they are able to still maintain the vintage features of these older houses in the process of improving them.
Closed on weekends
Unsure from website if initial consultation is free
Customer Reviews
Take a look at what their clients have to say about them:
"Very good experience with David Flynn. From the start he was engaged, communicated well, worked well with the builder while also keeping pressure on him which was important. Presented different designs, all of which took our suggestions into consideration but presented clever and innovative designs. We are very happy with how the design and overall build turned out. Good overall collaboration and communication with a fine end product we are very happy with." -Eithne Lennon
"We were rebuilding the house where Julian grew up. Holding so many precious memories it was important the design retained features which made the house so special, like the garden view and wide aspect, while building in comfort, modern design and flexible living space. David, Vanessa and team delivered on those objectives and more in designing the home of our dreams. The design process was smooth, the timelines provided realistic and the team were readily accessible when we had questions or concerns. They carried through the designs to the site and provided very thorough site inspections and checks throughout the project while working well with the building contractor and Quantity Surveyor. The time and energy they invested in the project is a credit to them and we would be pleased to recommend David and team for any future work, large or small." -Leonie Morgan
6.   Fergus Flanagan Architects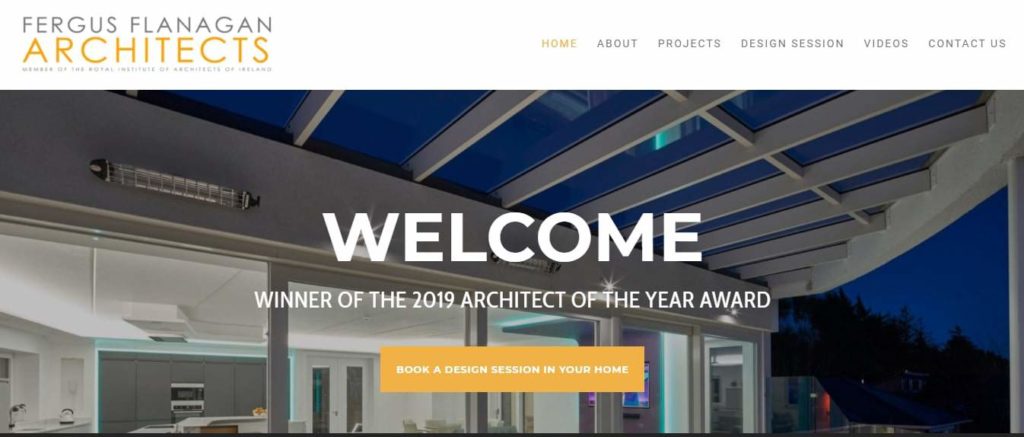 Fergus Flanagan Architects is an architecture firm with locations in both Dublin and Wexford. Their projects include both domestic and commercial establishments.
They present proposals to clients using BIM technology and can even conduct these virtually if necessary.
Meanwhile, for extension and renovation projects, Fergus Flanagan Architects offers what they call a Design Session. During a Design Session on your property, you will be able to know the necessary details of your extension or renovation project.
These include determining any urgent remedial works for your property, advice on what sustainable technologies would be most beneficial, and advice on whether or not you need planning permission, to name a few.
They will also give you an estimated budget and a more detailed budget costing, should you push through with the project. You will also be informed if moving out of your home would be necessary during construction.
We also particularly appreciate Fergus Flanagan Architects for their clear pricing for this service: €300 + VAT.
However, although they affirm that they have experience in the education and industrial sector plus speciality in healthcare, this is not apparent from their listed projects.
All the same, we believe it's still worthwhile to work with them on any project similar to the ones they've undertaken.
Another office in Wexford 
Award-winning architecture firm
Customer Reviews
Below are some reviews from Fergus Flanagan Architects's clients:
"Fergus Flanagan Architects RIAI organised a complete renovation and extension of my country home. It has been transformed from a dark, leaking bungalow to a light filled, modern two story house. Fergus and Hugh's experience and professionalism took my project from start to finish through the planning and building process. Their advice in the initial design stage and throughout the overseeing of the construction process ensured that the project came in on time and on budget which everyone wants.I have already recommended FFA to friends and family and highly recommend FFA to anyone undertaking a building project. I'm absolutely delighted with my new home." -Fionnuala
"We hired Fergus when we bought my mothers 1960s bungalow. It was in need of extensive renovations and redesign , and all on a modest budget. I had first met him at a self build show , which he probably won't remember . He didn't dismiss our project because of the budget , which I felt many had . In fact he had a great ' we'll get there ' attitude. We are now back in our home , project finished , delighted with the end result , and couldn't recommend Fergus and his team highly enough. Whole thing went so smoothly and what we achieved for our budget was amazing." -justineob1
7.   Dublin Design Studio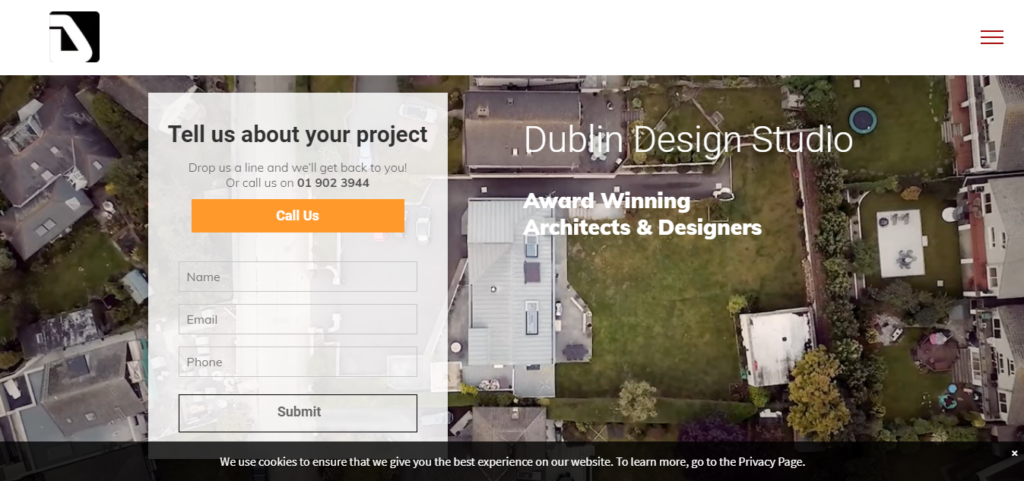 SERVICES
Architectural Design, Building Conservation, Building Design, Custom Build Homes, Eco Homes, Floor Plans, Green Building, Home Renovation, House Plans, New Home Construction, Space Planning, Sustainable Design, One off houses, Scriba
WEBSITE
https://www.dublindesignstudio.com/
ADDRESS
Unit 14.1.2, Docklands Innovation Park, East Wall Road, Dublin D03 Y0T4, Ireland
CONTACT DETAILS
+353 1 902 3944 /

[email protected]

OPERATING HOURS
24/7
Dublin Design Studio is an architectural practice and design studio that conceptualizes clients' ideas and translates them into outstanding modern building designs. They were established by two architects with a passion to create amazing contemporary designs.
They have received numerous awards and are currently members of the RIAI and the IDI.
The architects themselves are appraised to be flexible and efficient in dealing with both the client and the projects by working around the budget and giving attention to detail by interpreting what the client demands.
The studio also has a range of commissions including commercial, interior and residential projects located all of Ireland and primarily Counties Dublin, Louth, Meath and Wicklow.
Has done various projects in the country
Over 20 years of experience
Incomparable and unique ideas
Customer Reviews
Below are some reviews from Dublin Design Studio's clients:
" Myself and my wife used DDS for a complete refurb and extension of a 3 bed semi detached house on the Stiles Road in Clontarf during 2015/2016. It was Niall Henry that we dealt with throughout. Right through from the early consultations where we were shown initial sketches of plans, through to the planning permission phase, and then the build, we found Niall very hands on and willing to take onboard any changes or alterations as the build unfolded. Site meetings were very regular, and in particular I felt Niall kept a very close watch on the builders themselves. It was commented to me by the foreman on site at one stage that he'd never known an architect to have his clients interests so much at heart, and that he was relentless in his attention to detail. Overall we are absolutely delighted with the design, quality of finish and warmth of the house since we moved in back in December 2016. I would highly recommend DDS to any of my friends." – Alan Brennan
"Firstly we were provided with an amazing design that did fit with our initial brief, Davids attitude was always positive and reassuring. Having the DDS experience and know how was invaluable to us during a very difficult planning approval process which finally resulted in planning permission granted after appeal. Having never been through a project like this (renovation & extension of 100 year old cottage) and not particularly knowledge about construction or the industry it was very important to us that we had someone we could trust on our side to guide and advise us though the construction phase. We now have a totally transformed house which really well built and designed. Highly recommended" – Gerry Edwards
How to Pick the Right Architecture Firm
Here are a few tips to help you decide on the right architecture firm for you:
1. Portfolio
Check out an architecture firm's portfolio. This contains the projects they've undertaken in the past as well as the companies or people that have hired them.
Make sure they've already completed a project similar to yours or have completed a project that seems close to what you envision your project to be.
2. Speciality
Be aware of the sectors the architecture firm specialises in. Do they specialise in residential homes or commercial establishments?
If your project is only a kitchen extension, it wouldn't make sense to hire an architecture firm whose expertise lies in the industrial sector.
3. Testimonials
As with any other company, reviews from past clients is another helpful way to determine whether an architecture firm is suitable or not.
Make it a point to include client reviews in your research. See what they have to say about a firm's services, work ethic, values, etc.
FAQs about the Best Architecture Firms in Dublin
---
And that concludes our choices for the best architecture firms in Dublin! Hopefully, our top picks have helped you in your search.
If you think we've missed other amazing architecture firms that should have made it on our list, kindly contact us and we'll check them out straight away!
Are you interested in enhancing your outdoor space? If so, you may want to check out our picks for the best landscaping companies in Ireland!