5 of the Best Spas in Cork
There are work days when we feel like we are running on a wheel and our body is getting tired of the same routine it constantly performs.

It is therefore important to have days where we remove ourselves from this sameness and reward our mind and body for all of their hard work.
Spas can offer an opportunity for heightened rest, a step up from your normal nap and bubble bath at home. In this article, we take a look at some of the best spas Cork has to offer.
How much do spa services cost?
The cost of different spa services have a wide range as many of these services are creatively packaged in different ways. Some services use different techniques, different technologies and can even be collaborations with the brands of products the spa uses during the session.
| Treatment/Massage type | Price |
| --- | --- |
| Facials | €108 |
| Indian head massage | €105 |
| Body wraps | €125 |
| Hot stone massage | €140 |
| Deep tissue massage | €123 |
| Full body massage | €110 |
| Foot reflexology | €112 |
| Pregnancy treatments | €130 |
| Spa package with hotel stay | €760 to €860 *dependent on hotel suite type |
Top Spas in Cork
We assessed the spas according to the following criteria:
1. Zero Gravity Float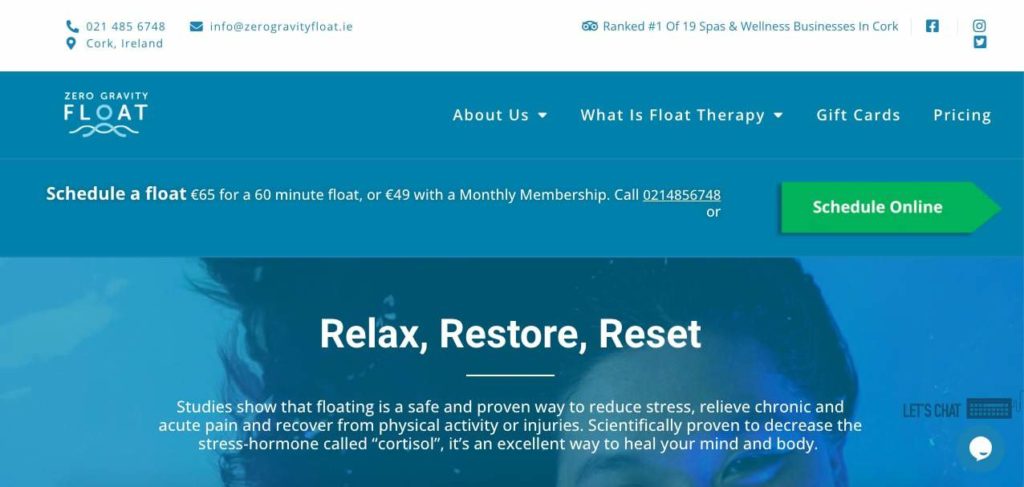 | | |
| --- | --- |
| Variety of services | ★★★☆☆(3/5) |
| Depth of services | ★★★★★(5/5) |
| Ambience | ★★★★★(5/5) |
| Add–ons and products | ★★★★☆(4/5) |
| Customer satisfaction | ★★★★★(5/5) |
Zero Gravity Float's unique primary service is a standout amongst all other relaxation treatments.
Through the experience of float therapy, they are able to hone in on a treatment that has multitudes of benefits for customers. What we like from the get-go is that this treatment is something completely unique.
You won't be able to find this type of treatment in other spas and because it is Zero Gravity Float's primary service, they have perfected it.
They give customers a no fuss experience. You don't need to bring anything because the facility has a makeup room with hairdryer, alongside towels, body wash, hair products and earplugs.
What's more is that they provide two different float tanks with different features that can even accommodate those with mobility issues. The technology of these tanks is well updated, with features such as maximized dimensions and lighting systems.
The ambience of the facility is very relaxing as well. Most of the space is taken up by these tanks but their features do allow relaxing light animations at the fingertips of the customer.
We also like that there is clear sanitation protocol between each use, assuring the clients that the tanks are at their pristine condition.
The price point is also great with €65 affording you 60 minute float sessions. They also offer a membership that reduces this per session price to just €45, encouraging this relaxing treatment as more of a regular practice rather than a once in a while spa treat.
The main drawback we see here is that it is a more nontraditional spa experience with a singular primary service. However, customers who are looking for a variety of services that they can mix and match, won't find it here.
If you are, however, daring to mix up the common spa experience, Zero Gravity Float offers something completely unique and efficient.
Unique relaxation service
Affordable price point that has a membership option
Straightforward sanitation practices
Up to date technology that can accommodate those with mobility issues
Open everyday
Not a lot of variation in experience
Nontraditional compared to other spa services
Customer Reviews
Gentle, Supportive and Calming
Wonderfully attentive staff made the experience extra special. It was an experience like no other- gentle, supportive and calming with the added benefit of salt therapy. –BrendaMcC
Welcoming and Relaxing
I went and experienced my first float today and the only question I asked myself when I came out was…. why hadn't I done it sooner!!! It was amazing… the whole experience. All the staff were so welcoming and nice and explained everything so so well. They really made me feel welcome. Everything was spotless and so so well laid out and relaxing. The hour absolutely flew. I sat in the relaxation room afterwards and could have stayed there all day. I cannot praise this business enough….. go book a float NOW!! –Shelly Roche
2. Beautique Spa (Hayfield Manor)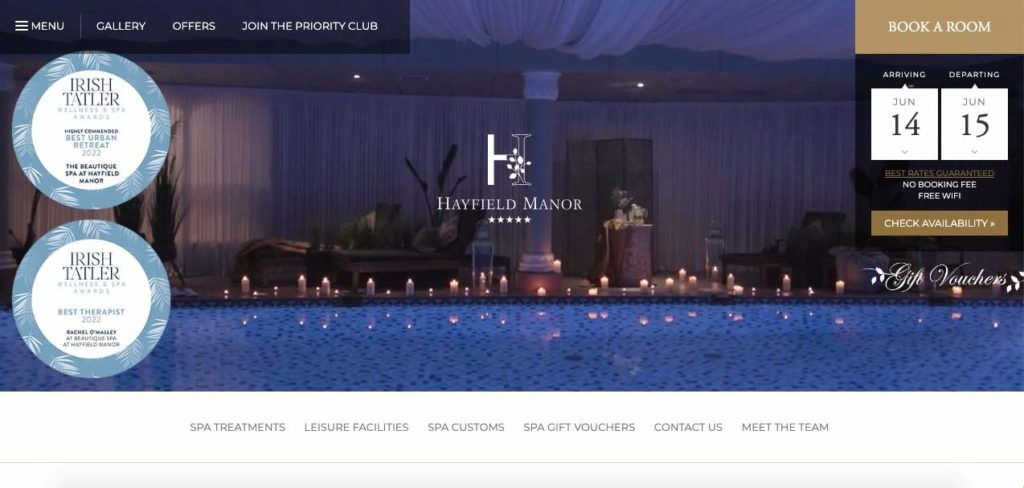 Test
Info
SERVICES
ELEMIS and GROUND Wellbeing Branded Spa Treatments, Bespoke Therapy, Massage therapy, Face Therapy, Body Therapy, Female Focused Wellness Services
WEBSITE
https://www.hayfieldmanor.ie/the-beautique-spa-cork
ADDRESS
Hayfield Manor Hotel, Perrott Ave, College Rd, Centre, Cork
CONTACT DETAILS
+353 21 4845929,

[email protected]

OPERATING HOURS
Everyday: 9:30 AM to 6:00 PM
| | |
| --- | --- |
| Variety of services | ★★★★★(5/5) |
| Depth of services | ★★★★★(5/5) |
| Ambience | ★★★★★(5/5) |
| Add–ons and products | ★★★★★(5/5) |
| Customer satisfaction | ★★★★★(5/5) |
The Beautique Spa at Hayfield Manor exemplifies what we think of when we daydream about a luxurious spa experience.
What first caught our attention was their highly qualified team. Though they only have five therapists, their qualifications for spa and wellness treatments gives the customers more than enough comfort that they are in very good hands.
Additionally, their facilities impressed us with its variety and ambience. The area includes a swimming pool, steam room, sauna, jacuzzi in addition to the private treatment rooms.
Adding to the ambiance as well is the enforcing of a quiet zone rule as well as the facility's view of a walled garden.
The Beautique spa also has brand partners, ELEMIS and GROUND Wellbeing, whose products they incorporate throughout the various treatments customers can avail of.

We really appreciate that the products of these brands are chosen in line with the treatments such as Gua Sha, rhythmic techniques and aromatherapy.
It makes the whole experience feel carefully considered and well thought out. There is a wide selection of these services to choose from and most of these are very wellness and restoration forward.
A standout of these services is the bespoke therapy treatment wherein the customer will first have a consultation with a spa therapist. All areas of the body are then taken care of including foot soaks, aromatherapy, back massages, face massages for a full head to toe pampering.
We appreciate greatly that most of the treatments are non gender specific but there are still options for pregnant women, a testament to their available range.
However, we find that this luxury comes at a cost, and a higher one at that. The facility also enforces stricter practices for customers who are later than their scheduled appointment.
Since this is a facility where they recommend booking 4 to 6 weeks in advance, this spa service might not be for people who are spontaneously looking for a refreshing getaway.
Overall, The Beautique Spa really stands out in terms of quality and treatments offered.
Relaxing and soothing ambience
Wide array of facilities
Wide selection of services
High quality brand partner products
Offers bespoke therapy
Spa packages along with hotel stay
Inclusive selection of services
Highly qualified spa team with TPOT training
Inflexible rules for schedule and cancellation
Difficult to book an appointment due to high demand
Higher cost
Customer Reviews
Luxurious Experience with Luxurious Surroundings
Had a wonderful morning being pampered by Andrea (who is worth her weight in gold) with the signature package.. and looked after by Rachel with a very warm welcome. Had lunch afterwards in the bar with a delicious superfood salad. Luxurious surroundings add to the experience. Can't wait to come back. –Lorraine Melia
Top to Bottom Excellent Experience
Absolutely outstanding I loved every minute of it,from the ambiance the beautiful fragrance when you step in to the relaxation area,the lady that done my Treatment was excellent at her job ,,brilliant thank you YVONNE..I would highly recommend this place .the only downside was i had to leave…all the staff were so kind I will be back I've made my appointment. Thanks again ladies .especially YVONNE AND TANYA.. –Caroline Mulcahy
3. Bellevue Spa (Montenotte Hotel)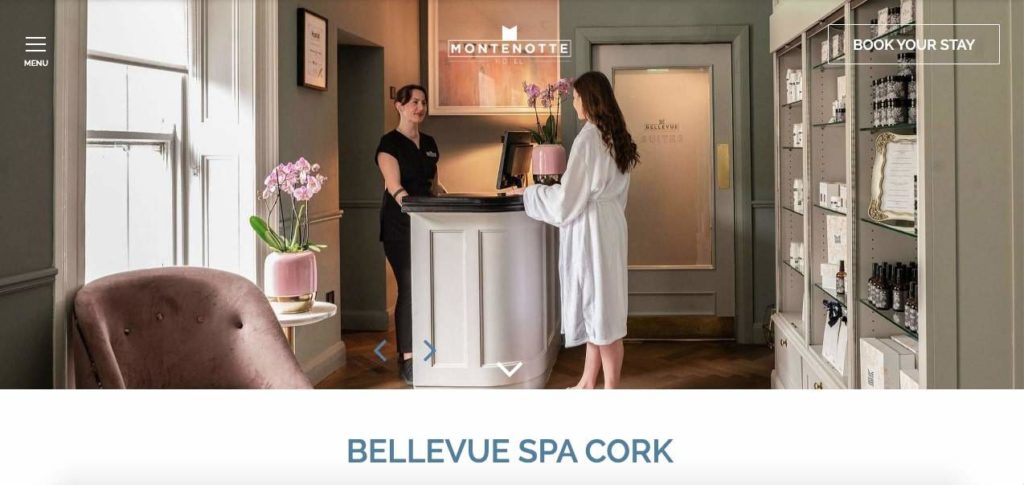 Test
Info
SERVICES
Facials, Pregnancy Treatments, Reflexology, Reiki, Lymphatic Drainage, Wraps, Massages
WEBSITE
https://www.themontenottehotel.com/en/leisure/bellevue-spa-cork/
ADDRESS
Montenotte Hotel, Middle Glanmire Rd, Cork
CONTACT DETAILS
021 453 0053,

[email protected]

OPERATING HOURS
Monday, Wednesday to Friday: 9:00 AM to 6:00 PM, Saturday: 9:00 AM to 6:30 PM, Sunday: 9:00 AM to 7:30 PM
| | |
| --- | --- |
| Variety of services | ★★★★☆(4/5) |
| Depth of services | ★★★★★(5/5) |
| Ambience | ★★★★☆(4/5) |
| Add–ons and products | ★★★★★(5/5) |
| Customer satisfaction | ★★★★★(5/5) |
The Bellevue Spa at the Montenotte Hotel adds their own little personalized touches that makes anyone staying feel more welcomed.
The ambiance of the spa facility is quite modern but the hotel itself where the spa is located is a Georgian period house with its own sunken Victorian garden, offering a nice contrast.

Aside from the main spa treatment rooms, they also have a nail bar and hair salon.
Customers can start with an online consultation form where they can be guided towards treatments that meet their needs. Overall, we like the range The Bellevue Spa has, which includes facials, massages, lymphatic drainage, and wraps to name a few.
They also have a separate category for pregnancy treatments that includes a full body massage, facial and reflexology. Pregnant clients can add on top of these mini treatments that target different areas of the body.
We like this structure of mixing and matching as it gives customers a feel of a full tailor-made experience.
This customizable experience is further shown by the different duration options for each treatment. Customers can avail, for example, of a 50-minute to 80-minute Indian head massage which gives them more freedom depending on their budget and desired depth of treatment.
A particular standout for this spa is their brand collaboration with Dermaviduals as well as their own in-house products, Bellevue Botanicals. Facials are also more customizable through Dermaviduals, where they use different active ingredients, such as vitamin A and hyaluronic acid, according to the client's needs.
Bellevue Botanicals and the spa's own purchasable gift boxes made us feel that the experience was more special to that spa itself.

You can purchase products you enjoyed throughout the treatment and we appreciate how The Bellevue Spa gives the option of bringing a small token spa experience right to your homes.
However, it should be noted that prices of their services are higher during the weekends, usually by €5 and that payment through credit card is required to secure the booking.

The spa is also closed on Tuesdays and some days have earlier closing times than others, so considering both of these, it would be best to plan your visit ahead.
In house brand botanical and luxury product
Different options for the duration of treatments
Available treatments for pregnant women
Brand collaboration with customizable skincare products
Higher cost of services on the weekends
Spa is closed during Tuesdays and earlier evening times
Credit card required to secure bookings
Customer Reviews
High Quality Deep Tissue Massage
Marta gave an excellent deep tissue full body massage. Just what I needed to relieve muscle tensions from the gym and everyday work. She was very professional and I would highly recommend her for full body deep tissue massage.– Rachel Roche
Helpful and Efficient Staff
I had a full body massage with Patricia on Saturday. It was amazing. All the staff there are so helpful and efficient. I'll definitely be going back. –Trudy Ryan
4. Escape Spa (Imperial Hotel)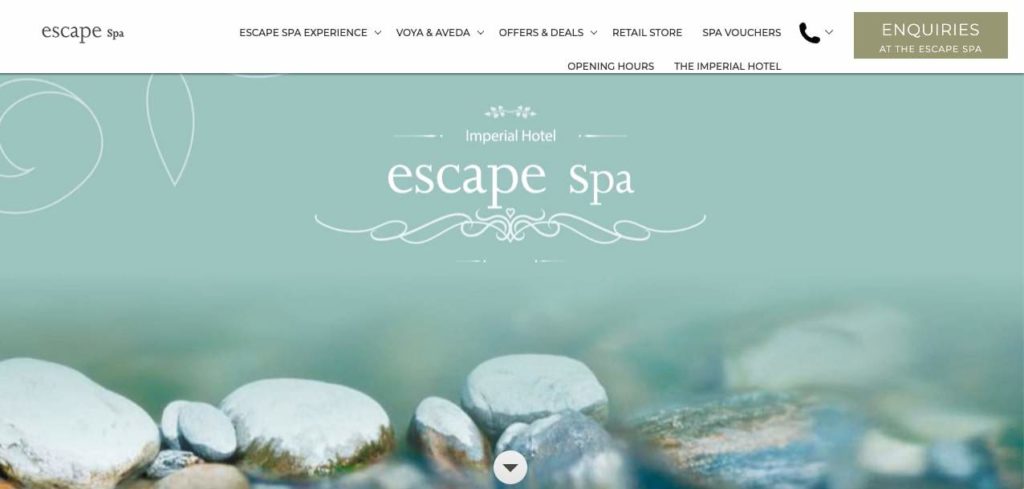 | | |
| --- | --- |
| Variety of services | ★★★★☆(4/5) |
| Depth of services | ★★★★★(5/5) |
| Ambience | ★★★★★(5/5) |
| Add–ons and products | ★★★★★(5/5) |
| Customer satisfaction | ★★★★☆(4/5) |
Escape Spa's customizable treatments alongside their strong brand partnerships make them a worthy contender for your next getaway.
Their spa's brand collaboration with Voya and Aveda are put front and center. Clients have a wide selection of products they can purchase from these brands through the spa, but more importantly, these products are integrated into the different offered treatments.
Customers may access a helpful consultation form to get them started but from there, the variety of services to choose from is pretty good.
Although it is not the most in amount, what we like about these services offered is that there are unique services and more goal oriented ones.
Examples of unique treatments, like the Escape Signature Ice and Fire may draw us in through curiosity, but the process is well–researched and well–thought out enough to be an excellent choice.
Another unique treatment like the VOYA Warmed Herbal Bag Massage makes use of uncommon ingredients of herbs and seaweed that guests can even take home afterwards in the form of herbal bags.
These services, whether common or not, are very clearly packaged with their intended effects. We like that because usually spa offerings can be overwhelming at times, so options like VOYA Mindful Dream Sleep Ritual give us a very clear treatment goal.
Some of these services as well run quite longer than the normal hour, which makes their depth and process all the more worthwhile.
Besides the Aveda and VOYA products, the spa also offers vouchers that already package treatments in groups, making it an excellent gift for yourself or loved one.
All of these positives however do come with the caution that some of these treatments are very expensive. Some of them can run up to €200 which can be very limiting for customers on a budget.
More lenient cancellation policy
Unique treatments
Some services have sessions longer than an hour
A lot of customizable choice within treatments
Offer escape spa gift vouchers that group treatments in packages
Expensive services
Smaller window of opening hours
Customer Reviews
Experience Worth Coming Back For
Just back from a wonderful afternoon of pampering by the gifted therapist Megan who truly found her calling. I had the Voya Exfoliating Ritual which was just amazing and am totally relaxed and chilled. Highly recommend Escape Spa, I will definitely be back –June
Helpful Staff with Nice Atmosphere
Went to the spa in October for my first time, experience was fantastic I went for pregnancy treatment and I couldn't recommend this more. It was very relaxing and the girl was very professional and gentle. Staff is very helpful and lovely and the atmosphere is nice and relaxing. I would definitely go back again. –DG
5. The Spa at The Kingsley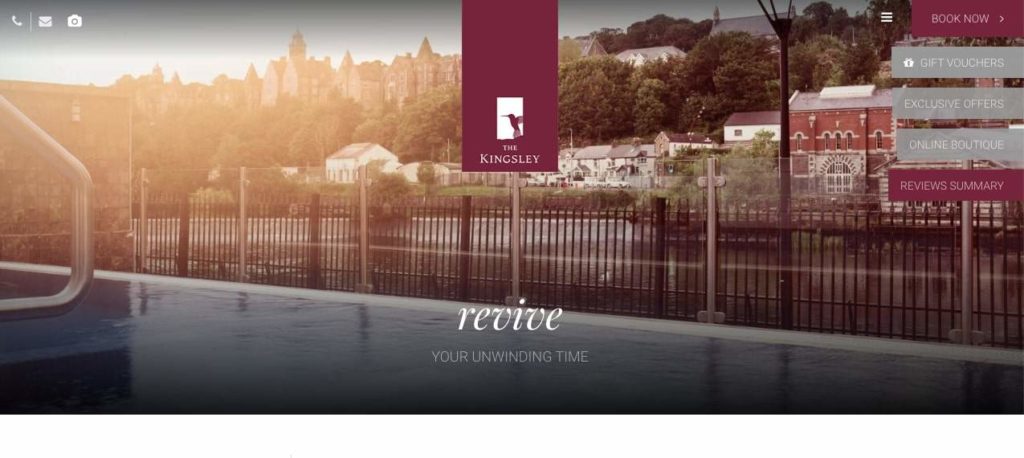 Test
Info
SERVICES
Thermal Suite, Kerstin Florian Facials, Face and Body Rituals, Body Treatments and Massage, Maternity Treatments, Pampering Packages
WEBSITE
https://www.thekingsley.ie/luxury-spa-hotel-cork/
ADDRESS
The Kingsley, Victoria Cross, Cork
CONTACT DETAILS
+353 (0)21 480 0570,

[email protected]

OPERATING HOURS
Weekdays: 6:00 AM to 10:00 PM, Weekends: 8:00 AM to 8:00 PM
| | |
| --- | --- |
| Variety of services | ★★★★★(5/5) |
| Depth of services | ★★★★★(5/5) |
| Ambience | ★★★★★(5/5) |
| Add–ons and products | ★★★★☆(4/5) |
| Customer satisfaction | ★★★☆☆(3/5) |
The spa at the Kingsley hotel impresses us with its range of facilities as well as its wide options for treatment packages.
What stood out to us at first were the wide range of facilities and amenities they had to offer. A standout of this would be the Thermal Suite which comes at a complementary one-hour access if you avail of a treatment valuing over €65.
Other amenities include tropical rainforest showers as well as steam rooms.
The spa is also well stocked in terms of products, with five brands to choose from. We like that this matches well with how varied their offerings of treatments are.
Their range of services from facials to body treatments, have layers of customization to them with different price points, durations, areas of focus and skin type to name a few. We liked that there was a big combination to choose from that we can tailor fit to what we want.
In addition to this, the facial service shows that their treatments also consider updated technology such as Red LED Light. This adds another layer of options for the customer.
At the end of all of these options, if customers did want to make the process smoother there are half day and full day packages to choose from. One of them even includes a choice of treatments alongside afternoon tea.
Probably one of the only downsides, however, is some customer reviews critiquing the facilities, staff and maintenance. Due to the many facilities they have to attend to and maintain some of the quality in this regard can falter once in a while.
Services have a wide range of price points
Treatments are customizable
Use technology for certain treatments
Customer reviews report neglected facilities
Customer reviews critique some staff performance
Customer Reviews
Felt Rejuvenated
Absolutely worth the visit. Very well looked after by Caroline, and Doreen gives an excellent full body massage. Relaxation at its very best. Left the spa feeling completely rejuvenated and healthy. Can't wait to come back. –Sean H
Went Above and Beyond
What an amazing day at the kingsley with my friend. Stephanie my therapist was amazing and went above and beyond to make us feel special. I will definitely be back soon! thanks again. –Holly M
FAQs
---
We hope that this list helped you in deciding which of these spas is best for your next weekend getaway.
If you would like to read more on our site we also have some articles on the best dermatologists in Waterford, Limerick and Dublin.