4 of the Best Team Building Activities in Dublin
A strong relationship between a company's members is worth its weight in gold. This allows for more unified goal setting, better communication and a higher quality of output.

That's why we chose some of the best team building activities available in Dublin to help you get started in considering your options.
How much do team building activities in Dublin cost?
Team building activity costs depend on a number of factors. They can be categorized between simple or complex activities, with some complex activities needing facilities such as obstacle courses.
They can also need more prior logistical planning beforehand such as treasure hunts and orienteering. Even some activities require special technology such as VR or virtual experiences.
Most of the prices of these activities are disclosed per head so attendance is key in planning the total cost ahead of time. Do take note that these are estimated average prices only though.
| Team Building Activity Type | Estimated Price Per Person |
| --- | --- |
| Orienteering/Treasure Hunt | €38 |
| Puzzle/Crack the Code | €60 |
| Skills Workshop | €53 |
| Obstacle Course | €60 |
| VR Experience | €53 |
Top Team Building Activities in Dublin
We assessed the team building activities according to the following criteria:
1. Fusion Events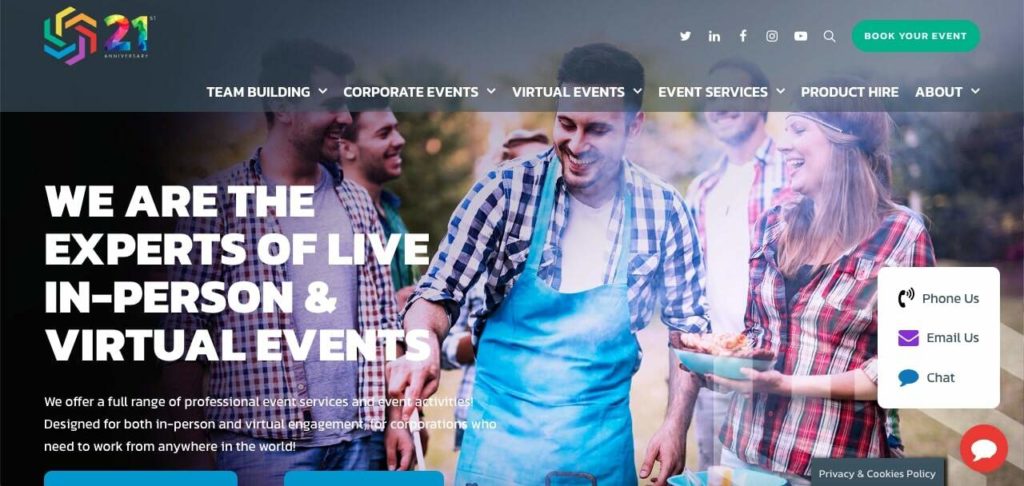 Test
Info
SERVICES
Team Building, Corporate Events, Virtual Events, Event Services
WEBSITE
https://fusionevents.ie/
ADDRESS
Willow Business Park, 9 Knockmitten Ln, Fox-And-Geese Common, Dublin
CONTACT DETAILS
+353 01424 2058,

[email protected]

OPERATING HOURS
Monday: 9:00 AM to 5:30 PM, Tuesday to Friday: 9:30 AM to 5:30 PM
| | |
| --- | --- |
| Range of activities | ★★★★★(5/5) |
| Uniqueness | ★★★★☆(4/5) |
| Complexity and logistics | ★★★★★(5/5) |
| Clarity of objectives | ★★★★☆(4/5) |
| Customer satisfaction | ★★★★★(5/5) |
Fusion Events is an events management company that offers event production services as well as team building packages.They have a long line of established clients that vary from industry to industry, further proving their ability to execute team building events.
What stands out about this company is their focus of meeting their client's objectives for the event and it really makes them adaptable. Whether it be a more informal barbecue, or a fully realized carnival, the company executes the vision to completion.
We really liked as well how many options the company provides, making the team building event really customizable. Because they are a more widespread event production company, you can rent some equipment from them in their product section such as simulators and arcades.
Furthermore, they cater to any size of team – the specific pre–set events provided reflect this flexibility in the number of participants. There are smaller activities like the Table Top Escape Room as compared to the larger scale Wacky Olympics.
We liked how great of a range there was in terms of the categories of choices. There are skill based learning activities, sporty options, strategic options, a treasure hunt and so much more.
Whether indoor or outdoor, Fusion Events has the bases covered and can even provide hybrid options with gazebos outdoors.
What we do see in its limitations is that most of these events are not the most creative. Because they do focus on more general events production, not as many of these events are uniquely structured.

We also saw an imbalance in the number of more professional–skill themed team building packages. There is a Perfect Pitch activity aimed to sharpen the team's pitching skills while most other events are structured as games so we would like to see a balance there.
Overall though, Fusion Events is a great option out there if you are looking for an events company with a solid background, logistics team, and range of team building activities.
Great variety in activity types
Excellent logistics
Can provide additional equipment needed 
Caters to different team sizes
Adaptable to the client's objectives
Less unique events because their focus is more on general event production
Imbalance of more professionally themed team building events
Customer Reviews
Go Above and Beyond
Every year, Fusion Events are a pleasure to work with. They go above and beyond to ensure great success right from the initial meeting to the night itself. Highly professional and provide a great experience for all. Thank you and we look forward to working with you again! -Publicis Groupe
Best Staff Party Yet
Thanks so much for a great night, it's rumored to have been the best staff party yet! We loved how you got everyone involved! We look forward to working with you again and to hopefully making next year even better! – Air Contractors
2. GoQuest
Test
Info
SERVICES
GoQuest Challenges (Junior and Arena)
WEBSITE
https://goquest.ie/
ADDRESS
Ballyogan Business Park, Unit 6, Ballyogan Rd, Dublin
CONTACT DETAILS
01 6855005,

[email protected]

OPERATING HOURS
Tuesday to Friday: 1:00 PM to 7:00 PM, Saturday: 11:30 AM to 7:00 PM, Sunday: 11:30 AM to 5:30 PM
| | |
| --- | --- |
| Range of activities | ★★★★☆ (4/5) |
| Uniqueness | ★★★★★(5/5) |
| Complexity and logistics | ★★★★☆(4/5) |
| Clarity of objectives | ★★★★☆(4/5) |
| Customer satisfaction | ★★★★★(5/5) |
GoQuest's indoor challenge lays out a unique experience in a facility that is filled with fun activities from top to bottom. The venue is divided into two, with GoQuest Arena catering to older age groups and 29 challenges available in that section specifically.
We like that the facility is completely unique and different for team building. It's something that they only offer through their facility so participants will really feel the fun atmosphere all the way around.
Different challenges are separated in different rooms, with skills widely ranging from physical to mental. We like as well that GoQuest updates some of these challenges yearly, giving it that element of variety.
It is an indoor challenge that bounces off of the competitive aspect, highlighting a live scoreboard displaying each team's points. We appreciate the little touches that GoQuest adds that make the experience more fun and fulfilling.
Furthermore, GoQuest's corporate package includes a private briefing, prizes, customized photos and videos sent the next day and options for food packages. It would cost €30 per head for a minimum of 11 people and they do accommodate flexible start times during the weekends.
The food options included in their packages are pizzas, gourmet sandwiches and drinks. GoQuest feels like a one–stop shop that makes your team feel like a kid again!
In terms of the limitations, GoQuest is a team building activity that leans on the more casual side with some of the rooms having more "childish" themes.
In terms of team building planning, it does work on the basis of spontaneity and fun, so corporate planners are less likely to oversee and control which specific team building skills are being developed.
What's more is that there is a time limit of an hour and a half per session, so if you're looking for team building activities that are structured for longer durations, this might not be the place for you.
Switch up some of the challenges yearly
Relatively affordable price per person
Thorough execution of competitive aspect
Has options for food packages
Limitations on duration of sessions
Require transportation to venue
More casual atmosphere
Customer Reviews
A Fun Experience
Really worth going. Everyone had great fun. Visited a year ago and there are different rooms added. -Jone Bruno
An Experience Worth Returning For
A great team bonding experience. Much harder than anticipated but our group all really enjoyed it and would definitely return. Thanks to all of the staff who were very friendly and helpful! – Orla Minogue
3. Orangeworks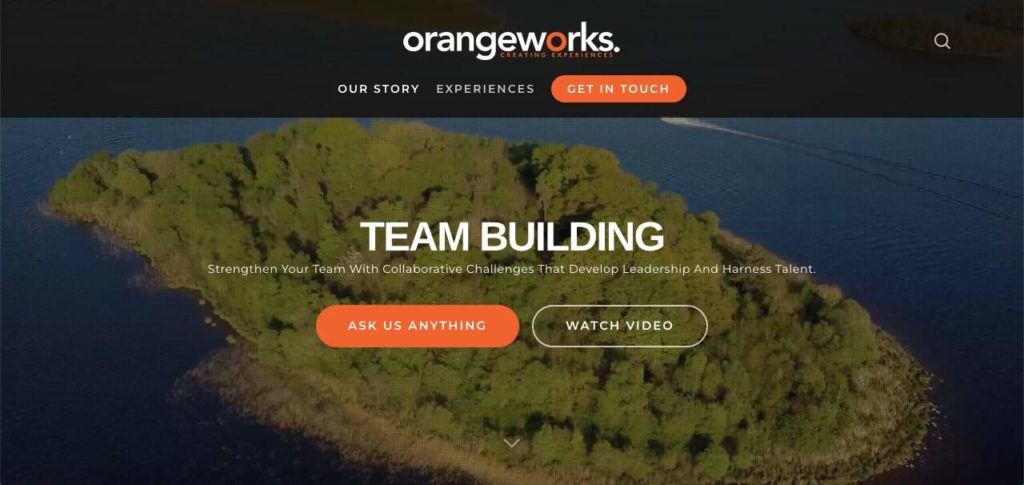 Test
Info
SERVICES
Team Building, Team Development, Incentive, Automotive, Bespoke Solutions, Bespoke Private Tours
WEBSITE
https://www.orangeworks.ie/
ADDRESS
Unit B5 Swords Enterprise Park, Feltrim Road, Swords, Co. Dublin
CONTACT DETAILS
+353 (0)1 690 2070,

[email protected]

OPERATING HOURS
Weekdays: 9:30 AM to 6:00 PM
| | |
| --- | --- |
| Range of activities | ★★★★★(5/5) |
| Uniqueness | ★★★★★(5/5) |
| Complexity and logistics | ★★★★☆(4/5) |
| Clarity of objectives | ★★★★★(5/5) |
| Customer satisfaction | ★★★★★(5/5) |
Orangeworks' tried-and-true process for creating experiences makes for an excellently executed team building event.
Their process is straightforward, from consultation to execution and it makes the process much easier for any client they have. They also have an impressive list of partners such as the Dublin Convention Bureau and B1G1 further strengthening their creative perspectives, experiences and resources.
As for their list of experiences, they have a wide range of options to choose from. This allows almost any objective from any client to be met with a fun yet efficient team building program.
They have options for virtual team building with unique themes such as movie trailer making and virtual escape rooms to name a few. They also have more athletic experiences outdoors such as axe throwing or ziplining.
We really are impressed that no matter what type of team building they have laid out, they really are some of the most creative and fun concepts out there.
What's more is that these different activities cater to different team sizes as well as different durations. They have options for a one hour experience to a packed full day .
What probably impresses us most, however, is that for each team building activity, there is a clear connection to the team building skill they try to develop.

From communication, to leadership, to more business related skills, they really laid the groundwork for team building activities that maximize the client's objectives.
We do however find that because the activities they offer are more complex than most, the cost of these services is on a quotation basis. This wouldn't be the best option for those who are looking for simpler activities in terms of budget.
What's more is that some of the more physical activities will need more logistics and planning especially in terms of risk and safety.
In the end, Orangeworks is a great choice if you're looking for team building experiences that are creative, well–thought–out and considerate of specific team building skills.
Different options for different team sizes
Variety of team building activities is great
Straightforward consultation process
Clear connection to which team building skills are fostered
Need for quotation due to high amount of options and variability
Some team building activities require a more complex system for logistics
Customer Reviews
A Team Building Event that Lifted the Mood
A huge thank you to Orangeworks for hosting a super online team building event for EPI this morning. We are a tightly–knit team who haven't been together for a long time. So thanks again for presenting us with the opportunity to come together virtually, to do something really fun for an hour. It was just like the old times and really lifted the mood! -Aideen Morrin
Really Captured Our Values
Just wanted to drop a brief note to share how much the team enjoyed the team building event. Oddie and team delivered it flawlessly and really captured the linkages between our values and the learnings from the game -FMCG Company
4. Zero Latency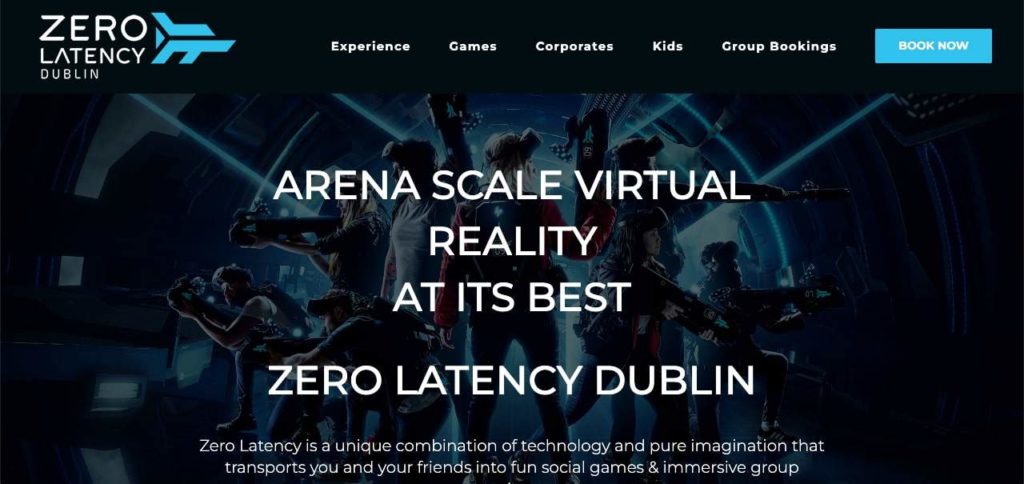 Test
Info
SERVICES
VR Experiences, Team Building, Parties
WEBSITE
https://zerolatencyvr.ie/
ADDRESS
21 Maple Ave, Sandyford, Dublin
CONTACT DETAILS
01 293 4785,

[email protected]

OPERATING HOURS
Tuesday to Sunday: 11:00 AM to 10:00 PM
| | |
| --- | --- |
| Range of activities | ★★★☆☆(3/5) |
| Uniqueness | ★★★★★(5/5) |
| Complexity and logistics | ★★★★★(5/5) |
| Clarity of objectives | ★★★★☆(4/5) |
| Customer satisfaction | ★★★★★(5/5) |
Zero Latency's focus on VR/gaming experiences makes for a unique team building event that will leave a lasting impression.
Because of the facility's focus on VR and gaming, the equipment and space are very well thought out. There are different consoles available aside from the Oculus for VR such as an XBOX and Nintendo Switch.
We like that even though the sole focus is VR games, they are still able to go a little bit further than that and still deliver variety.
The VR games are intended to help foster strategy making, team bonding and decision making. It is very conducive to a more freeform/creative type of meeting, with one of the accessible facilities having chalkboard walls and an LED screen for discussion.
Speaking of the facilities, if you purchase the corporate team building packages, you will have access to a variety of rooms aside from the space for virtual reality. This includes a lounge area, a VR arcade, a meeting room, and a room with a pool table.
Corporate team building does come with an option for a gaming package with pizza and they do allow you to bring your own alcohol. What's more is that the facilities are open up to 10:00 PM which makes for a perfect after work team building experience.
Overall, we like that the VR experience is well–thought–out and supported by other activities and facilities here and there to keep the team engaged.
In terms of its limitations however, the gaming facility does have a limited capacity for its equipment and space. There are only 8 on hand Oculus sets available, so the rest of the team members would have to wait their turn.
The packages are also structured for a time limit of one and a half to two hours, so if you're looking for team building activities with longer durations, you may have to look elsewhere.
If you are looking for a team building activity that's creative and unique and more straightforward in terms of planning, Zero Latency is a great option.
Open until later hours
Available discounts
Very unique team building activity
Good range of gaming consoles and facilities available
Limited capacity
Release sessions for reservation only 4 to 6 weeks in advance
Customer Reviews
Incredible Experience
This is a must to do in Dublin. What an incredible experience it is to play VR here. I'm really looking forward to coming back again. The staff is super friendly and makes sure the experience is top. Great place honestly –Andrés Hinterholzer
Great Place for Video Games and Virtual Reality
If you like video games and virtual reality- this is a place for you! There is a selection of virtual reality games you can play here with a group of up to 6 people where you need to shoot zombies as a team! Games are relatively short (15 min or 30 min… not sure) but adrenalin is there! Highly recommended!! -Slobodan Sucevic
FAQs about team building
---
We hope that this list was helpful in providing you with some information on team building activities in Dublin.
If you would like to see more of our content we also have an article on the best coworking spaces in Dublin.