The 5 Best Surveyors in Ireland
Whether you're planning to buy a house or subdivide your property, you can use the services of trusted surveyors in Ireland. We've gathered some of the best ones for you to help you in your search.
If you need other work done around your property, you can also use our list of the best contractors in Ireland as a guide.
How much does a surveyor cost in Ireland?
According to the Competition and Consumer Protection Commission (CCPC), house surveys cost approximately €200.
Meanwhile, the costs of topographical or land survey vary greatly depending on the size of the area needed to be covered, the type of terrain, the degree of detail required, material costs, and the estimated duration of the service.
Unfortunately, we can't provide an estimate for land survey fees in Ireland. Most Irish land surveyors customize their quotes based on the job.
To get an accurate rate for your property, you can personally reach out to a surveyor and get a custom quote.
The Best Surveyors in Ireland
We considered the following factors in our evaluation:
1. Kelleher & Associates – Chartered Building Surveyors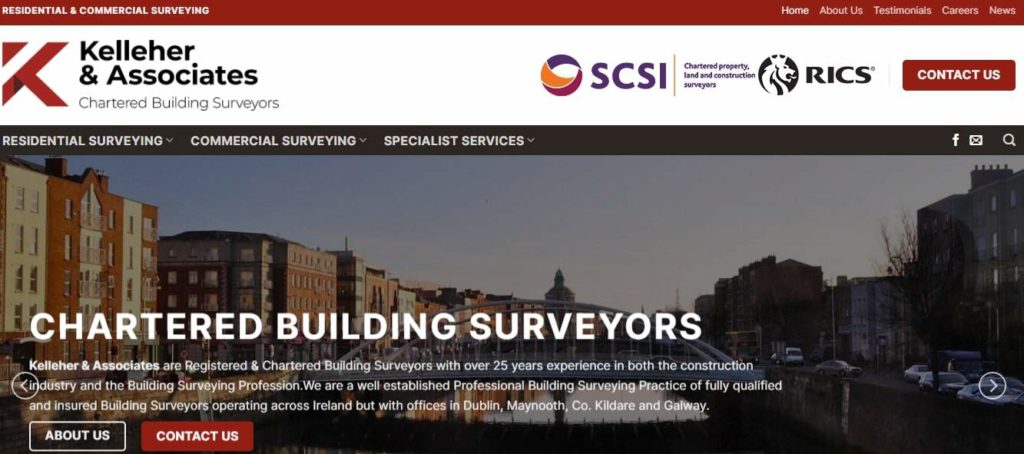 Test
Info
SERVICES

•Residential surveying: pre-purchase home surveys, certificates and opinions of compliance, mortgage valuations, apartment surveys, legal mapping, snag lists, declaration of identity

•Commercial surveying: commercial building surveys, schedules of condition, legal mapping

•Specialist services: conservation building surveying, thermal imaging, UAV surveys

WEBSITE
https://www.kelleherassociates.ie/
ADDRESS
Dublin office

17 Upper Baggot St, Dublin 4




Galway office

Friars Hill, Rahoon, Galway




Co. Kildare office

19 Rail Park, Railpark, Maynooth, Co. Kildare, W23 W0X8

CONTACT DETAILS
+353 1 685 6935
OPERATING HOURS
Monday to Friday

9:00 am to 5:30 pm
| | |
| --- | --- |
| SERVICE AREA | ★★★★★ (5/5) |
| SERVICE DIVERSIFICATION | ★★★★☆ (4/5) |
| INFO ON SERVICES | ★★★★★ (5/5) |
| CUSTOMER SATISFACTION | ★★★★★ (5/5) |
Kelleher & Associates is the only surveyor in this list we've found to offer conservation building surveys. This is a useful specialised service for older properties like period buildings.
If you want to help preserve your locale's history, the surveyors can assist you in finding structures to repair.
They run a Facebook page that they occasionally update with project photos, helpfully pointing out repair work that needs to be done for each site. We see their concern in keeping historical properties in good shape here.
They also keep a blog where they sometimes share property maintenance tips as well as information on surveys to help clients understand their services better.
We highly appreciate that they thoroughly explain each service on their website too, even conveniently providing sample reports and FAQs. For most firms, you will have to personally request a sample report to get one.
If you need more info, they have a quick query form, a unique feature among all the firms in this list. The form lets you specify your property location, age, and service required.
Clients express their satisfaction with their professionalism and ability to communicate information with patience and in detail.
We've seen no complaints about the surveyors' fees. However, you may find cheaper options in this list.
Member of SCSI, RICS, and CABE (Chartered Association of Building Engineers)
Around 25 years of experience
Multiple office locations
Does not specialise in land surveys
Customer Reviews
Professional and accommodating
"Very professional and accommodating. Ashling is always very quick to respond to any queries and Ian is very thorough and took plenty of time to answer any questions I had at the end of each survey. Strongly recommended." —Michael Collins, Google review
Efficient and helpful
"Patrick, Ashling and Ian helped us to get our Residential Survey Report completed quickly, efficiently and in good humour. We, like many, were First Time Buyers and so were dealing in an industry where everyone is more experienced than you and that can leave you feeling vulnerable. Kelleher & Associates took the time to explain everything, gave us lots of overview before committing, answered all of our questions (stupid and otherwise) and just in general walked us through the process." —Danny Erskine, Google review
2. O'Neill & Co Chartered Surveyors & Auctioneers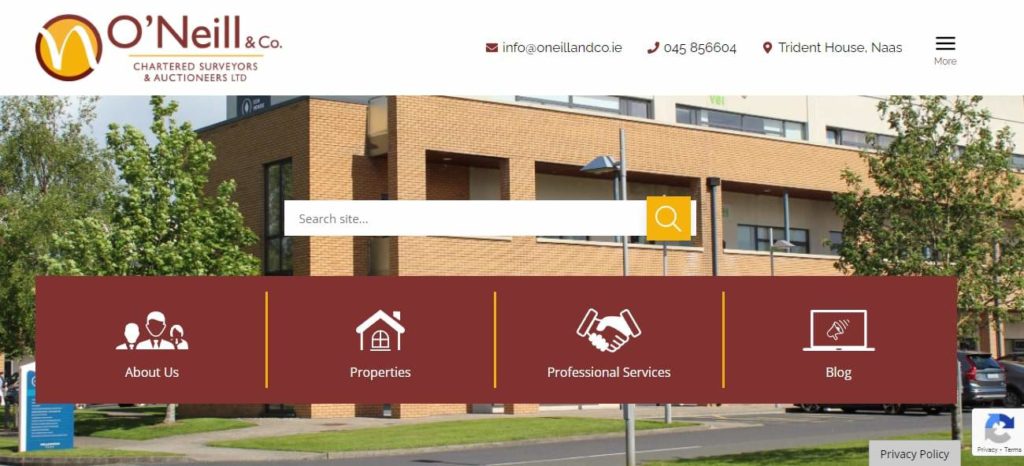 Test
Info
SERVICES
Sales and lettings, valuations, lease advisory and rent reviews, commercial rates, property management, property sourcing, compulsory purchase order (CPO)
WEBSITE
https://oneillandco.ie/
ADDRESS
Trident House, Dublin Rd, Tipper West, Naas, Co. Kildare, W91 VY6W
CONTACT DETAILS
+353 45 856 604
OPERATING HOURS
Monday to Friday

9:30 am to 5:30 pm
| | |
| --- | --- |
| SERVICE AREA | ★★★★★ (5/5) |
| SERVICE DIVERSIFICATION | ★★★★☆ (4/5) |
| INFO ON SERVICES | ★★★★★ (5/5) |
| CUSTOMER SATISFACTION | ★★★★★ (5/5) |
O'Neill & Co is our recommended choice for those who work in real estate or property management. They service the counties of Leinster and the surrounding areas.
Because O'Neill & Co caters largely to the commercial property sector, we suggest you look further if you're a private homeowner. They work well with businesses like real estate agents, property managers, banks, and lending institutions.
The surveyors may be used to meeting the demands of such organisations but not private individuals. The interests of individual homeowners may counter that of the mentioned businesses.
We give them five stars for their info on services, as they provide illustrative case studies on their website and are quick to respond to inquiries. They also give attributions to the team members responsible for the projects in their portfolio.
These are helpful to potential clients because they let you know whom to contact if you want a specific job done.
Clients also commended the surveyors for their professionalism. This is also evident on their well-maintained Facebook page where they post updates and industry-related news.
On their website, they keep a blog where they share useful tips for property services, relevant local news, and even notices about properties for sale. Pretty standard, but it's useful.
We highly appreciate that they're efficient at communication. They're also known for responding to requests within an hour.
Members of SCSI and RICS
PSRA ((Property Services Regulatory Authority or Údarás Rialála Seirbhísi Maoine) licensed
Has a wealth of experience in property management
Responsive
May not be ideal for individual homeowners
Does not specialise in land surveys
Customer Reviews
Committed to delivering the best results
"Integrity and professionalism are two core values that, in my experience, have founded the basis of our excellent working relationship with Darac and his team at O'Neill & Co. over the years. Their commitment to delivering the best results for us as clients has always been front and centre. Distinguished in their field as Chartered Surveyors and Auctioneers, the team has acted for us in lease negotiations (new lettings and reviews), sales, purchases, valuations and as property and asset managers. They bring a partnership approach to client relationships and it is a comfort to us having the vast experience and in-depth knowledge of O'Neill & Co on our team." —John Cleary, Google review
Prompt and professional
"We have been working with O'Neill and Co for some time now and have found their service second to none. Always extremely prompt and professional. I would have absolutely no hesitation in recommending them." —Dave McGoff, Google review
3. MP Geomatics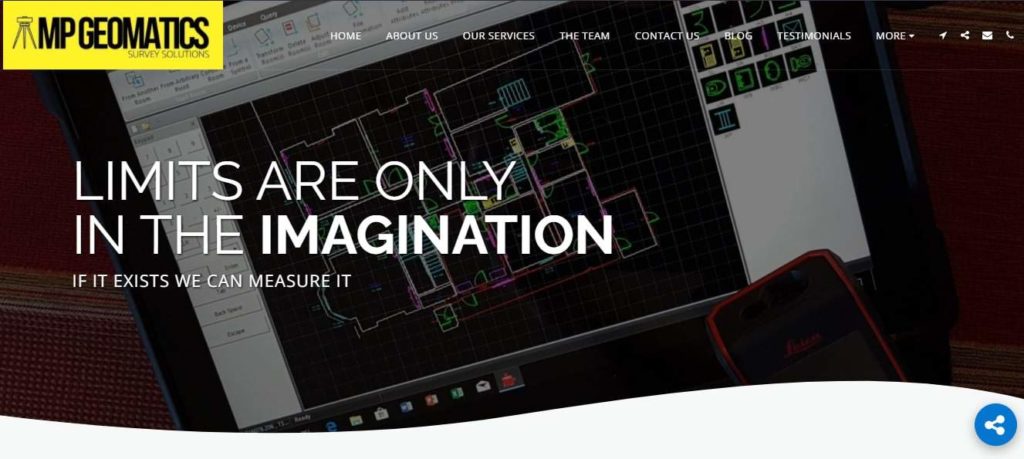 Test
Info
SERVICES
Topographical surveys, measured building surveys, legal mapping, setting out to as-built, aerial photography
WEBSITE
https://www.mpgeomatics.com/
ADDRESS
28 The Green, Sunnyhill, Kilcullen, Co. Kildare, R56 FD63
CONTACT DETAILS
+353 87 778 1635
OPERATING HOURS
Monday to Friday

8:00 am to 6:00 pm
| | |
| --- | --- |
| SERVICE AREA | ★★★★★ (5/5) |
| SERVICE DIVERSIFICATION | ★★★★☆ (4/5) |
| INFO ON SERVICES | ★★★★☆ (4/5) |
| CUSTOMER SATISFACTION | ★★★★★ (5/5) |
If you need a topographical survey for a construction project at a reasonable price, MP Geomatics is an excellent option. They provide land and building surveying services for all of Ireland.
The first thing we like about them is their transparency about their projects. The surveyors maintain a Facebook page occasionally updated with great worksite photos so clients can take a peek into their typical workday.
However, it would be more convenient for clients if they also provided project samples on their website. A lot of people still do research on companies that way, after all.
It's also worth noting that MP Geomatics general manager Mark Phelan has stated that he's most comfortable working on small to medium-sized projects. This is because he likes taking a personal approach to his clients.
With this in mind, MP Geomatics may not be ideal for projects with a wider scope. We're also noting that they are a two-man team, so they are likely to be most effective working at a smaller scale.
Lastly, we noticed high customer satisfaction among their customers. Clients praised them for their prompt service and inexpensive prices in our survey.
Quick delivery
Reasonable pricing
Around 30 years of experience
May not be ideal for projects with a vast scope
Customer Reviews
Great service at a reasonable price
"Great service and great lads to deal with. Got me out of a hole with a quick survey on a site for a planning application and did it quickly and at reasonable price." —Eamonn O Flaherty, Google review
Quick delivery and affordable
"Great service and quick delivery and very affordable survey of my private site for a proposed planning application for new house." —Betty Jorgensen, Google review
4. Gary Morris – Building Surveyor & Design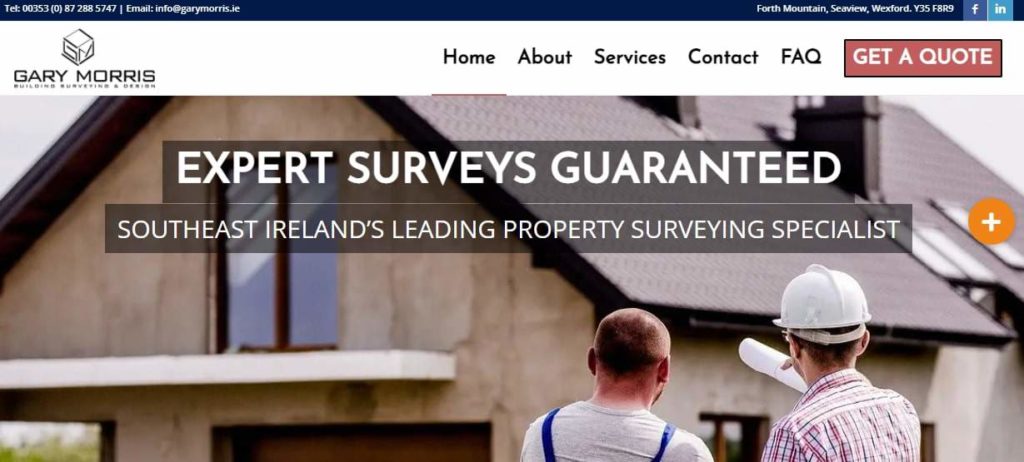 Test
Info
SERVICES
House surveys, apartment surveys, commercial property, defect surveys, snag lists, property mapping, certificates of compliances/exemption, declarations of identity, insurance reinstatement cost assessment, measured building surveys, planning appeals, planning searches
WEBSITE
https://www.garymorris.ie/
ADDRESS
Forth Mountain, Forth Commons, Seaview, Co. Wexford, Y35 F8R9
CONTACT DETAILS
+353 87 288 5747
OPERATING HOURS
Monday to Friday

9:00 am to 6:00 pm
| | |
| --- | --- |
| SERVICE AREA | ★★★☆☆ (3/5) |
| SERVICE DIVERSIFICATION | ★★★☆☆ (3/5) |
| INFO ON SERVICES | ★★★★★ (5/5) |
| CUSTOMER SATISFACTION | ★★★★★ (5/5) |
Among the surveyors in this list, Gary Morris garnered the most positive online reviews on Google, Facebook, and Bark Reviews. Most clients commend him for the thoroughness of his reports and his ability to communicate technical matters in easy-to-understand terms.
He's also fairly accessible on social media. Morris runs an active Facebook page where he gives helpful professional advice for property owners as well as some personal updates.
We think he's ideal for residential property surveys, although he offers commercial property surveys too. If you want to make sure the house or apartment you're about to buy is structurally sound, he's an excellent choice.
We gave three stars for this surveyor's service area and diversification. If the scope of your survey is beyond an existing building, then you may have other options besides Morris.
What's more, even though he also offers property mapping, he doesn't specialise in it. This can be an issue if you'd prefer someone who specialises in land surveys, or need someone like that due to complex terrain.
Morris's projects are also mostly based in the southeast of Ireland. For properties outside of this region, you may find other firms on this list closer to your location.
Member of SCSI (Society of Chartered Surveyors Ireland) and RICS (Royal Institution of Chartered Surveyors)
Provides thorough, easy-to-understand reports
Around 30 years of experience
Does not actually specialise in land surveys
Caters mostly to the southeast region of Ireland
Customer Reviews
Thorough
"Gary recently surveyed a property in Co. Wexford for us and we were very happy with his work. He was very quick to respond and we were very impressed with his thoroughness and attention to detail. The report was very detailed, and well explained with clear photos highlighting different areas of potential concern. Gary was very helpful with any follow on questions that we had and very professional. Gary was great to work with and I wouldn't hesitate to recommend him." —Keith Bradley, Google review
Responsive
"I was happy dealing with Gary who last week did a survey of a property in Gorey for me. He was very quick answering my queries, available both via email and phone, and provided a very detailed report (72 pages) with photos.
I would highly recommend Gary to anyone!" —Tatyana Grebenyuk, Google review
5. Kennedy & Associates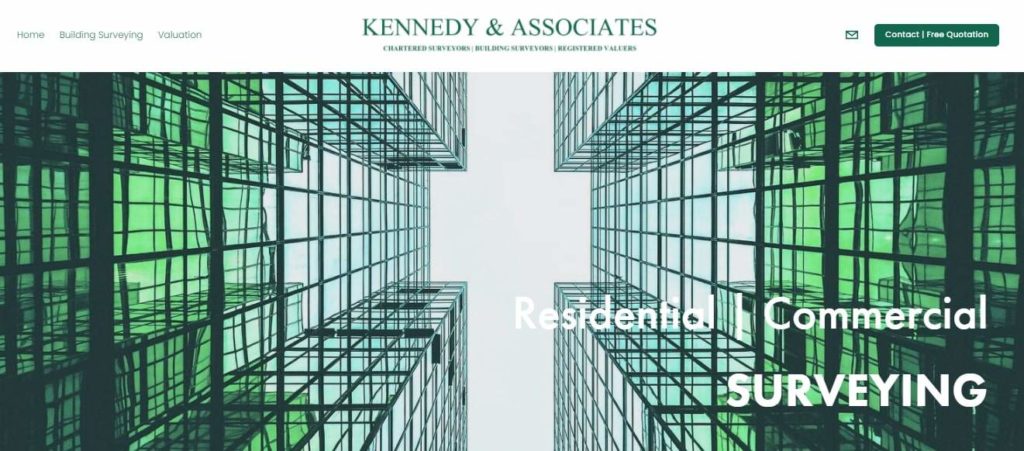 Test
Info
SERVICES
Building surveying (residential and commercial): building survey, snag list, defect analysis, planning/building regulation compliance, land registry compliant mapping, schedule of dilapidation/condition, planned preventative maintenance (PPM) Valuation (residential and commercial): mortgage valuation, insurance/reinstatement valuation, probate valuation, local property tax valuation, commercial market valuation (office, retail, industrial)
WEBSITE
https://www.kennedyandassoc.ie/
ADDRESS
11 Hume St, St Stephen's Green, Dublin 2, D02 T889
CONTACT DETAILS
+353 1 676 7299
OPERATING HOURS
Monday to Friday

9:00 am to 5:00 pm
| | |
| --- | --- |
| SERVICE AREA | ★★★★☆ (4/5) |
| SERVICE DIVERSIFICATION | ★★★★☆ (4/5) |
| INFO ON SERVICES | ★★★★☆ (4/5) |
| CUSTOMER SATISFACTION | ★★★☆☆ (3/5) |
With around 37,300 building surveys and valuation projects executed, Kennedy & Associates is a highly experienced firm.
We like that they provide a lot of info about their services on their website. Unlike the other surveyors on this list who also provide valuation services, they conveniently broke it down to different types and what their purposes are.
They wrote simple yet comprehensive descriptions of each service's process and noted the buildings they are suitable for.
We rated them four stars for their service area. They have offices in Dublin and Mullingar and extend their service to the surrounding counties, Louth, Meath, Kildare, and Wicklow.
The downside to having completed so many projects may be that they don't take enough time for each one and overlook some aspects of their job.
We also found plenty of online reviews for this firm. The majority of which are positive, but we also found more than a couple of one to two-star reviews on Google and Britainfirm.com.
These point out how they don't meet their value for money and fail to detect major structural issues such as woodworm infestation.
These were posted around 2017 and 2018, so these may not reflect the firm's current service standards. We certainly didn't find many complaints while surveying their recent customers!
However, we think it's still important to be wary of potential issues like these, as well as the fact that they tend to have higher fees than others.
Member of RICS and SCSI
Multiple office locations
Provides quick reports
Some customers complained that the surveyors failed to detect structural issues
Expensive
Customer Reviews
Professional and helpful
"I used Kennedy and Associates to carry out a survey for a property I was purchasing. I was impressed with how detailed the report was and it is of huge value in terms of picking up on any potential future issues that may arise and costs that I would need to consider.
I found Paul Morrissey to be professional and helpful, he was available to discuss the report after it had been completed." —Victoria McCracken, Google review
Comprehensive and quick
"Pleasure to deal with Paul, he recently surveyed a house for us. Paul went above and beyond what I expected, so thorough with the report and picked up everything. The report was very comprehensive and quick, it's a good reassurance to have these things pointed out.
As a first time buyer you face a lot of challenges and uncertainty but I can recommend Kennedy & Associates for that peace of mind." —Greg Murphy, Google review
FAQs about Surveyors in Ireland
---
We hope this serves as a good starting point for your search to find the best surveyors in Ireland. If you have suggestions for additions to this list, feel free to let us know below!
If this guide helped you find a good surveyor in Ireland, share with us your experience working with them.
If you're doing a construction project and you've just completed your survey, you might be looking for construction companies in Ireland. You may use our list to start your search.